We test and review fitness products based on an independent, multi-point methodology. If you use our links to purchase something, we may earn a commission. Read our disclosures.
Finding the best treadmill for home can be tough. If you have limited space, the search becomes even more difficult, especially if you want a commercial-grade treadmill without all of the bulk. Enter: The ProForm Pro 9000 treadmill, a commercial-home-hybrid treadmill that doesn't skimp on power. It even folds to create more floor space when you're not using it.
Why You Should Trust Us
After testing more than a dozen treadmills from true commercial treadmills to budget treadmills, I've determined that the ProForm Pro 9000 treadmill is one of the top treadmills to get if you need one of the best cardio machines that stores with a relatively small footprint.
ProForm Pro 9000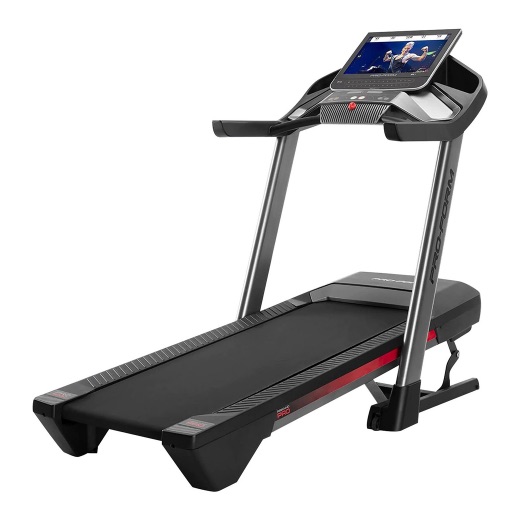 ProForm Pro 9000
Take your training to the next level with an iFit Family membership on the Pro 9000 treadmill. Engage in a whole new workout experience as streamed live and on-demand personal trainers lead you in studio classes and take you all around the world, automatically controlling your treadmill's speed, incline, and decline to give you a unique, hands-free workout.
A Quick Look at the ProForm Pro 9000 Treadmill
The Pro 9000 treadmill combines a high-capacity motor with one of the most eye-catching displays you'll see on a treadmill: a 22-inch wide high-definition touchscreen that not only displays preset exercise routines but also allows you to participate in the interactive training. On one huge, beautiful screen, you can track your fitness progress. The Proform Pro 9000 treadmill is made for professional runners, but it's also a great option for families. The treadmill also comes with a built-in CoolAire workout fan with adjustable breeze levels and single-button controls.
My Tips:
My Favorite Things:
22-inch HD display and quality graphics
Built-in workouts and handsfree incline/speed adjustments
Foldable for easy storage
My Callouts:
WiFi connectivity is mediocre at best
Customer reviews complain of tech problems
Quality control seems inconsistent
Don't store this treadmill in your garage – you won't be able to cash in on the warranty if you do.
Is the ProForm Pro 9000 Worth It?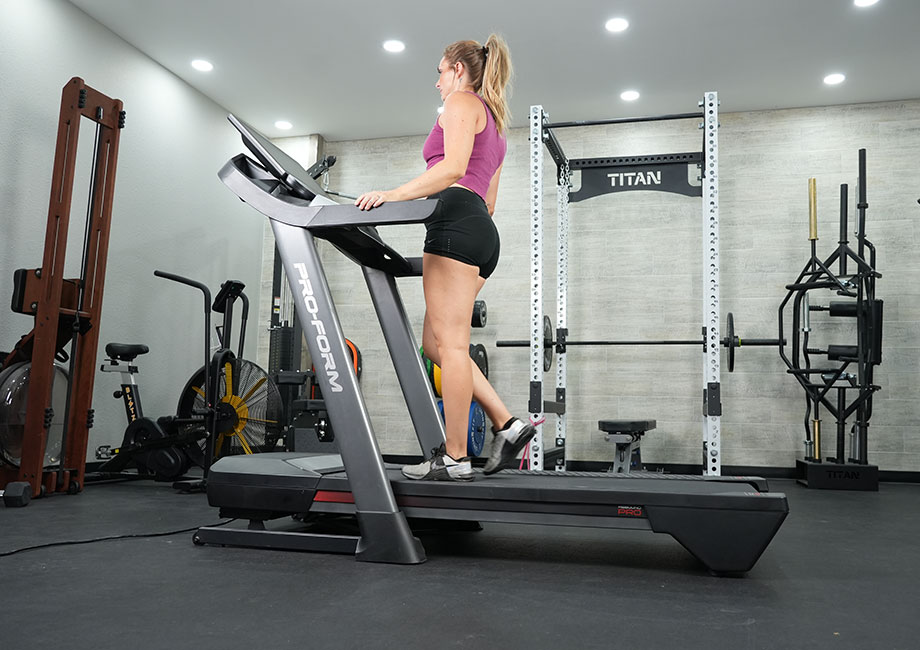 For some home gym owners, the ProForm Pro 9000 Treadmill is an excellent choice, but definitely not for everyone. Check out who I believe should get this treadmill and who might benefit from a different treadmill.
Great for:
Runners who do interval and decline/incline training
Households with a lot of floor space in their home gym
Runners who want coaching
Not recommended for:
People who want a no-frills treadmill
Runners who create their own programming (don't need/want iFit)
People who don't have a lot of floor space in their home gym
ProForm Pro 9000 Video Review
Ordering and Assembling the ProForm Pro 9000 Treadmill
The ordering process is simple. When you check out, you're prompted to choose a maintenance plan and your ideal delivery option (more on that later). You'll see your taxes and shipping charges calculated, and you'll be able to apply for TD Fit Loan. After that, you'll be prompted to enter your payment information, and you're good to go.
If you're ordering on Amazon, you might notice that the price is a bit higher (closer to $2,000 than the list price of around $1,800. (This is unlike many products, where the best price is on Amazon and not the manufacturer site.) The treadmill goes out of stock on Amazon sometimes, but you can still place your order and you won't be charged until the order ships. Otherwise, the ordering process on Amazon is the same as it is for any other item.
Financing Options
ProForm offers financing through TD Fit Loan. If you're approved for the program, you can finance the Pro 9000 treadmill for as little as $47 per month for 39 months at 0.00% APR. The other option through TD Fit Loan is to pay $150 per month for 12 months, still at 0.00% APR. In full, the Pro 9000 costs $1,799.
Shipping and Assembly Options
When you check out, you'll be presented with a number of options. You can choose to add a maintenance plan to your order as well as in-home delivery. ProForm does not offer white-glove assembly services (on hold due to COVID-19), but you can opt for room-of-choice delivery for an extra $219. Otherwise, they'll drop it off curbside for free (ProForm's definition of curbside is "the first dry area or as close to your home as possible).
Assembly Experience
It took less than an hour to assemble the Pro 9000, but it definitely requires two people. One person needs to hold the console while the other attaches the wiring, and one person has to hold up the deck so the other can attach the hydraulics.
The front wheels come installed but the under-wheels are not, so moving the deck around during assembly is difficult. The instructions are very clear and easy to follow, thankfully.
Pro tip: Have a socket wrench handy! The package comes with Allen wrenches but not a regular wrench. And the socket wrench ended up being super helpful and sped up the assembly process.
How Big Is the ProForm Pro 9000 Treadmill?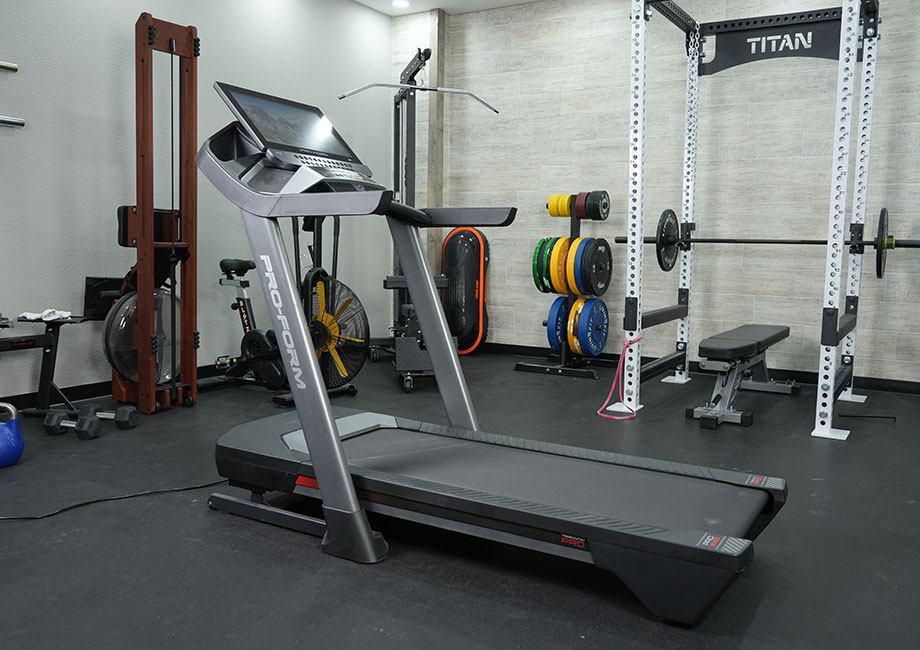 There's no way to skirt this fact: The ProForm Pro 9000 treadmill is big, and it's heavy. It weighs 263 pounds in the box and it's not the easiest to move. I had to sort of scoot the treadmill around on its base instead of using the wheels. Also, it's not battery operated and must be plugged in, so be sure to double-check your home gym for outlets before purchasing this treadmill.
Triple-check your floor space, too. This machine is 35.5 inches wide by 77.3 inches deep by 59.6 inches tall, so you need at least three feet by six and a half feet. (The other Pro Series treadmill is the Pro 2000, which is slightly smaller and less expensive than the smart Pro 9000).
Luckily, the Pro 9000 does fold, so despite its large footprint and heavy weight, it's not too hard to store. If you have enough floor space to house this treadmill, you'll definitely have enough room to store it. While it doesn't fold in half, the deck does lift and lock at a high angle to reduce the treadmill's footprint. It has a hydraulic shock to assist with folding, which is a huge help.
RELATED: Echelon Stride Review
Weight Capacity
This treadmill has a user weight capacity of 300 pounds, which is on par with the average weight capacity for home-use treadmills. In general, home-use treadmills have weight capacities between 200 and 300 pounds, while commercial-grade machines may sport weight capacities up to 500 pounds. So the Pro 9000 has a weight capacity on the higher side of what you'll find in treadmills for your home gym.
Transporting the Treadmill
It's not easy to move this treadmill. If you're placing it on the carpet, you'll have a tough time wheeling it around and will probably just end up scooting it. I recommend enlisting the help of a friend to get the Pro 9000 settled in your home or garage gym.
RELATED: How to move a treadmill
Is the ProForm Pro 9000 Treadmill Comfortable to Run On?
Adjustability
With a 0 to 12 MPH speed range, a -3% to 12% incline range, quick control buttons, and a year-long free iFit membership, I'd say the ProForm Pro 9000 treadmill offers extreme adjustability and personalization. When testing this treadmill, I felt like there was always a way to customize treadmill workouts to my needs for the day whether that meant quickly changing incline levels or swiping to a recovery run.
Running Belt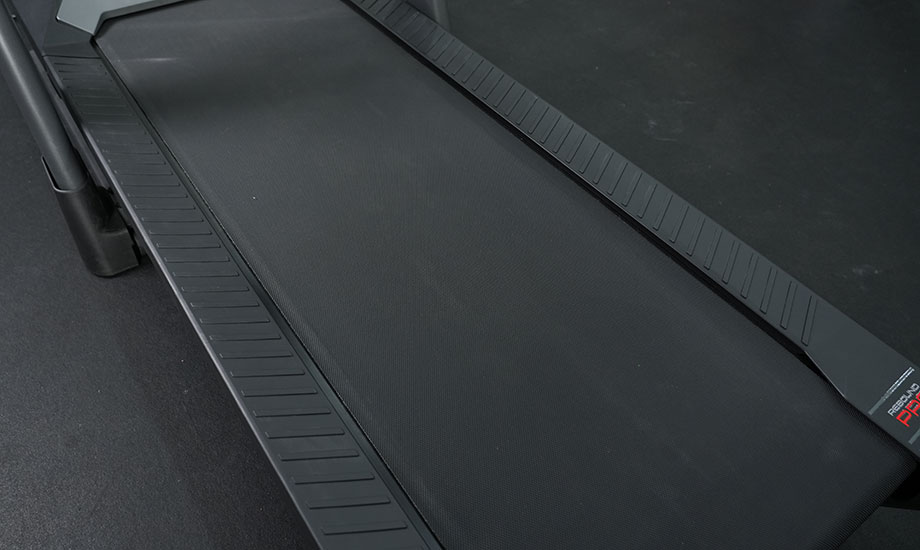 The belt is roomy at 20 inches by 60 inches. I felt like I had plenty of room to take long strides and sprint safely. A 20-inch width gives you some room for fluctuation in your stride while sprinting, and a 60-inch length is long enough even for runners over six feet tall. It's definitely one of the larger running belts, as many home gym treadmills clock in at 18 inches wide by 48 to 56 inches long. All in all, it's a good size for a running surface.
RELATED: Best Treadmill for Tall Runners
Deck Cushioning
Equipped with a ReBound Pro™ cushioning system, the deck absorbs much of the shock that occurs while running. Even at a full sprint, I could feel the benefits of the cushioning under the tread belt and it made my runs a lot more comfortable and enjoyable than running on some cheaper treadmills or on asphalt.
Handles and Railings
This treadmill sports extra long railings, which I found super helpful for rest intervals during training or just walking in general. Below the display there are two more handles that double as heart rate monitors.
I always find palm-based EKG monitors to be wonky and inaccurate, and hard to use in general while running (who sprints with their hands on handles?). Overall, though, the handles and railings provide an extra element of comfort and safety, especially during interval runs.
RELATED: Trueform Trainer Review: The Treadmill That Fixes Your Form
Using the ProForm Pro 9000 Treadmill
Built-In Workouts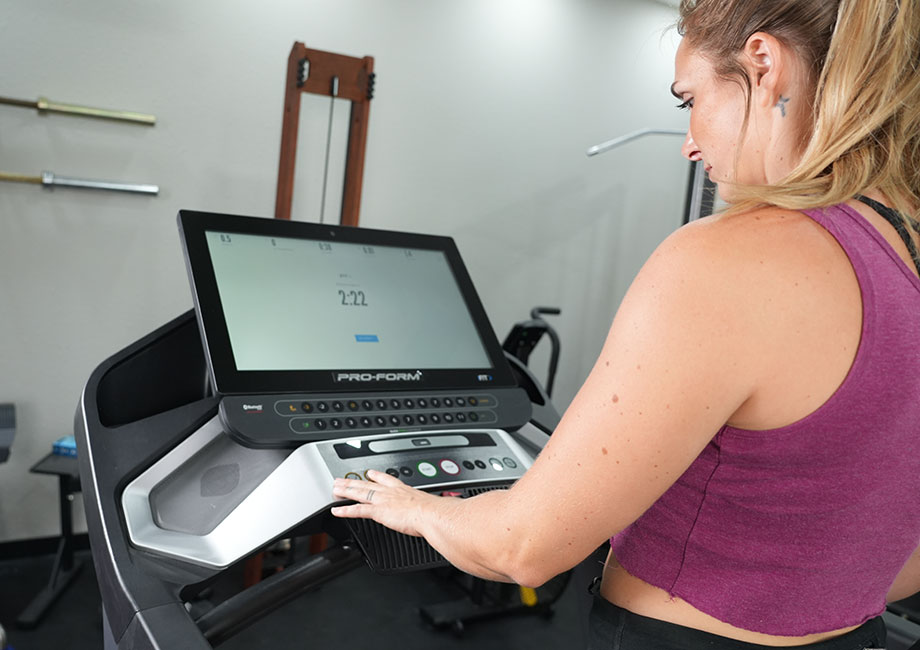 The built-in fitness programming on the ProForm Pro 9000 treadmill is powered by iFit, which is a workout streaming app (you'll also find iFIT on machines like the ProForm Hybrid Trainer XT).
When you buy the Pro 9000, you get a free year-long family membership to iFit, which is worth over $400 alone. Because I couldn't get the Pro 9000 connected to WiFi, I wasn't able to stream iFit workouts directly from the treadmill.
However, our product testers have used iFit on other machines from ProForm and NordicTrack in the past (including the NordicTrack Commercial 1750 treadmill), and we've found the workouts to be engaging and effective. The programming is built into the treadmill, so you don't have to stream on a separate device. As for the training itself, iFit has a robust library of running workouts from speed runs to intervals to distance training.
RELATED: NordicTrack Commercial 1750 treadmill Review
There's more to iFit than just running, though. If you want to cross-train (which you should to avoid overuse injuries), you can also turn to your iFit subscription for strength workouts, high-intensity interval training, yoga, pilates, and recovery flows. You can hop into live, trainer-led classes in addition to the on-demand options. If you don't want an iFit coach or iFit workouts, this probably won't be a draw for you to buy the Pro 9000.
RELATED: Best Cross-Training Shoes
Ease of Operation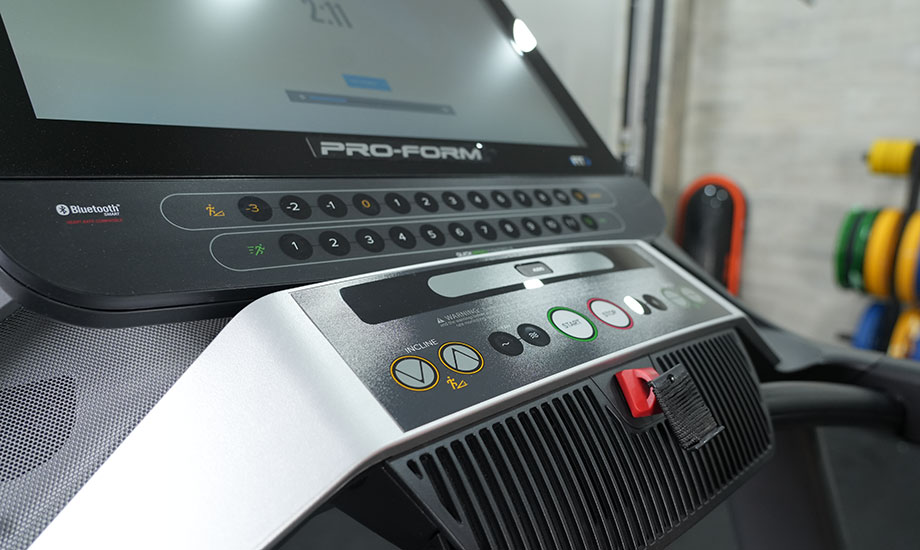 Thanks to the large touchscreen and quick speed controls, the ProForm Pro 9000 treadmill is supremely easy to use. I was able to quickly swipe through workouts and instructors to find the type of run I wanted to do, and the quick speed controls allowed me to, well, quickly change my speed settings without having to touch the screen.
Below the screen, the quick speed controls allow you to simply press a button that corresponds to the speed you want, rather than having to press an up or down button several times. It makes running intervals way easier and more efficient. You can change the incline and decline level this way, too, so it's also a bonus for runners who like incline/decline training.
Durability
The Pro 9000 treadmill is built for serious runners. The 3.6 continuous horsepower (CHP) motor is on the high end of what you can typically find in treadmills for home use, and the running belt has a wide footprint for added stability. I felt like this treadmill remained sturdy even during full-out sprints, which says something, because I've tried others that feel like they'll fall apart at mid-speed runs.
Incline/Decline Levels
This treadmill has an impressive incline/decline range of -3% to 12%. A 12% incline is worth calling out on its own, but the decline range is doubly so, as it's rare to find a treadmill that has both incline and decline ranges.
Speed Range
You can go from 0 to 12 miles per hour on the ProForm Pro 9000 treadmill, and even at the highest setting, I found the treadmill to feel stable and sturdy. In case you were wondering, 12 MPH is pretty dang fast. Think about your 10K time (6.1 miles): If you're like most people, it falls around an hour. Now imagine running double that distance in the same time frame. Rest assured, 12 MPH is plenty fast enough for a treadmill.
Noise Level
For the most part, this treadmill is pretty quiet. But, it is a treadmill, so don't expect it to be silent. I noticed that the sound of my footsteps seemed dampened compared to other treadmills I've tested, likely due to the extra cushioning on the running belt. Also, the ProForm Pro 9000 treadmill is driven by a strong, commercial-grade motor (3.6 CHP), so it may be noisier than some other, less powerful treadmills you can buy for your home.
Technology Benefits and Conveniences
Display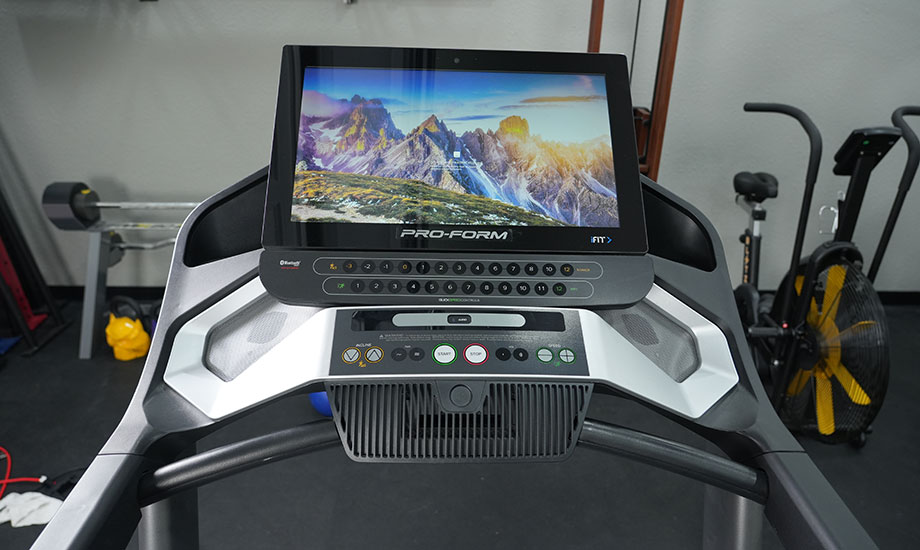 The 22-inch full-color smart HD touchscreen is a standout feature on the ProForm Pro 9000 treadmill. The graphics quality is well in line with what's expected for 1080-pixel displays. The touchscreen is sensitive, but not overly so. I found it easy to swipe through workouts and settings even while running.
RELATED: Best Smart Home Gym Equipment
Audio
The Pro 9000 treadmill features Bluetooth 3.0 connectivity for its built-in dual 2-inch speakers. I was thoroughly impressed with the audio quality—the sound was very clear and I didn't have any problems with the audio cutting out.
Connectivity
This treadmill requires a stable and strong internet connection to work. Most of the tech features are enabled through WiFi, which turned out to be a major problem for me, as I could never get the treadmill connected to the WiFi at my location. This isn't to say the Pro 9000 is a bad choice, but be wary if you know your internet connection isn't the best.
Comfort
On top of all of the above, the ProForm Pro 9000 has plenty of storage space up top for your phone, a sweat towel, and a water bottle. There's no dedicated water bottle holder per se, but there is certainly enough space to dock your fluids. It also has a built-in CoolAire™ fan with two speeds to keep you cool during your runs.
ProForm Pro 9000 Treadmill Specs
| | |
| --- | --- |
| Footprint | 35.5″ wide by 77.3″ deep by 59.6″ tall (foldable) |
| Weight | 263 pounds |
| Speed | 0 to 12 MPH |
| Incline/decline range | -3 to 12% |
| Motor | 3.6 CHP Mach Z™ |
| Running deck | SpaceSaver® Design with EasyLift™ Assist |
| Workout programs | Live and on-demand workouts with iFit |
| User capacity | 300 pounds |
| Warranty | 10-Year Frame, 2-Year Parts, & 1-Year Labor |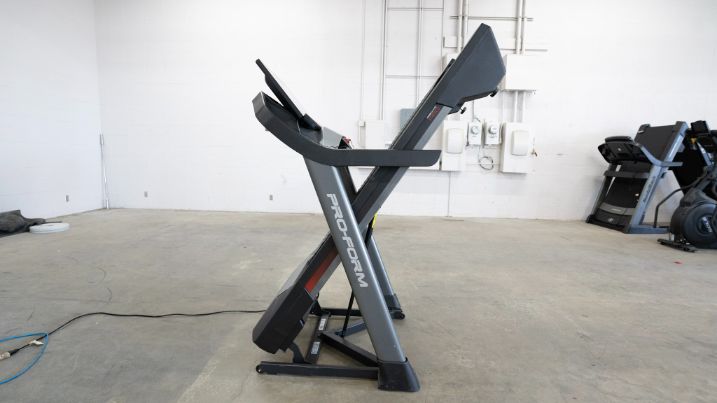 Customer Service
ProForm isn't known for its outstanding customer service. I wasn't impressed with the customer service she received, which consisted of an online chat that skirts a lot of questions. I was continually redirected to the customer service phone number or myfitnesshelp.com, a catch-all website for questions about ProForm, NordicTrack, and iFit. All in all, it wasn't the most helpful experience.
Warranty
ProForm treadmills, including the Pro 9000, come with a pretty decent warranty. The frame, which is the component that holds all of the parts together, is covered for 10 years; the parts are covered for two years, and labor is covered for one year. If you want more protection, you can opt in to one of ProForm's preventative maintenance plans, under which technicians can come to your home for unlimited repairs for up to five years. However, do not store this in your garage. Both ProForm and NordicTrack will void your warranty if you have.
Return Policy and Guarantee
The ProForm Pro 9000 treadmill is sold with a 30-day money-back guarantee, so if you find that the treadmill isn't for you for any reason, you can return it with no penalty. However, even though you may get all of your money back for the cost of the treadmill, you may be on the hook for shipping costs and a restocking fee.
Customer Reviews of the ProForm Pro 9000 Treadmill
For the most part, customer reviews of the ProForm Pro 9000 rave about the good things: Buyers love the tech specs, the high-quality graphics, the large display, the capability for decline training, the roomy running deck, and the fact that the treadmill folds.
However, many customer reviews of the ProForm Pro 9000 treadmill call out that the tech components and integrations are finicky. I never could actually get the treadmill to connect to WiFi, which is the primary reason this treadmill didn't earn a perfect score according to our scale. If you can't connect the treadmill to WiFi, most of its features become moot.
Some reviews also mention issues with durability (for instance, feeling like the treadmill trembles or shakes during workouts), but I feel that the Pro 9000 held up well and that shaking was minimal.
Final Verdict of our ProForm Pro 9000 Treadmill Review
All in all, the ProForm Pro 9000 treadmill offers a lot of modern features for a decent price, making it a great choice for a home treadmill. I like that it has a large running belt and display, but folds to create more floor space for other workouts when you need it to. Thanks to its range of speed and incline ranges, this treadmill can accommodate beginners and ultra-runners alike. The customer service and WiFi connectivity issues are unfortunate and might sway some people to look at a different brand entirely. However, if you have a strong internet connection, you may not have the same problem we did.
Our takeaways:
High-tech features and iFit workouts create a fun experience
Large, clear display makes workouts immersive
Connectivity issues could pose serious problems
ProForm customer service isn't the best
RELATED: Best Folding Treadmills
ProForm Pro 9000 Treadmill FAQs
What's the warranty on the ProForm Pro 9000 Treadmill?
The ProForm Pro 9000 treadmill comes with a 10-year warranty for frame, two-year warranty for frame, and one-year warranty for parts.
What is the max height for the ProForm Pro 9000 Treadmill?
There's no max height for the ProForm Pro 9000 treadmill, per se, but there is a good rule of thumb to follow when considering treadmills for your home gym: Add 18 inches to your height, and that's how tall your ceiling should be to accommodate a treadmill.
Does ProForm 9000 fold up?
Yes, the ProForm Pro 9000 treadmill folds for easy storage, making it a great option for people with small spaces for their home gyms.
What is iFit?
iFit is a fitness streaming platform that includes both on-demand and live workouts. All ICON Health and Fitness brands (ProForm, NordicTrack, Weider, and Freemotion) are powered by iFit for workout streaming and programming.
Does the ProForm Pro 9000 have heart rate monitoring?
Yes, the ProForm Pro 9000 treadmill has two heart rate monitoring options. You can either hold onto the handlebars for a palm-based telemetry reading, or you can connect the SmartBeat™ Forearm Heart Rate Monitor (sold separately) for optical reading. There isn't an option to connect a chest strap heart rate monitor.
Full Rating
ProForm Pro 9000
After testing more than a dozen treadmills from true commercial treadmills to budget treadmills, I've determined that the ProForm Pro 9000 is one of the top treadmills to get if you need one of the best cardio machines that stores with a relatively small footprint.
Product Brand: ProForm
Product Currency: USD
Product Price: 1799
Product In-Stock: InStock