We test and review fitness products based on an independent, multi-point methodology. If you use our links to purchase something, we may earn a commission. Read our disclosures.
Home gym users gravitate towards the best resistance bands on the market because a lot of other fitness equipment can be bulky and expensive. A resistance band set can provide a good amount of resistance for strength training, and is small enough to put in a bag or just hang on a wall. Even moreso, a good set of exercise bands can travel easily, like Bodylastics MAX Tension Resistance Bands.
Stackable and portable, these bands will travel, but how do they stack up to the competition? In our Bodylastics Resistance Bands review, we'll get into the nitty-gritty of these bands, talking about the materials, resistance, and the value they provide.
We've Dabbled in Resistance Bands
Okay, maybe we've more than dabbled in different tube bands, loop bands, and rubber bands. We've tested a lot of elastic bands over the years at Garage Gym Reviews. For the Bodylastics bands, GGR Performance Editor Anthony O'Reilly tested these out through a series of virtually every exercise that you could think of, noting their durability and level of resistance in his resistance band training.
RELATED: Lower-Body Resistance Band Workout
Additionally, our team of testers includes certified personal trainers, Olympians, fitness and nutrition coaches, and CrossFit L-1 Trainers. Through our years of experience in training and coaching, we know what to look for in a good set of resistance bands to add to your training regimen.
Bodylastics MAX Tension Resistance Bands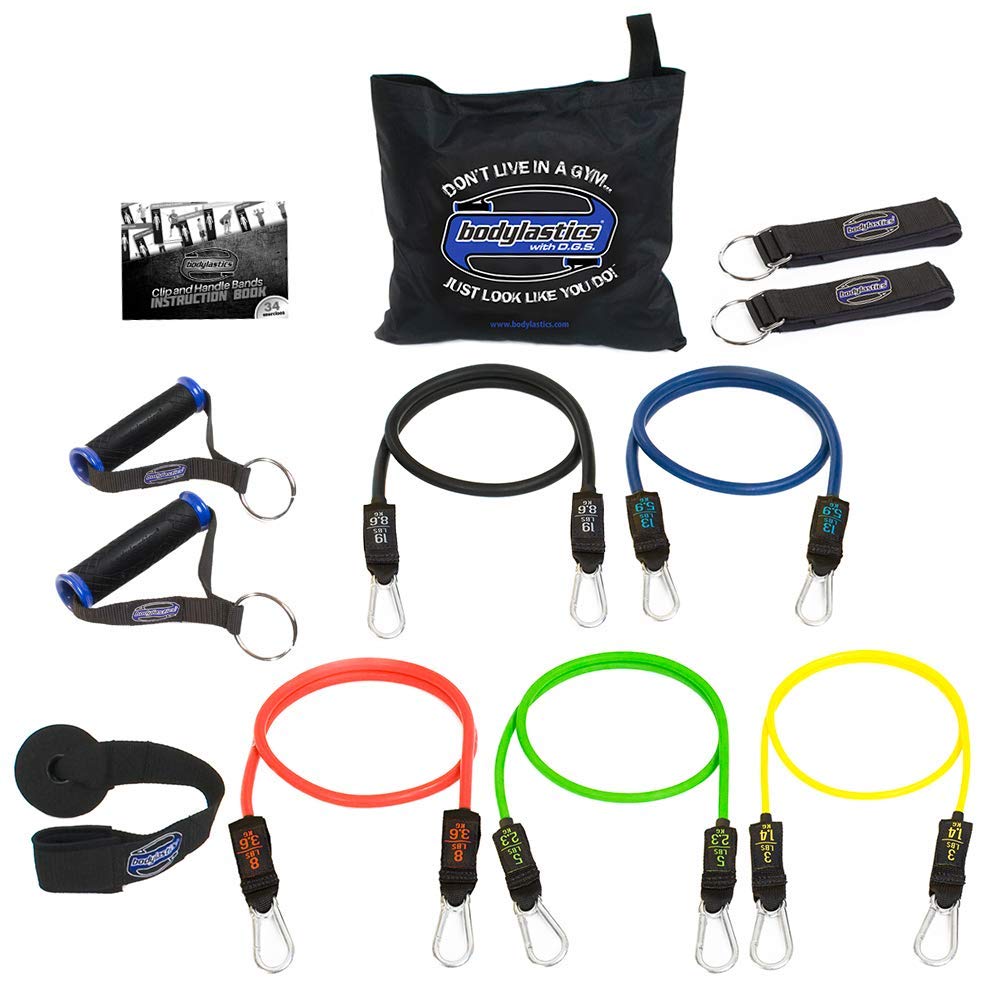 GGR Score: 4.3
Community Score: 4.3
Product Highlights
3 options for exercise kits
Anti-snap construction
Comes with travel bag and workout instructions
Stackable for increased resistance
Pros & Cons
Pros
Priced affordably
Options to buy 5, 6, or 7 bands
Snap-reduction design
Commercial-grade handles
Stackable for more resistance
Cons
No covering on the tubes
Ankle straps may not be the most durable
Uses latex, which may trigger some allergies
Bottom Line
The Bodylastics Resistance Band Set is a great option for those looking for portable, affordable resistance bands that can be stacked for increased weight.
A Quick Look at the Bodylastics Resistance Bands
Bodylastics claims quite a few innovations in the resistance band field, most notably designing the first stackable resistance tube bands back in 1998. Other firsts for the brand include the first set to include ankle straps, the first band set to use carabiners, and even the first to print weight equivalencies on the bands.
The Bodylastics resistance bands are pretty innovative, being stackable bands. This means multiple bands can be stacked on one handle, providing a pretty broad range of resistance for all ages and levels of fitness.
RELATED: Best Resistance Bands For Seniors
So although the five-band set's thickest tube band has 19 pounds of resistance, all bands can be stacked for a total resistance of 96 pounds. That's pretty substantial for just some latex bands (the seven-band set can be stacked for a whopping 202 pounds, yeesh).
Before You Buy
These bands come in three sets with five, six, or seven bands, respectively. Each set comes with handles and ankle straps, along with a door anchor, to hang the bands around the house.
The bands also feature anti-snap technology—basically a heavy-duty cord inside the tubing that prevents the bands from snapping into you if it happens. If you're worried about safety around the house, these bands are certain to help avoid accidents.
Because these bands come ready to go in a carrying bag, it's one of the easiest band sets to travel with.
Are the Bodylastics Resistance Bands Worth It?
The Bodylastics Resistance Band Set, in short, is a pretty worthwhile piece of home gym equipment. The easy-to-carry bag makes it one of the best portable home gym options in our opinion, and the smallest set provides 96 pounds of resistance, ankles straps, and anchors all for under $50. It provides great value for most home gym users, and even provides a lifetime warranty.
One of the greatest drawbacks to the Bodylastics bands is that they are very elastic, and you'll need some space to pull these bands optimally. "I will say you need a good amount of space to feel the pull so maybe not the best for people in small spaces," Anthony noted in his testing of the tube bands.
Also, if you're stronger than the average person, you may need to upgrade from the five-band set to get more out of your resistance training. The smaller set is great for beginners, though, able to combine and stack resistances starting from 3 pounds all the way up to 96 pounds.
Great for:
People wanting a full-body workout that is easy to travel with
Those looking for great resistance bands at a reasonable price
Anyone looking for resistance training that doesn't involve free weights
Not recommended for:
Those who have limited space in their home or garage gym
Free weight users that just love the feel of a knurled barbell
People who don't need a portable set of bands
Bodylastics Resistance Bands Specs
| | | | | |
| --- | --- | --- | --- | --- |
| | 11-piece set | 13-piece set | 18-piece set | 33-piece set |
| Price | $40 | $50 | $86 | $197 |
| Weight | 3.25 lbs | 3.5 lbs | 5.5 lbs | |
| Number of bands | 5 | 6 | 7 | 16 |
| Resistance levels | 3 lbs, 5 lbs, 8 lbs, 13 lbs, 19 lbs | 3 lbs, 5 lbs, 8 lbs, 13 lbs, 19 lbs, 23 lbs | 3 lbs, 5 lbs, 8 lbs, 13 lbs, 19 lbs, 23 lbs, 30 lbs | 3 lbs, 5 lbs, 8 lbs, 13 lbs, 19 lbs, 23 lbs, 30 lbs, 40 lbs |
| Additional pieces | 1 carry bag, 1 door anchor, 2 handles, 2 ankle straps | 1 carry bag, 1 door anchor, 1 small anywhere anchor, 2 handles, 2 ankle straps | 1 carry bag, 2 door anchor, 4 handles, 4 ankle straps | 1 carry bag, 1 small anywhere anchor, 1 large anywhere anchor, 2 door anchors, 6 handles, 6 ankle straps |
| Stackable | Yes | Yes | Yes | Yes |
| Maximum Resistance | 96 lbs | 142 lbs | 202 lbs | 564 lbs |
Workout Experience/Using the Bodylastics Resistance Bands
In his testing of the Bodylastics bands, Anthony very much enjoyed this set of resistance bands. The equipment came ready to go; each band with a carabiner to easily attach to the handles. The stackable nature of the bands make them ideal for a variety of exercises and purposes, from lightweight rehab exercises for physical therapy, to heavier resistance home workouts. The versatility of these bands is pretty astounding.
RELATED: Best Resistance Bands For Glutes
The set comes with velcro ankle straps as well as handles, providing access to a broad range of full-body exercises, targeting various muscle groups: upper body, lower body, and everything in between. The straps can be used for assistance on bodyweight movements like pull-ups, as well as isolation exercises like hamstring curls.
Anthony never feared any of the bands snapping, as the material was high-quality (more on that later), and the anti-snap inner cord that prevented any injury from snapbacks. "I felt safe using these things, and I've tried them with just about every move." The inner cord helps prevent overstretching and in case the tubing does snap, the inner cord keeps the tubing from flying wildly about and hurting you or someone nearby.
RELATED: Full-Body Resistance Band Workout
Materials
These bands don't stink. Unlike countless other rubber gym equipment, the Malaysian latex used for the tubing didn't have that rough rubber smell that often accompanies new equipment, Anthony noted. Probably more importantly, the latex is high-quality and after plenty of reps, showed no signs of wear and tear.
The carabiners and handles used are also heavy-duty, made larger and stronger than most handles and carabiners used in other resistance bands. The handle is designed with an ergonomic grip that is supposed to maintain grip even through some sweating.
Portability
Each set comes with a small carry bag that can fit in just about any gym bag. If you travel a lot from gym to gym, these are a great set of resistance bands that come ready to go. Plus, they're lightweight, as the seven-band set sits at only 5.5 pounds.
Footprint
Hanging on your door at home, or sitting in a bag when not in use, these bands won't take up a ton of space. One thing to note, however, is that the bands stretch quite a bit. To get the full resistance of each band, you will need adequate space to get the full range of motion of your band exercises. Be ready to allot a good amount of space (5 to 7 feet) around these bands.
RELATED: Best Home Gym Storage
Comparison to Rogue Tube Resistance Bands
Rogue Tube Resistance Bands
GGR Score: 4.6
Product Highlights
Made extremely well
Option to purchase just one or in a set
Comfortable handles
Color-coded
Pros & Cons
Pros
High quality handles with textured grip
Well-made bands
Fairly portable
Cons
Resistance tension isn't printed on the tube bands
Sometimes squeak while in use
On the shorter side
Bottom Line
If you're looking for tube resistance bands with handles, these are easily the highest quality. The grips on the handles are a nice touch that similar tube bands don't always have.
There are perks to both of these bands, and I'd say the best purchase depends largely on what you are looking for in your resistance training.
I compared both larger sets of bands sold from each brand. Rogue only offers six bands, whereas Bodylastics has an option with seven bands. With that said, Rogue's bands have heavier resistances; that's largely because they do not stack like Bodylastics'. Instead, each tube band has its own handle.
The Bodylastics seven-band set is more expensive than the Rogue bands; however, it comes with anchors, ankle straps, and the ability to stack up to 202 pounds of resistance—all for under $100. If you are looking for a set of resistance bands that will travel easily, these are the bands.
Rogue will still be a great choice for those wanting solid bands made with high-quality materials. See more of our thoughts on these tube bands in our Rogue resistance bands review.
| | | |
| --- | --- | --- |
| | Bodylastics Resistance Bands (18-piece set) | Rogue Tube Resistance Bands (Complete Package) |
| Price | $95 | $75 |
| Weight | 5.5 lbs | Not disclosed |
| Number of bands | 7 | 6 |
| Resistance levels | 3 lbs, 5 lbs, 8 lbs, 13 lbs, 19 lbs, 23 lbs, 30 lbs | 10 lbs, 15 lbs, 30 lbs, 40 lbs, 50 lbs, 60 lbs |
| Additional pieces | 1 carry bag, 2 door anchor, 4 handles, 4 ankle straps | No |
| Stackable | Yes | No |
| Maximum Resistance | 202 lbs | 60 lbs |
Customer Experience
Bodylastics provides a lifetime warranty on these bands, which is a pretty remarkable thing to see for resistance bands. If an item needs to be replaced within the first 90 days of the use, Bodylastics will send a replacement free of charge for customers in the U.S., Canada, U.K., and the E.U. After 90 days, a replacement will still be available, but the customer will have to pay a small shipping fee. For other countries, they will be charged market price for shipping.
Bodylastics does allow returns within the first 30 days of delivery. Shipping charges may apply, depending on where the item was purchased.
You can reach Bodylastics customer service through email, as well as snail mail. Since it's the 21st century though, I'd recommend going with the email option.
Ordering and Assembling the Bodylastics Resistance Bands
The Bodylastics resistance band sets can be purchased on Amazon, and are eligible for Prime shipping. They arrive ready to go and use immediately for your next resistance band workout.
Customer Reviews
There are overwhelmingly positive 5-star reviews on the Bodylastics website for these bands, but only from about 100 reviews for each set. Meanwhile, there are 5,739 ratings on Amazon at the time of this writing, and its 4.7-star average is a better reference for what customers are thinking about these bands.
There were very few negative reviews, although most only questioned the quality of the carabiners. A few other bands snapped prematurely; the lifetime warranty provided by Bodylastics should cover you if this happens, however.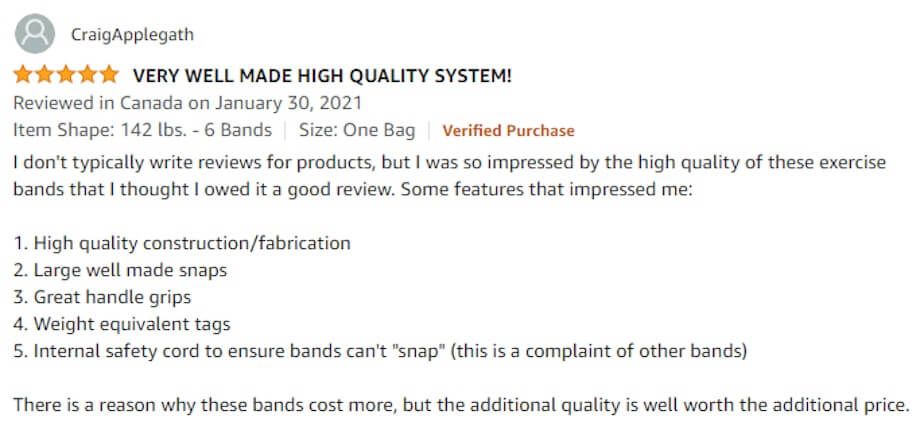 Final Verdict of Our Bodylastics Resistance Bands Review
Bodylastics has been in the resistance bands market for a while now, and the quality of these bands shows. With the anti-snap inner cords, and an ergonomic handle, there are many little touches that add to the quality of these bands. These are high-quality bands that provide everything you need for setup and travel, all for a very affordable price.
These might be one of the best value band sets out there right now. They are definitely one of the best portable pieces of equipment on the market.
Bodylastics Resistance Bands Rating
Bodylastics Resistance Bands
These resistance bands were made to travel, but are also a great addition to most home gyms. Read the rest of our thoughts in this Bodylastics Resistance Bands review.
Product Currency: USD
Product In-Stock: InStock
Bodylastics Resistance Bands FAQs
Which brand is best for resistance bands?
There are a variety of brands and types of bands out there. The best one for you will depend on what you need from this piece of equipment. The Bodylastics Resistance Bands are a great set of bands for travel, but you may consider something else if portability is not a huge factor for you. Check out our list of the best resistance bands for more ideas.
What is the purpose of resistance bands?
Resistance bands are an inexpensive way to help build muscle, either instead of, or in addition to free weights. Because they can typically be done with less weight or resistance, resistance bands can be a safer way to strength train than traditional free weights. They are also great tools in functional fitness and help work on core strength.
What is the difference between a thicker and thinner resistance band?
Generally speaking, thicker resistance bands will provide more resistance as you pull on the band, which will feel like a heavier weight equivalency. Thinner bands have less material and will therefore have less resistance throughout a movement.