We test and review fitness products based on an independent, multi-point methodology. If you use our links to purchase something, we may earn a commission. Read our disclosures.
Exercise equipment can really add up, so it isn't surprising that more and more people are looking for budget-friendly options to add to their home gym that still pack a punch. Resistance bands are one of those additions that are generally portable and less expensive than something like the best dumbbells.
When searching for something like the best resistance bands, I like to check out popular brands I know and trust like Rogue. This is always a great place to start to see just how high-quality a resistance band a great brand like Rogue can produce.
In this Rogue resistance bands review, I'll run you through two of Rogue's most popular picks: the Monster Bands and the Tube resistance bands. I'll give you my honest opinion on things like durability, value, and what I'd personally use each for.
Rogue Tube Bands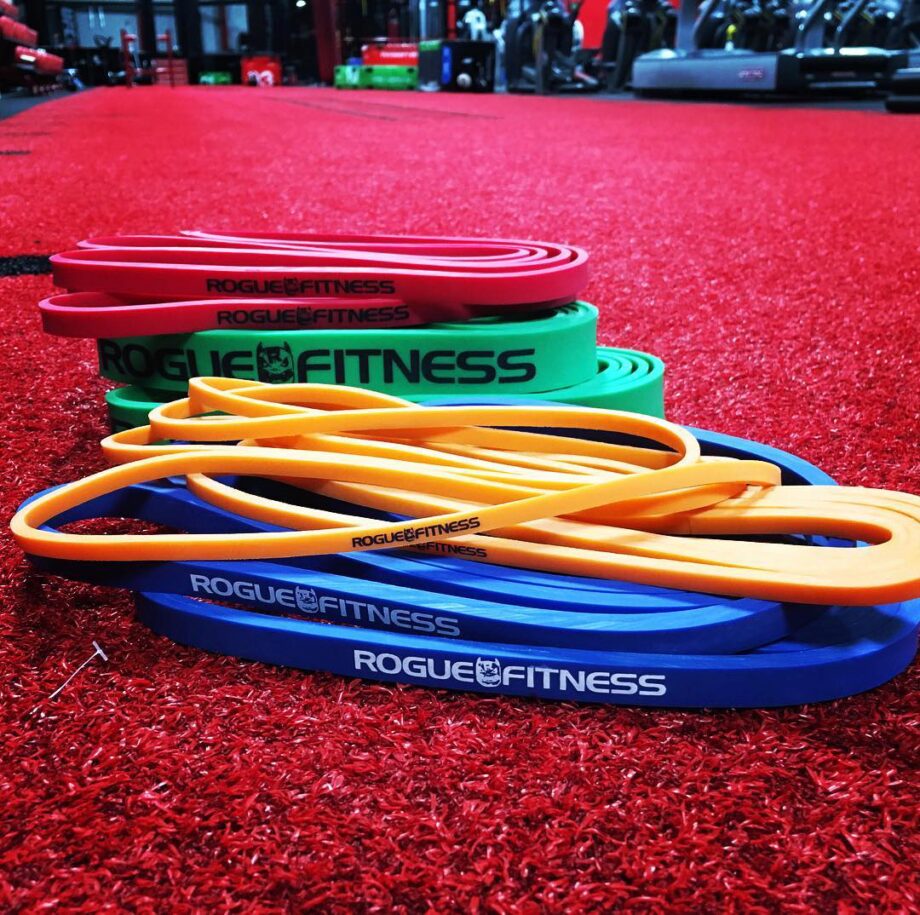 Rogue Monster Bands
Rogue Monster Bands are an easy on-the-go or at-home addition to any style of workout, indoor or outdoor. With the wide variety of resistance and tension options they are great for any workout from resistance training, speed training, and conditioning to rehabilitation, general exercise and stretching.The Rogue Monster Bands come in a variety of colors to make them easily identifiable. The bands come in Pull-up Package sets that include three set bands of varying resistance, or they can be purchased individually to suit your workout needs.The high-quality latex material is durable and proven to last through high-intensity workouts. Thinner bands can be used in place of weights or help add another level of intensity to weightlifting movements. Thicker bands are great when used in conjunction with weights for deadlifts, squats, leg press etc. for added resistance and challenge.Resistance categories explained:The lowest resistance bands are 15-50 pounds. These bands are best for incorporating into your daily workout for added tension, rehabilitation, assisting pull-ups, working upper and lower body areas .– Micro #0: 15-lb resistance - orange– Mini #1 – 30-lb resistance - red – Mini #2 – 50-lb resistance - blueThe mid-level bands are best for someone with slightly more experience in weight training. This level is great for added resistance to bench press, squats, and other lower body exercises. These might be too much if you are aiming for more of a stretch or rehabilitation. – #3 – 65-lb resistance - green– #4 – 100-lb resistance - black The last three bands are the highest resistance. These bands will add more of a challenge to your workout. They are recommended for more experienced lifters and athletes.  – Strong #5 – 140-lb resistance - purple– Strong #6 – 170-lb resistance - red– Super #7 – 200-lb resistance - silver
Rogue Monster Bands
Rogue Tube Resistance Bands
The Rogue Tube Resistance Bands come in a variety pack of various tensions for under $80. Each tube band is well-constructed and has very grippy handles. The only thing I don't love about these is how badly they squeak when in use. If you're someone that is bothered by noises like that when working out, these are not the best option for you. It is also worth noting that these bands don't print the amount of tension on each one. You can tell that the band is thicker depending on the amount of tension, but you won't know by just looking at it.Check out my full Rogue Tube Resistance Bands review.
Why You Should Trust Us
The team at Garage Gym Reviews was recently on the quest to find the best resistance bands on the market. We tested close to 20 options and ran each of them through the gamut. When testing any product, we use standardized testing methods and look at things like price, usage, materials, overall value, delivery, and customer service. It's important to us to give our readers an accurate look at everything we review. I personally used both the Rogue Monster and Tube bands for a variety of exercises, including pull-ups, bicep curls, shoulder raises, and more.
A Quick Look at the Rogue Resistance Bands
Rogue has always been a mainstay in every lane of fitness equipment, at least for me. It is no surprise they are crafting some awesome resistance bands I'm excited to share with you.
My Tips:
Decide what you want to use your resistance bands for. It'll help you determine if you should pick up the Monster bands or the Tube option.
If you're particularly sensitive to strong smells, the Monster bands might not be the best option for you. They are pungent due to the latex rubber.
These make great fitness gifts! 
My Favorite Things:
Both are very durable options that will last a long time
The Monster bands are great for pull-ups
The Tube bands have a nice textured grip
My Callouts:
The Tube bands squeak badly while in use
The Monster bands are coated in powder
The Monster bands smell strongly of latex
Are Rogue Resistance Bands Worth It?
If you're looking for resistance bands, both the Monster Bands and the Tube Resistance Bands are great options from Rogue. However, they aren't perfect for absolutely everyone. Keep reading to find out who I think should absolutely pick these up, and who would be better off with something different.
Great For:
People that want high-quality resistance bands
Those looking to master their pull-ups (monster bands)
Individuals looking for generous handles on their tube bands
Not Recommended For:
People allergic to latex
Those who don't need heavy duty resistance bands
Individuals who are bothered by the powdery coating that these can give off when in use
Rogue Monster Resistance Bands Specs
| | |
| --- | --- |
| Brand | Rogue Fitness |
| Length | 41″ |
| Color | Various colors |
| Material Type | Natural latex rubber |
| Made in the USA | No |
| Purple Resistance | 140 lbs |
| Black Resistance | 100 lbs |
| Green Resistance | 65 lbs |
Rogue Tube Resistance Bands Specs
| | |
| --- | --- |
| Brand | Rogue Fitness |
| Length Elastic End | 48″ |
| Length End to End | 65″ |
| Made in USA | Yes |
| Color | Various |
| Material | Latex based |
| Handle Length | 5″ |
| Complete Package | 8 bands |
Using the Rogue Monster Bands
I picked up the Rogue Monster Bands in the original Pull-Up Package. This set includes three bands for $80: Green, black, and purple. The green has resistance of 65 pounds, the black has 100 pounds, and the purple has 140 pounds of tension.
However, you can either pick up Pull-Up Package #2, which has three lighter tension bands or purchase each band individually. I like the wide levels of resistance you can choose from (between 15-200 pounds) with the Monster Bands.
I personally used the Pull-Up Package for exactly what it says: cranking out some pull-ups. Confession time: I can only do two full-hang pull-ups at the moment (hey, I played soccer, I used to only train legs). This means I'm on a quest to get better at them, and pull-up assistance bands are the perfect way to improve and do sets. I used the green band for sets, because the other two provided too much assistance for me personally. I think as I progress with my pull-ups, I would need to purchase the pull-up band set #2, which offers less resistance.
In terms of the durability of these bands, I have no doubt they will last a long time. They feel extremely thick and durable. My only problems with them have more to do with the smell and feel of them. First of all, they're made of latex (shocker, I know). This means they absolutely stink. After handling them for 30 minutes, my hands smelled like straight up rubber. Even after washing my hands, the rest of the day, the scent lingered.
In terms of the feel of them, they come with white powder straight out of the package. I don't love this, because it gets on your hands and clothes more than I'd like. However, they don't coat your clothing as bad as some of the other pull-up resistance bands I've tried, so I'm not too upset.
Related: Check out my Gorilla Bow review, a unique take on resistance band training.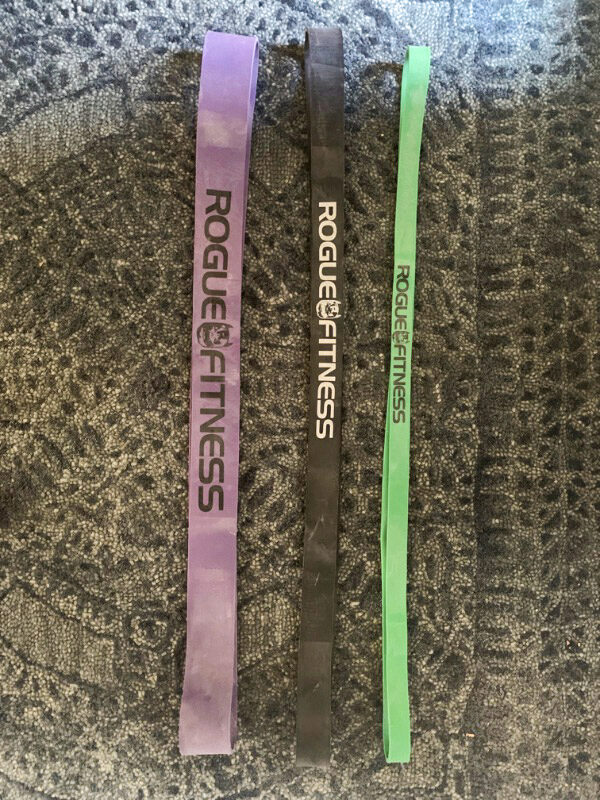 Using the Rogue Tube Bands
The Rogue Tube Bands are another great option for resistance bands if you're looking for something with handles. I picked up the complete package for $75, which includes 6 different resistance level bands. Immediately off the bat, you can tell that the resistance is different just by looking at each one (they're color-coded), but I do wish they had added the specific resistance in pounds on the bands to make it easier on the user.
Firstly, I was impressed by the care Rogue took in packaging each of these tube bands. Every single one of the handles was wrapped to protect the grip. I've tried quite a few tube resistance bands, and these are by far the most comfortable to hold and don't make my hand uncomfortably sweaty for no reason.
I tried these out for a variety of resistance band exercises, including rows, bicep curls, and hammer curls. They definitely provided enough resistance for me. My only bone to pick with the Rogue Tube Bands is the loud squeaking noise they make while in use. The metal part that connects the handle to the tube is what's making the obnoxious noise. I wasn't able to get it to be quiet, so just wear your headphones to drown out the squeak.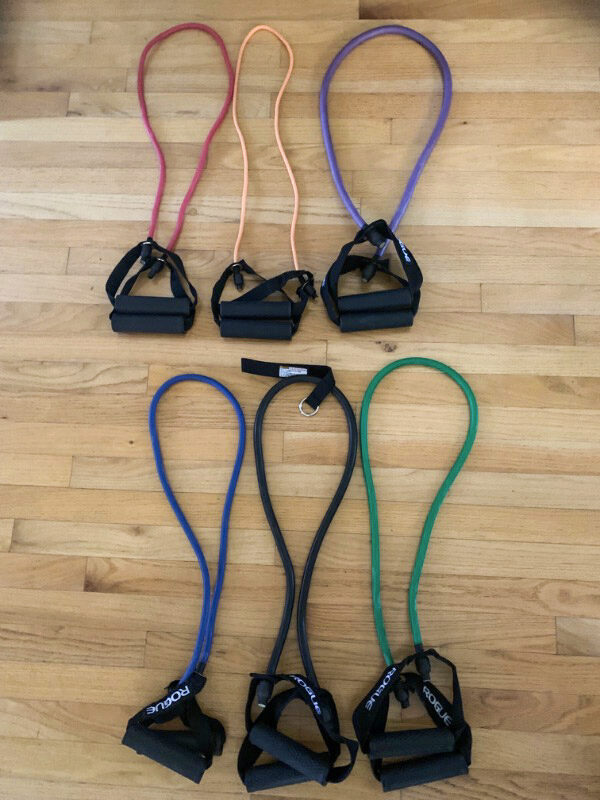 Rogue Monster Bands vs. Fringe Sport Latex-Free Strength Bands
The Fringe Sport Latex-Free Strength Bands are a solid alternative to the Rogue Monster Bands; especially if you're allergic to latex. You can purchase a set of three Fringe Sport Latex-Free Strength Bands for $72, compared to the $80 it costs for three from Rogue. This isn't much of a cost saver, but it is a few dollars.
It is important to note that the Fringe Sport Bands offer less resistance than the Rogue Monster Bands. This means if you need more assistance on your pull-ups (if that's what you plan to use yours for), I would get the Rogue Monster Bands because the set of three goes up to a higher resistance. However, you can purchase single bands with equally high resistance from Fringe Sport if you prefer.
Rogue Tube Bands vs. Bodylastics Resistance Bands Set
If you're looking for tube resistance bands that can be attached to your door or other area for easier pulling, you might enjoy the Bodylastics Resistance Bands Set. This set includes five bands with just under 100 pounds of resistance. The weird thing about the Rogue Tube Resistance Bands is that the actual amount of tension in pounds isn't stated (it only says things like very light or heavy) so you don't know exactly how much you're using.
However, if you're tight on space, you'll prefer the Rogue Tube Bands. The Bodylastics Resistance Bands Set requires a bit more space to pull, since you need to use the door anchor to pull the bands. I do like that there are expansion packs available for the Bodylastics bands, because they aren't exactly the hardest to pull. If you're particularly strong, I might even recommend buying the heavier set right off the bat.
Customer Reviews
People are kinda bonkers for both the Rogue Monster Bands and the Tube Resistance Bands. Both options have a 4.9 out of 5 with customers on the Rogue website. People love the quality of the Rogue Monster Bands and the typical Rogue customer service experience.
One customer with the screen name Rndmher applauded Rogue by saying, "I used the bands a few times (blue 50lb resistance) and they started to delaminate. I shot Rogue a picture and they told me to keep the bands and sent me a new pair free and fast. Rogue is a great company and that could have happened with any band, just grateful for their great warranty, service, and products."
In terms of the Tube Resistance bands, people loved the high quality design and the textured grip of the handle. Some people found the highest resistance options to be too difficult to use, but that doesn't seem like a failing on the band's part to me.
Final Verdict of Our Rogue Resistance Bands Review
All in all, if you're looking for top of the line resistance bands you can trust, pick up some Rogue Resistance bands. Obviously, I'd recommend thinking about what exercises you plan to do with the bands to determine if you should buy the Monster Bands or the Tube Resistance Bands. However, I like both for durable options that won't let you down when you're trying to workout.
Rogue Resistance Bands
Rogue's most popular resistance bands, the Monster Bands and the Tube Bands are great options for people looking to master pull-ups or strengthen their upper body.
Product Brand: Rogue Fitness
Product Currency: $
Product Price: 80
Product In-Stock: InStock
Rogue Resistance Bands Rating (Monster and Tube)
Overall score: 4.6 out of 5
Rogue Resistance Bands FAQs
Are Rogue Resistance Bands worth it?
Depending on what you plan to use your Rogue Resistance bands for, I think they are definitely worth it. Whether you're wanting to work on your pull-ups or do accessory movements, both can be useful options for you.
Where are Rogue Resistance Bands made?
The Rogue Tube Resistance Bands are made in the USA. The Rogue Monster Bands are not.
Should I use resistance bands instead of something like a barbell or kettlebell?
No, I would use resistance bands in addition to these typical garage gym staples you'd typically use for weight training or weightlifting.
What can I use a set of resistance bands for?
Resistance bands can be a useful tool for almost any muscle group. They are extremely versatile and can be used in a warm-up, WOD, and regular upper body or lower body strength training. I use my Rogue monster bands for assisted pull-ups, added on to bodyweight exercises and for tricep exercises like kickbacks.
Are either of these bands good for the glutes?
I personally wouldn't use either of these for glute workouts. I suggest using loop bands/mini bands to target the glutes. However, if you want to make something like your usual deadlift more challenging, you could attach one of the Rogue Monster bands to the end of your barbell with added resistance training. Other options include trying out resistance bands that have a door anchor or ankle straps where you can do things like glute kickbacks.