We test and review fitness products based on an independent, multi-point methodology. If you use our links to purchase something, we may earn a commission. Read our disclosures.
Resistance bands are useful pieces of equipment that anyone with (or even without!) a home gym can benefit from. They can be added to different bodyweight exercises like squats or push-ups to add a little spice or help you with other things like achieving a pull-up. The team at Garage Gym Reviews tested close to 20 resistance bands on the quest to find you the best options for however you want to use yours.
In this best resistance bands roundup, expect to see our picks for our favorite budget option, best for glutes, for beginners, and more. We're committed to giving you our honest opinion to help you spend your money on things you'll actually use (and not just throw on that one chair you throw everything on.)
Why You Should Trust Us
We've had our hands on everything home gym-related. From racks to weight benches to dumbbells and everything in between, we're your trusted source. We thoroughly test each piece of fitness equipment with specialized standardized testing methods and resistance bands are no exception.
When testing each resistance band, our team looked at things like overall tension, material, price, optionality, and value. This helped us get a clear picture on if the item was worth recommending or not.
Best Resistance Bands 
Video Review
Best Pull-Up Resistance Bands: Rogue Monster Bands
Good for: Anyone looking to master pull-ups
Rogue Monster Bands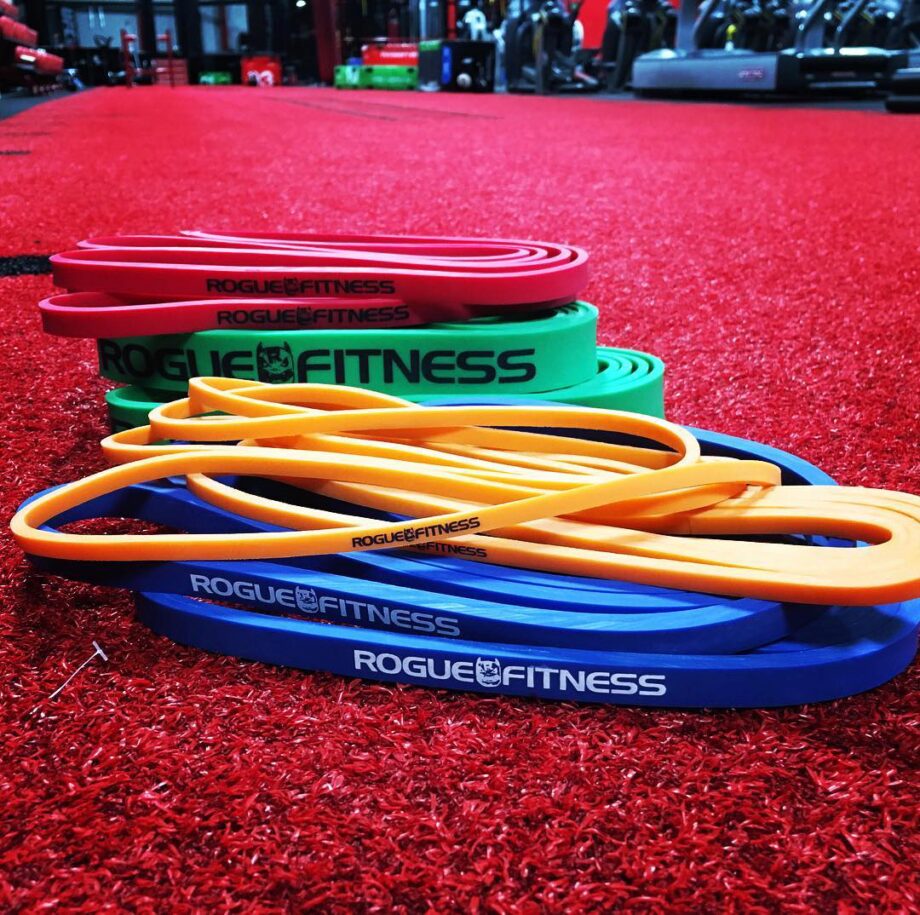 Rogue Monster Bands
Rogue Monster Bands are an easy on-the-go or at-home addition to any style of workout, indoor or outdoor. With the wide variety of resistance and tension options they are great for any workout from resistance training, speed training, and conditioning to rehabilitation, general exercise and stretching.The Rogue Monster Bands come in a variety of colors to make them easily identifiable. The bands come in Pull-up Package sets that include three set bands of varying resistance, or they can be purchased individually to suit your workout needs.The high-quality latex material is durable and proven to last through high-intensity workouts. Thinner bands can be used in place of weights or help add another level of intensity to weightlifting movements. Thicker bands are great when used in conjunction with weights for deadlifts, squats, leg press etc. for added resistance and challenge.Resistance categories explained:The lowest resistance bands are 15-50 pounds. These bands are best for incorporating into your daily workout for added tension, rehabilitation, assisting pull-ups, working upper and lower body areas .– Micro #0: 15-lb resistance - orange– Mini #1 – 30-lb resistance - red – Mini #2 – 50-lb resistance - blueThe mid-level bands are best for someone with slightly more experience in weight training. This level is great for added resistance to bench press, squats, and other lower body exercises. These might be too much if you are aiming for more of a stretch or rehabilitation. – #3 – 65-lb resistance - green– #4 – 100-lb resistance - black The last three bands are the highest resistance. These bands will add more of a challenge to your workout. They are recommended for more experienced lifters and athletes.  – Strong #5 – 140-lb resistance - purple– Strong #6 – 170-lb resistance - red– Super #7 – 200-lb resistance - silver
Pros:
Great for working on your pull-ups
Extremely durable
Option of up to 200 pounds of resistance, depending on the band you choose
Sold in two pull-up packages or individually
Cons:
Resistance isn't explicitly labeled on these bands
White, powdery residue
Strong latex smell
For those who are looking to either master their pull-ups or do sets with multiple reps, the Rogue Monster Bands Pull-Up Package will be your new best friend. The Pull-Up Package retails for around $80, and includes three durable resistance bands: a green (65 pounds), black (100 pounds), and purple (140 pounds). You can also purchase other bands separately that have as little resistance as 15 pounds, and as high as 200 pounds, so there is an option for essentially everyone.
This pull-up band kit can be a helpful tool when trying to crank out a bunch of reps or work on building strength to get a regular pull-up sans resistance band. The Rogue Monster Bands are very durable and well-constructed resistance bands (made with latex rubber), and I felt confident in their ability to hold me while I was cranking out pull-ups.
RELATED: Best Back Workouts
The only things I don't like about these bands are pretty minor: they stink. My hands smelled like a rubber band factory for a full day after handling these (even after washing my hands). They also have a slight powdery residue that will probably come off on your hands when you use them. Hey, free chalk for your lift after, amiright?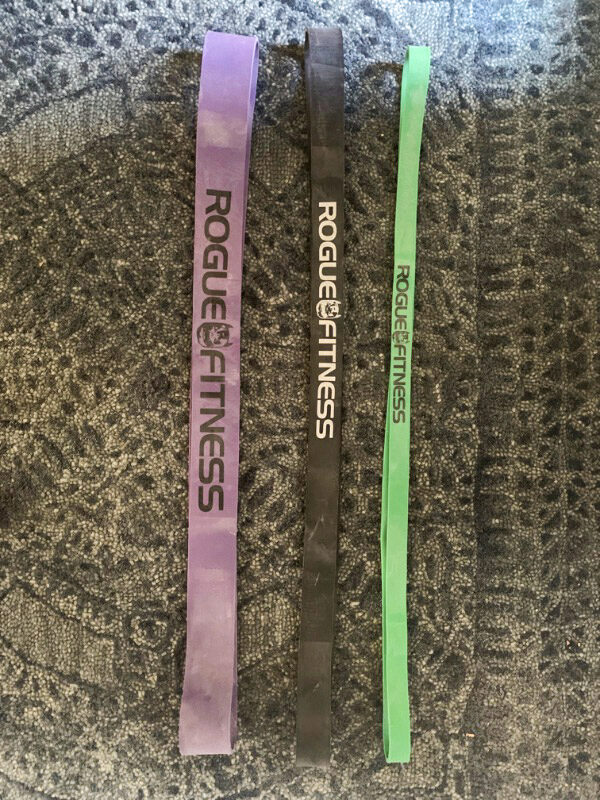 Best Budget Resistance Band Set: Renoj Resistance Bands
Good for: Someone that wants affordable and versatile resistance bands
RenoJ Resistance Bands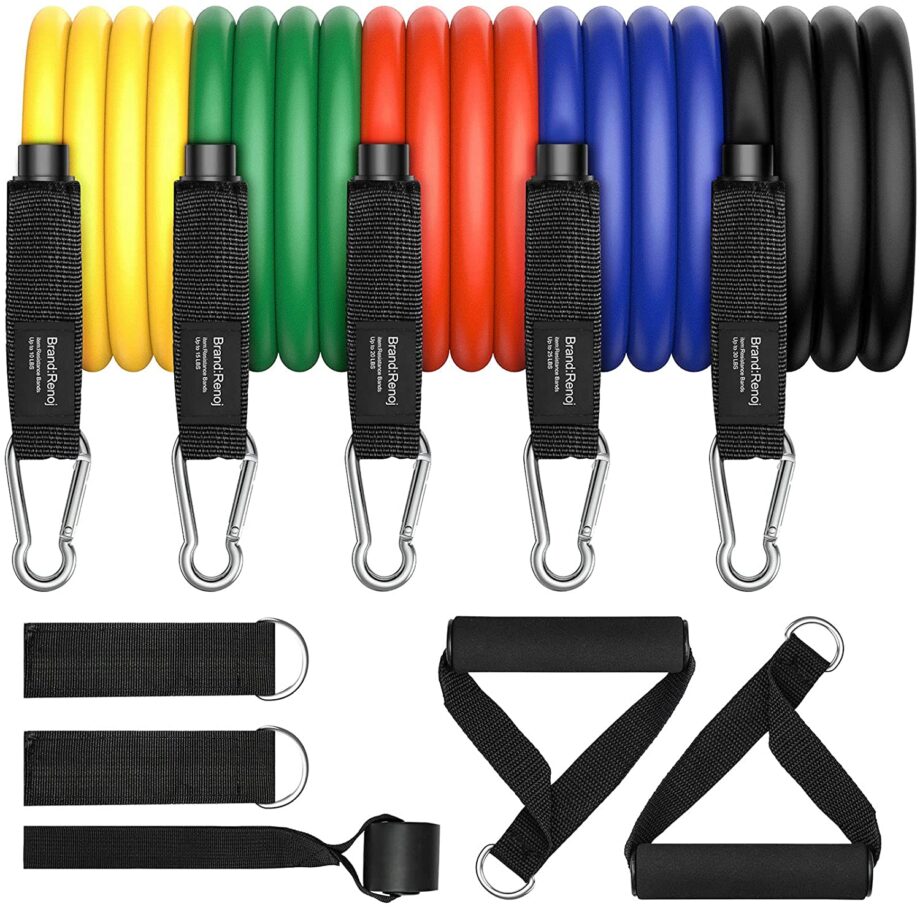 RenoJ Resistance Bands
The RenoJ Resistance Band set includes five natural latex tube bands, a door anchor, foam handles, ankle straps, and a carrying case for under $25. The bands range from 10 to 30 pounds of resistance and they can be used individually or they can be stacked together using the carabiners to add up to 100 pounds of resistance. These bands have more than 7,500 reviews on Amazon with an overall rating of 4.4/5.  The door anchor and foam handles work well and provide the possibility of more exercises than the bands alone. The ankle straps weren't user friendly because they simply come right off, rendering them useless. Fortunately, fashioning your own ankle straps by using the carabiner setup is easy to do and eliminating the ankle straps frees up space in the carrying case.
Pros:
Affordable
Easy to stack for increased resistance
Versatile
Comes with 5 different bands with varying tension
Cons:
Ankle straps don't stay on while doing lower-body exercises
Included carrying bag is too small
Not the most durable
For under $20, you get five resistance bands, a carrying case, plus both wrist and ankle straps and a door mount. The Renoj Resistance Bands Set is a very affordable option for someone who wants an entire set without a hefty price tag.
GGR Editor Kate Meier tested these out and really thought highly of the bands and handles. However, she was not a fan of the ankle straps. "They didn't stay on at all, and were essentially useless," Kate said. Apparently the Velcro refuses to stay on when doing lower-body exercises, which makes for a frustrating experience.
She did like that the bands can combine for up to 100 pounds of total resistance. They're made of natural latex with a non-slip handle. Plus, they come with a little carrying case, which makes this an ideal option for travel.
These bands probably won't last anywhere near as long as something like the Rogue Monster Resistance Bands, but for the price tag, that's less of a concern.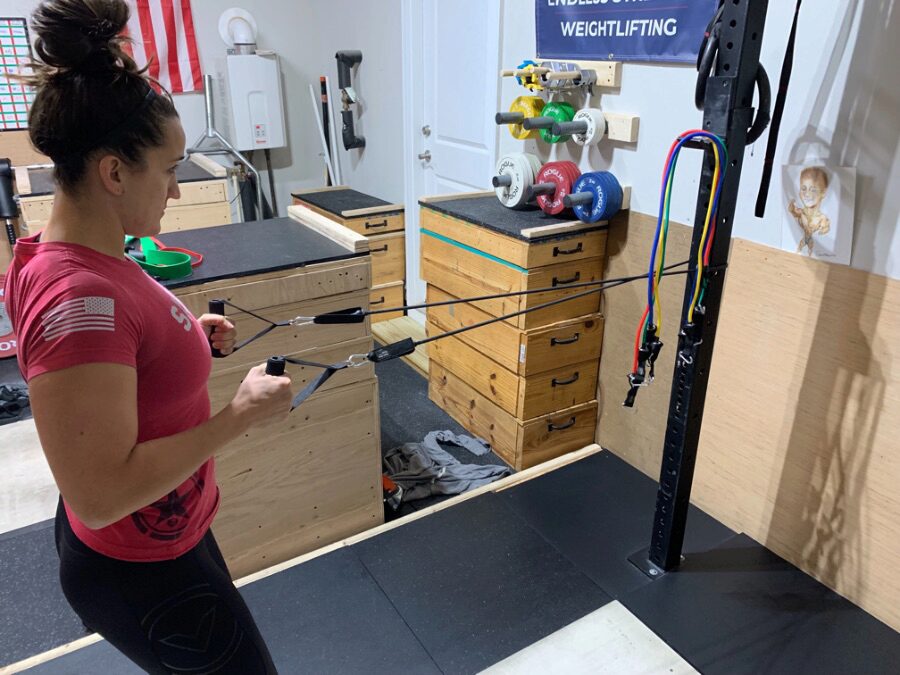 Best Resistance Bands for Travel: Bodylastics Resistance Bands Set
Good for: People who need portable resistance bands for when they travel
Bodylastics MAX Tension Resistance Bands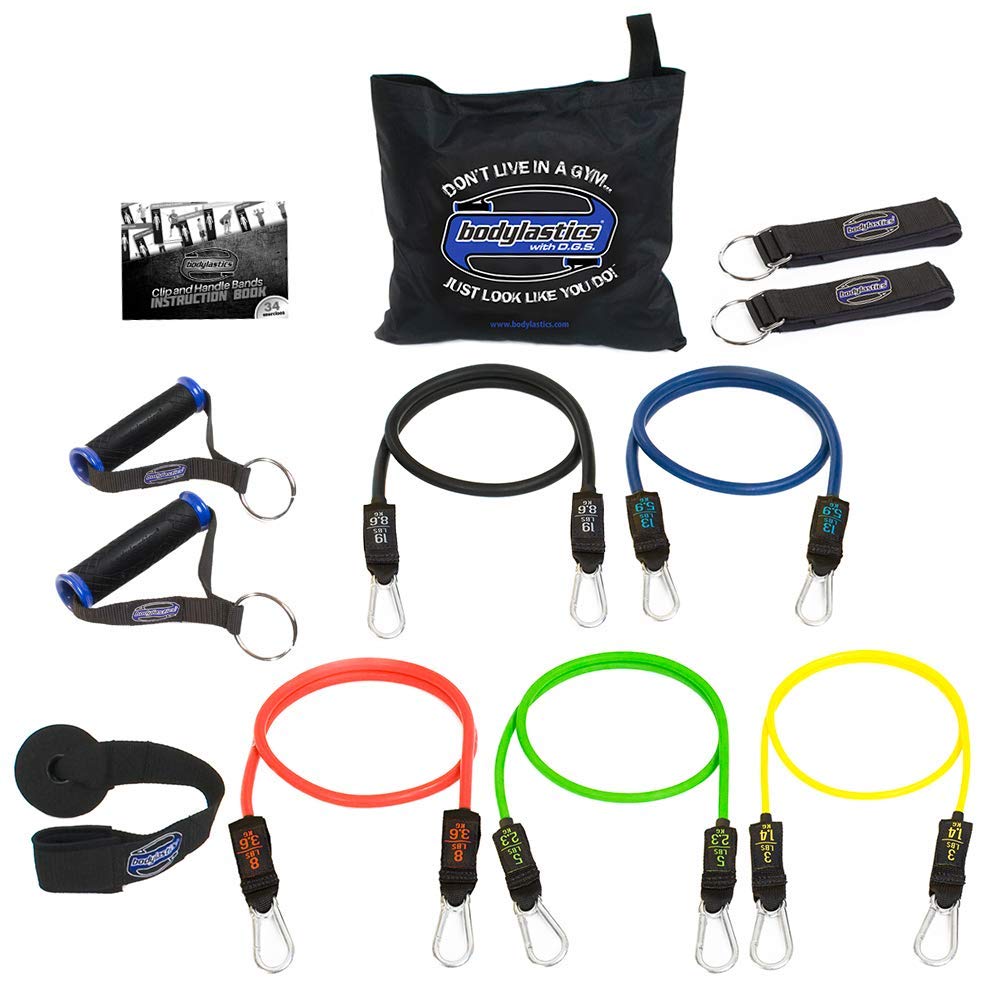 Bodylastics MAX Tension Resistance Bands
Bodylastics Max Tension Resistance Bands Systems incorporate the best of the best materials for the greatest durability and workout experience. Each of these exercise band kits include either 5, 6, 7 or 14 of our top rated Anti-Snap Malaysian latex tubes with solid iron Carabiners, Heavy Duty Components, Travel bag and instructions.12 Pieces Version - Max Tension 96 lbs: -Five bands of varying resistance (ONE: 3 lbs Band; ONE: 5 lbs Band; ONE: 8 lbs Band; ONE: 13 lbs Band; ONE: 19 lbs Band) -TPR Waffle Grip Handles (Set of 2) -Door anchor -Ankle straps (Set of 2) -Carrying bag -Printed Instructions 14 Pieces Version - Max XT 142 lbs: -Six bands of varying resistance (ONE: 3 lbs Band; ONE: 5 lbs Band; ONE: 8 lbs Bands; ONE: 13 lbs Band; ONE: 19 lbs Band; ONE: 23 lbs Band) -TPR Waffle Grip Handles (Set of 2) -Door anchor -Ankle straps (Set of 2) -Small Anywhere Anchor -Carrying bag -Printed Instructions 19 Pieces Version - Max XT Strong Man 202 lbs: -Seven bands of varying resistance (ONE: 3 lbs band; ONE: 5 lbs Band; ONE: 8 lbs band; ONE: 13 lbs band; ONE: 19 lbs Band; ONE: 23 lbs Band; ONE: 30 lbs Band) -TPR Waffle Grip Handles (Set of 4) -2 Door anchors -Ankle straps (Set of 4) -Medium Carrying bag -Printed Instructions
Pros:
Comes with a carrying bag, door anchor, bands, and ankle straps for $50
Simple and quick setup
No pungent smell like typical latex
Cons:
Need a decent amount of space to pull
Might need one of the more advanced packs of bands as you get stronger
No Amazon Prime Shipping available
If you're someone who is always on the go traveling, you'll want to pick up the Bodylastics Resistance Bands Set. This 12-piece set is just under $50 and has door anchors, bands, ankle straps, and a carrying bag. It's easy to set up and get going quickly, which makes it an ideal choice to stick in your suitcase or pull out at the hotel.
I appreciate that there isn't a particularly pungent smell like you might be used to with other latex resistance bands. In my opinion, that's a big win. Who wants to go to a business meeting after using resistance bands smelling like a tire?
I will say that the beginner pack of these only has just under 100 pounds of total resistance. This means you'll likely have to purchase the expansion pack as you gain more strength or if you're particularly strong already. Keep in mind that you'll also need a decent amount of space to pull from, so don't cheap out and get a small hotel room, m'kay?
I like that you can easily clip more bands on to make the tension heavier, so if you do purchase the expansion pack, they'll fit seamlessly into your current arsenal.
Best Resistance Bands for Recovery: Crossover Symmetry Shoulder System
Good for: Individuals who have shoulder issues and want to do physical therapy exercises with their bands
Crossover Symmetry Crossover Cords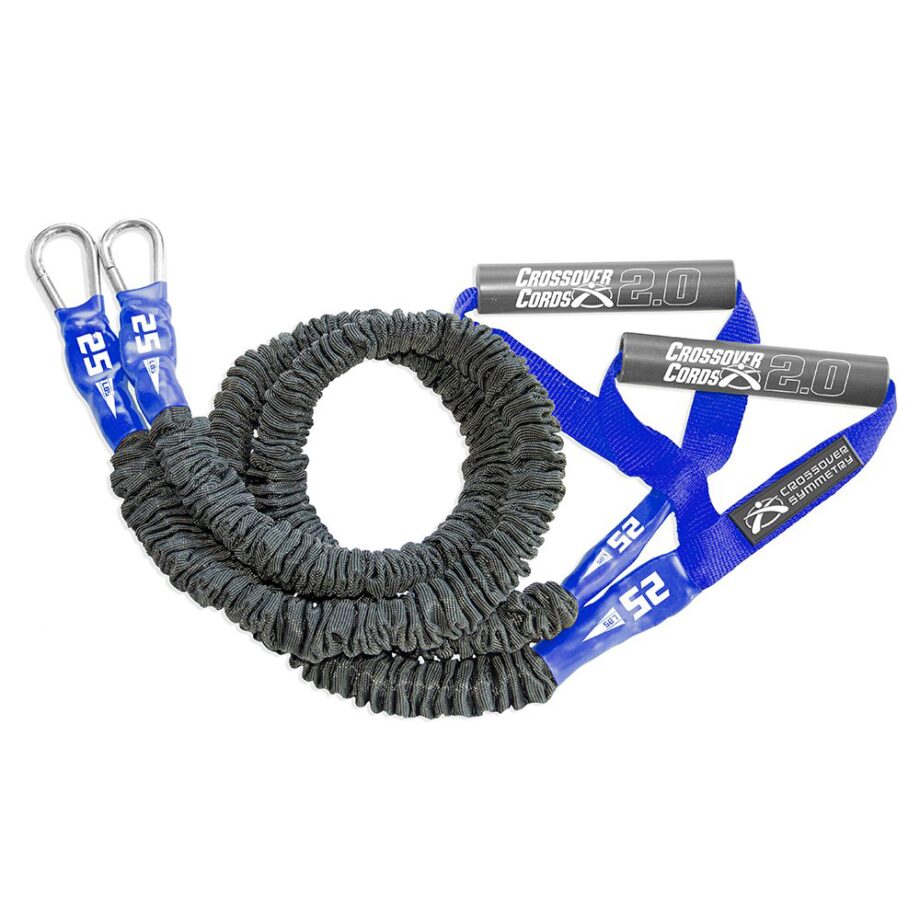 Crossover Symmetry Crossover Cords
IMPROVE PERFORMANCE: If you're an athlete in any sport that requires shoulder strength and mobility, like baseball, swimming, golf or Crossfit, you'll notice a significant increase in throwing power, strength overhead and shoulder stamina. That's why we're trusted by 20 MLB teams, 10 NFL teams and many PGA golfers. READY TO USE IMMEDIATELY: You can start reducing pain and maximizing shoulder performance right away. The pair of Crossover resistance cords can be mounted to an appropriate anchoring point using the unique handle to carabiner configuration. The cords are also fully compatible with Crossover Symmetry's Door Belts, Squat Rack Straps and Wall Mounts (sold separately). DESIGNED FOR SAFETY: Crossover Symmetry resistance bands are wrapped in a high strength protective sleeve, that protects you from getting injured if the band snaps during use. AVAILABLE IN SIX RESISTANCES: The Crossover exercise cords from Crossover Symmetry are available in six resistances to help improve shoulder health for a wide variety of individual fitness levels. Cord tension ranges from 3 lbs for novice users to 40 lbs for elite athletes.
Pros:
Very durable bands
Expansive library of workout routines comes standard with this set
Able to customize the exercises based on the condition of your shoulder
Cons:
Quite pricey at close to $200
Intended for shoulder work, not other exercises
Not great for small spaces
If you have shoulder issues from years of overuse, an injury, or just one too many overhead presses, the Crossover Symmetry Shoulder System is a must for your recovery. This set comes with a huge library of resistance band workouts to do to strengthen your shoulders without a ton of unneeded strain.
These bands are not high in tension (between 3-40 pounds); after all, they're supposed to be for recovery and rehab purposes. They are pretty pricey (close to $200) for something you likely won't use a lot besides when your shoulders are hurting.
GGR Staff Writer Anthony O'Reilly said he really liked that you're able to customize the different recommended shoulder exercises based on how bad your shoulders are. It makes him feel like he was really working with a physical therapist who is customizing recovery based on what's actually happening with his shoulder.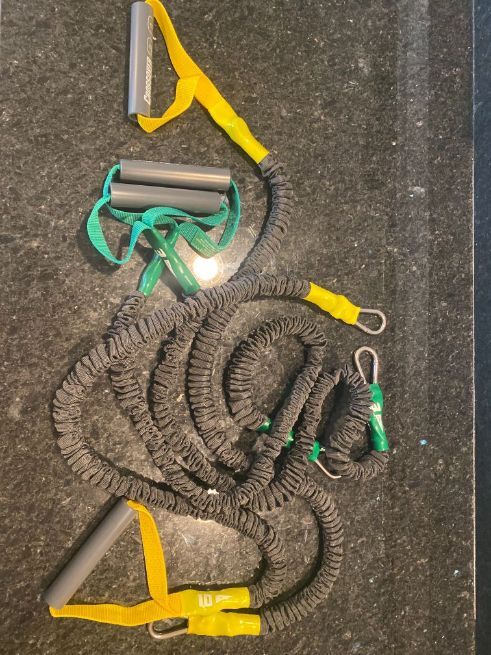 Best Resistance Bands with Handles: Rogue Tube Bands (Complete Package)
Good for: People looking for high quality tube resistance bands
Rogue Tube Resistance Bands
Rogue Tube Resistance Bands
The Rogue Tube Resistance Bands come in a variety pack of various tensions for under $80. Each tube band is well-constructed and has very grippy handles. The only thing I don't love about these is how badly they squeak when in use. If you're someone that is bothered by noises like that when working out, these are not the best option for you. It is also worth noting that these bands don't print the amount of tension on each one. You can tell that the band is thicker depending on the amount of tension, but you won't know by just looking at it.Check out my full Rogue Tube Resistance Bands review.
Pros:
High quality handles with textured grip
Well-made bands
Fairly portable
Cons:
Resistance tension isn't printed on the tube bands
Sometimes squeak while in use
On the shorter side
Every piece of equipment Rogue makes is overbuilt and durable, and the Rogue Tube Resistance Bands are no exception. The handles all come individually wrapped, and I could see why pretty quickly. These tube resistance bands have some of the best handles I've seen compared to other comparable resistance bands. The grip is nice and textured, and the handle is long enough for larger hands to grasp easily.
The bands are also clearly well constructed, but I do wish the resistance was printed on the equipment themselves. I'm terrible at remembering how much tension each one has, especially when the full package comes with six different options and I have the brain capacity of a squirrel. Unfortunately, even after consulting the website, it only has general estimates for each and calls the varying tension options "very light" all the way to "super heavy." Not the most helpful in my opinion. I want actual numbers, people!
Although these aren't quite as portable as small loop bands would be, they can definitely still come along in suitcases and on vacation. If you're someone who is annoyed by squeaking noises, beware: these squeak literally every time you use them. It doesn't really bother me now, but I can see that getting old over time. I am pretty sure the sound is coming from the metal circles rubbing against the band, but regardless, they are absolutely screaming for some WD-40.
RELATED: Best Tube Resistance Bands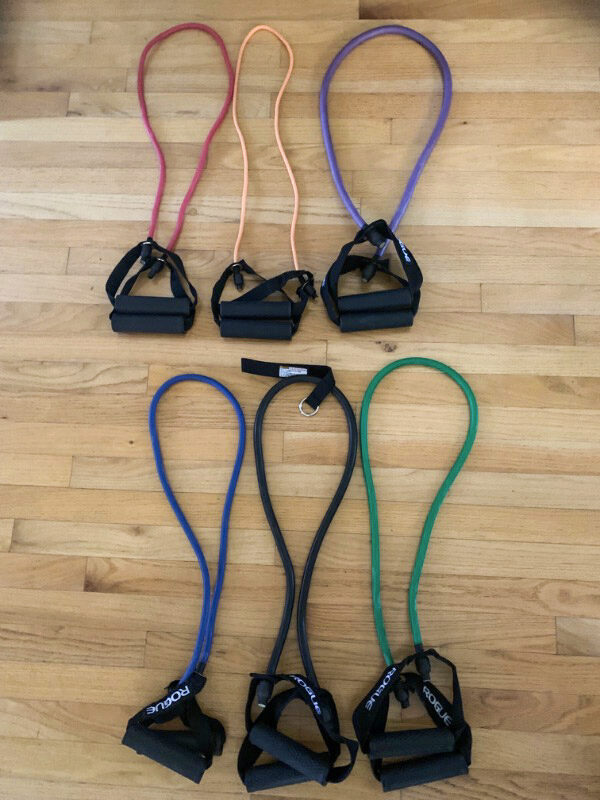 Best Resistance Bands for Beginners: Gritin Bands
Good for: Those who need low-tension resistance bands
Grintin Bands
Grintin Bands
The Gritin Bands certainly aren't going to last you a lifetime. They're very thin, but at their very affordable price of under $15, they will not break the bank. Coming back from an injury? These are a great option to help you slowly rehabilitate without overextending yourself. The Gritin Bands are also a good option for those who need lighter resistance for whatever reason. They also will not rub as you use them, which I particularly like. Plus, they come with a small carrying case so you can take them on the go with you.
Pros:
Great for beginners
Inexpensive
Very portable
Cons:
Not all that durable
Strong latex smell
Tension is not printed in actual weight on the bands
If you're a beginner looking to get stronger without overdoing it, I would recommend the Gritin Resistance Bands. For less than $15, you'll get a set of five loop resistance bands varying in tension from light to xx-heavy. However, even the xx-heavy feels too light to me, but I've been strength training for 10 years. If you're a beginner, this is a great way to test the waters with resistance bands that won't be too difficult to use.
The bands themselves are nice and thin, which makes for very portable equipment. However, since they are so thin, they will not last as long as a thicker material or higher tension band might. The Gritin Bands also smell heavily of latex, so if you're allergic or have a strong aversion to that particular scent, these are not a good option for you.
I also do wish the actual amount of tension (in pounds) was printed on the bands. The light to xx-heavy is very subjective. However, if you're looking for loop resistance bands to get started on your fitness journey or for a portable extra to bring on a trip, these are a good option for you.
Best Premium Resistance Bands: Gorilla Bow
Good for: People who want are looking for high-quality band system, and a unique way to train a variety of muscle groups through home workouts
Gorilla Bow Portable Home Gym Resistance Band System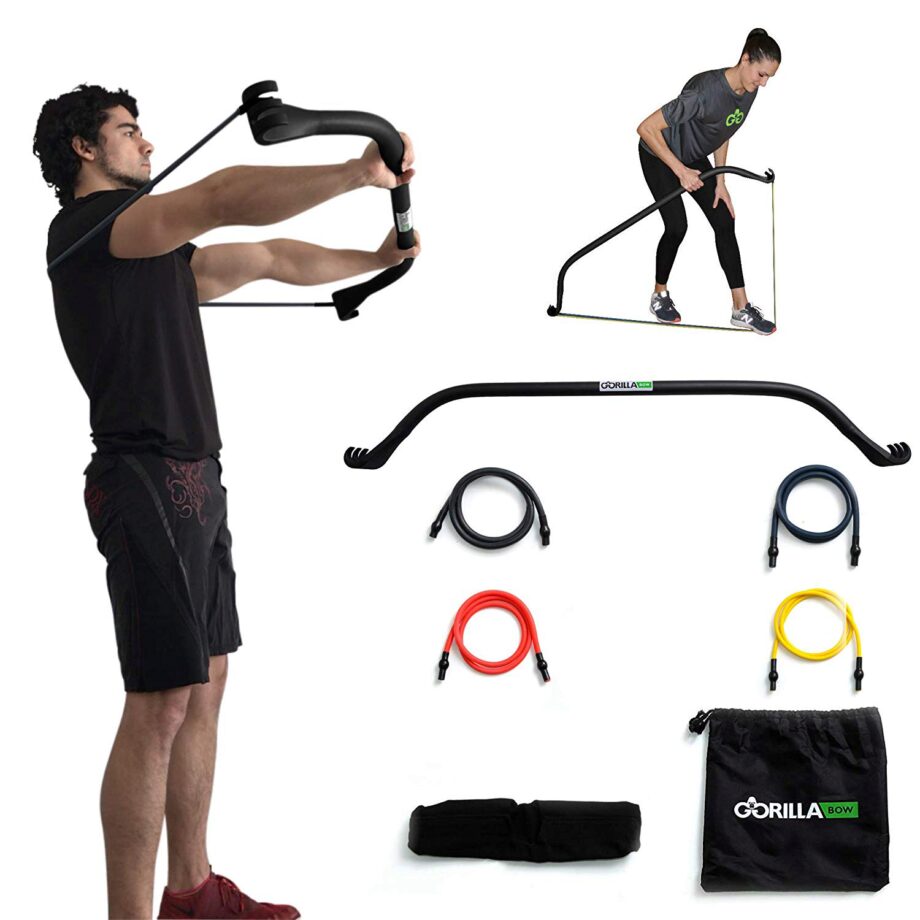 Gorilla Bow Portable Home Gym Resistance Band System
ECONOMICAL & PORTABLE: Get all the workouts of traditional home gym machines, but without the bulk. Save money and space with one well-designed piece of equipment that does it all & is easy to move around. Includes 1 aluminum Gorilla Bow (56" x 9.5" x 1.75"), 4 100% latex double wall resistance cables (10, 20, 32 & 45 lbs), and a carry bag for the bands. WORKS EVERY MAJOR MUSCLE GROUP: The Gorilla Bow combines resistance bands and high intensity interval circuit training for a full body workout. Lose weight & tone your arms, abs, legs & glutes while also getting cardio in. It incorporates movements you're used to - like squats, bench press, curls & rowing - with heavy duty resistance cords for added benefits. GREAT FOR ANY FITNESS LEVEL: Our Gorilla Bow comes with 4 adjustable levels of resistance (5 - 110 pounds) so that everyone from beginners to professional athletes can be challenged. Gorilla Bow utilizes advanced resistance technology that doesn't rely on gravity (like traditional weights), so you can't cheat your movement with momentum. QUALITY CONSTRUCTION & DESIGN: Made from aircraft aluminum, the Gorilla Bow is built to last and can handle 300 lbs of tension. Our FlexClaw design allows you to quickly and easily modify your resistance bands from one set to another. Strap on all cables to challenge yourself! PRODUCT DETAILS: Includes 1 aluminum Gorilla Bow (56" x 9.5" x 1.75"), 4 100% latex double wall resistance cables (10, 20, 32 & 45 lbs), and a carry bag for the bands. We're confident you'll love the Gorilla Bow - we've added a 90 day money back guarantee and a 2 year warranty, so give it a try!
Pros:
Fun classes to follow
Unique product that has the ability to work your entire body
Can use up to 300 pounds of resistance
Cons:
Not very portable
Might need to purchase extra bands if you're particularly strong
Not the best option for a beginner
The Gorilla Bow is an extremely unique take on resistance band training. With your purchase, you'll get a free 30 days for the interactive programming that goes along with this device, the Gorilla Bow App. After the 30 days is up, a monthly membership is $14.99. You'll get on-demand workout classes (that utilize the Gorilla Bow obviously) that fit a variety of skill levels and goals. This makes it a fun option for someone who enjoys interactive programming.
I really like the concept of this device. However, I think people used to more intense strength training should go ahead and purchase the heavy resistance bands to use with their Gorilla Bow. The base kit comes with four resistance bands that only add up to 110 pounds when used all together. The actual bow itself can support up to 300 pounds of resistance, which is awesome.
I would recommend this to someone who isn't necessarily looking for a portable option, because the Gorilla Bow is pretty large. I would also not recommend this to someone who is a true beginner to strength training, because the movements require at least some knowledge of proper form.
Check out my full Gorilla Bow review.
Best Resistance Bands for Short People: Eilison Resistance Band Kit
Good for: Folks under 5'9" looking for resistance bands they don't have to choke up on
EILISON Resistance Band Kit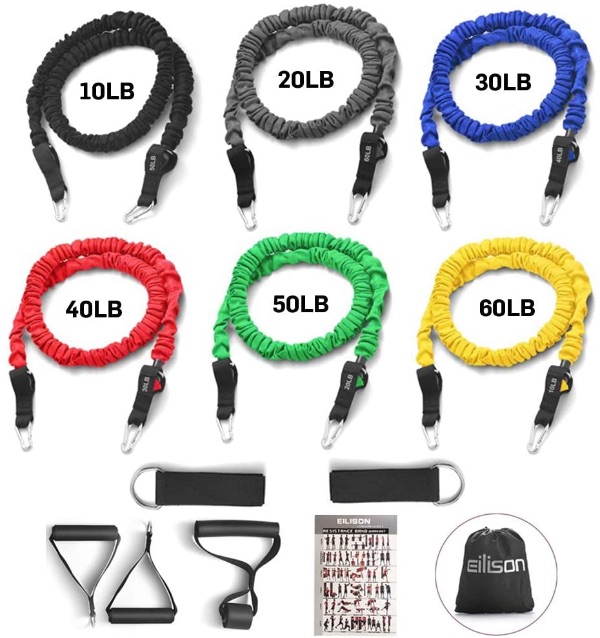 EILISON Resistance Band Kit
The EILISON Resistance Band Kit comes with 13 different pieces for under $45. This is a good starter kit for a beginner looking to use resistance bands for the first time or someone on the shorter side. At 5'9", I had trouble doing anything like overhead band pull aparts, or tricep extensions because of the length of the bands. If you're shorter than me, you may enjoy that you don't have to choke up on these like you may be used to doing with resistance bands.The resistance options are fairly light (10-60 pounds), but could be good for people doing rehabilitation exercises or just people working on increasing their strength. I personally appreciated the nylon covering these bands had, because they didn't give off the traditional, overpowering rubber smell.
Pros:
Great for shorter people who need appropriately sized resistance bands
Portable and comes with a storage bag
Nylon sleeve eliminates the typical unpleasant latex smell
Cons:
Not a good option for taller people over 5'9"
Handle is short and can be difficult to grip for bigger hands
Don't feel the most durable
For all my short friends out there, the Eilison Resistance Bands will be a quick favorite. Gone will be the frustration and irritation of choking up on resistance bands that are far too long. Although these aren't specifically designed for shorter folks, they are definitely best utilized by people shorter than 5'9". I'm 5'9" and could not do a single overhead movement with these.
I definitely see the appeal with these though; the nylon sleeve eliminates the terrible rubber smell you may be used to with most resistance bands. However, it comes at the price of not extending as well as a typical, fully latex resistance band might. The bright primary colors of the nylon encompassing the bands is fun and the included bands range from 10-60 pounds. Luckily, these bands are stackable if 60 lbs of resistance isn't going to cut it for you.
The storage bag that comes standard with this kit is a welcome addition. I feel like it makes this set portable and easy to bring along on different kinds of trips. These are also pretty affordable at under $50 for a set with six resistance bands, so even though they don't feel the most durable, it's less of a concern because of the price.
Best Mini-Loop Resistance Bands: AmazonBasics Latex Resistance Bands
Good for: Anyone looking for a cheap, mini-loop set of bands
AmazonBasics Latex Resistance Bands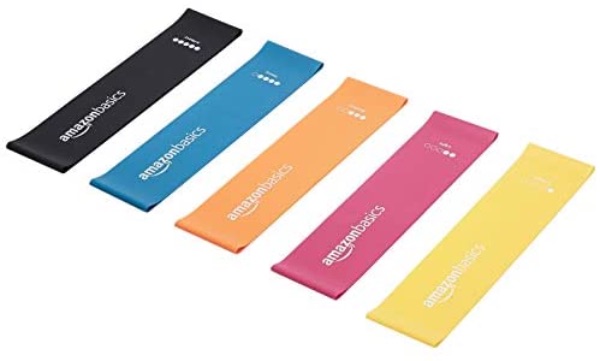 AmazonBasics Latex Resistance Bands
AmazonBasics Latex Resistance Bands are inexpensive pieces of fitness equipment that can be used for mobility and strength training exercises. Light weight and small, these are ideal for travel and/or small spaces. The bands vary in thickness so that the user can choose the amount of resistance. Each set includes a bag for easy storage and transport of the bands. The bands' portability makes them easily integratable into your everyday fitness routine. Although we didn't experience it, some of the reviews state the bands can slip out of place and roll up when in use. And, some others stated that the durability could be improved. However, given the price (and the free two-day delivery for Amazon Prime members) and the 4.3/5 star reviews, these are a solid addition to your workout.
Pros:
Non-slip surface
Useful for both warm ups and accessory work
5 bands for under $15 with free shipping
Cons:
Resistance isn't labeled in pounds (ex. Light, medium, heavy)
Probably won't last an insanely long time
Some reviews mentioned they roll down while in use
For those who want great mini-loop resistance bands, AmazonBasics delivers. This budget-friendly option comes with 5 bands for under $15 ranging from extra light to extra heavy. GGR Editor Kate Meier said she used these resistance bands with her personal training clients.
Both her and her clients were impressed with the quality and lack of slippage. Sometimes when using thinner loop resistance bands, you might find that they roll down when in use. Kate said this was not the case with the AmazonBasics Latex Resistance Bands. However, some reviewers mentioned they had an issue with them rolling down while in use, but we didn't personally see this.
Not only are these bands good for warm ups, but they can also be useful when doing accessory work. It is worth noting that these are a bit thinner, and probably won't last an insanely long time, especially with daily usage. However, since they are so inexpensive, it isn't the worst thing ever if this set only lasts you a year or two.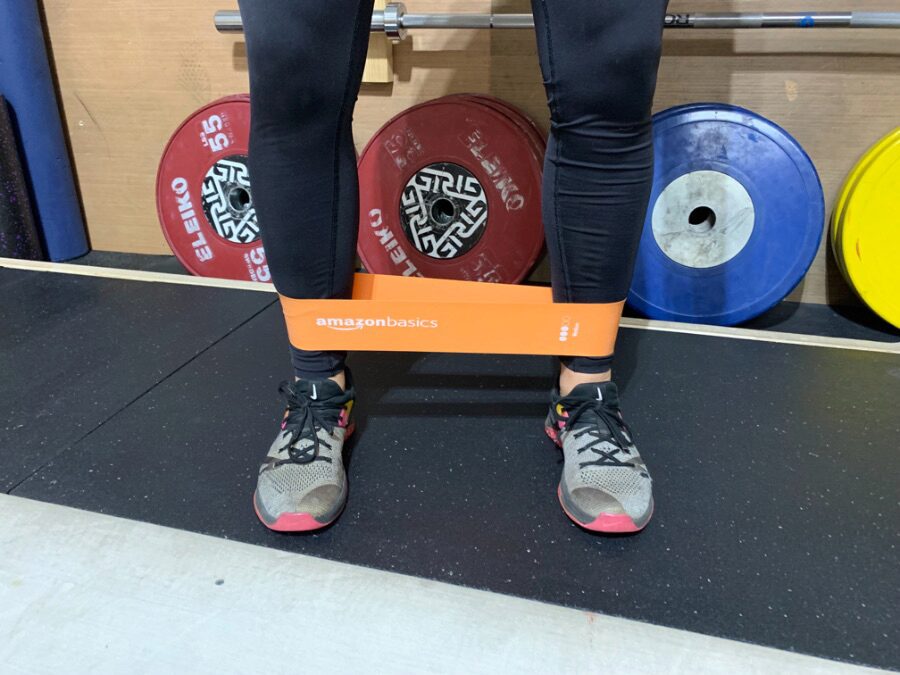 Best Non-Latex Resistance Bands: Fringe Sport Latex-Free Strength Bands
Good for: People who need latex-free resistance bands
Fringe Sports Latex-Free Strength Bands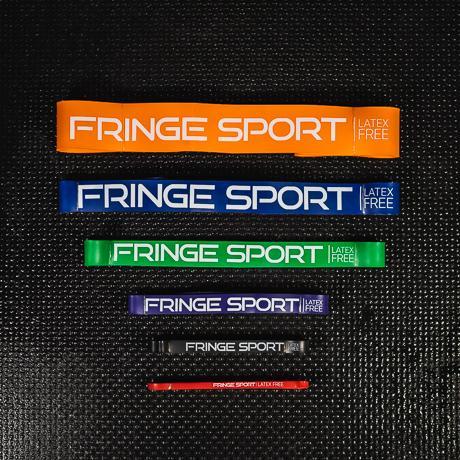 Fringe Sports Latex-Free Strength Bands
The Fringe Sports Latex-Free Strength Bands are made from durable medical-grade rubber. They come in six different resistances: Red band: 20-35 pounds Black band: 30-50 pounds Purple band: 40-80 pounds Green band: 50-120 pounds Blue band: 60-150 pounds Orange band: 70-185 pounds Fringe even offers exercise options for each band on their website. The Fringe Sports Bands are flexible enough to be integrated into stretching and mobility, but strong enough to use for pull-up assistance. Although we wish that the sets would stay in stock more, the free-shipping, hassle-free returns, and one-year warranty make them worth the wait. 
Pros:
Latex-free and a great option for people with a latex allergy
Variety of bands with different resistance levels
Useful for those who need help with assisted pull-ups
Cons:
Feel weaker than the same type of resistance bands from Rogue
Expensive for 6 bands (about $190)
Resistance isn't labeled on the band itself
Struggling to find a latex-free resistance band option? Fear not! The Fringe Sport Latex-Free Strength Bands are here to save the day. If you're allergic to latex, these are a great option because there are a variety of different band sizes and resistance levels to choose from. You have the option to either order bands individually, or purchase a set. However, the set is actually rather pricey at $190 for a set of six bands.
I do love that these are so versatile. The thicker ones are great for assisted pull-ups and the thinner ones can be used for beginners learning basic strength movements. It is worth noting that these bands do feel slightly weaker than the comparable latex version from Rogue.
The actual amount of tension in pounds isn't labeled on the actual bands, and I wish it was. Instead, Fringe decided they would put "latex-free" on half the bands, which isn't the worst move for people who are allergic to latex. However, it is hard to know how much resistance you're actually using.
Best Resistance Bands for Glutes: Titan Fitness Loop Resistance Bands
Good for: People looking for booty bands for their lower-body workouts
Titan Loop Resistance Bands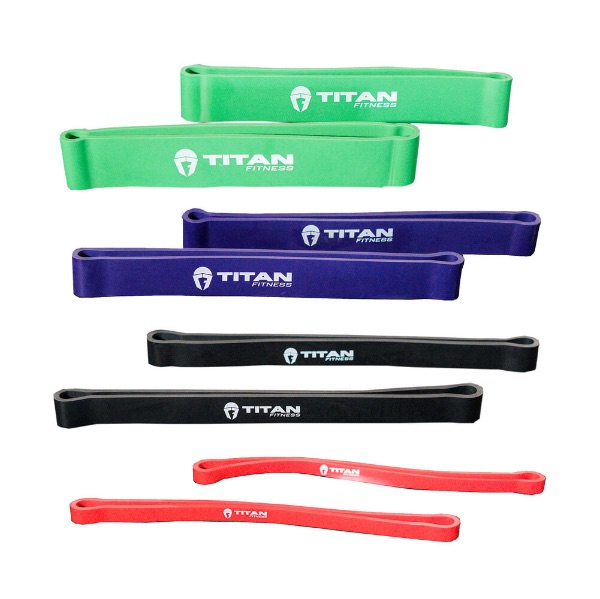 Titan Loop Resistance Bands
The Titan Loop Resistance Bands have a wide variety of tension, which make them suitable for a variety of strength levels. The lightest resistance band (red) has an overall resistance of 15-30 pounds. Compare this to the green resistance band, which has tension between 70-120 pounds. Plus, you get two others in-between if you're not at one obvious side of the spectrum.I was especially impressed with the included one year warranty. Not many resistance bands come with any type of guarantee, and upon receiving these, I can see why the warranty is included. These are super well-constructed loop resistance bands. Titan definitely feels confident in the durability of these (as they should).
Pros:
Good for strengthening the glutes
1-year warranty
Thick and durable
Cons:
Strong latex smell
No pound of resistance labeled on the bands
Limited amount of different exercises you can do with these
For those who are looking to strengthen their glutes, the Titan Fitness Loop Resistance Bands will have you sore for days. These durable bands come in a pack of eight, with four different resistance levels for under $50. I personally was very impressed by how strong and durable these loop resistance bands were.
Plus, Titan Fitness gives these resistance bands a one-year warranty. I haven't come across many brands (if any at all) that provide a warranty for anything like resistance bands. Although I really like these loop resistance bands for strengthening the glutes and lower body, there are a limited amount of exercises you can do with them.
I did really like that these particular resistance bands didn't slide down my legs/fold over when doing exercises. I find that it can be a real issue for cheaper and thinner resistance bands, but not with these. I felt confident that they weren't going to irritatingly fold over mid-glute bridge.
Other Resistance Bands We Researched
GoFit ProGym Extreme: This set comes with four bands at different levels of resistance, ankle straps, and handles. I tested this out and thought the resistance bands did not feel particularly durable. The tension offered with the four included bands was also not high enough for my liking.
REP Fitness Tube Resistance Bands (Full Set): These resistance bands with handles are definitely lesser quality than the Rogue Monster Tube Bands. The materials and overall construction feels much cheaper, and the handles are too small to be comfortable.
Fringe Sport OneFit Wonder Mini Bands: GGR Editor Kate Meier tried these and was less than thrilled. She said they were thin and irritatingly rolled up while trying to use them. They also aren't marked in any way, so you have to remember which ones you're picking up to use.
Serious Steel Heavy-Duty Resistance Bands: These bands are a solid option if you need pull-up assistance. However, they didn't make it into our top picks because of the sheer amount of powder these things expelled while in use. I mean holy crap, they absolutely coated our clothing.
WHATAFIT Resistance Bands Set: These bands seem like a great budget-friendly option, at less than $30 for five bands with handles, and a door anchor so you can workout anywhere. And with more than 20,000 five-star reviews on Amazon, we're excited to see if they live up to the hype.
Fit Simplify: This brand makes different types of resistance bands, and according to Amazon reviews they're all a great value for the price point.
Perform Better Mini-Resistance Bands: Reviewers say these mini-resistance bands are some of the most powerful bands you can find anywhere on the market today.
SPRI Resistance Bands: The SPRI bands are a great budget-friendly option, but there are many complaints of them snapping after only a few uses.
TRX Exercise Bands: A great addition to the TRX Home Suspension Trainer, but there are better bands out there.
How We Tested the Best Resistance Bands
The GGR team divided and conquered when it came to testing the most popular resistance bands on the market. We tested quite a few and rated each band based on things like durability, value, price tag, and usage. It was important to our team that we tested each over a period of time to give each a fair shake in a variety of settings and workouts.
What to Look for in Resistance Bands
Like picking anything to add to your home gym, it can feel daunting to decide what kind of resistance band to purchase. Should you get loop bands, or the tube option with handles? How about with or without latex? Our team will break down what you should look for before deciding what to buy when in comes to resistance bands:
Price
Ah, the age old question: how much does this thing cost? If you're just absolutely raking in the dough, you're probably not too concerned about this because resistance bands can only be so expensive. However, if you're on a pretty tight budget, be realistic about what you're going to get. The $15 set of resistance bands from Amazon might be awesome for a year, but be aware that you generally pay for what you get. What I mean by that is that the cheaper the resistance band, oftentimes the thinner the material and the less durability it has.
Material
This is another thing to think about that can be either personal preference or due to an allergy. The majority of resistance bands are made with some type of latex. However, there are latex-free options for those looking to avoid latex due to an allergy or other reason.
Resistance
Like with kettlebells or dumbbells, resistance bands have their own amount of tension (or weight) they provide. Make sure you match up your strength level with the amount of tension you choose for your bands.
Band Style
When choosing a resistance band, there are a variety of options. These can include loop bands, tube bands, and bands with handles. Take into account what types of exercises you want to do with your resistance bands to help you determine what type to purchase.
Benefits of Resistance Bands
Using resistance bands can be a great option for pretty much any home gym owner. Here are the reasons to consider picking up one (or more) of these to add to your workout routine:
Price
Resistance bands tend to be more affordable than free weights like dumbbells and kettlebells.
Safety
No piece of home gym equipment is 100 percent safe, and resistance bands have their own inherent danger. However, they're not quite as dangerous as dropping a 50-pound dumbbell on any part of your body, and they're a better choice for those recovering from a muscle injury compared to free weights or a heavy barbell.
Portability
It's much easier to pack a few resistance bands in suitcase or backpack than it is any other type of weight.
Versatility
Can be used for pushing, pulling, and other movements.
RELATED: Free Weights Workouts
Best Resistance Bands FAQs
Can you build muscle mass with resistance bands?
How do I choose a resistance band?
Check out our buying guide above to figure out the best resistance bands for you specifically. Keep in mind things like budget, materials used, and resistance offered.
Are resistance bands good to add to your home gym?
Resistance bands are an easy and budget friendly way to add some extra 
equipment to your home gym. Just like something like a jump rope, resistance bands have tons of versatility and don't take up a lot of space.
Do resistance bands actually work?
Yes, as the word "resistance" is literally in their name. Resistance bands have been shown to provide great muscle- and strength-building benefits, and can help give you a great cardio workout if you use them the right way.
Which brand is the best for resistance bands?
It depends on what type of resistance band you're looking for. We like Rogue for pull-up resistance bands, and Titan Fitness for people specifically looking for glute training. AmazonBasics, Fringe Sport, and Bodylastics also make great resistance bands for different purposes.
Are thick or thin resistance bands better?
Thicker bands tend to generate more resistance than thinner ones, but that doesn't necessarily make them better. A thicker band also isn't necessarily more durable than thinner ones, as it depends on the type of latex or material that's used in making them.