We test and review fitness products based on an independent, multi-point methodology. If you use our links to purchase something, we may earn a commission. Read our disclosures.
I love trying innovative products to add to my home gym. The latest and greatest in smart home gym equipment has fascinated me and presented an alternative way of working out. The Gorilla Bow does something similar by taking a product people are already familiar with (resistance bands) and making it fresh and new.
In this Gorilla Bow review, I'll tell you why this portable home gym might be your new favorite "inexpensive" (I use that term lightly in relation to the price of squat racks and treadmills) piece of fitness equipment.
Gorilla Bow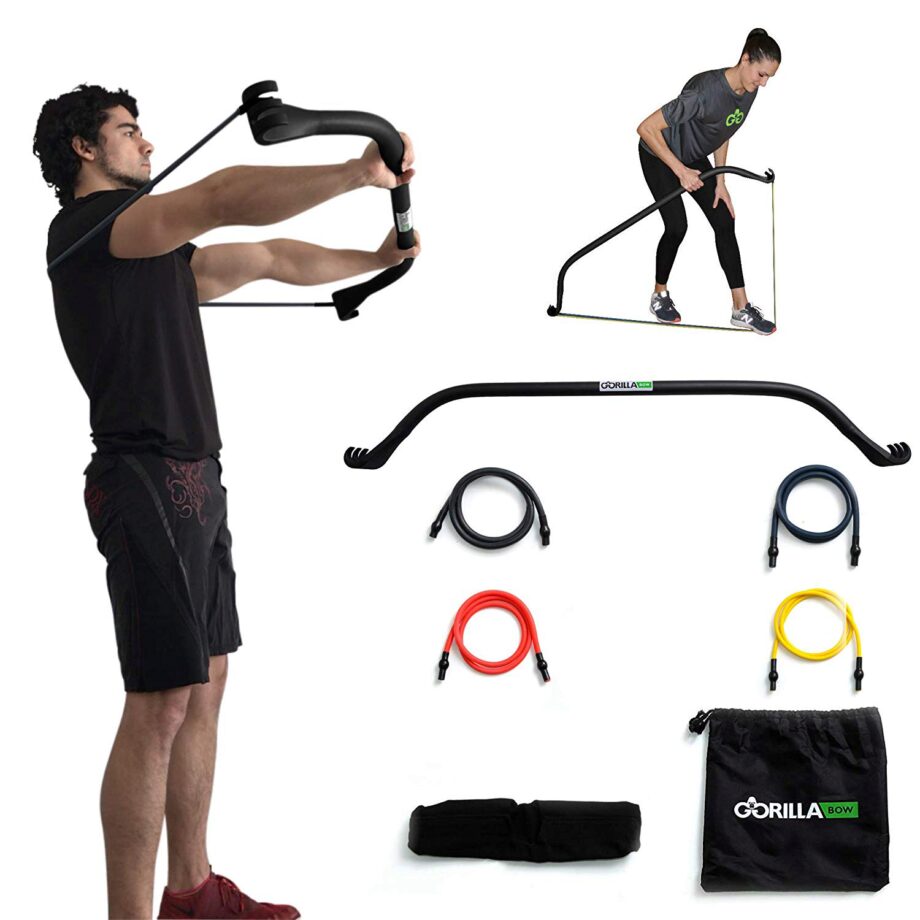 Gorilla Bow Portable Home Gym Resistance Band System
ECONOMICAL & PORTABLE: Get all the workouts of traditional home gym machines, but without the bulk. Save money and space with one well-designed piece of equipment that does it all & is easy to move around. Includes 1 aluminum Gorilla Bow (56" x 9.5" x 1.75"), 4 100% latex double wall resistance cables (10, 20, 32 & 45 lbs), and a carry bag for the bands. WORKS EVERY MAJOR MUSCLE GROUP: The Gorilla Bow combines resistance bands and high intensity interval circuit training for a full body workout. Lose weight & tone your arms, abs, legs & glutes while also getting cardio in. It incorporates movements you're used to - like squats, bench press, curls & rowing - with heavy duty resistance cords for added benefits. GREAT FOR ANY FITNESS LEVEL: Our Gorilla Bow comes with 4 adjustable levels of resistance (5 - 110 pounds) so that everyone from beginners to professional athletes can be challenged. Gorilla Bow utilizes advanced resistance technology that doesn't rely on gravity (like traditional weights), so you can't cheat your movement with momentum. QUALITY CONSTRUCTION & DESIGN: Made from aircraft aluminum, the Gorilla Bow is built to last and can handle 300 lbs of tension. Our FlexClaw design allows you to quickly and easily modify your resistance bands from one set to another. Strap on all cables to challenge yourself! PRODUCT DETAILS: Includes 1 aluminum Gorilla Bow (56" x 9.5" x 1.75"), 4 100% latex double wall resistance cables (10, 20, 32 & 45 lbs), and a carry bag for the bands. We're confident you'll love the Gorilla Bow - we've added a 90 day money back guarantee and a 2 year warranty, so give it a try!
Why You Should Trust Us
With more and more people interested in building a home gym vs gym membership but lacking space for huge pieces of equipment, resistance bands have been a hot topic within the community as of late. The team and I at Garage Gym Reviews have personally tested some of the best resistance bands on the market from popular brands like Rogue, REP, and Titan.
Besides the main home gym contenders, we're always looking for new and unique products that have the ability to make an impact on the market. The Gorilla Bow fits the bill for an innovative twist on the traditional resistance band. Of course, even innovative products get put through our rigorous testing to find out if we think the materials, overall value, versatility, and tension levels are up to snuff.
A Quick Look at the Gorilla Bow
When looking to purchase a Gorilla Bow, you have four different options. The four (Original Gorilla, Travel Lite Gorilla, Lite Gorilla, and Travel Gorilla) vary in price and each have their own pros and cons. For the purpose of this review, it is important to note that I have only tested the Original Gorilla Bow.
If you're someone who travels a lot, purchasing one of the travel options makes quite a bit of sense. The bow itself is able to be broken apart into three, easy-to-store pieces. This makes it an ideal road trip companion if you don't particularly want to lug a four foot long aluminum bow in your hatchback.
However, if you're simply looking to get your sweat on at home and don't really care about the added benefits of being able to disassemble the bow, getting the Original or Lite option makes the most sense.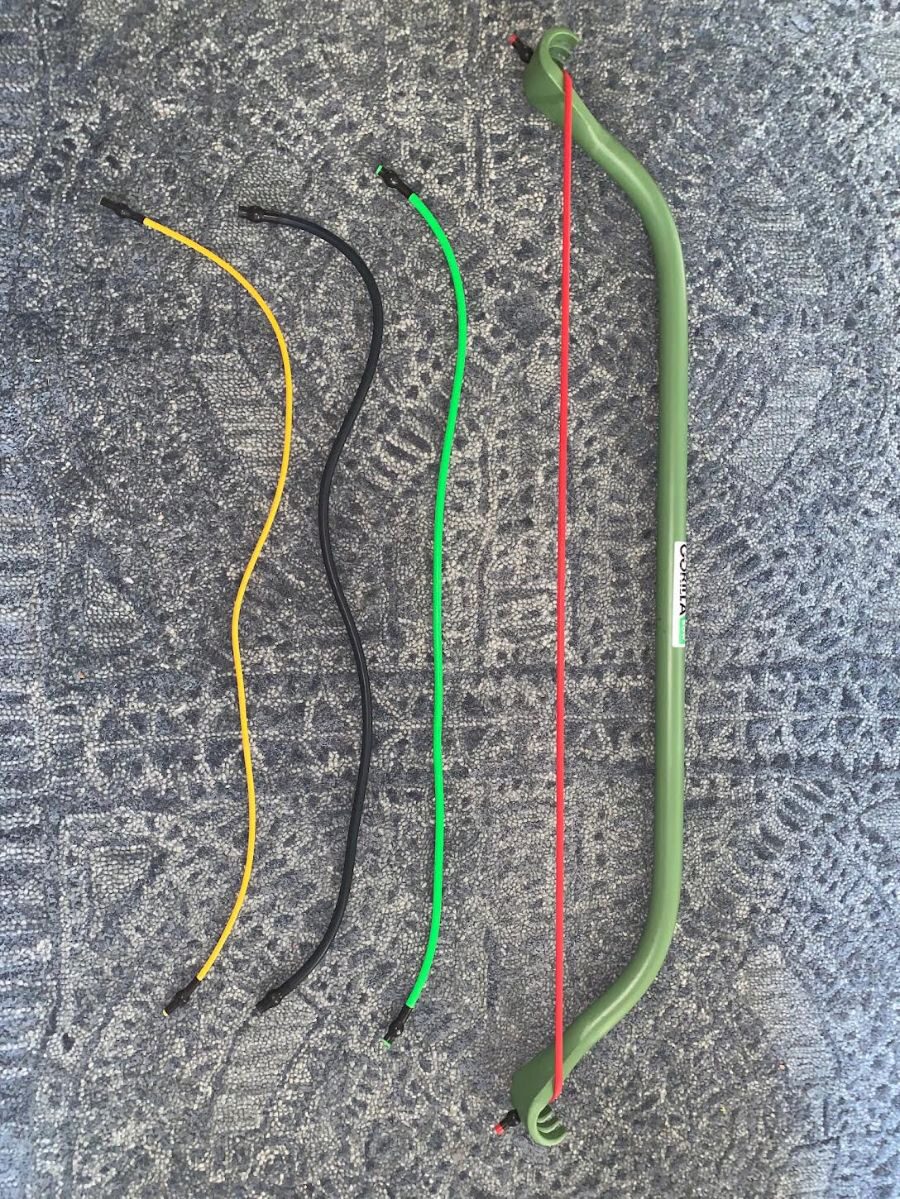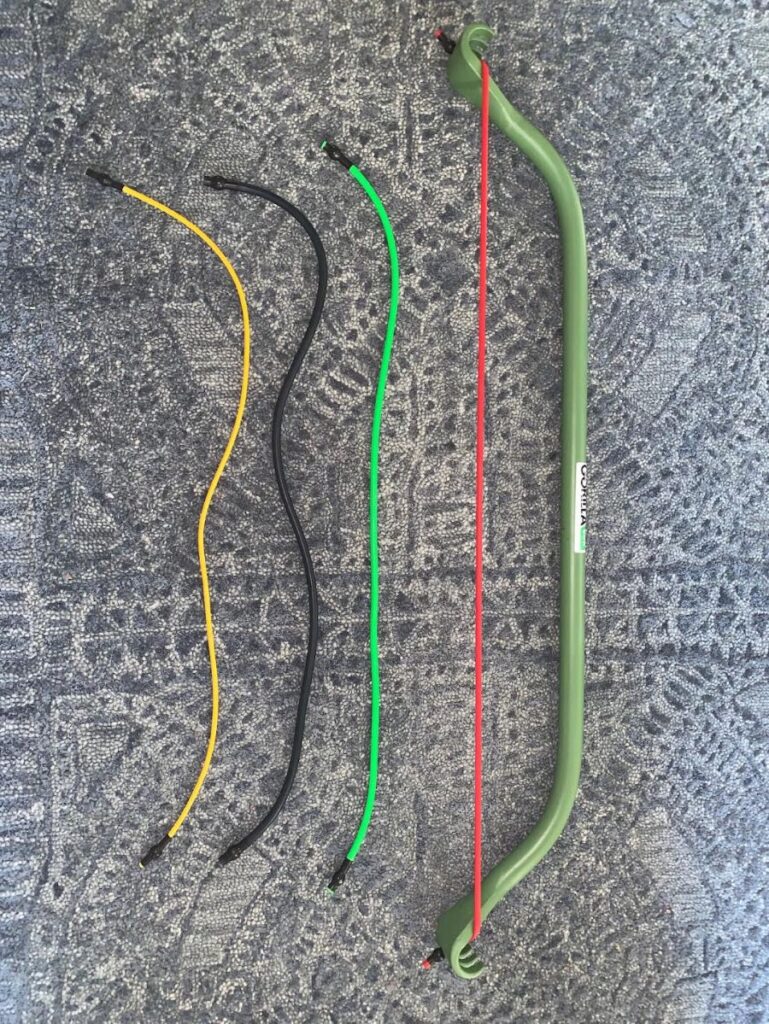 My Tips:
Take advantage of the free 30 days of Gorilla Bow All-Access offered to see if you enjoy the programming.
If you need heavier tension than what comes with the Original Gorilla Bow, you can purchase additional bands on the brand's website separately from the bow itself.
In order to activate your two-year warranty on your Gorilla Bow, make sure you register your equipment on the brand's website.
My Favorite Things:
Innovative with unique programming options for $14.99 per month
Variety of exercises are possible with this piece of equipment
Heavier tension expansion bands are available for purchase
No complicated assembly
My Callouts:
Packaging could be improved upon
Could be confusing for beginners to use
Quality of materials may come into question over time (aluminum chipping easily)
Is the Gorilla Bow Worth It?
The Gorilla Bow is a unique product that combines resistance bands with a piece of aluminum in the shape of a bow. Although this piece of equipment is intriguing and different compared to most home gym equipment we review, it isn't the best for everyone. Read on to see who I think will love this and who would like something else better.
Great For:
People looking to incorporate interactive programming into their fitness routine.
Fitness enthusiasts looking for the next unique and innovative product to try out.
Home gym owners who don't want to spend thousands of dollars on a piece of equipment.
Not Recommended For:
Beginners or people unfamiliar with traditional lifts or other movements.
People who prefer the feeling of a barbell or dumbbell and don't want to deviate from what they know.
Gorilla Bow Specs
| | | | | |
| --- | --- | --- | --- | --- |
| | Original Gorilla | Travel Lite Gorilla | Lite Gorilla | Travel Gorilla |
| Price | $200 | $150 | $140 | $250 |
| Included tension of bands | 110 lbs | 60 lbs | 60 lbs | 110 lbs |
| Length | 56 inches | 41.5 inches | 41.5 inches | 56 inches |
| Max capacity | 300 lbs | 150 lbs | 150 lbs | 350 lbs |
| Comes with | 4 bands | 3 bands | 3 bands | 4 bands |
| Can be disassembled | No | Yes | No | Yes |
Using the Gorilla Bow
The Gorilla Bow can honestly look intimidating at first. It doesn't look like any other type of fitness equipment you might be used to seeing. If you've ever seen Robin Hood, you'll quickly recognize the Gorilla Bow as looking like a bow without an arrow. The green aluminum is over 4.5 feet long with upturned curved ends.
Depending on which bands you want to use, you're able to easily pop the thicker black end into one of two slots on the end of your Bow. Even cooler is the ability to stack multiple resistance bands on top of each other in the same slot. This can be super useful if you end up purchasing an expansion pack as you get stronger and want to use multiple bands at once.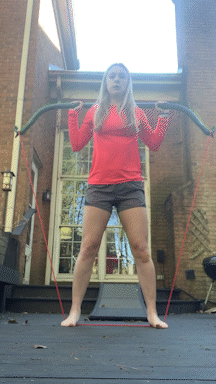 A detail I do wish Gorilla Bow had thought of would be labeling each of the bands' tension. Unless I continue to look it up online, I don't remember how much tension each band has, so I always am guessing the amount I'm using. Give me a break, I have a ton of fitness equipment and scrambled eggs for a brain.
Anyway, I like the Gorilla Bow as an alternative for exercisers who are in the process of muscle building. I won't say even heavy resistance bands will give you a body like The Rock, but along with a barbell, some weight plates, and dumbbells, I think it can be a great home gym addition.
That isn't to say the Gorilla Bow can't deliver an intense workout on its own. The programming that is meant to be paired with this piece of equipment makes this resistance band-adjacent product more engaging than you might think. I was able to do a lot of the typical movements I'm used to doing on an upper or lower body split day (such as squats, deadlifts, curls, flys, and more). However, I found the fly to be a little awkward to perform with the Gorilla Bow. I'd recommend using something like the Rogue Tube bands instead for a resistance band fly.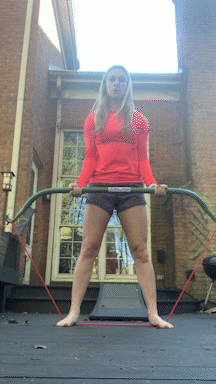 The beauty of even the rather long Gorilla Bow is its ability to be used pretty much anywhere. It isn't heavy to move around, so I was able to take mine outside to workout and enjoy the weather. You can also easily move it from room to room (which I did) and use it while watching TV. Plus, it stores easily in a closet so you don't need to leave it out in the open 24/7.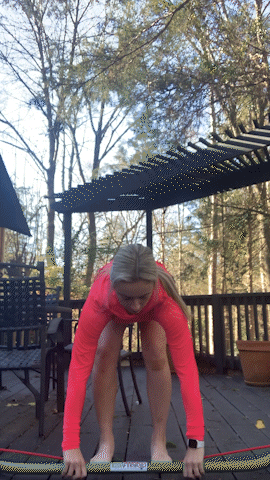 Gorilla Bow All-Access App
When you purchase a Gorilla Bow, you will receive a 30-day free trial for the Gorilla Bow All-Access app, which you'll be able to download in the App Store or via Google Play. Once your 30-day free trial is over, you can purchase a month-by-month membership for $14.99 or a year membership for $150 (which saves you two months of membership costs).
I like that the Gorilla Bow offers this interactive programming. I personally find that it keeps me more engaged than traditional resistance bands might. When you open the app, you'll be able to access dozens of on-demand classes at any time. There are six different categories to choose from:
Functional Training: Practicing doing everyday movements well with tension
HIIT: Intervals at fast paces with short recovery time
Flow: Sequenced movements strung together for a more cohesive workout experience
Tabata: Rounds of 20 seconds on, 10 seconds off of different movements
Strength: Less reps, slow, controlled, and heavy on the tension
Beginner: Basic movements being taught to reduce risk of injury through improper form
Besides the on-demand class options, Gorilla Bow also has live classes that can be accessed in real-time, which I like. It reminds me of Peloton-like programming where you feel like you are a part of a fitness community versus just watching programming on your own, which can feel disconnected at times.
Accessories Available
Besides the three or four resistance bands that come with whichever Gorilla Bow you choose, you are also able to purchase additional higher tension bands separately, depending on your personal fitness level. Here are your options:
Set of heavier bands for Travel Bow
Set of heavier bands for Original Bow
Band bench kit
Super heavy band bench kit
Singular band for benching
340 lbs ultra band kit
Individual bands from 10-100 lbs (Original and Travel Bow friendly)
Other extras available for purchase include a band rack, travel bag, original case, band wrap, and workout eBook.
Portability and Construction
The Gorilla Bow itself is made from aircraft-grade aluminum in a green color. Although I have yet to personally experience this, some customers did complain that the green aluminum chipped and flaked over time, so that is something to be aware of.
In terms of the bands themselves, they're made of double-wall latex and feel very durable to me. I also appreciate that they don't smell like a balloon factory, which can be a real issue with some resistance bands.
Portability wise, I tested out the regular Gorilla Bow, which is pretty long and doesn't disassemble. If you need something you can easily break down into chunks for transport or storage purposes, I would purchase the Gorilla Bow Travel version.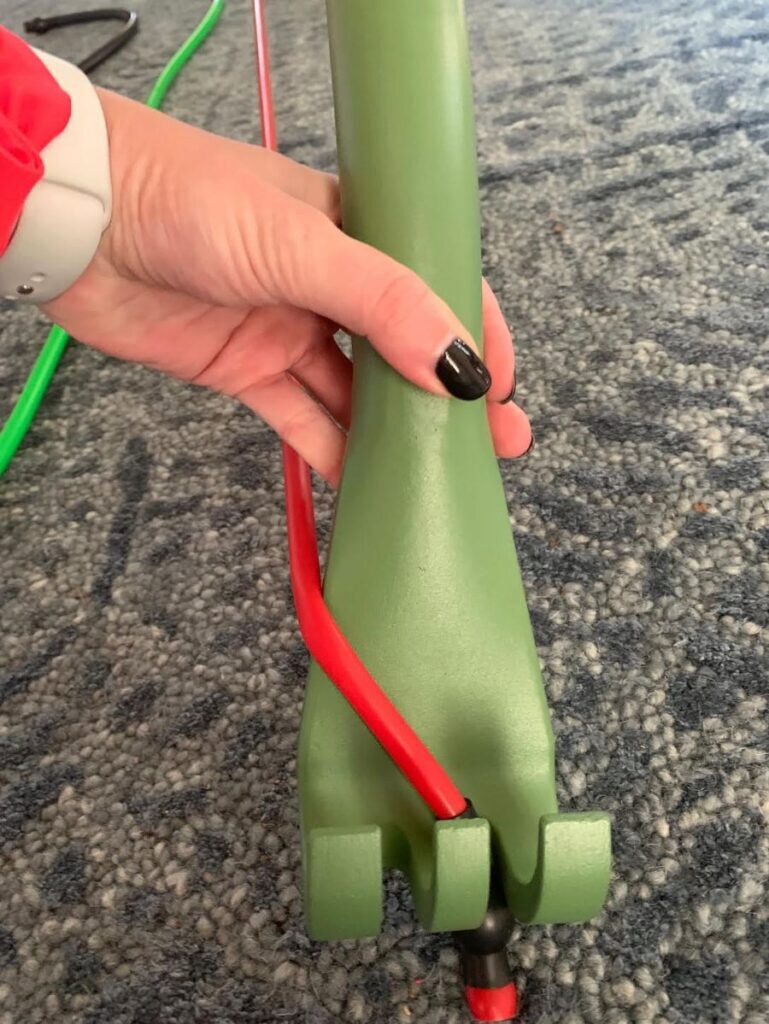 Customer Experience
All four of the Gorilla Bands come with a two-year warranty. If you'd like to activate your warranty, there is a spot on the brand's website where you can register the product you have purchased. Two years is a decent warranty for something like this. It is certainly not intended for commercial use, but should last decently if you're not purposefully flinging it on concrete.
In terms of a return, you get 30-days to return your Gorilla Bow if you aren't satisfied. I would recommend purchasing via Amazon, because in case you want to return it, there will be no additional shipping costs (compared to having to pay to ship the bow back to the brand).
Ordering and Assembling the Gorilla Bow
You can order the Gorilla Bow from the company website or use Amazon, which I did, because hey, free shipping (and returns).
After ordering the Gorilla Bow, it showed up pretty quickly to my doorstep. The package is a very long brown box with the Gorilla Bow logo on top. I was slightly alarmed to notice the box could easily be opened, as there wasn't any tape holding it together (just flaps). Plus, the contents of the box were not packaged up so at first I did wonder if everything was there.
I'm not sure if this is how all the Gorilla Bows are shipped or if mine was just missing internal padding/wrapping, but I did find it to be a bit strange. Luckily, after looking through the box contents and checking online, I realized everything was indeed in the box.
Little to no assembly is required with the Gorilla Bow. All you need to do is simply attach your desired resistance bands to the long green bow. It takes less than 30 seconds and you're ready to get started.
Final Verdict of Our Gorilla Bow Review
Bottom line: The Gorilla Bow is a fascinating, high-quality alternative to traditional resistance bands and is more engaging due to the interactive programming. I do hope that Gorilla Bow does improve the packaging in the future, because it did make me slightly uneasy that the box could come open super easily while in transit. However, if you're looking to spice up your training or just add something different to your home gym, I would check out the Gorilla Bow portable home gym.
Gorilla Bow Rating
Gorilla Bow
The Gorilla Bow is a unique resistance band based piece of home gym equipment that can be used for a variety of movements.
Product Brand: Gorilla Bow
Product Currency: USD
Product Price: 200
Product In-Stock: InStock
Gorilla Bow FAQs
Is the Gorilla Bow good for beginners?
Personally, I would recommend having some idea of mastery of basic weight training movements before using this piece of equipment. Even though the Gorilla Bow isn't a heavy weight you might drop on yourself, there is still the possibility of injuring yourself with improper form. I would recommend practicing the deadlift, a squat and overhead press with just your bodyweight or a PVC pipe before getting started (just to make sure you have mastery of the movements). 
What can you do with the Gorilla Bow?
One of the best parts of the Gorilla Bow is the versatility of it. You can do a variety of exercises you might do with free weights or a barbell to give yourself a solid full-body workout via resistance training. Here are some of the movements (and muscle groups) you can expect to hit with the help of your Gorilla Bow:
Lower Body: Squats, lunges, calf raises, deadlift
Upper Body: Chest press, bench press, bicep curls, overhead press, upright row, shoulder presses, tricep extensions
Core: Weighted crunches
What other equipment besides a Gorilla Bow would you recommend for a home gym?
For a great home workout, I would recommend getting workout equipment that supports your goals. If you want to build muscle or do strength training, pick up a barbell and some weight plates to add to your home gym. If the goal is weight loss, consider buying a cardio machine like a spin bike, treadmill, or elliptical.