We test and review fitness products based on an independent, multi-point methodology. If you use our links to purchase something, we may earn a commission. Read our disclosures.
I don't know about you, but when I think about ab wheels, I always envision them having dual wheels with handles at both ends. After all, that's how some of the best ab rollers, like the Vinsguir Ab Roller and Perfect Fitness Ab Carver Pro, are designed. But apparently, a new sheriff is rolling into town that's completely changing how people imagine ab roller wheels.
The uniquely designed SKLZ Core Wheels revolutionizes how ab wheels can be used for beginners and advanced athletes. With their dumbbell-esque look and feel, you can perform a variety of exercises in your home gym that may help you achieve a stronger core.
In this SKLZ Core Wheels review, we'll dive into the nitty gritty so you can decide if these rolling wheels should be added to your ab workout routine.
We Know Our Ab Rollers
When you want a new ab roller, one of the first things you probably do is ask your peers or read customer testimonials to see if they're worth the buy. However, as valuable as those opinions are, they don't tell you this: Will that ab wheel work for you? And if you ask me, that's the most important part!
Before you add an item to your home gym, you need to know if it'll work for your current fitness level and if that product can grow with you. Unfortunately, your well-intentioned friends probably wouldn't know this.
However, do you know who does? Our GGR testers! Our team of experts includes certified personal trainers, competitive athletes, CrossFit-L1 trainers, and more. We know all too well which products are ideal for certain types of core training and use our experience to help you make an informed decision.
SKLZ Core Wheels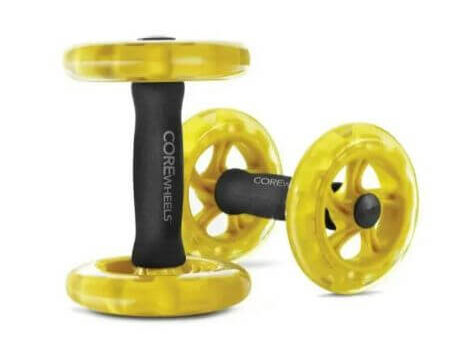 GGR Score: 4.2
Community Score: 4.4
Product Highlights
2 wheels surrounding the foam handles 

Sold as a set of 2 

Included: 2 ab rollers and training guide
Pros & Cons
Pros
Training guide included
2 ab rollers
Unique design
No assembly required
Soft wheels won't scratch floors
Cons
Expensive
Reviewers had issues with durability
Not great for beginners, according to customer reviews
Bottom Line
The SKLZ Core Wheels are a comparably expensive option sold in pairs with a unique design to help you improve your core strength.
A Quick Look at the SKLZ Core Wheels
The company SKLZ designs fitness equipment for performance training and skill development. For years they've sold various resistance bands, sports accessories, exercise sliders, and more. However, the product that they're really known for is their SKLZ Core Wheels ab trainer.
Unlike many other ab roller products, the Core Wheels come in a pack of two. This dual-roller approach ups the ante when it comes to ab exercises since you can do things that you typically can't with just one. SKLZ believes using this product will help trainees enhance their pillar strength, which is the strength in your hips, shoulders, and torso. However, is that actually the case?
Our team was able to take these preassembled rubber wheels for a ride and form our own opinion of using them for core workouts. Therefore, keep reading this SKLZ Core Wheels review to see if these made it to the "worth it" finish line.
Before You Buy
There are certainly some perks to having two ab wheels. However, you should consider a few things before you part with your hard-earned dollars.
The wheels are small and may not perform well on certain surfaces, such as grass or carpet.
Using two wheels requires you to really engage your core muscles, which could be very challenging for new trainees.
These ab rollers are more expensive than many others on the market, so you'll want to evaluate if their value is worth the price.
If you want to make an arcing motion, these may not be the best choice because the wheels don't roll independently.
Are the SKLZ Core Wheels Worth It?
Like all exercise equipment and products, whether or not it'll work for you depends on various factors. 
Great for:
Advanced trainees who want to diversify their ab workout
Individuals who want to challenge themselves with dynamic core exercises
Not recommended for:
Beginners who haven't done any core work before
Trainees on a budget
Individuals who prefer traditionally designed ab rollers
SKLZ Core Wheels Specs
| | |
| --- | --- |
| Handle Material | Foam handles |
| User Weight Capacity | 225 lbs |
| Item Weight | Approx 3 lbs each |
| Dimensions | 9.5" L x 6" W x 9.5" H |
How to Use the SKLZ Core Wheels
With regular ab trainers, you kind of already know what to expect, but you might not know what to do with the SKLZ Core Wheels. Here are a few exercises to consider: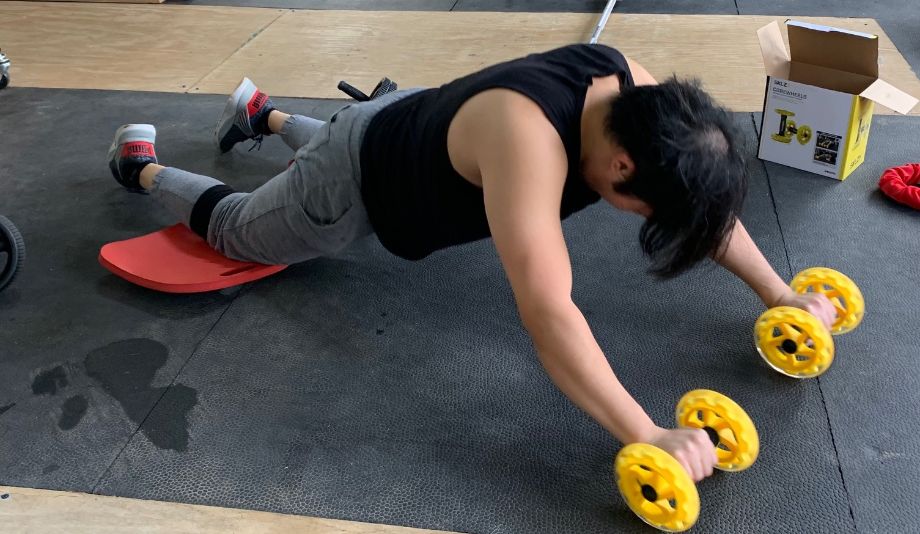 A Beginner Rollout Exercise
If you're new to ab workouts, starting with only one of the core wheels might be more manageable. Begin in a modified push-up position with your knees on the ground. You'd want to have one wheel in your hand and place your other hand on the floor for stability. Both should be right under your shoulders. After you roll the wheel out in front of you, reverse the movement back to the starting position. From there, you could complete 1-2 sets of 8-10 rollout reps. That'll help you build up your core strength.
To take it up a notch, you can raise and lengthen the leg that's on the same side as your stability hand. You'll be able to target the side using the ab wheel and the side using your stability hand and raised leg.
The Basic and Advanced Rollout
Once you feel comfortable, you could do the rollout with both Core Wheels. Like the previous exercise, begin in a modified push-up position and assume proper form. Then, roll the wheels forward while keeping your torso stable and back flat. If you're comfortable doing something more intermediate, widen your rollout like you're forming the letter "Y."
Pec Fly Push Ups
A much more advanced exercise would be doing pec fly push-ups with the Core Wheels. I'd recommend only doing these if your core is strong and you've been doing chest-specific exercises for a while. To do this, instead of rolling your Core Wheels forward, roll them straight out like a "T" and then roll them back in together. Repeat that as many times as you can muster.
In addition to the considerations above, you'll find some exercises in the training guide that comes with the Core Wheels set.
SKLZ Core Wheels On The Go Or No?
So, can you take this set of wheels on the go with you, or do they have to stay at home? According to the SKLZ brand, each wheel is about 3 pounds, and together they're almost 6 pounds. Therefore, I think it's safe to say they're light enough to throw in your gym bag and won't weigh you down too much. However, here's where you might have an issue. They're each almost 10 inches long and 10 inches high, so they will take up some space. If you have one of those small drawstring bags and plan to have a lot of other stuff in it, these might not be ideal.
Since there are two ab wheels, it will have a more significant footprint than, say, the REP Fitness ab roller. Nonetheless, you can make it work if you want to complete an upper body workout with these ab wheels outside the home.
Are The SKLZ Core Wheels Built To Last?
Also known as the dynamic core strength trainer, the SKLZ Core Wheels are constructed in a way that'll help you work the muscles in your midsection. Unlike other ab rollers with handles on each side of the wheel, this one has a stainless steel handle centered between two wheels. For added comfort, the handle has a plush foam covering that's thicker in the center and becomes narrower toward the ends. They're designed in an ergonomic way so that it fits easily into your hands, but one of our testers did note that the foam will probably break down over time if used frequently.
The rubber wheels are well-made and have a non-slip, sticky-ish quality, so you should feel confident while doing traditional planks and other exercises on various surfaces. However, just because they're slightly sticky doesn't mean you should find the slipperiest floor to use these on. Your body weight plus these rolling wheels on a slippery surface could still be hazardous.
In addition, while the stickiness of the wheels helps, it's also a little annoying. The wheels pick up dust and other stuff after a while.
Another thing we noticed is that these wheels are somewhat smaller than what you'd find on other ab rollers. For instance, the Rogue Fitness Ab Wheel has a very thick wheel, which can make you feel a bit sturdier. However, one of our testers also noted that they had much more control over the Core Wheels than they thought they would.
Overall, we'd say the SKLZ Core Wheels are well-constructed and durable. They've been out for over nine years, and people still love them, so they're doing something right!
The Customer Experience
When purchasing a product, it helps to know what to expect from the company, so we will give you the deets.
The Ordering and Shipping Process
If you purchase them directly from the SKLZ website, I'd recommend just typing "core wheels" in the search bar so the actual product page pops up. Otherwise, if you go to "shop all," you'll see many other products and probably have to click through multiple pages to find them.
From the product page, the checkout process seems straightforward. You can expect to pay about $7.50 for a standard shipping option. It also appears that they only ship in the United States, as this is the only country available to select from the drop-down menu. In addition, at this time, they do not ship to Alaska, Hawaii, Puerto Rico, or any other US territories.
After you order, they'll typically ship the product from their Durham, North Carolina, warehouse within three days. So in total, it'll probably take about 5 to 10 business days to arrive.
Warranty
SKLZ does provide a 1-year warranty on all of its products. Therefore, if you get your Core Wheels and they have a manufacturer's defect, you'd need to send them back with a copy of your receipt. Once they obtain that, they'll send you a replacement.
Navigating Returns
So what happens if you get the product and don't like it? SKLZ does also offer a 30-day money-back guarantee. However, you should be aware that if you decide to return the item, the 30-day window begins on your original purchase date and not the day the product arrives. A refund for the product could take approximately 2 to 3 weeks. However, if you purchased it from a retailer like Target, it could take 8-10 weeks.
Customer Reviews
At the time of this review, the actual SKLZ website has about 16 reviews, all of which are five stars.
One customer wrote, "Well-made set of core muscles exercise wheels. Allows for stimulating more of your chest, back and shoulders [than] a single wheel."
Another one stated, "Much better than an ab wheel. My core was on fire!! Tried a plank to push up move and they worked perfectly. They are very light weight and I can fit them into a small bag for carrying!"
Most of the reviews for the product found on Target and Dick's Sporting Goods websites were imported from the SKLZ website. However, one purchaser who commented on Target's website said, "Love! They are really well made and fun to use. Really great work out."
We weren't able to find any negative customer reviews of the product.
SKLZ Core Wheels vs. REP Fitness Ab Roller
SKLZ Core Wheels are pretty darn good, but another close contender is the REP Fitness Ab Roller. Although the REP Fitness Ab Roller only comes in a package of one and has the typical ab wheel design, it's a favorite among trainees, both new and experienced, who want to do core exercises. So without further ado, here's how these two stack up against each other.
If you purchase the SKLZ Core Wheels, you will spend a little over $52 for the product and shipping. On the other hand, the REP Fitness Ab Roller is only $14.99, and the shipping is free. So if you're on a budget, REP will probably be your first choice.
Because it's so cheap, you might assume that the REP Fitness Ab Roller is made with poor-quality materials and won't work well. However, it actually provides a lot of value. The wheel is made with high-quality plastic, which makes it very durable. Our testers said they had a smooth experience while using it. They deemed it a good wheel and were surprised it didn't wiggle and wobble like you would expect given its price. However, they did notice that the handles are a little short, which could be a problem if you have larger hands. But overall, they're comfortable.
If we assess the user weight capacity for both products, the SKLZ Core Wheels can only accommodate an individual up to 225 pounds, which is shocking since there are two wheels so you'd expect a slightly higher weight capacity. However, even though REP's ab roller is only 1 pound, it can handle trainees up to 300 pounds.
Overall, both ab rollers are great products, it just depends on what you're looking for. If you're tired of doing crunches and want to really target your obliques, either of these ab rollers will work. However, if you want to spice things up and add some variety (e.g., dynamic push-up exercises), grab the SKLZ Core Wheels. Those who want to keep it traditional and don't want to spend a ton of money should go for the REP Fitness Ab Roller.
REP Fitness Ab Roller
GGR Score: 4.6
Community Score: 4.4
Product Highlights
Black ab roller with black handles 

Two wheels surrounded by handles 

Used to improve overall core strength
Pros & Cons
Pros
Very affordable (about $10)
Free shipping
30-day money-back guarantee
Quick (almost non-existent) assembly
Durable plastic wheels
Rubber-coated, grippy handles
Cons
Very limited reviews
No warranty
No user guide or suggested exercises
Bottom Line
The REP Fitness Ab Roller is an affordable option from a brand with a reputation for creating affordable quality fitness equipment.
Final Verdict of Our SKLZ Core Wheels Review
The SKLZ Core Wheels are a uniquely designed pair of ab rollers that will transform the way you do and see ab workouts. You can take traditional planks (among other ab exercises), which are already hard, and turn them into something even more intense and effective. Although I don't see these as ab rollers for beginners, they could be a choice if you want something you can continue using as you get stronger.
For almost $45 and the cost of shipping, you're getting a set of wheels that are:
Small and lightweight
Dynamic and versatile
Slightly expensive
Comfortable to use
Already assembled upon arrival
SKLZ Core Wheels Rating
SKLZ Core Wheels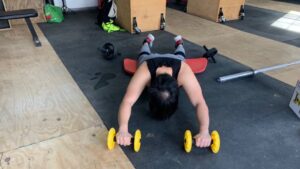 In this SKLZ Core Wheels Review, we're going to determine if two is really better than one if you want help achieving better core strength.
Product Currency: $
Product Price: 45
Product In-Stock: InStock
SKLZ Core Wheels Review FAQs
Are The SKLZ Core Wheels Good?
These uniquely designed ab wheels take core workouts to a new level. When our testers tried them out, they liked them for the most part. However, they questioned their durability and didn't believe they'd be an excellent fit for someone new to core exercises. From the customer perspective, most reacted positively to this product. Therefore, we'd say they're pretty good! 
Do Core Wheels Work?
If "work" is defined by their ability to engage your core muscles, then yes. If you use these, you'll definitely know that your obliques and other upper body muscles are activated. 
Does An Ab Roller Reduce Belly Fat?
The SKLZ Core Wheels, along with every other ab roller out there, cannot spot-reduce belly fat. They can help you strengthen and tone your core, including your six-pack muscles, but you will only be able to see them if you burn the fat sitting on top of them. Therefore, make sure you're following a healthy diet and doing cardio workouts to burn body fat, including belly fat, if that's your goal.