We test and review fitness products based on an independent, multi-point methodology. If you use our links to purchase something, we may earn a commission. Read our disclosures.
How many of you liked taking apart your pen in class and putting it back together just to see how it worked? Well, some of us here at Garage Gym Reviews still do that, except we've exchanged writing utensils for home gym equipment—and you'd be surprised what you can learn about some things by doing that.
Our REP Open Trap Bar review is a perfect example of how tinkering with a product can often lead you to reveal features you may not have otherwise known about. And let me tell you, this specialty bar is packed with special features that you'll want to be aware of should you decide to purchase it for your home gym.
Read on to find out why this is one of the most versatile and high-value barbells we've ever reviewed.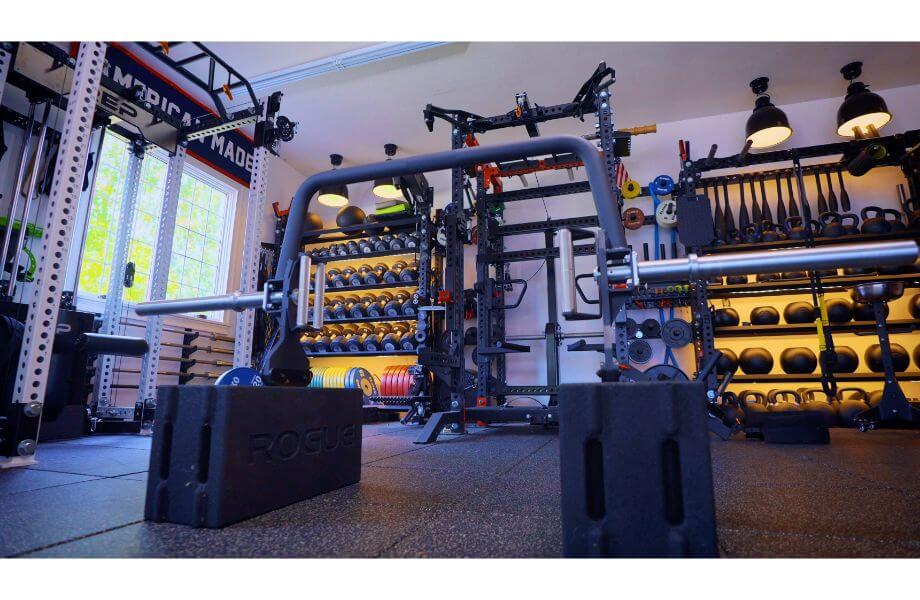 Don't Get Trapped By Phony Home Gym Equipment Reviews
If you truly want to know what it's like to use a certain trap bar or run on a particular treadmill, you've come to the right place. Our expert product testers include certified personal trainers, CrossFit Level 1 Trainers, nutrition experts, competitive athletes, and people who have spent years in the fitness industry, so we know what we're talking about when we're testing and reviewing products.
REP Open Trap Bar
REP Fitness Open Trap Bar
The REP Fitness Open Trap Bar combines some of the greatest features found on two of the nicest open trap bars—the Kabuki Strength Trap Bar and the Eleiko Öppen Trap Bar—to create one of the best value specialty bars on the market today. There are many reasons why this trap bar is one of the best options for many home gym owners, beginning with the fact that it can hold an impressive 1,350 pounds.In addition to its open design, which makes it more versatile and allows the lifter to easily step in and out of the bar, the REP Fitness Open Trap Bar comes with removable handles. This turns the bar into a cambered-design bar, somewhat similar to a safety squat bar, which allows it to be used for presses and squats. Speaking of squats, there are six inches of knurling on the frame to help the bar stick to your back should you use it for back squats.The REP Fitness Open Trap Bar also comes with its own built-in deadlift jack for easy loading and unloading of plates, and can be racked on squat racks up to 49 inches wide.
A Quick Look at the REP Open Trap Bar
As Garage Gym Reviews founder and barbell baron Cooper Mitchell puts it, the REP Fitness Open Trap Bar combines the best parts of the Kabuki Strength Trap Bar and the Eleiko Öppen Deadlift Bar, two of the best trap bars on the market, at a budget-friendly price.
In addition to the open bar design, which allows lifters to easily step in and out of the frame, the REP Open Trap Bar also has a built-in deadlift jack, removable handles, center knurling on the frame, and a 1,350-pound weight capacity.
In other words, this specialty barbell encompasses two of our favorite words: versatility and value.
Coop's Tips
Find a REP Fitness discount code to help you save money on your next order.
REP is developing additional stainless steel handles for this bar, so you may want to consider waiting until those are released.
Is the REP Open Trap Bar Worth It?
The REP Open Trap Bar is a specialty barbell, meaning it's something you purchase after you get a multipurpose Olympic barbell that can be used for weightlifting and powerlifting moves. You have one of those already, right? OK, good.
This trap bar is what we call a "good value," or something that's not necessarily the crème de la crème, but for the price ($400), there's a lot to like about it. If you're on a budget you can find cheaper trap bars, though they won't perform nearly as well as REP's.
Great for:
Anyone who's focused on finding the best value
Home gym owners who want highly versatile products
Those with back issues who still want to deadlift
People looking for a rackable trap bar
Not recommended for:
Home gym owners looking for a really rigid trap bar
Those with shorter wingspans
Anyone who prefers aggressive knurling
People looking for the best-of-the-best
REP Open Trap Bar Specs
| | |
| --- | --- |
| Overall length | 84.3" L |
| Weight | 60 lbs |
| Weight capacity | 1,350 lbs |
| Width from handle to handle | 27.3" |
| Height when vertical | 26" |
| Frame width | 33.1" |
| Length of knurl on frame | 6" |
| Loadable sleeve length | 16.5" |
| Handle diameter | 28 mm |
Getting a Handle on the REP Open Trap Bar's Versatility
Coop says REP Fitness truly thought out each feature when designing their open trap bar. "Very well thought through and allows a lot of versatility in a bar for a garage gym where that's what people are looking for," he says.
To start off, this trap bar has low and high handles that come with some good knurling (it leans on the passive side, which can be a good or bad thing depending on your preference). Some trap bars only come with one set of handles, but having two offers versatility and allows the lifter to grab the bar in a way that's most comfortable for them.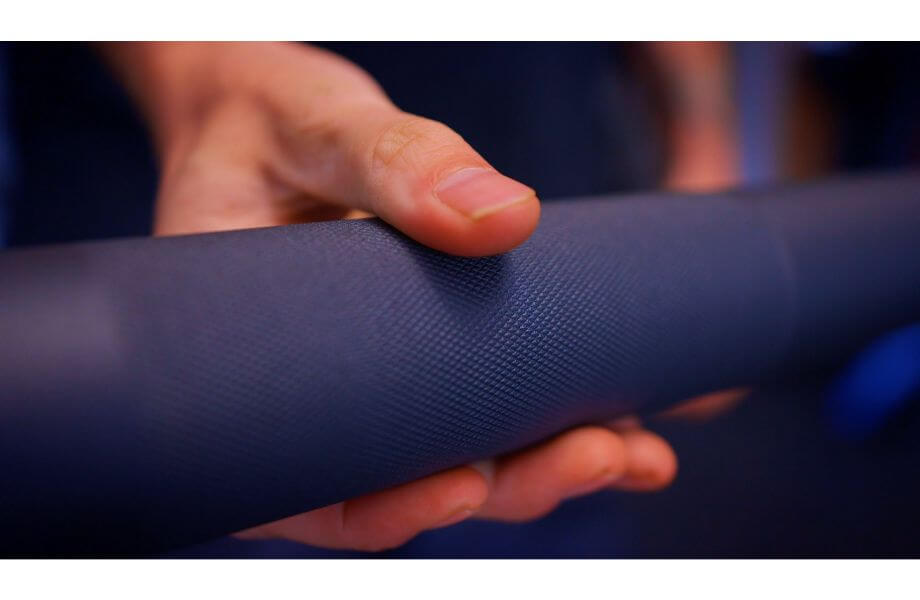 The dual handles are actually one of the bar's best features because they can be removed, turning the bar into a cambered bar that can be used for back squats, lunges, overhead presses, and more. The round tubing sits comfortably on the back, and the frame has six inches of knurling for extra grip.
This is a huge win because similar bars with interchangeable handles aren't always comfortable on the back.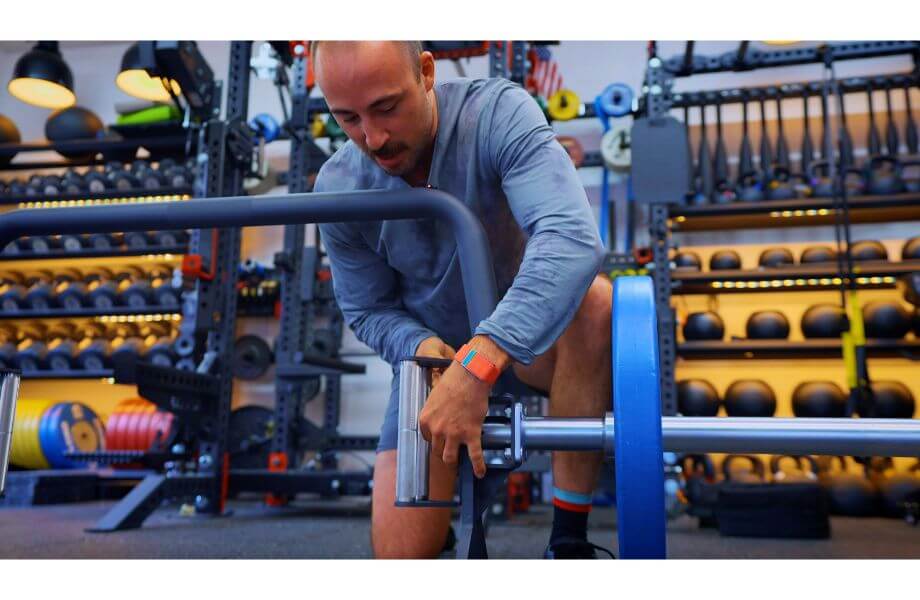 Even better, the handles can be taken on and off without a tool…kind of. That's how they're advertised but Coop noticed it's a little tough to get enough leverage to fully tighten the screws. It's not a huge deal, but it's something worth noting.
Another con of the handles is that they're too far apart. Most trap bar handles are 25 inches apart whereas REP's are 27 inches, and when it comes to something like that size does matter. REP is in the process of designing interchangeable handles for this bar (narrow, wide, and rotating), but the standard ones may be a bit too wide for those with shorter wingspans to get a comfortable grip.
Deadlifting with the REP Open Trap Bar
Those with lower-back issues who still want to deadlift heavy weights should go for a trap bar over a standard straight bar because trap bars offer a better range of motion and reduce any strain on the lumbar spine. And an open design offers even more benefits due to the fact that you don't need to step over the bar to get in and out of the frame.
RELATED: Deadlift Muscles Worked
It also means that there's a built-in deadlift jack so you can prop the bar up to easily slide weight plates on and off (we love added functionality in our fitness equipment). The REP Open Trap Bar's sleeves have a chrome finish to ensure there's minimal scratching while loading and unloading plates.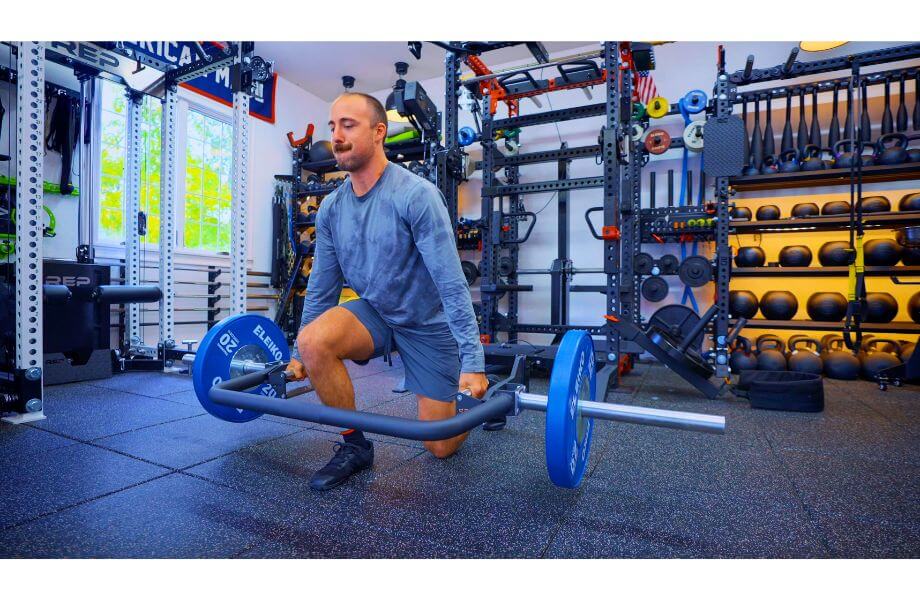 The REP Open Trap Bar feels comfortable to deadlift with, Coop says, up until the point where you load 500 pounds on it, which is when you start to notice that this is indeed a budget-friendly trap bar. What we mean by that is it's not as rigid as the Kabuki or Eleiko trap bars and you'll notice some sway during heavier lifts (nothing that's dangerous or that will impact your form, but it's noticeable).
"If you're looking for the most rigid trap bar in the world, this isn't the one," Coop says.
Rackable
Another feature that makes this trap bar so versatile is that it's rackable on squat racks up to 49 inches wide, meaning it should be able to work with just about any power rack on the market. This is useful if you want to use the bar for squats or shoulder presses.
REP Open Trap Bar vs Kabuki Strength Trap Bar
Versatile But Expensive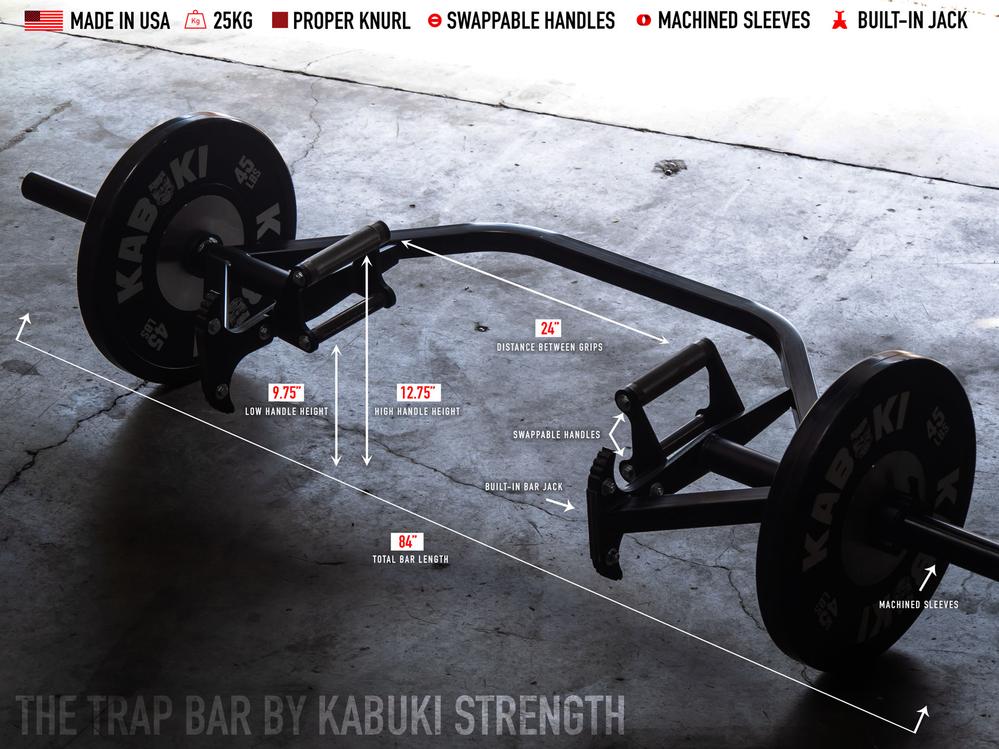 Kabuki Strength Trap Bar
The age-old struggle of loading and unloading plates from your trusty trap bar is over. We are proud to introduce a simple, effortless solution - the built-in bar jack. Our design features 2x nearly inch-thick "legs" with tread to provide grip and stability when the bar is positioned in a vertical orientation for easy loading/unloading. We designed The Trap Bar to allow for an effortless transition from horizontal to vertical position, requiring minimal effort and taking advantage of human kind's earliest discovery - the lever.An industry-first, The Trap Bar by default comes with two sets of machined, knurled grips finished in bright zinc. The grips are easily swappable for your specific training need.Another industry first, the 2" Love Handles are an optional add-on for The Trap Bar that allows for both rolling (the grip will spin freely) or fixed usage. Each set of Love Handles includes adapters to allow for both rolling and fixed use.Visualize a regular trap bar with the low handles (see illustration). The bar is a flat plane, stretching out in the X and Z axis. The handles are typically positioned at the center of mass (COM) and center of rotation (COM), so that if the bar was centrally fixed on two points along the X axis, where the handles are, it would be balanced (assuming its weight distribution is even along the Z axis. In theory, if you hold a regular trap bar perfectly on-center using the low handles, it should feel balanced. Practically speaking, the low handles always feel inherently unstable due to the bar's inclination to dive one direction or another like a teeter-tooter - forcing the lifter to self-balance using their wrists. The higher handles don't have this problem, and the bar is much more difficult to rotate forwards or backwards. For an extreme example of instability, imagine deadlifting on a trap bar with the high-handles, but upside down resulting in the fulcrum, or center of rotation, point being 6" below the center of mass. Any minor shift or movement, and that bar is going to rotate and fall right out of your hands.Our simple solution on The Trap Bar was to introduce a minor 1/2" vertical offset for the low handles, placing them slightly higher than the centerline of the bar. This results in the same effect, but to a lesser extent, as the high-handles - the bar will have a tendency to return to center rather than dive forward or backwards. Think of a teeter-totter - it's an inherently unbalanced mechanism just like a regular trap bar with low handles. Now, think of a swing - with the center of rotation much higher than the center of mass - it will always try to return to center.In an effort to make The Trap Bar as versatile of an implement as possible, we opted to open up one end of the bar while still ensuring it retains a fully-balanced design. This open design allows for much more variation beyond your standard deadlift, including loaded carries, split squats, RDLs, and lunges.Unlike most trap/hex bars on the market, The Trap Bar features machined sleeves with 16.5" of loadable space. To cut costs, many trap bars use off-the-shelf DOM tubing whose diameter is less than a standard olympic sleeve, resulting in them being incompatible with all standard collars. Another side effect of this is that plates fit very loosely on the under-sized sleeves, resulting in lots of shifting, movement, and clanging of the plates.Our sleeves are machined to tight tolerances like any other standard barbell, allowing for a snug fit for plates and compatibility with all standard barbell collars.The Trap Bar is fabricated, manufactured, and assembled in-house at Kabuki Strength Lab, our dual-purpose training space and manufacturing facility in the beautiful Pacific Northwest city of Portland, Oregon. Each bar includes a hand-signed card by the Kabuki Strength employee who assembled it.Built-In Bar Jack to allow easy loading/unloading of plates Swappable Grips with 1" and 1.5" (included), and 2" Love Handles (optional) Balanced Design for both high and low handles. Open Design to allow for a variety of unilateral and carrying movements Machined, full-length sleeves with signature end cap
If trap bars were cars then the REP Open Trap Bar would be a Toyota Camry and the Kabuki Strength Trap Bar would be a Mercedes-Benz. Both have interchangeable handles, though Kabuki's are the standard 25 inches apart as opposed to the wider 27 inches found on REP's.
While Kabuki's trap bar can also be used for squatting and lunging, we found the frame to be less comfortable than REP's and there's no knurling on the frame (not a necessity but a nice thing to have). Kabuki's sleeves also have a black powder coat, which can lead to scarring over time.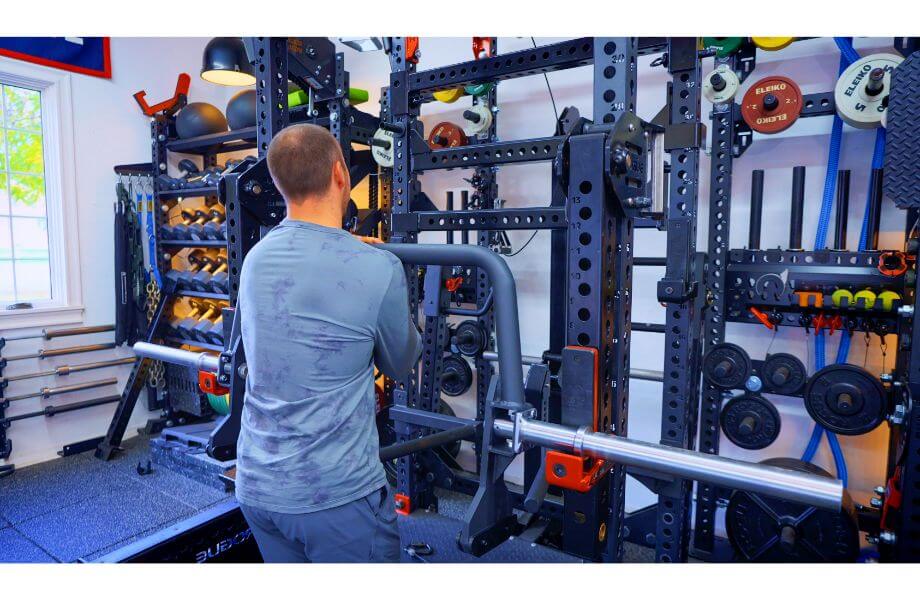 The one area where Kabuki blows REP out of the water is the rigidity. You can load up to 1,000 pounds on this thing and there's absolutely no sway on it.
That said, Kabuki's trap bar is around $750 (not including shipping) compared to REP's $400.
If you have the money for it then we'd say go for Kabuki but if you're just focused on the best value for your home gym, REP's is a great choice.
Check out our full Kabuki Strength Trap Bar review for our full thoughts.
REP Open Trap Bar vs Eleiko Öppen Deadlift Bar
Even More Expensive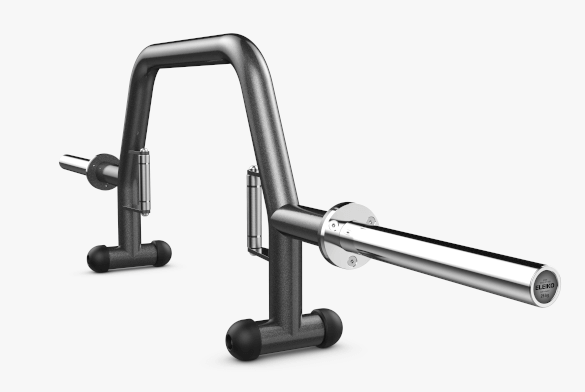 Eleiko Öppen Deadlift Bar
Eleiko's patent pending Öppen deadlift bar is designed for lifting ease, opening the benefits of deadlifting to more people. The open design supports a variety of lunges and carries in addition to deadlifts. The bar easily moves between the upright storage and the horizontal lifting position. It rests on rubber feet which protect the platform and provide ample clearance for unencumbered loading and unloading.Durable chromed sleeves are compatible with all Eleiko discs, and the bar is appropriate for Eleiko platforms and racksSpace efficient vertical bar storage allows facilities to optimize training spacesOpen design, loading system and grip markings make this bar approachable, easy to use and appropriate for more lifters0ur unique system allows bumper plates to be loaded without having to lift the bar.Manufactured in Sweden from the finest materials with our signature attention to detail, the bar rests on durable rubber feet that protect the platform and raise the sleeve off the ground for easy loading and unloading of discs and bumpers plates.The Öppen Deadlift Bar solves many issues common to trap bars on the market today which are often difficult to load, cumbersome to use and challenging to store. Our unique open design is approachable and the bar is counterbalanced so users can easily move between the upright storage and loading position and the horizontal lifting position.Length: 2150 mm/84.65 in.Width: 589 mm/23.19 in.Height: 226 mm/8.9 in.Weight: 25kg/55.12 lbs.Warranty: 5 years
The Eleiko Öppen Deadlift Bar can theoretically be used in every way the REP Open Trap Bar can, but unlike REP's, it doesn't come with detachable handles. To some this might matter, especially during back squats and lunges, while others might only find it to be a slight annoyance.
Eleiko's trap bar also only comes with one set of handles, compared to REP's two.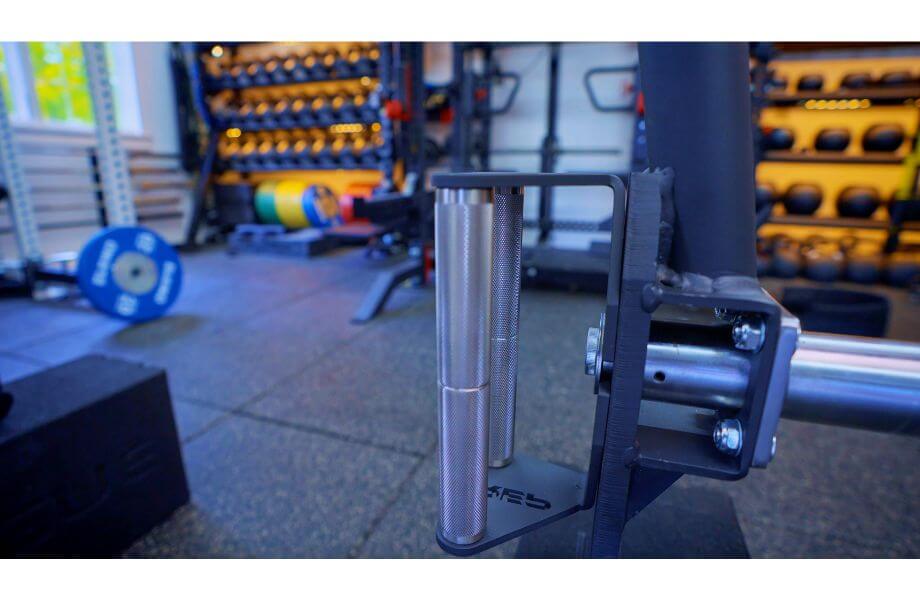 If your main priority is versatility and/or value, you should go with REP's trap bar. If you're a deadlift specialist who wants the absolute best trap bar out there and you have the money for it, go for Eleiko.
See more of our thoughts on this bar by reading our full Eleiko Öppen Deadlift Bar review.
Returns, Financing, Warranty
You have 30 days from the date of delivery to return the REP Open Trap Bar for a full refund, minus shipping and handling. There's a 15% restocking fee for items that are used and not in their original packaging.
Financing options are available at checkout.
The REP Fitness Open Trap Bar comes with a five-year warranty that covers every part of the bar.
Ordering and Assembling the REP Open Trap Bar
The REP Open Trap Bar arrives at your house in a compact box and should take no longer than 15 minutes to assemble, and all you'll need is a 17-millimeter wrench to attach the different parts to the main frame.
Customer Reviews
As of this writing, the REP Open Trap Bar only has three reviews and all of them are five stars.
Final Verdict of Our REP Open Trap Bar Review
In a cruel twist of fate, the REP Open Trap Bar is fantastic for just about everything except for very heavy deadlifts, which is what most people buy a trap bar for. So, if you're looking for a versatile bar that can be used for a variety of moves and holds up well to deadlifts below 500 pounds, then this is our recommendation.
However, if deadlifts are your priority and you want to lift really heavy weights we'd recommend waiting until you have the budget to purchase either the Kabuki Strength Trap Bar or the Eleiko Öppen Deadlift Bar.
REP Open Trap Bar Rating
REP Open Trap Bar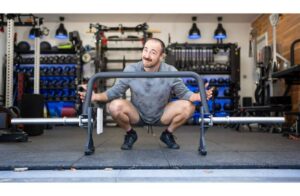 Our REP Open Trap Bar review looks at one of the most highly-anticipated specialty barbells and whether it's right for your home gym.
Product Brand: REP Fitness
Product Currency: USD
Product Price: 399.00
Product In-Stock: InStock
REP Open Trap Bar FAQs
Is an open trap bar better?
An open trap bar offers more versatility than a close-ended trap bar because it can be used for moves like lunges and squats, and it allows the lifter to enter in and out of the frame without having to step over the bar.
Are trap bar deadlifts worth it?
Trap bar deadlifts take significant pressure off the lumbar spine when compared to a traditional barbell deadlift, which can allow people with lower-back pain to continue to deadlift heavy weights and may even translate to a heavier deadlift.
What kind of trap bar is best?