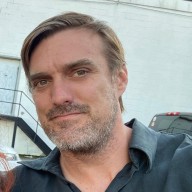 Ricky Goodrich
Personal trainer and coach
Ricky is a full-time firefighter with over 15 years experience coaching and personal training. He loves lifting heavy weights and hates cardio, but finds himself constantly pushing his conditioning to keep up on the fire ground. He is a former competitive Strongman on the comeback trail and looks forward to beating all of his old lifts (this time with a six pack instead of a beer keg).
Ricky started in fitness by running youth sports camps throughout college, then moved onto personal training when he graduated. While living in New York, Ricky's life changed forever when he walked into Hans Pirman's Global Strongman Gym. He found a lifelong friend and a focus to his training he never had before.
Coolest thing to ever happen to him: His body was cast and used to create the statue for the Ultimate Warrior in the WWE Hall of Fame.
Also, he has never left the house with the intention of bringing a cat home. At his peak he had 8 cats. 
Get to Know Ricky Goodrich
Certification
NSCA-CPT
Svend Karlsen Strongman Training Certification
Specialties
Strength training, beginner Strongman/Strongwoman, academy prep (firefighting, police, etc.). He remembers being a freshman in college and barely being able to bench press an empty bar. Because of this, he likes to work with new lifters, and tries to impart his gym philosophy to each if them. While training his mom she said "I didn't think you'd be this gentle" (which is great that even his mom thinks he's just a meathead). Ricky focuses on education more than anything else and hopes he can help his clients establish a positive gym culture.
Favorite Equipment
Strongman log, atlas stones, indoor bike smart trainer.
Most Recently Reviewed Articles