We test and review fitness products based on an independent, multi-point methodology. If you use our links to purchase something, we may earn a commission. Read our disclosures.
If you've ever been in a supplement store, you know just how many protein powder varieties there are, and while it's hard to choose the best protein powder out of all of them there are ways to narrow down your choice based on your fitness goal, whether that's losing weight or building muscle.
Here's the good news: You don't have to try them all, cause we already did that for you. In addition to trying dozens of different protein powders, we consulted with Laila Ouldibbat, a New York City-based registered dietitian who's pursuing a Ph.D. in Biological Sciences, to give you our top picks for the best protein powder.
You'll also get tasting notes from expert product testers who have decades of experience using these types of supplements.
Medical disclaimer: This article is intended for educational and informational purposes only. It is not intended as a substitute for medical advice. For health advice, contact a licensed healthcare provider.
More Than 60 Protein Powders Tasted And Reviewed
The 13 protein powders you see on this list are a small sample of the various types of whey protein, casein protein, and vegan protein powders we've personally tasted and reviewed. That's not to mention the countless other protein powders we've had in our capacity as certified personal trainers, nutrition coaches, competitive weightlifters, endurance athletes, and CrossFit Level 1 Trainers.
Like the average Joe and Jane, we use protein powder for a variety of fitness goals such as to build muscle and lose weight. We also have dietary professionals like Laila to provide their expert input on every supplement's benefits and drawbacks.
Our Top Picks for the Best Protein Powder
Best Overall Protein Powder: Transparent Labs 100% Grass-Fed Whey Protein Isolate
Good for: Anyone who's looking for a high-quality protein powder for muscle gain and/or weight loss
Transparent Labs 100% Grass-Fed Whey Protein Isolate is essentially pure protein, with 28 grams coming from the macronutrient responsible for building muscle and increasing satiety1 (the feeling of being full). There's just one gram of carbohydrates and zero grams of fat in most flavors, making it a great option for anyone whose main focus is protein intake.
We like Transparent Labs for those looking to build muscle or lose weight, which is why we named it our best overall protein powder.
Laila loves it because it's a clean product, starting with the grass-fed and hormone-free cows who help make the milk from which the whey protein isolate is extracted. Whey protein isolate is protein that's been filtered to remove lactose from the product, which not only allows those with dairy sensitivities to consume it with few issues but also creates a lower-fat product.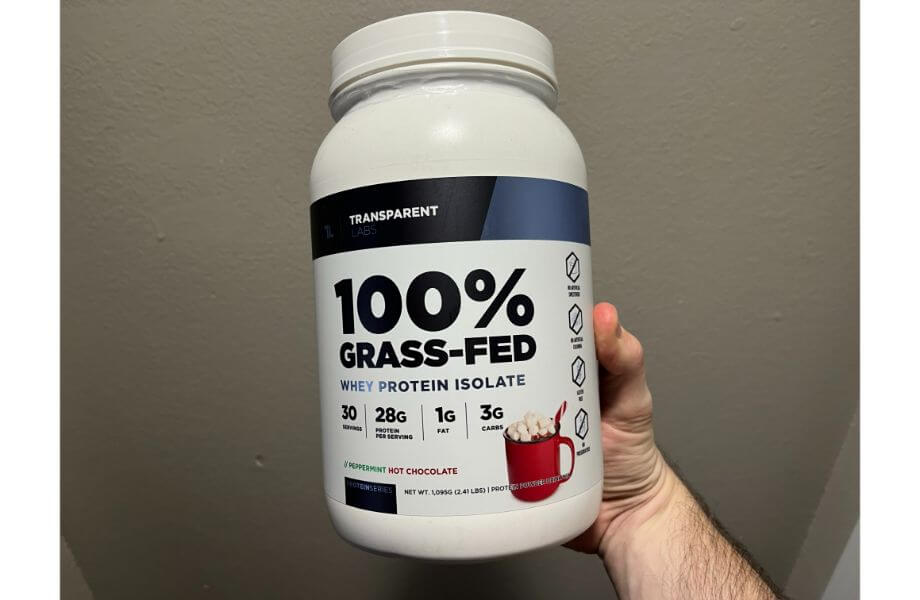 I love it because it tastes great—customer reviews state the 8 year-round flavors are all delicious, but I couldn't help snagging the limited edition Peppermint Hot Chocolate flavor. This is something I'd put our for Santa Claus if he drank protein shakes instead of milk, though I would've liked the peppermint flavor to be a little more apparent.
Laila also likes the short ingredient list—there are only five—and the fact that it's free of dyes, preservatives, or fillers. It's not a significant source of vitamins and minerals, which shouldn't be a problem if you're getting those vital nutrients from other food sources.
Related: Transparent Labs protein review
| | |
| --- | --- |
| Price per serving | $1.99 |
| Flavors | Milk Chocolate, Chocolate Peanut Butter, Cinnamon French Toast, Strawberry, Mocha, Vanilla Peanut Butter, French Vanilla, Oatmeal Chocolate Chip Cookie |
| Protein | 28 g |
| Carbs | 2g |
| Fat | 0g |
Best Budget Protein Powder: Optimum Nutrition 100% Gold Standard Whey Protein
Good for: People who are on a budget
Optimum Nutrition's 100% Gold Standard Whey Protein is easily the most affordable protein powder we tried. A 27-serving bag comes out to $1.66 per serving and the 146-serving bag (for those who need that much) is only $1.08 per 31-gram scoop.
It should come as no surprise that a budget-friendly protein powder comes with artificial sweeteners like sucralose and thickeners (that's how they're able to make it so affordable), but there's a lot to like about Optimum Nutrition Gold Standard.
For one, there are more than 20 flavors that are beloved by Amazon customer reviewers and our expert product testers.
"I ordered Delicious Strawberry and it's amazing," says GGR senior editor and expert product tester Nicole Davis. "I wouldn't have normally picked this flavor but my husband said this was his favorite protein back in the day and it didn't disappoint. Even my kids liked it."
Nicole noted it mixed well in her morning smoothie but that it was very thin compared to other protein powders. Don't like strawberry? No worries, we tried multiple Optimum Nutrition protein powders to find the best optimum nutrition flavor.
Laila is also a fan of this protein powder for multiple reasons. For one, it has a mix of protein sources (whey isolate and concentrate and hydrolyzed whey protein) that comes from hormone-free cows, along with five and a half grams of branched-chain amino acids in support of improved muscle endurance and recovery2.
The nutritional content varies by flavor, but generally, you can expect around two grams of fat and three grams of carbohydrates along with 24 grams of protein (which is standard across the board).
Related: Optimum Nutrition 100% Whey Gold Standard Review
| | |
| --- | --- |
| Price per serving | $1.08-$1.66 (depending on container size) |
| Flavors | 17 |
| Protein | 24 g |
| Carbs | Varies by flavor |
| Fat | Varies by flavor |
Best High-Protein Protein Powder: Kaged Nutrition Re-Kaged
Good for: Those looking for a protein powder with the highest possible protein content
With 28 grams of protein per 41.5-gram scoop, Re-Kaged by Kaged Nutrition is a convenient way of increasing your protein intake without turning on the stove. Laila also likes some of the other ingredients, which she says helps increase protein absorption and boost its muscle-building capabilities.
To start, you get a digestive enzyme known as ProHydrolase that purportedly enhances protein synthesis and improve muscle recovery3 (we say purportedly because there's only one public study on it, and it showed the enzyme was more effective in increasing amino acid concentration in the blood than overall protein absorption). There's also three grams of glutamine, which has been shown to help with muscle tissue repair following intense resistance training4.
I'm also going on the record to state that this, in my personal opinion, is the best-tasting protein powder I've ever tried. I went with Orange Kream, which to me is one of the more unique protein powder flavors. It reminded me of an orange-and-cream ice cream bar, though I have to note it's a pretty large scoop so you'll have to do a good bit of mixing to get it all incorporated.
Although it's marketed as a post-workout protein powder, Re-Kaged contains two ingredients linked with improved muscle endurance and strength: betaine5 and creatine. Creatine, the most-researched supplement ingredient, has consistently been shown to support increases in strength and aid in recovery6, but it's not something commonly found in protein powders—in fact, Re-Kaged is the only one we tried that has it.
It is on the expensive side, at $2.25 per serving, and you only get 20 servings per container so it's not for anyone who's on a budget.
| | |
| --- | --- |
| Price per serving | $2.25 |
| Flavors | Strawberry Lemonade, Orange Kream, Iced Lemon Cake |
| Protein | 28 g |
| Carbs | 2-3g (varies by flavor) |
| Fat | 1g |
Best Low-Carb Protein Powder: Jacked Factory Authentic Whey
Good for: People who are looking to cut down on their carb intake
We're not the type of fitness gurus who demonize carbs, but we also agree that protein powders should mostly contain…well, protein. Jacked Factory Authentic Whey only contains one gram of carbs per 31-gram scoop, making it a perfect choice for those looking to prioritize protein intake.
Unlike some low-carb products, Jacked Factory doesn't compromise on taste. The Fruity Cereal Splash tasted exactly like the fruity breakfast cereal we all know and love (y'know, the one with the bird on the box) but it does have a slight artificial aftertaste. There were also no clumps, which is always a huge plus.
Jacked Factory's filtration process creates a low-fat, low-carb, and high-protein product with a short ingredient list. The filtering also removes a good amount of lactose, so it should be good for those who don't always agree with dairy products.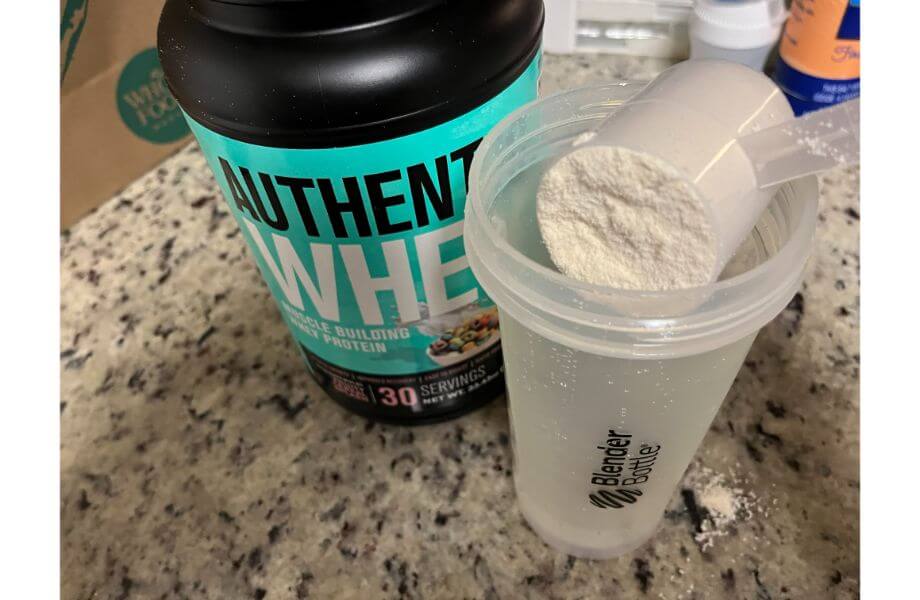 The protein comes from whey protein isolate and whey protein concentrate, both of which contain all the essential amino acids needed for protein synthesis7 to aid in muscle growth and recovery.
It's free of fillers and thickening agents, though it does contain artificial flavors (which are simply man-made flavors created in a laboratory that have little to no nutritional value and are safe for consumption).
| | |
| --- | --- |
| Price per serving | $1.50 |
| Flavors | Vanilla, Fruity Cereal Splash, Salted Chocolate Caramel, Orange Ice Cream, Chocolate |
| Protein | 24 g |
| Carbs | 1-2 g (varies by flavor) |
| Fat | 2 g |
Best Protein Powder for Building Mass: XWERKS Grow
Good for: People looking to bulk up their physique
XWERKS Grow may not have the highest protein content on this list, but as the age-old saying goes, quality matters more than quantity—and XWERKS is a high-quality protein that contains key nutrients that have been shown to help with building muscle mass. The whey protein isolate comes from cows raised in New Zealand, which has some of the strictest dairy laws in the world.
The land down under prohibits8 any antibiotics, pesticides, or hormones from coming in contact with the cows. XWERKS also uses a micro-filtration process that removes most of the fat, sugar (lactose), and carbs from the whey while keeping its amino acids—protein's building blocks—and other key nutrients intact.
One of those nutrients is alpha lactalbumin, a protein found in human breast milk needed for growth9 (you can see where they got the name from). It also contains immunoglobulins, which are antibodies that help the body fight bacteria and viruses.10
Grow is nearly pure protein, with 100 of the 110 calories per every 30-gram scoop coming from the muscle building macronutrient. Most flavors contain zero grams of fat and only one gram of carbs, with the exception of peanut butter which has two grams of each.
I went with the Chocolate flavor, which reminded me of a richer Yoo-hoo. It's also one of the few chocolate protein powders I've had that tastes good even with water, though I would definitely recommended using milk for the best taste.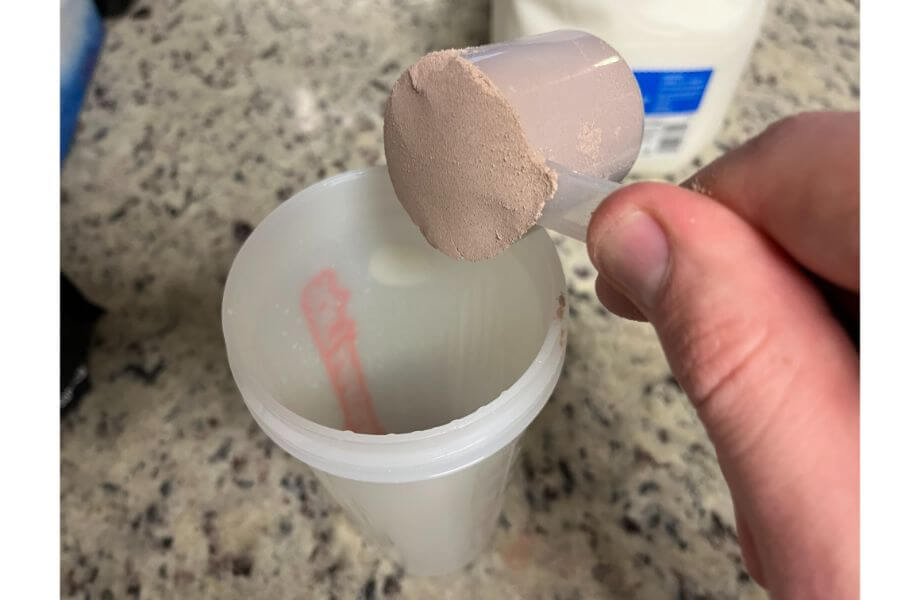 At $1.96 per serving it's a fairly expensive protein powder, but well worth it if you're looking for some of the best quality whey isolate on the market.
| | |
| --- | --- |
| Price per serving | $1.96 |
| Flavors | Chocolate, Vanilla, Peanut Butter, Strawberry |
| Protein | 25 g (Peanut Butter has 23g) |
| Carbs | 1 g (Peanut butter has 2g) |
| Fat | 0 g (Peanut Butter has 2g) |
Best Unflavored Protein Powder: Now Sports Nutrition Whey Protein Isolate
Good for: Anyone looking for an allergen-free and/or unflavored protein powder
Now Sports Nutrition Whey Protein Isolate contains two ingredients: whey protein isolate and a minimal amount of sunflower lecithin emulsifier (which prevents the protein from separating). That's it. No flavorings or artificial sweeteners, though GGR staff writer and expert product tester Lauren Strong detected a "whey taste," which she says is neither good nor bad.
"Blended just like you would want a protein powder to—no clumps, not too thick or thin," Lauren says. "Pretty decent all around."
Laila noted that the powder is free of most notable allergens, including corn, egg, soy, and is gluten-free. It's also safe for those who follow kosher and halal lifestyles, which she says is "extremely rare" in protein powders.

She also likes that the company is very transparent in listing the protein powder's amino acid content, including non-essential amino acids (amino acids that don't need to be obtained through diet because our body creates enough of them on its own) and branched-chain amino acids, which may help reduce muscle fatigue2.
Each 28-gram scoop delivers 25 grams of protein and less than a gram of fat and carbs. Now Sports only gives you 19 servings in the 1.2-pound tub, which comes out to about $1.31 per serving. We usually like to see at least a month's worth of protein in each tub, but we can't complain much about the price.
| | |
| --- | --- |
| Price per serving | $0.66-$1.38 (varies by size) |
| Flavors | Unflavored |
| Protein | 25 g |
| Carbs | <1 g |
| Fat | 0.5 g |
Best Organic Protein Powder: Orgain Organic Grass-Fed Whey
Good for: Those who prefer organic protein supplements
It's not uncommon to find artificial ingredients in protein powders (and to be honest there's nothing dangerous about most of them), but if you're someone who insists on having naturally sourced products, then we recommend Orgain Organic Grass-Fed Whey.
This whey protein powder is sourced from New Zealand cows, so you know it's free from antibiotics or any growth hormones (it is organic and non-GMO after all)8. Each 41-gram serving (which actually consists of two scoops) contains 21 grams of protein, three grams of fat, and up to 12 grams of carbs—five grams of which are from the sweetener erythritol, which is digested differently from other carbs and contains a minimal amount of calories11.
That's a much higher fat and carbohydrate content than the other products on our list, which isn't necessarily a bad thing but should be noted for those tracking their macronutrients.
The vanilla flavor was just OK—nothing offensive, but nothing overly exciting about it either (much better than their organic plant proteins). There were a few floaties after shaking and I should note that of all the whey-based proteins I tried, this one made me the gassiest.
The two-scoop serving size might be viewed as a con by some, but I think it's great because you can make it last longer (a great thing in this economy). Some people may also prefer a half-serving if they're looking to cut back on the number of calories they consume per day.
| | |
| --- | --- |
| Price per serving | $1.10 ($0.55 if you only you only use one scoop) |
| Flavors | Vanilla Bean, Creamy Chocolate Fudge |
| Protein | 21 g |
| Carbs | 11-12 g |
| Fat | 3 g |
Best Protein Powder for Athletes: Garden of Life Sport Grass-Fed Whey
Good for: Competitive athletes looking for a protein powder to help with training and recovery
Believe it or not, we didn't name Garden of Life Sport Grass-Fed Whey as the best protein powder for athletes because it has "sport" in its name. The actual reason is that it has a number of certifications stating that it's free of any banned substances, which isn't always the case with some protein powders.
The NSF Certified for Sport mark means that it meets the standards of approval of regulatory and government agencies, sports industry organizations, and consumer groups. Some sports governing bodies prohibit performance-enhancing substances that could be found in pre-workouts, protein powders, and other supplements, so the NSF certification tells an athlete they can take that supplement without worrying about potentially failing a drug test.
Expert product tester, GGR head of content, and competitive weightlifter Kate Meier along with members of her weightlifting team tried out the vanilla, but they agreed they got more stevia than vanilla.
"I think it would be better in a smoothie mixed with other things rather than drinking it straight," Kate says. "It could potentially be good for baking as well because it doesn't have a very strong flavor so it wouldn't overpower a recipe."
This protein powder also contains a "Truly Grass Fed" certification to show that the cows that produce the dairy are only eating grass and nothing else (some companies that claim to have grass-fed cows will often supplement the bovines' diet with corn and soy).
Laila, however, isn't biased and loves this product. "Very clear amino acid profile," she notes. "Interestingly, it includes 10 milligrams of naturally occurring caffeine, likely from cocoa." The small amount of caffeine is unlikely to keep you awake or have any impact on your training.
Related: Best pre-workout for men
In addition to the 24 grams of protein, there are four grams of glutamine to help with muscle recovery4. It also has several billion probiotics to help with immune health12 (though most studies point to more short-term benefits than long-term improvements).
One downside is that you only get 20 servings per container and the per-serving cost comes out to $1.99 for vanilla and $2.06 for chocolate.
| | |
| --- | --- |
| Price per serving | Vanilla: $1.99, Chocolate: $2.06 |
| Flavors | Vanilla, Chocolate |
| Protein | 24 g |
| Carbs | 6 g |
| Fat | 0.5 g |
Best Whey Protein Powder: Kaged Nutrition Whey Protein Isolate
Good for: Anyone who is looking for high-quality protein
Yes, most of the protein powders we've mentioned already are whey protein, but Kaged Nutrition Whey Protein Isolate uses a special type of protein that's more easily digestible. Unlike other powders that solely contain whey protein isolate, Kaged has ProHydrolase for improved protein absorption and muscle recovery3—and that's what pushes it over the edge.
It's a clean product with minimal ingredients, which is what we and many other people like to see in a whey protein powder. You get 25 grams of protein per 31-gram scoop, so it's mostly protein (it has under a gram of fat and only two to three grams of carbs).
Another advantage is you get more than 40 servings per container (the exact number varies by flavor)—so while the tub isn't the most budget-friendly, you end up saving some money on a per-serving basis, especially since most protein powders have 25 to 30 scoops in a container.
Nicole likened the Chocolate flavor to "one of those Carnation instant breakfast mixes" and said there were some clumps remaining even after a vigorous shake.
| | |
| --- | --- |
| Price per serving | $1.36-$1.46 |
| Flavors | Chocolate Peanut Butter, Vanilla, Chocolate, S'Mores, Cinnamon French Toast |
| Protein | 25 g |
| Carbs | 2-3 g |
| Fat | 0-0.5 g |
Best Protein Powder for Weight Loss: MyProtein Impact Whey Protein
Good for: Those who are looking for a filling protein powder to aid with weight loss
MyProtein Impact Whey Protein has just 100 calories per serving, naturally making it the best protein powder for weight loss. Another reason for our choice is that you get 19 grams of protein per serving 25-gram scoop.
People on a weight loss journey should know that protein can help you feel more full compared to carbs and fat1, which can lead to a reduced caloric intake and therefore help you reach a caloric deficit (which is when you burn more calories than you consume in a day). A caloric deficit is necessary to achieve weight loss13.
Here's the thing: If you blindfolded me and asked me to taste this, I wouldn't think it was just 100 calories. The cookies and cream flavor has little cookie chunks in it, and when mixed with milk it's a delicious treat. I imagine this is what Cookie Monster would drink if he ever wanted to get jacked.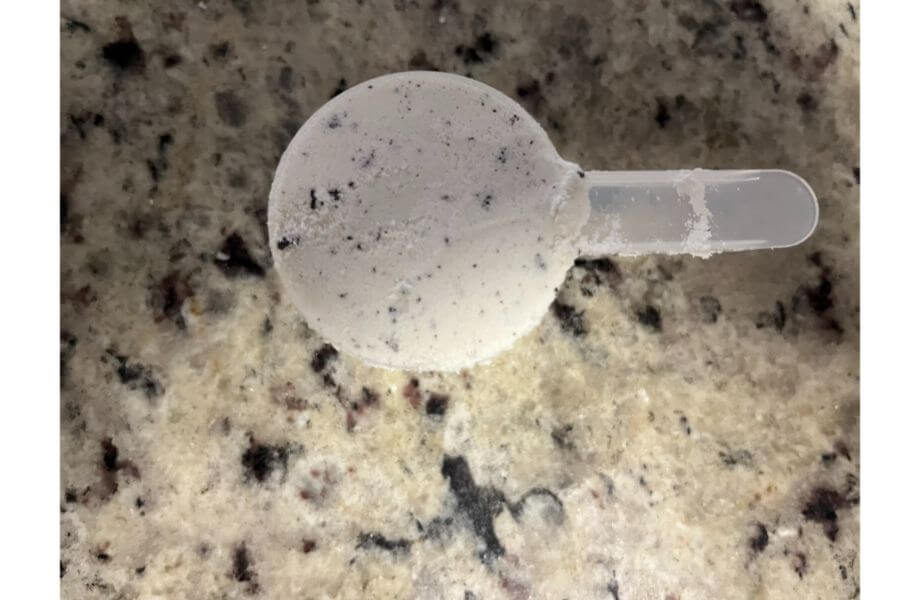 The carb and fat content vary by flavor, but generally, you'll only get one gram of fat and up to three grams of carbs. "Relatively lower fat, carb, and calorie content suited for weight loss," Laila says, "however, still a good source of protein."
The price per serving varies by the bag size—a 10-serving bag will run you $1.99 per scoop while a 40-serving bag comes out to $1.12 per serving. 
Related: MyProtein The Whey review
| | |
| --- | --- |
| Price per serving | $0.94-$1.99 |
| Flavors | 13 |
| Protein | 19 g |
| Carbs | 3 g |
| Fat | 1 g |
Best Collagen Protein Powder: Vital Proteins Collagen Peptides Powder
Good for: Anyone who's looking after their hair and nail health in addition to their protein intake
Collagen has become a bit of a buzzword in the fitness industry lately but the Vital Proteins Collagen Peptides Powder is anything but buzz. "Good for someone who is not only looking for increased protein intake but also considering skin, joint, bone, hair health14," Laila says.
There are two types of collagen found in this protein powder: Type I and Type III. "Type I is the type of collagen for preserving the levels of collagen in your skin, hair or nails," Laila says. It's also a major component of the tendons, organs and bones.
"Type III is generally found in reticular fibers, such as in the bone marrow," she adds. "It's usually found alongside Type I collagen in the body."
There are 18 grams of protein per each 20-gram serving (which is two scoops) and 20 grams of hydrolyzed collagen from bovine hide (cow's skin).
Amanda Capritto, GGR staff writer and product tester, tried the unflavored version (it also comes in chocolate, lemon, and vanilla. "I mixed it into several things—greens powder, other protein powders, juice, and even my coffee—and it did not change the taste of anything."
Laila says the collagen peptides can be used like any other protein powder to increase satiety (being full)1 and may also help with joint pain, bone health, and lean muscle growth14.
It should be noted, however, that collagen protein is an incomplete protein, meaning it doesn't contain one of the essential amino acids needed for muscle protein synthesis7. In this case, it's tryptophan, of which there is zero milligrams.
| | |
| --- | --- |
| Price per serving | $1.93 |
| Flavors | Unflavored, Chocolate, Lemon, Vanilla |
| Protein | 18 g |
| Collagen | 20 g |
| Carbs | 0 g |
| Fat | 0 g |
Best Plant-Based Protein Powder: Vega Sport Premium Protein
Good for: Athletes who are dairy-free or living a plant-based lifestyle
Vega Sport Premium Protein wins our pick for best plant-based protein powder for a number of reasons, but one of the biggest is that each 41-gram scoop comes with 30 grams of protein, which is the highest amount of any protein powder on this list. Our other reason is that it tastes much better than other vegan protein powders.
Vega also uses complementary proteins—specifically pea protein, pumpkin seed protein, organic sunflower seed protein, and alfalfa protein—to ensure its powder contains all essential amino acids, and as a bonus it also shows how much of each is in every serving. It is deficient in two amino acids that are made by the body, so that's not a biggie.
It does have a higher fat and carb content compared to our other choices, which again isn't inherently a bad thing but should be noted if you're tracking those macronutrients.
The Mocha flavor is easily the best-tasting plant-based protein powder I've tried and reminded me of an instant cappuccino.
There's also 2 billion CFUs of probiotics to help with digestion12, though I should note that consuming this protein powder caused my stomach to rumble a bit so it might not be the best pre-date protein shake.
Vega touts the addition of tart cherry, which has been linked with improved muscle recovery15 but without knowing how much is in each serving, it's difficult to say whether it's enough to make a difference.
Fair warning: This is not a budget-friendly protein powder. There's only 19 servings per container and the price per serving ranges from $2.22 to $2.67, depending on the flavor.
Related: Check out our picks for the best vegan protein powders for more plant-based choices.
| | |
| --- | --- |
| Price per serving | $2.22-$2.67 |
| Flavors | Vanilla, Chocolate, Mocha, Peanut Butter |
| Protein | 30 g |
| Carbs | 4-5 g |
| Fat | 3.5-4 g |
Best Hydrolyzed Protein Powder: Dymatize ISO 100
Good for: Those looking for a quick-absorbing protein powder
Hydrolyzed protein powder goes through a process called hydrolysis—"hydro" means water and "lysis" means to remove or bind, Laila explains. "This form of protein has been broken down by exposing it to heat, acid, or enzymes that break apart the bonds linking the amino acids, making it the purest form of whey protein," she says.
Laila continues that while hydrolyzed protein powder, such as Dymatize ISO 100, is more easily absorbed and digested by the body16, there's little to no evidence supporting claims that it can stimulate muscle/protein synthesis quicker than intact proteins.
Still, she says, Dymatize ISO 100 is a high-quality protein powder that delivers 25 grams of protein per 32-gram scoop with one or fewer grams of fat (depending on the flavor) and two grams of carbs.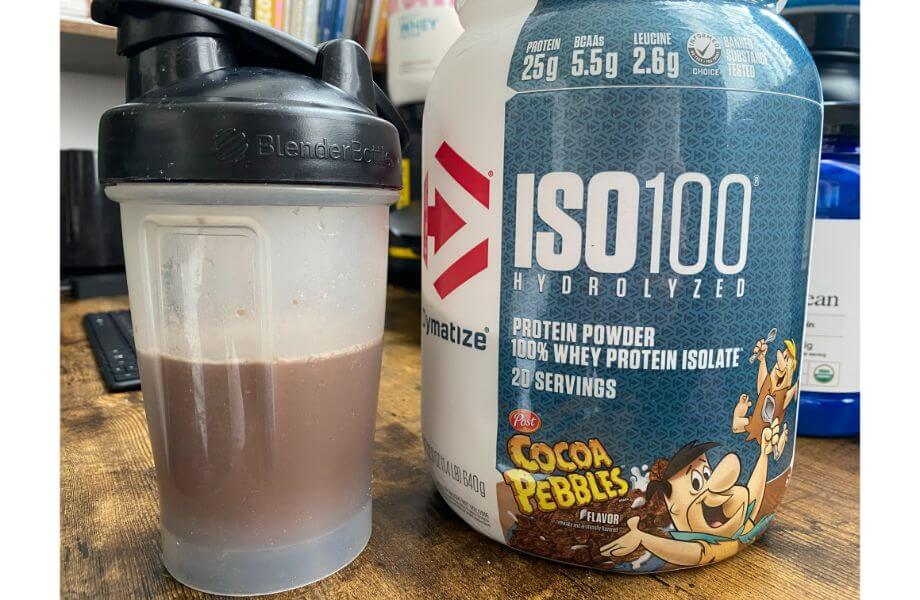 Dymatize is well-known for having fun and unique flavors that are officially licensed by Fruity Pebbles, Cocoa Pebbles, and Dunkin' Donuts (hi, Ben Affleck and everyone from Boston).
Amanda went for a bowl, um, shaker bottle of Cocoa Pebbles. "I like it, but I wouldn't say it's better than other chocolate protein powders," she says.
While it's not the most budget-friendly option on a per-serving basis, the container itself is under $40, which can't be said for many other protein powders.
| | |
| --- | --- |
| Price per serving | $1.65-$1.99 |
| Flavors | Fruity Pebbles, Birthday Cake, Chocolate, Chocolate Peanut Butter, Cocoa Pebbles, Cookies & Cream, Dunkin' Cappuccino, Dunkin Mocha Latte, Fudge Brownie, Strawberry, Vanilla |
| Protein | 25 g |
| Carbs | 2 g |
| Fat | 1 g |
Other Protein Powders We Researched
It might be hard to believe, but there are a few protein powders we came across during our research that didn't make the mark.
Bob's Red Mill Almond Protein Powder: This plant-based protein powder is produced by Bob's Red Mill, a company that primarily makes baking ingredients. While it does have 20 grams of protein per serving the fat and carb content is higher than we'd like to see and the per-serving cost is high at $1.85. It's also only made from ground almonds, which are an incomplete protein.
BSN Syntha 6: A mixture of whey protein and casein protein, BSN Syntha 6 is a fairly affordable protein powder (around $1.50 per scoop) that some might consider a meal replacement shake (each serving is 200 calories with a moderate amount of carbs and fats). It has a longer ingredient list than we would like and can contain up to four grams of added sugar (depending on the flavor).
Ka'Chava Meal Replacement: $6.02 per serving…no that's not a typo. Customers were impressed with the taste and those trying to lose weight found it to be a suitable meal replacement.
Bare Performance Nutrition Whey Protein: It's been a few years since I've had Bare Performance Nutrition Whey Protein, though I recall being a big fan of their product when I first started getting into weightlifting. It's actually a whey and casein blend, so it's a little thicker than most whey proteins and is perfect for protein sludge (my favorite recipe actually comes from BPN founder Nick Bare). The flavors, as I recall, are all great— but if I had to pick just one I'd go with Blueberry Muffin.
Related: Legion whey protein review
How We Picked and Tested the Best Protein Powder
There are more than 400 brands creating what they claim to be the best protein powder, according to marketing analysis firm Lumina Intelligence17. We'll say right now that we didn't try nearly that much, but we were able to narrow down our selections by taking a few factors into consideration.
Protein content
Obviously, a good protein powder should have a high amount of protein—our top picks have protein content ranging from 19 to 30 grams.
Carb and fats
We also wanted to make sure each selection had a low or moderate carb and fat content (it should, after all, be mostly protein).
Digestibility
How well did the protein powder digest? Did it cause any digestive issues or bloating?
Protein source
Did the protein powder come from whey, casein, egg white, or plant-based sources (such as pea protein, rice protein, chia seeds, or brown rice)?
Amino acids
Did each protein powder have all 9 essential amino acids? This is especially important for plant-based protein sources as every one, with the exception of soy, are incomplete protein. Companies work around this by using complementary proteins, or combining two or more protein sources to get all essential amino acids into their supplement.
Flavor
Did it taste good? Most protein powders are going to be sweet and milk-based.
Price
How expensive was the container and what was the price per serving?
What is Protein Powder?
Protein powder is a dietary supplement that contains a powdered form of protein either from plants (like hemp, quinoa, pea, soybean, rice, or hemp), milk (whey or casein), or eggs. It was first introduced as a bodybuilding supplement by the likes of Arnold Schwarzenegger and Kali Muscle and has since gone mainstream, with everyday people using it to bulk up their morning smoothies or as a meal replacement shake.
Protein and Amino Acids
Protein is a molecule made up of 20 amino acids—of those 20, there are 11 that the body makes enough of and so we don't have to worry about getting them through our diet. The other 9 are known as essential amino acids (EAAs), which the body doesn't make enough of and must be obtained through diet.
A protein molecule containing all 9 essential amino acids is called a complete protein, whereas a protein molecule lacking any of the 9 EAAs is an incomplete protein. To make sure you're reaping the benefits of the best protein powder you need to make sure you're eating complete proteins.
Is it OK to Take Protein Powder Every Day?
There are no adverse effects to drinking a protein powder shake every day, though it should be pointed out that it's a supplement—meaning it supplements your overall diet. The majority of your calories and protein should come from whole food sources like meats, plants, and dairy. That said, protein powder is a cost-efficient and convenient way to increase your protein intake.
When Should I Take Protein Powder?
As long as you're not a competitive bodybuilder, the answer is whenever you're hungry or need a quick dose of protein. And before you say, "But I heard you need to take it right after working out" or even utter the words "anabolic window, I'll tell you why both of those things are "bro science," or fitness myths that people believe just because someone with big muscles told them it's true. (By the way, if you are a competitive bodybuilder or strength athlete I'll get back to you in just a second).
Numerous studies18 in recent years have shown that overall caloric and protein intake along with proper resistance training is more important than so-called nutrient timing or eating certain meals based on when you workout. Nutrient timing can be beneficial for professional bodybuilders or powerlifters, but for the general lifter or person, there's no need to down a protein shake right after a workout.
Here's how the researchers in a review published in Nutrients18 put it:
"When it comes to nutrient intake for athletes and active individuals, there exists a hierarchy of needs. If we look at it like baking a cake, the training stimulus and the total daily intake form the cake itself. The timing of nutrient intake is more like the frosting, which requires the foundation of the cake to do its job."
In other words, nutrient timing is important but not as important as some people claim.
And now we'll get back to the competitive bodybuilders, powerlifters, or other strength-based athletes. The "anabolic window" is a little more true for these types of athletes, but it's a window that's sometimes only open halfway. What we mean by that is your nutrient timing needs vary based on workout intensity and how much or little you ate before training.
Your meal size can also impact how soon after a workout, as researchers in one study19 said larger meals could be eaten up to 6 hours after a workout, compared to smaller meals that they recommended be consumed 3-4 hours post-training.
Benefits of Protein Powder
Wondering why you should consider purchasing or using protein powder? Here are a few reasons:
Convenience
It's much easier and quicker to chug eight ounces of protein powder (mixed with the liquid of your choice) than it is to defrost, prepare, cook, and eat a piece of meat (not to mention the clean up).
Shelf-stable
Protein powders can last a surprisingly long time on your shelf if properly sealed and kept out of direct sunlight.
Builds muscle
There are mountains of evidence supporting the use of protein powder to help build muscle1.
Lose weight
Protein powder can also be used for those who are on a weight loss plan1.
What to Consider When Buying Protein Powder
Protein powders will try to draw you in with colorful labels and attractive claims, but here's what you should actually look for when you're trying to decide which is the best protein powder for you.
Caloric content
This might change depending on your fitness goal. For example, if you're looking to bulk (or add muscle), you'd want more calories than someone whose main goal is weight loss.
Protein content
You should generally look for a protein powder with anywhere from 25 to 30 grams of protein per serving, but even 20 grams is enough protein to help keep you full.
Carb and fat content
Carbohydrates and fats are essential macronutrients but they should be present in low or moderate amounts in protein powder.
Protein type
Most protein powders come from whey protein, but there are different protein types, the two most common alternatives being casein protein powder and plant-based protein powders. Casein is also a dairy-based protein that digests slower than whey, which is why athletes will often take it before going to sleep.
There are also meal replacements, sometimes called mass gainers, which contain an entire meal's worth of protein, carbohydrates, and fats. Mass gainers are primarily used for people looking to add muscle mass but can also be utilized by those trying to reduce their body weight.
Taste
Find a flavor you like. Most protein powders will come in dessert-themed flavors, though there are now companies producing more fruity flavors that mix well with water. If you're interested in a more refreshing protein powder, we recommend checking out SEEQ Clear Whey Isolate's Blue Razz Freeze flavor—certified personal trainer and triathlete Amanda Capritto says it reminds her of candy.
Price
Self-explanatory, but find a protein powder that works for your budget. Most of the best protein powders will be around $1.50-$2.00 per scoop with 30 servings, though you can find more affordable protein powders for around $1.10 per scoop.
Types of Protein Powder
Even though we have our pick for the best protein powder, there are many people who may disagree due to dietary or religious reasons—there are some religions that prohibit the consumption of dairy. No worries, as there are many different types of protein powder for you to choose from.
Whey Protein Powder
Whey protein powder is the most common type of protein powder, and it comes from whey (shocking, we know). Whey is the liquid left behind after milk has been processed and is used in multiple applications, such as cheese-making or producing protein powder.
The pros of whey protein are that it's cheap and readily available, though people with dairy sensitivities may find it difficult to digest it. In fact, people who are able to eat or drink milk-based products sometimes struggle with whey protein powder (it can result in some rumbling down under if you catch our drift). Luckily, there are two other types of whey protein powder:
Whey protein isolate: Whey protein isolate is simply whey protein that's undergone additional filtering to remove much of the lactose (aka sugars), which results in a lower carb, lower fat protein powder that's also easier to digest than normal whey protein (which may sometimes be called whey protein concentrate).
Whey Protein Hydrolysate: This whey protein has been pre-digested through a special process that increases the rate of absorption.
Casein Protein Powder
Casein is another byproduct of the cheese-making process, and while it's not nearly as popular as whey protein it contains just as much protein and micronutrients. It's made by adding a curdling agent to milk, which then becomes lumpy. Those curdles are then taken and either made into cheese or casein protein powder (after being dehydrated and processed, of course).
You'll often see casein protein powder in meal replacement shakes for two reasons: It's thicker than whey protein and digests slower. It's more like a pudding than a shake, which will give your body the feeling that you're eating more food than you actually are. And because it's digested slower than whey protein, it's a great type of protein to take before going to bed or when you know you might not be able to eat for a few hours.
Plant-Based and Vegan Protein Powders — What to Know
Plant-based or vegan protein powders are dairy-free alternatives that source their protein from soy, plants, or other food sources. Here is a list of the most common plant-based proteins:
Soy
Hemp
Lentil
Chia Seed
Pumpkin Seed
Brown Rice
If you're looking for a vegan or plant-based protein powder make sure to pay extra attention to the amino acid profile. As we discussed earlier, a protein needs 9 of the essential amino acids to be a complete protein and aid in muscle growth or satiety (the feeling of being full). With the exception of soy, all plant-based protein sources are incomplete proteins.
Does that mean plant-based and vegan protein powders don't work? Not necessarily, since they may use complementary proteins—basically, a company will add rice protein and hemp protein since one may have the essential amino acids that the other lacks.
Some of the best protein powders have their full amino acid profile on the label, so if you're a plant-based lifter be sure to look for this on the tub or the company's website.
Pea Protein Powder
Pea protein powder is a plant-based protein source created from yellow peas and is very high in micronutrients. Although it contains all 9 essential amino acids, it's low in methionine and isn't considered a complete protein. It's also not as bioavailable as other protein types.
Egg Protein Powder
Egg protein powder comes from eggs and while it can be a great option for those who can't drink dairy, we should warn you that egg protein powder often comes with an unsavory taste and smell.
Meal Replacements and Mass Gainers
Meal replacement shakes often have more calories and protein (along with additional carbs and fat) than your standard protein powder because they're made to mimic an entire meal's worth of fuel. These are used by people who are trying to lose weight or those who don't have enough time to eat a full plate of food.
Mass gainers are a type of meal replacement shake used by powerlifters or bodybuilders who are trying to put on as much weight as possible, and as a result, contain thousands of calories. Some mass gainers contain more calories and protein in one scoop than some people drink in an entire day, and they should only be used under the supervision of a dietary professional.
Protein Powder Subscriptions: What Are They and Are They Worth It?
A huge benefit of ordering your protein powder online rather than in person is that you can place your protein powder on a regular subscription basis so you never run out. Most companies allow you to do this and it can easily be set up through Amazon.
You simply let them know how often you'd like a new delivery, which can range from a week to up to six months.
Another benefit of subscribing to protein powder delivery is that you save money because companies will often knock a few bucks off a container since they know you're going to come back to them. This discount can be as little as $1 and up to around $10, depending on the company.
The only thing is you better find a company you like, and if you're the type who likes to have a different flavor every month, then you should find one with a large variety.
Does Protein Powder Have an Expiration Date?
Yes, protein powder does have an expiration date and can go bad if not consumed before that date. It does, however, last much longer than protein sources like chicken or tofu. Most of the best protein powder's expiration dates are 18 months to 2 years after it was produced.
As certified personal trainers and expert product testers who frequently have quite a few protein powders on hand, here are some of our tips for ensuring your protein powder stays fresh for many months:
Properly seal the container every time
Keep the container in a dry, cool place away from sunlight
Throw it away if it starts to smell rancid
Best Protein Powder FAQs
What is the best powdered protein on the market?
What are the signs of too much protein?
A few symptoms of excess protein include dehydration, intestinal discomfort, fatigue, headaches, and nausea. Consult a dietitian, nutritionist, or physician to find out how much protein is right for you.
Are protein powders worth it?
Absolutely! Protein powders are a convenient way to increase your protein intake and there are many budget-friendly options that come out to less than $1.50 per serving.  
What is number 1 selling protein powder?
These statements have not been evaluated by the Food and Drug Administration. This product is not intended to diagnose, treat, cure, or prevent any diseases.
References
Stokes T, Hector AJ, Morton RW, McGlory C, Phillips SM. Recent Perspectives Regarding the Role of Dietary Protein for the Promotion of Muscle Hypertrophy with Resistance Exercise Training. Nutrients. 2018;10(2):180. Published 2018 Feb 7. doi:10.3390/nu10020180
Arroyo-Cerezo A, Cerrillo I, Ortega Á, Fernández-Pachón MS. Intake of branched chain amino acids favors post-exercise muscle recovery and may improve muscle function: optimal dosage regimens and consumption conditions. J Sports Med Phys Fitness. 2021;61(11):1478-1489. doi:10.23736/S0022-4707.21.11843-2
Townsend JR, Morimune JE, Jones MD, et al. The Effect of ProHydrolase® on the Amino Acid and Intramuscular Anabolic Signaling Response to Resistance Exercise in Trained Males. Sports (Basel). 2020;8(2):13. Published 2020 Jan 22. doi:10.3390/sports8020013
Coqueiro AY, Rogero MM, Tirapegui J. Glutamine as an Anti-Fatigue Amino Acid in Sports Nutrition. Nutrients. 2019;11(4):863. Published 2019 Apr 17. doi:10.3390/nu11040863
Cholewa JM, Wyszczelska-Rokiel M, Glowacki R, et al. Effects of betaine on body composition, performance, and homocysteine thiolactone. J Int Soc Sports Nutr. 2013;10(1):39. Published 2013 Aug 22. doi:10.1186/1550-2783-10-39
Kreider RB, Kalman DS, Antonio J, et al. International Society of Sports Nutrition position stand: safety and efficacy of creatine supplementation in exercise, sport, and medicine. J Int Soc Sports Nutr. 2017;14:18. Published 2017 Jun 13. doi:10.1186/s12970-017-0173-z
Church DD, Hirsch KR, Park S, et al. Essential Amino Acids and Protein Synthesis: Insights into Maximizing the Muscle and Whole-Body Response to Feeding. Nutrients. 2020;12(12):3717. Published 2020 Dec 2. doi:10.3390/nu12123717
Design and Operation of Farm Dairies, New Zealand Government
Layman DK, Lönnerdal B, Fernstrom JD. Applications for α-lactalbumin in human nutrition. Nutr Rev. 2018;76(6):444-460. doi:10.1093/nutrit/nuy004
Justiz Vaillant AA, Jamal Z, Patel P, Ramphul K. Immunoglobulin. In: StatPearls. Treasure Island (FL): StatPearls Publishing; November 24, 2022.
Regnat K, Mach RL, Mach-Aigner AR. Erythritol as sweetener-wherefrom and whereto?. Appl Microbiol Biotechnol. 2018;102(2):587-595. doi:10.1007/s00253-017-8654-1
Khalesi S, Bellissimo N, Vandelanotte C, Williams S, Stanley D, Irwin C. A review of probiotic supplementation in healthy adults: helpful or hype?. Eur J Clin Nutr. 2019;73(1):24-37. doi:10.1038/s41430-018-0135-9
Strasser B, Spreitzer A, Haber P. Fat loss depends on energy deficit only, independently of the method for weight loss. Ann Nutr Metab. 2007;51(5):428-432. doi:10.1159/000111162
Khatri M, Naughton RJ, Clifford T, Harper LD, Corr L. The effects of collagen peptide supplementation on body composition, collagen synthesis, and recovery from joint injury and exercise: a systematic review. Amino Acids. 2021;53(10):1493-1506. doi:10.1007/s00726-021-03072-x
Hill JA, Keane KM, Quinlan R, Howatson G. Tart Cherry Supplementation and Recovery From Strenuous Exercise: A Systematic Review and Meta-Analysis. Int J Sport Nutr Exerc Metab. 2021;31(2):154-167. doi:10.1123/ijsnem.2020-0145
A Castro LH, S de Araújo FH, M Olimpio MY, et al. Comparative Meta-Analysis of the Effect of Concentrated, Hydrolyzed, and Isolated Whey Protein Supplementation on Body Composition of Physical Activity Practitioners. Nutrients. 2019;11(9):2047. Published 2019 Sep 2. doi:10.3390/nu11092047
Lumina Intelligence, Sports Nutrition Market: Size, trends and analysis, July 31, 2020

Arent SM, Cintineo HP, McFadden BA, Chandler AJ, Arent MA. Nutrient Timing: A Garage Door of Opportunity?. Nutrients. 2020;12(7):1948. Published 2020 Jun 30. doi:10.3390/nu12071948

Aragon AA, Schoenfeld BJ. Nutrient timing revisited: is there a post-exercise anabolic window?. J Int Soc Sports Nutr. 2013;10(1):5. Published 2013 Jan 29. doi:10.1186/1550-2783-10-5