We test and review fitness products based on an independent, multi-point methodology. If you use our links to purchase something, we may earn a commission. Read our disclosures.
We have some bad news and some good news. The bad news is we can't help you get anywhere near Joe Rogan's level of wealth—you'll have to find a different website for that.
The good news is our Onnit Total Human review can help you get an inside look at how the podcaster, MMA commentator, and former "Fear Factor" host manages to stay so active despite being eligible for an AARP membership. Rogan's website states he's been taking supplements for most of his adult life to help boost his athletic performance and cognitive function.
We had Jacob Penner—a USA Weightlifting Level 1 Coach, competitive weightlifter, and a member of the Garage Gym Reviews expert panel—try out Total Human for himself to get his unfiltered thoughts on the supplement pack. Read on to find out what he thought.
Medical disclaimer: This article is intended for educational and informational purposes only. It is not intended as a substitute for medical advice. For health advice, contact a licensed healthcare provider.
Looking for Honest Supplement Reviews? We're Onnit
You probably know that you can't judge a book by its cover, but did you know you also can't judge a supplement by its nutrition label? That's why it's important to actually test supplements like Onnit Total Human to see what effects, if any, they have.
Our team of nutrition experts, certified personal trainers, and competitive endurance and weightlifting athletes use the protein powders, creatine, and fish oil supplements we review and recommend on this website to give you insight that you can't obtain simply by looking at a bottle or a website.
RELATED: Best Creatine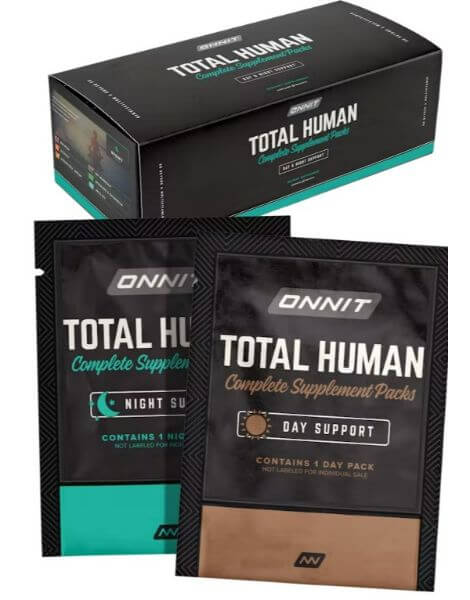 Product Highlights
Complete supplement packs 

Day and night packs of supplements 

All-in-one product
Pros & Cons
Pros
Subscribe and save
Combination of Onnit's best products
Day pack for energy and night pack for better sleep
High dosages of vitamins and minerals
Cons
Customers complain of receiving only partial doses of multiple supplements
Relatively expensive
More than 15 pills per day
Bottom Line
Onnit Total Human is an expensive supplement pack with a lot of pills, designed for people that want everything they need in one place and want to use a variety of Onnit's products.
A Quick Look at the Onnit Total Human
Onnit Total Human is a supplement stack that contains 10 different supplements in two convenient packs: a Total Human day pack to optimize athletic performance and cognitive function during the day, and a Total Human night pack to help repair your body and help you get optimal sleep.
There are three supplements included in both the day and night packs, with an additional four supplements in the day pack and an additional three in the night pack. Between the two packs, there is a grand total of 16 capsules overall. Each supplement targets a different bodily function, from the brain all the way to your cells.
If you end up liking the supplement stack, you can place it on a subscription order to have it delivered to your door every month (you can also change the frequency of your delivery if you want).
Before You Buy
Look to see if there's an Onnit coupon code to save money on your order
Our tester and other reviewers experienced vivid dreams after taking Alpha BRAIN
Is Onnit Total Human Worth It?
Onnit Total Human costs a little under $140 for a one-time purchase and $117.26 if you order it on a subscription basis, which might seem a bit high, but remember that you're getting multiple supplements in your 30-day supply. Ordering all of them separately would come out to about the same cost, if not a little more.
So the price is justified if you feel like you need all of these dietary supplements. Some people might have a diet that's already high in things like omega-3s, which would eliminate the need for Total Human's krill oil supplement.
Here's who we think would benefit from Total Human and who might want to look at different supplements.
Great for:
Those looking to fill nutritional gaps in their diet
People looking to boost their overall well-being and cognitive function
Anyone looking for a supplement stack with clinically-backed doses and ingredients
Not recommended for:
Anyone who has a well-rounded diet and doesn't need supplements
Those on a budget
People who don't enjoy swallowing a large number of capsules
RELATED: Best protein powder for women
Onnit Total Human Specs
| | |
| --- | --- |
| Price per serving | $4.59 |
| Notable ingredients | B-Vitamins, Spirulina, Alpha BRAIN, Shroom TECH Sport, Krill Oil, Vitamin E, Copper, Vitamin B12, Zinc, Selenium, Astaxanthin, L-theanine, Lemon Balm, Tyrosine, Amino Acids, Antioxidants |
| Dose | 1 day pack (8 pills) and 1 night pack (8 pills) |
| Storage Instructions | Keep in a cool, dry place |
Experience Using Onnit Total Human
Jacob says Onnit Total Human had a greater impact on his cognitive function—that is, his mental alertness and memory—than on his athletic performance.
RELATED: Best pre-workout for men
"I feel a lot clearer with noticeably less brain fog," he says. "I truly feel very good when I take these, and if I miss a day, I notice that I don't feel as good."
It wasn't just during the day, either. Jacob noted that the nighttime packs helped him sleep better and on some nights caused him to have vivid, intense dreams, which many other online reviewers have noted as well (more on that later).
"Every night that I have taken them, I have slept all the way through the night," he says. "Also, I've noticed I wake up a little easier than normal."
As far as physical benefits, Jacob experienced improved blood flow—this is a family site, so I won't elaborate on what I mean by "improved blood flow," but I think you get the idea.
Onnit Total Human contains 10 different supplements across the daytime and nighttime packs (there's seven in the daytime and six in the nighttime, but three overlap). Here, we'll take a quick look at each and examine what's inside them.
RELATED: Best pre-workout for women
Stron BONE
Stron BONE is an Onnit supplement designed to support bone health. There are two main ingredients worth looking at: strontium and Vitamin K2.
Strontium is a mineral commonly found in seawater and soil, but is also present in fish, wheat, and root vegetables. It works similarly to calcium in that studies, such as a February 2013 study 1, have found that it can help maintain bone density and even be used to treat osteoporosis in older adults.
Vitamin K2 has also been used to treat osteoporosis and has been found to prevent bone fractures, according to this October 2008 study 2.
Onnit adds black pepper extract to this supplement, which isn't for seasoning but rather to increase the bioavailability3 of certain essential vitamins and minerals (i.e., make them more potent).
Krill Oil
Krill oil is extracted from small shrimp-like shellfish that are filled with omega-3 fatty acids, and has been linked with improved heart health and decreased cardiovascular disease in numerous studies, as discussed in a 2018 systematic review4.
Omega-3 DHA has also been linked with reducing cognitive decline and improved joint and immune health, according to a 2019 systematic review of multiple studies5. There's also been recent research6 linking DHA and EPA fatty acids to reduced headaches.
People who don't get enough omega-3s from their diet are likely to look for a fish oil supplement, but a 2020 meta-analysis7 has shown that Krill oil is equally as effective as fish oil for improving overall health.
Total Human B Complex
B vitamins are a group of essential nutrients needed for overall health, energy production, immune system health, and DNA repair, according to a 2018 article8. These vitamins have also been linked with improved cognitive function, according to a 2016 review9 in the journal Nutrients.
Onnit's Total Human B Complex contains six B vitamins (there are eight total) all in very high amounts.
Shroom Tech SPORT
Shroom Tech SPORT is a blend of mushrooms, nootropics, and vitamins formulated by Onnit to help support athletic performance and endurance.
A 12-week study10 found that participants who took the supplement were able to train for longer than people who took a placebo, and even experienced weight loss while increasing their strength.   
This shouldn't be too surprising as several small studies11 have found that cordyceps mushrooms (which can be found in Shroom Tech) are beneficial for people who engage in intense resistance training exercises.
It also contains ashwagandha, which this March 2021 meta-analysis12 found was associated with increased strength, cardiorespiratory fitness, and improved recovery.
RELATED: Best vegan protein powder
Spirulina & Chlorella
Spirulina and chlorella are two forms of algae that have become popular in the supplement industry.
Spirulina has some anti-cancer properties and may also help in lowering people's cholesterol levels, according to studies discussed in an October 2010 review13, but there's not enough evidence to state that it decreases fatigue as some claim.
An August 2020 meta-analysis14 on the benefits of chlorella found that it contained "a large amount of good quality protein, dietary fibers, and polyunsaturated fatty acids," and could be used to boost immune function and treat conditions such as diabetes, hypertension, and high blood pressure.
RELATED: Best protein bars
Shroom Tech IMMUNE
This is another blend of mushrooms, but this one contains different roots (ginger and turmeric) and herbs (oregano). Unlike its fellow fungi sibling Shroom Tech SPORT, Shroom Tech IMMUNE hasn't been studied in a clinical setting (that we're aware of).
RELATED: Best organic protein powder
The blend contains chaga mushrooms, which have been linked with improved immune health, as discussed in this 2022 review15, and protecting our DNA from oxidative stress, according to a 2004 study16 published in the journal Biofactors.
New MOOD
New MOOD is included in the nighttime packet and is formulated to promote relaxation as you prepare for a good night's sleep. We were not able to find a study on the supplement itself, but it does contain several ingredients known to help with sleep.
There's valerian root, which a January 2020 meta-analysis17 said could be used to "promote sleep and prevent associated disorders," and chamomile—yes, this flower found in plenty of "sleepy time" teas actually helps improve sleep quality, according to a 2019 meta-analysis18.
You might also notice that it contains 1,176 percent of your daily value of vitamin B6, but we'll come back to that when we talk about Alpha BRAIN.
VIRUTech
VIRUTech is advertised as a supplement that "acts like a suit of armor against germs." This is another Onnit product that doesn't have a scientific study to back up its claims.
It does, however, contain a high amount of vitamin C, which can "both prevent and treat respiratory and systemic infections by enhancing various immune cell functions," according to researchers in a 2017 article published in the journal Nutrients19.
It also contains half your daily value of zinc, which directly impacts the "development and integrity of the immune system," according to a 2002 review20.
Key Minerals
This is essentially a multivitamin that contains five minerals: calcium, iodine, magnesium, molybdenum, and boron.
Molybdenum is present in very high amounts, though researchers in a 2011 review21 concluded that molybdenum deficiency is very rare and is usually only observed in people with genetic mutations.
The other minerals are present in very low amounts and are unlikely to have any major impact unless you're deficient in them.
RELATED: Onnit was also included in our best greens powder roundup
Alpha BRAIN
Ah, now we get to the fun one. Alpha BRAIN is one of Onnit's hottest-selling products and is formulated to help boost brain health and decrease brain fog. Jacob indeed felt clearer on days he took this nutritional supplement than the days he didn't.
"Definitely feeling more calm and relaxed," he says. "Not like in a sedative sense, more just feeling very clear and collected in my head."
He's not the only one. A small study22 done on 63 people found those who took the supplement had better memory recall (aka they were able to remember things better) than those who received a placebo.
One reason for this might be the high amount of vitamin B6. While studies have said there's little evidence to support the idea that vitamin B6 supplementation leads to increased brain function, there is evidence that being deficient in it could lead to cognitive decline, as discussed in the book "Vitamin B6 Deficiency"23.
There's also a small amount of huperzia serrata extract, which has been used for centuries in traditional Chinese medicine to treat mental conditions like Alzheimer's disease. An August 2021 study24 confirmed that it could help improve people's memories.
I know you've been wondering about the vivid dreams Jacob and others experience with Alpha BRAIN, and we'll get into that now.
Alpha BRAIN, Total Human, and Vivid Dreams
If you've ever wondered why you seem to have no dreams one night but very vivid and lucid dreams other nights, it has to do with a neurotransmitter called ​​acetylcholine. Researchers have found25 that you're more likely to have vivid dreams that you'll be able to recall the next day when ​​acetylcholine levels are higher.
We bring that up because Alpha BRAIN and the rest of the supplements in Onnit Total Human contain a large amount of B vitamins, which have been linked with increased ​​acetylcholine production8. Not only that, but the brain needs vitamin B5 (found in the B complex capsule) to create ​​acetylcholine26.
Vitamin B6 alone has been connected with an increased ability to remember your dreams in the morning, according to a 2018 randomized controlled trial27.
It should be noted that not everyone will experience vivid and/or lucid dreams while taking Alpha BRAIN or Total Human, but it does seem to be a common factor among many reviewers.
RELATED: Best probiotic
Price Per Serving
Onnit Total Human comes out to $4.59 per day if you go with a one-time purchase and $3.90 if you put it on a subscription. That might seem a bit expensive, but considering that you're getting 10 supplements in one order, it's actually pretty reasonable.
For what it's worth, Jacob said he'd recommend this as the first supplement people should buy, if they have the money, along with a whey protein powder.
RELATED: Best protein chips
Taste and Solubility
The capsules have no taste but you do have to take quite a lot throughout the day. Jacob personally had no problem with them, but if you have difficulty swallowing pills you should keep this in mind.
Third-Party Testing
Onnit does not specify whether Total Human has been tested by a third party to check for banned substances or potentially harmful materials. If you're an athlete, you should check with your governing body to ensure it doesn't contain anything that might get you in trouble.
Financing and Money-Back Guarantee
Onnit's website doesn't offer financing for its products.
There is a money-back guarantee, but Onnit says you must give it 30 days to ensure the product has been given enough time to kick in. If you're still not satisfied after 30 days, you can request a refund and keep the product.
Ordering Onnit Total Human
Simply go to Onnit's website and select whether you want to do a one-time purchase of Total Human or place it on a subscription basis. If you choose a subscription, you'll have to select how frequently you want it shipped to your door.
Customer Reviews
Onnit Total Human has a 4.5 average rating with more than 1,650 customer reviews.
Several customers, however, said they felt no benefits from the supplement stack.
Final Verdict of Our Onnit Total Human Review
The Onnit Total Human supplement stack has a lot to offer and could work very well for people who have some nutrient deficiencies in their diet. Jacob saw some great benefits from taking it and has said he would subscribe to it if it were a little more affordable. That said, it is the same company that makes one of the best protein powders for men so we know it's high quality.
What we like:
Convenient
Research-backed ingredients and doses
Great reviews
What we don't like:
Expensive (but a good value)
A lot of capsules to take
Onnit Total Human Rating
Onnit Total Human
Our Onnit Total Human review is based on weeks of testing Joe Rogan's favorite multivitamin stack. Here are our honest thoughts.
Product Currency: $
Product Price: 138
Product In-Stock: InStock
Onnit Total Human FAQs
Is Total Human from Onnit worth it?
If you have the money for it, then yes. Jacob Penner, a USA Weightlifting Level 1 coach and competitive Olympic lifter, says he had noticeably better mental alertness when taking the supplement stack and even had some physical benefits.
Does Joe Rogan take Total Human?
Joe Rogan's website states that Total Human is very close to his daily supplement stack.
Does Total Human replace a multivitamin?
In a way, yes. It contains multiple vitamins and minerals in the same way a multivitamin does, but doesn't contain everything you might find in a traditional multivitamin. That said, you should consult your physician or nutritionist before taking a multivitamin to ensure you're taking one best suited for your health needs.
These statements have not been evaluated by the Food and Drug Administration. This product is not intended to diagnose, treat, cure, or prevent any diseases.
References
Kaufman JM, Audran M, Bianchi G, et al. Efficacy and safety of strontium ranelate in the treatment of osteoporosis in men. J Clin Endocrinol Metab. 2013;98(2):592-601. doi:10.1210/jc.2012-3048
Ishida Y. [Vitamin K2] Clin Calcium. 2008;18(10):1476-1482.
Srinivasan K. Black pepper and its pungent principle-piperine: a review of diverse physiological effects. Crit Rev Food Sci Nutr. 2007;47(8):735-748. doi:10.1080/10408390601062054
Abdelhamid AS, Brown TJ, Brainard JS, et al. Omega-3 fatty acids for the primary and secondary prevention of cardiovascular disease. Cochrane Database Syst Rev. 2018;7(7):CD003177. Published 2018 Jul 18. doi:10.1002/14651858.CD003177.pub3
Samaneh Ghasemi Fard, Fenglei Wang, Andrew J. Sinclair, Glenn Elliott & Giovanni M. Turchini (2019) How does high DHA fish oil affect health? A systematic review of evidence, Critical Reviews in Food Science and Nutrition, 59:11, 1684-1727, DOI: 10.1080/10408398.2018.1425978
Sanders AE, Shaikh SR, Slade GD. Long-chain omega-3 fatty acids and headache in the U.S. population. Prostaglandins Leukot Essent Fatty Acids. 2018;135:47-53. doi:10.1016/j.plefa.2018.06.008
Kim MG, Yang I, Lee HS, Lee JY, Kim K. Lipid-modifying effects of krill oil vs fish oil: a network meta-analysis. Nutr Rev. 2020;78(9):699-708. doi:10.1093/nutrit/nuz102
Mikkelsen K, Apostolopoulos V. B Vitamins and Ageing. Subcell Biochem. 2018;90:451-470. doi:10.1007/978-981-13-2835-0_15
Kennedy DO. B Vitamins and the Brain: Mechanisms, Dose and Efficacy–A Review. Nutrients. 2016;8(2):68. Published 2016 Jan 27. doi:10.3390/nu8020068
U.S. National Library of Medicine. Effects of Shroom Tech Sport Supplementation and Concurrent Training. ClinicalTrials.gov. Dec. 17, 2020
Choi E, Oh J, Sung GH. Beneficial Effect of Cordyceps militaris on Exercise Performance via Promoting Cellular Energy Production. Mycobiology. 2020;48(6):512-517. Published 2020 Nov 9. doi:10.1080/12298093.2020.1831135
Bonilla DA, Moreno Y, Gho C, Petro JL, Odriozola-Martínez A, Kreider RB. Effects of Ashwagandha (Withania somnifera) on Physical Performance: Systematic Review and Bayesian Meta-Analysis. J Funct Morphol Kinesiol. 2021;6(1):20. Published 2021 Feb 11. doi:10.3390/jfmk6010020
Karkos PD, Leong SC, Karkos CD, Sivaji N, Assimakopoulos DA. Spirulina in clinical practice: evidence-based human applications. Evid Based Complement Alternat Med. 2011;2011:531053. doi:10.1093/ecam/nen058
Bito T, Okumura E, Fujishima M, Watanabe F. Potential of Chlorella as a Dietary Supplement to Promote Human Health. Nutrients. 2020;12(9):2524. Published 2020 Aug 20. doi:10.3390/nu12092524
Alhallaf W, Perkins LB. The Anti-Inflammatory Properties of Chaga Extracts Obtained by Different Extraction Methods against LPS-Induced RAW 264.7. Molecules. 2022;27(13):4207. Published 2022 Jun 30. doi:10.3390/molecules27134207
Park YK, Lee HB, Jeon EJ, Jung HS, Kang MH. Chaga mushroom extract inhibits oxidative DNA damage in human lymphocytes as assessed by comet assay. Biofactors. 2004;21(1-4):109-112. doi:10.1002/biof.552210120
Shinjyo N, Waddell G, Green J. Valerian Root in Treating Sleep Problems and Associated Disorders-A Systematic Review and Meta-Analysis. J Evid Based Integr Med. 2020;25:2515690X20967323. doi:10.1177/2515690X20967323
Hieu TH, Dibas M, Surya Dila KA, et al. Therapeutic efficacy and safety of chamomile for state anxiety, generalized anxiety disorder, insomnia, and sleep quality: A systematic review and meta-analysis of randomized trials and quasi-randomized trials. Phytother Res. 2019;33(6):1604-1615. doi:10.1002/ptr.6349
Carr AC, Maggini S. Vitamin C and Immune Function. Nutrients. 2017;9(11):1211. Published 2017 Nov 3. doi:10.3390/nu9111211
Dardenne M. Zinc and immune function. Eur J Clin Nutr. 2002;56 Suppl 3:S20-S23. doi:10.1038/sj.ejcn.1601479
Novotny JA. Molybdenum Nutriture in Humans. Journal of Evidence-Based Complementary & Alternative Medicine. 2011;16(3):164-168. doi:10.1177/2156587211406732
Solomon TM, Leech J, deBros GB, et al. A randomized, double-blind, placebo controlled, parallel group, efficacy study of alpha BRAIN® administered orally. Hum Psychopharmacol. 2016;31(2):135-143. doi:10.1002/hup.2520
Brown MJ, Ameer MA, Beier K. Vitamin B6 Deficiency. [Updated 2022 Jul 18]. In: StatPearls [Internet]. Treasure Island (FL): StatPearls Publishing; 2022 Jan-. Available from: https://www.ncbi.nlm.nih.gov/books/NBK470579/
Callizot N, Campanari ML, Rouvière L, et al. Huperzia serrata Extract 'NSP01' With Neuroprotective Effects-Potential Synergies of Huperzine A and Polyphenols. Front Pharmacol. 2021;12:681532. Published 2021 Aug 30. doi:10.3389/fphar.2021.681532
Nir Y, Tononi G. Dreaming and the brain: from phenomenology to neurophysiology. Trends Cogn Sci. 2010;14(2):88-100. doi:10.1016/j.tics.2009.12.001
Pantothenic acid – Uses. Pantothenic acid. (n.d.). Retrieved February 8, 2023, from https://wa.kaiserpermanente.org/kbase/topic.jhtml?docId=hn-2927004
Aspy DJ, Madden NA, Delfabbro P. Effects of Vitamin B6 (Pyridoxine) and a B Complex Preparation on Dreaming and Sleep. Percept Mot Skills. 2018;125(3):451-462. doi:10.1177/0031512518770326