We test and review fitness products based on an independent, multi-point methodology. If you use our links to purchase something, we may earn a commission. Read our disclosures.
Let me give a piece of advice to all the men out there: Don't fall for protein powders that make claims of helping you grow muscles in no time. The truth is that those companies spend most of their money on marketing.
The best protein powder for men is one that contains high-quality ingredients and is backed by science, not some shredded dude or a celebrity.
Our group of expert product testers and dietary professionals have sifted through the thousands of protein powders on the market to give you our top 14 picks that will work for all types of men, regardless of their size, training experience, or fitness levels.
Medical disclaimer: This article is intended for educational and informational purposes only. It is not intended as a substitute for medical advice. For health advice, contact a licensed healthcare provider. GGR also recommends choosing a product that has been third-party tested for quality.
We're the Right Men [and Women] for the Job
It's the 21st Century, so it shouldn't be too shocking that we had several women help us finalize this list. The Garage Gym Reviews women are some of the best certified personal trainers, certified nutrition coaches, and competitive weightlifters I have ever met during my time in the industry.
To paraphrase an old saying, "Behind every strong man is a team of strong women."
RELATED: Best protein powder for women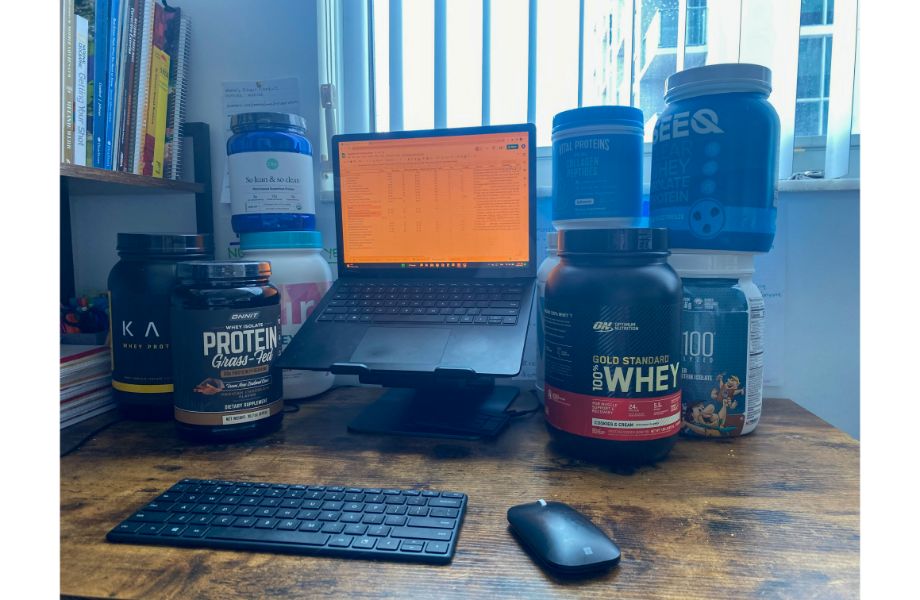 The 14 Best Protein Powders for Men
Best Overall Protein Powder for Men: Kaged Re-Kaged
Good for: Men who are looking to increase their protein intake
Men generally have more lean muscle mass than women, as stated in this 2017 review1, which means they need more protein to maintain it. Kaged Re-Kaged has 28 grams of protein per serving, which ties for the highest amount of any animal-based protein on this list.
It's not just the amount of protein, however, that makes Re-Kaged our top choice for men. It also comes with creatine and betaine, two ingredients often found in pre-workouts and not protein powders. As the International Society of Sports Nutrition points out in this 2017 review2, creatine has consistently been linked with increased strength and muscle mass, and may help improve recovery after intense resistance training exercise.
Betaine, according to this August 2013 study3, may support improved muscle endurance and strength.
Re-Kaged is marketed as a post-workout supplement, but we believe it can be taken at any time of the day to help support your fitness goals.
The one big downside is the per-serving cost: $2.25. That's much higher than the $1.30-$1.99 price range we see for most protein powders, but you'd be hard pressed to find a protein supplement that contains ingredients proven to help with building muscle and strength. Oh, and did we mention the high amount of protein? Well, it's worth repeating.
Another reason I love Kaged Re-Kaged is they offer unique flavors, such as the Orange Kream I tried. It honestly tastes like using orange soda and vanilla ice cream to create an ice cream float, and I'm going to be very sad when I run out of it.
| | |
| --- | --- |
| Price per serving | $2.25 |
| Flavors | Strawberry Lemonade, Orange Kream, Iced Lemon Cake |
| Protein | 28 g |
| Carbs | 2-3g (varies by flavor) |
| Fat | 1 g |
Best Protein Powder for Men for Muscle Gain: Transparent Labs 100% Grass-Fed Whey Protein Isolate
Good for: Bodybuilders or any man whose main fitness goal is muscle building
With zero grams of fat, a minimal number of carbs, and 28 grams of protein in most flavors, Transparent Labs 100% Grass-Fed Whey Protein Isolate is an easy choice for those looking to build muscle.
As you can tell by its name, this protein supplement uses whey protein isolate, which is a type of protein that has had a majority of the lactose removed from it. This not only results in a low-carb, low-fat protein powder, but could also be safe for those who normally can't stomach dairy products, as pointed out in this February 2023 study4.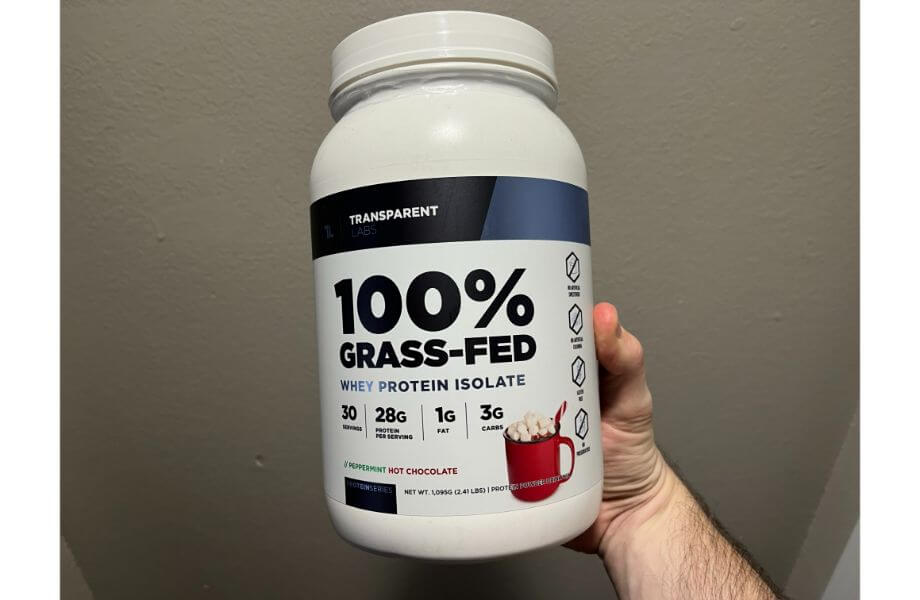 Transparent Labs has built a reputation for being…well, transparent with its ingredients and nutrition labels. There are only five ingredients in each container and the dairy is sourced from cows that are grass-fed, hormone-free, and antibiotic-free.
It's free of artificial ingredients, fillers, dyes, or preservatives, though it's not a great source of vitamins and minerals so you'll want to make sure you're getting those from other food sources or a multivitamin.
Some people might experience digestive problems due to the use of stevia, but myself and other customer reviewers barely noticed it when tasting this protein powder.
Transparent Labs 100% Grass-Fed Whey Protein Isolate comes in eight fun flavors that I've read nothing but positive things about, but I grabbed the limited-edition Peppermint Hot Chocolate around Christmas time. Although I wish it had a bit more peppermint flavor, I'm more than happy to sip on this during colder nights.
| | |
| --- | --- |
| Price per serving | $1.99 |
| Flavors | Milk Chocolate, Chocolate Peanut Butter, Cinnamon French Toast, Strawberry, Mocha, Vanilla Peanut Butter, French Vanilla, Oatmeal Chocolate Chip Cookie |
| Protein | 28 g |
| Carbs | 2 g |
| Fat | 0 g |
Best Natural Protein Powder for Men: Legion Whey+
Good for: Anyone looking for a protein powder free of additives or harmful ingredients
Legion Athletics dedication to an all-natural protein powder begins by sourcing their dairy from small Irish farms, which, as this June 2013 study5 points out, is associated with better milk quality.
Furthermore, it has a Labdoor Tested for Purity certification to show that it's been tested for heavy metals and other harmful substances, is safe for athletes, and has been tested for THC (the psychoactive compound in marijuana—and yes, some supplements may contain very small amounts of it).
The aforementioned Irish cows are grass-fed, which as we discussed earlier means you're getting dairy with a higher antioxidant content6. They're also free of any antibiotics, hormones, or other harmful substances.
The nutritional content varies by flavor, but you can't go wrong with any of the 17 choices Legion offers—you get anywhere from 22 to 24 grams of protein, 2 to 4 grams of carbs, and up to 5 grams of fat. That last one is on the higher end of what we like to see in protein powders, but we wouldn't worry about it too much so long as the rest of your diet has moderate amounts of fat. 
I wish the Cinnamon Cereal flavor was just a bit sweeter, but it does taste like Cinnamon Toast Crunch so I won't complain too much. I've used this particular flavor to make protein French toast, which you can find in our full Legion protein review.
| | |
| --- | --- |
| Price per serving | $1.99 |
| Flavors | 17 |
| Protein | 22-24 g (varies by flavor) |
| Carbs | 2-4 g (varies by flavor) |
| Fat | 0-5 g (varies by flavor) |
Best Low-Carb Protein Powder for Men: Jacked Factory Authentic Whey
Good for: Men trying to reduce their carbohydrate intake
Flavored protein powders can sometimes introduce carbs and sugar into the equation, but Jacked Factory Authentic Whey has a maximum of 2 carbs per serving and zero grams of added sugar. That's not to mention that it only costs $1.50 per scoop to help keep your wallet and muscles as big as you want them.
They do use stevia and sucralose, and honestly you can taste it in some of their flavors, but again, it's nothing to worry about so long as you're not consuming too much of these sweeteners throughout your diet.
Things like Xanthan gum are used as a thickening agent and have little to no nutritional value, so we wouldn't worry about it too much.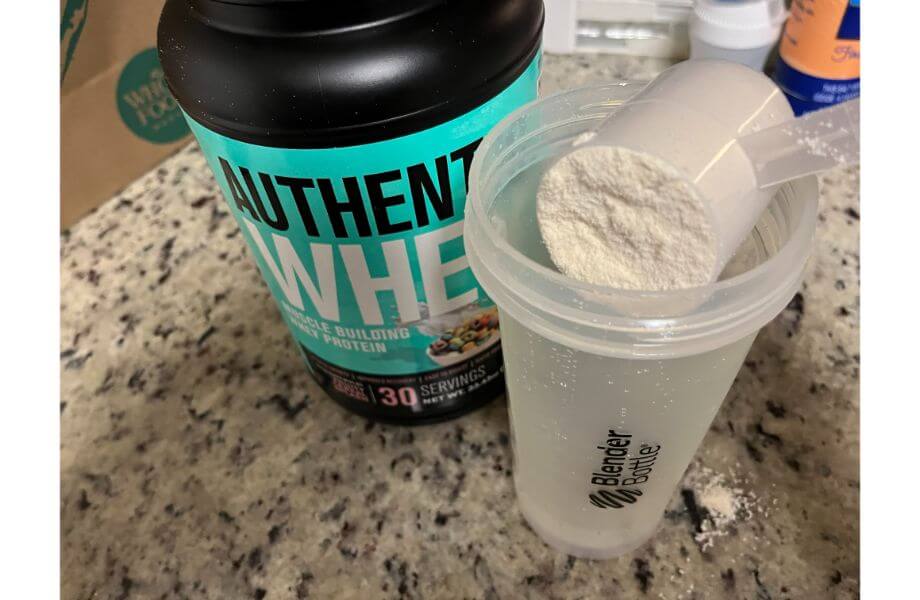 Jacked Factory uses a protein blend of whey protein concentrate and whey protein isolate, the latter of which is generally more easily digestible4. People who are lactose intolerant should consult with their physician before consuming this protein powder, but myself and other customer reviewers experienced no digestive problems when drinking it.
The Fruity Cereal Splash flavor is interesting because the powder is white but turns red when you pour your liquid in it. While it tastes like fruity cereal, the aftertaste makes it seem like it's an artificial flavor and it lingers on your tongue for a bit.
| | |
| --- | --- |
| Price per serving | $1.50 |
| Flavors | Vanilla, Fruity Cereal Splash, Salted Chocolate Caramel, Orange Ice Cream, Chocolate |
| Protein | 24 g |
| Carbs | 1-2 g (varies by flavor) |
| Fat | 2 g |
Best Flavored Protein Powder for Men: XWERKS Grow
Good for: Men looking for a great-tasting and high-quality protein powder
I've lost track of the number of protein powders I've tasted in my role as a gym rat and expert product tester, but XWERKS Grow chocolate flavor is easily the best-tasting protein powder I've had in my life. Imagine if someone took Yoohoo and made a protein version of it—that's what this tastes like. It's also incredibly easy to mix and not once have there been any clumps left behind in my shaker bottle.
It's not just the chocolate flavor that tastes amazing, either. Hundreds of Amazon customer reviews state every flavor is delicious, and one all-caps review has me really wanting to try the peanut butter flavor.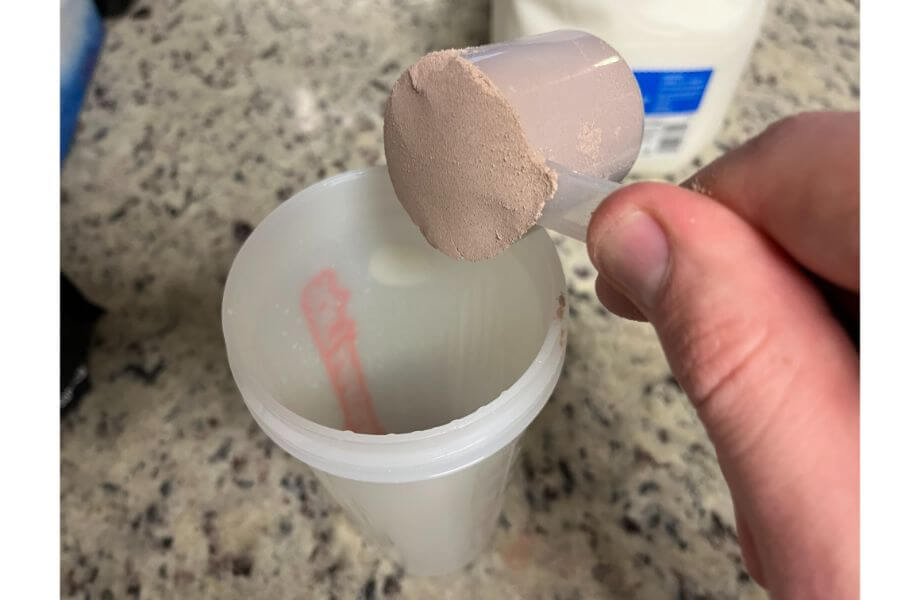 XWERKS gets their dairy from New Zealand, which has laws preventing cows from being near hormones, pesticides, or antibiotics.7 It also utilizes a special filtration process that removes most of the carbs and fats, though the peanut butter flavor does have 2 grams of each (and a slightly lower protein content at 23 grams).
The filtration process keeps key nutrients like alpha-lactalbumin and immunoglobulins intact. A March 2018 review8 found that alpha-lactalbumin was necessary for human growth (now you see where XWERKS got the name). Your body needs immunoglobulins to help fight various diseases and viruses, according to this book9 dedicated to the topic.
| | |
| --- | --- |
| Price per serving | $1.96 |
| Flavors | Chocolate, Vanilla, Peanut Butter, Strawberry |
| Protein | 25 g (Peanut butter has 23g) |
| Carbs | 1 g (Peanut butter has 2g) |
| Fat | 0 g (Peanut butter has 2g) |
Best Protein Powder for Male Athletes: Onnit Grass-Fed Whey Protein
Good for: Male athletes
Onnit Grass-Fed Whey Protein bears the Informed Sport certification, meaning it's safe for male athletes who want to ensure their supplements are free of any banned substances. The Informed Sport certification process checks for more than 250 banned substances.
Although rare, some supplements (protein powder included) may contain ingredients that are banned in certain sports. Every sport has different rules on what and how much of certain substances their athletes are allowed to take, so instead of spending your precious time scanning the ingredient list, it's much easier to look for the Informed Sport mark. Other certifications to look out for include Informed Choice, NSF Certified for Sport, or BSCG.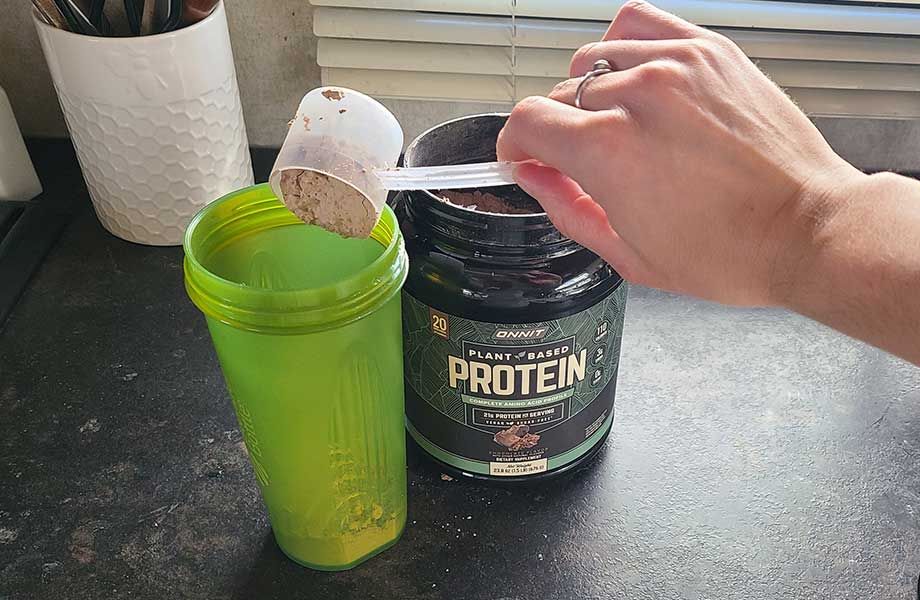 There's also no need to worry about the presence of antibiotics or steroids in the milk used to create this protein. Onnit sources their dairy from New Zealand, which has some of the strictest dairy laws in the world7 that prevent cows from being exposed to antibiotics, pesticides, or hormones.
The use of whey protein isolate means it's more easily digested than whey concentrate and may be safe for those with dairy sensitivities, but Onnit takes it a step further by adding a digestive enzyme blend that, among other things, contains protease and papain. Both have been linked with improved gut health10.
There's another ingredient that we don't see often in protein powders: lactobacillus acidophilus. This probiotic strain found in yogurt can help treat a number of digestive disorders, according to a November 2020 study,11 including chronic diarrhea. We're not sure what, if any benefit it has when added to protein powder, but it could help some people who often have trouble digesting dairy products.
"The Mexican Chocolate actually tastes different from other chocolate protein powders, which I honestly wasn't expecting," says GGR staff writer and expert product tester Amanda Capritto. "It's rich when mixed with whole or oat milk."
| | |
| --- | --- |
| Price per serving | $1.99 |
| Flavors | Vanilla, Mexican Chocolate |
| Protein | 20 g |
| Carbs | 3-5 g |
| Fat | 2 g |
Best Protein Powder for Men for Digestion: Swolverine Whey Protein Isolate
Good for: Those who are looking for an easily digestible protein powder
Swolverine Whey Protein Isolate is another protein powder that utilizes the more easily-digestible and mostly lactose-free form of whey protein known as whey protein isolate4. It also contains other ingredients that may help people who sometimes experience stomach problems when drinking protein powder.
There are 5 milligrams each of protease and papain, both of which are digestive enzymes (papain is extracted from papaya fruits). An October 2022 study6 on both digestive enzymes found they could support improved gut health and reduce digestive issues when taken as a supplement—but Swolverine already included it for you, so no need to drive to the nutrition store.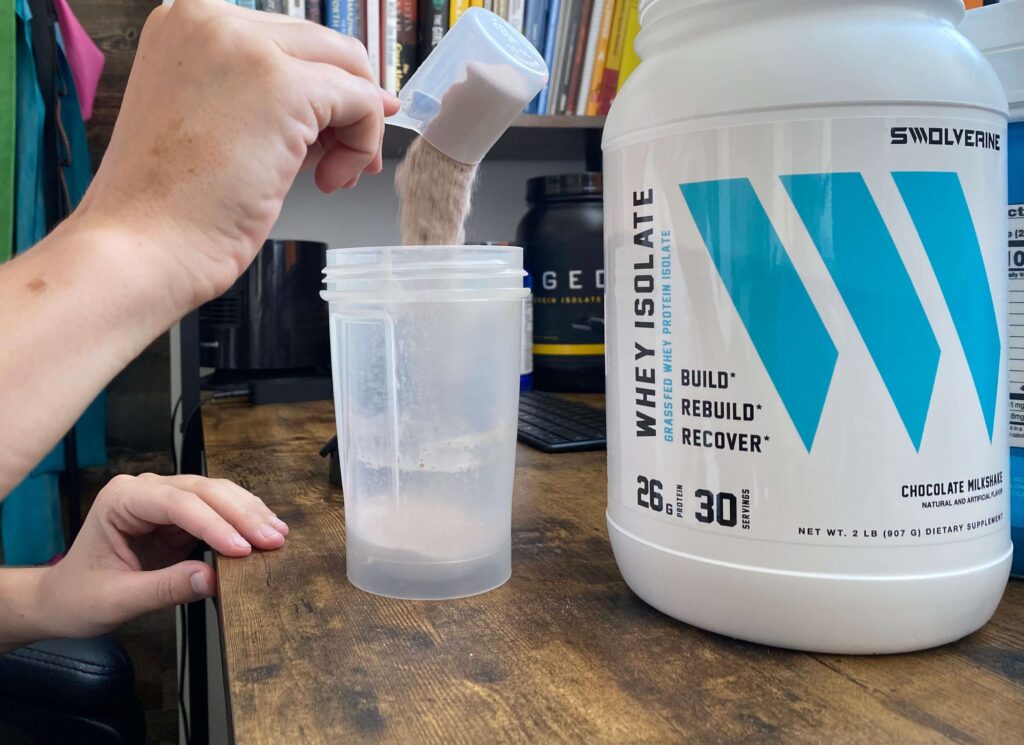 The vitamin and mineral content also appears to be the highest of the dozens of protein powders we've tested, making it a nutrient-dense supplement that's also rich in protein (26 grams!).
The $2.09 per-serving cost is on the more expensive side, but it might be worth it to avoid paying the price with your digestive tract.
"The chocolate flavor is good," says Amanda Capritto, GGR staff writer and expert product tester. "It's very rich and, indeed, very chocolatey. With milk, it tastes great, but with water it's so ultra-thin that it's off-putting. It was like drinking chocolate water, which I didn't enjoy."
| | |
| --- | --- |
| Price per serving | $2.09 |
| Flavor | Vanilla, Chocolate, Honey Cinnamon Peanut Butter, Mint Chocolate Chip |
| Protein | 26 g |
| Carb | 1 g |
| Fat | 0.5-5 g |
Best Unflavored Protein Powder for Men: Naked Nutrition Naked Whey
Good for: Anyone looking for an unflavored protein powder
Sometimes you just want to add protein to your morning smoothie without changing the flavor, and for that we recommend Naked Nutrition Naked Whey. Unlike some unflavored protein powders that often contain other ingredients and additives, Naked Whey is exactly that—whey, and nothing else.
Since it's unflavored, that means you can be sure this protein powder is gluten-free, non-GMO, and soy-free. It also has the Informed Choice Trusted By Sport certification that shows it's safe for athletes to consume without fear of accidentally ingesting any banned substances.
Naked Whey uses whey protein concentrate, which unlike whey protein isolate still has much of the lactose (i.e., carbs and sugar) and fat naturally found in whey. That's not the worst thing in the world, especially since carbs and fats are necessary for different bodily functions, but it's something to keep in mind if you're counting your macronutrient intake.
We also love when protein powder manufacturers clearly state their amino acid profile, as is the case with Naked Whey. Another advantage is that Naked Nutrition uses grass-fed cows—which a February 2021 review6 found contained a higher number of phytonutrients than grain-fed cows. The same review stated that phytonutrients were linked with a reduced disease risk and may support heart health6.
This is truly an unflavored protein powder. I wouldn't recommend drinking it straight as it has a powdery texture, but it goes great with smoothies.
| | |
| --- | --- |
| Price per serving | $1.24 |
| Flavor | Unflavored |
| Protein | 25 g |
| Carb | 3 g |
| Fat | 2 g |
Best Budget Protein Powder for Men: Optimum Nutrition 100% Gold Standard Whey
Good for: Men looking to up their protein intake on a budget
Gone are the days when eggs were a budget-friendly protein source, but luckily there's Optimum Nutrition 100% Gold Standard Whey. Depending on the container size you order, the per-serving cost can be as cheap as $1.08. We recommend getting a larger container since the per-scoop cost tends to drop as the size of the bag increases.
For those wondering, "Why on Earth would I buy a 73-serving bag of chocolate flavor protein powder," there are two answers. Besides the lower per-serving cost, protein powder can last up to a year when stored in the right conditions (at room temperature in a cool, dry place). In other words, you don't have to worry about it going bad like you do with meat or eggs. That's a win-win in our book.
One way Optimum Nutrition Gold Standard and other budget-friendly supplement companies are able to keep their prices low is by using artificial sweeteners, preservatives, fillers, and other ingredients, but they're present in very small quantities so it's nothing to worry about.
Nicole Davis, GGR senior editor and expert product tester, has tried multiple Optimum Nutrition flavors but said the Delicious Strawberry is one of her favorites. "I wouldn't have normally picked this flavor but my husband said this was his favorite protein back in the day and it didn't disappoint. Even my kids liked it." We can't think of a better endorsement than that.
| | |
| --- | --- |
| Price per serving | $1.08-$1.66 (depending on container size) |
| Flavors | 19 |
| Protein | 24 g |
| Carbs | Varies by flavor |
| Fat | Varies by flavor |
Best Protein Powder for Men for Weight Loss: MyProtein Impact Whey Protein
Good for: Those who are cutting or on a weight loss journey
Protein powder is one of the few supplements that can help you achieve weight gain and weight loss, but if you're looking to do the latter we recommend MyProtein Impact Whey Protein. The caloric content is 90-100 calories, depending on the flavor, and three-quarters of those calories come from protein.
You want to find a protein powder that's mostly protein because, as this May 2008 study12 points out, it can help you feel more full than carbs or fats. If you're full, you're less likely to eat more calories, and as a result, have an easier time achieving a caloric deficit—when you burn more calories than you consume—which is crucial for weight loss.
That's not to mention the fact that MyProtein has fewer calories altogether than the average protein powder, which generally falls in the 120-150 range.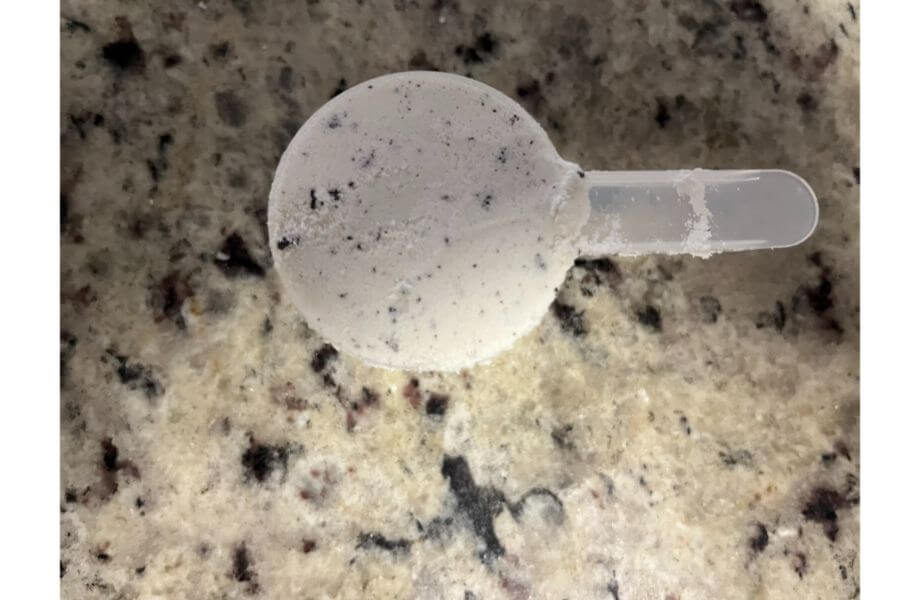 Some health influencers might see sucralose on the ingredient label and shun this protein powder, but allow us to give you the truth. Scientific studies, such as this July 201713 one, have proven that you would need to consume sucralose at the acceptable daily intake (ADI) for several months before noticing any side effects.
The ADI for sucralose is 5 milligrams per kilogram of body weight, according to the Food and Drug Administration14, meaning a 200-pound man would have to eat 450 milligrams of sucralose a day for months on end to notice any digestive issues. In other words, just don't make sucralose a main part of your diet and you should be fine drinking this protein powder.
The Cookies and Cream flavor has real cookie chunks in it and tastes incredible when mixed with milk.
| | |
| --- | --- |
| Price per serving | $0.94-$1.99 |
| Flavors | 17 |
| Protein | 19 g |
| Carbs | 3 g |
| Fat | 1 g |
Best Plant-Based Protein Powder for Men: Vega Sport Premium Protein
Good for: Men who live a plant-based lifestyle
If you live a plant-based lifestyle, are interested in becoming vegan, or just want to find a high-quality and great-tasting vegan protein powder, there's nothing better than Vega Sport Premium Protein.
Vegan protein powder has a slight disadvantage as most plant-based protein sources, with the exception of soy, are deficient in some amino acids (the building blocks of protein molecules). But since soy is a common allergen, Vega uses what are known as complementary proteins, or various protein sources that when combined together create a complete protein to give you all the essential amino acids necessary for building and maintaining muscle mass.
Oh, and we haven't even mentioned that each scoop gives you a whopping 30 grams of protein per serving—the highest of any protein powder on this list.
Vega adds 2 billion colony forming units (CFUs) of probiotics that could support digestion and reduce bloating, according to this January 2019 meta-analaysis15. I will warn you, however, that this was one of the few protein powders that caused some stomach issues for me (but your experience might be different).
I'll be honest, the GGR team did not enjoy taste testing most vegan protein powders. That said, Vega was head and shoulders above the rest when it comes to taste. The Mocha flavor reminds me of an Italian cappuccino.
Need a more portable protein supplement? Check out our No Cow protein bar review.
| | |
| --- | --- |
| Price per serving | $2.22-$2.67 |
| Flavors | Vanilla, Chocolate, Mocha, Peanut Butter |
| Protein | 30 g |
| Carbs | 4-5 g |
| Fat | 3.5-4 g |
Best Casein Protein Powder for Men: Legion Casein+
Good for: Men who want a casein protein powder that will keep them full
A study in the Journal of Nutritional Science16 found that casein protein powder was digested much slower than whey protein powder, meaning it kept people fuller for longer (you'll sometimes see casein in meal replacement powders for this very reason).
Legion's Casein+ protein powder was our favorite casein protein powder because it comes from grass-fed cows and has been tested for harmful and banned substances.
We've already discussed the benefits of grass-fed dairy when it comes to antioxidant content, but another reason to seek out these types of products is they have a better omega-3/omega-6 ratio. Both types of omega fatty acids are what's known as "good" fats, but you want more omega-3s in your diet than omega-6s.
This February 2018 study17 found grass-fed dairy had a more optimal omega-3/omega-6 ratio than milk from grain-fed cows. Omega-3s have been linked with improved heart and joint health18, and may even help reduce the frequency of certain types of headaches.
If you've never had a casein protein powder before, just know they're generally much thicker and take more time to blend than their whey counterparts.
The Banana Cream Pie flavor tastes more like an underripe banana than a dessert, but still tastes really good. This has been my nighttime protein powder for quite some time now and I wake up still feeling full.
| | |
| --- | --- |
| Price per serving | $2.00 |
| Flavors | Cinnamon Cereal, Dutch Chocolate, Banana Cream Pie, French Vanilla, Strawberry |
| Protein | 24-26 g (varies by flavor) |
| Carbs | 2-5 g (varies by flavor) |
| Fat | 0-2 g (varies by flavor) |
Best Grass-Fed Protein Powder for Men: Earth Fed Muscle
Good for: People who prefer grass-fed dairy supplements
The biggest reason for us awarding Earth Fed this distinction is the Truly Grass-Fed certification on the container. This certification tells us the cows that produced this dairy spent most of their time outside eating grass as nature intended, and that the cows don't come into contact with antibiotics or synthetic hormones. This protein also has an Animal Welfare-approved certification, so we know the cows are well taken care of.
Why is having grass-fed cows so important? New York City-based registered dietitian Laila Ouldibbat says it's because dairy from grass-fed cows is more nutritious than milk from grain-fed livestock. "When cattle are grass-fed, health-promoting phytonutrients (antioxidants with the potential to heal and protect) are found in their meat and milk," she says6.
Studies have also shown that grass-fed dairy has more omega-3 fatty acids than grain-fed dairy and that omega-3s may have anti-inflammatory properties and support brain, heart, and joint health17.
The use of whey protein isolate means it's more easily digested than whey concentrate and may be safe for those with dairy sensitivities4. Earth Fed is also a rather simple protein, only containing around five ingredients (the exact number varies by flavor). Don't be concerned about the sunflower lecithin—Earth Fed uses less than a gram and it's in there to prevent the powder from clumping.
GGR Head of Content Kate Meier has been using Earth Fed Muscle for more than five years. "You can tell there isn't a bunch of crap in it," she says. "Also, even blended with water, this protein has a very smooth, rich taste. I can drink just this and water and be a happy camper!"
| | |
| --- | --- |
| Price per serving | $2.06 |
| Flavors | Chocolate |
| Protein | 25 g |
| Carb | 3 g |
| Fat | 0.5 g |
Best Whey Protein Powder for Men: Kaged Whey Protein Isolate
Good for: Those who want a great-value whey protein powder
One of the major reasons we chose Kaged Whey Protein Isolate for the best whey protein protein powder is because you get at least 40 servings per container (the exact number varies by flavor). The container itself might cost more than other protein supplements, but you're getting a lot more bang for your buck.
It's also a simple protein powder, and sometimes simple is best. Unlike the other Kaged product on this list, this one just contains whey protein isolate for easy digestion4. There are some thickeners, flavorings, and a digestive enzyme blend (more on that in a second), but overall it's great for someone who just wants whey protein.
It contains a minimal amount of sucralose, so it's unlikely to cause many digestive issues.
Speaking of digestion, let's talk about ProHydrolase. Kaged claims this enzyme can help with protein absorption and support muscle recovery, but the lone public study on it published in January 202018 shows it has minimal impact on protein absorption, though there were noticeable increases in amino acid concentration in the blood.
Nicole Davis, GGR senior editor and expert product tester, was reminded of those Carnation Instant Breakfast mixes when she tried the chocolate flavor, and like me found that Kaged remained a bit grainy even after a thorough shake.
| | |
| --- | --- |
| Price per serving | $1.36-$1.46 |
| Flavors | Chocolate Peanut Butter, Vanilla, Chocolate, S'Mores, Cinnamon French Toast |
| Protein | 25 g |
| Carbs | 2-3 g |
| Fat | 0-0.5 g |
Other Protein Powders for Men We Researched
Here's a sneak peek at a few of the other protein powders we considered for this list, but ultimately decided against for various reasons.
Now do you believe me when I say we've tried literally dozens of protein powders?
How We Picked and Tested the Best Protein Powder for Men
If you're wondering how we were able to leave so many protein powders off our list, here's an inside look at our criteria for the best protein powder for men:
Protein content
We wanted to make sure each choice had a good amount of protein.
Overall calorie content
We looked at the total number of calories in each protein powder.
Digestibility
While this can be subjective, we made sure none of us experienced any major side effects from these protein supplements.
Protein source
Did the protein powder come from whey protein, egg white, collagen, casein protein, or plant-based proteins (i.e., pea protein, rice protein, chia seeds, or brown rice)?
Amino acids
Did the protein powders contain all 12 essential amino acids needed for muscle growth, and were there any branched-chain amino acids (BCAAs)?
Price
We eliminated any protein powders that were prohibitively expensive.
Flavor
Again, this is subjective, but we wouldn't recommend anything we didn't like.
Benefits of Protein Powder
Here are a few reasons why you might want to consider purchasing a protein powder:
Convenience
Which is quicker: Grilling and eating a steak or whipping up a quick protein shake? That's right, the second one.
Shelf-stable
If kept at room temperature and properly sealed, protein powders can last up to 18 months—much longer than eggs, meat, or other protein sources.
Supports Muscle Growth
Protein can help you maintain and build lean muscle mass.
Supports Weight Loss
Because it's the most satiating macronutrient, protein powder can also be used for those looking to lose body fat.
Buying Guide: What to Look for in Protein Powder
Here's how to determine the best protein powder for your needs:
Protein content: Find a protein powder that fits your macronutrient goals.
Digestibility: If you're lactose intolerant, you'll either want a dairy-free protein powder or one that primarily contains whey protein isolate.
Amino acids: Make sure it contains all 12 essential amino acids.
Price: Find one that fits your budget.
Flavor: Make sure you like the taste.
RELATED: Best protein chips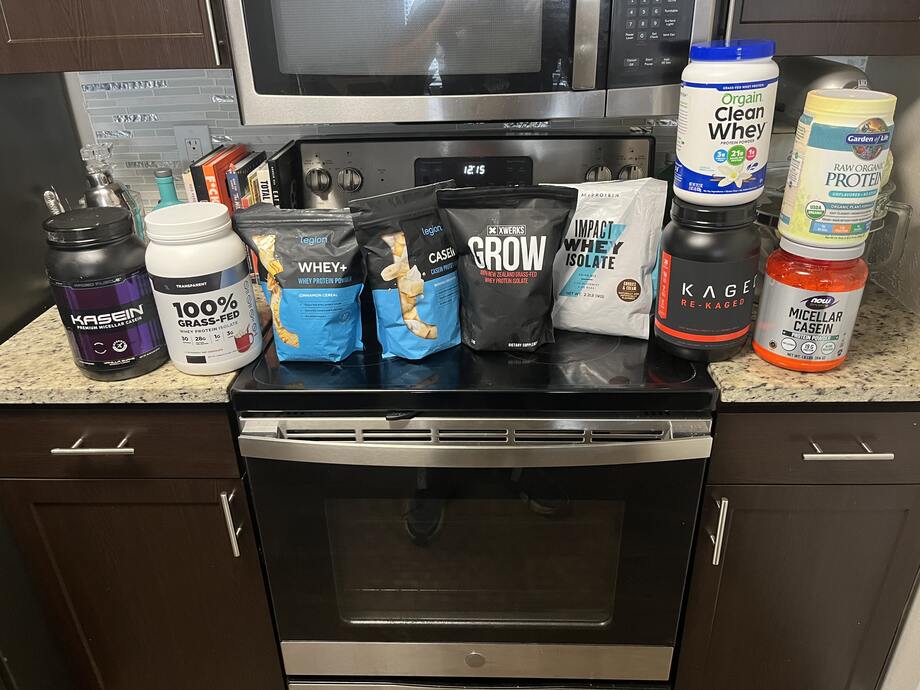 FAQs About Protein Powder for Men
Which whey protein is best for men?
Our top pick for the best whey protein powder for men is Kaged Re-Kaged due to its high protein content and the addition of creatine and betaine to support muscle growth.
Is it good to drink protein powder every day?
Drinking protein powder is fine once or twice a day, but your main focus should be on eating whole foods to obtain a variety of vitamins and minerals needed for bodily functions.
Is it healthy to drink whey protein every day?
So long as you're not allergic to dairy it's fine, but make sure you're also eating whole foods to ensure you're getting enough vitamins and minerals.
These statements have not been evaluated by the Food and Drug Administration. This product is not intended to diagnose, treat, cure, or prevent any diseases.
References
1. Bredella MA. Sex Differences in Body Composition. Adv Exp Med Biol. 2017;1043:9-27. doi:10.1007/978-3-319-70178-3_2
2. Kreider RB, Kalman DS, Antonio J, et al. International Society of Sports Nutrition position stand: safety and efficacy of creatine supplementation in exercise, sport, and medicine. J Int Soc Sports Nutr. 2017;14:18. Published 2017 Jun 13. doi:10.1186/s12970-017-0173-z
3. Cholewa JM, Wyszczelska-Rokiel M, Glowacki R, et al. Effects of betaine on body composition, performance, and homocysteine thiolactone. J Int Soc Sports Nutr. 2013;10(1):39. Published 2013 Aug 22. doi:10.1186/1550-2783-10-39
4. Sabari S, Julmohammad N, Jahurul HAM, Matanjun P, Ab Wahab N. In Vitro Infant Digestion of Whey Proteins Isolate-Lactose. Foods. 2023;12(3):667. Published 2023 Feb 3. doi:10.3390/foods12030667
5. Archer, S. C., Mc Coy, F., Wapenaar, W., & Green, M. J. (2013). Association of season and herd size with somatic cell count for cows in Irish, English, and Welsh dairy herds. In The Veterinary Journal (Vol. 196, Issue 3, pp. 515–521). Elsevier BV. https://doi.org/10.1016/j.tvjl.2012.12.004
6. van Vliet, S., Provenza, F. D., & Kronberg, S. L. (2021). Health-Promoting Phytonutrients Are Higher in Grass-Fed Meat and Milk. In Frontiers in Sustainable Food Systems (Vol. 4). Frontiers Media SA. https://doi.org/10.3389/fsufs.2020.555426
7. Design and Operation of Farm Dairies, New Zealand Government
8. Layman DK, Lönnerdal B, Fernstrom JD. Applications for α-lactalbumin in human nutrition. Nutr Rev. 2018 Jun 1;76(6):444-460. doi: 10.1093/nutrit/nuy004. PMID: 29617841; PMCID: PMC5934683.
9. Justiz Vaillant AA, Jamal Z, Patel P, Ramphul K. Immunoglobulin. 2022 Nov 24. In: StatPearls [Internet]. Treasure Island (FL): StatPearls Publishing; 2023 Jan–. PMID: 30035936.
10. Kostiuchenko O, Kravchenko N, Markus J, Burleigh S, Fedkiv O, Cao L, Letasiova S, Skibo G, Fåk Hållenius F, Prykhodko O. Effects of Proteases from Pineapple and Papaya on Protein Digestive Capacity and Gut Microbiota in Healthy C57BL/6 Mice and Dose-Manner Response on Mucosal Permeability in Human Reconstructed Intestinal 3D Tissue Model. Metabolites. 2022 Oct 26;12(11):1027. doi: 10.3390/metabo12111027. PMID: 36355110; PMCID: PMC9696696.
11. María Remes Troche J, Coss Adame E, Ángel Valdovinos Díaz M, Gómez Escudero O, Eugenia Icaza Chávez M, Antonio Chávez-Barrera J, Zárate Mondragón F, Antonio Ruíz Velarde Velasco J, Rafael Aceves Tavares G, Antonio Lira Pedrín M, Cerda Contreras E, Carmona Sánchez RI, Guerra López H, Solana Ortiz R. Lactobacillus acidophilus LB: a useful pharmabiotic for the treatment of digestive disorders. Therap Adv Gastroenterol. 2020 Nov 24;13:1756284820971201. doi: 10.1177/1756284820971201. PMID: 33281937; PMCID: PMC7692339.
12. Paddon-Jones D, Westman E, Mattes RD, Wolfe RR, Astrup A, Westerterp-Plantenga M. Protein, weight management, and satiety. Am J Clin Nutr. 2008 May;87(5):1558S-1561S. doi: 10.1093/ajcn/87.5.1558S. PMID: 18469287.
13. Bian X, Chi L, Gao B, Tu P, Ru H, Lu K. Gut Microbiome Response to Sucralose and Its Potential Role in Inducing Liver Inflammation in Mice. Front Physiol. 2017 Jul 24;8:487. doi: 10.3389/fphys.2017.00487. PMID: 28790923; PMCID: PMC5522834.
14. Center for Food Safety and Applied Nutrition. (n.d.). Additional information about high-intensity sweeteners. U.S. Food and Drug Administration. Retrieved February 17, 2023
15. Khalesi S, Bellissimo N, Vandelanotte C, Williams S, Stanley D, Irwin C. A review of probiotic supplementation in healthy adults: helpful or hype? Eur J Clin Nutr. 2019 Jan;73(1):24-37. doi: 10.1038/s41430-018-0135-9. Epub 2018 Mar 26. PMID: 29581563.
16. Churchward-Venne TA, Snijders T, Linkens AM, Hamer HM, van Kranenburg J, van Loon LJ. Ingestion of Casein in a Milk Matrix Modulates Dietary Protein Digestion and Absorption Kinetics but Does Not Modulate Postprandial Muscle Protein Synthesis in Older Men. J Nutr. 2015 Jul;145(7):1438-45. doi: 10.3945/jn.115.213710. Epub 2015 May 27. PMID: 26019248.
17. Benbrook, C. M., Davis, D. R., Heins, B. J., Latif, M. A., Leifert, C., Peterman, L., Butler, G., Faergeman, O., Abel-Caines, S., & Baranski, M. (2018). Enhancing the fatty acid profile of milk through forage-based rations, with nutrition modeling of diet outcomes. In Food Science & Nutrition (Vol. 6, Issue 3, pp. 681–700). Wiley. https://doi.org/10.1002/fsn3.610
18. Townsend JR, Morimune JE, Jones MD, Beuning CN, Haase AA, Boot CM, Heffington SH, Littlefield LA, Henry RN, Marshall AC, VanDusseldorp TA, Feito Y, Mangine GT. The Effect of ProHydrolase® on the Amino Acid and Intramuscular Anabolic Signaling Response to Resistance Exercise in Trained Males. Sports (Basel). 2020 Jan 22;8(2):13. doi: 10.3390/sports8020013. PMID: 31978998; PMCID: PMC7077235.