We test and review fitness products based on an independent, multi-point methodology. If you use our links to purchase something, we may earn a commission. Read our disclosures.
Multivitamins are the most used supplement in every age group, according to the most recent data from the Centers for Disease Control and Prevention1. Some people aren't surprised by this because they know how beneficial multivitamins can be, while others might be wondering, '"Do multivitamins actually work?"
Our best multivitamins for men roundup is for both types of people. We'll provide suggestions for those who know why multivitamins can (that's the keyword) be beneficial to our health, and for the skeptics we'll explain why multivitamins can be so great if you know what to look for.
Medical disclaimer: This article is intended for educational and informational purposes only. It is not intended as a substitute for medical advice. For health advice, contact a licensed healthcare provider.
Our Supplement Reviews Are Stacked
Consider Garage Gym Reviews the multivitamin of supplement reviews—we have a high daily value of honesty and a clinically backed dose of research-based reviews approved by nutrition experts, all wrapped in a fun package that you want to come back to every day.
Because just as multivitamins can help you fill nutritional gaps, our group of certified nutrition coaches and registered dieticians and nutritionists can let you fill your knowledge gaps when you're on the hunt for creatine, protein powders, and greens powders. There's really nothing we can't do.  
RELATED: Best Creatine
Best Multivitamins for Men
Best Overall Multivitamin for Men: Onnit Total Human
Good for: Anyone looking for a complete multivitamin that covers multiple health factors
Onnit Total Human isn't your traditional multivitamin. Instead, you're taking multiple pills a day instead of just one or two. There's a day pack with seven supplements and a night pack with six (three of the supplements overlap, so you're taking 10 total supplements throughout the day).
Yes, that's a lot of pills to take, but our testers found it well worth the trouble. "I feel a lot clearer with noticeably less brain fog," says Jacob Penner, a USA Weightlifting Level 1 Coach and certified strong dude. "I truly feel very good when I take these, and if I miss a day, I notice that I don't feel as good."
He's also noticed some "vivid dreams" after taking the night pack but noted they didn't wake him up and he actually had an easier time getting out of bed than on days he didn't take the multivitamin.
We don't have enough time to go over all of Total Human's ingredients, but here's a few highlights: krill oil for lower blood pressure and triglyceride levels2, spirulina for immunity and heart health3, and active forms of B-vitamins for improved cognitive function4 (aka your brain works better). Total Human also contains adaptogenic herbs, including ashwagandha, cordyceps, robiola, and astralagus.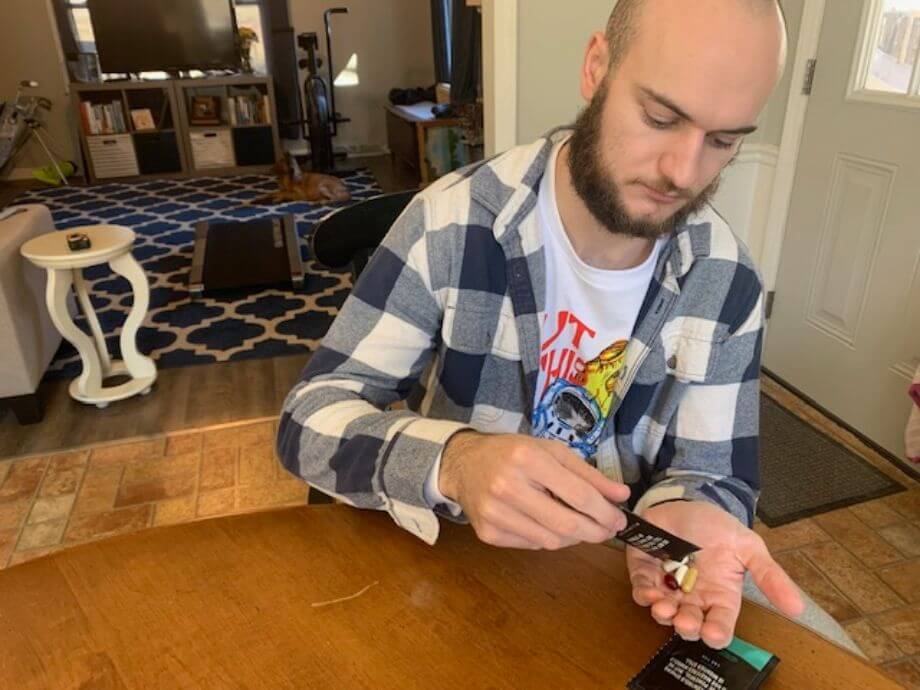 Total Human also contains some of Onnit's patented supplements, such as Shroom Tech, Stron BONE, and Alpha BRAIN—there are few scientific studies on these supplements, but a double-blind study5 on Alpha BRAIN shows promising results for improved memory.
The only major downsides are having to swallow 16 pills (which might not bother you) and the price—a 30-day supply will run you $138.
| | |
| --- | --- |
| Notable ingredients | B-vitamins, spirulina, Alpha BRAIN, Shroom TECH Sport, krill oil, vitamin E, copper, zinc |
| Dose | 1 day pack (8 pills) and 1 night pack (8 pills) |
| Price per serving | $4.59 |
| Third-party testing? | N/A |
Best Multivitamin for Men for Mental Health: Transparent Labs Multivitamin
Good for: Those looking for a multivitamin that takes care of your mental and physical health
Transparent Labs Multivitamin has a long list of vitamins and minerals needed in the human body, all in very high doses, but what separates it from your average multivitamin is the inclusion of nootropics. Nootropics are known as "cognitive enhancers," and are essentially vitamins for the brain.
Nootropics have been linked with6 improved cognitive function and memory, and some clinicians have used them to treat conditions such as Alzheimer's (though more research needs to be done on those treatments). (Another compound present in this formulation that supports cognition is N-acetylcysteine (NAC), a potent antioxidant.) It's important to note that you won't notice any side effects on your first day of taking nootropics—any benefits will come with frequent use.
Transparent Labs remains transparent in listing the full amount of vitamins, minerals, and nootropics in its multivitamin. It has 300 milligrams of organic ashwagandha extract, which is within the range of clinical dosage recommended by researchers7 for stress relief, increased fertility, and better focus and memory (studies also say ashwagandha may increase muscle strength).
You also get 100 milligrams of Coenzyme Q10, an antioxidant needed for cellular health8 that our body creates naturally, though the amount it produces decreases as we age.
Finally, there's 1 milligram of boron citrate, which among other things has been shown to improve the brain's electrical activity9 and improve cognitive function.
The one downside to this product is that it doesn't contain any vitamin E.
| | |
| --- | --- |
| Notable ingredients | Vitamin A, b-vitamins, vitamin C, magnesium, zinc, selenium, organic ashwagandha root, Coenzyme Q10, boron citrate, potassium, chromium, biotin |
| Dose | 4 capsules |
| Price per serving | $0.99 |
| Third-party testing? | Yes |
Best Multivitamin for Men for Muscle Growth: Huge Supplements Huge Multi
Good for: Bodybuilders or anyone else who's looking to fill nutritional gaps in their diet while gaining muscle
It shouldn't come as a surprise that bodybuilders are at an increased risk of several nutrient deficiencies10 (chicken and rice is lacking in several essential nutrients, after all), which can affect their overall well-being and hinder their well-being their performance and physique. The Huge Multi from Huge Supplements can help anyone, bodybuilder or not, to fill all nutritional gaps.
The Huge Multi contains everything you'd expect in a daily multivitamin: Vitamin A, vitamin C, B-vitamins, and different minerals. We recommend it for bodybuilders for a few reasons, the first of which being the high levels of zinc.
Zinc has been shown to support increased testosterone levels11, and we don't have to tell you why that's a good thing. There's also 100 milligrams of bromelain, a group of enzymes found in pineapples linked with improved muscle recovery12 and healthy testosterone levels.
Pine bark extract is not a common multivitamin ingredient, but the 200 milligrams present in Huge Multi could support reduced inflammation, increased blood flow, increased immunity, and even help with cognitive function, according to studies13.
My notes: I noticed a reduction in muscle pain after taking Huge Multi and also saw small improvements in the weight room. A serving is three capsules, which isn't a lot for me, but may be too much to swallow for some people.
| | |
| --- | --- |
| Notable ingredients | Zinc, vitamin A, vitamin C, B-vitamins, Pine bark extract, vitamin C, vitamin K, calcium, copper, bromelain |
| Dose | 4 capsules |
| Price per serving | $1.16 |
| Third-party testing? | N/A |
Best Multivitamin for Men with Iron: Kaged Multivitamin
Good for: Anyone who has an iron deficiency
Most multivitamins don't contain iron because it's one of the few micronutrients that can be harmful and possibly deadly if ingested in excessive amounts (it can lead to things like organ damage and diabetes14). That said, iron deficiency is the most common nutritional deficiency15 and if you're not getting enough from your diet, then the Kaged Multivitamin may be right for you.
Iron deficiency can lead to anemia, which can result in fatigue, hair loss, and the feeling of being cold (if you've ever needed an extra layer despite it being warm, you might have anemia), according to studies16.
We should point out that Kaged gets its iron from spinach, which has non-heme iron, a less bioavailable form17 of iron found in plants, meaning your body can't absorb it as well as the heme iron found in animals.
Here's the good news—like all good multivitamins, Kaged has a high amount of Vitamin C, which has been shown to increase non-heme iron's bioavailability18.
Kaged Multivitamin also contains a patented form of aloe vera extract, which researchers say19 has promising benefits for improving bone health and protecting people against disease (the researchers clarify that more research needs to be done on these claims).
USA Weightlifting Level 1 Coach and expert product tester Jacob Penner suggested taking this multivitamin with food to avoid an upset stomach. He personally saw little to no benefit from it, but he does not have an iron deficiency. Those who are low on iron may have different results.
| | |
| --- | --- |
| Notable ingredients | Iron, folate, vitamin B12, vitamin A, vitamin D, vitamin C, selenium, vitamin B6 |
| Dose | 2 capsules |
| Price per serving | $1.16 |
| Third-party testing? | Yes |
Best Multivitamin for Active Men: Ritual Essential for Men Multivitamin 18+
Good for: Men who live an active lifestyle
Ritual Essential for Men Multivitamin 18+ is not like the multivitamins that contain a nutrition label with more words than a Tolkien novel—there are just 10 ingredients, each of which are traced to a specific origin for maximum transparency. Our expert reviewer gives this formulation a "thumbs up" for the minimalist approach.
The omega-3 DHA, for example, comes from microalgae found in Saskatoon, Saskatchewan, Canada, and the vitamin D comes from an algae found in Nottingham, England. All the vitamins and minerals are derived from plant-based sources, so people of all diets and lifestyles can take Ritual's multivitamin.
The aforementioned microalgae is a rich source of omega-3 DHA, which can help support reduced cognitive decline, improved joint health, and bolstered immune health, according to studies20. Studies21 have confirmed microalgae can be as effective as fish oil supplements and have the advantage of being more sustainable.
Ritual does a great job of finding sustainable and bioavailable forms of all 10 vitamins and minerals. If you're wondering whether that's truly enough for a multivitamin, the answer is yes…if your diet is well-rounded and you're getting nutrients from whole foods (such as meat, dairy, fruits, and vegetables). The few included in this multivitamin are present in good doses to help with heart and brain health and muscle function.
RELATED: Best greens powder
The only notable omissions from this formula are selenium and chromium.
My notes: Ritual's multivitamins have a mint essence that gives them a strong taste and smell, but it's not unpleasant. I haven't noticed many benefits from this multivitamin but I will continue to take it and update my notes if I notice any changes.
| | |
| --- | --- |
| Notable ingredients | Vitamin A, vitamin D3, vitamin E, folate, vitamin B12, magnesium, zinc, boron, omega-3 DHA, vitamin K2 |
| Dose | 2 capsules |
| Price per serving | $1.10 |
| Third-party testing? | Yes |
Best Gluten-Free Multivitamin for Men: Swolverine Multivitamin
Good for: Celiacs or anyone else who has to eat gluten-free
Gluten-free supplements are becoming more common, though it's not rare to still find capsules made with ingredients that could cause celiacs to flare up. That's not an issue with Swolverine Multivitamin, which is made from gluten-free ingredients and is free from any genetically-modified organisms (GMOS). It's not, however, safe for vegans as it contains anchovies and also soy, a common allergen.
Swolverine contains an impressive amount of micronutrients, ranging from Vitamin A to minerals such as boron and zinc. What's more, the dosages for many of them are well above 100% of the daily value. Supplement manufacturers do this because our body doesn't absorb all the nutrients in foods or multivitamins, which is especially true in people with digestive issues such as inflammatory bowel disease22.
Most vitamins and minerals are harmless when consumed in large quantities, though iron is an exception. Excess iron can cause organ damage,14 so if you eat a lot of red meat you should be wary of the 27 milligrams of iron in this multivitamin. Iron also means you should take this with food to avoid an upset stomach.
GGR Head of Content and product tester Kate Meier said the capsules were easy to swallow and had no taste, though she added she didn't feel many effects (that might be due to the fact that she already takes vitamins on a regular basis).
| | |
| --- | --- |
| Notable ingredients | Vitamin A, vitamin D3, iron, folic acid, vitamin B12, magnesium, zinc, boron, copper, Vitamin B6 |
| Dose | 2 capsules |
| Price per serving | $0.57 |
| Third-party testing? | Yes |
Best Budget Multivitamin for Men: Nature Made Multi for Him
Good for: Those who are on a budget
Multivitamins already give you some bang for your buck (you are getting multiple supplements in one package), but if you're looking to stretch your dollar even further, then go for Nature Made Multi for Him. At under $14 for a 90-day supply, each pill comes out to 15 cents—you're not going to find a better deal than that.
Nature Made is a trustworthy company that's been in the game for a while, and their multivitamin is a perfect example of how they've become so popular. It contains 22 vitamins and minerals, all but one which are present in high amounts, and contains all the classics, including major B vitamins, which have been linked with immune and cellular health22. Selenium is added to this formula, and that mineral has been shown to improve cellular health23.
Missing, though, is vitamin K2, a nutrient particularly important for skin and bone health that's difficult to obtain for vegans who don't consume animal products. This nutrient is also hard to find in the best vegan protein powder, so you might have to find an animal-free version at your nearest supplement store to ensure you're getting enough of it.
| | |
| --- | --- |
| Notable ingredients | Vitamin A, vitamin C, folate, selenium |
| Dose | 1 tablet |
| Price per serving | $0.15 |
| Third-party testing? | N/A |
Best Subscription Multivitamin for Men: Care/of The Men's Care Pack
Good for: Anyone who prefers to put their supplements on a subscription basis
Take the stress out of supplement shopping by having your supply mailed right to your door with the Men's Care Pack from Care/of. We love supplement subscriptions, not only because we don't have to remember to go shopping, but you actually end up saving a little money on each purchase (companies will take a small percentage off since they know you'll be a repeat customer).
This is another multivitamin pack that isn't just a multivitamin—you also get a probiotic supplement, astaxanthin, and fish oil for six capsules total. The probiotic contains L. acidophilus24, L. rhamnosus25, and B. lactis26, three strains of so-called "good" bacteria that can help decrease gastrointestinal distress, prevent or treat chronic diarrhea, and strengthen your immune system.
Astaxanthin is an antioxidant that's purported to have anti-aging effects and help with athletic performance. A November 2019 review27 of clinical studies done on astaxanthin found it only helped people who were deficient in antioxidants and that more research needed to be done on the claims that antioxidant supplementation can slow down the aging process.
The multivitamin capsule takes the "less is more" approach, containing just 14 vitamins in minerals in moderate amounts. The fish oil capsule contains 600 milligrams of omega-3 from Wild Alaskan Salmon oil, which has been linked with28 improved heart health.
A strange omission from Care/of's multivitamin formula here is folate, but overall, this is a good product.
| | |
| --- | --- |
| Notable ingredients | Astaxanthin, L. acidophilus, L. rhamnosus, B. lactis, Wild Alaskan Salmon Oil, vitamin B12, vitamin K2, vitamin A,vitamin C, calcium |
| Dose | 6 capsules |
| Price per serving | $1.80 |
| Third-party testing? | Yes |
Best Multivitamin for Older Men: Ritual Essential for Men 50+
Good for: Men aged 50 years or older
Nutritional deficiencies are more common in older adults29 due to decreased food intake, according to studies, making a high-quality multivitamin an even more crucial part of your supplement arsenal.
Ritual Essential for Men 50+ has the same 10 vitamins and minerals as the 18+ multivitamin, but with different doses since older adults may need more or less of a certain nutrient. We've already talked about how zinc may lead to increased testosterone levels17, but there is also research30 that says it may have anti-aging effects, though more research is needed.
Vitamin K, on the other hand, doesn't require further research, as this September 2019 review31 shows it can help with blood health, cardiovascular health, and may help alleviate osteoporosis symptoms, especially in older adults.
Vitamin A, which is present in this multivitamin, has also been shown32 to help slow down the effects of age-related vision loss.
The addition of selenium and chromium would be an upgrade to this formulation while keeping to the minimalist approach.
| | |
| --- | --- |
| Notable ingredients | Vitamin A, vitamin D3, vitamin E, folate, vitamin B12, magnesium, zinc, boron, omega-3 DHA, vitamin K2 |
| Dose | 2 capsules |
| Price per serving | $1.30 |
| Third-party testing? | Yes |
Best Gummy Multivitamin for Men: SmartyPants Men's Formula
Good for: Anyone who prefers to take their supplements in gummy form
Being an adult doesn't mean you have to give up gummy vitamins, and if you're looking for a multivitamin that's chewy and tastes good, we recommend SmartyPants Men's Formula. These multivitamin gummies come in three flavors: Lemon Creme, Blackberry, and Blueberry (and the Amazon reviews state they're all pretty tasty).
These gummies not only taste good but they're good for you—sorry if that triggered any childhood nightmares of steamed broccoli and unseasoned chicken, but in this case we swear these things actually taste good.
The multivitamin supplement contains most of the classics: vitamin A, vitamin C, some B vitamins, zinc, and selenium. It also acts as a fish oil supplement, containing omega-3 fatty acids to help support heart health28 and protect your joints.. There's also research33 that states diets high in Omega-3 fatty acids can help reduce the frequency of headaches.
SmartyPants also includes Coenzyme Q10 (CoQ10) to help support cellular health8 and the antioxidant lycopene (found in tomatoes), which researchers believe34 may help treat certain types of diseases, though they clarify it's unclear what the optimal dose is.
A separate study35 also found that higher lycopene intake was associated with a decreased risk of prostate cancer and improved prostate health in aging males.
| | |
| --- | --- |
| Notable ingredients | Vitamin A, vitamin C, vitamin D, folate, fish oil, lycopene |
| Dose | 6 gummies |
| Price per serving | $.73 |
| Third-party testing? | Yes |
Best Organic Multivitamin for Men: Garden of Life mykind Organics Men's Once Daily
Good for: Those looking for organic supplements
The word "organic" here means that this multivitamin gets its vitamins and minerals from food sources, which is exactly the case with the Garden of Life mykind Organics Men's Once Daily. Garden of Life uses a fruit, vegetable, and herb blend to source its micronutrients, so it's safe for people who are dairy-free or living a plant-based lifestyle to consume.
The nutrition label is long so we'll give you the Cliff Notes of what you need to know—vitamin A, vitamin C, B vitamins, and minerals like folate and zinc are present in respectable amounts (it gets bonus points for having a moderate amount of zinc to reduce the chances of zinc overload).
We haven't talked much about vitamin D, which is a shame considering it's one of the most beneficial micronutrients out there. Garden of Life gives you 125 percent of your daily value (or the amount considered to be sufficient for healthy adults) of Vitamin D, which has been linked with36 bone health.
Bone health is important for younger people to reduce the risk of injury, as well as for older adults to reduce the chance of falls leading to greater injury.
There's also 300 percent of your daily value of vitamin B12, which is essential for red blood cell formation and DNA synthesis, according to studies37.
| | |
| --- | --- |
| Notable ingredients | Vitamin A, vitamin C, vitamin D, vitamin E, zinc, selenium, manganese, thiamin |
| Dose | 1 tablet |
| Price per serving | $0.90 |
| Third-party testing? | Yes |
Best Multivitamin for Men on an Empty Stomach: MegaFood Men's One Daily
Good for: Men who take their multivitamin first thing in the morning or who want to avoid upset stomachs
Multivitamins have been known to cause vomiting, upset stomachs,38 and nausea in some people, but MegaFood Men's Once Daily's formulation avoids that. Even after taking it for several weeks, I never once experienced any issues even when taking it first thing in the morning without food.
MegaFood says its multivitamin is formulated specifically for men's health, and a look at its nutrition label confirms that it contains several essential vitamins that men need. There's zinc to help with hormone function17, selenium for cellular health23, and B vitamins for your immune system and cellular function22. Absent are B12 and folate, but overall, this formula is pretty complete.
This multivitamin is also free of most allergens, is Kosher, gluten-free, non-GMO, contains no fillers, and is tested for pesticides. At 73 cents per capsule, it's also very budget-friendly.
| | |
| --- | --- |
| Notable ingredients | Vitamin A, vitamin C, B vitamins, zinc, selenium, copper, manganese |
| Dose | 1 tablet |
| Price per serving | $0.73 |
| Third-party testing? | Yes |
Other Multivitamins We Researched
Athletic Greens: While this isn't "technically" a multivitamin, Athletic Greens is a rich source of vitamins and minerals in addition to adaptogens, probiotics, and whole food-sourced ingredients that are beneficial to our overall health. Unsure if Athletic Greens is for you? Read our full Athletic Greens review.
1st Phorm Micro Factor: This is similar to Onnit Total Human in that it's six supplements in one: a multivitamin, antioxidants, a probiotic, CoQ10, Essential Fatty Acids, and Fruits and Vegetables. Consider this the budget-friendly version of Onnit, with the trade-off being that you get fewer supplements and lower dosages. It's still a great product, but if you have the money for Onnit we'd recommend it over 1st Phorm.
How We Picked and Tested the Best Multivitamins for Men
We'll explain briefly why it's so hard to pick a multivitamin that works for everyone, but there are some things that separate a good multivitamin from a bad one.
Dosage: We wanted to find multivitamins that included moderate to high amounts of vitamins and minerals, though for things like iron and selenium, they should be present in lower amounts to avoid dangerous side effects.
Variety: We looked for multivitamins that had a good variety of key nutrients.
Price: We wanted to make sure each supplement was generally affordable for most people.
Taste/swallowability: How easy was it to take the multivitamin?
Benefits of Multivitamins
Before we begin, it must be stated that you should get all your vitamins and minerals from whole foods (not the grocery store, but actual foods like meat, dairy, vegetables, fruits, and cheese). Depending on what you eat and how much of it you consume, there may still be different nutritional needs that need to be addressed—a plant-based eater will be lower in iron than someone who eats red meat.
RELATED: Best whey protein
Convenience
The first benefit of multivitamins is that it allows you to fill those nutritional gaps in a much more affordable and convenient way than eating extra food to obtain the micronutrients you might be lacking.
Maintains Bodily Functions
Our body requires micronutrients for vision, immune health, physical activity, focusing…you get it, they're essentil to everyday life and without them we can start to feel sluggish or even experience health problems. A multivitmain allows you to maintain optimal health by ensuring you're getting all essential nutrients.
RELATED: Best pre-workout for women
How to Choose the Best Multivitamin
This is a very difficult question because it truly depends on you and your health, diet, and overall health goals. For example, someone who's not getting a lot of Vitamin D from their diet is going to need a different multivitamin than someone who has high amounts of Vitamin D but is deficient in Vitamin A.
Then there's iron and selenium, two micronutrients that can actually be harmful if ingested in excessive amounts. Taking a multivitamin with those two minerals can actually be dangerous to someone who's already getting enough of them through their diet, but may be deficient in other vitamins and minerals.
That's all to say, please, please contact your physician or nutritionist before starting a multivitamin. They'll be the best person to tell you which one is right for you.
RELATED: Best protein shakes
FAQs About Best Multivitamins for Men
What is the very best men's multivitamin?
What vitamins should a man take daily?
That depends on which vitamins you're not getting from your diet, but you should make sure you're getting ample amounts of all vitamins and minerals to help sustain all bodily functions and energy production.
Should men take a multivitamin?
If they have a nutritional deficiency, then yes. If they're getting all their vitamins and minerals from their diet, then there's no need to take a multivitamin. 
These statements have not been evaluated by the Food and Drug Administration. This product is not intended to diagnose, treat, cure, or prevent any diseases.
References
Mishra S, Stierman B, Gahche JJ, Potischman N. Dietary supplement use among adults United States, 2017–2018. NCHS Data Brief, no 399. Hyattsville, MD: National Center for Health Statistics. 2021. DOI: https://doi.org/10.15620/cdc:101131.
Kim MG, Yang I, Lee HS, Lee JY, Kim K. Lipid-modifying effects of krill oil vs fish oil: a network meta-analysis. Nutr Rev. 2020;78(9):699-708. doi:10.1093/nutrit/nuz102
Karkos PD, Leong SC, Karkos CD, Sivaji N, Assimakopoulos DA. Spirulina in clinical practice: evidence-based human applications. Evid Based Complement Alternat Med. 2011;2011:531053. doi:10.1093/ecam/nen058
Kennedy DO. B Vitamins and the Brain: Mechanisms, Dose and Efficacy–A Review. Nutrients. 2016;8(2):68. Published 2016 Jan 27. doi:10.3390/nu8020068
Solomon TM, Leech J, deBros GB, et al. A randomized, double-blind, placebo controlled, parallel group, efficacy study of alpha BRAIN® administered orally. Hum Psychopharmacol. 2016;31(2):135-143. doi:10.1002/hup.2520
Malík M, Tlustoš P. Nootropics as Cognitive Enhancers: Types, Dosage and Side Effects of Smart Drugs. Nutrients. 2022;14(16):3367. Published 2022 Aug 17. doi:10.3390/nu14163367
Bonilla DA, Moreno Y, Gho C, Petro JL, Odriozola-Martínez A, Kreider RB. Effects of Ashwagandha (Withania somnifera) on Physical Performance: Systematic Review and Bayesian Meta-Analysis. J Funct Morphol Kinesiol. 2021;6(1):20. Published 2021 Feb 11. doi:10.3390/jfmk6010020
Sarmiento A, Diaz-Castro J, Pulido-Moran M, Kajarabille N, Guisado R, Ochoa JJ. Coenzyme Q10 Supplementation and Exercise in Healthy Humans: A Systematic Review. Curr Drug Metab. 2016;17(4):345-358. doi:10.2174/1389200216666151103115654
Pizzorno L. Nothing Boring About Boron. Integr Med (Encinitas). 2015;14(4):35-48.
McDowell LA, Kudaravalli P, Sticco KL. Iron Overload. [Updated 2022 Apr 28]. In: StatPearls [Internet]. Treasure Island (FL): StatPearls Publishing; 2022 Jan-. Available from: https://www.ncbi.nlm.nih.gov/books/NBK526131/
Bailey RL, West KP Jr, Black RE. The epidemiology of global micronutrient deficiencies. Ann Nutr Metab. 2015;66 Suppl 2:22-33. doi:10.1159/000371618
Abbaspour N, Hurrell R, Kelishadi R. Review on iron and its importance for human health. J Res Med Sci. 2014;19(2):164-174.
Moustarah F, Daley SF. Dietary Iron. [Updated 2022 Oct 22]. In: StatPearls [Internet]. Treasure Island (FL): StatPearls Publishing; 2022 Jan-. Available from: https://www.ncbi.nlm.nih.gov/books/NBK540969/
Lane DJ, Richardson DR. The active role of vitamin C in mammalian iron metabolism: much more than just enhanced iron absorption!. Free Radic Biol Med. 2014;75:69-83. doi:10.1016/j.freeradbiomed.2014.07.007
Sánchez M, González-Burgos E, Iglesias I, Gómez-Serranillos MP. Pharmacological Update Properties of Aloe Vera and its Major Active Constituents. Molecules. 2020;25(6):1324. Published 2020 Mar 13. doi:10.3390/molecules25061324
Iraki J, Fitschen P, Espinar S, Helms E. Nutrition Recommendations for Bodybuilders in the Off-Season: A Narrative Review. Sports (Basel). 2019;7(7):154. Published 2019 Jun 26. doi:10.3390/sports7070154
Prasad AS, Mantzoros CS, Beck FW, Hess JW, Brewer GJ. Zinc status and serum testosterone levels of healthy adults. Nutrition. 1996;12(5):344-348. doi:10.1016/s0899-9007(96)80058-x
Shing CM, Chong S, Driller MW, Fell JW. Acute protease supplementation effects on muscle damage and recovery across consecutive days of cycle racing. Eur J Sport Sci. 2016;16(2):206-212. doi:10.1080/17461391.2014.1001878
Iravani S, Zolfaghari B. Pharmaceutical and nutraceutical effects of Pinus pinaster bark extract. Res Pharm Sci. 2011;6(1):1-11.
Samaneh Ghasemi Fard, Fenglei Wang, Andrew J. Sinclair, Glenn Elliott & Giovanni M. Turchini (2019) How does high DHA fish oil affect health? A systematic review of evidence, Critical Reviews in Food Science and Nutrition, 59:11, 1684-1727, DOI: 10.1080/10408398.2018.1425978
Stiefvatter L, Lehnert K, Frick K, et al. Oral Bioavailability of Omega-3 Fatty Acids and Carotenoids from the Microalgae Phaeodactylum tricornutum in Healthy Young Adults. Mar Drugs. 2021;19(12):700. Published 2021 Dec 10. doi:10.3390/md19120700
Mikkelsen K, Apostolopoulos V. B Vitamins and Ageing. Subcell Biochem. 2018;90:451-470. doi:10.1007/978-981-13-2835-0_15
Murdolo G, Bartolini D, Tortoioli C, Piroddi M, Torquato P, Galli F. Selenium and Cancer Stem Cells. Adv Cancer Res. 2017;136:235-257. doi:10.1016/bs.acr.2017.07.006
María Remes Troche J, Coss Adame E, Ángel Valdovinos Díaz M, et al. Lactobacillus acidophilus LB: a useful pharmabiotic for the treatment of digestive disorders. Therap Adv Gastroenterol. 2020;13:1756284820971201. Published 2020 Nov 24. doi:10.1177/1756284820971201
Capurso L. Thirty Years of Lactobacillus rhamnosus GG: A Review. J Clin Gastroenterol. 2019;53 Suppl 1:S1-S41. doi:10.1097/MCG.0000000000001170
O'Callaghan A, van Sinderen D. Bifidobacteria and Their Role as Members of the Human Gut Microbiota. Front Microbiol. 2016;7:925. Published 2016 Jun 15. doi:10.3389/fmicb.2016.00925
Sztretye M, Dienes B, Gönczi M, et al. Astaxanthin: A Potential Mitochondrial-Targeted Antioxidant Treatment in Diseases and with Aging. Oxid Med Cell Longev. 2019;2019:3849692. Published 2019 Nov 11. doi:10.1155/2019/3849692
Abdelhamid AS, Brown TJ, Brainard JS, et al. Omega-3 fatty acids for the primary and secondary prevention of cardiovascular disease. Cochrane Database Syst Rev. 2018;7(7):CD003177. Published 2018 Jul 18. doi:10.1002/14651858.CD003177.pub3
Kaur D, Rasane P, Singh J, et al. Nutritional Interventions for Elderly and Considerations for the Development of Geriatric Foods. Curr Aging Sci. 2019;12(1):15-27. doi:10.2174/1874609812666190521110548
Cabrera ÁJ. Zinc, aging, and immunosenescence: an overview. Pathobiol Aging Age Relat Dis. 2015;5:25592. Published 2015 Feb 5. doi:10.3402/pba.v5.25592
Simes DC, Viegas CSB, Araújo N, Marreiros C. Vitamin K as a Powerful Micronutrient in Aging and Age-Related Diseases: Pros and Cons from Clinical Studies. Int J Mol Sci. 2019;20(17):4150. Published 2019 Aug 25. doi:10.3390/ijms20174150
Khoo HE, Ng HS, Yap WS, Goh HJH, Yim HS. Nutrients for Prevention of Macular Degeneration and Eye-Related Diseases. Antioxidants (Basel). 2019;8(4):85. Published 2019 Apr 2. doi:10.3390/antiox8040085
Sanders AE, Shaikh SR, Slade GD. Long-chain omega-3 fatty acids and headache in the U.S. population. Prostaglandins Leukot Essent Fatty Acids. 2018;135:47-53. doi:10.1016/j.plefa.2018.06.008
Imran M, Ghorat F, Ul-Haq I, et al. Lycopene as a Natural Antioxidant Used to Prevent Human Health Disorders. Antioxidants (Basel). 2020;9(8):706. Published 2020 Aug 4. doi:10.3390/antiox9080706
Chen P, Zhang W, Wang X, et al. Lycopene and Risk of Prostate Cancer: A Systematic Review and Meta-Analysis. Medicine (Baltimore). 2015;94(33):e1260. doi:10.1097/MD.0000000000001260
Sizar O, Khare S, Goyal A, Givler A. Vitamin D Deficiency. In: StatPearls. Treasure Island (FL): StatPearls Publishing; July 27, 2022.
O'Leary F, Samman S. Vitamin B12 in health and disease. Nutrients. 2010;2(3):299-316. doi:10.3390/nu2030299
Greenway F, Fujioka K, Yu Y. Vomiting from multivitamins: a potential drug interaction. Am J Ther. 2011;18(6):453-457. doi:10.1097/MJT.0b013e3181d7e1e4