We test and review fitness products based on an independent, multi-point methodology. If you use our links to purchase something, we may earn a commission. Read our disclosures.
Feeling winded during your runs faster than usual, or having a hard time recovering from your workouts? Overtraining and a diet devoid of high-protein foods are common culprits, although you shouldn't overlook iron—not pumping iron, but getting enough dietary iron.
Iron is an essential mineral that oxygenates the entire body, supports muscle metabolism, strengthens connective tissue, and synthesizes critical vital hormones, just to name a few core functions. Inadequate iron intake can lead to iron deficiency anemia1, a condition in which blood lacks adequate healthy red blood cells, and is the most common cause of anemia worldwide.
Consuming iron-rich foods—like red meats, fortified cereals, and oysters—is one of the best ways to ensure iron needs. But if you lack adequate iron in your diet, you might consider taking an iron supplement.
According to the National Institutes of Health (NIH), ferrous sulfate, ferrous gluconate, ferric citrate, and ferric sulfate are commonly used forms of irons. Heme iron polypeptides, carbonyl iron, iron amino-acid chelates, and polysaccharide-iron complexes, amongst others, are also available.
If you're overwhelmed with these names and choices, we get it—ironing out the various types of iron can seem daunting. Because there's a lot to consider when choosing the best iron supplement, our experienced nutrition and fitness experts have done the heavy lifting for you!
Medical disclaimer: This article is intended for educational and informational purposes only. It is not intended as a substitute for medical advice. For health advice, contact a licensed healthcare provider.
We Are Nutrition Experts Who Iron Out Product Confusion
Our team of testers are registered dietitians and sports nutritionists truly immerse themselves in all things fitness, nutrition, and health. That's why pumping iron to us is so much more than picking up weight—it's about understanding the safest and most effective way to meet your goals, which includes understanding how nutrition and dietary supplements can play a significant role.
Our testers sift through the data and iron out any confusion so that we can share unbiased (beyond our thoughts on flavors) and science-supported reviews with you. And we also don't think there's an irony about the link between pumping iron and ensuring adequate iron in the body…
Best Iron Supplements for 2023
Best Iron Supplement Overall: Thorne Iron Bisglycinate
Good for: Those looking for an all-around simple, yet high-quality and effective iron supplement
Thorne Iron Bisglycinate proves quality is often more important than quantity. It features a slim ingredient list of high-quality, science-backed ingredients.
Thorne's iron supplement contains 25 milligrams of Ferrochel® ferrous bisglycinate chelate, which is claimed to be a highly absorbable form of iron without the commonly experienced gastrointestinal side effects—like nausea, vomiting, constipation, diarrhea, and dark-colored stools.
Our expert product tester and GGR's Head of Content Kate Meier tested Thorne's iron supplement happily—being iron deficient, she's no stranger to iron supplements—and said it was the easiest pill to take out of all the ones on this list and didn't cause any stomach upset, even two hours after her last meal.
Research2 supports that ferrous bisglycinate chelate is readily bioavailable and highly absorbable with fewer side effects compared to other types of iron. Another study3 suggests ferrous bisglycinate chelate appears to be highly tolerable and more effective in replenishing iron stores compared to polymaltose iron, which is another type of iron often used to treat iron-deficiency anemia.
Thorne supplements also sport the NSF Certified for Sport® certification, which helps give athletes peace of mind that the product is free of 200+ substances banned by many major athletic organizations, including stimulants, narcotics, steroids, diuretics, beta-2 agonists, and masking agents.
Additionally, Thorne's facilities are verified by multiple international third-party organizations, including Australia's Therapeutic Goods Administration, a regulatory agency run by the Australian Government Department of Health.
The iron is carefully packaged and protected in a hypromellose4 capsule, which provides the release of a drug in a controlled manner to effectively increase the release duration of a drug to prolong its therapeutic effect. As an iron chelate, it contains the branched-chain amino acid leucine5 that shows to positively correlate with hemoglobin and ferritin levels—ferritin is a protein in the blood that stores iron.
| | |
| --- | --- |
| Dosing instructions | 1 capsule (serving) daily or as recommended by your health professional |
| Type of iron | Ferrous bisglycinate chelate |
| Amount of iron per serving | 25 mg |
| Cost | $14/60 capsules = $0.24/capsule |
Best Budget Iron Supplement: Nature Made Iron 65mg Tablets
Good for: A cost- and dose-effective iron supplement with high-quality ingredients
Nature Made Iron 65 mg Tablets are a cost-effective solution for increasing daily iron intake. Each tablet might be smaller than a penny, but it boasts 65 milligrams of iron.
Ferrous sulfate is one of the most commonly used forms of iron and is often the golden standard for treating iron deficiency anemia. This is because ferrous sulfate is effective in increasing iron and ferritin stores3—ferritin is a protein in the blood that stores iron.
However, while this form is effective, ferrous sulfate is well-known for causing gastrointestinal symptoms6. Common digestive symptoms include nausea, flatulence, abdominal pain, diarrhea, constipation, and black or tarry stools.
Potential symptoms aside, Nature Made's iron supplement is verified by the United States Pharmacopeia (USP). USP is a third-party organization that assesses and tests the quality of the supplement, including its purity, potency, and performance.
Also, rest easy knowing the tablets are sourced from high-quality ingredients that can be found in red meat and are naturally derived. They are also from synthetic dyes, artificial flavors, and gluten.
Expert product tester and GGR Senior Staff Writer Anthony O'Reilly has been a long-time fan of this iron supplement. "I've noticed some great benefits from it—my hands are no longer cold and I'm much less fatigued. My go-to iron supp!" he says.
| | |
| --- | --- |
| Dosing instructions | Take 1 tablet (serving) daily with water and a meal |
| Type of iron | Ferrous sulfate |
| Amount of iron per serving | 65 mg |
| Cost | $10.59/180 tablets = $0.86/tablet serving |
Best Vegan Iron Supplement: Garden of Life Vitamin Code Raw Iron
Good for: Plant-based (and carnivorous) dieters on the quest for an iron supplement with a nutritional flair
While often derived from red meat and other animal sources, the iron in Garden of Life Vitamin Code Raw Iron is an entirely plant-forward option. Garden of Life's iron supplement provides whole-food iron, meaning the iron is provided by raw food products.
Each capsule specifically contains 22 milligrams of iron sourced from brown rice chelate, which is namely iron produced from brown rice. It's important to note there are two main types of iron: heme and non-heme. Heme is found in both animal products—like red meat and poultry—and plant sources and is readily absorbed. On the other hand, non-heme is solely found in plant products and is not absorbed as well.
Non-heme iron absorption can be enhanced by pairing it with a heme iron source. But if you are strictly following a plant-based, vegan diet, you can enhance iron absorption by pairing it with a vitamin C source—the Garden of Life's iron supplement does this for you by including 25 milligrams of vitamin C. Vitamin B12 and folate are also added to promote digestion. 
Additionally, the product contains an organic fruit and vegetable blend, as well as a probiotic and enzyme blend, to support digestion. The raw vegan iron supplement is also produced without high heat, synthetic binders and fillers, and artificial flavors, sweeteners, colors, and other additives.
In addition to being certified vegan, the iron supplement is non-GMO, kosher, raw, and gluten-free. All Garden of Life products are also manufactured in an FDA-certified facility.
Our expert product tester, GGR writer Lauren Strong, said that while this capsule is easy to swallow, she did experience a bit of nausea if she didn't take it with a substantial meal.
| | |
| --- | --- |
| Dosing instructions | Take 1 capsule (serving) daily with or without food; the capsule can also be opened, emptied, and mixed with water or juice |
| Type of iron | Brown rice chelate |
| Amount of iron per serving | 22 mg |
| Cost | $14.34/30 capsules = $0.48/capsule serving |
Best Chewable Iron Supplement: Klaire Labs Chewable Iron Chelate
Good for: Looking for an iron supplement to chew into
If looking for an iron supplement to chew into, Klaire Labs Chewable Iron Chelate is it. The chewable iron supplement is a natural cherry-flavored tablet produced from a natural cherry flavor and "perfect for individuals that have a difficult time swallowing capsules." (But capsules are also available if they tickle your fancy more.)
"The taste itself is tolerable," Kate says. "You can tell they added some cherry flavoring. It's not delicious, but it won't make you gag. For a chewable iron supplement, I'd say they did pretty well flavor-wise."
Taste aside, the Klaire Labs iron supplement provides 30 milligrams of elemental iron as ferric trisglycinate chelate. If this form of iron sounds familiar, recall Thorne Iron Bisglycinate—so does that mean "tri" is three times as good?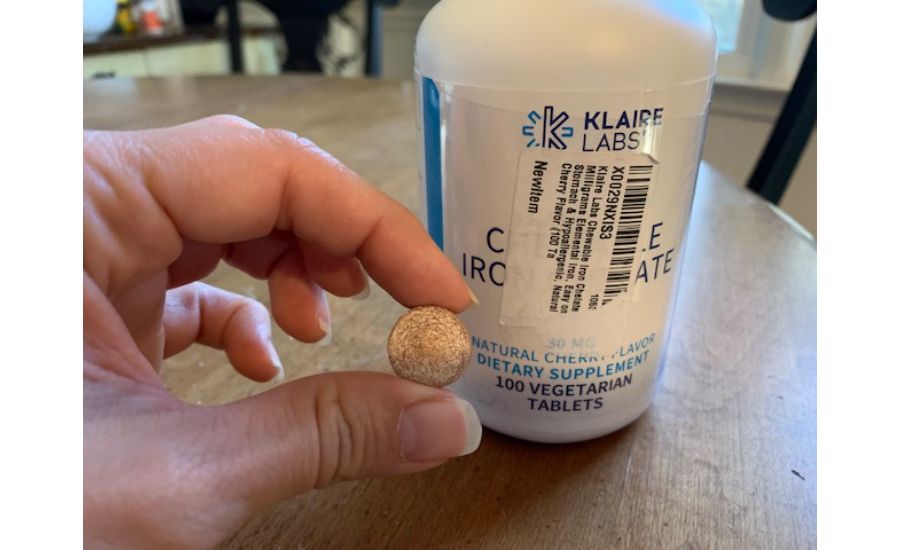 According to a study published in the American Journal of Clinical Nutrition7, both ferrous bisglycinate and ferric trisglycinate are reportedly effective in treating iron deficiency anemia. Ferric trisglycinate is also thought to be well absorbed from water but poorly absorbed in the presence of phytates, which is a known iron inhibitor.
Overall, the absorption of iron from both bisglycinate and trisglycinate is regulated normally by iron status. Also because ferric trisglyceride is a chelated iron, it's considered to be highly absorbable.
The chewable iron supplement is made with non-GMO and Kosher-friendly ingredients. Klaire Labs supplements are also manufactured in a cGMP manufacturing facility, which can even be virtually toured on their website.
| | |
| --- | --- |
| Dosing instructions | Adults take 1 tablet (serving) daily with food or as directed by a healthcare professional |
| Type of iron | Ferric trisglycinate chelate |
| Amount of iron per serving | 30 mg |
| Cost | $29.99/100 tablets = $0.30/tablet serving |
Best Liquid Iron Supplement: Mary Ruth Organics Liquid Iron Supplement
Good for: Those who enjoy a flavorful and sippable supplement (packed with iron)
While also a great vegan candidate, the Mary Ruth Organics Liquid Iron Supplement ranks on our list for being an excellent liquid iron supplement. The liquid iron comes in a berry flavor for easy ingestion.
"If you do well taking shots or liquid medicine, this shouldn't be an issue," Kate says. "It has the consistency of a cough syrup, so it's a little thick—it won't fly down your throat the way true liquid would." Kate also reported no ill side effects, which is a plus.
Mary Ruth's liquid iron specifically contains 18 milligrams of iron from Ferrochel® ferrous bisglycinate chelate, the same form in Thorne's iron supplement. Recall that ferrous bisglyincate chelate is a highly absorbable form of iron with less risk of gastrointestinal side effects.
While the general instructions encourage that adults take one tablespoon per day, their website further advises adult males aged 19 to 50 and men and women aged 51+ to take a touch less than ½ tablespoon. They also provide dosing recommendations for those aged 4 to 8 years, although it's still essential that kids and teens take iron supplements with caution.
The liquid iron supplement is non-GMO and free of sugar, gluten, and soy. It's also made in a GMP facility.
| | |
| --- | --- |
| Dosing instructions | Adults take 1 Tbsp (serving) once daily |
| Type of iron | Ferrous bisglycinate chelate |
| Amount of iron per serving | 18 mg |
| Cost | $35.95/30 tablespoons (servings) = $1.20/Tbsp serving |
Best GI-Friendly Iron Supplement: Slow Fe 45mg Iron Supplement
Good for: Those with a sensitive stomach but in the market for a high-potency iron supplement option
Slow Fe 45mg Iron Supplement is claimed to be "gentle to your system" thanks to its high-potency, yet slow-release formula for fewer GI side effects. Interestingly, though, it contains 45 milligrams of elemental iron from ferrous sulfate—widely known for causing GI side effects—so let's see what this "slow release" is all about.
The tablet contains silicified microcrystalline cellulose8, which is often used for sustained release, and hypromellose that provides the release of a drug in a well-controlled manner. It also contains other ingredients that can help lower the risk of constipation.
On the product's Amazon page, it encourages you to "Make sure to swallow Slow Fe tablets whole to allow the time release mechanism to properly work." The tablets are also said to be best absorbed on an empty stomach, either one hour before or two hours after meals. Lauren found these pills to be super easy to take, and of all the iron supplements she tried, this one gave her the least amount of side effects.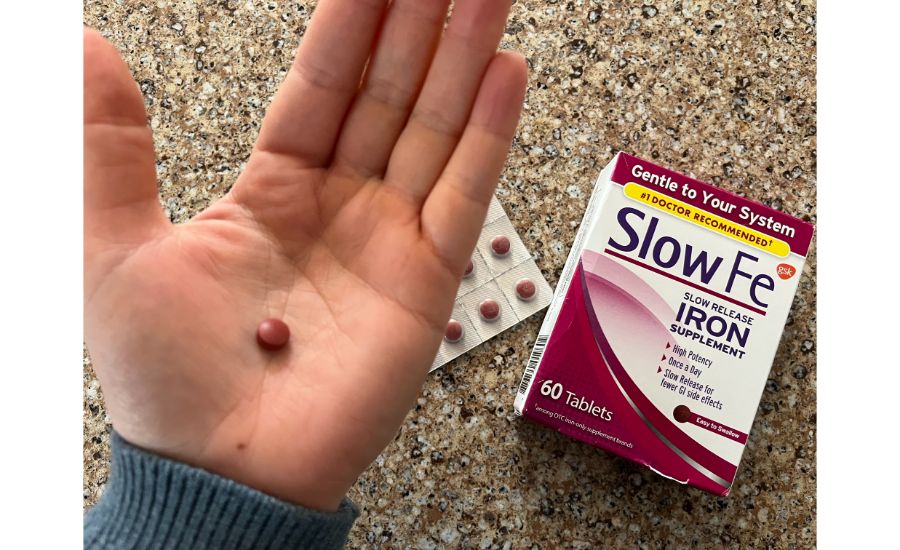 You can purchase the tablets in 30- or 60-counts depending on your needs. The official website also apparently offers coupons and offers, although I was personally welcomed with "No coupons available at this time. Please check back at a later date." (But maybe you can press your luck on the savings…)
While Slow Fe does provide high-potency iron in a slow-release manner, it does contain artificial color dyes like FD&C red 40 lake, FD&C yellow 6 lake, and FD&C blue 1 lake. Despite their approval by the Food and Drug Administration (FDA), some consumers prefer to stay away from artificial food dyes altogether.
| | |
| --- | --- |
| Dosing instructions | Take 1 tablet per day |
| Type of iron | Ferrous sulfate |
| Amount of iron per serving | 45 mg |
| Cost | $16.39/60 tablets (servings) = $0.27/tablet serving |
Best Iron Supplement With Vitamin C: Pure Encapsulations OptiFerin-C
Good for: People who want to enhance iron absorption from a single capsule
Like Thorne Iron Bisglycinate, Pure Encapsulations OptiFerin-C provides iron in the form of iron bisglycinate—28 milligrams of iron to be exact. But unlike Thorne's iron supplement, Pure Encapsulations provides both iron AND vitamin C to enhance the absorption of iron.
If you're hip to iron absorption, you might notice "calcium" flashed on the supplemental facts label and scratch your head since the mineral is known to interfere with iron absorption. However, the negligible amount of calcium added is said to be enough to increase the stability of the iron supplement without interfering with absorption. Anthony, who takes an iron supplement on the regular, didn't notice much benefit after taking these pills for a while—"Sadly, I still felt anemic at times," he explained.
The Pure Encapsulations iron supplement is also free from GMOs, soy, gluten, and dairy while being vegetarian and vegan-friendly. Also according to their website, "Ingredients are tested for purity and potency by independent certified laboratories. Ingredient suppliers must meet rigorous testing and quality criteria to qualify as a Pure Encapsulations supplier."
| | |
| --- | --- |
| Dosing instructions | Take 1 capsule (serving), 1-3 times daily, with meals |
| Type of iron | Iron bisglycinate |
| Amount of iron per serving | 28 mg |
| Cost | $13.95/60 capsules = $0.23/capsule (serving) |
Best Iron Supplement for Pregnancy: Mary Ruth Organics Liquid Prenatal and Postnatal Iron
Good for: Expecting and lactating moms deserving of a "berry" effective iron liquid
Mary Ruth's tops our list again with their prenatal and postnatal liquid iron, formulated with expecting mom and baby top of mind. Pregnant women require a higher dose to support the increased production of red blood cells, as well as support the needs of the growing baby and placenta.
Mary Ruth's pre- and postnatal liquid iron provides 27 milligrams of iron from Ferrochel® ferrous bisglycinate chelate, which again, is considered to be a highly absorbable and tolerable form of iron. The NIH also recommends 27 milligrams of iron for pregnant women, so Mary Ruth's iron formulation is right on the money, but you should still factor in your dietary iron intake.
The berry flavor of the liquid iron supplement is naturally flavored and sweetened with organic stevia leaf extract. It's also vegan-friendly, made in a GMP facility, and free of GMOs, dairy, nuts, soy, and added sugars.
Lauren found that she got pretty dizzy several hours after taking this liquid iron supplement. "No nausea but the dizziness was a real kicker. I also took half a dose knowing that I'm not pregnant and this is formulated for pregnant women who sometimes need more iron." She did say, though, that the taste wasn't bad—berry with a hint of metallic.
| | |
| --- | --- |
| Dosing instructions | Adults take 1 tablespoon once daily, by itself. Do not exceed the recommended dose. (Pregnant women should take 1 Tbsp while lactating women should take ⅓ Tbsp) |
| Type of iron | Ferrous bisglycinate chelate |
| Amount of iron per serving | 27 mg |
| Cost | $34.16/30 tablespoons (servings) = $1.14/Tbsp serving |
Best Iron Supplement for Endurance Athletes: Gnarly Nutrition Baseline Iron
Good for: Endurance athletes looking to bulletproof their performance
Endurance athletes are at increased risk for suboptimal iron status according to a 2014 review.9 Gnarly Nutrition Baseline Iron was created to change that.
The vegan-friendly iron supplement continues the theme of using an effective iron form: iron bisglycinate, 25 milligrams of it to be exact. The addition of 15mg of vitamin C can also help enhance the iron's absorption.
Gnarly Nutrition iron supplement contains vitamin B12 and folate. Low levels of vitamin B12, a nutrient that plant-based athletes are often deficient in, or folate can also cause a different form of anemia.
The capsules contain a slim ingredients list from a clean and hypoallergenic formula: "Beyond the actives, rice bran is the only other ingredient you'll find in Gnarly Baseline Iron." In exchange for your email address, you can also unlock $12 off your next order by purchasing through their website.
According to Anthony, this stuff rocks. "You will need to take it with food to avoid an upset stomach, but if you have low iron like me, this thing will seriously have you feeling better in no time. I've taken this before hikes or long walks and it gave me energy for days!"
| | |
| --- | --- |
| Dosing instructions | Adults take 1 capsule (serving) daily with a meal |
| Type of iron | Iron bisglycinate |
| Amount of iron per serving | 25mg |
| Cost | $14.95/30 capsules (servings) = $0.50 capsule/serving |
Other Iron Supplements We Researched
While we still stand by our top picks, our testers also researched and approved of these iron supplements:
Care/of Iron
Now Iron and Now Liquid Iron
Nature Made Iron Gummies With Vitamin C
Klean Iron
How We Picked and Tested the Best Iron Supplements
With countless dietary supplements on the market, we knew we needed to be thorough, yet critical in our selection process. To narrow down our search and capture the best iron supplements, our testers based our top picks on the following:
Supplement formulation: What's in the iron supplement that makes it worth your while? Is it simple without fillers? Does it contain ingredients that enhance iron absorption? Are ingredients backed by sound research? These are all questions we considered when evaluating each product.
Intake options: People have different preferences on how they prefer taking an oral iron supplement. That's why we made sure to select a variety, including liquid, chewable, tablet, and capsule dietary supplements.
Price: Budgets vary so we made sure to include products with varying price points. But we likewise verified that the supplement formulations are effective, even for the most cost-friendly product on the market.
Third-party testing: Supplements are not tightly regulated, so it's important to know if the product is third-party tested for quality and safety assurance. We also consider if a product is manufactured in a GMP facility and meets certain standards.
Brand transparency: We pride ourselves in sharing honest reviews with you, so it's in our nature to evaluate brand transparency and integrity. That's why we evaluate the brand behind the product and sift through their FAQs, pinpoint where we can contact them, and read reviews with a critical eye.
Benefits of Iron Supplements
Iron plays crucial roles in sustaining and improving good health, so it's important that you give the body enough of it. Let's explore how taking iron supplements could restore iron levels and benefit your health.
Iron-Deficiency Anemia Prevention and Treatment
The most fundamental reason for taking an iron supplement is to protect against and treat iron deficiency and iron deficiency anemia1, the most common type of anemia that develops if you do have enough iron in the body. It's further characterized by small red blood cells with low hemoglobin concentrations.
Common symptoms of iron-deficiency anemia include fatigue, dizziness, cold extremities, pale skin, shortness of breath, and chest pain. Such symptoms can compromise cognitive and immune functions, as well as exercise and work performance.
Cognitive Function
Iron deficiency is linked to cognitive impairments and long-term behavioral changes, especially those related to attention span, intelligence, sensory perception, emotions, and behavior. However, research published in Neuropsychiatric Disease and Treatment10 shares that there is some evidence that iron supplements improve cognitive functions.
Athletic Performance
Because iron enhances oxygen transport and energy production, the mineral has been considered one of the most critical minerals related to athletic performance11. While athletes12 are often more susceptible to iron loss caused by exercise, a 2017 study11 recaps that iron supplementation often leads to an increase in aerobic performance capacity by maximizing oxygen consumption.
Additional research13 suggests iron supplementation in athletes with lower ferritin levels may be more beneficial than supplementing athletes with higher baseline ferritin levels.
Immune Function
Iron and the immune system14 are closely linked, so it makes sense iron deficiency can impair immune function. Fortunately, data from the Journal of Nutrition15 suggests alterations in the immune system caused by iron deficiency can be largely corrected with iron repletion. Conversely, excess iron intake can also have adverse effects on the immune system according to this study16.
Gut Health
While the best probiotics supplements are known to benefit gut health, emerging evidence suggests iron might as well. A very fresh study published in Cell Chemical Biology17 found low iron can inhibit the growth of certain gut bacteria while others increased, further warning iron deprivation can cause irreversible changes. However, iron supplementation shows to elicit small and person-specific effects on healthy gut microbiomes.
Accessible and Convenient
Iron can be a challenging nutrient to eat enough of, especially if following a plant-forward diet or limiting red meat. Yes, some plants contain non-heme iron, but it's not as absorbable as heme iron sourced mostly from iron products. Iron supplements help fill in the nutritional gaps with great ease and convenience.
Iron supplements also often contain nutrients that enhance the absorption of iron, including vitamin C. While you can drink a glass of orange juice alongside the supplement, the combo of both in one tidy pill offers the ultimate convenience.
Dosing and Interactions
First and foremost, it's extremely essential to discuss iron dosing and interactions with your healthcare team. However, below provides a ground plan on how much iron you should be getting each day, as well as how to properly and safely take iron supplements.
Iron Dosing
The current Recommended Dietary Allowances (RDAs) for iron are identified below. As general callouts, you tend to need more iron as you get older until after 50 years. Women require more iron to support their menstruation cycles, as well as during pregnancy since blood volume increases.
Life Stage
Recommended Amount
Birth to 6 months
0.27 mg
Infants 7-12 months
11 mg
Children 1-3 years
7 mg
Children 4-8 years
10 mg
Children 9-13 years
8 mg
Teens 14-18 years
11 mg for males/ 15 mg for females (27 mg while pregnant/10 mg while breastfeeding)
Adults 19-50 years
8 mg for males/18 mg for females (27 mg while pregnant/9 mg while breastfeeding)
Adults 51+ years
8 mg for males/8 mg for females
It's also important to note iron needs will likely increase if you have low iron until iron stores are brought up to and sustained at a normal iron level. The NIH also suggests people with chronic health conditions—like cancer, heart failure, and intestinal disorders—are more at risk of having inadequate intakes of iron. Again, talk with your healthcare team about a recommended dosage for your individual body needs.
Interactions, Safety & Effectiveness
Have we mentioned it's super important to talk with your healthcare provider before taking an iron supplement yet? Well, here's where we really nail the head on the coffin…
Of course it's wise to take products based on instruction but other supplements, like the best greens powders, are a bit more forgiving. Too much iron can be toxic to the body and interfere with certain medications, thus limiting the effectiveness of medications and/or reducing the absorption of iron.
RELATED: Athletic Greens Review
The NIH highlights just a few of the most common interactions:
Levodopa used to treat Parkinson's disease and restless leg syndrome.
Levothyroxine used to treat hypothyroidism, goiter, and thyroid cancer.
The proton pump inhibitors lansoprazole (Prevacid®) and omeprazole (Prilosec®) used to decrease stomach acid.
Calcium, including from dietary sources like milk and calcium supplements.
As a general rule, take iron on an empty stomach as tolerated or after a small meal. Swallowing the iron supplement down with a glass of orange juice can also enhance the absorption thanks to its vitamin C content, while taking with calcium-rich milk can inhibit the effectiveness.
Taking the iron supplement every other day may also reduce unpleasant side effects while still being effective. In fact, this recent 2020 study18 suggests iron absorption from supplements is greater when alternating days rather than consecutive-day-dosing in iron-deficient anemic women.
Buying Guide: What to Look for in Iron Supplements
If your dietary iron intake is lower than you need, you might benefit from taking an iron supplement. Consult with your doctor about the best iron supplement for your needs first then consider these factors as a helpful roadmap.
Type of Iron
There are many types of iron supplements to choose from, all of which come with its own advantages and potential downfalls you should outweigh. For instance, while ferrous sulfate is the golden standard for treating iron-deficiency anemia, it is known for causing gastrointestinal side effects. And if following a strictly plant-based diet, verified vegan iron supplements are available.
Additional Ingredients
Added ingredients aren't always beneficial but some—like vitamin C—can enhance the absorbability of iron. Other products, such as Garden of Life Vitamin Code Raw Iron, contain probiotics and other functional ingredients to boost the overall nutrient content and potential benefits. Consider if you want such additions in the iron supplement of your choosing.
Product Quality and Safety
Of course, we should focus on the ingredients but we likewise direct our attention to their quality and safety. Because supplements are not tightly regulated, it's wise to verify whether or not the product goes through third-party testing.
Again, though, talking to your healthcare team about the best iron supplement will provide you with the utmost safety.
Consider Your Budget
Iron supplements tend to be budget-friendly, but you should still consider how much you can and want to spend on them. You could also factor how much iron you need then find a supplement to match, which will help give you reassurance you are paying for exactly what you need.
Brand Reputation
In addition to evaluating the product, review the brand that formulates and manufactures it. While we trust all of the brands above, everyone has their own means for building trust.
Gain insight into the brand by reviewing all corners of their website, including whether or not they have easily accessible contact forms, FAQs, and honest reviews from their consumers. Most products also sell on Amazon and other third-party sites, so you can also sift through the reviews and ratings on those platforms as well.
FAQs About Iron Supplements
What is the best iron supplement to take?
The best iron supplement to take will depend on your unique needs and preferences, including if you desire a vegan product or one that contains ingredients that can enhance the absorption of iron. Overall, it's most important to find an iron supplement that you tolerate and take as directed while increasing to and/or keeping your iron levels within a healthy range. 
Is taking an iron supplement good for you?
Taking an iron supplement is good (and necessary) for those who need to restore their iron levels, which is especially important for kids, menstruating and pregnant women, and others who might be experiencing blood loss for whatever reason. However, too much iron can be dangerous and even fatal, so it's critical to verify if you actually need to take an iron supplement before starting one. 
How much iron should I take a day?
How much iron you take each day depends on many factors, including your diet, age, and birth sex. Use the chart above to see how much iron you need per day, as well as consulting with your doctor. 
These statements have not been evaluated by the Food and Drug Administration. This product is not intended to diagnose, treat, cure, or prevent any diseases.
References: