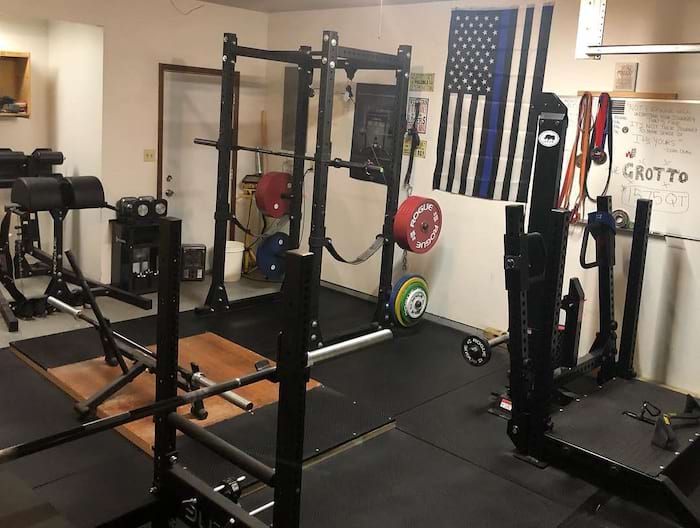 Cort has quite a few other pieces of equipment that stand out, most notably, the Rogue Monster Rhino Belt Squat.
We have a full review of the Rogue Rhino that you can find here, but suffice it to say, this is our favorite belt squat currently available. It has a great combination of features for the price and is one of the most versatile pieces of equipment in our gym.
Cort uses his Rogue Rhino for belt squats, but also for calf raises, lat pulls, curls, and more. The Rhino also doesn't take up too much space so it fits well in a garage gym. Although pricier than other options like the SquatMax MD (which we honestly prefer for just squatting) the Rhino simply can't be beaten for its level of versatility by competitors.
The other piece of equipment that stood out to us from Cort's Home Gym was the Rogue Echo Bike. This is another piece of equipment we reviewed when it was released and it even made the Top Pick on our Best Air Bike Guide.
The best way to describe the Echo Bike is it's like Rogue took a squat rack, chopped it up, and turned it into an air bike. It's that beefy and is even sturdy enough for a 600 LB deadlifter like Cort to do max effort sprints on without it shaking. For real, even the fan blades are metal. Who makes metal fan blades?!
The Echo Bike is by far the air bike that we recommend most often. So, if you're in the market for one, check it out. Cort approved.
In addition the the equipment mentioned, Cort has the Rep AB-5100 Adjustable Bench. He said he chose the bench based on our review of the AB-5000 Zero Gap and wishes he would have spent a bit more for the one we have. The 5100 has all of the same features as the Rep AB-5000 Zero Gap, but without the sliding seat.
Regardless, the 5100 is an awesome bench and honestly, one of the best value incline benches on the market. And, because it's red, it matches his ER Combo Rack and new Monster Rack.
The other bench Cort has is a Rogue Monster Utility Bench with a Thompson Fat Pad. That makes for four places to bench from in Cort's gym and probably why he benches almost 400 LBs.
Lastly, Cort has a set of IronMaster Adjustable Dummbells that can be used for everything from weighing his Combo Rack down to being used for incline bench, dumbbell rows, curls, and other more isolated movements.