We have affiliate relationships through which we are paid a commission on sales through some of the links on our site. Read our disclosures.
Sergeant Cort is a strong guy with a big heart. Not only is his garage gym the envy of his neighborhood, but when he's not putting up crazy numbers on the platform, he's a member of SWAT busting in doors and serving his community on the local Police Force. Cort is no doubt, Garage Gym Built.
Cort has an epic powerlifting home gym filled with some of the best equipment from Rogue Fitness, ER Equipment, Buddy Capps, and more. However, what's more impressive than his gym is the way he's able to stay strong and compete while serving his local community as the Sergeant for his Police Force.
Most recently, during our 2019 Garage Gym Tour we were able to visit Cort, talk about his training, do a walkthrough of his gym, and learn more about what he does for a living. Despite all of the time he puts in at work both as a Sergeant and a member of SWAT, Cort lifts massive amounts of weight and competes on a high level.
You can find Cort on Instagram @sergeant_gymaddict.
Here is the equipment he has in his garage gym.
Sergeant Cort's Home Gym Walkthrough
Squat Racks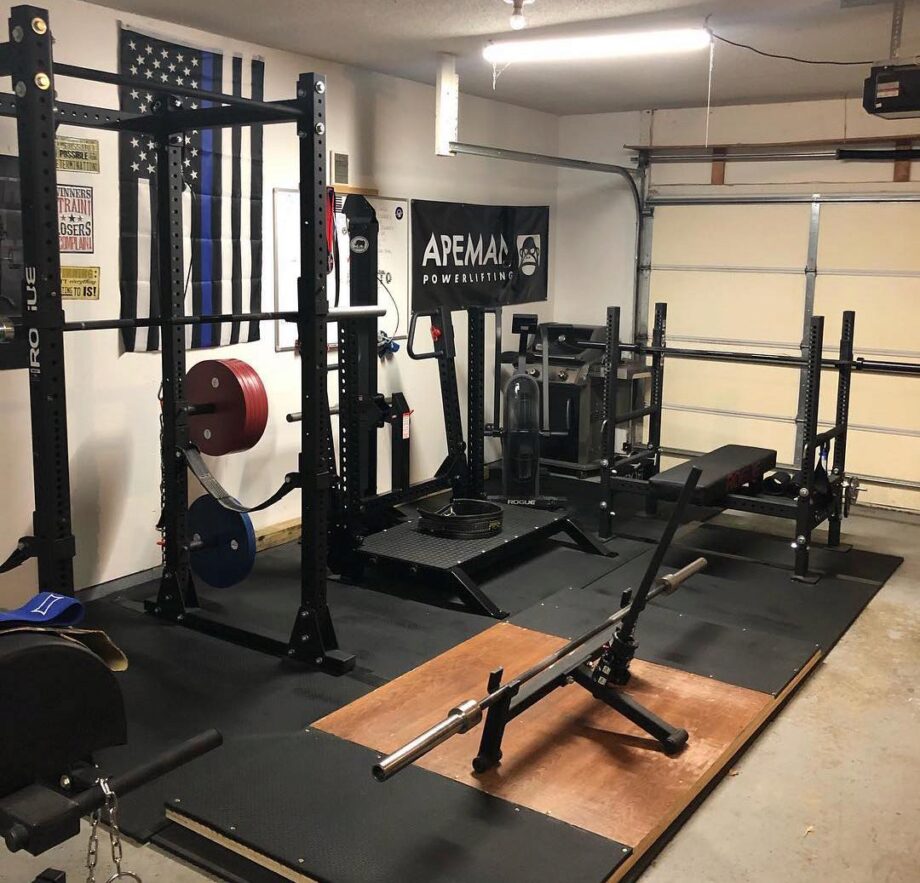 Main Power Rack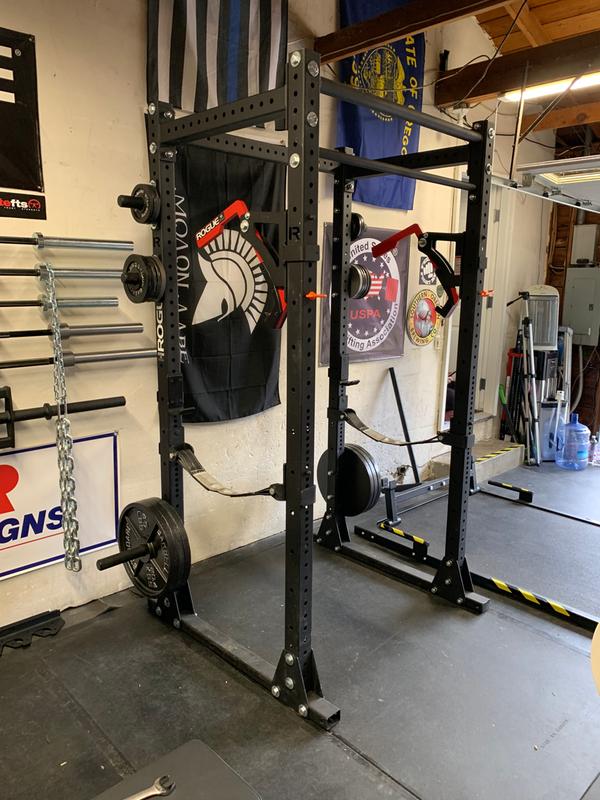 Rogue RML-390F Flat Foot Monster Lite Rack
The RML-390F is the Flat Foot version of the RML-3 Monster Lite Power Rack. Available as a stand-alone unit or by converting an existing SML-2 or SML-3 Squat Stand, this rack's self-stabilizing base means you won't need to bolt it to the ground before you use it—a major benefit for those looking to protect their floors or to have more flexibility in a workout space.The Flat Foot Monster Lite Rack is manufactured in Columbus, OH, and features 3x3" 11-Gauge Uprights, 2x3" 11-Gauge Bases with Westside hole spacing and 0.625" bolts and fasteners. Leaving just a 48" x 49" footprint, the unit still creates a substantial 30" of inside depth. Customers can choose between a Single Skinny or Fat/Skinny 43" Pull-up Bar, and all orders come standard with a pair of Monster Lite J-Cups and a pin/pipe safety system.
Cort has two racks in his gym, three if you count the bench which is basically a squat rack made to only bench out of.
The first is the Rogue RML-390F.
The Rogue RML-390F is a flat foot rack that has all the features of Rogue's bolt-down racks, without the requirement of having to be bolted down. It's one of the most reviewed racks on Rogue's website and is a favorite among many who have no desire to bolt into their foundation.
The Rogue RML-390F has recently been replaced by a red Rogue RM-3, however. The RM-3 is similar to the RML-390, however, it has bigger holes and bolts, color options, and can be bolted to the ground. Both racks are beastly, but the Monster series is definitely a step up. See more of the best squat racks here.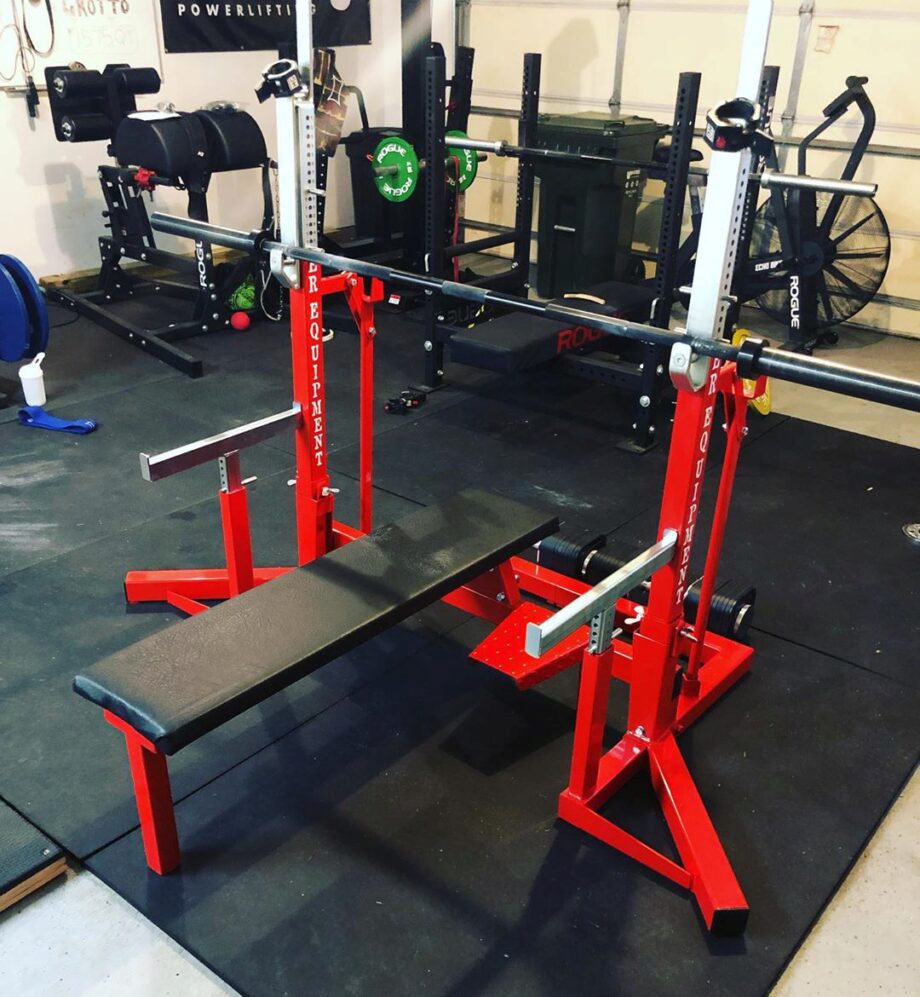 The other rack that is likely the one used most often by Cort is the ER Equipment Combo Rack. This rack can be used for squats or bench thanks to its removable bench pad, and is similar if not the same rack to what Cort uses when competing in the USAPL. This Combo Rack features metal rollers that are known to wear down the knurling on the bar (something Cort mentioned), safety spotter arms, and an adjustable height that makes it easy to lift with other people.
Bench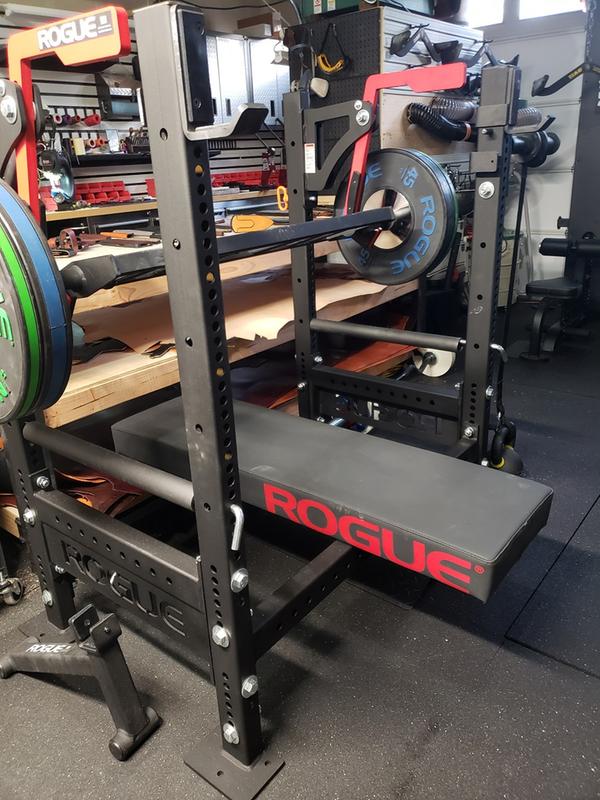 Rogue Westside Bench 2.0
Available to order with either a 12" wide standard pad or 14.5" Thompson Fat Pad, the fully updated Westside Bench is a heavy-duty juggernaut inspired by Westside Barbell's original designs. This 1000 LB weight capacity bench is manufactured in Columbus, Ohio, from 2x3" 11-Gauge, and now features a double-reinforced 7-gauge steel spine running underneath the pad–delivering maximum back support and reduced flex in the pad itself.Version 2.0 of the Westside Bench also introduces a new bolt-together design (with 0.625" hardware), meaning the full unit can be sent via parcel rather than freight, saving the customer considerably on shipping costs.The unit comes standard with Infinity J-cups, a 24" removable pin/pipe safety set, and side panels with laser-cut Rogue branding. There is 1" on-center hole spacing up the front and back of the uprights to allow for maximum height adjustability, meaning the standard 17.5" bench height can be moved up and down by 1" increments to serve a wide variety of athletes. Customers also have the option of adding elevated spotter decks that bolt onto the bench, giving spotters extra leverage and traction in case of a missed lift.
Cort also has a Rogue Westside Bench 2.0 that we've reviewed in the past. This bench is an absolute beast as it pretty much is just a squat rack with a bolt-on bench included. Cort said that now that he has the Combo Rack, this gets used less, but it's still a sweet piece of equipment.
Barbells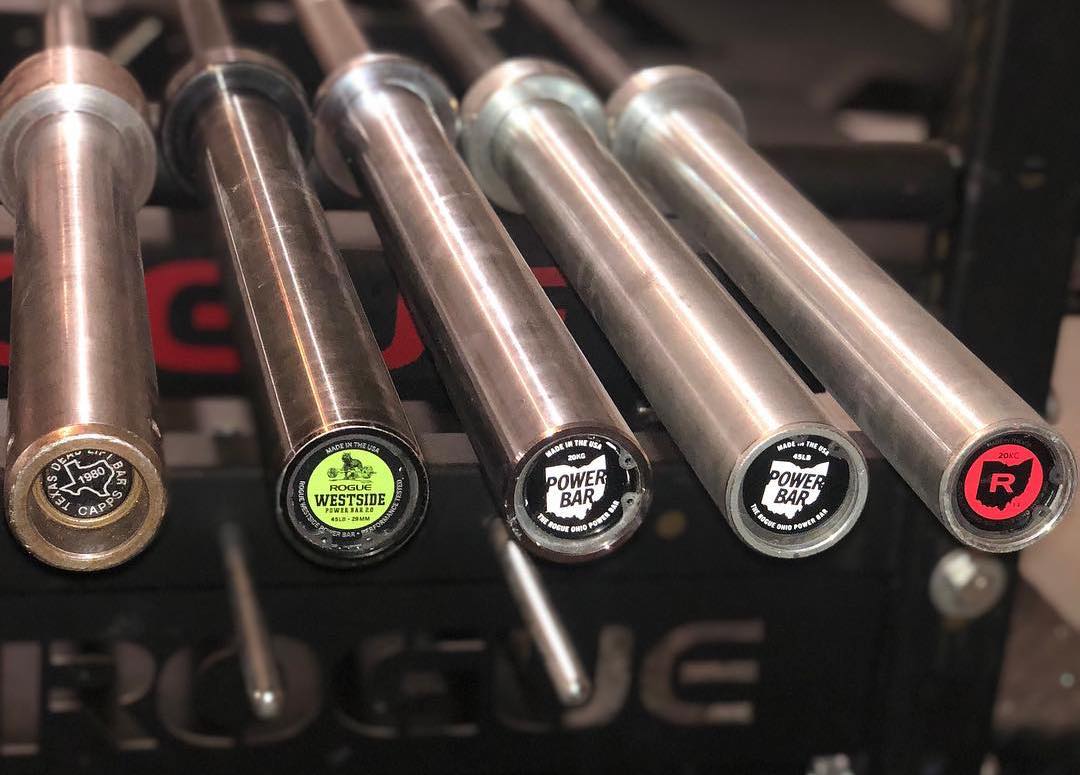 Best Power Bar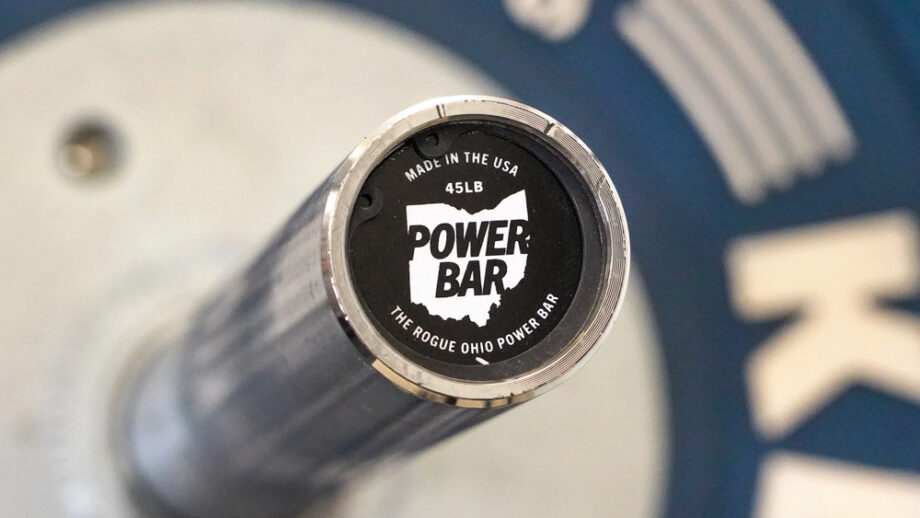 Rogue Ohio Power Bar
Fully machined and assembled in Columbus, OH, the 29MM Rogue Ohio Power Bar features a 205,000 PSI steel shaft (200,000 PSI for Stainless), single powerlifting knurl marks, and center knurling. The bar's knurl pattern is deep and coarse without being sharp or abrasive, and the 29MM shaft diameter and high tensile strength result in little to no flex or whip. This makes the Ohio Power Bar a perfectly honed workhorse for the bench, squat, and deadlift.The 45LB Ohio Power Bar includes bronze bushings, a snap ring design, and 16.25" of loadable sleeve length.When ordering, you can select from three finish options:Black Zinc shaft with Bright Zinc sleeves Stainless Steel shaft with Chrome sleeves Bare SteelRogue also manufactures a 20KG Ohio Power Bar, with friction-welded sleeves and 16.25" loadable sleeve space.The Ohio Power Bar's 29MM diameter steel shaft boasts a tensile strength of 205,000 PSI (200,000 PSI for Stainless), delivering superior rigidity and virtually zero whip/flex. Machined and assembled in Columbus, Ohio, the bar also features a snap-ring design and quality bronze bushings for a smooth, consistent feel.The bar includes single powerlifting marks and a center knurl, each featuring a deep, coarse pattern that produces a reliable grip / stick without being sharp or abrasive. Perfecting this knurl pattern is both a science and an art. Every bar shaft is machined in Columbus on new Haas machines (built in the USA) and fine-tuned and personally tested by the Rogue team.Depending on the look and feel you prefer, there is a version of the Ohio Power Bar right in your wheelhouse. The Zinc option (black shaft, bright sleeves) provides excellent corrosion resistance, the Bare Steel creates a classic look and natural feel, and the new Stainless Steel variation (with Chrome sleeves) strikes a balance between the two.The Ohio Power Bar's quality construction is backed by Rogue's Lifetime Warranty against bending. This is a barbell equipped for high intensity, everyday use. Please Note: The warranty does not cover damage due to negligent or faulty use, alteration, maintenance, storage or handling by the user, i.e., dropping the bar on a box, bench, spotter arms or pins in a power rack, excessive dropping with insufficient or damaged bumpers, or excessive dropping with iron plates, and similar usage. Any specific issues regarding a Rogue product with which a customer is not satisfied will be reviewed on a case-by-case basis.
Every garage gym that is worth its weight has a nice collection of barbells and Cort's is no different.
The bars that get used most often are two Stainless Steel Rogue Ohio Powers. We've reviewed these in the past and they are one of the most used bars in our gym as well.
The Rogue Ohio Power Bar features high tensile strength with one of the best knurlings in the industry. Cort has a 45 LB and 20 KG version so he has all his bases covered.
In addition to the OPB's, Cort has a Rogue Westside Power Bar that has a slightly more aggressive knurl than the OPB's as well as a Rogue Ohio Bar for general training and a Buddy Capps Texas Deadlift Bar.
We love the variety of Olympic Bars in Cort's gym known as the IronBorn Strength Club. If there was one thing we'd suggest, it would be to add some specialty bars like some of the best trap bars. They add a lot of variety to your training and are honestly just fun to use.
Weight Plates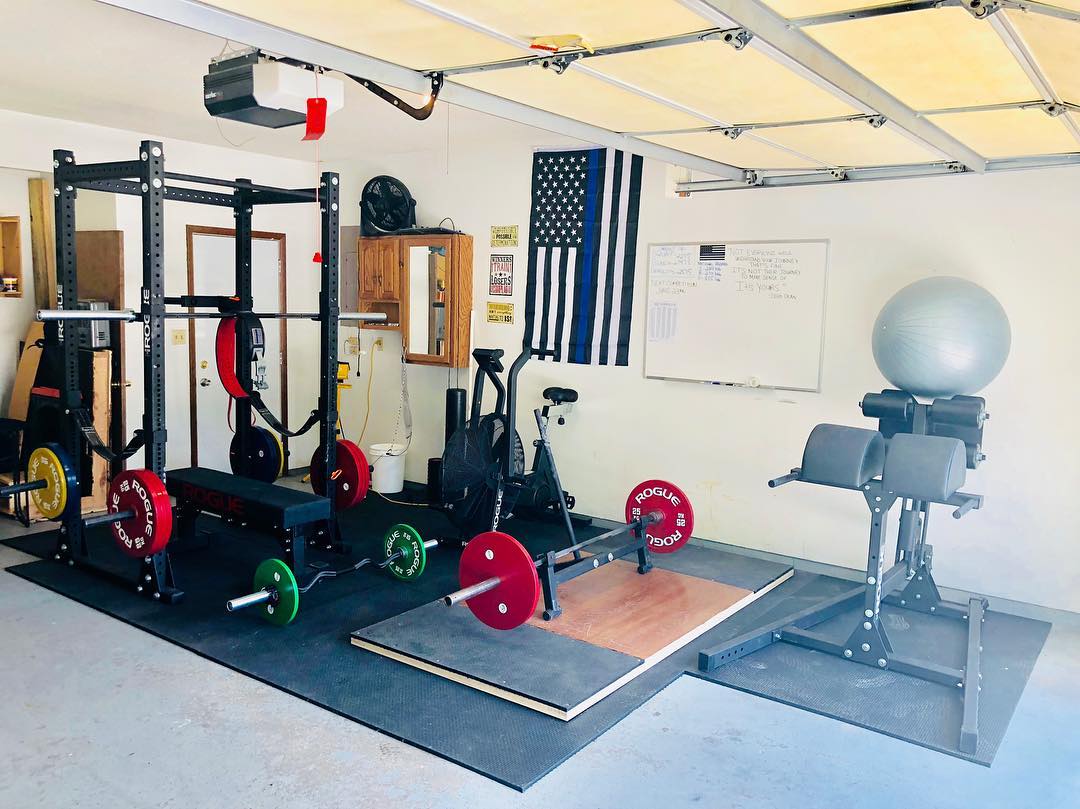 Powerlifting Plates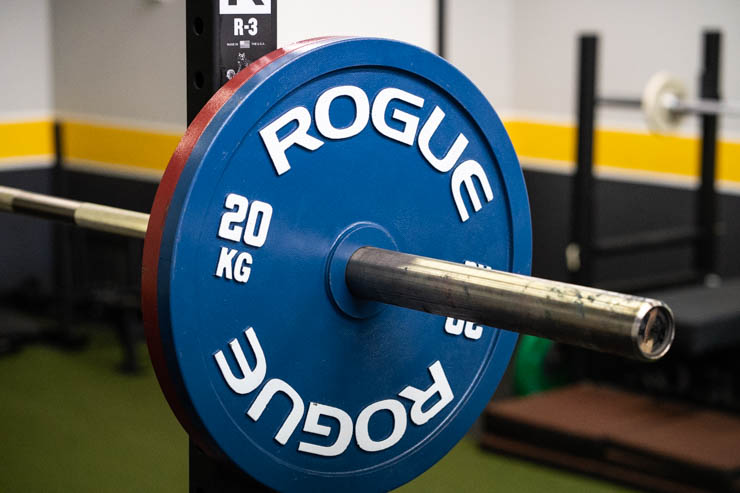 Rogue Calibrated KG Steel Plates
Machine calibrated for next-level precision, these durable cast-iron KG plates are accurate to within 10 grams in weight. Each disc is cut thin to allow for max loading capacity (up to 700+KG) and color-coded for easy identification from a distance. There are also calibration plugs on the back of each plate to allow for even greater precision. These plates feature a 50MM center hole for a snug fit on your barbell, and as a result may not fit on some cheaper barbells not held to spec. You can order your Rogue Calibrated KG Steel Plates in pairs or as a full set using the order column on this page.Specifications:Steel Powerlifting KG Discs Machine calibrated to within +/- 10 grams Calibration plugs on back of plates for increased precision 50MM collar opening for a snug fit. Thin Design for 700+KG load capacity Exclusive Rogue branding IPF Approved
The only plates Cort has in his gym, and the only plates he needs, are the Rogue Calibrated KG Steel Plates.
We have a full 459KG set of these as well and havereviewed them with great remarks in the past. The Calibrated Plates from Rogue are known for being extremely accurate, being able to take a beating (although expect the paint to chip) and priced as well if not better than most of the competition.
If you powerlift and plan to compete like Cort does, it's helpful to use the same equipment in practice as what you'll use on gameday. Cort has more than enough weight for himself to use, but does say he sometimes runs out of plates if he has a training partner with him.
Miscellaneous Equipment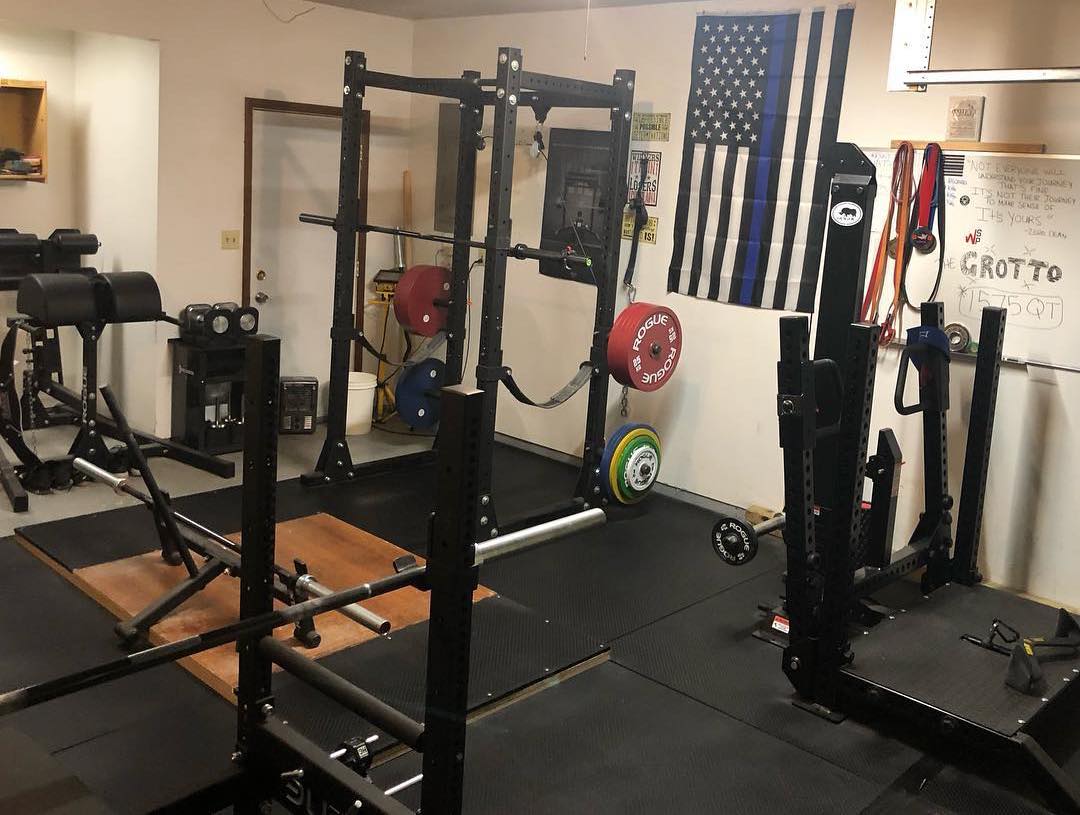 Belt Squat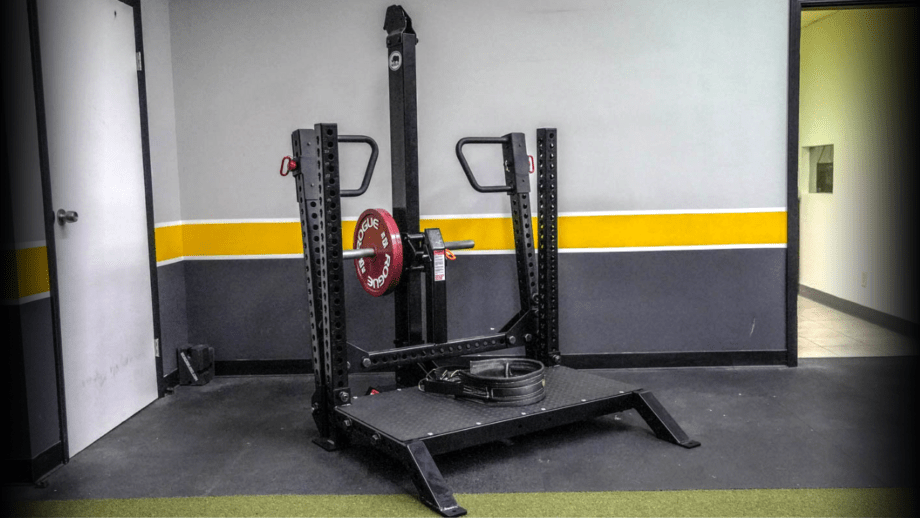 Rogue Monster Rhino Belt Squat
The freestanding version of the Rogue Monster Rhino Belt Squat (patent pending) requires no separate rack/rig for set-up, as the system includes a pair of 53.925" steel legs for mounting and two angled 3x3" front feet for platform stability. This compact unit can be set up in garage gyms, low-ceiling home gyms, or full-scale facilities, offering athletes the ability to get many of the lower body training benefits of squats and other workouts without putting unnecessary stress on the shoulders or lower back. See Also: The Rack-Mounted Drop-In Rhino and Rhino + RM-3 Rack packageManufactured in Columbus, Ohio, the stand-alone Monster Rhino Belt Squat comes with 3x3" arms and crossmembers, a 3x6" weight trolley tower, and a 0.25" braided cable for raising/lowering the weight trolley. When not in use, the trolley is stored on a 1" thick UHMW plastic hook, or "Rhino Horn." A diamond-tread plate platform provides steady footing, adjustable handles offer overhand and neutral grip options, and a Spud Inc Belt Squat Belt (exclusive to Rogue) accommodates most heights and waist sizes. The entire unit (aside from the platform, handles and weight posts) is finished in our Medium Gloss Black powdercoat.Our innovative weight trolley design (patent pending) features two stainless steel, horizontal weight posts with 15.75" of loading capacity on each side. A set of (4) machined Acetal rollers, each containing (2) bearings, ensure the trolley moves smoothly up and down the rail. Laser-cut Rogue branding is featured on each side, and the tower includes a Rhino sticker on each side, as well.The platform of the Monster Rhino Belt Squat is made from 0.125" thick diamond tread plate and is finished in our Signature Texture Black powdercoat to provide advanced durability and a non-slip surface. The tread plate sits on top of a 1" x 3" steel frame and attaches to 3x3" front feet for additional stability and rigidity. The platform dimensions are 26" deep x 48.5" wide. When the unit is installed, the top of the platform sits 7" above the ground.This is a 1" thick UHMW plastic horn, sandwiched between steel plates, that holds the trolley when not in use. The Rhino Horn is adjustable up and down so that the "racked" or resting height of the trolley can be accommodated to specific users heights.Each Rhino unit includes a custom designed Spud Inc Squat Belt that is only available through Rogue Fitness. This belt features 3 heavy duty triangle D rings on each end, so it will accommodate a variety of user waist sizes and heights. A black carabiner is included for connecting the belt to the cable that comes up through the platform.Additional Specifications:Made in the USA Patent Pending Freestanding Version (does not require existing rack/rig) Ships Freight, Some Assembly Required Height of Tower (from floor): 78.5" Height of Platform (from floor) 7" Footprint: 53" x 60.5" (2) Weight Posts with 15.75" loading capacity on each Unloaded Trolley Weight: 27.5LB (+/- 1LB) 3x3" Arms and Crossmembers (2) Welded-On Band Pegs for resistance work
Cort has quite a few other pieces of equipment that stand out, most notably, the Rogue Monster Rhino Belt Squat.
We have a full review of the Rogue Rhino that you can find here, but suffice it to say, this is our favorite belt squat currently available. It has a great combination of features for the price and is one of the most versatile pieces of equipment in our gym. Cort uses his Rogue Rhino for belt squats, but also for calf raises, lat pulls, curls, and more. The Rhino also doesn't take up too much space so it fits well in a garage gym. Although pricier than other options like the SquatMax MD (which we honestly prefer for just squatting) the Rhino simply can't be beaten for its level of versatility by competitors.
Best Air Bike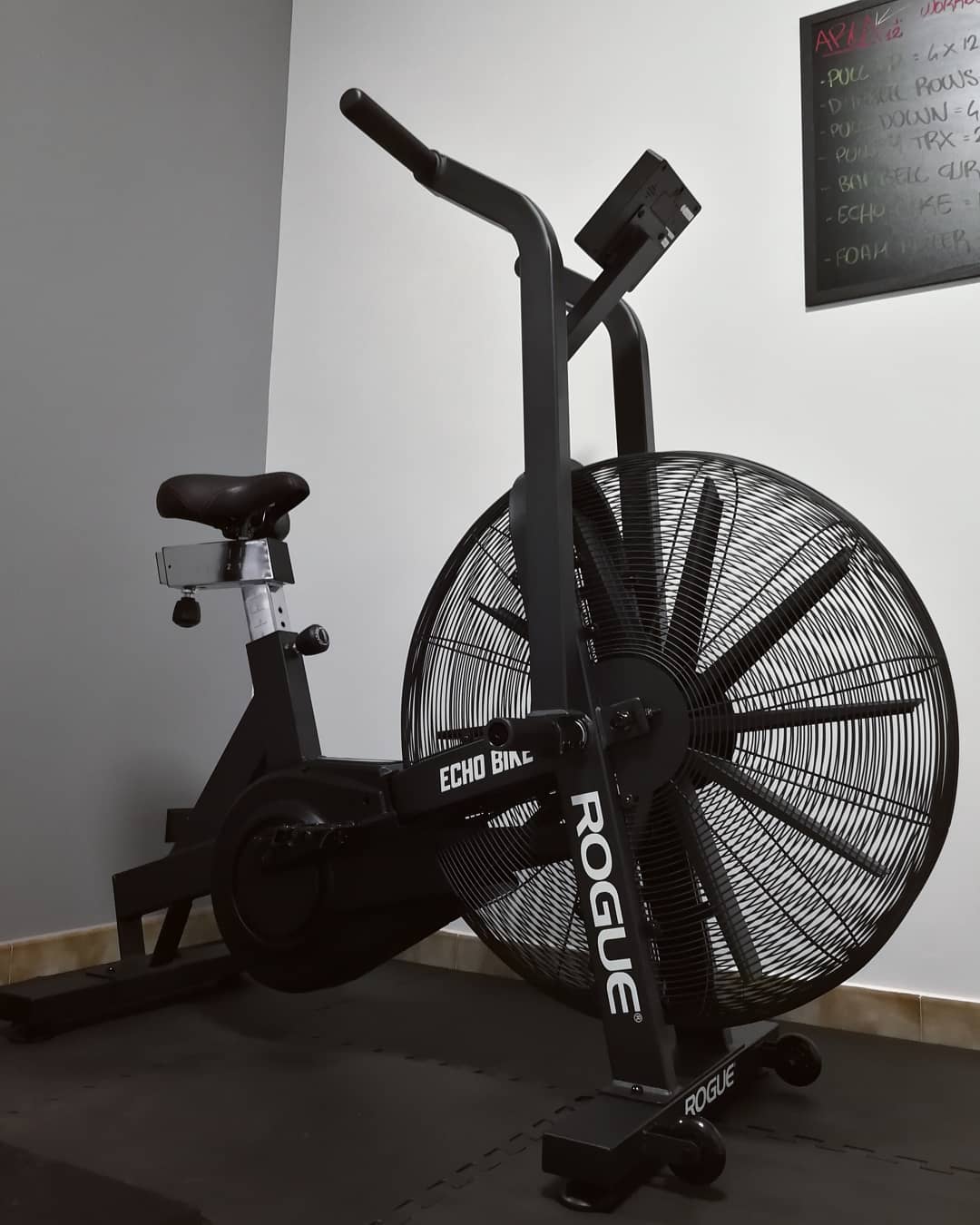 Rogue Echo Bike
The Rogue Echo Bike combines heavy-duty steel, precision engineering, and convenient customization to forge a stronger, sturdier fan bike.Overbuilt for a Smoother RideThis overbuilt 127LB, 350LB weight limit unit provides a rock solid foundation for max output bursts, while still offering easy portability around the gym via a set of 1" polyurethane front wheels. A quiet, belt-driven steel fan blade produces a smooth, consistent ride, while a high-contrast, battery-powered LCD console allows athletes to track intervals, distance, calories burned, heart rate, and more.Rogue Fitness (Rogue) warrants that the ECHO Bike (Product) shall be free from defect in material and workmanship for a period of two years from the date of purchase when the product is used under normal uses and conditions and as recommended in the User Guide.Weighing in at 127LB, 350LB weight limit, the Echo Bike is not the wobbling breed of exercise bike. Its reinforced steel construction gives it the rigidity and balance to help eliminate sways and bumps during even max output bursts, and the fan's steady response delivers a uniquely consistent, smooth riding experience. For added stability, we've included rubber leveling feet under each base tube. These feet adapt to your flooring and provide added "stick," helping to level the bike even if it's not on a level surface.The mounted LCD console measures 6.375" x 6.375" and features a crystal clear, high contrast display. Athletes can select or create a wide range of modes, including Intervals (20/10, 10/20 or a custom Work/Rest interval), Target (choose a goal Time, Distance or Calories and the console will count down based on your selection), and Heart Rate Tracking (please note that a heart rate transmitter is required to send data, but is not included). The console runs on two AA batteries, which are included.The Echo Bike is built with a range of durable steel tubing (2x3", 1.25x3", and 1.625x3.125" steel finished in a texture black powdercoat. The adjustable padded seat locks into 8 different height settings and 5 front-to-back settings, and the 1.5" diameter rubber grip handles are welded directly to the bike's arms for added rigidity. A steel step plate is provided along with knurled 4.5" long rotating foot pegs and rubber-tread pedals. The fan itself is a belt-driven, precision steel blade.Assembly is required to set-up the Echo Bike, but all necessary tools and black hardware are included standard with your order, along with easy step-by-step guidelines. While the fully constructed bike is a beast, we've included a set of 1" wide polyurethane wheels at the front of the unit, allowing it to be rolled around the gym or stored out of the way with ease.Additional Specifications:Patent Pending Design Quality Steel Construction for Dependable Stability Height: 52.75" (to top of handles) Length: 58.875" (overall with seat in position furthest from fan cage) Width: 29.875" (at handles - widest point) Footprint: 44.5" x 23.75" LCD Console Display (Batteries Included) with customizable modes Belt Driven Steel Fan Adjustable Seat with 8 height and 5 front/back settings 1.5" diameter rubber grip handles Rubber-tread Pedals Texture Black powdercoat finish Rubber Leveling Feet All Hardware & Assembly Tools Included Weight: 127LB, 350LB weight limit
The other piece of equipment that stood out to us from Cort's Home Gym was the Rogue Echo Bike. This is another piece of equipment we reviewed when it was released and it even made the top pick for the Best Air Bike guide.
The best way to describe the Echo Bike is it's like Rogue took a squat rack, chopped it up, and turned it into an air bike. It's that beefy and is even sturdy enough for a 600 LB deadlifter like Cort to do max effort sprints on without it shaking. For real, even the fan blades are metal. Who makes metal fan blades?! The Echo Bike is by far the air bike that we recommend most often. So, if you're in the market for one, check it out. Cort approved.
Best Adjustable Bench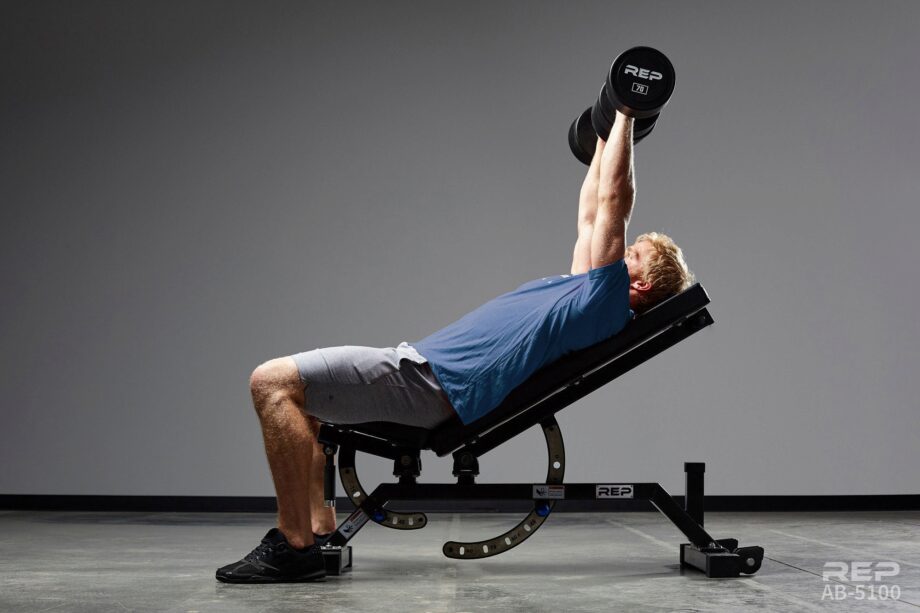 REP AB-5100 Adjustable Bench
Simple, stable and strong as an ox, the AB-5100 version is perfect for commercial gyms that just need a heavy duty adjustable bench, or someone who wants the best for their garage gym. Commercial grade features include an 11 gauge steel frame, high end metallic and hammertone color paint finishes, rock solid stability, thick vinyl and padding, laser cut numbers, and more. A full FID bench with the optional decline attachment, the solid steel pin locks into place at multiple angles for any bench workout - incline, decline, or flat. With other inferior benches at over twice the price - make the smart choice and go REP.11 gauge steel frame with a 1,000 lb capacity 7 back pad adjustments and 4 seat pad adjustments with laser cut degree markings on a stainless steel wear guard 17.5″ to top of pad in flat position. 12" pack pad width. 3 large steel supports on the back pad and 2 on the seat pad for rock solid stability. Pivoting urethane grip handle and wheels for easy maneuverability Simple 20 minute assembly with a wrench and allen key (provided). 4 bolts attaching the base to frame, and 8 bolts attaching pads to frame. Everything else is pre-assembled
In addition the the equipment mentioned, Cort has the Rep AB-5100 Adjustable Bench. He said he chose the bench based on our review of the AB-5000 Zero Gap and wishes he would have spent a bit more for the one we have. The 5100 has all of the same features as the Rep AB-5000 Zero Gap, but without the sliding seat.
Regardless, the 5100 is an awesome bench and honestly, one of the best value incline benches on the market. And, because it's red, it matches his ER Combo Rack and new Monster Rack.
The other bench Cort has is a Rogue Monster Utility Bench with a Thompson Fat Pad. That makes for four places to bench from in Cort's gym and probably why he benches almost 400 LBs.
Lastly, Cort has a set of IronMaster Adjustable Dummbells that can be used for everything from weighing his Combo Rack down to being used for incline bench, dumbbell rows, curls, and other more isolated movements.
Sergeant Cort's Best Lifts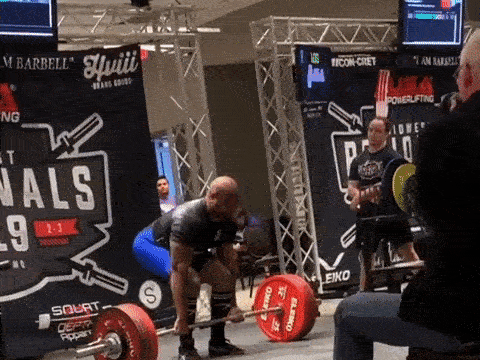 Although we're unsure of exactly what Cort's best lifts are, his latest meet proved to be impressive.
His results gave him 2nd Overall at the 2019 Midwest Regionals by the USA Powerlifting Federation where he went 8/9
His numbers were:
Squat: 491 LB – 507 LB – 524 LB
Bench: 336 LB – 352 LB – 369 LB
Deadlift: 573 LB – 606 LB