We test and review fitness products based on an independent, multi-point methodology. If you use our links to purchase something, we may earn a commission. Read our disclosures.
Sun Home Sauna knows that regular sauna sessions may offer health benefits—according to studies1—including improved cardiovascular health, increased blood flow, detoxification, and mental health benefits, to name a few. That's why their product line is stacked with infrared sauna options, traditional saunas, infrared sauna blankets, cold plunge tubs, and red light therapy devices.
We had the pleasure of testing out one of Sun Home Sauna's top-of-the-line infrared options, the Sun Home Luminar Outdoor 5-Person Full-Spectrum Infrared Sauna specifically. We wouldn't call the experience flawless by any means, but it was overwhelmingly positive.
Buying one of the best home saunas is an excellent investment in your health and wellness. Check out our full Sun Home Sauna review to find out the nitty gritty regarding our experience using the Luminar, giving you everything you need to make an informed purchasing decision.
The Best Testers for Hot Products and Cold, Hard Facts
Our team here at Garage Gym Reviews has been diligently testing dozens of the market leaders to offer you honest insight, just as we've done for nearly a decade on all things fitness.
Lindsay Scheele, GGR's Lead Reviewer of Garage Gym Reviews Everything, put her blood, sweat, and tears into testing the Sun Home Luminar Sauna. Well, technically just her sweat, but Lindsay's feedback and extensive experience testing saunas is still invaluable!
Sun Home Luminar 5-Person
GGR Score: 4.3
Community Score: 4
Product Highlights
Outdoor full-spectrum infrared sauna
Only need a screwdriver and included Allen wrench for assembly
Grade-A carbonized all-season wood exterior to prevent warping and cracking
Cedar interior
Panoramic glass windows for view of outside
Requires 240V outlet
Pros & Cons
Pros
Sleek design
Minimal tools for assembly
Outdoor infrared sauna
Full-spectrum infrared
Grade-A carbonized wood
Cons
Heavy
Expensive
More of a 4-person sauna
Requires 240V outlet
Bottom Line
The Sun Home Luminar Outdoor Infrared Sauna has a sleek aesthetic to its design, while also being functional. One of the only infrared saunas that are able to be set up outdoors, this sauna has an exterior built from Grade-A carbonized wood to prevent warping, cracking, and shrinkage of the exterior. This sauna is a full-spectrum infrared sauna, providing near, mid, and far infrared heat in the sauna.
A Quick Look at the Sun Home Sauna
Sun Home Saunas offers some of the most premium sauna options on the market. They pride themselves on using high-quality lumber and state-of-the-art technology to create and uphold the gold standard for home saunas.
The Sun Home Luminar Sauna we tested illustrates this emphasis on excellence in every facet of its design. From the Grade-A carbonized all-weather wood and panoramic Dura-Glass exterior to the far infrared heaters to the usage of Bluetooth technology and other smart luxe features, this sauna just oozes with decadence. It was an exquisite experience, to say the least!
Before You Buy
Set It and Forget It: Some outdoor saunas are portable. This is not one of them.
I've Got the Power: The Sun Home Luminar draws 240 volts and 30 amps and must be hardwired directly to your electrical panel. You may need to hire an electrician for that.
Things Are Heating Up: The 5 far infrared sauna heaters under the bench combined with the 10 full spectrum cabin heaters heat this thing almost instantly. Expect to reach a toasty 160 degrees Fahrenheit within 10 minutes of turning it on.
Is the Sun Home Sauna Worth It?
Sure, it's cheaper to grab a portable sauna off of Amazon or even a Sun Home Saunas Infrared Sauna Blanket, but will the experience be equivalent?
Heck to the no.
Buying a home sauna is an investment, but we think the juice is worth the squeeze. Saunas may potentially assist with your weight loss goals, help alleviate chronic pain by reducing inflammation, or even improve your skin health by boosting collagen production.
RELATED: Are Saunas Good for Your Skin
The Sun Home Luminar Outdoor 5-Person Full-Spectrum Infrared Sauna costs a whopping $8,899, making it very much an investment if you're ready to shell out that sort of dough, but it's not the only Sun Home Sauna option, nor is it the only infrared option either.
The Sun Home Luminar makes a nearly identical, albeit smaller, version that fits two people, which brings the price down to $7,399. Sun Home Sauna also offers even less expensive options, with the Solstice 1-Person Infrared Sauna taking the title for least expensive of the bunch at $5,299.
Lindsay rates the value of this Sun Home 5-Person Infrared model a 3.5 out of 5 and says, "This is by far the most expensive and yet, from everything I can tell, has the most to offer as well." So, you can certainly do better on the price for an infrared sauna, even if you're staying within the Sun Home brand, but perhaps the premium touches and intelligent design justify the expense.
Great for:
People who like high performance, premium products
People without the square footage for an indoor sauna
People who love technology integration and extras
People looking for a sauna with room for more than two
Not recommended for:
People looking for a budget option
People looking for easy assembly
People who prefer steam rooms to dry heat
Sun Home Sauna Specs
| | | | |
| --- | --- | --- | --- |
| | Luminar Saunas | Equinox Saunas | Solstice Saunas |
| Price | $7,399 to $8,899 | $6,599 to $7,399 | $5,299 to $8,199 |
| Footprint | 82" W x 51.5" D x 82.5" H for the 5-Person | 62.3" W x 45.9" D x 77.7" H for the 3-Person | 74.8" W x 50" D x 70.3" H for the 4-Person |
| Capacity | Up to 5 | Up to 3 | Up to 4 |
| Weight | 1,270 lbs | 670 lbs | 779 lbs |
| Type of sauna | Full-spectrum infrared | Full-spectrum infrared | Far infrared |
| Indoor or Outdoor | Outdoor | Both | Indoor |
| Heat source | 5 far infrared heaters under the bench, 10 full spectrum heaters surrounding the cabin | 5 far infrared heaters, 2 500W full spectrum | 10 far infrared heaters |
| Extras | Ultra low EMF/ELF shielding, carbonized heat-treated wood, mobile-app enabled control system, Bluetooth surround sound system with premium built-in speakers, medical-grade chromotherapy LED lighting | Industry-leading 500W infrared heaters, EMF/ELF shielding with the lowest levels in the industry, Bluetooth surround sound system with premium built-in speakers, Celliant heater covers, medical-grade chromotherapy LED lights | Industry-leading 500W infrared heaters, EMF/ELF shielding with the lowest levels in the industry, Bluetooth surround sound system with premium built-in speakers, Celliant heater covers, medical-grade chromotherapy LED lights |
| Warranty | 6-year limited warranty on carbon heaters, 1-year warranty on components ( cabin, controller, full-spectrum heater, oxygen bar, color light and light strip) | 7-year warranty on cabinetry/heaters, 3-year warranty on controls | 7-year warranty on cabinetry/heaters, 3-year warranty on controls |
Using the Sun Home Luminar Outdoor 5-Person Sauna
Setting up the Sun Home Luminar was a tall order, to say the least.
Once everything was built, installed, and ready to go, however, the experience was nothing short of divine. Lindsay breaks down all aspects of using the Sun Home Luminar below!
RELATED: Benefits of Sauna After Workout
Footprint and Portability
At 82 inches wide, 51.5 inches deep, 82.5 inches high, and a bench depth of 20 inches, Lindsay found the sauna very roomy while sitting by herself. However, when the GGR team put its marketed "5-Person capacity" to the test, it was a different story entirely.
"We were not comfortable with five people in the sauna," says Linsday. "Just real smooshed. They call it a 5-Person sauna, but we think calling it a 4-Person sauna would've been more fair."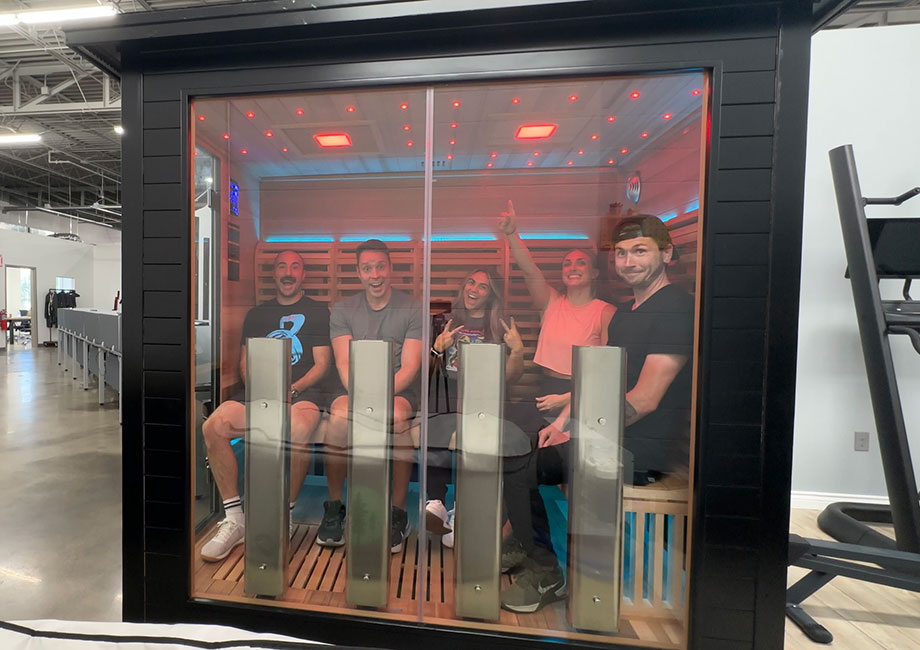 It's also very much not a portable sauna. Moving this 1,270-pound behemoth across your yard seems virtually impossible, and considering it needs to be hardwired to your electric panel, you'll have very little literal wiggle room to move it once installed.
Despite these issues, Lindsay still gave it a 4 out of 5 stars for footprint and portability. The Luminar maybe would have earned a perfect 5 stars if it called itself a 4-Person sauna, but misrepresenting its true capacity is no good in our book.
Durability and Construction
So, why does the Sun Home Sauna weigh so much in the first place?
It's because it's engineered for what Sun Home calls "omni-season durability," meaning this thing is built to last, withstanding even the harshest elements throughout the year.
The cabin is constructed with carbonized wood, also known as thermally-modified or charred wood. Pretreating the wood using this technique makes it tougher and more durable, improving its resistance to decay and insects and enhancing its ability to retain heat effectively.
For using solid materials that are sure to last over the years, Lindsay gave the Luminar a 4.5 out of 5. She only dinged it that half-point for what she considers a slight design flaw in the benches.
"It's a curved bench, which makes lying flat hard on the body after a while," says Lindsay. "[The benches] got a little uncomfortable after about twenty minutes. I also didn't love sitting on them because there's no great place to set your feet."
Performance
Lindsay gave the Sun Home Luminar a perfect 5 out of 5 stars on performance because of the incredible speed and efficiency at which it reached its maximum temperature, thanks to the 5 FIR heaters under the bench and the 10 full spectrum heaters that surround the cabin.
"It took barely ten minutes to warm up completely," said Lindsay, "producing 160 degrees of infrared heat. That's on the lower end compared to traditional saunas, which often go up to 200 degrees, but the infrared rays heat you directly, so it feels just as hot."
If you're looking to reap the benefits of infrared saunas from the comfort of your home, the Sun Home Luminar will deliver that in a sauna experience that's hard to top.
RELATED: Infrared Sauna Benefits
Features and Extras
Saunas are designed to help facilitate stress relief, but the extras incorporated in the Sun Home Luminar's design can make decompressing even easier. Awarding it a perfect 5 out of 5 stars, Lindsay felt the extras were another category in which this infrared sauna truly shined.
"The Sun Home Luminar features a mobile app that functions as a control panel," says Lindsay, "so temperature settings, timer settings, and other features are all at your fingertips."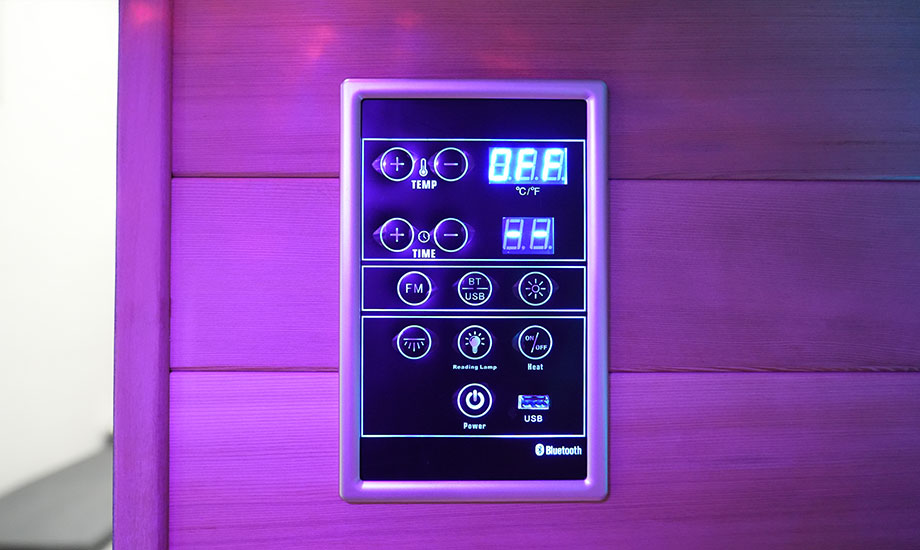 The Sun Home Sauna also features a built-in, Bluetooth-enabled surround sound system, giving you your choice between playing relaxing music, as they do at the spa, or bumping Greta Van Fleet and turning your session into a sauna party, just like Lindsay did.
"There are lighting settings, too," Lindsay adds, "so you have your pick between medical-grade LED chromatherapy lighting or making it feel like you're at a rave. It's up to you!"
Sun Home Sauna vs Redwood Outdoors Sauna
Redwood Outdoors Thermowood Cabin
GGR Score: 3.8
Product Highlights
Outdoor sauna kit

Designed to stand up to the elements

Traditional Scandinavian design 

Constructed from ultra-dry Thermowood timber

Comes with a Harvia heater

Includes bucket and ladle, backrest, sauna rocks, light fixture
Pros & Cons
Pros
Ability to relax and recharge from your backyard
Interlocking lumber for streamlined assembly
Powerful electric heater
2-level seating
Cons
Expensive price tag
Short 1-year limited warranty
Requires 240V for electric heater
Some drilling required for assembly
Bottom Line
Redwood Outdoors is a brand that offers a dozen different outdoor saunas. The Thermowood Cabin is the ideal choice for anyone looking for a four-person sauna that will offer a straightforward assembly with interlocking ultra-dry timber. The sauna features 2-level seating, which is the traditional Scandinavian design so you can choose between low- and high-heat options. The Thermowood Cabin comes standard with a Harvia electric heater, bucket and ladle, backrest, sauna rocks, and an internal light fixture.
Comparing the Sun Home Luminar to the Redwood Outdoors Sauna is kind of like comparing apples and oranges in that one is a deluxe, full-spectrum infrared sauna with loads of bells and whistles, and the other is a more traditional dry sauna.
RELATED: Redwood Outdoors Sauna Review
The Redwood Outdoors Sauna gets an edge out the gate for being less expensive for something so similar in size. The Sun Home Luminar alleges that it can comfortably contain one more person than the Redwood, but we know that's not really accurate.
The Sun Home Sauna gets an edge over the Redwood for being an infrared sauna, which uses a more efficient heating element. You'll spend less time preheating the sauna—ultimately saving on operating costs—thanks to that technology.
Then again, the Sun Home Sauna features no rocks, so you can't pour on the water and make a makeshift steam room out of it the way you can with the Redwood sauna.
RELATED: Wet Sauna Vs Dry Sauna
All things considered, there are a lot of pros and cons to each of these excellent sauna options. Overall, the Sun Home Sauna is going to cost a little more and ultimately offer more luxuries, but the Redwood Outdoors Sauna does just fine and possibly offers a little more authenticity if you're accustomed to traditional saunas or the traditional Finnish sauna experience.
| | | |
| --- | --- | --- |
| | Sun Home Luminar Sauna | Redwood Outdoors Sauna |
| Price | $7,399 to $8,899 | Starts at $5,999 |
| Footprint | 82" W x 51.5" D x 82.5" H for the "5-Person" | 78.75" L x 59" W x 96.75" H |
| Weight | 1,270 lbs | 800 lbs |
| Capacity | Up to 5 | Up to 4 |
| Type of sauna | Full-spectrum infrared | Dry or steam |
| Heat source | 5 far infrared heaters under the bench, 10 full spectrum heaters surrounding the cabin | Electric Harvia heater |
| Warranty | 6 years on carbon heaters, 1 years on components | 1-year limited |
Customer Experience
Lindsay gave Sun Home a 5 out of 5 regarding the customer experience.
"Sun Home offers multiple methods of getting in touch with them on their site. They got back to me within two hours of my inquiry and answered everything I asked and more," says Lindsay. "They were very responsive, and it was a pleasure dealing with them."
The warranty was generous as well, offering a 6-year warranty on the carbon heaters and a 1-year warranty on other components, including the cabin, controller, full-spectrum heater, oxygen bar, color light, and light strip. According to Sun Home, the infrared heaters have an estimated operational life of at least 30,000 hours. That means if you're using your Sun Home Luminar every day, you should still expect everything to hold up for more than a century (you can will it to your grandkids).
Suppose something does go wrong, though. The warranty covers the sauna in its entirety, including all heaters, controls, electrical components, wood, and the sound system.
Ordering and Assembling the Sun Home Sauna
Ordering is made easy through Sun Home's website. Your purchase is also eligible for financing through Affirm, with monthly payments as low as $309 with 0% APR, which means you can clinch a no-sweat deal on this premium sauna without having tons of cash on hand.
On the other hand, Putting together the Sun Home Luminar is not as easy a task, not by a long shot. The sauna arrives in a 6-foot by 8-foot crate, and because of its sheer size, it's a toss-up whether or not the delivery driver will have what's needed to actually unload it.
Your woes will only compound once it's off the truck, as now you're tasked with opening the crate and building the sauna. Lindsay did her darndest, but it wasn't long before several GGR team members were recruited to make the mission more manageable.
We wound up with two people holding one wall vertically, two people holding the other wall, and a fifth person screwing the two walls together.
"The assembly process itself was actually pretty simple," says Lindsay, "but the prefabricated pieces were very heavy, so we definitely recommend asking for help to build this one."
For these reasons, Lindsay gave the delivery and setup 3 out of 5 stars.
Customer Reviews
Sun Home is proud to share that the Luminar was named the "Best Outdoor Sauna in the World" by Sports Illustrated, but, as a newer product, we could not find any reviews by actual customers. Though, we will note that the reviews on the manufacturer's website are glowing.
Final Verdict of Our Sun Home Sauna Review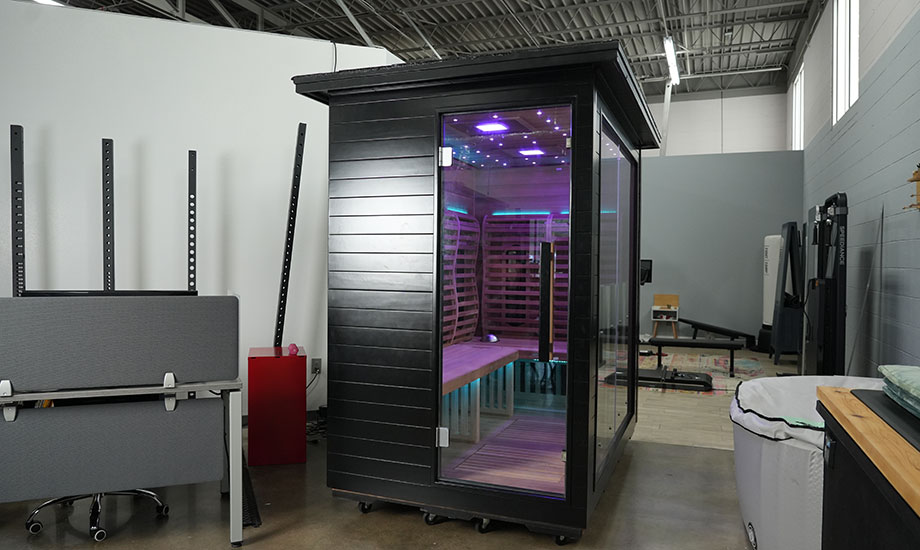 There's a lot to love about the Sun Home Luminar, including its:
Spacious interior
Durable build
Performance precision
Excellent integration of extras
Exceptional warranty
It's a strong contender for the best infrared sauna on the market, but it's not all sunshine and rainbows, as it comes with a hefty price tag and requires a ton of effort to put together.
Once you do manage to get it set up, you won't have to wait long before it reaches your desired temperature, and you'll then be able to get some much-needed heat therapy and pain relief after the arduous and labor-intensive installation. It's totally worth it in the end.
"Overall, I enjoyed this sauna a lot," says Lindsay. "I would for sure take this home with me."
Sun Home Sauna Full Rating
Sun Home Luminar™ Outdoor 5-Person Full-Spectrum Infrared Sauna
The Sun Home Sauna Outdoor 5-Person Full-Spectrum Infrared Sauna is equipped with 10 full spectrum and 5 far infrared heaters that power up in less than 10 minutes. This sauna is constructed from grade-A carbonized wood for omni-season durability, has a panoramic dura-glass exterior, and is mobile-app enabled for easy adjustments.
Product Brand: Sun Home
Product Currency: $
Product Price: 8899
Product In-Stock: InStock
Sun Home Sauna Review: FAQs
How much does a Sun Home Sauna cost?
Sun Home Saunas offers numerous options for home saunas, with infrared options including the Luminar, which we reviewed above, the Equinox, and the Solstice.
The Luminar is certainly luxurious, featuring a 2-Person version at $7,399 and a 5-Person version at $8,899. The Equinox also touts itself as a premium product, with a 2-Person option priced at $6,599 and a 3-person version at $7,399. Finally, the Solstice positions itself as the most affordable of the Sun Home Sauna options, offering a 1-Person, 2-Person, 3-Person, and 4-Person version priced between $5,299 on the low end and $8,199 on the high end.
Sun Home Saunas also makes traditional saunas, which range in price from $4,295 on the low end to a staggering $14,499 on the high end.
How hot does a Sun Home Sauna get?
Traditional saunas typically reach higher temperatures, nearly 200 degrees Fahrenheit, than infrared saunas, which heats the user directly while keeping the air temperature range lower.
So, the Sun Home Luminar provides the same kinds of benefits as traditional saunas while keeping the air temperature at 160 degrees or below.
Can you use a Sun Home sauna inside or outside?
The Sun Home Luminar Sauna series is designed purely for outdoor use. The Solstice and the Equinox models can be used indoors if you prefer having a sauna inside your home rather than in your backyard.
Sun Home Sauna's traditional saunas also include indoor and outdoor options, meaning every sauna customer should be able to find something that suits their needs from Sun Home Sauna's extensive product line.
References
Hussain J, Cohen M. Clinical Effects of Regular Dry Sauna Bathing: A Systematic Review. Evid Based Complement Alternat Med. 2018 Apr 24;2018:1857413. doi: 10.1155/2018/1857413. PMID: 29849692; PMCID: PMC5941775.