We test and review fitness products based on an independent, multi-point methodology. If you use our links to purchase something, we may earn a commission. Read our disclosures.
I've tested my fair share of foldable cardio equipment. Heck, at one point, I had eight folding exercise bikes stuffed into my home office. However, a foldable elliptical is rare, if not virtually unheard of, unlike folding exercise bikes (try looking them up on Google, and you'll see what I mean).
Luckily for all of us, I've found a vertical folding elliptical to help you save space in your home or garage gym. In this NordicTrack SE9i Elliptical review, I'll let you know what I think about this machine's price tag, features, and overall durability. Plus, I'll give you my thoughts on if this is worth your hard-earned dollars. Let's get cookin'!
The Cardio Queen Is In The House
Cardio machines are definitely my forte. As a former NCAA D1 women's college soccer player, I'm intimately familiar with the ins and outs of all things cardio-related. I've tested a dizzying amount of exercise bikes, treadmills, rowing machines, and ellipticals. I'm in great company, too––the team of expert product reviewers and testers at Garage Gym Reviews has various certifications and specific expertise in nutrition, CrossFit, Olympic weightlifting, powerlifting, and personal training.
Looking For An Alternative To The NordicTrack SpaceSaver SE9i?
Alternative to NordicTrack SpaceSaver SE9i
Product Highlights
Stride lengths from 17" to 22"
Connects to all fitness apps
30-day trial
Quiet magnetic resistance
Space-saving
Pros & Cons
Pros
Accommodates stride length from 17" to 22"
Magnetic resistance
Compact footprint
Connects to all fitness apps (and Netflix)
Cons
5-year warranty is below industry standard
Nearly 200 lbs
Not great for super-short or super-tall people
Bottom Line
A space-saving elliptical that can connect to every fitness app (and Netflix).
Why discontinue one of the best high-quality folding ellipticals? Well, that's beyond us but we're sure NordicTrack had its reason. To start, if you're able to find the NordicTrack SpaceSaver SE9i on Facebook Marketplace or another third party we highly recommend you haggle a sale (as long as it's in good working condition).
If, on the other hand, you want an off-the-assembly-line elliptical for your home gym, we like the Diamondback Fitness 1280ef Adjustable Stride Elliptical Trainer. Although it's not foldable, the Diamondback elliptical is much more compact than your standard elliptical trainer, connects to every fitness app (except NordicTrack's iFIT), and often goes on sale for under $1,000.
A Quick Look At The NordicTrack SE9i Elliptical
Vertical Spacesaver
Product Highlights
Editor's note: This product has been discontinued, though we recommend it if you can find it on the secondary market. 
14" HD smart touchscreen

18-lb flywheel

Incline ranges from 0 to 10%

Foldable design

325-lb user weight capacity

iFIT-enabled with 30-day free family membership

Integrated with Google Maps

Auto-adjust technology
Pros & Cons
Pros
Foldable design
24 levels of resistance
325-lb user weight capacity
iFIT-enabled elliptical
Cons
18-inch stride length not ideal for all users
Shakes a little during use
Small water bottle holder
Fairly large footprint
Bottom Line
The NordicTrack SE9i Elliptical is foldable and comes with interactive workouts via iFIT.
NordicTrack is an industry leader in the cardio space, with a multitude of rowing machines, treadmills, bikes, and ellipticals for sale. Brands like NordicTrack generally update their equipment each year with new features, or will come out with entirely new renditions of older models. Currently, there are six different ellipticals available on the NordicTrack website, with the SE9i being the mid-range option at $1,399.
The SE9i also has a little brother of sorts, the SE7i, which is the other elliptical in the Spacesaver series. The SE7i is $100 cheaper, and has a slightly smaller touchscreen as well as fewer levels of resistance.
My Tips
Check out our NordicTrack Promo Code page for the best coupons and deals!
Want to try out iFIT programming but aren't sure you'll like it? NordicTrack is currently offering a 30-day free trial with the purchase of the SE9i elliptical.
Is The NordicTrack SE9i Elliptical Worth It?
The NordicTrack SE9i elliptical may be a great option for some, but it isn't for everyone. Take a look at who I think should purchase this and who might want something different.
Great for:
People who need a foldable elliptical
Individuals who like interactive programming
Shorter folks
NordicTrack SE9i Elliptical Specs
| | |
| --- | --- |
| Touchscreen | 14-inch HD touchscreen |
| Adjustable incline | 0-10% |
| Levels of resistance | 24 digital resistance levels |
| Flywheel | 18-pound flywheel |
| Stride length | 18 inches |
| Footprint | 80″ L x 32″ W x 67″ H |
| Weight | 218 pounds |
| Warranty | 10-year frame, 2-year parts, 1-year labor |
| User weight capacity | 325 pounds |
| Google Maps | Yes |
| Foldable | Yes |
| Bluetooth connectivity | Yes |
Using The NordicTrack SE9i Elliptical
When researching ellipticals to order, I was curious about folding ellipticals. I've done an entire article on the best folding treadmills, and I've seen folding exercise bikes by the boatload. However, I've never actually seen a foldable elliptical machine in person, which is why I was intrigued to try the NordicTrack SE9i.
Once I stepped onto the NordicTrack SE9i, I was sort of surprised by the slight wobbliness I felt when using the machine. The user weight capacity is 325 pounds, and I don't even weigh half of that, plus, it has oversized levelers on the bottom. It's not a deal-breaking shake, and I recognize this machine is not a commercial option you'd see at the gym down the street. However, I think it is worth pointing out that if you're heavy, you might experience quite a bit more shaking than I did.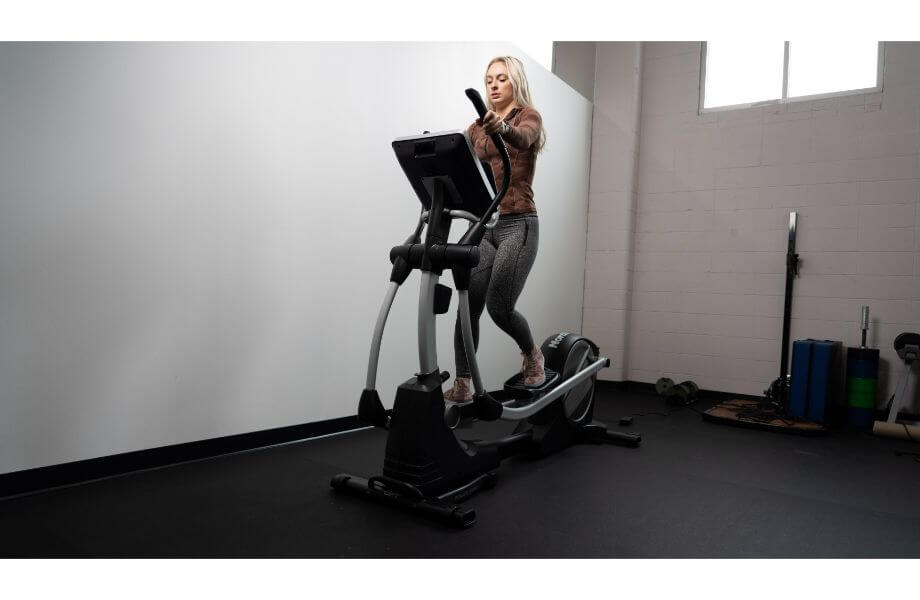 I have to say, I'm a fan of the handle controls on this elliptical. If you don't like taking your hands off of the machine due to balance issues, there are both incline and resistance buttons on the tips of the handlebars.
Next up, the stride length: At 18 inches, the length isn't terrible (between 16-20 is standard). However, if you're 6 feet tall or up, you might feel uncomfortable—almost like you can't take natural steps. Although the website claims the stride length is auto adjustable, I was both unable to find how to do so in the manual, or just by good old-fashioned looking around.
If you're looking for an elliptical machine with a few preset programs and no bells and whistles, this isn't your machine. Although there is a manual mode, the smart HD touchscreen is honestly a waste of money for you if you don't plan to use iFIT (more on iFIT below).
Folding the SE9i
This vertically folding machine folds in half to cut down on its footprint when not in use. Although some customers mentioned they found it difficult to fold, I simply followed the instructions in the manual and didn't have a tough time. Please be warned; NordicTrack wants to make sure you can comfortably lift 100 pounds before folding this machine. If you cannot do so, please grab a few friends to assist you. An elliptical isn't worth getting injured over; I would know.
To fold the machine, pull the knob located in the middle of the machine and grab the upright, slowly lowering it with control to fold. Let go of the knob to allow the upper half of the elliptical to click into place. After doing so, you'll be able to tip the elliptical on its side using the transport wheels to store it vertically.
Rear Drive vs. Front Drive vs. Center Drive
When looking at ellipticals online, you'll notice brands talk about them being front drive, rear drive, or occasionally center drive. In any case, they are simply referring to the position of the flywheel on the elliptical. In this instance, the SE9i is a rear drive elliptical, which means the 18-pound flywheel is located in the back. The industry standard is between 16 and 20 pounds for a high-quality elliptical flywheel, so the SE9i hits the mark in this case.
Although there aren't a ton of crucial differences between rear drive, front drive, and center drive ellipticals, there are a few. You'll generally see the machine is a little bit longer if it is rear drive, with a more natural stride pattern and less incline. A front drive elliptical might have higher incline capabilities, and feel more like a stepping machine versus the smooth stride you'll see in a rear drive machine. Lastly, a center drive elliptical is generally more pricey, but can make the user feel more balanced since the flywheel flanks either side of the machine.
Technology Benefits And Conveniences
Besides the vertical folding feature, the SE9i shines for its iFIT capabilities and touchscreen. I've previously tested iFIT extensively and used a variety of their programming, which includes workouts like strength training, yoga, elliptical classes, running, and rowing.
RELATED: Rowing vs Running
Besides being able to view the programming on the pleasing 14-inch HD touchscreen, you can also take iFIT on the go––it can be downloaded onto any smart device that has app capabilities.
iFIT Membership
At $39 per month (for a family subscription), it isn't the cheapest option, but it does have great programming to up the enjoyment factor on an average workout . In terms of iFIT's use with the SE9i, it is pretty typical. I personally think the elliptical is a little less fun on iFIT compared to other types of classes, but that's more personal preference than anything else.
At the time of this publication (May 2023), you'll receive a free 30-day trial of iFIT with the purchase of the SE9i. It is worth noting that you will have to put in your credit card information to activate the subscription, but you won't be charged unless you continue after the 30 days.
Automatic Trainer Control
Like other newer NordicTrack machines, the SE9i has automatic trainer control, which I think is a nice feature. Essentially, if you have this feature on, you'll be able to select a class and have the instructor change things like your resistance level automatically. If you want to zone out and give a class your all versus fumbling with the controls, this is a great feature for you.
Google Maps
Another popular extra that comes with iFIT? Google Maps! If you're wondering why the heck you'd need Google Maps on a non-moving piece of cardio equipment, I feel you, as I thought the same thing at first.
You're obviously not getting driving directions to the nearest gas station, but instead are able to program runs, walks, or elliptical strides "to" a path of your choosing. I've had friends that used this feature to virtually visit favorite childhood places or towns they hadn't physically been in years (#wholesome).
RELATED: How to move a treadmill
Extras
I have a bone to pick with cardio machines that come with super teeny-tiny water bottle holders. It's almost like they want us to be dehydrated or something. The SE9i is unfortunately one of those machines.
You'll probably get really irritated because you'll only be able to squish a plastic, non-reusable water bottle into the cup holder. I'm someone who only generally uses refillable bottles, so this is a definite pet peeve of mine.
If you're someone who wants to have a place to put your phone while working out, you'll be disappointed in that regard with the SE9i. There is not a place to put a phone or any smart device for that matter. In the NordicTrack SE9i manual, they refer to the water bottle holder as an accessory stand as well, but I'm here to tell you that is straight up malarky. You'll be barely fitting your water let alone your phone, keys, or god forbid, your wallet.
NordicTrack SE9i Elliptical vs Bowflex Max Trainer M6
"Compact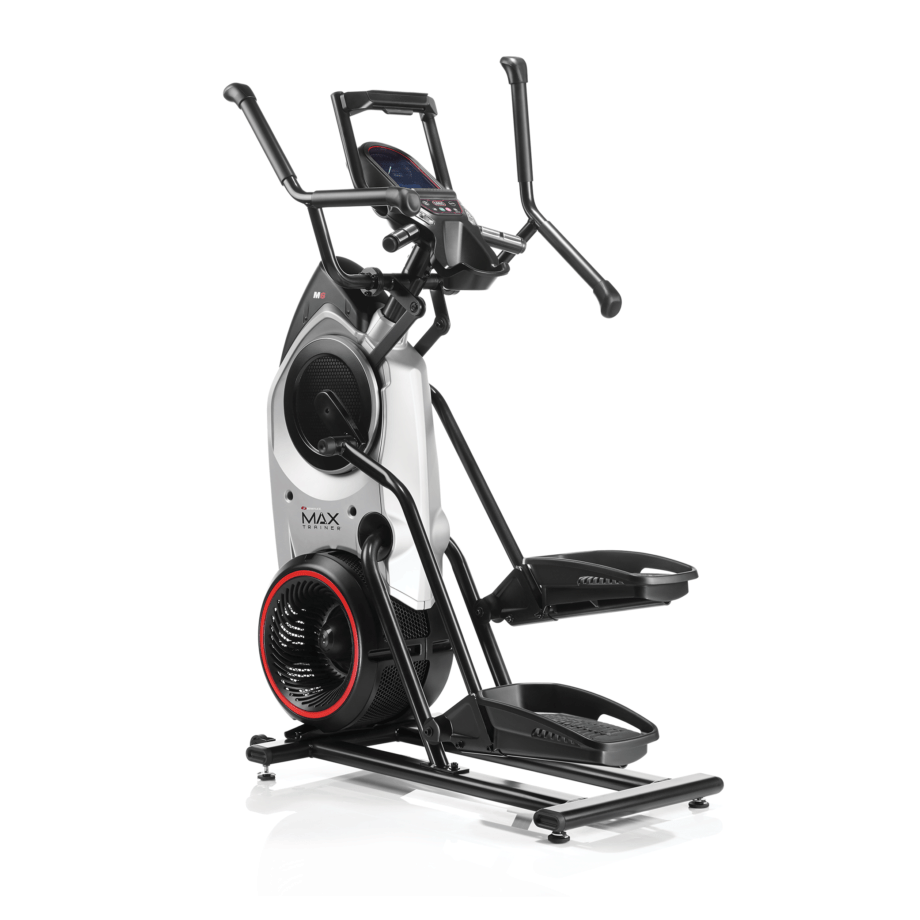 Bowflex Max Trainer M6
The Bowflex Max Trainer delivers full-throttle, high-intensity cardio that progressively gets harder as you get stronger. Challenge yourself with addictive, fast-paced, HIIT-style workouts that skyrocket your heart rate and propel you into the best shape of your life.
The Bowflex Max Trainer M6 is a compact elliptical trainer combo that costs around $1,500. After trying both of these cardio machines, I felt it was only natural to compare them, since they are specifically designed to be compact. While the M6 doesn't fold (the SE9i does), it has a smaller footprint and could be comfortably placed in an apartment or condo. Check out the specs for yourself to see the differences:
| | | |
| --- | --- | --- |
| Machine: | NordicTrack SE9i Elliptical | Bowflex Max Trainer M6 |
| Price | $1,399 | $1,499 |
| Footprint | 80″ L x 32″ W x 67″ H | 46" L x 26" W x 64.2" H |
| Max user capacity | 325 lbs | 300 lbs |
| Weight | 218 lbs | 148 lbs |
| Levels of resistance | 24 levels | 16 levels |
| Warranty | 10-Year Frame Warranty, 2-Year Parts Warranty, 1-Year Labor Warranty | 2-year frame and parts, 90-days labor |
| Programming | iFIT (Currently offering a free 30 days with purchase) | JRNY (Currently offering a free year with purchase) |
Want to learn more about the M6? Check out our full Bowflex Max Trainer M6 review.
Customer Experience
Although the warranty for the SE9i isn't garbage, it definitely could be better. For almost $1,400, I expect a brand like NordicTrack to keep up with the industry standards for ellipticals, and their frame warranty misses the mark at just 10 years. Generally speaking, I want to see 15 years to life (sounds like a murder sentence lol) on the frame to ensure it will hold up for years to come.
Both the labor and parts warranties of one and two years respectively are fine, but I think an improvement needs to be made on the duration of the frame warranty.
In terms of customer service, NordicTrack does have various ways you can contact them. However, I have found they can be slightly slow at responding to questions or concerns in the live chat.
Ordering And Assembling The NordicTrack SE9i Elliptical
Ordering the SE9i elliptical is a seamless process using the NordicTrack site. Simply add the product to your cart and choose to purchase just the machine or a year of iFIT and the machine together to save $72. You'll then have the option to add additional warranty coverage (for an extra fee of course). At checkout, you can choose free delivery or pay $199 for a professional assembler from NordicTrack to bring your new SE9i inside and put it together.
Since the machine is 218 pounds, I'd recommend that most people pay for the enhanced delivery and assembly. However, if you're feeling ballsy, make sure you have adequate help and for heaven's sake, lift with your legs!
Does $1,399 seem like an exorbitant amount of money to pay for an elliptical? I feel you, and NordicTrack does, too. That's why they offer excellent financing options with 0% APR and for as little as $36 per month between 12-44 months.
Although we normally save the assembly process for our Operations Manager and expert assembler Sam "asSAMbly" Presley, we sprung for white glove delivery service on the SE9i.
Customer Reviews
According to Amazon, the NordicTrack SE9i Elliptical has an average rating of 3.5 out of 5 stars with around 40 reviews written. Pleased customers enjoyed the touchscreen, cooling fan, and iFIT capabilities.
Others were less enchanted with their recent purchase, stating the machine seemed flimsy, was difficult to fold, and was hard to assemble solo.
Final Verdict of the NordicTrack SE9i Elliptical Review
The NordicTrack SE9i Elliptical is a cardio machine I'd recommend for a specific crowd. It fulfills its purpose as an elliptical that is able to be folded, which is rare. Plus, I'm a big fan of the compatible iFIT programming, and think most will be, too (if you're willing to pony up for the monthly subscription fee).
NordicTrack SE9i Elliptical Rating
NordicTrack SE9i
Looking for a folding elliptical? Check out our NordicTrack SE9i review for all the details on this unique piece of cardio equipment.
Product Brand: NordicTrack
Product Currency: USD
Product Price: 1399.00
Product In-Stock: InStock
NordicTrack SE9i Spacesaver Review FAQs
Are NordicTrack home ellipticals worth it?
If you're looking for a high-quality cardio machine made from a brand you can trust, they are worth it. Of course, the price of some of NordicTrack's machines can be out of reach for some, but that's why they have excellent financing options so you can purchase the best elliptical for you.
Can I use my NordicTrack elliptical without iFIT?
Although you can use the space-saving NordicTrack SE9i without iFIT, I'd probably recommend a less expensive option because you'd be paying for a screen you don't need. Unlike less expensive ellipticals, there aren't preset workout programs available unless you are paying for iFIT.
Does the NordicTrack Spacesaver SE9i elliptical have a heart rate monitor?
Previous iterations of the SE9i came with an included chest strap heart rate monitor. However, the most recent edition has wireless heart rate monitors on the inner handles. Simply grasp them while you're working out to get a read on your heart rate! These grip pulse sensors aren't the most accurate, so beware of that.
Are iFIT workouts like having a personal trainer?
Although your iFIT coach cannot actually see you, they do give helpful cues throughout the workouts to help correct potential form issues or encourage you to keep going through a tough set. It can also automatically adjust your speed and incline to take the guesswork out of a workout for you—another nice touch.