We test and review fitness products based on an independent, multi-point methodology. If you use our links to purchase something, we may earn a commission. Read our disclosures.
Just about anyone who knows anything about cardio equipment has heard of NordicTrack. The brand has been a mainstay in the industry for decades, producing high-end machines that don't have jaw-dropping prices.
We've gotten our hands (and feet) on the best NordicTrack ellipticals on the market. In fact, our team of certified personal trainers, cardio junkies, and fitness-loving gearheads has thoroughly tested more than three dozen NordicTrack cardio machines. Here's a look at our favorites from NordicTrack as well as the low-down on the other ellipticals you'll find online.
The Best NordicTrack Ellipticals
Best Overall NordicTrack Elliptical: NordicTrack AirGlide 14i
Good for: Someone who wants top-of-the-line features and programming on an elliptical machine
We previously had the NordicTrack Commercial 14.9 on top this list, but in the summer of 2023, it got an upgrade and a new name and is now the AirGlide 14i. It still makes waves on our best ellipticals list. Why? It has, well, everything: incline AND decline capabilities, interactive programming via iFIT, an adjustable stride length, an impressive 14-inch smart touchscreen, and 26 levels of resistance.
(Takes breath.)
Lindsay Scheele, who is our lead reviewer on Garage Gym Reviews Everything, did a 25-minute workout on the AirGlide and rated it a 5 out of 5 for her workout experience. "This is such a solid machine," she says. "My only complaints are that the handlebars could use additional grip positions, and that during incline adjustments, the motor is loud enough that you hear it over the music."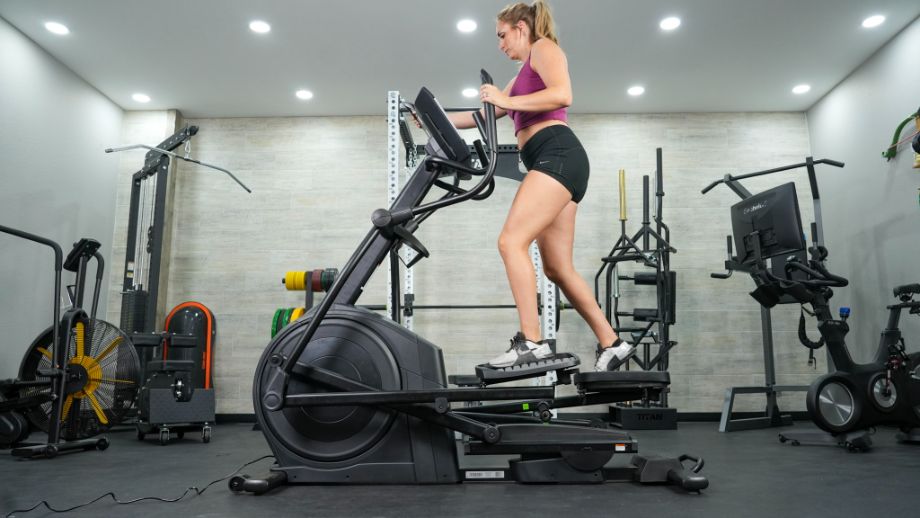 The AirGlide also features cushioned pedals, a cooling fan, and very comfortable grips on both the moving and stationary handlebars.
I personally used the previous iteration, the Commercial 14.9 for a number of elliptical HIIT and steady-state workouts. Other members of our team have tested this model as well as its little sibling, the NordicTrack Commercial 9.9. We all agree that the line provides a smooth workout, and the iFIT workouts are a fantastic way to work toward your fitness goals. iFIT is NordicTrack's streaming workout app that pairs with equipment like the AirGlide to put you through immersive exercise experiences.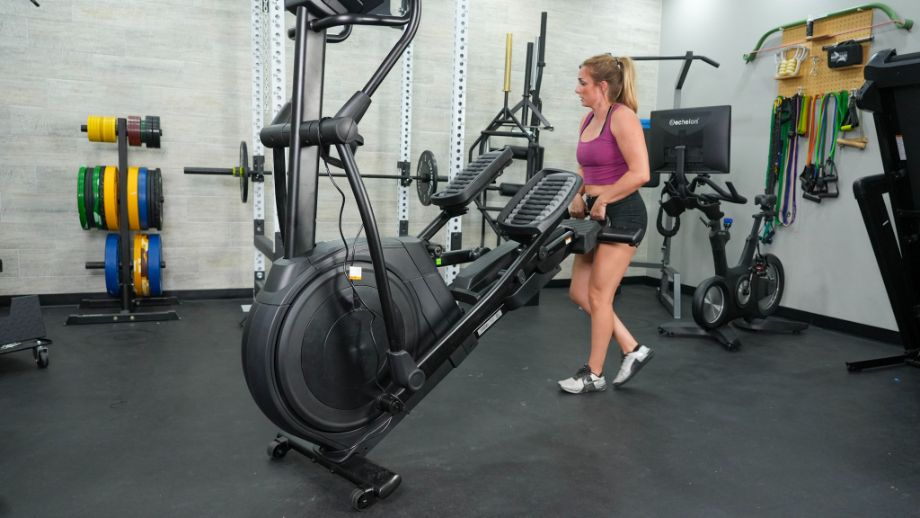 The downsides? Well, this is one of the most expensive ellipticals in NordicTrack's lineup, clocking in at just under $1,800 (though financing is available). And the brand will void your warranty if you store the machine in the garage.
Also, we were bummed that the change from the 14.9 to the AirGlide brought about a shorter adjustable stride (from a top end of 20 inches down to 18.5 inches) and a lower weight capacity (down to 300 pounds from 350 pounds).
For more, check out our full NordicTrack AirGlide 14i review.
| | |
| --- | --- |
| Key Feature | Compatible with iFIT on a 14" touchscreen |
| Footprint | 69″ L x 25″ W x 71″ H |
| Resistance Levels | Auto-adjust silent magnetic resistance |
| Extra Features | Cooling fan, cushioned pedals, dual speakers, Bluetooth audio, water bottle holder |
Best High-End NordicTrack Elliptical: NordicTrack FS14i
Good for: Someone looking for a highly versatile, feature-packed elliptical
The NordicTrack FS14i has it all and does it all. It's a center-drive elliptical, which means the flywheel is positioned in the middle of the machine and the foot pedals move in front and behind it. This lends itself nicely to the FS14i's versatility, as you can use it as a stair-stepper, as an elliptical, or even as a treadmill.
With a 14-inch touchscreen, the FS14i syncs with iFIT programming to unlock literally thousands of workout classes at your fingertips. iFIT also controls this machine's resistance (26 digital levels) and incline (-10% to 10%) so you only need to focus on the exercise, not button-pushing. If you need to make your own adjustments, the FS14i has easy-to-use buttons on the handles (this was one of our product testers' favorite features).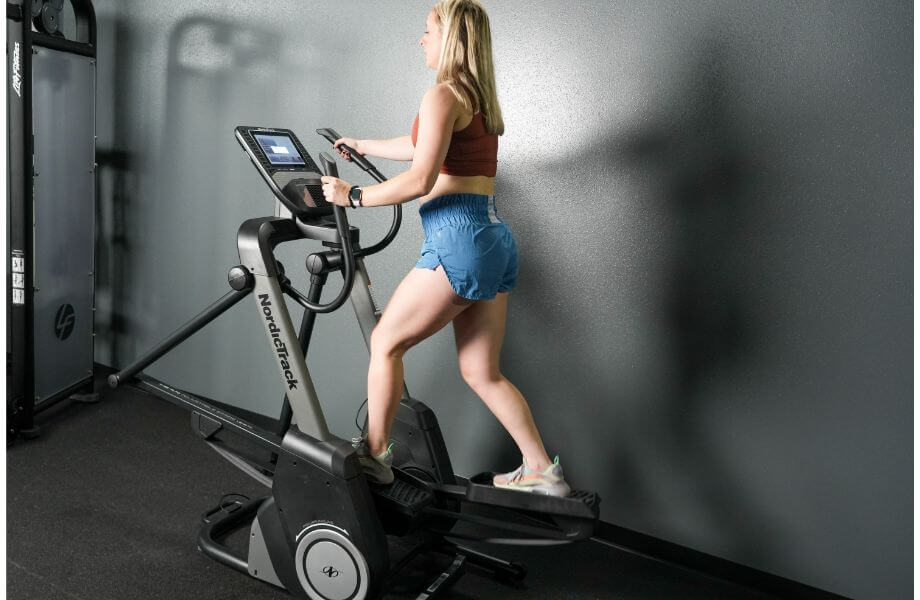 As a high-end elliptical, the FS14i has essentially everything you could ask for from a cardio machine: water bottle holder, Bluetooth audio capability, a cooling fan, cushioned pedals, an adjustable stride length of a whopping 32 inches, and commercial-grade steel construction.
One drawback to this elliptical is its footprint. When it isn't in use, this compact elliptical measures just under 5 feet long. However, as the pedals move back and forth, the space the machine consumes expands by multiple feet in each direction thanks to that 32-inch stride. It's worth noting that when assembling the FS14i's little sibling, the FS10i, our team found the process to be cumbersome.
| | |
| --- | --- |
| Key Feature | 3-in-1 machine with high-end conveniences |
| Footprint | 58.5″ L x 29.5″ W x 74″ H |
| Resistance Levels | 26 digital resistance levels |
| Extra Features | Water bottle holder, cooling fan, cushioned pedals, adjustable stride, Bluetooth audio, incline and decline capabilities |
Best NordicTrack Elliptical With iFIT: NordicTrack Commercial 9.9
Good for: Exercisers looking for an integrated, interactive workout experience
A key selling point for just about any NordicTrack cardio machine is iFIT. This immersive, streaming app delivers thousands of live and on-demand elliptical workouts directly to your machine. The app will automatically adjust the machine's settings so you don't have to fumble with buttons as you climb hills or increase resistance.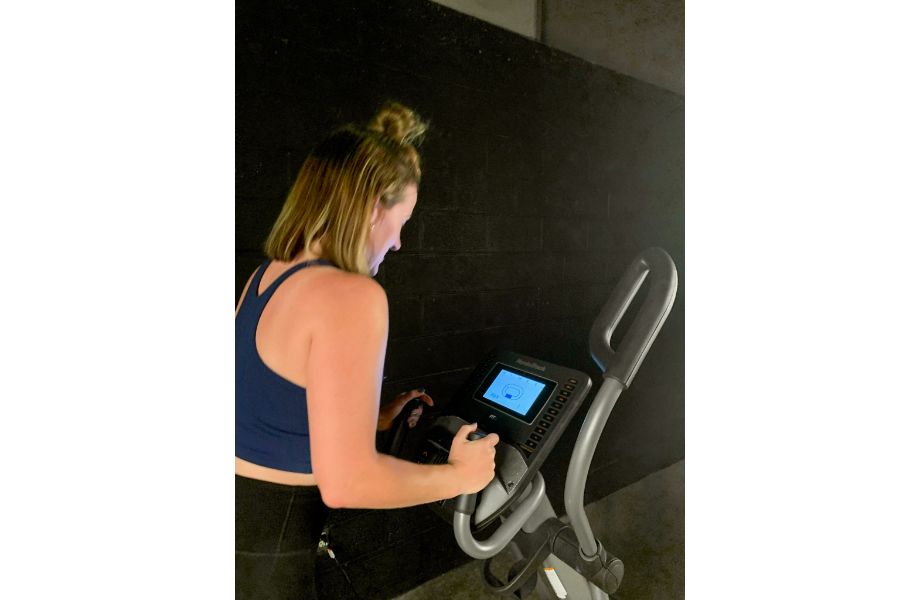 Fantastic, trainer-led programming aside, the 9.9 is a solidly built machine that didn't move an inch while our testers put it through workouts. It features a 25-pound flywheel and a 350-pound user weight capacity. We also like the adjustable stride length that moves between 17.5 and 18.7 inches, accommodating people of most heights.
Part of what makes the 9.9 so solid is the steel construction, which results in a cardio machine that weighs almost 250 pounds. In other words, it's heavy and hard to move. Plus, we found in assembling the 9.9's big sibling, the Commercial 14.9, that you might be better off paying the professionals to put it together.
| | |
| --- | --- |
| Key Feature | Machine is "free" with a 4-year iFIT membership |
| Footprint | 68.25″ L x 28.75″ W x 68.5″ H |
| Resistance Levels | 22 digital resistance levels |
| Extra Features | Adjustable stride, cooling fan, Bluetooth audio capability, water bottle holder, cushioned foot pedals |
Best NordicTrack Elliptical for Cross-Training: NordicTrack FS10i
Good for: Someone who wants the effects of an elliptical, treadmill, and stair climber in one machine
The NordicTrack Freestride 10i is a true cross-trainer: Use it as an elliptical, a treadmill, or as a stair-stepper. Thanks to the pedals' versatility and moving handlebars, you can work all major muscle groups in multiple ways with just one machine.
What's more, this freestride trainer doesn't require the push of a button to switch gears. You simply start running, gliding, or stepping, and the oversized, cushioned pedals automatically adjust.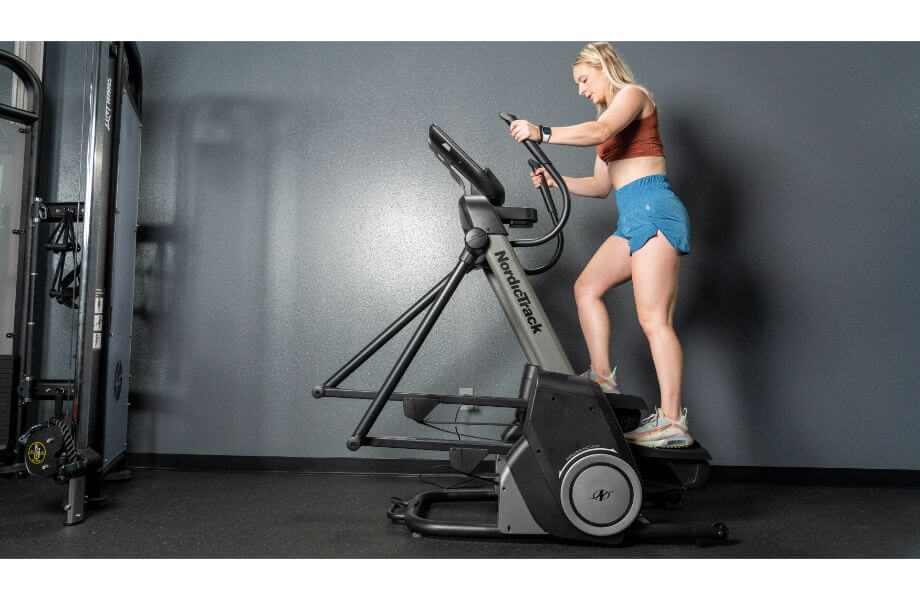 As we have come to expect with NordicTrack machines, the FS10i is compatible with iFIT and comes with a free 30-day trial. The app has countless workouts taking you on runs around the world, all of which is broadcasted on the FS10i's 10-inch high-definition touchscreen.
Our team found the FS10i to be incredibly stable, which you might not expect from an elliptical with essentially free-swinging pedals. The stability is due in part to the machine's steel construction. And that steel construction is why this elliptical weighs 285 pounds and is difficult to move and assemble.
To learn more, check out our in-depth NordicTrack FS10i review.
| | |
| --- | --- |
| Key Feature | Use as a stepper, elliptical, or treadmill |
| Footprint | 58.5″ L x 29.5″ W x 74″ H |
| Resistance Levels | 24 digital levels of resistance |
| Extra Features | Water bottle holder, cushioned pedals, Bluetooth audio capabilities, cooling fan |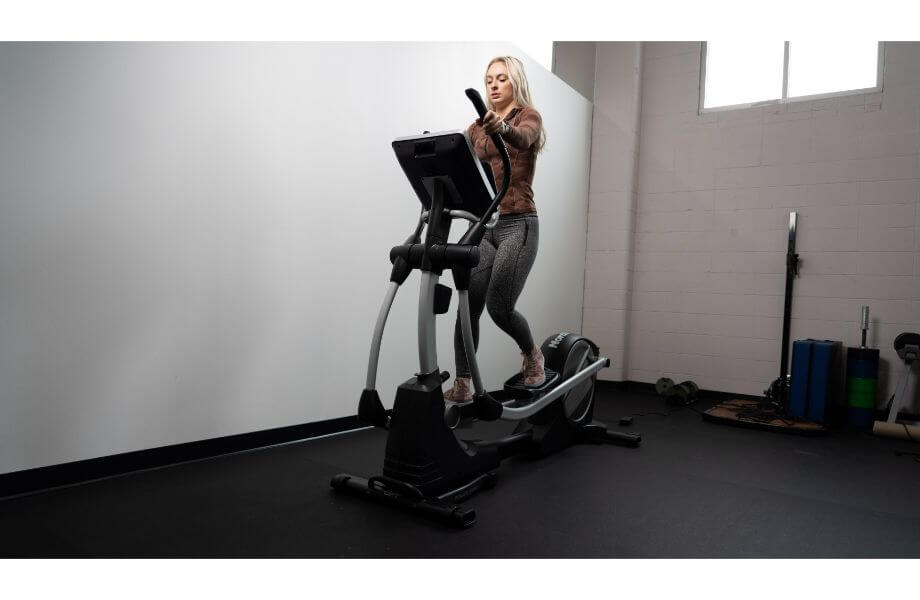 How We Test Ellipticals
Our product testers put elliptical trainers through a comprehensive series of tests to determine each one's overall value and functionality for home gym owners. Some of the key factors we look at include:
Stride length
How long is the stride? Very short strides may not be comfortable for taller users.
Incline and resistance options
Is there power incline available to add intensity to your workouts? Is there digital resistance or manual resistance?
Durability
Does the machine shake while in use? What is the weight capacity?
Technology
Are there features like Bluetooth connectivity, touchscreens, and WiFi? Do these features work well?
Programming
Is there a variety of built-in elliptical workout for weight loss available? Do you need to subscribe to an app for the programs?
Ergonomics
Are the pedals cushioned or angled for increased comfort? Do you get fixed and moving handles for a full-body workout?
What to Look For in a NordicTrack Elliptical
We have a few key callouts if you're considering purchasing an elliptical from NordicTrack:
Consistent Conveniences
One thing you'll find in comparing the machines on this list is that, for the most part, they have a lot of the same key conveniences:
A touchscreen that streams iFIT
Bluetooth audio capabilities
Cushioned pedals
Water bottle holder
Cooling fan
No matter if you're shopping a front-drive elliptical or one of the brand's folding ellipticals, you'll find each one checks all these boxes.
Where you'll find key differences are in the specs: footprint, size of the touchscreen, levels of resistance and incline, and, perhaps most significantly, price.
Warranty
NordicTrack's warranty on just about every cardio machine is 10 years on the frame, two years on the parts, and one year on the labor. That's a little shy of what we like to see (commercial-grade steel should come with a lifetime frame warranty).
However, the more notable piece is that if you store or use your elliptical in the garage, you void NordicTrack's warranty. This is a bummer for us, because we are Garage Gym Reviews, and we literally exercise in our garages. The reasoning behind this part of the warranty is that extreme heat or cold can damage a machine, not to mention the havoc that a garage's dust or dirt could cause. Still, we'd like to see this clause lifted for us garage gym fanatics.
Shipping and Assembly
NordicTrack offers free shipping on all its cardio machines, which is fantastic because it saves you hundreds of dollars on shipping something that is hundreds of pounds.
However, our team has personally assembled many of the machines on this list, and we can tell you that putting together these huge, heavy ellipticals is no easy feat. And while NordicTrack ships for free, it does not assemble for free. If you want assembly, it's an additional $199. We think it's likely worth it, unless you have a few hours to spare and some friends who can help.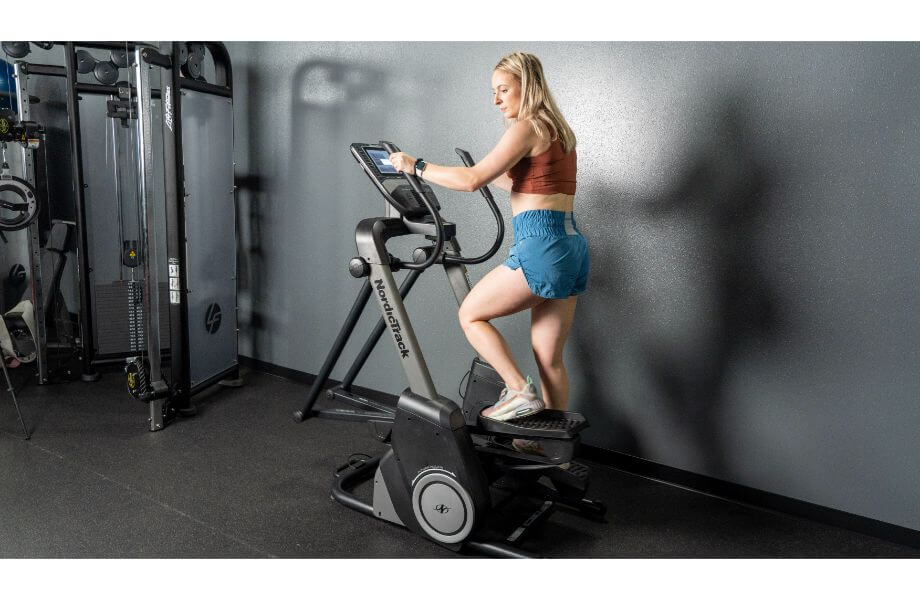 Benefits of Shopping NordicTrack Ellipticals
We have generally good experiences with NordicTrack home-use cardio machines. Here's a few reasons why you might consider checking out what this manufacturer-retailer has to offer:
iFIT Programming
Perhaps one of the best features of NordicTrack fitness equipment is that most of it is compatible with iFIT, which provides streaming workouts. You can choose from live and on-demand programs that will actually adjust your machine's incline and resistance as the exercise progresses.
With most machines, you'll get a free 30-day iFIT membership with your purchase. After that free trial, there is an additional cost to continue to use the app. For a family membership, this breaks down to $39/month. However, you can cancel that subscription at any time.
If you don't want to pay for the app, you don't have to. The machines will work in manual mode, and iFIT does have a few free workouts you can use.
Free Shipping
NordicTrack traditionally offers free shipping on its products. However, this is just standard delivery. Getting it delivered to a specific room and assembled there is an additional cost of $199. Still, not every company will ship a 200-plus-pounds machine to your door at no cost.
Frequent Sales
NordicTrack is one of those brands that pretty much always has a sale around the big holidays. We track these holiday deals year-round. You'll find major discounts—I'm talking hundreds of dollars off exercise bikes, treadmills, and ellipticals.
Better Than Amazon Pricing
If you're like me, then you probably check a few sites for product pricing before buying. Sometimes, Amazon has items much cheaper than the brand does. That's not the case with NordicTrack ellipticals. In fact, you'll find Amazon has many NordicTrack machines priced hundreds, if not thousands of dollars higher.
Best NordicTrack Elliptical FAQs
Are NordicTrack ellipticals any good?
We believe that NordicTrack ellipticals are some of the best elliptical machines on the market. They are compatible with iFIT, one of the industry's leading streaming workout apps, and come with advanced features like Bluetooth connectivity, cooling fans, and digital resistance levels. They aren't exactly budget-friendly, but they are built to last.
What is the best elliptical in the market?
What are the top 5 ellipticals?
Is a NordicTrack worth it?
No doubt about it: NordicTrack exercise equipment isn't cheap. However, it's well-built and comes from a brand that has a trusted reputation in the industry. Our team has years of experience using and testing ellipticals, treadmills, exercise bikes, rowers, and more from NordicTrack. We genuinely like the equipment for people who can afford it and want cardio equipment with a high-end feel.