We test and review fitness products based on an independent, multi-point methodology. If you use our links to purchase something, we may earn a commission. Read our disclosures.
Ah yes, everyone's least favorite part of owning home gym equipment: moving it. If you own an elliptical for your home gym, there will likely come a time when you need to move it somewhere, whether it's to a different room in your house or another location altogether.
There are different strategies to employ depending on whether you're moving your elliptical to another location, moving it to a different room on the same floor, or moving it up or down a flight of stairs.
Whatever your situation is, you should be prepared to utilize several pieces of equipment and potentially enlist the help of some friends to help you get the job done. Follow these moving tips and you'll be back to getting in your elliptical HIIT workouts in no time.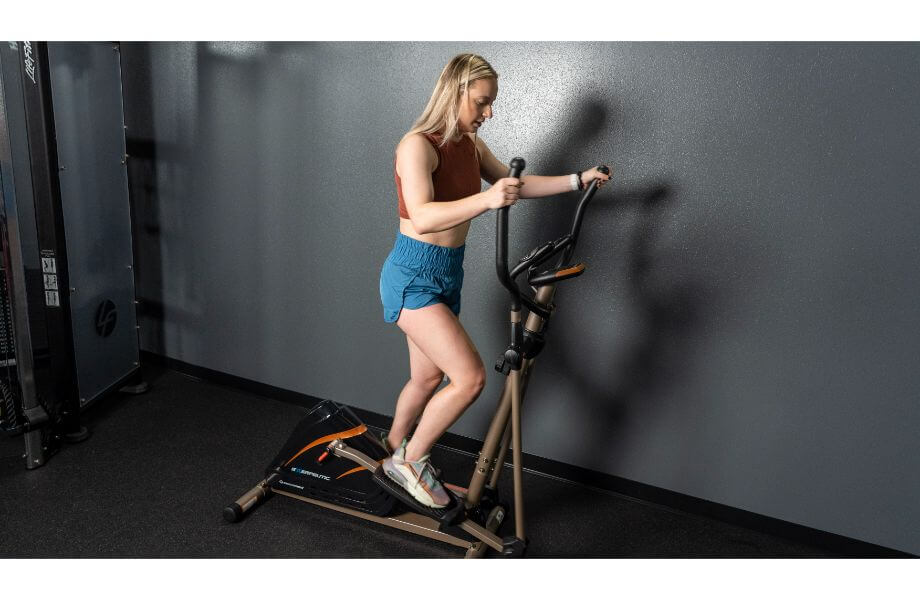 What's Your Situation?
Your approach to moving an elliptical will likely depend on where you're trying to move it and how many people you have available to help you, among other factors. Make sure you come up with a detailed plan before you start the moving process.
Be intentional about the path you'll take when moving the machine; choose a route with plenty of open space and avoid squeezing through tight openings whenever possible. If you have friends helping you, make sure you have the proper equipment (furniture dolly, tie-down straps, etc.), and be sure to use the proper lifting technique—lead with your legs, not your back.
Also, each elliptical is different, with some more compact than others. Be prepared to adjust your plan based on the size, weight, and footprint of your machine.
Don't be afraid to ask for help. An elliptical is a heavy-duty piece of gym equipment, and trying to do too much on your own could result in serious injury.
RELATED: Best Compact Elliptical
Prepare with Supplies
Whether you're disassembling your elliptical or moving the machine as is, having some supplies handy will help the moving process go much smoother. Here are some of the things you may need to transport your elliptical safely:
Furniture dolly
Furniture/moving blankets
Tie-down strap and ratchet ties
Zip ties
Moving straps/shoulder dolly
The disassembly process will also require a set of tools to separate the various parts of the machine. If you're taking your elliptical apart, here are some of the things you might need:
Allen wrench/hex key
Four head screwdriver tool (This is not the same as a Phillips head screwdriver. A generic four head screwdriver has two reversible heads; one comes with a Phillips #1 and a 3/16" flathead, the other has a Phillips #2 and a ¼" flathead.)
Plastic bags
These items will help with stabilizing the machine for transport as well as protecting the surrounding surfaces of your home or wherever you're keeping your elliptical. These supplies can be easily purchased either on Amazon or at your local hardware store.
Moving an Elliptical Upstairs
There are three different types of ellipticals; front-drive, rear-drive, and center-drive. In rear-drive ellipticals like the ProForm Hybrid Trainer, the flywheel sits at the back, meaning that part of the machine will be the heaviest. The same goes for front-drive ellipticals (the flywheel is in the front), and center-drive (the flywheel sits in the center with pedals on either side.)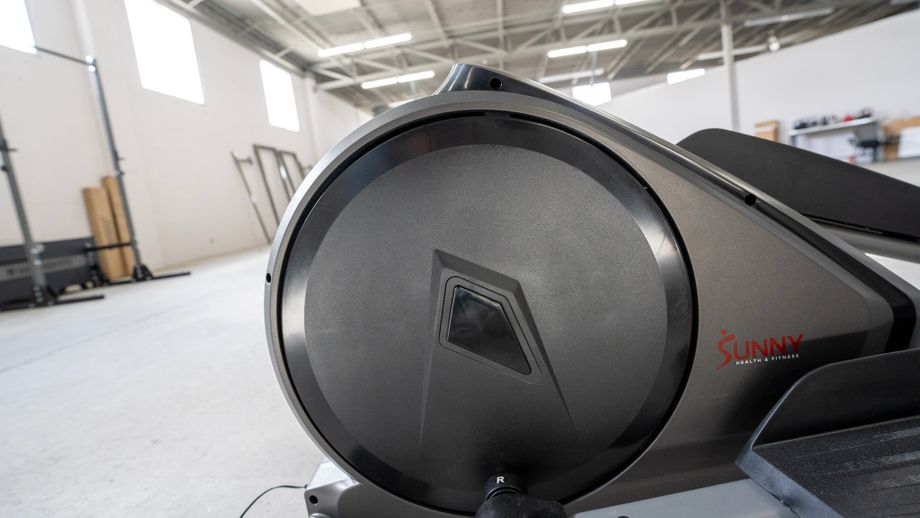 As such, having two people handle the flywheel of the machine can be helpful to disperse the load evenly. It's advised to use shoulder straps for this portion of the move as well; these will slide under the frame of the machine and tie around each mover's shoulders to lessen the burden of the machine as a whole.
Move slowly and carefully when climbing the stairs. Make sure to take plenty of breaks if necessary, and keep your momentum forward as much as possible to avoid dropping the machine or falling backward.
If one or multiple people are moving backward up the stairs while carrying the machine, ensure the person facing forward is communicating with them frequently about potential obstacles and space constraints.
Moving an Elliptical Downstairs
Again, you won't have the liberty of using a furniture dolly here. If you choose to move the elliptical without disassembling, the steps are similar to moving an elliptical upstairs.
Distribute the weight as evenly as possible, utilize shoulder straps, go at your own pace, and communicate. If you're moving down the stairs backwards while holding part of the machine, don't try to rush through the process; the elliptical is heavy enough to avoid messing with, and slipping or falling backwards could result in both serious injury and damage to your home or equipment.
Moving an Elliptical Without Disassembling
The arms and pedals can be immobilized using the tie down strap and the ratchet tie. By slipping the strap under the elliptical and wrapping it up and around the arms of the machine, you should be able to keep the arms from causing you any trouble.
The ratchet tie can be used to keep the elliptical pedals stable during the moving process. Be wary of putting too much stress on the arms of the elliptical during this process, as the ties could slide off.
The furniture blankets are important here as well. By covering the machine with them, you'll be able to dampen the impact should you bump the machine into one of your walls. If you don't use moving blankets, you could end up with holes, scratches, or dents during the moving process.
Though many ellipticals (like the NordicTrack SE9i) have transport wheels, you'll cause significant damage to your floors if you try to move the machine without using a furniture dolly. Lift up the front side of the elliptical, guide it onto the dolly—using the transport wheels if the machine has them—and then roll the machine to the back of the dolly so it's secure.
After the machine is loaded and stabilized, simply roll it to its new home, lift it off the dolly, remove the stabilizing straps, and you should be all set.
RELATED: How to Move a Treadmill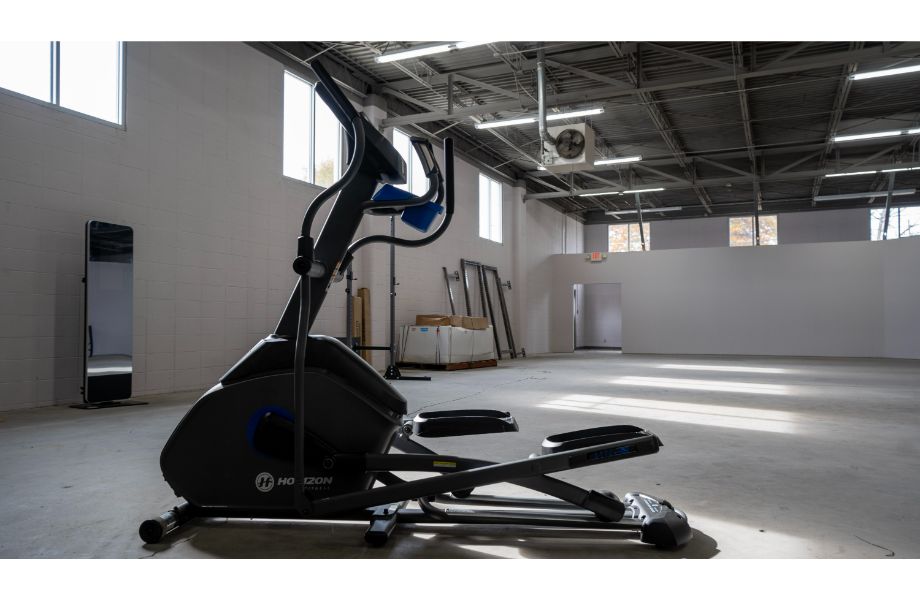 Where To?
Your plan of attack to move the elliptical will change based on where you want to take it. For example, if you're moving it to someplace far away, it might be worth hiring a professional moving company to make sure it gets transported safely.
Even if you're trying to move the machine within the same building it's currently located, your movements upstairs vs downstairs will be different and you should adjust your plan as such.
Be wary of sharp turns, as they'll likely provide a challenge whether you're carrying or wheeling your elliptical, especially if it's a model with a large footprint like the Horizon EX-59 Elliptical. Proceed with caution to avoid nicking up your walls, floors, or other surfaces.
Though I love the "Fast & Furious" movies as much as the next guy, those two adjectives probably shouldn't apply to your moving process.
Grab Friends
This is important, because everyone knows the best part of any friendship is being asked to help do the other person's heavy lifting!
One easy way to help tackle the process of moving your elliptical is to recruit some friends to assist you, especially if you plan to move the elliptical either up or down a flight of stairs. If stairs are involved, consider it at least a three-person job. Two people might suffice if you're moving it into another room on the same floor.
Should your moving journey bring you to the stairs, divide the workload by having two people shoulder the burden of the elliptical's flywheel, which is the heaviest part. The other parts of the machine are lighter and can likely be carried by one person.
However, if you or someone you're working with seems to be struggling carrying their portion, don't try to do too much. Having extra bodies is never a bad thing, and could help you avoid injury or damage to the surfaces around you.
Consider Disassembling
Taking a machine apart piece by piece isn't anyone's favorite thing. However, when considering how to move an elliptical alone, or if it's simply too big to be moved all at once, disassembling it and moving the pedals, arms, and frame separately can help you get it where it needs to be safely.
Your elliptical's instruction manual should provide the details on how to deconstruct the machine. Consider taking photos of your elliptical from all angles while it's still assembled, as this will help you put everything back together later on.
You'll want to remove the foot pedals and handrails of the machine with the proper tools, making sure to set aside small pieces like pegs and nails so you can keep track of them for reassembly. The arms specifically can be burdensome due to their length and weight; make sure you're adequately prepared to lift them to avoid injury or damaging other surfaces around you.
However, be wary of how disassembly will affect the warranty of your elliptical. For some cardio machines like treadmills, disassembly voids the warranty. Read the fine print on your elliptical, or call the manufacturer directly, if you're concerned about this.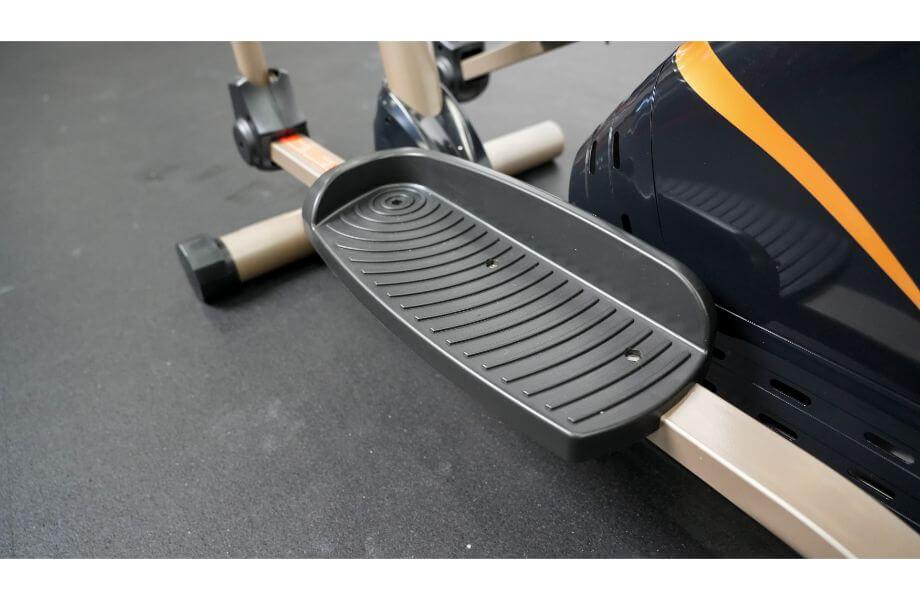 Moving the frame will require you to load it onto a furniture dolly and transport it to the new desired location. Exercise caution when interacting with the frame, as it's the heaviest, bulkiest part of the machine.
To reassemble, consult the instruction manual again along with the pictures you have of your previously assembled elliptical. As long as you've kept the nails and pegs together, you should be able to put your elliptical machine back together without much trouble.
Clear Your Path
This step is important no matter where you're planning to move your elliptical. You should plan your path ahead of time and clear out all objects that might obstruct you during the process. Neglecting this step can result in injury for you and those you're with, as well as damage to the machine and other surfaces if you drop it during transport.
Plan accordingly for potential turns in your path and prepare to maneuver the elliptical accordingly to avoid hitting your walls.
Use Your Legs
One of the best ways to prevent injury while moving your elliptical is to utilize proper lifting technique. While doing heavy lifting of any kind, it can be easy to cop out and let your back bear most of the weight, but you should avoid this approach at all costs.
Instead, drive up through your legs and use them to shoulder most of the load. This will help keep your center of gravity low during transport and remain balanced while holding the machine. Also, this can help protect you from pulling a back muscle or sustaining other injuries during the process.
Final Verdict
Whether it's a rowing machine or an elliptical or something else, moving any large piece of workout equipment is an inherently awkward process, and an elliptical is no different. Even so, there are many different ways to attack the task and get it done quickly and safely.
The best advice we can give you is to create a thorough plan of action before you begin transport: know where you're going, who's helping, and what their responsibilities are. Make sure you're properly equipped and don't leave anything to chance, or else you could risk injury or damage to your equipment or home.
Safety, precaution, and pre-planning are your best friends. There's no right or wrong way to move your elliptical. As long as you get it from point A to point B safely, you're a winner in our book.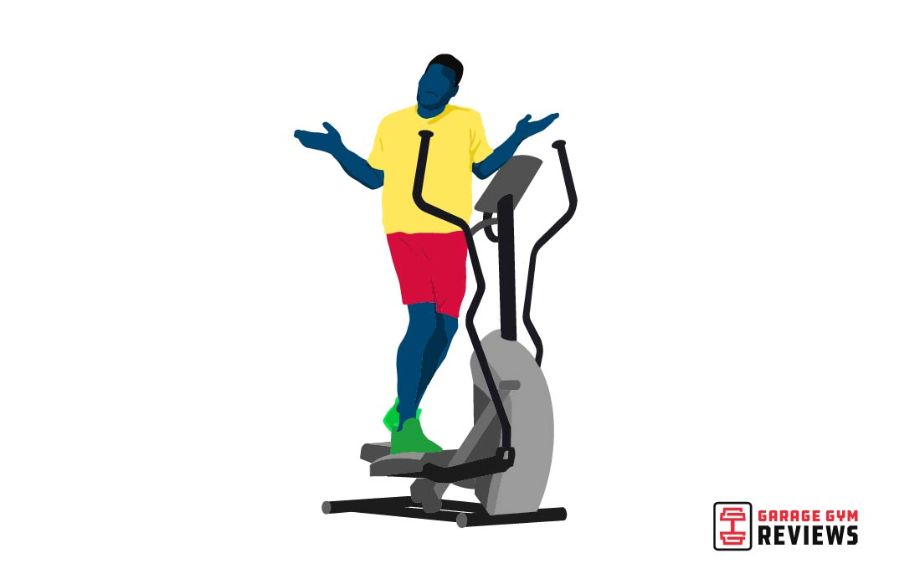 How to Move an Elliptical FAQs
Can you disassemble an elliptical?
Yes. You can separate the foot pedals and arm handlebars from the main frame of the machine and move the pieces separately to avoid the strain of moving the entire piece of equipment all at once.
Are ellipticals easy to move?
Not necessarily easy, but you should be able to do it without much trouble as long as you have a thorough plan of action, the proper equipment, and additional helpers to assist you in the process.
How do you move a heavy elliptical upstairs?
You can move your elliptical upstairs piece by piece via disassembly or as is. If you opt to move the machine all at once, have at least two people carry the flywheel portion and utilize shoulder straps to lighten the load. Move slowly and cautiously and communicate frequently with your moving partners.
How do you carry an elliptical downstairs?
The steps for moving an elliptical downstairs are similar to the ones you'd follow to move it upstairs. Distribute the weight as necessary, use shoulder straps and move at a safe pace. Keep your momentum as stable as possible to avoid injury during the moving process.
How do you transport an elliptical in a car?
If you plan to load the machine into a standard car, disassembly might work best so you can fit all the pieces in. If you need to load it into a moving truck that has more space, you can load it onto a furniture dolly to get it as close as possible to the vehicle before lifting it in. You should also consider covering it in bubble wrap to avoid damage during transit.