We test and review fitness products based on an independent, multi-point methodology. If you use our links to purchase something, we may earn a commission. Read our disclosures.
For those who live in compact spaces like me, you'll know that sometimes we have to get creative. Whether this means getting a sofa that doubles as a guest bed or getting adjustable dumbbells to save space, finding products that are small or multi-use is key to maximizing your home or garage.
The same is true for cardio equipment. Finding the best compact elliptical doesn't have to be challenging or even impossible. With the help of fitness equipment experts at Garage Gym Reviews, you can sit back, enjoy all the hard work we've done and choose your newest home gym addition with ease.
Trust the Elliptical Experts — We've Tested Doznes of Machines
At Garage Gym Reviews, our team of product testers and reviewers are experts on all things fitness. We know the elliptical industry standards like the back of our hand, and could probably recite them to you in our sleep. Besides our cardio knowledge, we have a variety of fitness certifications under our belt––we're certified personal trainers, nutrition coaches, and CrossFit coaches.
6 Best Compact Ellipticals
Best Folding Compact Elliptical: NordicTrack Commercial SE9i Elliptical
Good for: Those who want a folding elliptical with all the bells and whistles
With all the foldable exercise bikes and treadmills on the market, you'd think there would be plenty of ellipticals under the same umbrella, right? Wrong! Foldable ellipticals are surprisingly uncommon, so when I come across a great one, like the NordicTrack Commercial SE9i Elliptical, I get excited.
When fully expanded, the SE9i does have a long frame. However, the machine does fold vertically when you need to store it away for a more compact footprint. Plus, if you're a fan of interactive programming, the SE9i has a 14-inch touchscreen, which is compatible with iFIT programming (membership sold separately).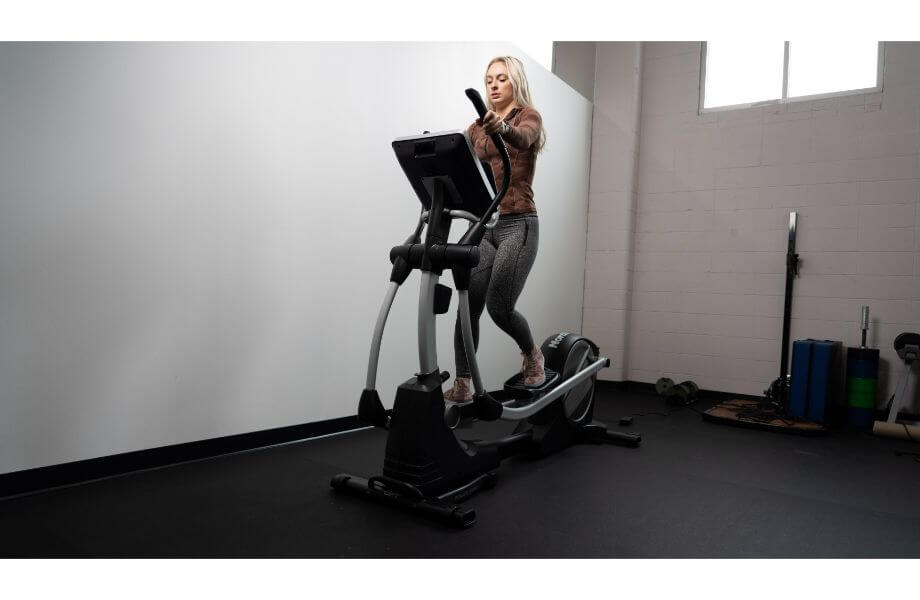 If you decide to pay for an iFIT subscription, you can take advantage of the SE9i's Automatic Trainer Control feature, which allows your machine to adjust the 24 resistance levels to match your current workout class. Not for you? No sweat, you can simply turn off this feature via a toggle in the bottom right corner of the screen.
Although the SE9i generally felt sturdy, I did notice the machine can get slightly shaky at higher resistance levels. It isn't deal breaking, but it is something to be aware of, especially if you're close to the 325-pound weight capacity.
For those who like to set up their home gym in their garage, bad news: the SE9i's warranty will be voided if you store the machine in your garage.
Take a look at our full NordicTrack Spacesaver SE9i review
| | |
| --- | --- |
| Footprint | 80" L x 32" W x 67" H |
| Foldable | Yes |
| Warranty | 10-year frame, 2-year parts, 1-year labor |
| Price | Around $1,400 |
| Product weight | 218 lbs |
Best Adjustable Compact Elliptical: Diamondback Fitness 1280ef Adjustable Stride Elliptical Trainer
Good for: Those who want an adjustable elliptical that doesn't take up a lot of space
Compact ellipticals often mean shorter stride lengths (or the distance between your two feet), which is often bad news for taller people. The Diamondback Fitness 1280ef Adjustable Stride Elliptical Trainer solves that issue with an adjustable stride length that starts at 17 inches and goes up to 22, while still remaining compact at just 36 inches in width and 50 inches in length.
It's not foldable, though, so it might not be the best bet for those in apartments.
The dual handlebars are also adjustable, which is an important thing to have if you plan on using this in a mixed-height household.
We're actually quite impressed that Diamondback was able to accommodate short and taller people with a space-saving piece of equipment. Not only that, the 10-inch touchscreen can stream Netflix or Spotify, though popular fitness apps seem to be missing (it does have iRoute and Kinomap, which offer interactive routes).
Smaller machines also usually mean decreased sturdiness, yet you'll get a 350-pound weight capacity.
| | |
| --- | --- |
| Footprint | 50″ L x 36″ W x 66″ H |
| Foldable | No |
| Warranty | 5-year frame and brakes, 3-year parts and electronics, and 1-year labor |
| Price | Around $1,600 |
| Product weight | 187 lbs |
Best Affordable Compact Elliptical: Body Rider Fan Elliptical Trainer
Good for: Beginners or people who want a simple elliptical machine
For under $150, you can't beat the Body Rider Fan Elliptical Trainer. This cardio machine has a small footprint, and at just 58 pounds, it's simple to move solo. Plus, the assembly is easy and won't leave you muttering obscenities under your breath.
The frame did not shake during my workouts on this machine, likely thanks to the steel components. The user experience is pleasant and simple. You won't find any crazy technology features on the Body Rider, but I love not needing an outlet for the machine to work. You'll still be able to view a few metrics on the small LCD screen such as distance traveled, time elapsed, and calories burned.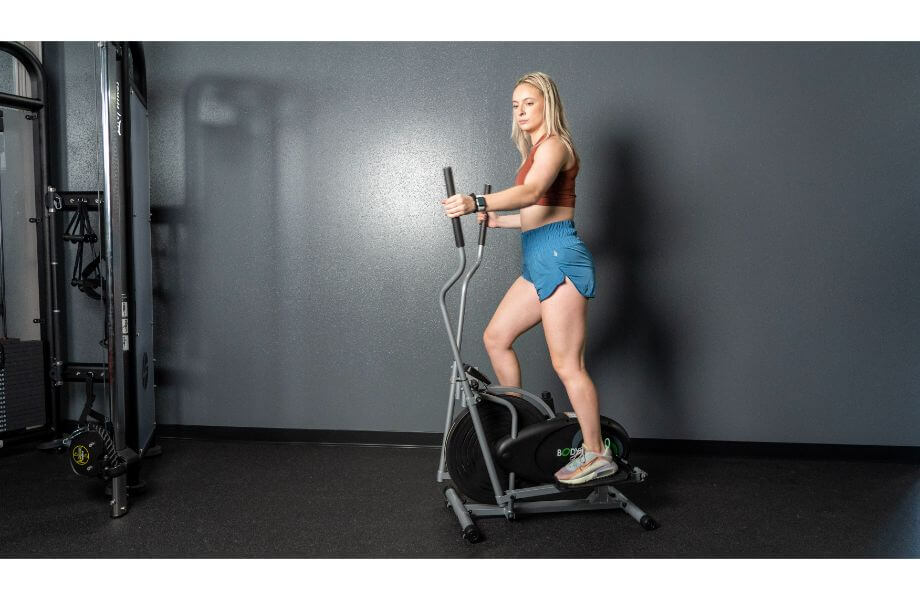 Although it didn't bother me, it is worth noting that the stride length is quite short at just 12 inches. For context, the industry standard for an elliptical stride is between 18-20 inches. I still found myself enjoying my workout, but for a taller person, the Body Rider will mimic a step machine more than a traditional elliptical.
The warranty of just one year is really short, but for such a budget-friendly elliptical, it matters a lot less. The Body Rider is sturdy, provides a good user experience, and is easy to move. What more could you ask for in a $150 elliptical?
Read our entire Body Rider Fan Elliptical Trainer Review.
| | |
| --- | --- |
| Footprint | 38.58" L x 9.06" W x 24.8" H |
| Foldable | No |
| Warranty | 1-year frame, parts, and labor |
| Price | Under $150 |
| Product weight | 58 lbs |
Best Compact Elliptical With High Weight Capacity: NiceDay Elliptical
Good for: Heavier folks up to 400 pounds
Though the NiceDay Elliptical is little, she is fierce. And that's especially true when it comes to its weight capacity, which goes up to 400 pounds. Other space-saving gym equipment usually come with smaller weight limits due to being smaller in size, but that's no problem here.
And if you're like GGR writer and product tester Anthony O'Reilly, who has a size 15 shoe, you'll appreciate the oversized pedals that will keep your foot secure throughout your cardio workout.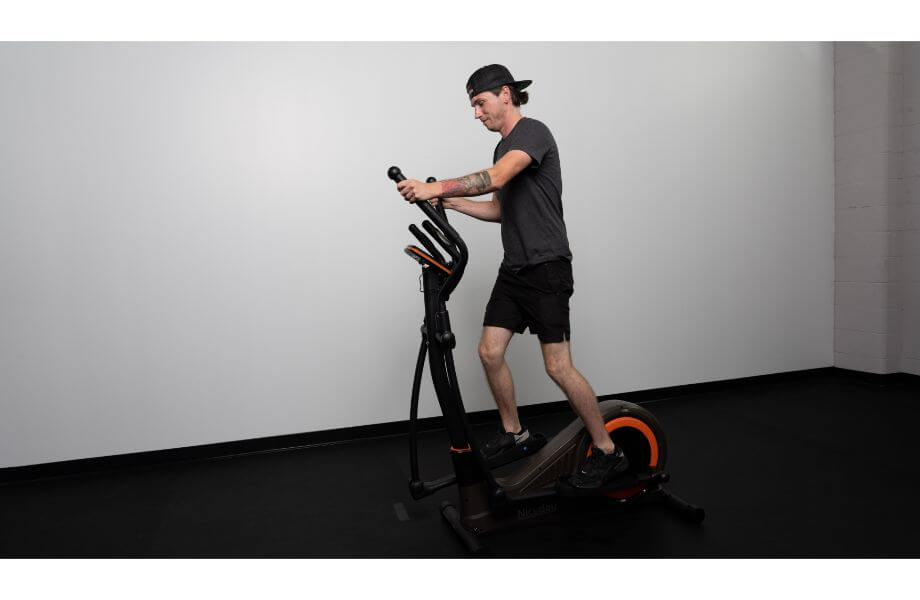 Beyond being a sturdy elliptical, this machine also comes with 16 adjustable resistance levels and is quiet enough that you can use it without disturbing your roommate or partner. It's made with steel, so we're confident that it will remain in good condition for many years. But if something were to happen to it, it comes with a lifetime parts warranty so you're in good hands.
As with any budget machine, there are some drawbacks to this machine. For one, the stride length is only 15.5 inches (the industry standard is around 18-20 inches), so it's not the best choice for taller people, and it doesn't come with a water bottle holder.
Check out our entire NiceDay Elliptical review.
| | |
| --- | --- |
| Footprint | 62" H x 24.4" W x 48" L |
| Foldable | No |
| Warranty | Lifetime warranty on parts |
| Price | Under $600 |
| Product weight | 106 lbs |
Best Compact Elliptical for Streaming Classes: Bowflex Max Trainer M6
Good for: Technology lovers and programming enthusiasts who enjoy interval training
According to the Bowflex website, the Max Trainer M6 requires two times less space than the average treadmill. Plus, it's compatible with JRNY programming, so you can easily follow along with classes. As of the time of this publication in June of 2023, Bowflex is offering a free year subscription to JRNY with the purchase of the M6. After the year is over, your credit card, which will be on file, will be charged.
It is worth noting that you'll have to use your own device to stream the programming, but there is a generously sized magnetic device holder on the M6 to soften the blow.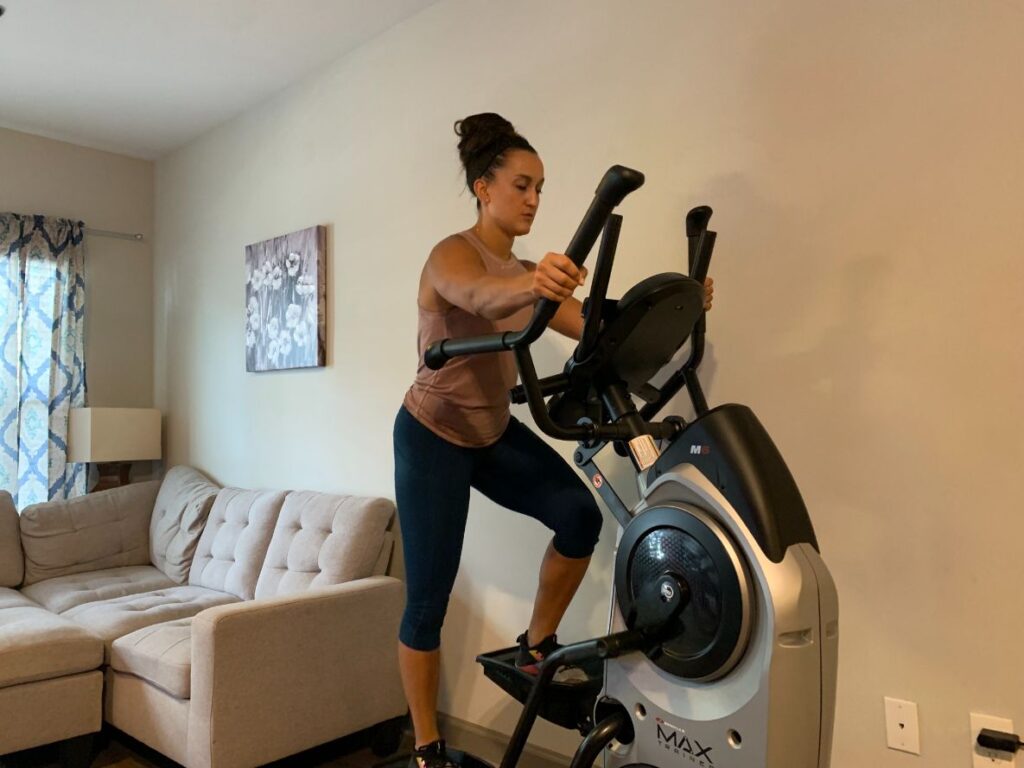 This machine is very stable while in use and has a maximum weight capacity of 300 pounds, which hits what we expect industry standard-wise. You'll also be able to take advantage of the 16 levels of resistance in order to make your workout even more challenging.
RELATED: Best Elliptical Workout
However, for the $1,500 price, the M6's warranty is subpar. You only get two years for the frame plus parts and 90 days for labor. I have no clue why it's exceptionally short, because Bowflex doesn't really skimp on their warranties generally speaking.
Find out more by reading our Bowflex Max Trainer M6 review.
| | |
| --- | --- |
| Footprint | 46" L x 26" W x 64.2" H |
| Foldable | No |
| Warranty | 2-year frame and parts, 90 days labor |
| Price | Under $1,500 |
| Product weight | 148 lbs |
Best Rated Compact Elliptical: Gazelle Freestyle
Good for: Individuals with solid balance who want to try something new
Celebrity personal trainer Tony Little created the Gazelle Freestyle in the 1980's, and the machine has stuck around ever since. On Amazon, the under $230 elliptical trainer has over 1,000 reviews with an average rating of 4.6 out of 5. 
The Gazelle is easy to fold, and it can be stored away in a closet or under a bed when it isn't being used. Plus, you don't need to find an outlet for this elliptical––it is self-powered! Simply step on and start striding on this low-impact machine.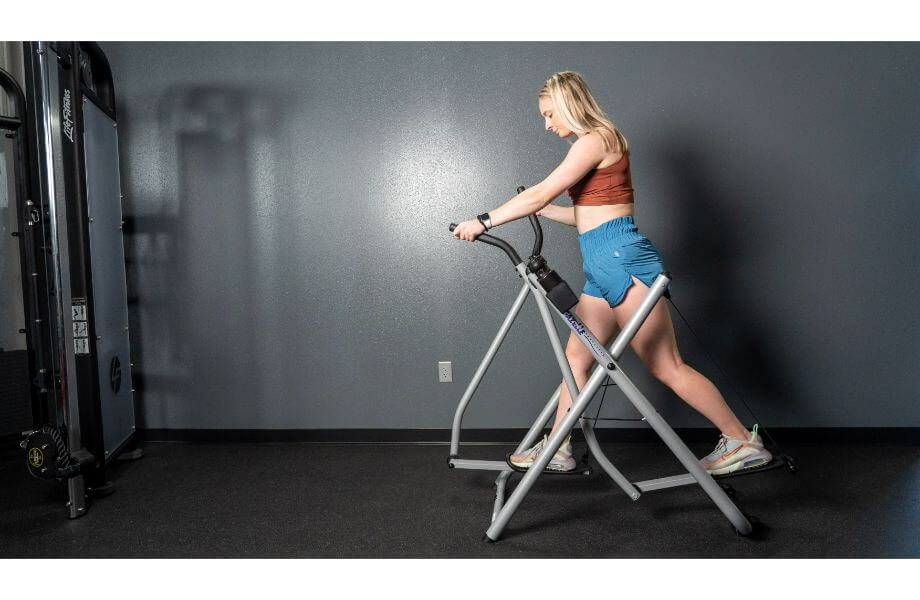 After trying the Gazelle, I was impressed with just how entertaining it is to use. Although there isn't any adjustable resistance or incline, I had a nice time swinging my legs, and could even feel my heart rate creeping up. This compact machine is a great option for someone looking to stay active on a budget.
I will say––the Gazelle can be challenging to mount and dismount. If you have bad balance, you'll likely struggle to safely step on the moving legs of the machine. Once you get going, it is less of a problem, but the lack of resistance contributes to just how easily the legs move.
Read our full Gazelle Freestyle review.
| | |
| --- | --- |
| Footprint | 44" L x 33.5" W x 53.5" H |
| Foldable | Yes |
| Warranty | 12 months |
| Price | Under $230 |
| Product weight | 55 lbs |
Other Compact Ellipticals We Researched
Exerpeutic Elliptical: Although the actual compactness of the Exerpeutic Elliptical is decent, it isn't the most portable. Head of Content at Garage Gym Reviews Kate Meier reported the transport wheels are oddly located in the back, which makes the moving process more difficult than it needs to be. Typically, you'll find elliptical transport wheels on the front of the machine, so you can tilt it towards you easily.
NordicTrack FS10i: We're fans of the NordicTrack FS10i for its versatility and sturdiness. However, it certainly isn't a compact machine at 284 pounds. It cannot be folded or easily moved around.
Nautilus E618 Elliptical: The Nautilus E618 has a typical elliptical footprint. It doesn't fold, and isn't obnoxiously large, but it wouldn't be considered a compact option.
How We Picked and Tested The Best Compact Ellipticals
We take into consideration a lot when deciding which pieces of fitness equipment belong on a list. Here are some of the main questions we asked ourselves when testing various compact ellipticals:
Size and Portability: What is the footprint of this elliptical? How does this compare to the average elliptical? Can it be stowed away easily?
Foldability: Does the machine fold?
Warranty: What does the warranty look like for the frame, labor, and parts?
Price: How expensive is this elliptical?
Stride length: What is the stride length? How does this compare to the industry standard?
Delivery and Setup: How was the delivery of the machine? Are the assembly instructions simple to follow along with? Do you need a second person to assist in the assembly process?
Weight capacity: What is the user capacity of the machine? Is it inclusive?
Handlebars: Are there dual handlebars? Are the handlebars cushioned at the top for a more ergonomic experience?
Durability: What is the machine made of? Are there lots of plastic components?
Workout experience: Does the machine shake while in use? Is there any play in the frame? Was the experience enjoyable?
Resistance: What type of resistance does the machine have? Is it magnetic resistance?
Flywheel: How large is the flywheel? How does it compare to the industry standard?
Technology: Is there a touchscreen, LCD display, or LED display present? Can it be connected to interactive programming? How large is the screen? Are there preset workout programs? Is there Bluetooth connectivity?
Extras: Is there a cup holder, accessories holder, device or tablet holder? Is there an included heart rate monitor?
Adjustability: Are any of the foot pedals adjustable? Does it have an adjustable stride?
Benefits of Compact Ellipticals
Certified personal trainer and Garage Gym Reviews Staff Writer Anthony O'Reilly knows a thing or two about cardio equipment. Here's his take on why you should purchase a compact elliptical.
"Compact ellipticals provide a full-body workout and have the same cardio benefits as larger versions with the added benefits of fitting in apartments and smaller home gyms," Anthony explains.
Makes sense to me. In fact, compact ellipticals are usually much easier to store than their larger counterparts. Although few and far between, there are a couple ellipticals that actually fold (I've recommended a few of my favorites above) for an even smaller footprint.
Plus, compact ellipticals are generally cheaper than something like a full-sized, commercial elliptical you'd find at your local YMCA or Planet Fitness. You'll likely be able to save money, and have a smaller machine that takes up less space. Win-win!
Buying Guide: What to Look for in a Compact Elliptical
Still not sure what to look for in a compact elliptical? Here are the five main components I'd keep in mind before choosing a new machine.
Footprint
Analyze the space you plan to use to house your elliptical. You'll need to carefully measure the dimensions to make sure you have enough room for your new cardio machine.
Portability
Transport wheels can be a handy feature on elliptical machines to help the owner move the machine with ease around a room. It can also be worth noting the overall weight and foldability of your potential elliptical, especially if you plan to move the machine up or down the stairs.
Weight Capacity
Since compact ellipticals are, well, compact, they may not always have a weight capacity that matches up with the industry standard of 300 pounds. Make sure to check before purchasing, especially if you're a heavier individual.
Warranty
The industry standard on an elliptical frame warranty is 15 years to life, but if the machine is a budget option, don't expect this to always be the case. You'll have to weigh the pros and cons of spending more money now for a longer warranty versus getting a cheaper elliptical with a traditionally shorter warranty.
Price
Again, make sure to decide your price range ahead of time. If you're interested in a high-end elliptical but can't afford it all at once, check to see if there are financing options available. It is also worth waiting for a holiday sale, like 4th of July or Black Friday if you need to save cash.
Best Compact Elliptical FAQs
Are compact ellipticals any good?
Yes, compact ellipticals can be a great addition to your home gym. Plus, they take up less space than a traditional elliptical while still helping you reach your fitness goals.
Can you lose weight with a compact elliptical?
Combined with diet, any type of cardio workout can potentially help you lose weight. However, please discuss any concerns or questions related to weight loss with your doctor or a licensed medical professional.
Can I get a low-impact workout on a compact elliptical machine?
Yes, compact ellipticals are an excellent way to get a low-impact, full-body workout in, regardless of your fitness level. An elliptical can be an excellent piece of exercise equipment for home use, because it gives the user a total body workout without leaving their home.
What are your top picks for the best budget elliptical machine?