We test and review fitness products based on an independent, multi-point methodology. If you use our links to purchase something, we may earn a commission. Read our disclosures.
When you're in the grocery store, you probably decide between name-brand and off-brand products on the regular. Does the off-brand stuff sometimes taste a little different? Yeah, but can your kids tell if they don't see the bag? Probably not.
The same is true for ellipticals. There are so many name brands on the market, but if you're looking for a basic machine, you might not need to spend the extra cash for a name you know. Enter the Niceday Elliptical Machine with the cute little happy face logo.
In this Niceday Elliptical Machine review, I'll tell you if this is an instance where you should probably just buy the name brand, or if you can save a few bucks on an "off-brand" option. I'll run you through the warranty, footprint, and my experience with this super-quiet machine. Plus, GGR's Head of Content Kate Meier also weighs in with her thoughts. Let's get started!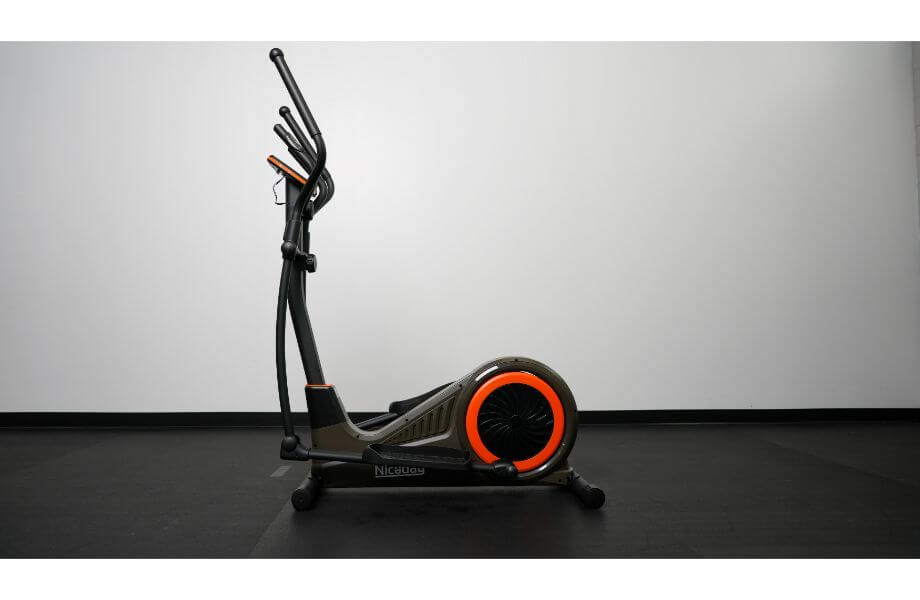 Striding Into Your Hearts, One Elliptical at a Time
Whether we're talking strength, cardio, or apparel, you can rest easy knowing the GGR team of expert product testers and reviewers knows their stuff—inside and out. Besides our numerous certifications (we're CrossFit-L1 coaches, nutrition coaches, and certified personal trainers), we're knowledgeable about the industry standards you should expect on everything from dumbbells to the best ellipticals.
NiceDay Elliptical CT11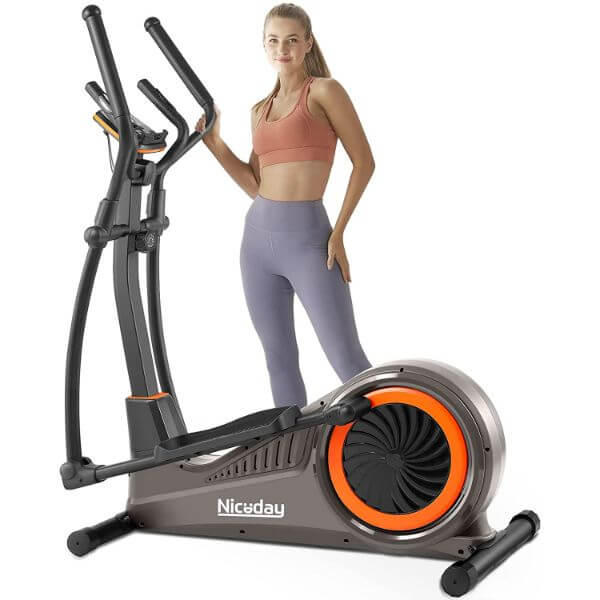 Niceday Elliptical Machine
Arriving 90% pre-assembled, the Niceday Elliptical Trainer is an easily installed, sturdy, and quality elliptical for someone looking for a low-impact, efficient workout. Equipped with large pedals and constructed with steel, the Niceday Elliptical Trainer supports weights up to 400 pounds and is designed for users between 4 feet, 9 inches and 6 feet, 2 inches tall. But, the 15.5-inch stride will likely feel too small for those over 6 feet tall.A 16-pound flywheel offers 8 levels of magnetic resistance without the need for any electrical source. A battery-powered digital monitor displays time, speed, distance, and calories so you can stay on track towards your fitness goals. According to Niceday, all data is dual-calibrated by algorithms to ensure accuracy of fitness metrics provided.The magnetic resistance is intended to reduce noise emission, which is recorded at only 20dB. There are some reports that the machine is noisier but often this is because of poor maintenance. Should there be any part that is damaged or making noise, Niceday offers a life-long promise and pays for all replacement costs.
A Quick Look at the NiceDay Elliptical CT11
Taking a quick look at the Niceday Amazon store, I can see they make a lot of lookalike cardio equipment at reasonable prices. Their stationary bike looks suspiciously like a popular exercise bike that shall not be named, but at half the price. I was definitely interested to get my grubby little paws on the Niceday Elliptical CT11 to see if it's comparable to other name-brand options.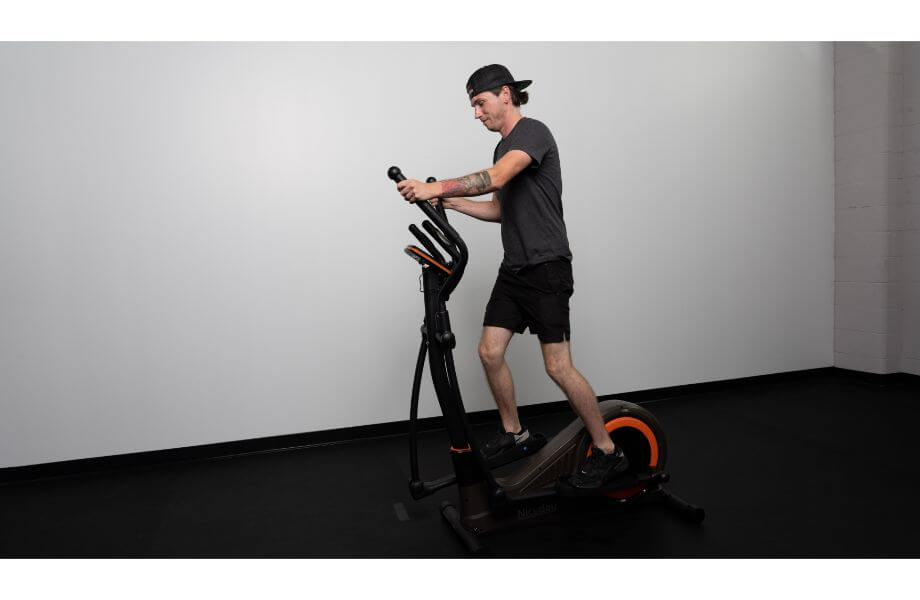 My Tips:
Don't put too much stock into the pulse grips/heart rate monitoring on this machine––they're known to give inaccurate readings.
This home elliptical doesn't need to be plugged in to use–– it only requires batteries for the monitor.
Pros:
Very quiet
User weight capacity of 400 pounds
Doesn't need to be plugged in
Fairly portable
Textured foot pedals
16 levels of magnetic resistance
Cons:
Flywheel is light
Slight shaking occurs while in use
Short stride length
Included heart rate sensor may not be accurate
Lack of Bluetooth connectivity
Is the Niceday Elliptical CT11 Worth It?
There was a quote from Dita Von Teese that went around on Pinterest a few years ago and it went like this: "You can be the ripest, juiciest peach in the world, and there's still going to be someone that doesn't like peaches."
The same is true for people, food, and fitness equipment. Even if something is great, it might not be the type of great someone is looking for. This is true of the Niceday Elliptical CT11, too.
Great for:
Shorter people
People in shared spaces
Those on a budget
Not recommended for:
People who want tech features
Those with long strides
Niceday Elliptical CT11 Specs
Footprint
Weight
Weight capacity
Resistance levels
Flywheel
Resistance type
Pulse sensors
Stride
Dual handlebars
Display
Interactive workout programs
Material
62 x 24.4 x 48
106 lbs
400-lb weight capacity
16 levels
16 lbs
Magnetic
Yes
15.5 inches
Yes
Small digital monitor
No
Steel
Let's Get Moving on the Niceday Elliptical CT11
The Niceday Elliptical CT11 clocks in at just under $600, which makes it a budget option. Thus, I wasn't expecting any insane technology features or crazy extras.
Stepping onto the machine, it does feel more durable than the average budget elliptical. This is probably due to the steel construction, which isn't very common with cheaper cardio machines. Typically, you'd see lots of plastic components in order to cut down on cost.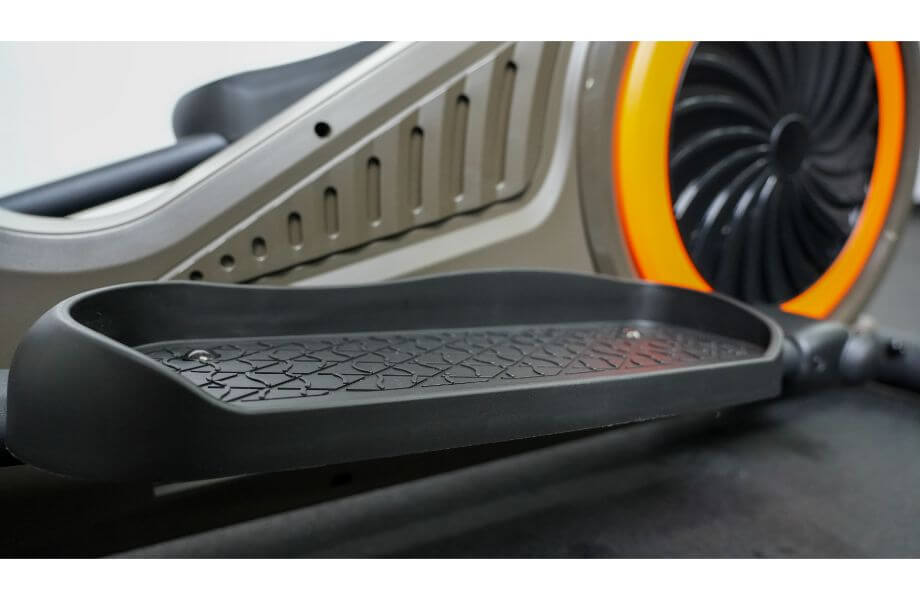 However, I did notice that there was some shifting side to side during my workout and one of the handles felt wobbly. I'm nowhere near the almost 400-pound weight capacity, so I figured it was a result of the small flywheel.
At just 16 pounds, this flywheel is barely squeaking into the bottom half of the industry standard I'd expect for an elliptical––between 16 and 20 pounds. This is something that could be improved upon in the future. For the price, I'd expect a slightly heavier flywheel.
GGR's Head of Content Kate Meier is 5 feet, 4 inches. She tested the CT11 and was surprised by the short stride length.
"The industry standard for a good elliptical stride length is between 18-20 inches," Kate explains. "Unfortunately, the CT11 only has a stride length of 15.5 inches. The company says this machine fits people up to 6 feet, 2 inches, but I would be surprised if that stride length felt comfortable for taller people."
Relatively tall person here! I'm 5 feet, 9 inches and gave this machine a try as well. I definitely noticed I wasn't able to get a normal range of motion on this machine. However, I felt like it was still a good workout because it felt more like a step machine, which I don't hate. If you're tall and don't like the feeling of a step machine, this probably isn't the elliptical for you.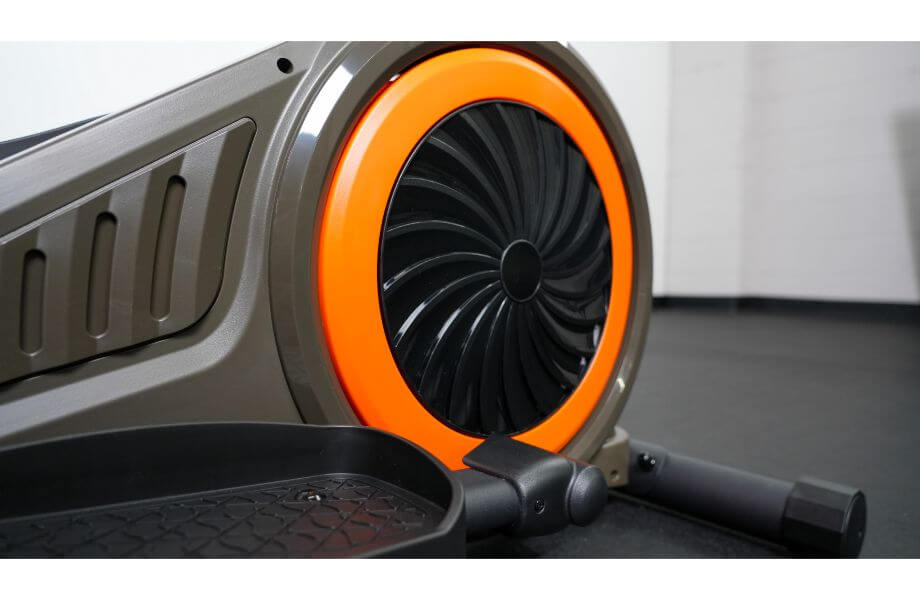 Footprint and Portability
Footprint-wise, the Niceday Elliptical CT11 is pretty average. It isn't huge like the ellipticals you might be used to seeing in your local Planet Fitness, but it isn't foldable like the NordicTrack SE9i.
The CT11 is just over 100 pounds, so you should be able to move it up or down stairs with one additional able-bodied person. If you're just moving it from room to room, it can be a solo job thanks to the attached front transport wheels. Kate mentioned the wheels felt a bit stiff to her, so it wasn't as smooth to move as she expected, but it still made the process easier than just picking the machine up.
I love that this machine doesn't need to be plugged in to use, so it can be moved to wherever your little heart desires. The monitor itself operates with batteries, so you don't need to worry about finding an outlet. I guess there are some benefits to using a low-tech machine, eh?
Technology Benefits and Conveniences
If you've ever read any of my other cardio machine reviews (it's okay if you haven't but you're missing out), you know there is nothing that irks me more than small water bottle holders. Even worse than that is no water bottle holder at all. That's an absolute cardinal sin if you ask me.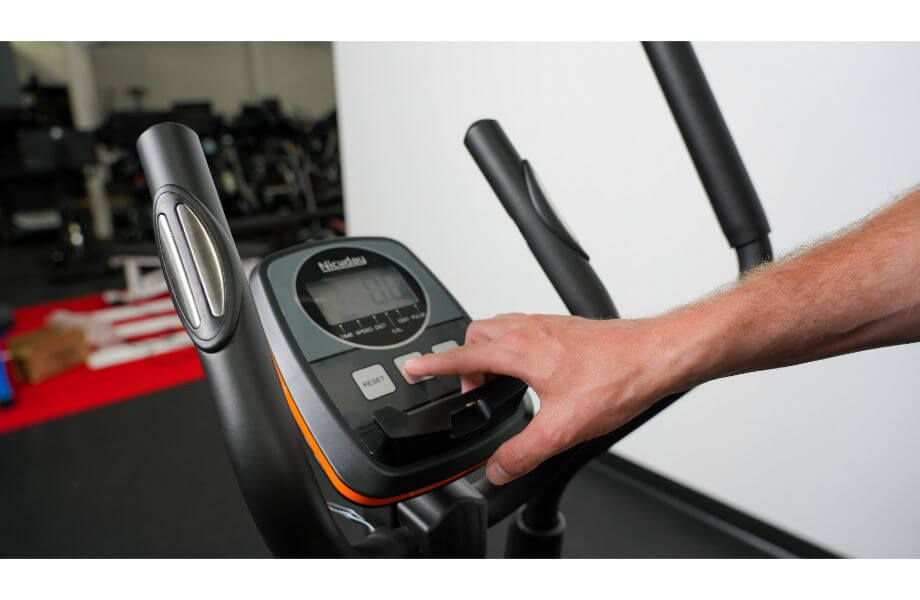 The CT11 better head to confession because there is no water bottle holder. Not even a tiny "accessories holder" that the XTERRA Fitness TR150 has for your shot glass full of water. I really don't like that they decided a device holder was more important than me staying hydrated, but I digress.
This insanely quiet machine has given my brain some time to think about how irritated I am with the lack of a water bottle holder, but also to ponder just how quiet this machine is. You might be able to hear a bobby pin drop on the floor since this thing is so quiet.
Plus, for whenever the inevitable squeaking of the CT11 happens in a few months, Niceday has kindly provided us with a handy bottle of lubricant to get your workout back to a silent-floor-in-the-library kind of quiet. How adorable (and handy).
Kate tested the pulse monitors on the handles to see how the metrics would compare to her Apple Watch. She wasn't surprised to note the large differences between the numbers.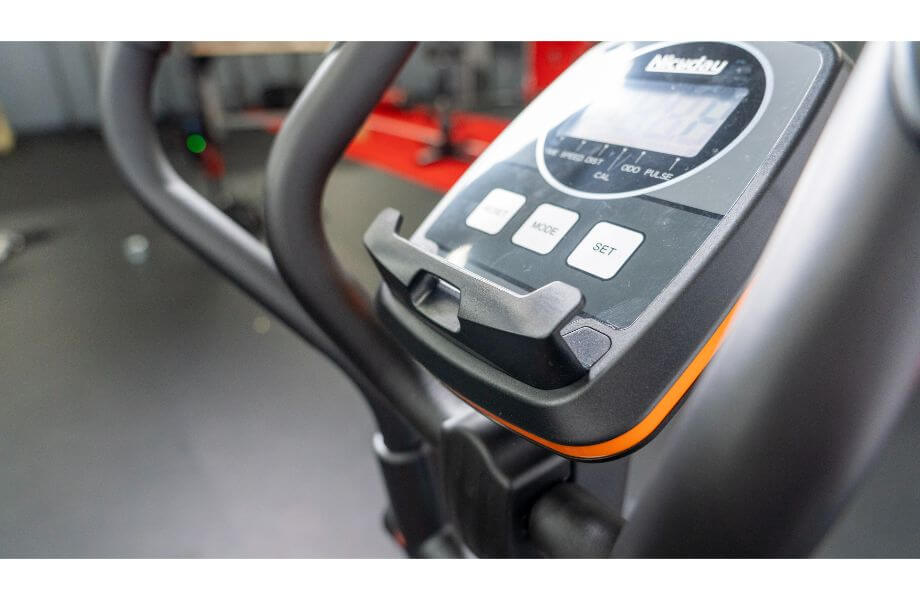 "Pulse sensors are notorious for giving inaccurate readings," Kate explained. "I wouldn't put too much stock into what they say."
As much as I like not having to plug the CT11 into the wall, the lack of technology is apparent. However, this isn't a massive shock or anything, especially for the price. I'm not a fan of the small LCD display that cycles through the metrics too quickly for me to read. Once again, this is also a common feature of cheaper cardio machines, so it is on par for the price.
Since there is a tablet holder, you can always stream something like iFIT if you're into interactive programming. However, since there is no Bluetooth, you won't be able to connect anything like your AirPods or Apple Watch to the machine.
Customer Experience
It appears you'll really only find Niceday ellipticals on Amazon, which seems to handle any warranty issues.
It states in the fine print on Amazon: "We promise to provide a life-long service to the NICEDAY elliptical machine. We will pay for all of the replacement costs if customers need replacements."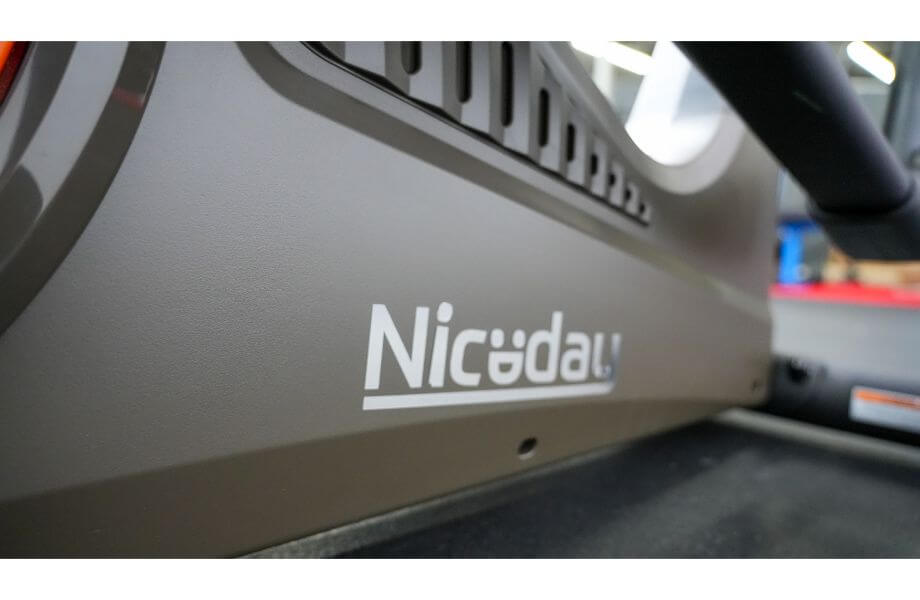 This is a lovely thought and all, but there is not really any way to contact the brand except through Amazon. Since there's no obvious brand website, you're left to the mercy of Amazon's customer service, which can be hit or miss. I'm not sure they'd actually replace a part for this elliptical machine two years or five years after purchase, but that remains to be seen.
I do like ordering products from Amazon because they usually offer solid financing options through their Amazon Rewards Visa Card. You can pay as little as $33.28 a month for 18 months with no interest. Sounds like a win to me.
Plus, you can currently get free shipping on the CT11 (for everyone, not just Prime Members).
If you're not loving your machine, you have the typical 30-day return window Amazon offers to get your money back, as long as your machine is in new condition. To get the process started, go to Amazon and click the 'Returns and Orders' button in the upper right hand corner of the website.
Assembling the Niceday Elliptical CT11
Per usual, Garage Gym Review's Operations Manager and expert assembler Sam "asSAMbly" Presley was in charge of the Niceday Elliptical assembly process.
At 106 pounds, this elliptical isn't exactly lightweight, but it isn't the heaviest thing in the world. Sam recommends grabbing another person to help you bring the box inside and to your room of choice to avoid injury (although it can be done with just one person if you're really strong).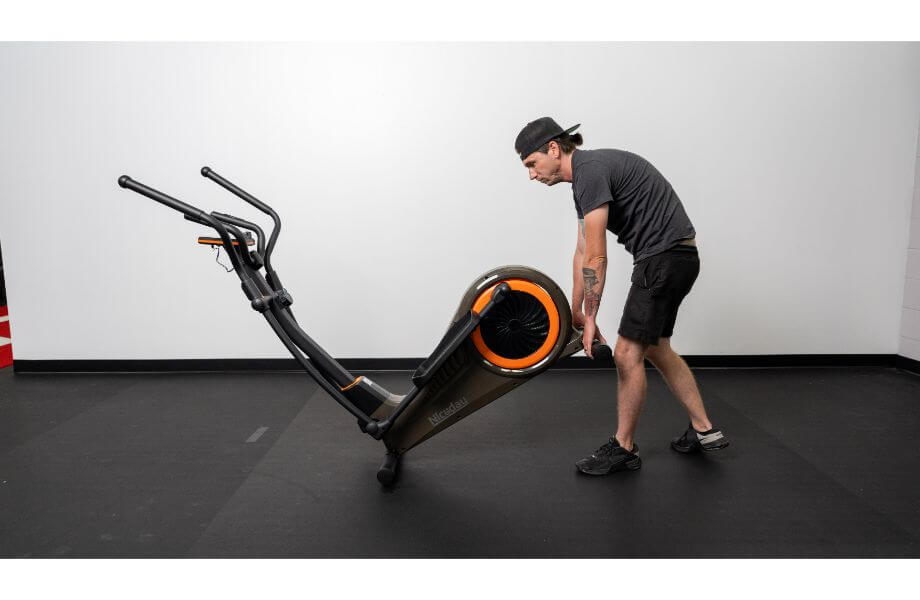 According to Amazon, the machine is "90% pre-built". Sam doesn't necessarily agree with that, because you have to connect the arms, pedals, screen, and resistance yourself.
"The only truly difficult part was installing the cable system that provides the resistance," Sam explained. "You'll be okay once you figure out how it works, but the directions are not great to help you get there."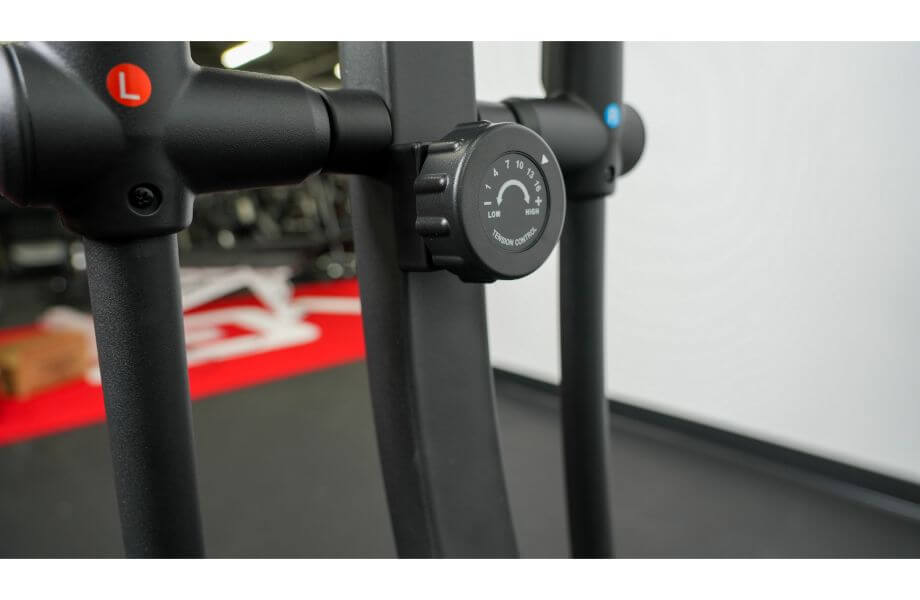 Customer Reviews
On Amazon, the Niceday Elliptical CT11 has over 950 reviews with an average rating of 4.4 out of 5. Consider me impressed.

Satisfied customers loved the simplicity, quietness, and the 16 resistance levels of the CT11.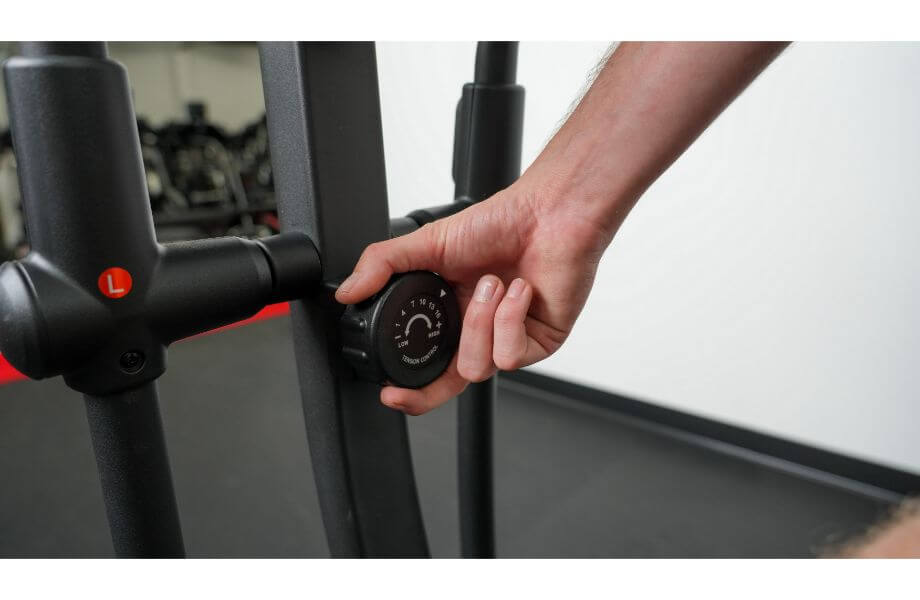 "I would have to say this machine is AWESOME," pleased reviewer Kevin Zheng exclaimed. "Due to the pandemic, we could not go to the gym so we figured we could put our money into the elliptical machine, and I am happy to say I do not regret making this purchase."
On the other hand, some individuals weren't crazy about the short stride length, lack of tech features, and supposed false advertising when it comes to the weight limit. Although the website advertises a 400-pound weight capacity for this machine, some heavier users had the machine break on them when they got close to the capacity. I can definitely see how that would be a major bummer and an inconvenience.
Final Verdict of Our Niceday Elliptical CT11 Review
All in all, I'm not mad at the Niceday Elliptical CT11 for the under-$600 price tag. It's a quiet machine, easy to move, and provides a low impact workout. However, I do wish the CT11 had a heavier flywheel to prevent unnecessary shaking and a longer stride length for taller folks.
Niceday Elliptical CT11 Rating
Niceday Elliptical CT11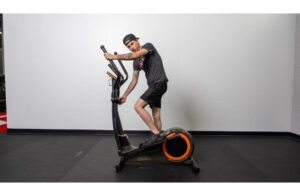 Take a look at this Niceday Elliptical Machine review to see if this is the ideal match for you and your home gym.
Product Brand: Niceday
Product Currency: USD
Product Price: 799.00
Product In-Stock: InStock
Niceday Elliptical CT11 FAQs
Which brand is good for an elliptical?
I wouldn't say you need to purchase a specific brand in order to get a high-quality elliptical for home use. Depending on your personal wants and needs, you might think a piece of cardio equipment is excellent and someone else could hate it. However, there are a few different brands I would recommend checking out for elliptical trainers (depending on your price range):
Schwinn (Mid-range)
Sunny Health & Fitness (Budget-friendly)
NordicTrack (High-end)
Bowflex (High-end)
Is the elliptical machine good for losing belly fat?
Combined with good nutrition, using an elliptical machine can be a way to lose fat. However, please speak with your doctor or a licensed medical professional before beginning a new exercise or diet routine.
In order to get a good workout, what kind of exercise equipment should I buy for my home gym?
Can I get a total-body workout just doing elliptical training?
Although you'll likely use both your upper body and lower body when on an elliptical, I definitely would suggest having more than one exercise machine for full-body workouts. Whether you decide to invest in a squat rack, a barbell, or another heavy-duty training machine, make sure you're enjoying the type of exercise you're doing. This is key to long-term usage and making exercise actually fun. 
RELATED: Best Elliptical Workout