We test and review fitness products based on an independent, multi-point methodology. If you use our links to purchase something, we may earn a commission. Read our disclosures.
If you came across Gorilla Mind in your search for the best pre-workout supplement on the market, you're not alone. Gorilla Mind has taken the supplement world by storm recently, with many people incorporating Gorilla Mode Pre-Workout into their fitness routine.
Gorilla Mode is designed to increase focus and endurance while providing a powerful nitric oxide pump. Sounds great, right? But does it really work? In this Gorilla Mode Pre-Workout review, we'll take a closer look at its ingredients, effectiveness, and overall value.
Medical disclaimer: This article is intended for educational and informational purposes only. It is not intended as a substitute for medical advice. For health advice, contact a licensed healthcare provider. GGR also recommends choosing a product that has been third-party tested for quality.
We've Got the Scoop and Then Some
Our testers come from many different backgrounds, but we all have one goal in mind: to be the best versions of ourselves and encourage others to do the same. Our team of expert testers is made up of registered dietitians, certified personal trainers, high-caliber coaches, and athletes of all levels.
We've actually put Gorilla Mode to the test and compared our notes to the many other pre-workout supplements we've reviewed. We used our professional backgrounds to assess the product's capabilities, but we also tapped into our personal experiences with the pre-workout to give our readers the most comprehensive review possible. We want you to have all the tools to make the best decision for your health and fitness.
Gorilla Mode Pre-Workout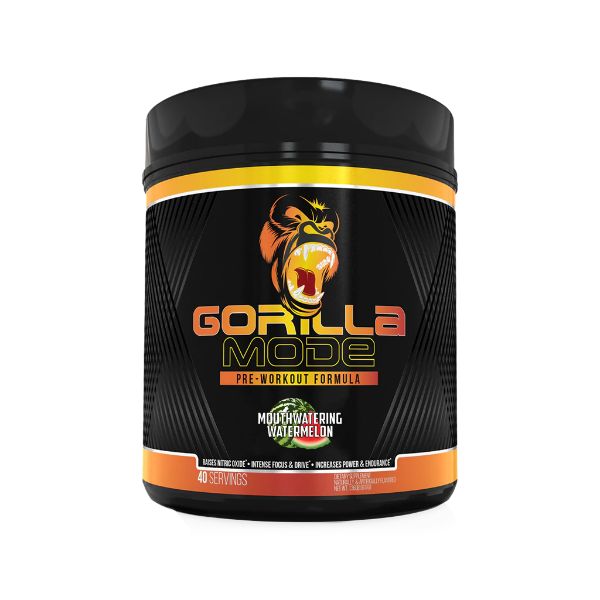 GGR Score: 3.2
Product Highlights
Ingredients shown to improve mental focus, muscle endurance, and energy
11 flavors
Can be bought in bulk for discount
Pros & Cons
Pros
Ingredients shown to improve mental focus, muscle endurance, and energy
11 flavors
Can be bought in bulk for discount
Cons
A bunch of reviewers did not feel its effect
Expensive at $2.50 about per serving
Contains stimulants
Bottom Line
While Gorilla Mode receives mixed reviews, it is formulated with all the key ingredients you want in a pre-workout drink to improve performance in the gym. However, if you are sensitive or want to avoid stimulants, this may not be the supplement for you.
A Quick Look at Gorilla Mode Pre-Workout
Finding the motivation to work out is one thing. Staying focused and keeping your energy levels up is another. Occasionally, we can use a little help. That's where pre-workout supplements come into play. Pre-workout supplements are designed to enhance your cognitive function while giving you a much-welcomed energy boost before you hit the gym, but not all supplements are made the same.
RELATED: Best Pre-Workout for Men
Regarding sports nutrition, Gorilla Mind gets a lot of hype, and rightfully so. Many rely on Gorilla Mind products to enhance their physical performance or mental clarity. It's been around since 2017 and offers various supplements for your fitness needs.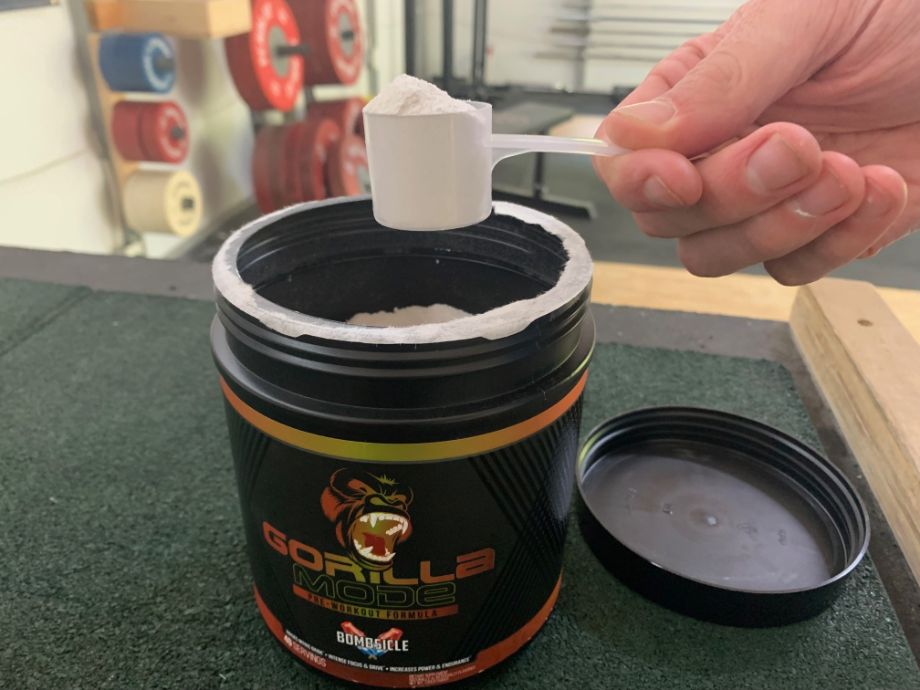 Their popular pre-workout supplement, Gorilla Mode, was created to give you that extra edge during gym sessions. A single scoop of Gorilla Mode might be just what you need to take your training to the next level.
Before You Buy
Each scoop contains 175 mg of caffeine anhydrous.
There is no mention of third-party testing.
It does not contain beta-alanine.
Is Gorilla Mode Pre-Workout Worth It?
Gorilla Mode Pre-Workout is formulated to increase your focus and drive, provide a significant nitric oxide pump, support intramuscular hydration, and help improve your endurance and power. That all sounds great, right? But is it worth the investment?
We think Gorilla Mode certainly has a lot to offer. But, like any product, it may not be the right fit for everyone. So we've included a list of people we believe may enjoy the pre-workout and a list of those who might need to consider an alternative product based on Gorilla Mode's formula.
Great for:
Athletes who can tolerate caffeine.
Athletes who train for extended periods.
Athletes who can benefit from more energy and increased mental focus.
Not recommended for:
Those who are sensitive to stimulants and prefer a stim-free pre-workout.
Athletes on a budget.
Athletes who prefer products that have been tested by a third-party.
Gorilla Mode Pre-Workout Specs
| | |
| --- | --- |
| Price per serving | $1.25 or $1.17 with a 3-tub discount |
| Serving size | One scoop or 15.425 grams |
| Flavors | Mango Peach, Mouthwatering Watermelon, Bombsicle, Jungle Juice, Fruit Punch, Krush, Lemon Lime, Cherry Blackout, Tiger's Blood, Firefly Lemonade, Volcano Burst, Mojo Mojito, and Cotton Candy Grape |
| Key ingredients | L-Citrulline, Creatine Monohydrate, GlycerPump, Betaine Anhydrous, L-Tyrosine, Caffeine Anhydrous, BioPerine, Kanna, Agmatine Sulfate, Huperzine-A, N-Phenethyl Dimethylamine Citrate, and Malic Acid |
| Third-party tested? | No |
| Benefits | Claims to provide improved focus and drive, nitric oxide pump, increased endurance and power |
Experience Using Gorilla Mode Pre-Workout
When you add a supplement to your routine, you want to know that your experience will hit all the marks. Our testers gave Gorilla Mode a try and looked at its effects from all angles. Overall, our experiences point to a positive review.
When taken according to Gorilla Mind's recommendations, Gorilla Mode gave our testers a decent pump and helped channel their focus and energy on the workout in front of them. And even with a decent dose of caffeine, it didn't cause jitters or the dreaded pre-workout crash.
Price Per Serving
Gorilla Mode is sold in tubs containing 40 scoops or servings. You can buy one tub at a time or order three for a bulk discount. If buying one tub at a time, your cost is $1.25 per serving. If you go with the three-tub deal, it comes to $1.17 per serving.
Formulation
Gorilla Mind's pre-workout formula is scientifically formulated with a list of active ingredients. Some of the pre-workout ingredients include a stimulant complex and high-dose nootropics.
L-Citrulline
L-citrulline1, an amino acid, is commonly used in pre-workout supplements due to its purported ability to increase blood flow and energy levels, welcomed benefits for those seeking body adaptations through exercise.
Creatine Monohydrate
Creatine supplementation has been associated with increased muscle strength2 and fat-free mass. It can also help enhance recovery after intense exercise.
RELATED: Creatine vs Pre-Workout
Betaine Anhydrous
Betaine anhydrous3 can help improve your overall workout by increasing your power and force during training.
L-Tyrosine
L-Tyrosine is a non-essential, but important, amino acid that plays a role in producing norepinephrine and dopamine, neurotransmitters involved in your focus and energy levels.
Agmatine Sulfate
Agmatine, made from the amino acid arginine, has been shown to help improve athletic performance and manage neuropathic pain.4
Kanna
Kanna is a medicinal plant5 indigenous to South Africa and traditionally used to support mood and cognitive function. It offers a range of purported benefits, including anti-inflammatory and anti-anxiety effects.
BioPerine
BioPerine, made from black pepper extract, can help enhance the bioavailability6 of other ingredients within the dietary supplement. Every serving of Gorilla Mode contains 5 milligrams.
Caffeine Anhydrous
Every scoop of Gorilla Mode contains 175 milligrams of caffeine anhydrous, intended to give you more energy and improved focus. If you are sensitive to caffeine products, you may need to consider a stim-free pre-workout supplement, such as Gorilla Mode Nitric.
Huperzine A
Huperzine A, a chemical derived from Chinese club or fir club moss plants, is said to help improve mental energy and focus.
Taste and Solubility
Gorilla Mode Pre-Workout is available in 13 different flavors, including Mango Peach, Mouthwatering Watermelon, Bombsicle, Jungle Juice, Fruit Punch, Krush, Lemon Lime, Cherry Blackout, Tiger's Blood, Firefly Lemonade, Volcano Burst, Mojo Mojito, and Cotton Candy Grape.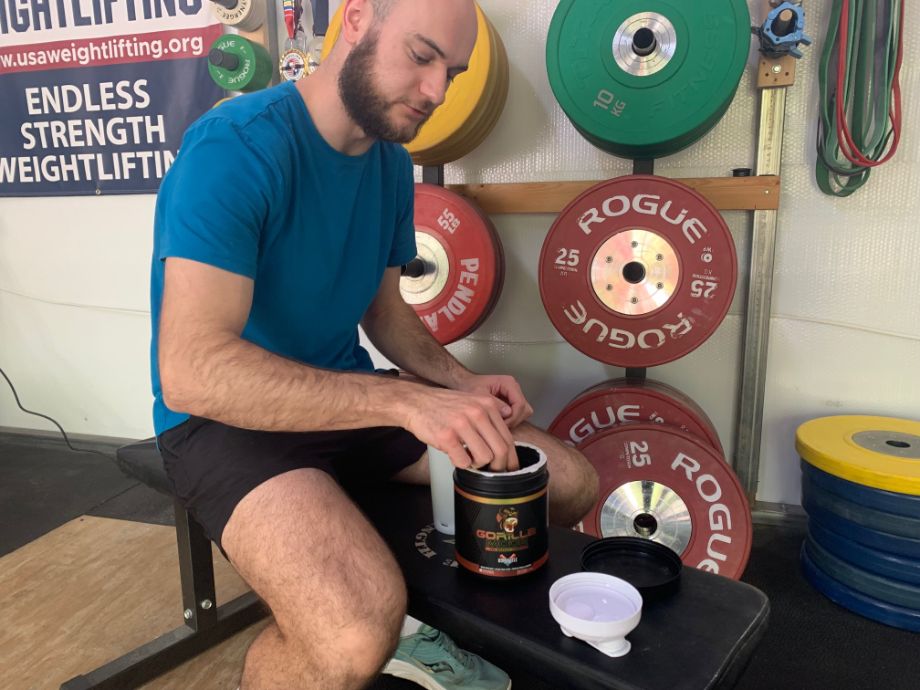 When reading customer reviews, some flavors seem more liked than others. But with so many flavor options to choose from, you may find more than one favorite.
Jacob Penner, USA Weightlifting Coach and member of the GGR expert panel, put Gorilla Mode to the test and had some thoughts on its taste: "Tried Bombsicle; mixed one scoop with 20 ounces of water and it tastes like all three flavors of a rocket pop at once—it just tastes like something sweet. I don't dislike it, I'd just say that the taste isn't the selling point here."
Very few customers mentioned a lack of satisfaction with the pre-workout's solubility. Gorilla Mind recommends mixing 1-2 scoops of powder with 12-14 ounces of water. However, you can adjust the amount of water used to reach the desired flavor level or solubility.
Side Effects
Because Gorilla Mode contains a pretty hefty stimulant complex made of a high dose of caffeine and N-Phenethyl Dimethylamine Citrate, it may lead to difficulty sleeping or increased heart rate.
Of course, everyone reacts differently to nutrition supplements. Jacob Penner knows what side effects to watch for:
"I took this about 15 minutes before my workout," he said. "Two hours later, and I still have a pump. I felt very calm but energetic; I felt confident. I got a pump almost immediately. I also noticed my skin felt warm. I didn't notice tingling at all with this one, which makes sense, because there is no beta-alanine. I'm also not crashing the way you sometimes do after taking a strong pre-workout. I still feel focused. I've taken 50+ pre-workouts, and this is one of my favorites. I'll definitely be using this in my workout routine."
Third-Party Testing
Unfortunately, Gorilla Mind's website does not mention third-party testing. However, many of the pre-workout ingredients have been researched extensively and are backed by trustworthy clinical studies.
Comparison to 4 Gauge Pre-Workout
4 Gauge Pre-Workout
GGR Score: 4
Product Highlights
4 claimed benefits in just one serving: "explosive power, improved focus, extra stamina, and an intense muscle pump" 

Third-party-tested 

Company emphasizes transparency in reporting accurate dosages of each ingredient
Pros & Cons
Pros
Nature-based ingredients
No proprietary blends
No artificial sweeteners
No preservatives
Tastes good according to users
Third-party tested
Cons
Expensive
Lower dose of caffeine at 150mg (not a deal breaker but definitely an issue for some)
Only one flavor
Bottom Line
Although expensive, 4 Gauge pre-workout supplement provides research-backed doses of high-quality and nature-based ingredients to give users the best possible outcomes.
If you're not sold on Gorilla Mode, you might consider 4 Gauge Pre-Workout. It contains just eight ingredients and is designed to give you that pre-workout boost without the post-workout crash or jitters.
Compared to Gorilla Mode, it contains less caffeine anhydrous and creatine monohydrate. For example, every serving of 4 Gauge Pre-workout provides 150 milligrams of caffeine anhydrous and just 1,000 milligrams of creatine monohydrate compared to 175 milligrams and 2,500 milligrams in Gorilla Mode, respectively.
RELATED: Best Creatine
Still, 4 Gauge Pre-Workout contains no proprietary blends or artificial ingredients, unlike Gorilla Mode. At full price, you'll be out $1.77 for each serving of 4 Gauge. However, if you buy in bulk, you end up paying $1.13 per serving.
Customer Experience
Most orders are fulfilled and shipped in 1-2 business days, excluding holidays. You'll have access to tracking information as soon as your package leaves their warehouse. Additionally, Gorilla Mind offers free shipping on U.S. orders over $150 and international orders over $215.
Changed your mind about your purchase? Gorilla Mind offers a 30-day return policy, meaning you have 30 days to contact customer service after receiving your order. However, to qualify for a return, the pre-workout must be unopened. It must be unused and in the same condition you received it.
Ordering Gorilla Mode Pre-Workout
You can order Gorilla Mode Pre-Workout straight from the company's website or on Amazon. For example, if you order from Gorilla Mind, you can purchase one tub at full price or three tubs for a 7% cost savings. Unfortunately, you can't mix and match flavors when ordering under the three-tub discount.
RELATED: How Long Does Pre-Workout Last?
Gorilla Mind offers delivery subscriptions for some of its products. However, when adding Gorilla Mode to your cart, the subscription option isn't available. Still, you can get free shipping at $150 or more.
If you decide to order from Amazon, you have access to almost all of the same flavors available on Gorilla Mind's website. You just don't have access to the same available savings. All tubs are sold individually at the full price. You can set up a delivery subscription, but you must add four other qualifying subscription items to receive 5% off your order.
Customer Reviews
Most reviews of this pre-workout are very positive, with Gorilla Mode having a rating of 4.7 out of 5 stars on the brand's website and 4.3 out of 5 on Amazon at the time of this writing.
Joseph G. posted on the Gorilla Mind website, "Love it. Gives you a massive pump and keeps you 100% focused on your workout. I've also noticed muscle growth due to the Creatine. Thank you."
There are a few reports of a chalky texture, and not everyone loves the flavors, though those reviews are still mostly positive due to the effects of the pre-workout itself.
Ricky Flower left a customer review on Amazon that said, "Good pre-workout, but man…the taste and chalkiness really kills it for me. If you don't mind that, it's good for a pre though!"
Final Verdict of Our Gorilla Mode Pre-Workout Review
Gorilla Mode Pre-Workout is a popular sports nutrition supplement that helps users up their training by supporting their energy levels and mental focus. And you can't forget about the pump it delivers!
Gorilla Mind offers a few different pre-workout products—some with caffeine and some without. If you need more of a caffeine-free pump, you might consider Gorilla Mode Nitric, their stimulant-free pre-workout formula.
Our testers were happy with the effects after taking Gorilla Mode, but of course, it's important to remember that we all react to supplements differently. Consider the pre-workout's ingredients and your experience with taking pre-workout supplements. If you have questions, consider talking with your CPT or registered dietitian.
Gorilla Mode contains 175 milligrams of caffeine anhydrous.
Gorilla Mind offers a stimulant-free pre-workout.
Gorilla Mode is not third-party tested.
Buying three tubs at once saves you 7% on your order.
Gorilla Mode Pre-Workout Rating
Gorilla Mode Pre-Workout
Looking for a new pre-workout? Check out our Gorilla Mode Pre-Workout review to see if it's right for you!
Product Currency: $
Product Price: 50
Product In-Stock: InStock
Gorilla Mode Pre-Workout FAQs
Is Gorilla Mode pre-workout good?
Gorilla Mode gets our testers' stamp of approval. While it may not be the right choice for everyone, it can be a great cognitive enhancer and energy booster before you hit the gym.
Is Gorilla Mode FDA-approved?
Unfortunately, the Food and Drug Administration does not regulate workout supplements. So, while Gorilla Mode Pre-Workout is not FDA-approved, neither are other pre-workout supplements.
Which Gorilla Mode pre-workout is the best?
Gorilla Mind offers a few different pre-workout options. In addition to their standard formula Gorilla Mode, they offer high-stim and stim-free options.
Does Gorilla Mode pre-workout give you a pump?
Gorilla Mode does give you a significant nitric oxide pump. Many customer reviews attest to its pump, as do our testers.
These statements have not been evaluated by the Food and Drug Administration. This product is not intended to diagnose, treat, cure, or prevent any diseases.
References