We test and review fitness products based on an independent, multi-point methodology. If you use our links to purchase something, we may earn a commission. Read our disclosures.
Creatine and pre-workout are two of the most popular fitness supplements, and as such, gym goers have a lot of questions about them—namely, if you can only get one, which one should it be?
If you're serious about improving your athletic performance, you'll want to read our guide to creatine vs pre-workout, where we answer that question and many more about these two popular supplements.
Medical disclaimer: This article is intended for educational and informational purposes only. It is not intended as a substitute for medical advice. For health advice, contact a licensed healthcare provider.
What Is Creatine And What Does it Do? 
Creatine1 is a compound found in the body called an endogenous amino acid. It's composed of three amino acids: arginine, methionine, and glycine.
If you're been looking into exercise performance, bodybuilding, and muscle recovery in any capacity, you've probably already heard or read that amino acids are the building blocks of proteins2.
There are hundreds of amino acids in the world, but humans only need about 20 to properly repair and build muscle. Of those 20, nine are essential (meaning we must get them from food) and 11 are non-essential, meaning our bodies create them on their own.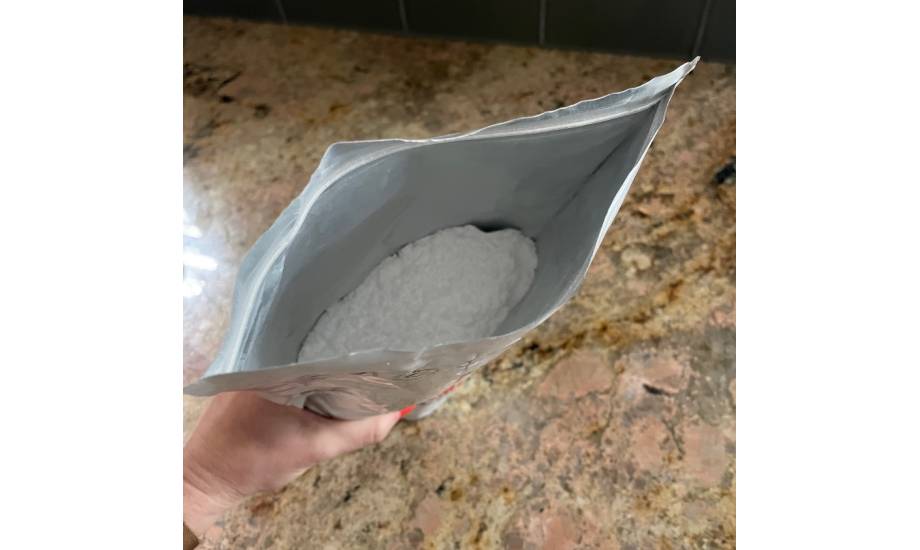 Creatine is composed of nonessential amino acids; it and its components are things your body already makes. However, supplementing with creatine can increase creatine stores in the body and lead to a number of potential performance benefits.
There are a few forms of creatine supplements, including creatine phosphate, creatine monohydrate, and creatine HCl.
How Much Creatine Should I Take? (Creatine Dosage)
One way to dose creatine is to start with a loading phase, which is thought to effectively saturate creatine stores in the muscle tissue, according to a 2021 double-blind study in the Journal of the International Society of Sports Nutrition9. The loading phase refers to a short period of time, typically five to seven days, during which you'll intake a large amount of creatine.
The loading dosage is 20 to 25 grams per day, and you'll split it up into four to five doses per day. After the loading phase, you'll switch to a maintenance dose of 3 to 5 grams per day, according to the International Society of Sports Nutrition10. This much is necessary for retention of creatine muscle stores.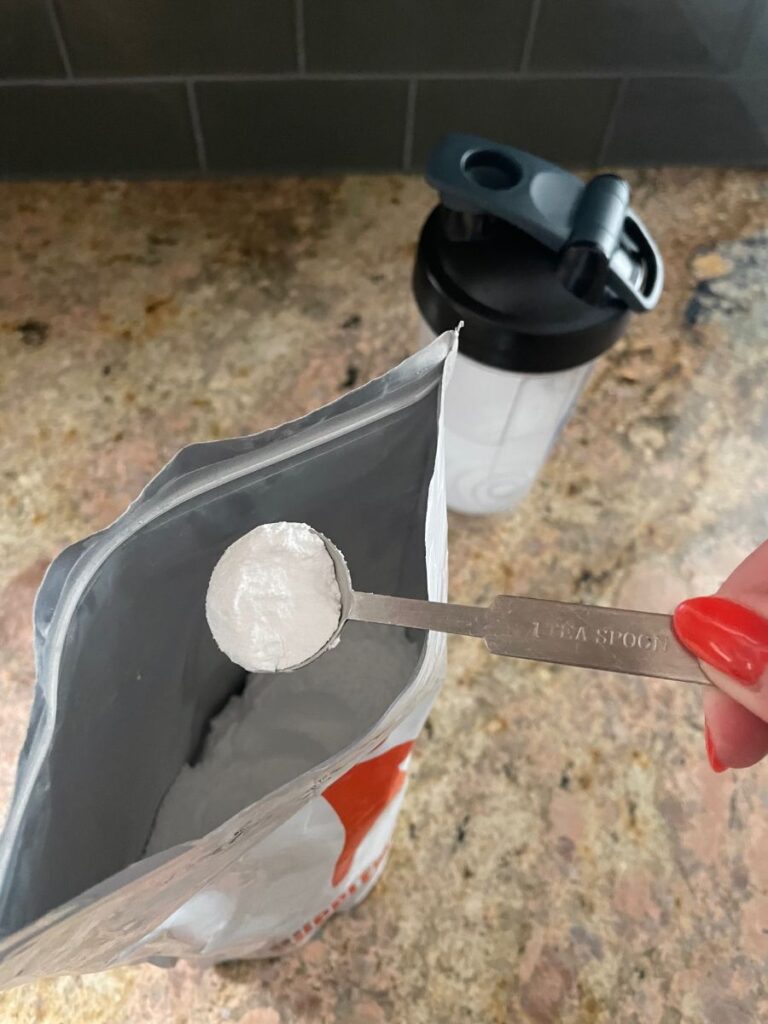 That said, the best creatine supplements contain 3 to 5 grams of creatine per serving.
Although creatine is generally considered safe, some people do experience side effects, primarily short-term bloating. People who have kidney dysfunction should know that taking too much creatine could result in excess creatinine, a waste product left over from energy processes that occur in your muscles. Healthy kidneys should filter this out.
Best Time to Take Creatine
Some research, specifically this 2013 study in the Journal of the International Society of Sports Nutrition11, posits that taking creatine shortly post-exercise elicits the best results.
Other research, including a 2015 study in the journal Applied Physiology, Nutrition, and Metabolism12 and a 2014 study in the journal Research in Sports Medicine13, found that there's no difference in results whether you take creatine before or after a workout.
A 2021 study in the journal Nutrients14 reports that there's not enough evidence to make a valid recommendation one way or the other, but that it's likely that it's better to take creatine shortly before or after exercise, rather than in isolation from exercise.
Benefits of Creatine 
The positive effects of creatine are many, and they're highly studied. In fact, creatine is one of the most studied sports supplements out there.
Dietary supplementation of creatine is known to:
RELATED: Best Creatine Supplements
What is Pre-Workout And What Does it Do? 
Pre-workout is a fitness supplement that you take before a workout in order to enhance your performance in a variety of ways.
Pre-workouts usually contain some combination of these types of ingredients:
Stimulants to enhance mental focus and energy
Vasodilators/nitric oxide boosters to increase muscle pumps
Nootropics to increase mental acuity and focus
Amino acids that serve various purposes related to performance and recovery
Bioavailability agents to increase absorption of all of the ingredients in the powder
How Much Pre-Workout Should I Take? (Pre-Workout Dosage)
Follow the instructions on your pre-workout supplement to determine how much pre-workout you should take. It's important not to exceed the recommended serving size per day for any supplement, but especially for pre-workout, since caffeine toxicity27 is a very real and scary possibility. Also note that the side effects of beta-alanine—the tingling sensations called paresthesia—intensifies as the dose increases. If you're new to pre-workout, it might be best to start with half of a dose, assess your tolerance, and then gradually increase from there if you see fit.
Best Time to Take Pre-Workout
Like the name suggests, the best time to take pre-workout is… (drum roll please) … before your workout. But, we can get a little bit more specific than that.
Taking a pre-workout supplement a few hours before your workout won't do much, except perhaps make you want to itch all of your skin off. Conversely, taking your pre as you're walking into the gym means you won't start feeling the full effects until mid-workout.
The sweet spot tends to be 30 to 60 minutes prior, depending on your tolerance to the ingredients, specifically caffeine. People new to pre-workout or those who are super sensitive to stimulants can probably get away with 30 minutes.
Most people probably want to aim for around 45 to 60 minutes before their workout to allow the caffeine enough time to start doing its thing. Why? According to a book on the pharmacology of caffeine28, the substance peaks in your body anywhere from 15 to 120 minutes after consumption, but it's commonly said that the maximum effect of caffeine takes place around 60 minutes after consumption29.
Other pre-workout ingredients work across varying time frames. Levels of BCAA in the blood, for example, tend to spike at around 30 minutes after consumption, according to a 2012 study in the Journal of International Sports Nutrition30.
For most ingredients in pre-workout, the optimal consumption time frame has yet to be determined, so it's best to go off of the one we know the most about: caffeine.
One thing's for certain: You don't want to take pre-workout post-workout, and definitely not right before bed!
Benefits of Pre-Workout
The exact benefits of pre-workout differ depending on the ingredients used. Here's a look at some common pre-workout ingredients and how they can help improve your workout performance:
The best pre-workout formulas will contain multiple ingredients, but not necessarily all of the above. Also, be aware of proprietary blends and choose products with full labeling transparency.
Creatine vs Pre-Workout: Key Differences
Both creatine and pre-workout can improve sports performance and exercise performance in a number of ways.
The main difference between the two supplements is that pre-workout contains many ergogenic ingredients and creatine supplements contain mainly creatine, perhaps with an added bioavailability agent and, of course, ingredients for taste and texture.
Additionally, pre-workout includes stimulants to boost energy levels and focus, while creatine powder does not. Pre-workout may help you perform more reps during resistance training and keep up high-intensity exercise for longer due to the stimulants.
Can I Use Creatine As Pre-Workout?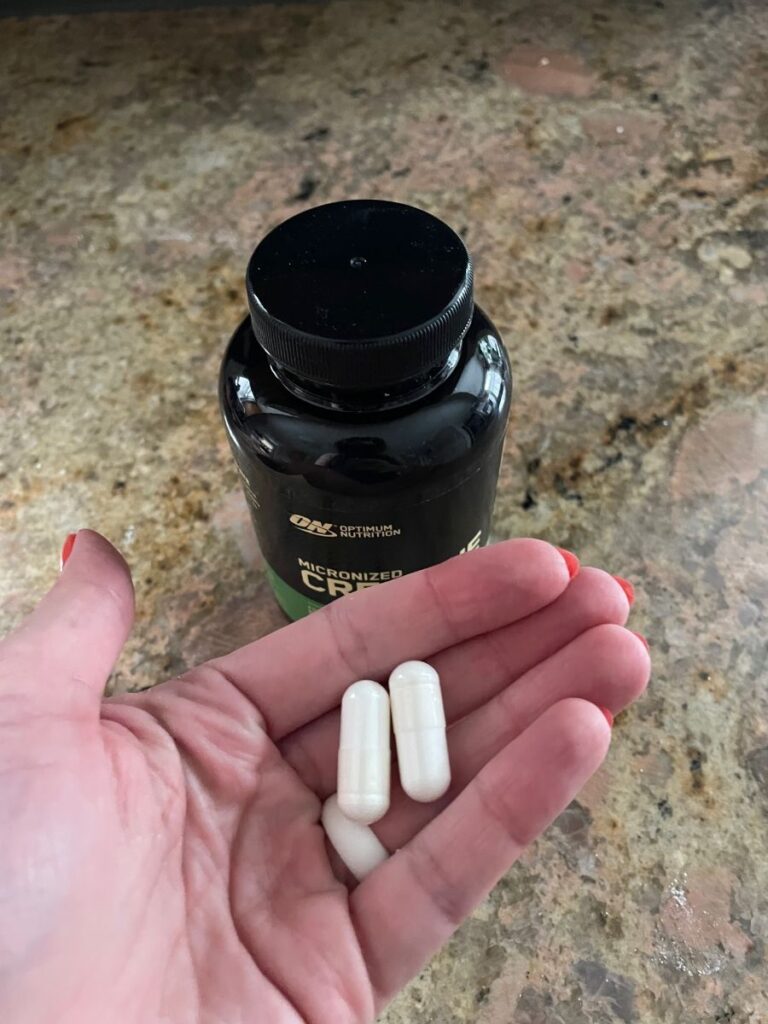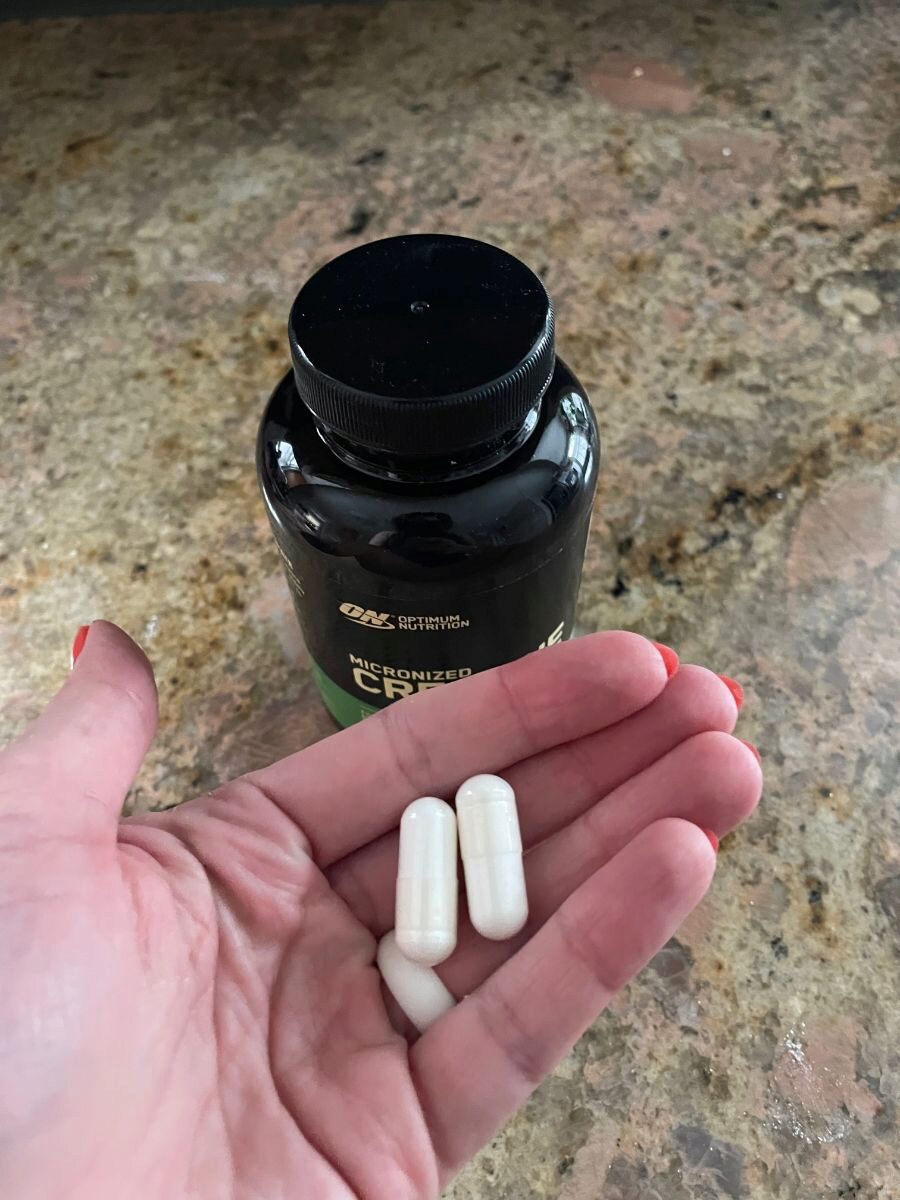 You can use creatine as pre-workout if you want, but it won't have the same effect as a true pre-workout supplement. If you're looking for the "buzz" that comes with pre-workout, you'll need something that contains caffeine (responsible for energy and focus), beta-alanine (responsible for the tingles), and a vasodilator like beet root extract (responsible for increased nitric oxide production, which increases blood flow and contributes to the pump).
Pre-Workouts with Creatine — Should You Take Both Together?
You can absolutely take creatine and pre-workout together! Many pre-workout supplements contain creatine to give you an extra boost in the gym, which makes sense, and it might be worthwhile to look for such a pre-workout depending on how long you've been using creatine. Since creatine requires a loading phase, a beginner might require a separate creatine supplement to ensure they're getting enough.
If you do use a pre-workout with creatine, make sure it contains at least 3 grams per serving. If your favorite pre-workout contains less than that, you might also need a separate creatine supplement.
Creatine vs Pre-Workout: Final Thoughts 
Creatine and pre-workout are not one and the same. While pre-workout contains multiple ingredients that work to enhance performance, creatine is a single ingredient (although some creatine supplements contain other ingredients as well). Some pre-workout supplements contain creatine, too.
Creatine is known to improve physical performance and can lead to increases in muscle mass and strength. It is sometimes included in pre-workout supplements, but you can also take it individually.
Pre-workout supplements contain many ingredients, primarily stimulants like caffeine and compounds that work as vasodilators. Vasodilators are responsible for the "pump" you get when working out on pre-workout.
Creatine vs Pre-Workout: Q&A
To wrap up, let's look at some commonly asked questions about creatine and pre-workout.
Can you take creatine and pre-workout together?
Yes, you can take pre-workout and creatine together. In fact, many pre-workouts contain creatine. The creatine dosage in pre-workout supplements generally is not as high as it is in creatine-specific supplements, though.
Is creatine the same as pre-workout?
No, creatine is not the same as pre-workout, but it is an ingredient in some pre-workouts.
Does creatine give you energy before working out?
Creatine itself isn't a stimulant, so it won't give you energy in the way that caffeine does. However, if you take a supplement that contains creatine and a stimulant, it should provide energy.
Which is better: creatine or pre-workout?
One supplement isn't necessarily better than the other. Creatine is a single ingredient that can act as an ergogenic aid, while pre-workout contains multiple ingredients known to act as ergogenic aids. It all depends on what you're looking to get out of your supplements. If you're not interested in stimulants and other common pre-workout ingredients, creatine would be the way to go. 
These statements have not been evaluated by the Food and Drug Administration. This product is not intended to diagnose, treat, cure, or prevent any diseases.
References