We test and review fitness products based on an independent, multi-point methodology. If you use our links to purchase something, we may earn a commission. Read our disclosures.
Creatine is the most heavily studied dietary supplement in the sports nutrition world, and the consensus among experts is this: It works! Creatine has been shown to help build muscle mass, aid in ATP synthesis (our body's form of energy), and generally help boost exercise performance1,2.
This is why it doesn't hurt to own a creatine pre-workout. Our supplement stacks can grow and grow, from the best pre-workouts to the best BCAAS and protein powder, but, come on—our stomachs can only handle so much. Including creatine in your pre-workout can help consolidate your supplement regimen. It also allows you to use the "creatine bloat," the phenomenon of creatine pulling water into the muscles, to your advantage to enhance that coveted muscle pump.
Now, if you've heard the rumor that supplementing with both creatine and caffeine (a common pre-workout ingredient) at the same time is a waste due to the two ingredients counteracting each other, a recent review suggests that this is nothing more than paranoia and that athletes who supplement with both may actually experience more performance benefits3.
That said, we've highlighted the inclusion of both creatine and caffeine in our picks for informational purposes. So, with that in mind, please take a moment to sit back, relax, and read on to learn about the next pre-workout to get you jacked.
Medical disclaimer: This article is intended for educational and informational purposes only. It is not intended as a substitute for medical advice. For health advice, contact a licensed healthcare provider.
Best Pre-Workout With Creatine
Best Pre-Workout With Creatine Overall: Gorilla Mode
Good for: Individuals who want good focus and an even better pump
Currently ranked as #3 in the Sports Nutrition Pre-Workout Powders category on Amazon, Gorilla Mode earns our pick as the best overall pre-workout on this list due to the sheer potency of ingredients. Not only does their pre-workout boast a high dose of l-citrulline at 9 grams, but it contains nearly 24 grams of active ingredients in a two-scoop serving.
If you're looking for some consistent muscle pumps, then Gorilla Mode is what you should check out: the L-tyrosine, Glycerpump, and 2,500 milligrams of creatine monohydrate can all work to improve blood flow to the muscles.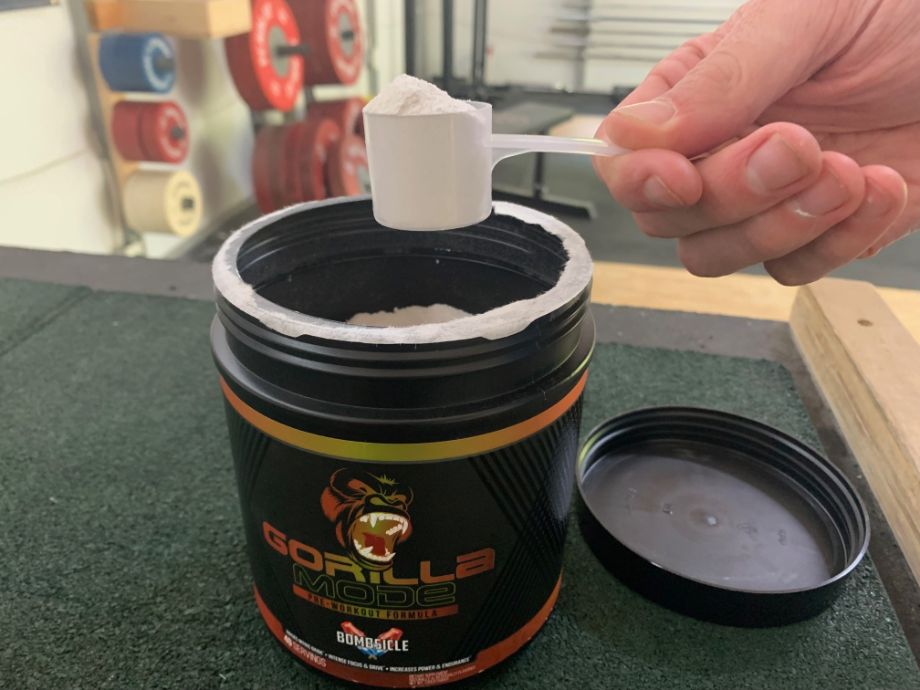 Jacob Penner, a USAW Level 1 Trainer and member of the GGR expert panel, has tried 50+ pre-workouts and says Gorilla Mode is one of his favorites. "Even two hours after my workout, I still feel pumped up, and I don't crash the way you sometimes do after taking a strong pre-workout. I still feel focused."
There are also only 175 milligrams of caffeine anhydrous, so the focus with this pre is less on the energy boost and more on the potential to boost muscle gain, improve blood flow, and maintain focus. This is also a plus for those of us who are used to getting caffeine from our daily coffee and do not want to overdo it when it comes to our pre-workout, so the lower-than-average dose provides a layer of comfort here.
Just a note about the glycerol from Glycerpump: Studies that showed glycerol can be helpful for exercise performance4 also showed that it can cause weight gain, so you want to be careful with this one if weight loss is one of your fitness goals. Also, glycerol is prohibited by the World Anti-Doping Agency (WADA).
So, it's fine to take if you aren't an athlete who gets drug-tested, but it's not recommended if you do fall into this category. In general, though, we love the pump you get from Gorilla Mode along with the absence of too many stimulants or beta-alanine so you can stay focused and jitter-free.
| | |
| --- | --- |
| Price per serving | $1.25 |
| Flavors | Bombsicle, Cherry Blackout, Fruit Punch, Jungle Juice, Lemon Lime, Lemonade, Mojo Mojito, Orange Krush, Tigers Blood, Volcano Burst, Watermelon |
| Contains caffeine? | Yes |
| Creatine per serving | 2.5 grams |
Strongest Pre-Workout With Creatine: Kaged Pre-Kaged Elite
Good for: People who want a pre-workout packed with active ingredients
Whenever a pre-workout has a product page that describes its workout products as "not for the faint of heart," that's when you know that they mean business. Despite containing over 20 effective ingredients, Pre-Kaged Elite contains 0 artificial flavors, artificial sweeteners, colors, or GMOs.
Now let's talk about the creatine: Unlike most creatine pre-workout supplements, Pre-Kaged contains both creatine nitrate and creatine monohydrate. Though creatine monohydrate and creatine nitrate don't differ much in how they affect workout performance, creatine nitrate5 is thought to have greater solubility, meaning you can take a smaller dose than you would of creatine monohydrate5.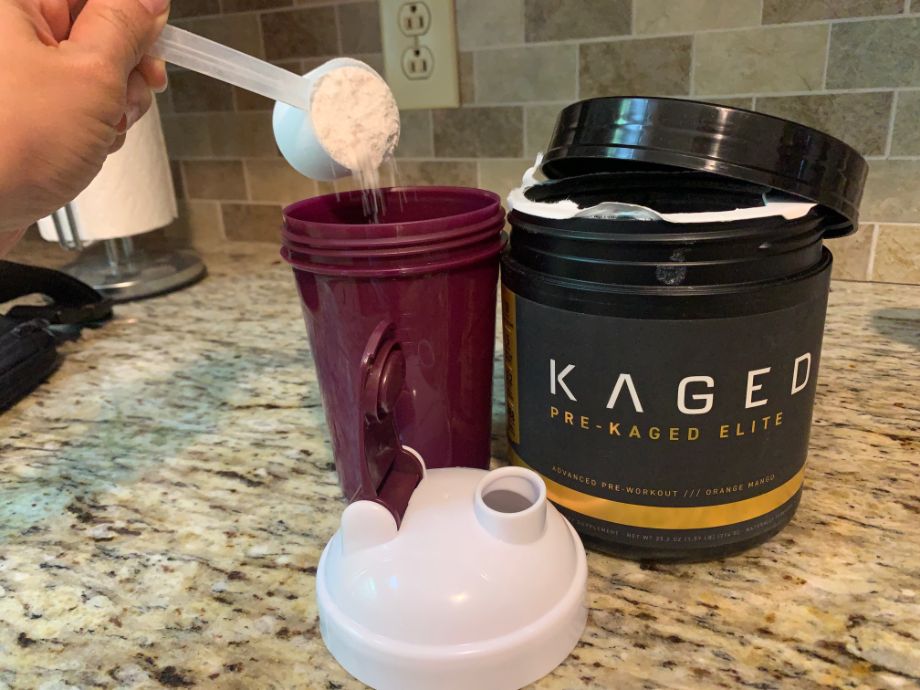 With respect to Pre-Kaged's Elite formula, we have to point out that its pricing is a little steep in comparison to others. On average, a tub costs about $60, and there are only about 20 servings in a tub. Considering the size of the scoop (nearly 35 grams!), it may seem as if the tub is small, so we hope you'll be comfortable with the cost if you plan to use this pre-workout frequently.
Jacob Penner, USAW Level 1 Trainer and member of the GGR expert panel, also tried this pre-workout and says it's a good, solid option that provides a constant stream of energy. "I'd use this again! Really like the flavor and the effects. I wouldn't use it on a day when I need a massive burst of energy or pump, but I would use it for routine training."
RELATED: Kaged Muscle Pre-Kaged Review
| | |
| --- | --- |
| Price per serving | $3.00 |
| Flavors | Glacier Grape, Caribbean Sunrise, Orange Mango, Strawberry Lemonade, Fruit Punch |
| Contains caffeine? | Yes |
| Creatine per serving | 5 grams |
Best Pre-Workout With Creatine for a Pump: 4 Gauge
Good for: Those looking for a pump without the crash
4 Gauge is one of our favorites due to it being almost made to give muscle pumps—and good ones at that. It contains ingredients like beetroot, which is known for its ability to increase levels of nitric oxide in the blood6. This, along with the creatine monohydrate, can work to keep those muscles feeling inflated.
Additionally, 4 Gauge features carnitine, which has been shown to increase athletic performance, reduce muscle fatigue, and promote muscle recovery7.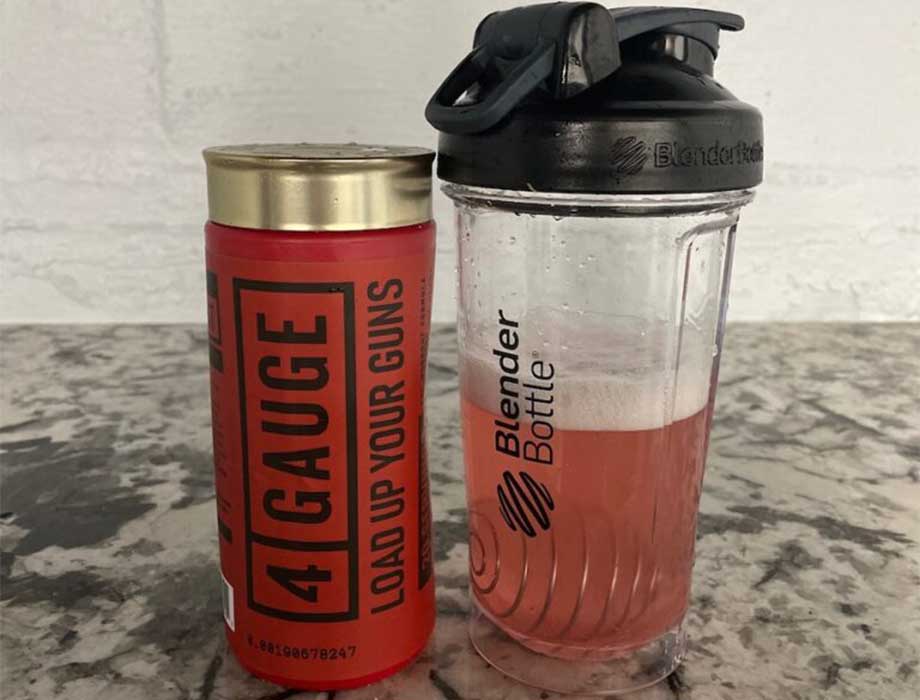 The compound Rhodiola rosea is also included in the formula, which is a fairly new compound on the market. According to recent studies, however, it may have multiple benefits when it comes to improving athletic performance, including a reduction in the amount of muscle damage after intense exercise8.
Though 4 Gauge contains caffeine, it doesn't have any beta-alanine, so you can enjoy your pump without the tingles or crash. I admit I would have liked to see a slightly higher dose of creatine, considering the best creatine supplements include at least 3 grams to maximize the potential to build muscle. Having said that, if you're more interested in getting a pump, you're in good hands.
| | |
| --- | --- |
| Price per serving | $2.25 |
| Flavors | Frozen Lemonade, Fruit Blast, Pina Colada |
| Contains caffeine? | Yes |
| Creatine per serving | 1 gram |
Best Natural Pre-Workout With Creatine: Naked Energy
Good for: People who like their pre-workout without all the fillers and stimulants
Naked is a brand that people turn to when they want a high-quality, all-natural sports nutrition supplement, and Naked Energy is no exception. Given the crazy flavors and ingredients are nearly a defining feature of pre-workout supplements today, finding a more natural formulation can be difficult.
Naked is known for its unflavored supplements, which offers some versatility in how you can consume them. Even the flavored options have been given their taste using natural ingredients as Naked Energy does not contain any GMOs, fillers, additives, artificial colors, or artificial sweeteners. We should note, there is one natural ingredient in this formula that is cane sugar, which means the formula is not sugar-free.
If you're sensitive to stimulants, Naked offers a stim-free version of Naked Energy that is also the only variation of the pre-workout formula that does not have beta-alanine. So, if you're trying to avoid the pins and needles, that's the one you might want to go with. Other than that, along with being third-party tested, it's hard to find a pre-workout powder more transparent than Naked Energy.
GGR senior staff writer Amanda Capritto tried Naked Energy and really likes it for her triathlon training. "Citus is quite lemony, but not overpoweringly tart or sour. I always feel energized and focused when I take this," she says.
| | |
| --- | --- |
| Price per serving | $0.90 |
| Flavors | Unflavored, Fruit Punch, Citrus, Stim-Free |
| Contains caffeine? | Yes/No |
| Creatine per serving | 1 gram |
Best Pre-Workout With Creatine for Beginners: Optimum Nutrition Gold Standard Pre-Workout
Good for: People just starting out on their fitness journey or trying pre for the first time
As one of the most accessible brands of sports nutrition supplements in the industry, Optimum Nutrition has built a reputation for being one of the most reliable brands on the market. Their strawberry whey was my go-to post-workout for years when I first started my weight lifting journey, and I appreciate that it's not only easy to find, but it's affordable as well. Their pre-workout will run you only about $1.10 per serving and has a formulation that's far from overwhelming.
RELATED: Best Optimum Nutrition Flavor
Along with micronutrients and 3 grams of creatine per serving, it also contains a proprietary blend of something called AstraGin. Now, AstraGin doesn't have a direct influence in building muscle mass or boosting energy levels, but studies have suggested that this patented compound can get your gut primed9 to the pre-workout ingredients contained in Gold Standard pre-workout with minimal discomfort.
There isn't an obscene amount of any one type of ingredient, even the more well-known ones like l-citrulline, l-tyrosine, and beta-alanine. And while it's not a stimulant-free pre-workout, there are only 175 milligrams of caffeine, which is a pretty tame amount by pre-workout standards.
GGR head of content Kate Meier says several members of her weightlifting team have been using this pre-workout for years, and find it a solid choice. "You'll get a little tingly, but overall, have great focus and energy levels from this. You won't get the strongest pump, but this is always a reliable choice for pre-workout."
In light of all of these factors, Gold Standard pre-workout is a great supplement for beginners who might be intimidated by the bigger scooped supplements taken regularly by more experienced weightlifters.
| | |
| --- | --- |
| Price per serving | $1.10 |
| Flavors | Blueberry Lemonade, Fruit Punch, Green Apple, Watermelon |
| Contains caffeine? | Yes |
| Creatine per serving | 3 grams |
Best Pre-Workout With Creatine for Focus: JYM Supplements Pre JYM
Good for: People who want a multifunctional pre-workout powder
There are 13 active ingredients in Pre JYM that are designed to help boost your performance and focus during those intense workouts. One of those ingredients is a different form of creatine: creatine HCl.
According to science, the difference in performance benefits between creatine monohydrate and creatine HCl isn't very large at all. However, it has been suggested that creatine HCl can be more favorably absorbed10 in the gut than monohydrate. It may also be more effective at supporting weight loss than other forms of creatine.
Now what about focus? Pre JYM contains 300 milligrams of caffeine, which has been shown in several studies to promote mental focus11. If caffeine is taken with other nootropics such as taurine—of which there's 1 gram of in a serving of Pre JYM—then caffeine's ability to enhance cognition is enhanced even further. Taurine is one of the amino acids that is used as treatment for neurological disorders and may be able to boost focus during exercise12.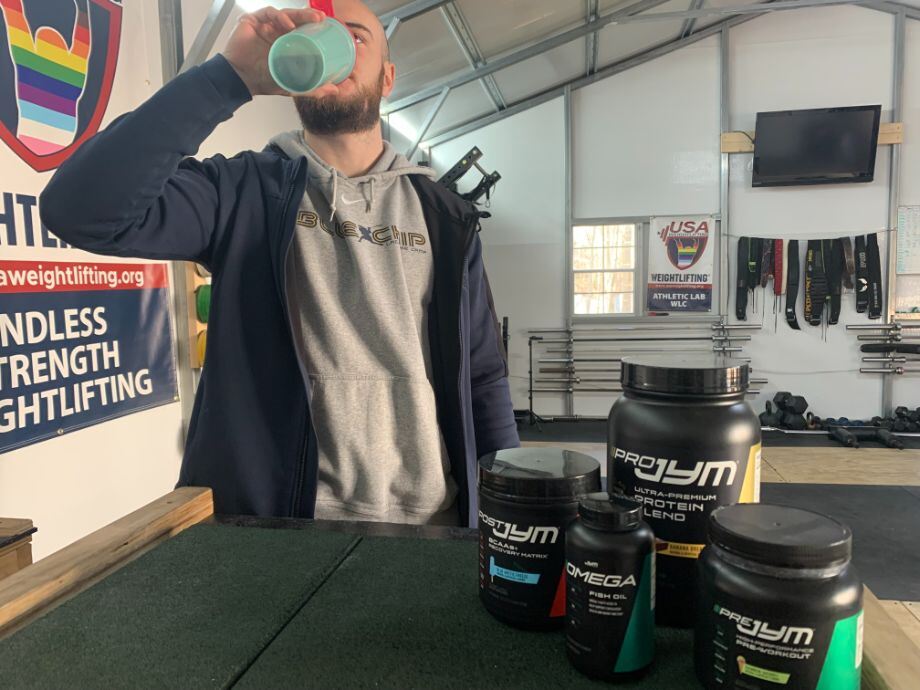 Jacob Penner, USAW Level 1 Trainer and member of the GGR expert panel, calls Pre JYM one of his go-to pre-workouts, saying he always feels super clear and stimulated for his session. In fact, his whole weightlifting team is now a fan of Pre JYM as well for this reason.
Pre JYM also has more going for it: It also contains BCAAs and electrolytes to aid in the gain of lean mass and to promote positive hydration status. Here's a fun fact: Dehydration negatively affects mental focus, attention, reaction, and mood, according to research13. This is just another sneaky way that Pre JYM helps with cognitive function, along with having many of the other common pre-workout ingredients you may be looking for.
Check out our full JYM Pre-Workout review to learn more.
| | |
| --- | --- |
| Price per serving | $2.80 |
| Flavors | Raspberry Lemonade, Rainbow Sherbet, Grape Candy, Cherry Limeade, Orange Mango, Tangerine, Pink Lemonade, Black Cherry, Pineapple Strawberry, Strawberry Kiwi |
| Contains caffeine? | Yes |
| Creatine per serving | 2 grams |
Best Pre-Workout With Creatine for Muscle Gain: Blackwolf
Good for: Those looking for a great-tasting pre-workout used by elite athletes
Blackwolf is a brand that hails itself as big on flavor and big on results. Based on what I saw after glancing at the ingredient list, it appears one of those results is a serious pump. Creatine and l-arginine in particular can help flood the muscles with blood, which can result in muscle growth14 over time.
L-arginine in particular is one of those nitric oxide boosters you hear about and science has shown that not only can it help with blood flow, but it can help improve aerobic and anaerobic athletic performance15 as well.
Blackwolf is made in the U.S. and manufactured in a GMP-certified facility. However, it does not appear to bear a certification of third-party testing at this time. Also, while there are no secret proprietary blends, you want to carefully check which of your favorite flavors you order as there are key ingredients that are left out depending on which one you end up selecting. That said, the Fruit Punch flavor is a stimulant-free pre-workout for our caffeine-sensitive readers out there.
| | |
| --- | --- |
| Price per serving | $2.05 |
| Flavors | Green Apple, Blue Raspberry, Fruit Punch |
| Contains caffeine? | Yes/No |
| Creatine per serving | 3 grams |
Best High-Stim Pre-Workout With Creatine: RYSE Godzilla
Good for: Those not sensitive to the effects of caffeine and beta-alanine
Not only are there two types of caffeine in RYSE, but two types of citrulline as well: l-citrulline and citrulline nitrate. One of the most common pre-workout ingredients, science has suggested that citrulline plays a role in improving blood flow and muscle recovery16.
Whenever you manage to graduate to a level where you are able to take 2 scoops of this monster of a pre-workout, expect to also ingest a pretty hefty dose of beta-alanine, which is approximately 6.4 grams.
Beta-alanine is known for its ability to help you crank out more reps17, especially during high-intensity exercise. The average amount in most pre-workout supplements is about 2 to 3 grams, so if you're sensitive to the tingling sensation of this ingredient, look out.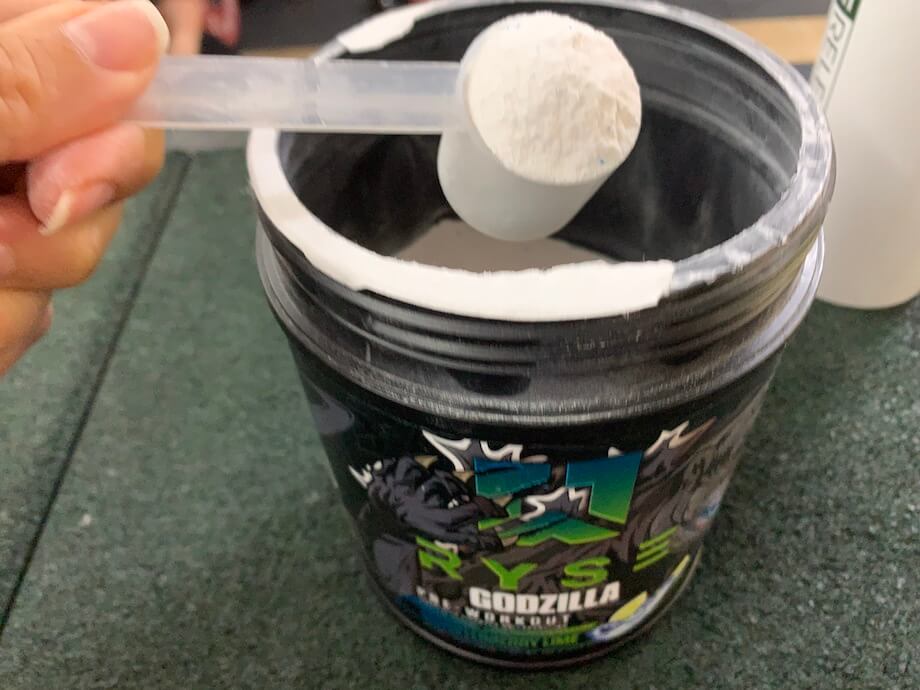 Rose, a member of GGR head of content Kate Meier's weightlifting team, tried RYSE and felt the effects of the beta-alanine pretty quickly. "I've tried about half a dozen pre-workout, but this is stronger than what I have used before; and this is the first time I really felt the strong tingles!"
RYSE also contains 5 grams of creatine monohydrate, which is the effective dose for you to achieve all of the benefits of creatine without taking an extra supplement. Not half bad. The formula also has the electrolytes potassium and sodium from pink Himalayan sea salt to help optimize hydration.
Finally, this pre-workout is a monster with 2 scoops making up 40 grams of powder. For perspective, that's nearly ½ cup of powder, which is enough to make even the bodybuilders gulp. All in all, though, if you can stomach it, there's a lot of good stuff to be found inside.
Get all the details with the full RYSE Pre-Workout review.
| | |
| --- | --- |
| Price per serving | $1.38 |
| Flavors | Blackberry Lemonade, Monsterberry Lime, Passion Pineapple, Strawberry Kiwi |
| Contains caffeine? | Yes |
| Creatine per serving | 2.5 grams |
Best Budget Pre-Workout With Creatine: MuscleTech Vapor X5
Good for: People who want all of the basics of a good pre-workout without a hefty price tag
Vapor X5 from MuscleTech is by far the cheapest brand on our list, coming in at only 83 cents per serving. That being said, it's still packed with ingredients to optimize focus, exercise performance, blood flow, and even hydration. Seriously, we don't even have enough room here to break down all of the complexes in this formula.
Vapor X5 has 1.5 grams of creatine per scoop, which is a bit under-dosed, but it's a start if you're looking to supplement with creatine. A highlight of Vapor X5's formula, though, is betaine anhydrous. Some studies have shown that betaine anhydrous can help with muscular endurance and the quality of reps performed18 after 15 straight days of supplementation18.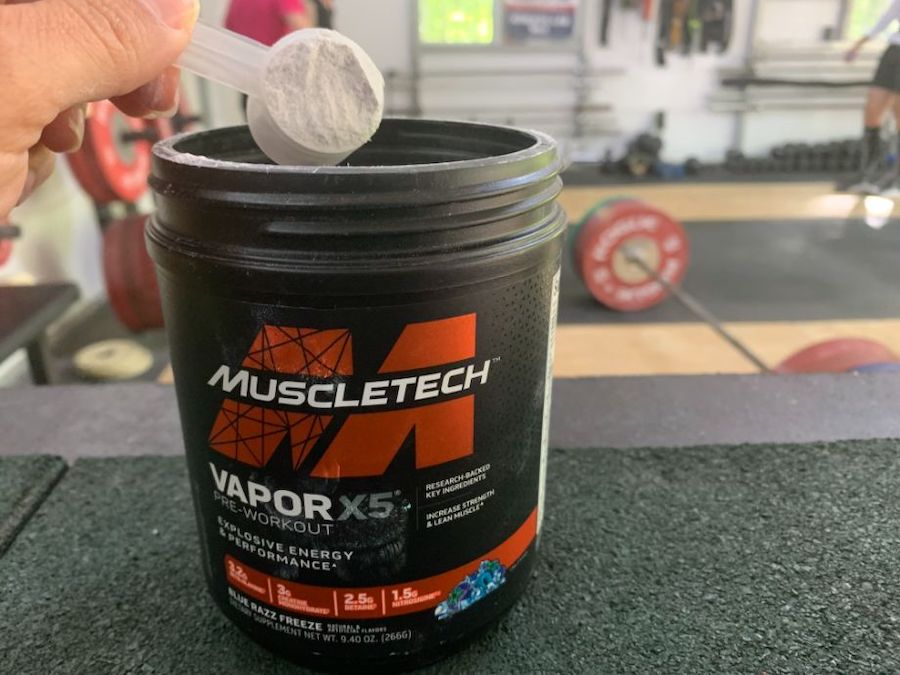 Vapor X5 also contains l-theanine, which has been widely researched. Studies suggest that athletes who supplement with l-theanine can benefit from improved immune function even during high-intensity exercise training19. It has also been shown to help improve cognitive function and act as a nitric oxide booster20,21.
Jacob Penner, USAW Level 1 Trainer and member of the GGR expert panel, says he felt more awake pretty quickly after taking Vapor X5. "I took this at the end of my work day about 15 minutes before my workout session. I could tell some of that low-energy feeling I had at the end of the work day went away. And there was no tingling, I was just very alert."
This supplement does not contain any branched-chain amino acids, but it does contain plenty of other non-essential amino acids, which can serve to improve your workout performance without costing you a fortune.
| | |
| --- | --- |
| Price per serving | $0.83 |
| Flavors | Fruit Punch Blast, Blue Razz Freeze, Miami Spring Break |
| Contains caffeine? | Yes |
| Creatine per serving | 1.5 grams |
Other Pre-Workout With Creatine We Researched and Tested
There are quite a few other pre-workouts with creatine on the market, and we researched many of them. Here are a few that didn't quite make our list.
Jacked Factory Altius Pre: This was sold out when we tried to order it, but looks like a good formula.
Cellucor C4: This only has 1 gram of creatine per serving, so we left it off the list.
Beyond Raw Lit: While we like this pre-workout, there are others we like more.
Benefits of Pre-Workout With Creatine
Creatine and pre-workout supplements are not one in the same, and a pre-workout does not have to contain creatine to be good. However, some of the best pre-workout supplements are those that serve multiple functions and a pre-workout that contains creatine can serve to help with building lean mass and other performance benefits. So, here are some benefits to taking a pre-workout that also contains creatine:
RELATED: Pre-Workout Alternatives
Muscle Pumps
It is commonly understood that a "pump" is defined in the fitness world as that temporary increase in blood flow that makes the muscles appear huge after you have worked out. Like we talked about earlier, this is great not only for confidence or getting ready for a night out or aesthetic competition, but may also translate to the synthesis of more lean mass over time14.
Ingredients like citrulline malate may be able to help with the blood flow to produce a pump. However, creatine also has a special property. Considering the fact that creatine bloating, which is a phenomenon where supplementing with creatine seems to pull a large amount of water into the muscles, is a thing, this may cause even bigger pumps.
Aid In Increasing Lean Mass
By just taking a pre-workout, depending on which you choose, you are likely taking compounds that can help your workouts be more effective, your reps be more high-quality, and for you to maintain better muscle recovery. All of these things can indirectly help you with muscle growth. However, the inclusion of creatine is also huge for this fitness goal.
If you've been paying attention, creatine is one of the most commonly used compounds for muscle growth due to the strong amount of evidence that supports its effectiveness. A pre-workout that includes creatine just provides an extra layer of gains-making potential.
RELATED: Homemade Pre-Workout
Help Improve Muscle Recovery
The nitric oxide boosters and creatine contained in creatine pre-workout helps flood the muscles with blood. Just like a wound or other injury, the body floods the area with blood to help provide the tissues with antibodies and other healing compounds to repair the damage.
The same rules apply to your muscles, since they are also tissues. When the muscles are saturated with blood, they are likely to be able to recover faster by allowing the muscles to repair themselves from the muscle damage that was caused by the exercise.
Potentially Better Focus
If your selected pre-workout supplement has nootropics like huperzine, caffeine, l-theanine, and l-tyrosine, this may be able to boost your mental focus. As you become more focused on your workout and become less likely to be distracted by outside factors, you may be able to make your workouts more efficient and less time-consuming.
Dosing and Interactions
As with all dietary supplements, you should consult your physician before starting one, especially if you take prescription medications. When taking pre-workout supplements, it is important to follow the instructions very carefully due to the high amounts of stimulants and chemical compounds present in proprietary blends.
To prevent overdosing on caffeine, you should also be aware of how much you're getting from additional sources, like green tea and coffee. Pre-workout supplements are definitely not recommended if you have heart problems. Many compounds have a dramatic effect on blood pressure, blood volume, and your heart rate that could exacerbate your condition.
If you have liver or kidney conditions, it is also not recommended that you take pre-workout supplements. This is especially true with creatine pre-workout supplements as creatine puts a tremendous load on the kidneys. Creatine is found in many protein-containing foods, which is one reason why people with kidney conditions have strict diet rules around protein consumption to prevent life-threatening complications.
Third-Party Testing
Just because a supplement is third-party tested doesn't necessarily mean it'll work "better." Some of the best pre-workout supplements in terms of effectiveness have yet to achieve third-party testing either because they contain substances that are banned for professional sport or the company simply cannot bear the extra cost.
In any case, we at GGR recommend choosing third-party tested supplements when possible, but this is especially true with pre-workout as the number of compounds and the nature of their function can pose a risk of being exposed to adulterated proprietary blends.
However, when you have a pre-workout that has been third-party tested, you know that it has been cleared of containing any banned substances by an independent laboratory. For this reason, it is always best to choose pre-workouts that are third-party tested and labeled with a certification from organizations like NSF or Informed Choice if this is a concern for you.
Buying Guide: What to Look for in Pre-Workout With Creatine
Pre-workout supplements are usually made up of a number of ingredients, but creatine is one of the most common. So, looking for one with creatine doesn't narrow down the choices very much! Since finding the right one for you can be overwhelming, we wanted to share the criteria we used to make the selections of the best pre-workout supplements on this list:
Creatine Dosage
When talking about creatine supplements, the optimal dose seems to be somewhere between 3 to 5 grams of creatine per day22 to get the full benefits22. As a result, if you want to avoid taking creatine supplements separately, choosing to buy a pre-workout that contains this optimal dosage of creatine would be a great choice.
Price Per Serving
There are a lot of advantages to taking a pre-workout with creatine, and taking one that has a substantial amount of creatine can also save you money on buying extra creatine supplements. It is important to pay attention to the price per serving of the pre-workout in order to make this bit of innovative frugality worthwhile. So, work out how much your budget is or how much you are willing to pay for a pre-workout you see yourself taking consistently before you browse.
Presence of BCAAs
A recent study23 performed on athletes has suggested that taking BCAAs in combination with creatine can improve anaerobic performance, increase endurance and delay fatigue. So, if any of these functions align with your fitness goals, it might be worth considering seeing if your prospective creatine pre-workout also contains leucine, isoleucine, and valine. At the very least, it can't hurt to have a few extra BCAAs in you before your workouts begin. Check out our list to the best pre-workout with BCAAs for product recommendations.
RELATED: Best BCAA
Flavors
For some people, creatine can have a gritty and unpleasant flavor, especially depending on the form of creatine. I've heard that creatine HCl can even have a sour flavor that's not the most appealing thing in the world.
So, you may want to choose a creatine pre-workout that is sweetened naturally with something like stevia, or on that has a variety of flavors you know you enjoy (mine is any type of lemonade).
This is especially important with pre-workouts that have so many ingredients the scoop size ends up being huge, like some of the supplements on this list, because you end up drinking a large volume of liquid. If that liquid just tastes awful, you have a long tub ahead of you.
FAQs About the Best Pre-Workout With Creatine
Which pre-workout with creatine is best?
We have selected Gorilla Mode as the best creatine pre-workout overall. However, this supplement is certainly not for everyone. Depending on your fitness goals, the best creatine pre-workout is likely one that has the efficacious dose of creatine and a form of creatine that is well-absorbed.
Is pre-workout with creatine good?
Creatine pre-workout supplements can be great, especially for those who already take pre-workout and don't want to separately take creatine supplements. If you're worried about side effects of having both, talk to your physician. However, healthy individuals are at low risk when they supplement as instructed.
Should your pre-workout have creatine?
Your pre-workout does not have to have creatine. However, if you are looking for lean muscle synthesis or a muscle pump, it can definitely be helpful to choose a creatine pre-workout.
These statements have not been evaluated by the Food and Drug Administration. This product is not intended to diagnose, treat, cure, or prevent any diseases.
References