We test and review fitness products based on an independent, multi-point methodology. If you use our links to purchase something, we may earn a commission. Read our disclosures.
JYM pre-workout—officially JYM Supplement Science High Performance Pre JYM Pre Workout Supplement—is a popular product for gym goers looking to maximize performance and get a great muscle pump.
It was formulated and created by a doctorate holder in exercise physiology, Jim Stoppani, who's a prominent figure in the bodybuilding space. In our Pre JYM Pre-Workout review, we'll reveal whether this is actually one of the best pre-workout supplements or if it's all hype.
Medical disclaimer: This article is intended for educational and informational purposes only. It is not intended as a substitute for medical advice. For health advice, contact a licensed healthcare provider. GGR also recommends choosing a product that has been third-party tested for quality.
Taking JYM to the Gym
We've tested nearly 30 different pre-workout supplements, from the wildly stimulant-stuffed variety down to the non-stim pump-specific types. We've tested pre-workouts for men and pre-workouts for women, and we use our expertise as certified personal trainers and nutrition coaches to boil down the supplement facts labels and explain to you how (or if) a product really works.
JYM Pre-Workout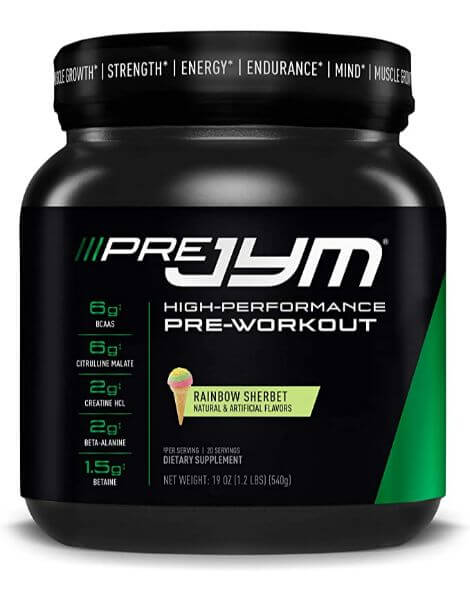 GGR Score: 4.25
Product Highlights
A pre-workout powder powerhouse

Packed with lab- and gym-tested ingredients

9 different flavors to pick from

Boosts strength, energy, endurance, mindset, and muscle growth

14 active ingredients and a nutritional supplement

Higher potency with 26-gram scoops

Award-winning brand and pre-workout supplement
Pros & Cons
Pros
Helps boost your energy for any workout
Supports mental focus with caffeine, alpha-GPC, and huperzine A
Includes amino acids to promote muscular strength and endurance
Great for men and women
Cons
Do not take up to 6 hours before bed
Some reviewers don't love the flavors
Reviewer complaints about high sucralose and sugar levels
Shares equipment that handles eggs, milk, soy, tree nuts, and wheat
Not third-party tested
Bottom Line
Fuel your body with a delicious pre-workout supplement with nutrients and 14 active ingredients for an energy-boosting workout.
A Quick Look at JYM Pre-Workout
JYM Supplement Science is a supplement brand founded by Dr. Jim Stoppani, a bodybuilding athlete and coach. Stoppani has a Ph.D. in exercise physiology with a minor in biochemistry, and has served as a science editor and expert source for many publications, including Bodybuilding.com, Muscle and Fitness, and FLEX.
Stoppani claims that all of his products are backed by scientific evidence and use clinical dosages for efficacy. JYM pre-workout contains 13 active ingredients that have been studied for their ergogenic and anabolic properties.
Before You Buy
One serving is a 26-gram scoop, which is quite large. It might take some getting used to.
JYM pre-workout contains 300 milligrams of caffeine anhydrous. If you're not used to stimulants like caffeine, perhaps start with half a scoop or check out a non-stim pre-workout.
Is JYM Pre-Workout Worth It?
JYM pre-workout is a popular product with a long ingredients list and positive customer reviews. Our testing experience with it was so-so, but we'll cover all of the important aspects of the product and let you decide if it's the right choice for you.
Great for:
People who want a great muscle pump
Gym goers who need/want a lot of caffeine to focus
People who like tropical and citrus flavors
Not recommended for:
People who can't tolerate high amounts of caffeine
Those who prefer a smaller amount of powder per serving (this one is 26 grams)
JYM Pre-Workout Specs
| | |
| --- | --- |
| Price per serving | $1.83-$2.24 (depending on size) |
| Flavors | Orange Mango, Rainbow Sherbet, Tangerine, Grape Candy, Pink Lemonade, Pineapple Strawberry, Black Cherry, Strawberry Kiwi, Cherry Limeade, Raspberry Lemonade |
| Calories per serving | 80 |
| Caffeine content | 300 mg caffeine anhydrous |
Experience Using JYM Pre-Workout
"When it comes to pumps, move over Michelin man," says Anthony O'Reilly, GGR performance editor and product tester. "My ego was through the roof after working out with this."
While the muscle pumps are phenomenal, Anthony laments that the other factors are "just meh" and JYM Pre-Workout is a "standard pre."
"This keeps you energized and focused for a little while, but compared to some other pre-workouts I've tried, it's like it's here one second and gone the next. The effects just aren't long-lasting, unfortunately," he explains, noting that the buzz is nothing special compared to other pre-workouts.
"I'd buy this for the pump alone, though," he reiterates. Stoppani definitely got the formulation for vasodilation right.
One other thing: The serving size is quite a large scoop at 26 grams, Anthony says, so be prepared to choke down a lot of powder—or try with all your might not to dry scoop this one and actually use some water like a sane human being.
The reason for the large scoop is that there are 13 active ingredients packed into the formulation (more on that below).
Price Per Serving
You have two options for purchasing JYM pre-workout directly from the JYM website: $54.99 for 30 servings or $44.99 for 20 servings.
This makes the price per serving about $1.83 or $2.24, respectively. With a 41-cent difference, it's a no-brainer to buy the 30-serving tub. Still, $1.83 per serving is quite pricey, with most of the options on our guide to the best pre-workout coming in at under $1.70 per serving.
That said, it's not the most expensive we've seen. One of our favorite pre-workouts, Kaged Pre-Kaged, costs a staggering $2.25 per serving.
Formulation
JYM pre-workout contains a ton of goodies, which is why we're actually surprised at Anthony's less-than-stellar experience with the product. The active ingredients include:
6 grams of Citrulline malate
6 grams of BCAAs in the 2:1:1 ratio (leucine, isoleucine, and valine)
2 grams of Con-Cret® patented creatine HCl
2 grams of beta-alanine
1.5 grams of betaine
1.5 grams of l-tyrosine
1.5 grams of l-valine
1 gram of taurine
500 milligrams of beet root extract
300 milligrams of caffeine anhydrous
150 milligrams of alpha-GPC (from 300 mg of AlphaSize®)
50 micrograms of Huperzine A
5 milligrams of BioPerine® Black Pepper Extract
If you're unfamiliar with any of the above ingredients, here's a brief rundown:
Citrulline malate, beta-alanine, l-tyrosine, l-valine, and taurine are all amino acids.
Beta-alanine is the compound responsible for the unmistakable tingling sensation most people experience after taking pre-workout.
Betaine, also called betaine anhydrous, or trimethylglycine (TMG), helps the body produce carnitine1, another amino acid that plays a role in nitric oxide production2. Nitric oxide is a vasodilator.
Beet root extract is thought to also spark nitric oxide production3 and increase blood flow, resulting in greater muscle pumps.
Alpha-GPC4 and Huperzine A5 are nootropics and are included in the formula to promote mental focus.
Caffeine anhydrous is highly concentrated caffeine powder. At 300 milligrams, the caffeine content in Pre JYM is equal to 2-4 cups of coffee, depending on how strong you brew it.
BioPerine® Black Pepper Extract is a bioavailability agent that is supposed to increase absorption of the nutrients it's taken with6.
What I personally love about the Pre JYM formulation is that it's free of proprietary blends. What you see on the label is what you get, and I commend supplement companies that provide full transparency about what they include in their products. These are things we're putting in our bodies, after all—we should know what's in them.
What I don't love is that the creatine content isn't the clinically studied dosage proven to aid in muscle growth. If you're looking to build muscle, you'll want to have another supplement in your stack that includes another 2 to 3 grams of creatine—at least for the build phase7. You could simply take a separate creatine supplement post-workout to achieve this. (See our guide to the best creatine.)
If you want to stick with JYM supplements, the Pro JYM protein powder contains 2 grams of creatine, which would bring you almost to the clinical dosage of 5 grams per day to saturate muscle creatine stores8. Post JYM BCAAs+ Recovery Matrix Post-Workout also contains 2 grams of creatine HCl.
Taste and Solubility
The full flavor lineup of JYM pre-workout includes a delicious roster of tropical and citrus flavors, plus a few classic like Grape Candy:
Orange Mango
Rainbow Sherbet
Tangerine
Grape Candy
Pink Lemonade
Pineapple Strawberry
Black Cherry
Strawberry Kiwi
Cherry Limeade
Raspberry Lemonade
Anthony opted for the Pineapple Strawberry, and of it, he says: "Very tropical—I want to drink this while on a beach, but without the caffeine."
The powder mixes easily in a shaker bottle, Anthony says, making the solubility factor just as good as the flavor.
Side Effects
The most common side effect associated with pre-workout is a tingling sensation called paresthesia9. It's a pins-and-needles sensation you get throughout your body after consuming beta-alanine, which has an effect on the nervous system.
The sensation is often localized to the extremities and the face. Don't worry: It's harmless, but it can be a bit off-putting if you've never experienced it before.
Other than that, you may notice swelling in your muscles—aka the pump, which is what most people are after when taking pre-workout—and a burst of energy due to the high caffeine content.
Third-Party Testing
From what I can tell, this pre-workout doesn't have any third-party verification. This doesn't necessarily mean you should stay away from the product, but do know that the lack of a certification means no independent parties are vetting JYM Supplement Science for clean manufacturing, potency, efficacy, or safety.
JYM Pre-Workout vs Huge Supplements Wrecked Pre-Workout
Huge Supplements Wrecked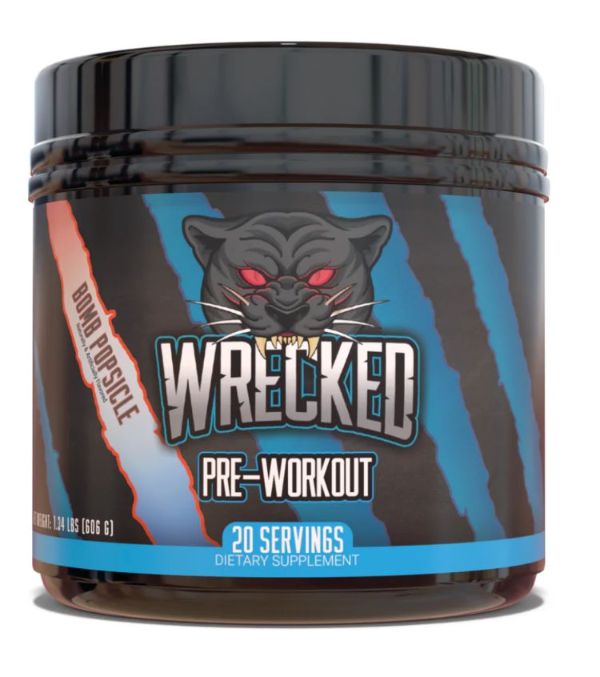 GGR Score: 4
Product Highlights
4 flavor options
435mg of caffeine (from various sources)
Clinically dosed ingredients
$2.50 per serving
Pros & Cons
Pros
Clinically-dosed ingredients
Customer reviews state it's great for pumps
Uses whole food sources
Cons
Expensive, at $2.50 per serving
Very high caffeine content
No creatine
Bottom Line
Huge Supplements Wrecked is a high-caffeine pre-workout supplement that uses clinically-dosed ingredients to support increased energy levels and pumps.
Huge Supplements Wrecked Pre-Workout is one of Anthony's favorites. He finds that, for him, Wrecked provides the best balance between muscle pumping effects and the energy and focus elements. One serving is also a large scoop (15.5 grams, so not quite as bulky as JYM) and it contains 17 active ingredients compared to the 13 in JYM.
Here's what's in Wrecked but not in JYM:
2,000 mg Hydromax™ (65% Glycerol)
750 mg agmatine sulfate
750 mg lion's mane mushroom powder
250 mg Himalayan pink salt
125 mg N-phenethyl dimethylamine
75 mg theobromine
50 mg di-caffeine malate
500 mcg Rauwolscine
Wrecked does not contain the following ingredients that are in JYM:
Creatine
Beet root extract
Huperzine A
Taurine
Valine
Citrulline malate (Wrecked contains malic acid)
BioPerine (Wrecked contains a non-patented black pepper fruit extract)
Customer Experience
JYM has a nice FAQ page on the website, and you can reach the brand through email or via phone if you have additional questions.
Ordering JYM Pre-Workout
You can order JYM pre-workout directly from the JYM Supplement Science website. It's also available on Amazon and at many brick-and-mortar supplement stores.
Customer Reviews
Customer reviews of the JYM Pre JYM pre-workout are generally favorable, with customers praising the efficacy and taste of the product. One reviewer wrote, "If you've never tried a Jym supplement then you haven't had the best the market offers."
Another says, "The mad scientist Jim Stoppani knows what he's doing! This stuff is great. Dosed perfectly. No crazy itch, but long steady energy and focus. I'm 42, and this is perfect. Doesn't have that "dirty" energy feeling. If I had to complain, I'd say the pump isn't great, but that could just be my age."
This goes to show that supplements are very subjective, since our tester had the complete opposite experience of the reviewer quoted above.
Final Verdict of Our JYM Pre-Workout Review
JYM pre-workout contains a long list of active ingredients (13 to be exact) that all, in some way or another, have been shown to act as an ergogenic aid. That's why we were so surprised when our tester, GGR performance editor Anthony O'Reilly, didn't find the pre-workout to be more than a pump supp.
Our tester found the elements of mental focus and energy to be fleeting, but did get a great pump—and would buy this for that alone
Customer reviews indicate that the pre-workout provides great energy and focus, contrary to our testing experience
JYM pre-workout isn't third-party tested, but if its ingredients list is accurate, it contains one of the most efficacious ergogenic blends available
JYM Pre-Workout Rating
JYM Pre-Workout
In our JYM pre-workout review, find out how the formulation stacks up against current scientific evidence on ergogenics.
Product SKU: In our JYM pre-workout review, find out how the formulation stacks up against current scientific evidence on ergogenics.
Product Currency: $
Product Price: 57
Product In-Stock: InStock
JYM Pre-Workout FAQs
Does pre-workout help with weight loss? 
Pre-workout may indirectly help with goals related to weight loss and fat loss by improving your focus in the gym and decreasing your perception of fatigue during both strength and cardio exercise; for example, many people find they're able to complete more reps during their workouts when they take pre-workout. However, taking pre-workout without following an exercise program or eating a nutritious diet won't assist with weight loss.
Who is Jim Stoppani? 
Jim Stoppani is a public figure in the fitness industry. He holds a Ph.D. in exercise physiology and is the founder of supplement brand JYM Supplement Science. He's also a bodybuilding coach and science editor.
How much caffeine does JYM have? 
JYM pre-workout contains 300 milligrams of caffeine anhydrous, about the same as two to four cups of coffee depending on the strength of the brew.
These statements have not been evaluated by the Food and Drug Administration. This product is not intended to diagnose, treat, cure, or prevent any diseases.
References