Your Ultimate Guide To Creating A Bodybuilding Home Gym, No Membership Required
What do Muscle Beach, Gold's Gym, Bev Francis Powerhouse, and your home gym have in common? They're all equally capable of taking anyone from an average Joe to a champion bodybuilder. No, seriously.
It used to be that fitness equipment was bulky, expensive, and inaccessible to the everyday person, and you needed a fancy gym membership to make some gains. But today, it's as easy as clicking "Add to Cart" and waiting for a box to show up on your front door.
RELATED: Home Gym vs Gym Membership
If you need proof, just look at Agata Bridges, one of the members of our Home Gym Community on Facebook, who recently won her IFBB Pro card at the Toronto Pro qualifier.
With the right equipment and a little know-how, you, too, can build your dream physique without having to travel to a commercial gym. Here's what home gym equipment we recommend you have if you're looking to step on stage in the near future.
Why You Should Trust Us
I'm a certified nutrition coach who, as of this writing, is working hard on obtaining his personal trainer certification. But more importantly, I've spent the past few years writing for some of the bodybuilding industry's top publications and have worked closely with some of the best bodybuilding coaches, gym owners, presidents of fitness companies, and bodybuilders themselves, so I have a deep understanding of the field.
And while I'm far from being a bodybuilder (I've made peace with the fact that tracking macros just isn't for me), I'm no stranger to training like one. When I got into fitness a few years ago, I tried just about everything I could think of, from CrossFit to HIIT, and bodybuilding was the type of training that resonated with me the most. And as any of my friends can tell you, when I get into something I get into it.
The Benefits Of Bodybuilding
People who go into bodybuilding usually do so with one goal in mind: to look like a Greek god. And there's nothing wrong with wanting chiseled pecs, bulging biceps, striated quads, and abs, but there are many other reasons why one might want to consider bodybuilding training.
Here are just a few:
Increased muscle mass can help with blood sugar levels and insulin sensitivity
Helps build strength and stamina
Decreased risk of heart disease
Improved mental health
Decreased stress and anxiety
Increased bone density
Another, often under-appreciated, benefit of bodybuilding training is that it stresses proper form. Although you do have to lift heavy weights, bodybuilding puts a huge emphasis on how you move weights. This is because you're looking to manipulate certain parts of your body to grow, so you want to make sure your form is on point, and proper form can help reduce your overall injury risk.
Risks Of Bodybuilding

Just about everything in life has its pros and cons, and bodybuilding is no different. Now, it must be said that some of the risks of bodybuilding pertain to those in the top echelon who are taking performance enhancing drugs, which present their own dangers. However, there are some that affect natural bodybuilders as well, especially when they're cutting body fat in preparation for shows, including:
Eating disorders and body dysmorphia (poor self-image)
Exercise dependence (an urge to exercise even if you're injured or tired)
Decreased energy
Nutritional deficiencies
Decreased testosterone levels
You should always consult a physician or certified personal trainer before beginning any exercise program.
The Essentials
It goes without saying, but everyone's home gym is going to look different depending on their space and budget. I used to live in a 300-square-foot apartment with my girlfriend and her cat, so obviously my training space looked a little different than Coop's glorious garage gym. I luckily now live in a more spacious townhome where I can fit more home gym equipment (much to my girlfriend's chagrin).
No matter where you live, there are a few things that aren't negotiable when trying to build a bodybuilding home gym. Everything else on our list is nice to have, but here are the things you won't go very far without.
Power Rack

Whether you want to call it a power rack, squat rack, power cage, or whatever else, make sure you have a structure that can support a barbell and a bunch of weight plates where you can bench press, squat, overhead press, and much more.
If your budget and space allow it, we recommend getting a modular power rack that you can fit a bunch of attachments to, including pull-up bars, cable pulleys, low rows, lat pulldowns, and other pieces of equipment we'll mention later on. Not only will it end up being cheaper, but you won't crowd your home gym with multiple machines.
If you can only get a good old-fashioned squat rack with no thrills or frills, then do so. At the very least I'd recommend getting one with a pull-up bar to increase its versatility and ensure you've got something to work your lats. You'll also just need to eventually pick up some extra equipment along the way.
Another option? You can build your own by following our DIY squat rack guide.
Barbell
I don't have to explain why you need one of these, right? OK, good.
You don't need to find a barbell with crazy amounts of knurling on it. A little bit is fine, and it'll come in handy during heavy lift days but it's not quite as necessary as it is for powerlifters. Also, find one that has a good tensile strength and weight capacity. You'll also want a barbell that has bushings over bearings, as you'll need some spin but not a lot.
Weight Plates
See above. I'll just add that you should buy enough to support your current strength levels, as well some extra for when you get stronger. Your weight plates should also not be so thick that they crowd your barbell and don't allow you to put as much weight as you need on it.
Adjustable Weight Bench
Besides the obvious reasons, I put an adjustable bench on this list because it eliminates the need for some single-use machines that will just collect dust on most days of the week. An adjustable bench gives you the ability to do preacher/concentration curls, reverse flies, shoulder presses, and more. So if you're wondering why you won't see a preacher curl setup on my list, that's why. I recommend finding a fully adjustable weight bench, meaning one that's capable of being flat, incline, decline, and 90 degrees. This will allow you to hit muscle groups at different angles, which can stimulate muscle growth in various ways to support your muscle-building needs.
Dumbbells or Kettlebells
There's probably a few people cocking their heads and thinking, "Kettlebells? Is he for real?" First of all, if I had a nickel for every time I heard that. But there's no reason why a bodybuilder can't use kettlebells in replacement of, or along with, the classic dumbbell.
Both are great at building strength, correcting muscle imbalances, and targeting your stabilizer muscles. If you're curious, I wrote a piece explaining the differences between dumbbells vs. kettlebells that might help you decide which free weights might work best for you.
I personally recommend an adjustable dumbbell or adjustable kettlebell, just because they're cheaper than buying an entire set and take up less space.
Cardio Machine
Cardio is a sensitive topic for some bodybuilders, even though it's been proven a few minutes of walking or running won't deplete your hard-earned gains. Plus, it's an easy and low-impact way to burn some calories and body fat.
You can go for a treadmill or an elliptical, and honestly either one would serve you just fine. One thing I'll say is that you get more of a full-body workout on an elliptical than on a treadmill, and the best ellipticals can work the lower body's muscle groups (especially the glutes, quads, calves, and hamstrings) to give them some more definition.
RELATED: Horizon EX-59 Elliptical review
A treadmill on an incline can do the same, but you might just have to be on it for a little longer to feel the full effects.
Resistance Bands
These are great for recovery, warming up, adding some additional resistance to your lifts, and can help you get in a quick workout if you're on the road.
Plus, some bodybuilders use resistance bands to get a quick pump before stepping on stage to make their muscles look fuller. They won't get your pecs quite as big as a barbell, but trust me these deserve a place in your home gym.
Full Body Training
With the essentials out of the way, we can talk about some of the things that can be beneficial to bodybuilding training. And since we're talking about bodybuilding we're going to split (heh, see what I did there?) it into three sections: full-body, upper body, and lower body. We'll start with full-body.
Former Mr. Universe and Hercules actor Steve Reeves exclusively trained in a full-body split, meaning he worked every muscle group three days a week. And while he wasn't the biggest bodybuilder ever, it's hard to argue that he wasn't one of the most aesthetic of all time. Seriously, take a second and look at him during his peak and you'll quickly realize that full-body training works.
Want to give full-body training a shot? Here's a few pieces of equipment we recommend.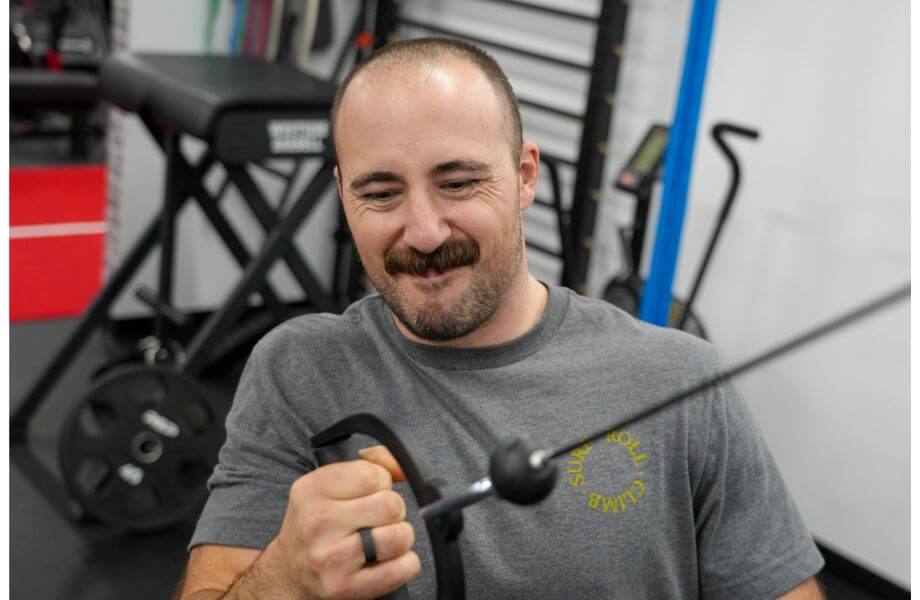 Functional Trainer
A functional trainer may take up a lot of space, but there aren't many machines out there that can help you workout in multiple planes and hit every part of your body. They're an investment, but one that's undoubtedly worth it if you're looking to fine tune your physique.
A great functional trainer, sometimes called a home gym, can be adjusted to work the upper body one minute and the lower body the next, so you can use it to get a full-body workout in at any time. They're also great for isolation movements, or exercises that target a specific muscle, and are great for people of older ages who still want to workout.
Is there a need to get a commercial-grade functional trainer? Probably not, since you and your loved one will be the only ones using it. Just make sure you take care of it and it should last you many years.
Landmine Attachment
Shoulder presses, rows, lunges, Russian twists, Romanian deadlifts…is there anything a good landmine attachment can't do? Seriously, there are some workout circuits I've seen that only use a landmine attachment because of its versatility.
Landmines can also be used to mimic a hack squat machine, which has been shown to be more joint-friendly and place less stress on your lower back than back squats. Because of that, it puts more of an emphasis on your quads and glutes, which is great for your lower body development.
Trap Bar
The trap bar is one of the best specialty barbells out there. It's true that an old-fashioned barbell activates more muscles than a trap bar, but a trap bar is great for things like Farmer's walks and squat jumps, both of which are full-body movements.
Trap bars have also been shown to recruit more hamstring muscle activation, and can help you build explosive strength. That, in turn, can make you stronger the next time you pick up a barbell. It's also a great choice for people who may have difficulties lifting an Olympic barbell due to an injury.
Upper Body
This section will encompass anything that can be used to develop your shoulders, chest, and back muscles.
Lat Pulldown/ Low Row
If you don't have a power rack with one of these, then I'd say this should be the next thing on your "essentials" list. The lat spread is one of the most iconic and important poses in all of bodybuilding, and having this machine will help you stand apart from the competition when the judges call for it.
There are some people who might argue you can get away with just doing pull-ups, but few have the ability to squeeze out multiple reps of this with proper form–keyword there is proper form. I might sound like a broken record at this point but proper form is an absolute must in bodybuilding training, and you're more likely to keep your form doing lat pulldowns or low rows than you are pull-ups.
Dip Station
This is another piece of equipment that can easily be attached to a power rack, but if you have the space you can also get a freestanding station. Dips are great because they help increase your lockout power, which makes you stronger in moves like the bench press and overhead press, and you can add weight to them if desired for progressive overload.
You'll be working the chest, shoulders, triceps, upper back, and lower-back with this move, adding some serious muscle to your upper body.
EZ CURL BARBELL
The EZ Curl bar is another great specialty barbell for bodybuilders because the various angled grips allow you to target specific areas of your triceps or biceps, specifically the brachialis, or the head of the bicep.
An EZ Curl bar also places less stress on the elbows and wrists than a standard barbell, making it a joint-friendly option.
Pull-Up Bar
"Wait, didn't he just say the lat pulldown was better than pull-ups?" Yes, I did, but you should really have both. A study out of James Cook University found the pulldown and pull-up produced similar muscle activation in the lats, but the latter was better for the biceps and the spine. It's also great for increasing your grip strength.
If possible, go for a multi-grip pull-up bar so you can change your grip depending on what part of your back you want to hit. This will allow you to develop the muscles you and your coach think need work at any given time. (This is, yet again, another item that could be added onto a power rack).
A Word On Abs
Personally, I subscribe to the school of thought that ab machines are, for the most part, worthless. For one, abs are made in the kitchen and not the gym (cliche, I know), but there's also the fact that bodyweight moves are a much better way to work on core strength than a crunch machine. Also, your abs get plenty of work during full-body moves like the deadlift and squat, so long as you remember to keep your core engaged.
If anything, I'd recommend getting an ab wheel (rollouts also help to strengthen your lumbar region), or stability ball.
Lower Body
Bodybuilders cannot live on squats alone, at least when it comes to leg day. Here's what equipment we recommend you have on deck for leg day (no skipping!).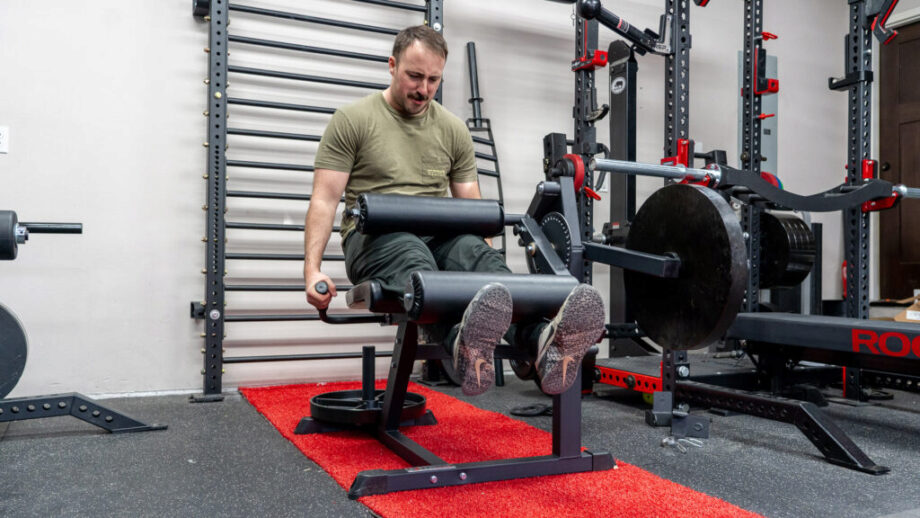 Leg Press
While the squat is the king of all lifts, one advantage of the leg press is it takes your upper body out of the equation completely. So if your legs are falling a little behind the rest of your physique, this is a great move to hit especially since you're able to use much more weight on it than on a squat.
Now, even if you have all the space in the world I'd really recommend finding one that can attach to a power rack. Leg presses are just so big, and you're really only going to use them once, or maybe twice a week.
Leg Extension/ Curl Machine
Leg extensions and leg curls are perhaps two of the best isolation exercises for lower-body development, especially when it comes to the hamstrings and quadriceps. Because it's a machine, you also get a great range of motion and work one leg at a time to correct any muscle imbalances.
Reverse Hyper
The reverse hyper is a great tool to add to your arsenal not only because it can help decompress your spine, which decreases your injury risk, but it also strengthens your posterior chain and that can help you when it comes time to squat or deadlift.
You can also follow our DIY reverse hyper machine guide.
How One Bodybuilder Won Big Training In Her Home Gym
Agata Bridges was preparing for the Atlantic Championships bodybuilding show in early 2020, but that show was canceled and her gym shut down due to the Covid-19 pandemic. "We wanted to continue to work out but all we had was a squat rack, a treadmill, and some standard spin lock plates," her husband, Michael, told Garage Gym Reviews.
So the two started to buy home gym equipment off Facebook Marketplace, starting with a new rack and a bench that had a leg curl and extension attachment. It wasn't too soon after that he was hooked, and started living on Marketplace to find deals to make their home gym the best it could be.
"My wife then decided to get ready for a show again once things started to go back to somewhat normal," he says. Because her main focus was back and legs, he started looking for row machines, a leg press, and more. Within a year and a half, he was able to build their ultimate home gym.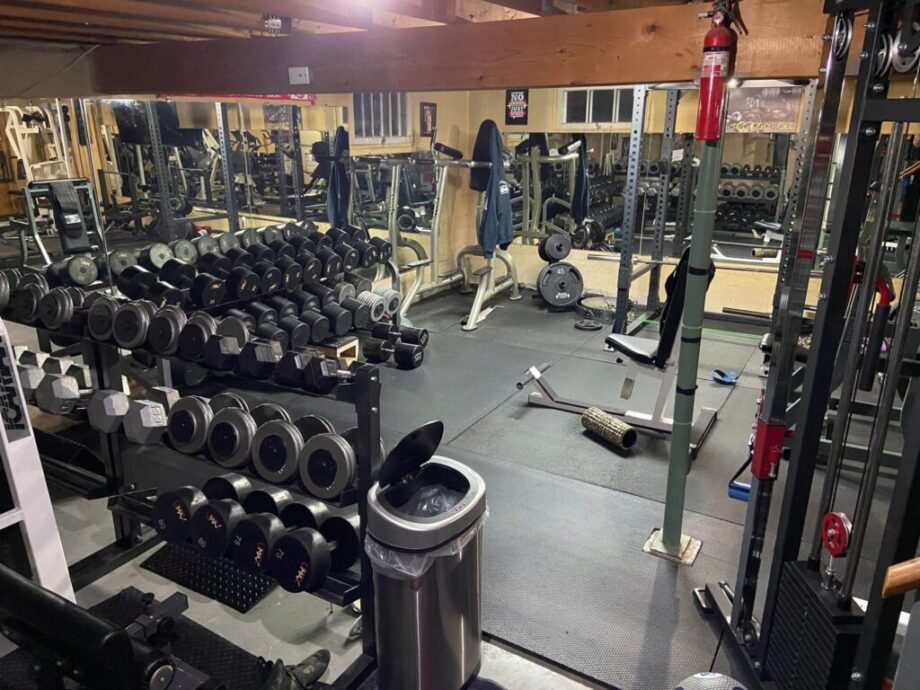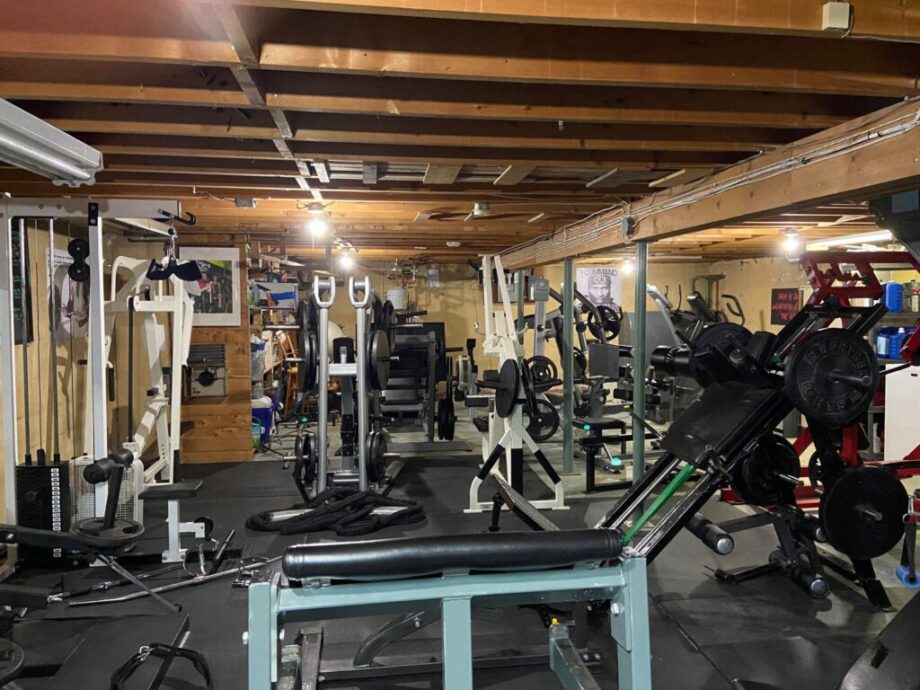 Agata spent months training in her home gym, and on Dec. 5 she competed in the Toronto Pro qualifier and won her IFBB Pro card, which allows her to compete in pro shows for prize money, and a spot in next year's Toronto Pro. Her victory is just a reminder that anything that can be done in a commercial gym can also be done in a well-constructed home gym.
"We don't own a gym membership," Michael says.