We test and review fitness products based on an independent, multi-point methodology. If you use our links to purchase something, we may earn a commission. Read our disclosures.
Finding the right pair of shoes as a new runner can feel extremely intimidating. Online, you'll see advice encouraging you to go to a running store and get your gait analyzed. While that can be helpful, it's not really necessary for most new runners (assuming you don't have any unusual pain when you run, in which case, speak to a physical therapist, podiatrist, or orthopedic specialist).
That said, I wouldn't go to your local Dick's Sporting Goods and pluck a random pair off of a shelf with no prior guidance. Our guide to the best running shoes for beginners exists to help you, as a new runner, make an educated decision about your first pair of running shoes. We have top picks for road, trail, neutral, and stability shoes.
Running Since 2009
I've been running since 2009 in both long and short-course formats. I don't claim to be particularly fast or good at the sport, but I do enjoy it, and with almost 15 years of experience under my (running) belt, I'm confident that I can bring you accurate and helpful shoe reviews. Plus, as a certified personal trainer, I've spent many years collaborating with podiatrists, physical therapists, and other health professionals to ensure my clients get the best possible results while remaining safe.
Best Running Shoes for Beginners in 2023
Best Running Shoes for Beginners Overall: Brooks Adrenaline GTS 22
Good for: Beginners who need an ideal blend between support, responsiveness, and cushion in road running shoes
The Brooks Adrenaline GTS is an absolute workhorse of a running shoe. While there's no right running shoe for every runner, beginner or otherwise, I stand firm that the Adrenaline GTS gets most things right for many runners.
It's a fantastic daily trainer and one of the best road running shoes out there, featuring Brooks' bouncy DNA LOFT cushioning underfoot, a breathable mesh upper, medial and lateral GuideRails® for support, and segmented crash pad that helps with the transition from foot strike to toe-off.
Whether your goal is to start with easy runs for general fitness or start working toward your first half-marathon right away, the Adrenaline GTS is a fantastic first-time shoe that will bring you to your finish line, wherever that may be.
I've personally worn these shoes for several types of runs, from tempo workouts to interval training, and the versatility is my favorite thing about them. The Adrenaline GTS shoes have taken me through routes of pavement, cobblestone, sand, grass, and dirt trails, and have held up fantastically.
I wouldn't take these out in particularly wet conditions since, like most road running shoes, they feature a woven upper. They certainly won't keep water out, but they do a pretty good job of combating sweaty feet via moisture-wicking properties. (Your running socks could also help—or not—with that.)
| | |
| --- | --- |
| Heel-to-toe drop | 12 mm |
| Cushion level | Medium |
| Upper construction | Breathable mesh |
Best Budget Running Shoes for Beginners: Saucony Cohesion 13
Good for: New runners who don't want to commit to an expensive pair of shoes
With running shoes averaging about $140 per pair these days, hitting the pavement may seem out of reach for new runners. That's a lot of cash to spend on a pair of shoes you might not get full use of.
Luckily, there are still some brands out there manufacturing budget-friendly running shoes, Saucony being one. I ordered the Saucony Cohesion 13 on Amazon for under 50 bucks all-in, and I'm pleasantly surprised. I also love this pair of shoes for walking.
(Worth noting: There are newer models, the Cohesion 14 and 15, but I think there's a ton of value in the older 13s because most of the features are the same but these are more heavily discounted due to being an earlier iteration.)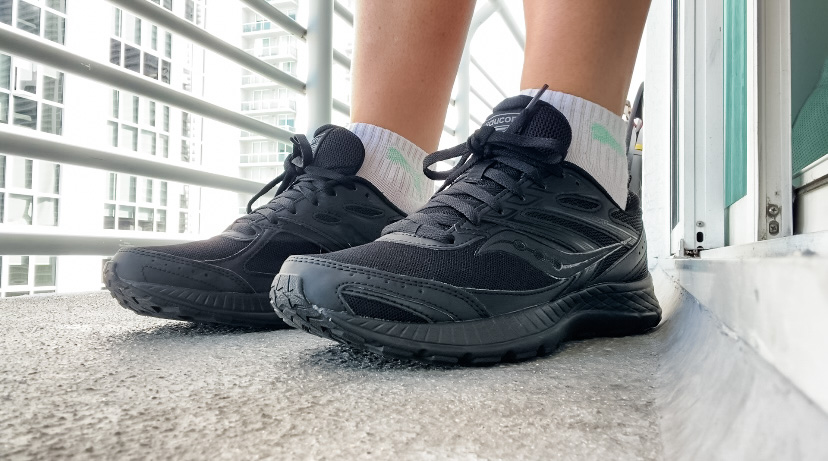 This is a nicely cushioned shoe with plenty of shock absorption in the midfoot thanks to the EVA grid foam midsole. The Cohesion is a neutral shoe, meaning it won't help with overpronation or supination, but for beginners with a steady stride, they're a good fit.
The reinforced toe box prevents "toe punches" from puncturing the mesh—but to be frank, if you're toe-punching your running shoes, you probably need to go up a half or full size.
Some customer reviews indicate that this shoe runs slightly small, but I ordered my normal size and it's a perfect fit. I say if you're in between sizes or want more wiggle room for the toes, go a half size up.
| | |
| --- | --- |
| Heel-to-toe drop | 12 mm |
| Cushion level | Medium |
| Upper construction | Mesh |
Best Neutral Running Shoes for Beginners: Brooks Ghost 14/15
Good for: Individuals who know they have a neutral stride and don't need anti-pronation support.
Pop quiz! Take your shoes off and jog a few steps in place. Really do it, with vigor! Did you notice your arches flattening against the ground?
I know you weren't paying attention to that, so try it again and take note. If your answer is no, congratulations, you can purchase the Brooks Ghost running shoes. If your answer is yes, keep reading through to our next pick, which is for runners who overpronate.
The Brooks Ghost is my favorite neutral running shoe ever. I ran in the Ghosts exclusively for many years, with the exception of testing other shoes for my super cool fun job. Like the Adrenaline GTS, the Ghosts are made with 100% DNA LOFT cushioning in the midsole. This cushioning supports you from forefoot to heel without being too squishy or too responsive—it's an ideal blend for neutral runners.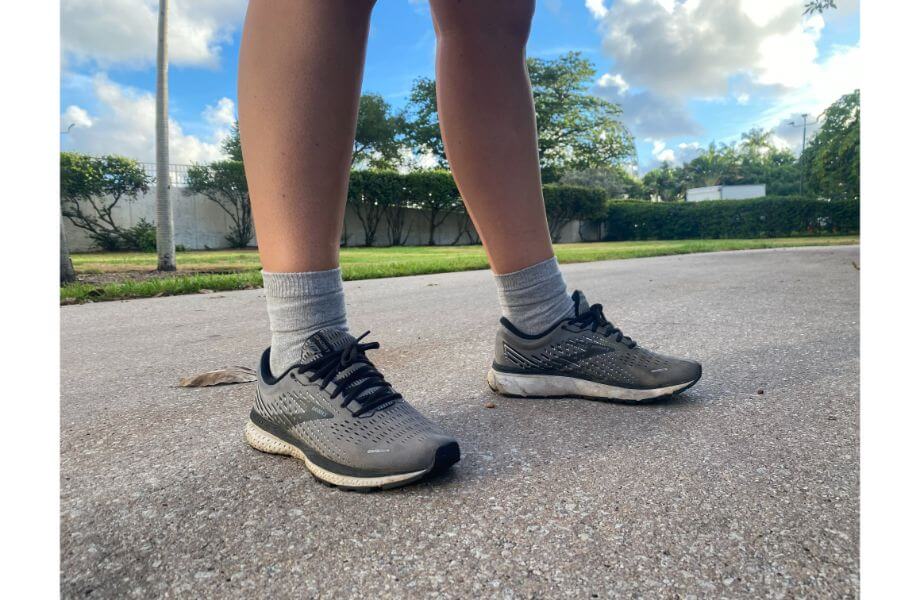 Note: The Ghost 14 and 15 are largely similar, but the newer 15s feature the DNA LOFT v2 cushioning, which Brooks says contains a less dense foam for a more lightweight shoe. Interestingly, the shoe weight for the 14 is listed as 9 ounces even, while the weight for the 15 is listed as 9.1 ounces. This is really splitting hairs for beginners, anyway, but I thought it was worth mentioning if you're seeking a shoe based on the midsole material.
The Ghosts have slightly less cushioning and motion control than the Adrenalines, since they feature a thinner midsole and lack the GuideRails. That's precisely why they're so great for neutral strides: You won't experience any stiffness with the Ghosts. Your feet and ankles will be free to flex in the most natural, comfortable way.
RELATED: Best Treadmill Running Shoes
| | |
| --- | --- |
| Heel-to-toe drop | 12 mm |
| Cushion level | Medium |
| Upper construction | Mesh upper |
Best Stability Running Shoes for Beginners: Mizuno Wave Horizon 6
Good for: Beginner runners who overpronate and could benefit from a stability shoe
For people who pronate while running, a stability shoe is ideal. The best stability shoe for beginner runners: the Mizuno Wave Horizon 6.
Pronation is the term for the collapsing of the arches upon ground impact. Pronation can range from very mild to very severe to the point where it's affecting your hip and spinal alignment. If you fall into the latter camp, it's best to get your gait (walking/running pattern) analyzed and work with a podiatrist to find the right shoes.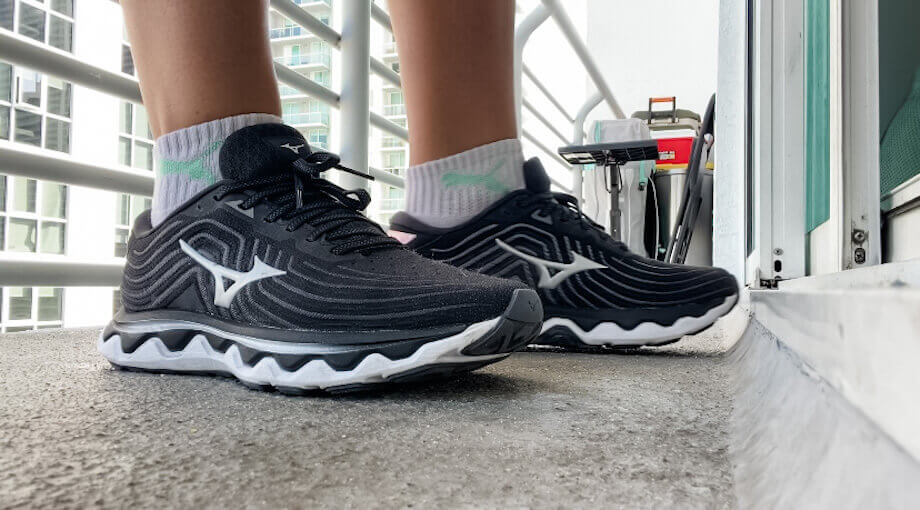 If you experience mild pronation—meaning, your arches do collapse but it doesn't bring you severe pain, discomfort, or significant alterations to your gait—a stability shoe might be all you need to fix it.
The Mizuno Wave Horizon has a lot of great features, but in particular, I want to call out the medial rubber wall. This small rubber plate cradles the arch of your foot and prevents inward rolling so your arches don't flatten out upon contact with the ground.
Additionally, these shoes feature a wide toe box and wide crash pad, plus the MIZUNO WAVE® plate which aims to more evenly disperse the energy from impact. Together, these features help prevent pronation and support a more neutral stride.
| | |
| --- | --- |
| Heel-to-toe drop | 8 mm |
| Cushion level | Medium |
| Upper construction | Tightly woven textile |
Best Trail Running Shoes for Beginners: Saucony Peregrine 12
Good for: Beginners looking to leave city running for trails
Featuring Saucony's widely loved PWRRUN cushioning, the Peregine 12 is a lightweight but stable and comfortable trail running shoe. Some of our tester's favorite features include the PWRRUN-cushioned sockliner, low heel-to-toe drop of 4 millimeters, flexible upper construction, and PWRTRAC outsole, which helps you dig into any terrain.
Matt, husband of GGR writer and product tester Lauren Strong, was our guinea pig for these shoes. He tested several pairs for us and ultimately concluded that the Peregrines were the most comfortable pair out of them all.
"They seem pretty durable and meant for going outside," Matt says, "and they look rugged in the right spots. There is reinforcement over the toe box and edges of each side for some additional support."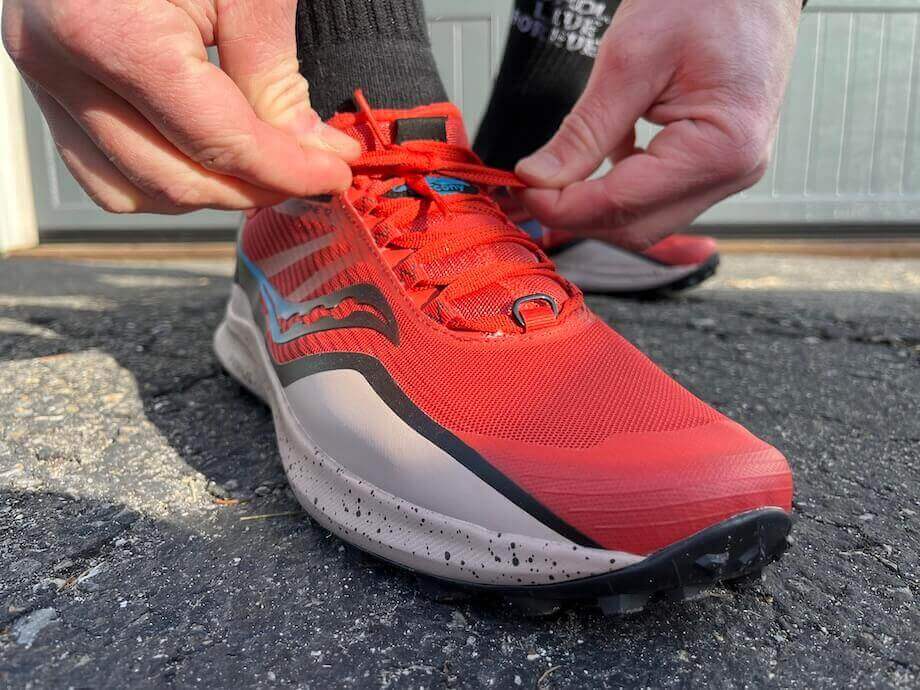 He thinks the mesh upper feels more durable than a road running shoe (which it should) and thanks to the large outsole lugs, Matt felt super stable on ice, snow, dirt, and mud—but was very aware of said lugs on flat, smooth surfaces, to the point where the shoes felt like soccer cleats.
Matt also thought these had good arch support and the heel clip was nice and snug. He also liked the durable heel tab on the back for pulling them on and off. Yippee for shoes you can slide on!
RELATED: Best Running Shoes for High Arches
| | |
| --- | --- |
| Heel-to-toe drop | 4 mm |
| Cushion level | Moderate |
| Upper construction | Durable mesh with targeted reinforcements |
Best Cushioned Running Shoes for Beginners: HOKA Clifton 8
Good for: New runners who need a lot of cushion and shock absorption
Often, beginner runners find themselves shocked at the toll impact takes on their ankles, knees, hips, and even lower back. Besides perfecting your running technique (which we highly recommend), choosing heavily cushioned shoes can help ease some of that impact.
The Clifton 8 is a HOKA best-seller. Customers love the ample cushioning and the early-stage rocker in this shoe, which makes transitions smooth and comfortable. The Clifton 8 is a neutral shoe with symmetrical cushioning without any additional motion control features, like the Mizuno medial plate or the Brooks GuideRails. This means it's best for runners who do not over-pronate or over-supinate.
Our tester thought the Cliftons were a bit too "orthopedic" for her personally, but sees a lot of value in them for runners who desire more cushioning and shock absorption.
At 7.2 ounces per shoe, these are insanely lightweight for the level of cushion they provide. So lightweight, in fact, that our tester questioned the durability a little bit. However, our team has tested several pairs of HOKAs and have yet to have any problems with durability.
It's true that the uppers on HOKAs tend to be comparatively thin, but that's one of my favorite HOKA features, as it makes the shoes fantastic at wicking sweat and keeping your feet dry and stink-free.
| | |
| --- | --- |
| Heel-to-toe drop | 5 mm |
| Cushion level | Heavy |
| Upper construction | Mesh |
Best Long-Distance Running Shoes for Beginners: ASICS Gel-Cumulus
Good for: Beginner runners who plan to work up to long distances
Long-distance running for a beginner might mean 1 to 3 miles, but as you build up your stamina, you may want to start running longer distances. If you plan to train for a long race like a marathon, you'll need shoes that can keep up.
We recommend the ASICS Gel-Cumulus, a popular running shoe designed for neutral runners and those who have mild supination. Supination is when the pressure on foot strike is primarily along the outside of your foot and your little toes.
Starting with the Gel-Cumulus 24, the shoe utilizes ASICS' FF BLAST™ cushioning, newer midsole technology it has started implementing in various models. It's slightly more lightweight than the FLYTEFOAM® cushioning in the 23s and prior models, although previous iterations are still great for new runners.
The Gel-Cumulus features gel cushioning in the forefoot and in the heel, along with a molded sockliner for comfort and a crash pad design that promotes full contact with the ground. The engineered mesh upper is quite breathable, too, and we love the AHARPLUS™ rubber outsole that's designed to be more abrasion-resistant than previous models.
While we didn't test the Gel-Cumulus specifically, we're confident in our recommendation based on our experience with five other ASICS pairs of running shoes.
| | |
| --- | --- |
| Heel-to-toe drop | 8 mm |
| Cushion level | Moderate |
| Upper construction | Mesh |
Other Running Shoes We Tried and Researched
New Balance Fresh Foam X 1080v12: This is a good pick for runners who have wide feet, and they're one of the best pairs of running shoes our tester, GGR performance editor Anthony, can find in his size (a men's 15).
Adidas Ultraboost: This is more of a workout shoe than a running shoe, although it could work as a short-distance or speed training shoe.
Nike Air Zoom Pegasus 39: The Nike React foam in the Air Zoom Pegasus is certainly bouncy, but our tester didn't find them to be anything spectacular overall.
Altras: I'm a big fan of Altra running shoes all-around and have tried many pairs. However, I don't think zero-drop shoes are the right choice for beginners.
On Running Cloud X: These are "athletic AF" and super stylish according to our product tester, but we don't think they offer the right support for new runners.
Saucony Ride: These are a heavily, but softly, cushioned runner. We like them, but feel there are better options for beginners.
Saucony Endorphin: There are five versions of the Saucony Endorphins; this is the brand's racing line designed with ultra-lux materials. They're overkill for beginners, in our opinion.
ASICS Gel-Nimbus: Our tester found these to promote a toe strike too heavily and felt that the shoes lurched her forward. They might be a good option for runners who tend to heavily heel strike.
How We Picked and Tested the Best Running Shoes for Beginners
By wearing them, of course.
To be more specific, our product testers have tried out more than 50 pairs of walking shoes for men and women as well as running shoes for our guides to the best shoes.
In the first three months of 2023 alone, we've collectively walked and run thousands of miles across different types of terrain, from the pavement in big cities to rural trails covered in ice.
We take detailed notes about the shoes we test and collaborate across our team about which shoes belong on which lists.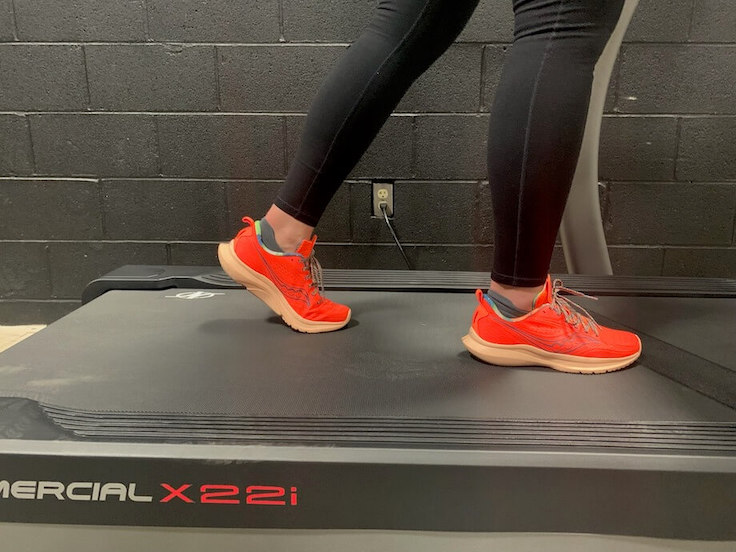 Benefits of Running Shoes for Beginners
The benefits of buying good running shoes as a beginner are the same as buying good running shoes for an experienced athlete. The right footwear will:
Absorb a proper amount of shock to minimize joint impact
Provide energy return and responsiveness to boost and, if needed, correct your stride
Stabilize the arch and ankle for over-pronators and over-supinators
Create smooth transitions
Prevent a heavy heel strike or heavy toe strike
Cradle the heel
Eliminate foot, ankle, and shin pain while running
Buying Guide: Best Running Shoes for Beginners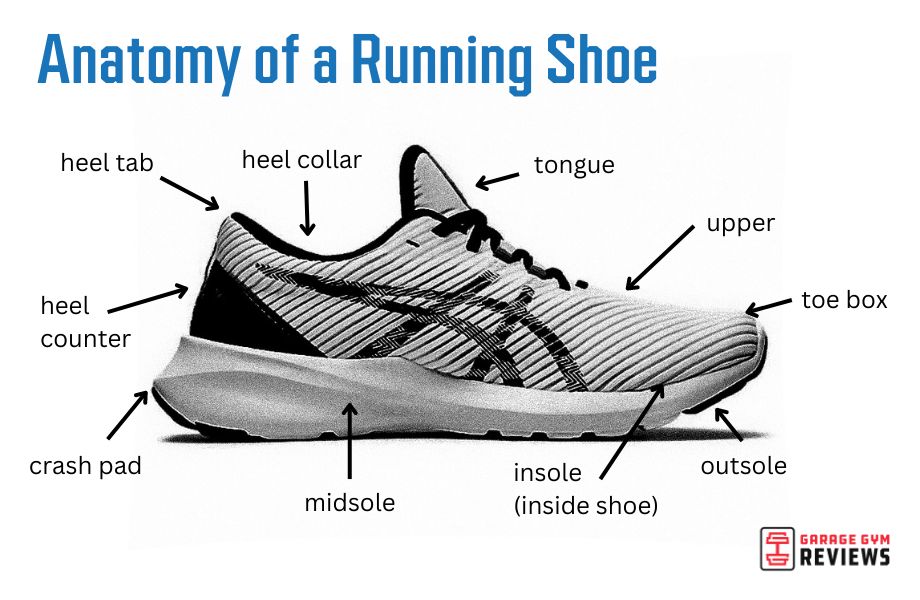 Keep these considerations in mind as you shop.
Upper
This is the part of the shoe that covers the top of your foot and where the lacing mechanism lives. On most running shoes, it's a woven textile, usually a form of mesh. It should be flexible and breathable, but durable. You may need a different type of upper, such as GORE-TEX, if you plan on running in wet conditions.
Insole
This is the part that hugs your foot. It should be soft and form-fitting without feeling restricting.
Midsole
The midsole is the underfoot cushioning. It varies in thickness and density across brands and models. The ideal midsole provides ample cushioning without being too squishy. It's also good to have a bit of bounce.
Outsole
The outsole is the rubber bottom of the shoe. The type of outsole you need depends on the type of terrain you plan to run on. If you plan to run trails, for instance, you should choose a trail shoe with deep lugs that can dig into the earth. They'll feel a little bit like cleats. For road running, flatter outsoles are fine.
Toe Box
This is where your toes and forefoot go. It should be roomy enough so that none of your toes are pinched or squeezed together, but form-fitting enough so that your foot doesn't wildly slide around. Like in Goldilocks, it should be just right.
Laces
It may sound trivial, but laces can make a big difference in the overall experience of a shoe. You don't want laces that are too short to tie, but you don't want them so long that they flap around after being tied. Take a moment to play with the laces in your hands, too, to find out if they are flexible or stiff. Stiff, starchy laces aren't ideal.
FAQs About Running Shoes for Beginners
Some commonly asked questions about running shoes for beginners are:
Can I run in my walking shoes? 
Some walking shoes perform fine for short, easy runs. However, walking shoes aren't always designed with the shock absorption needed for running. If you can only get one pair, it's likely a better bet to buy running shoes and use them for walking and running.
What are the types of running shoes? 
There are many types of running shoes, including neutral, stability, trail, road, cushioned, minimalist, and zero-drop. 
How much should a beginner spend on running shoes?
Running shoes generally hover between $120 to $160 these days. Generally, we recommend that beginners purchase their first pair at the low end of that range, or even lower, such as with our best budget pick: the Saucony Cohesion 13.