We test and review fitness products based on an independent, multi-point methodology. If you use our links to purchase something, we may earn a commission. Read our disclosures.
No matter your foot anatomy, proper arch support in running shoes is essential for maintaining good foot health and preventing injuries. Choosing any old running shoe will not do. If you have high arches, this is especially important since high arches can make you more prone to running-related injuries.
While there are still some nuances to consider, like gait and preference, the best running shoes for high arches typically have extra cushion and support, both in the midsole and the ankles. Lots of brands promise this, but many underdeliver—and you don't want to find out you chose a dud mid long-distance run.
We've Walked the Walk (Ran the Run?) to Find the Best
Our team of expert testers includes certified personal trainers, CrossFit-L1 trainers, and Olympic athletes. Collectively, we have tried our fair share of running shoes—from the best treadmill running shoes to the best shoes for trail running, we've tried them all! If you have high arches, it's extra important to find the best shoes for you. To help you out, we tested a bunch of pairs and narrowed it down to this list of the best running shoes for high arches that got high ratings for comfort, support, durability, and overall performance.
Best Running Shoes for High Arches in 2023
Best Running Shoes for High Arches Overall: Brooks Glycerin 20
Good for: Anyone with high arches who wants a great running shoe
Brooks running shoes consistently top the charts. While the brand used to be considered a "dad shoe," it has come a long way in recent years. The Brooks Ghost 14s get a lot of attention, but the Brooks Glycerin 20s are our top pick for runners with high arches.
Like most Brooks pairs, these have the signature DNA Loft midsole. Amanda Capritto, the GGR staff writer who tested the shoes, is a fan of this technology (and the brand in general), saying it offers excellent arch support and ample cushioning in the midfoot that helps take stress off your joints.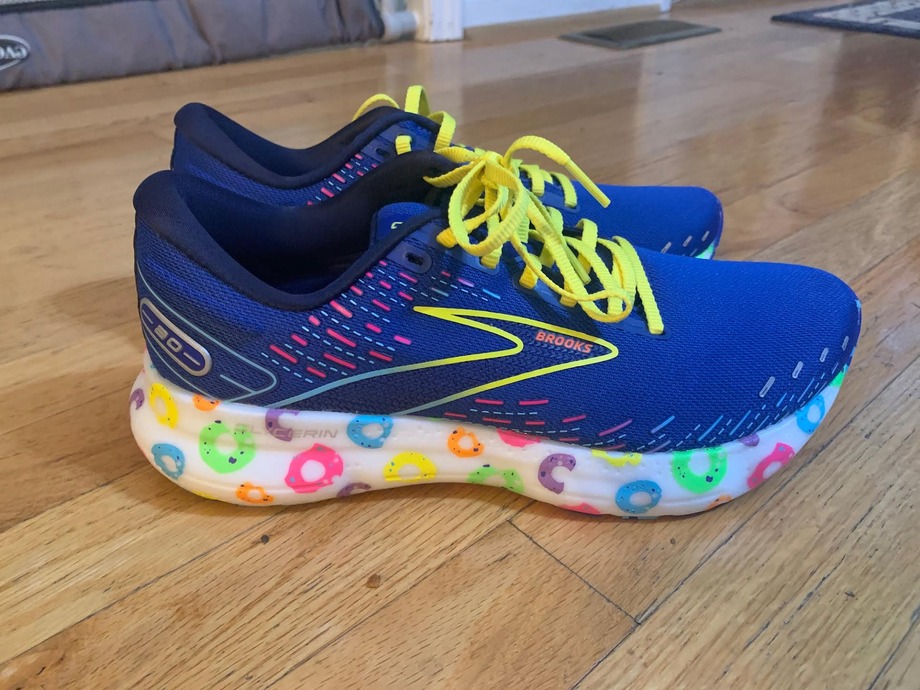 They have neutral support, and are designed to be cushier than other pairs, but not so soft that you feel unstable. And the softness doesn't take away from the responsiveness. Brooks designed the foam to prevent too much sinkage, so you'll still get that explosive power you're after.
The midsole and outsole were redesigned from previous versions, too. The shoe now has a wider platform that helps with smoother transitions during your stride, and an improved fit in the upper that offers plenty of toe room while keeping them secure. They also come in three widths—medium, wide, and narrow—so you can get a more tailored fit.
While they're a little on the heavy side compared to others on our list, the Brooks Glycerin 20s are an excellent all-around running shoe that can transition from track to road to treadmill.
| | |
| --- | --- |
| Weight per shoe | 9.1 oz (women); 10.1 oz (men) |
| Heel-to-toe drop | 10 mm |
| Available sizes | 5-12 (women); 7-15 (men) |
Best Running Shoes for High Arches on a Budget: ASICS Gel-Cumulus 24
Good for: Those who want support without spending a ton
Before we jump into our thoughts on the Gel-Cumulus 24s, we need to leave a little disclaimer: We didn't test this specific pair, but we did test the Gel-Nimbus (a long-distance running shoe) and the Gel-Venture (a trail running shoe). The Gel-Cumulus 24s are the road running version of these pairs, and very similar.
They all rely on a soft cushioning system (which Asics unsurprisingly calls Gel Technology) that helps reduce shock during impact and allows free movement through the entire gait cycle. The Gel-Cumulus 24s are a little more advanced than the other two, with extra support and cushioning in the midsole for higher arches. They also have an orthopedic sock liner that enhances both comfort and support.
Despite the multiple levels of cushion, these running shoes are still stable and provide enough of an energy return to drive forward momentum. In other words, while they're comfortable shoes, you won't feel like you're sinking into them and going nowhere.
According to our tester (GGR editor Nicole Davis' husband, Rob), the uppers are comfy and breathable, although they do feel a little thicker than some other running shoes. The outsoles have nice traction on all types of surfaces, so if you prefer to run outside, you'll be properly supported.
While the full retail price is on par with some of our other picks, these running shoes are frequently on sale—that's why they earned the designation of best budget pick. If you can hold off on getting a new pair, we recommend waiting for a sale to snag them.
| | |
| --- | --- |
| Weight per shoe | 8.8 oz (women); 10.1 oz (men) |
| Heel-to-toe drop | 8 mm |
| Available sizes | 5-12 (women); 6-16 (men) |
Best Road Running Shoes For High Arches: Brooks Adrenaline GTS
Good for: Anyone with overpronation or collapsing arches, or people who prefer a more cushioned running shoe
If you're strictly a road runner, you need a running shoe with a good rubber outsole, as well as the proper arch support. The Brooks Adrenaline GTS 22s deliver on both fronts.
They're equipped with Brooks' signature DNA loft foam midsole, which provides ample cushioning in the midfoot and fantastic arch support, according to Amanda.
Based on her experience, Amanda says these really work best for those with overpronation issues and collapsing arches, but there's enough wiggle room for an insole if you need more targeted support. They also come in four widths—medium, wide, narrow, and extra wide—so you'll be able to get a more secure fit for your specific foot type.
It's not just about the arch support, though. These shoes also have a reinforced toe box and heel cup, and guide rails in the midfoot to help you maintain your natural stride even when you start to tucker out. This keeps your joints aligned and supports your feet, knees, and hips so you're less likely to develop overuse injuries.
Overall, these shoes are designed more for comfort than speed. At 9-10.2 ounces each, they're pretty heavy, so you're probably not going to be breaking any PRs in them, but you'll get a smooth ride.
| | |
| --- | --- |
| Weight per shoe | 9 oz (women); 10.2 oz (men) |
| Heel-to-toe drop | 12 mm |
| Available sizes | 5-13 (women); 7-15 (men) |
Best Running Shoes for Underpronation: ASICS Gel-Nimbus 24
Good for: Runners looking for a lot of cushioning, or those trying to get away from a heel strike
Underpronation and high arches often go hand in hand. If you're dealing with both, you need a shoe that properly supports the outer edge of your foot, while also providing enough flexibility so it doesn't negatively impact your natural strike pattern.
That being said, the Asics Gel-Nimbus 24s are specifically designed for underpronation, with neutral support and maximum cushioning to protect your feet. They have a slight rocker style, with the back of the heel extending out a little beyond the normal heel. It's not as pronounced as the Hoka One One, but Lauren Strong, the GGR staff writer who tested the shoes, says it still created a little more rocking than she would have liked.
Lauren wasn't a huge fan of the fit because it has a lot of cushioning under the heel and made her step into her toes more than she normally would. However, if you need more pressure relief and shock absorption under the ball of your foot, these may be the choice for you. In addition to the extra cushioning, they also have an orthopedic liner for additional comfort, plus a breathable engineered mesh upper that wraps the foot for extra support.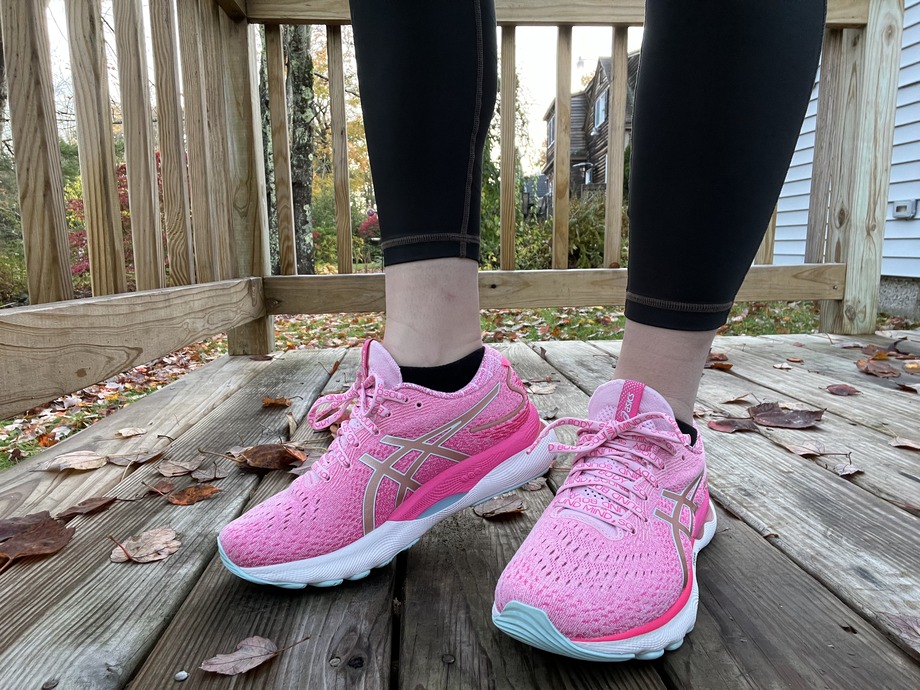 According to Lauren, the ASICS Gel-Nimbus 24s will do well for someone looking for a lot of cushioning, or someone trying to get away from a heel strike with a shoe that provides more motion control (the shoe rolls you away from a heel and midfoot strike).
| | |
| --- | --- |
| Weight per shoe | 8.7 oz (women); 10.2 oz (men) |
| Heel-to-toe drop | 13 mm (women); 10 mm (men) |
| Available sizes | 5-13 (women); 7-16 (men) |
Best Running Shoes for Overpronation: HOKA Arahi 6
Good for: Runners looking for extra stability
HOKAs are not for everyone, but if you're an overpronator, the extra stability is a must. The HOKA Arahi 6s aren't the most cushioned shoes the brand makes, but in this case, Nicole says that's a good thing. They're still plenty comfortable, but have more responsiveness than cushier versions, so you'll still get some power from them.
A J-shaped piece of foam wraps around the heel and up through the medial side of the shoe. This helps prevent the excessive inward roll that can come with overpronation, without correcting gait too much and throwing off your stride. The J-frame also adds support for higher arches, while ensuring the shoes stay flexible—another must for high arches. A zoned rubber outsole provides plenty of traction and helps balance out your foot strike.
At 7.6-9.3 ounces per shoe (depending on whether you get the women's or men's version), these are also one of the lightest pairs on our list. If you're looking for a shoe that won't hold you down, this is it.
Nicole puts them somewhere in the middle, cushion-wise, and says they're lightweight, breathable, easy to get on and off, and just feel good. Whether you're wearing them solely for running, or other types of workouts, Nicole says they're comfortable for extended periods and would work well as a daily trainer.
| | |
| --- | --- |
| Weight per shoe | 7.6 oz (women); 9.3 oz (men) |
| Heel-to-toe drop | 5 mm |
| Available sizes | 5-12 (women); 7-15 (men) |
Best Running Shoes for High Arches and Wide Feet: New Balance Fresh Foam 1080v12
Good for: Wide-footed-runners who need extra support
If you have high arches and wide feet, you need a running shoe with extra support in the midsole and a toe box that doesn't crush your feet (no one wants running-related bunions). The New Balance Fresh Foams 1080v12 have both of these, plus a responsive foam insole that offers both comfort and responsiveness.
New Balance says they use an advanced pressure mapping system to design the foam layout for these shoes. It's firmer in the wider portion of the midsole to provide more stability, and thinner in the forefront to allow the flexibility you need to maintain your natural gait.
We didn't test this specific running shoe, but our tester Caroline did try the 880v13s, which has a very similar Fresh Foam construction. She said that while they felt a little clunky to her, they're very well-cushioned and felt the most durable out of all the pairs she tested.
The upper construction is also thoughtfully designed for those with wide feet. It has a knit upper that stretches and moves with you, but there's a bootie-style construction that makes it a little more snug fitting so it doesn't slip as you run—a common problem in shoes that are too wide.
If you like a minimalist running shoe, the 1080v12s may not be the best choice for you, but if you're looking for more support and a comfy run, Caroline says these are an excellent pick.
| | |
| --- | --- |
| Weight per shoe | 8.3 oz (women); 10.3 oz (men) |
| Heel-to-toe drop | 8 mm |
| Available sizes | 5-13 (women); 7-16 (men) |
Most Stylish Running Shoes for High Arches: On Cloudstratus
Good for: Fashion-conscious runners who like mid-level cushion and a really grippy outsole
Let's be real: Looks matter. Yes, it's important to find a running shoe that properly supports your arches, but if you're not vibing with it style-wise, it's going to be a hard sell. While most of the pairs that made our list got high marks for performance and function, our testers didn't always love how they looked. That wasn't the case with the On Cloudstratus pair. Nicole says they're unique, cool-looking, and have fun color combos that can appeal to many.
Of course, they feel good, too. These are On's maximum cushion pair. They're not as cushy as HOKAs, but they offer a good balance between stability and cushion, according to Nicole. On makes these sneakers with CloudTec, which is cushioning technology on the bottom of the shoe and throughout the sole. It's designed to reduce fatigue, react to your specific movements, and support your feet where you need it most.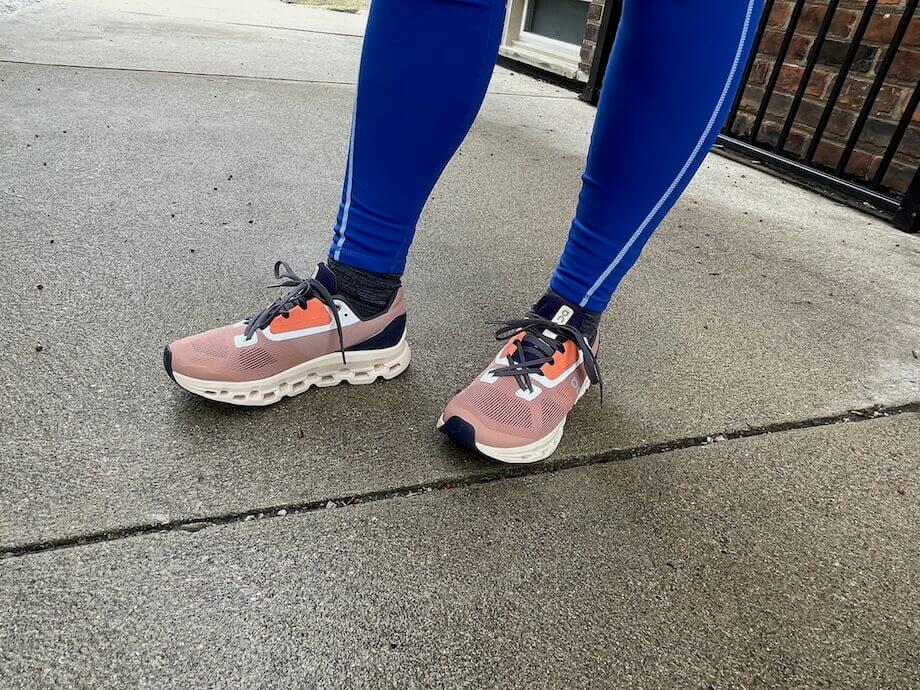 Nicole says they have a nice structure to them, with a roomy toe box and grippy, stable outsole. They also feel durable and built to last, which is always important, but especially important here considering the $170 price tag.
The bottom line: If you want a running shoe with a good amount of cushion (but not too much) that looks good, we don't think you can go wrong with the On Cloudstratus.
| | |
| --- | --- |
| Weight per shoe | 8.7 oz (women); 10.8 oz (men) |
| Heel-to-toe drop | 6 mm |
| Available sizes | 5-11 (women); 7-14 (men) |
Best Cushioned Running Shoes for High Arches: HOKA Mach 5
Good for: Anyone who wants a super plush running shoe
HOKAs are known for their cushioning, and the Mach 5s are super plush, according to Amanda. "If you're not used to HOKAs, you'll likely be thrown off by just how soft they are. You almost sink into them with each foot strike," she says. This took her some getting used to, but if that's what you're after, you can't go wrong with this pair.
Amanda says they're so comfortable that it feels like walking on clouds. They have a stacked midsole that supports high arches, and a lightweight responsive foam in the footbed that reacts to your movements to help you maintain your normal gait pattern.
The rubberized EVA outsole is designed to help with traction, but it doesn't have the thicker lugs of shoes that are made solely for outdoor use. Amanda says their outdoor performance was average, but you may have to be careful in wet or slippery conditions.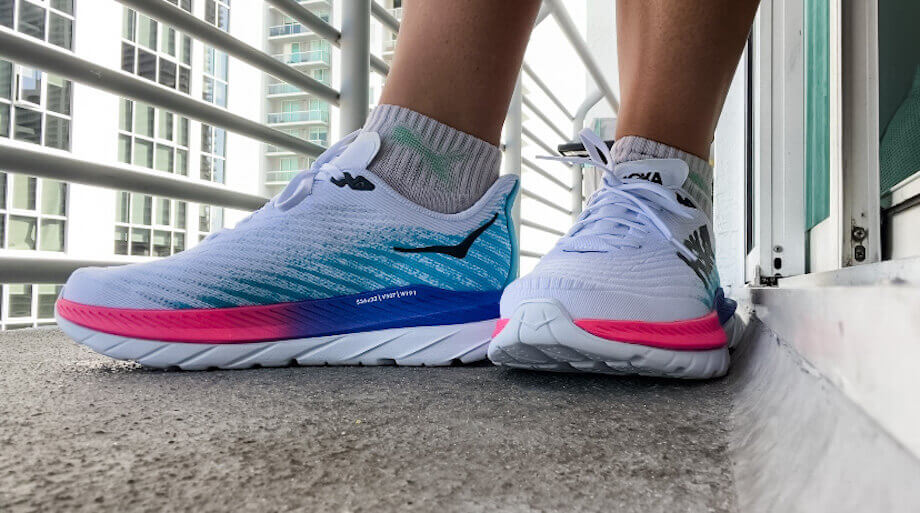 As for fit, everyone will have a slightly different experience, but Amanda says there's plenty of wiggle room in the toes, while also staying snug in the heel. They're also extremely lightweight—the women's version weighs just 6.8 ounces—so they won't hold you down.
Overall, HOKA describes these as responsive, neutral shoes and we agree. They have a firmer material than some of the brand's other picks, like the HOKA Clifton 8s for example, which helps with takeoff and speed. They might not be your next racing shoe, but they're great for everyday runs.
| | |
| --- | --- |
| Weight per shoe | 6.8 ounces (women); 8.2 ounces (men) |
| Heel-to-toe drop | 5 mm |
| Available sizes | 5-11 (women); 7-14 (men) |
Best Trail Running Shoes for High Arches: Nike React Pegasus Trail 4
Good for: Runners looking for a shoe that can go from trail to road
If you prefer to hit the trails, the Nike React Pegasus Trail 4s are hands-down the best choice for you. Nicole says they're lightweight, flexible, and have great traction. Bottom line? She's obsessed with these shoes.
They're not only super comfy, they're wildly supportive, too. They're made with Nike React foam, which is basically a heavy-duty but ultra-responsive foam that properly cushions your arches while still giving you the power you need.
There's a higher rise on the ankle gaiter which contributes to ankle support and stability. Support throughout the midsole is controlled by the laces—so you can tighten or loosen them as needed. Nike doesn't give an official heel-to-toe drop for these, but Nicole says they definitely have a bit of a rise, which works well for high arches.
They're amazingly waterproof, too. Nicole wore them throughout the winter in place of her winter boots and says they work perfectly; they kept her feet dry and kept her from slipping on slushy, icy patches.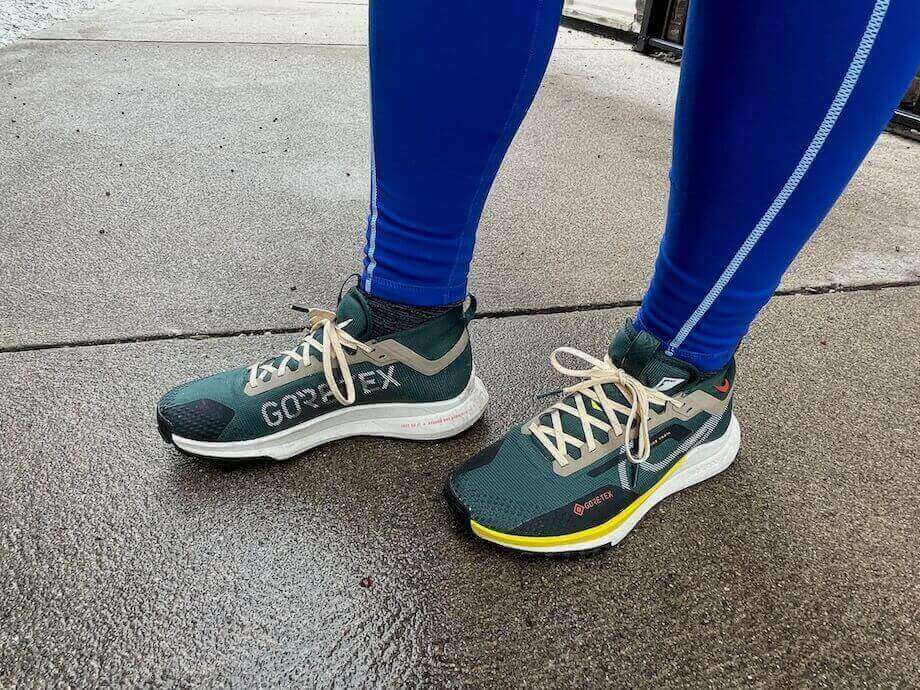 These running shoes offer versatility. The lugs are deep enough for the trail and rocky terrain, but the design of the traction is meant to also provide a smooth run on pavement (or a treadmill), meaning there's less rubber on the outsole than your typical trail running shoes.
Nicole says she would absolutely pay full price for these (and can't believe she's saying that), but the features make them worth every penny.
| | |
| --- | --- |
| Weight per shoe | 8.2 oz (women); 9.8 oz (men) |
| Heel-to-toe drop | N/A |
| Available sizes | 5-12 (women); 6-15 (men) |
Other Running Shoes for High Arches We Researched
We've researched and tested a lot of running shoes. This isn't an exhaustive list, but we wanted to highlight some of the picks that could be considered good running shoes for high arches, but didn't quite make the cut.
Saucony Ride 15: The Saucony Ride 15s are a great price, but we didn't think they had enough support for high arches when compared to our top picks. They are lightweight and breathable, though, and have a snug design that's built for speed. If your arches are on the lower end of high, they may work for you.
Adidas SolarGlide 5: According to reviewers, these running shoes have great energy return and a very supportive midsole. They seem like they could be a good pick, but nothing made them stand out from the others.
Brooks Ghost 15: Brooks Ghost 15s are on everyone's radar, but we don't think they're the best pick for high arches. They do have the same DNA Loft inners as other Brooks pairs so there's still a good amount of support here.
Nike Air Zoom Pegasus 39: These toe the line of a stability shoe. While they'll work for some people, we just don't think there's enough crowd appeal to call them one of the best for high arches.
How We Picked and Tested the Best Running Shoes for High Arches
The Garage Gym Reviews team is made up of a group of avid runners and athletes. We are constantly testing running shoes in our day-to-day life (that's just what we do), but we also specifically tested several pairs for this guide.
The first step in our process is to do some research on what runners with high arches need. There isn't really a one-size-fits-all answer here (it really comes down to your gait, strike pattern, and preferences), but we ended up narrowing it down to options that provide plenty of support, for the midsole and the overall foot.
We considered options for overpronators, underpronators, and neutral runners. We ended up testing about two dozen pairs, and included some options for everyone.
To actually test the shoes, we wore them through different types of running workouts. We took them on long and short runs. We hit the pavement, trails, and treadmill, and ran in a variety of different weather conditions. We also wore them during our day-to-day, whether that meant walking our dogs or just running errands.
Our testing period lasted for several weeks, and during this time we took notes on comfort, durability, stability, ergonomics, and breathability. We also assessed overall performance and, yes, how the shoes looked.
In the end, we narrowed it down to the nine pairs you see on this list.
Benefits of Running Shoes With Arch Support
Running is a high-impact sport, and high arches make you more likely to develop running-related injuries, according to Daniel Pledger, DPM, podiatrist and founder of ePodiatrists. Proper arch support is essential for preventing injuries and maintaining good foot health during your runs.
According to Pleder, running shoes with arch support:
Distribute weight evenly across the foot
Reduce stress on the ball and heel
Promote better shock absorption
Contribute to stability
Alleviate strain on the knees, hips, and lower back
The bottom line is that the right arch support not only makes your runs more comfortable, it can also improve your performance and reduce your risk of injury.
Buying Guide: What to Look for in the Best Running Shoes for High Arches
Runners with high arches need extra support, but there's so much more to consider, too. We combined our knowledge with tips from Dr. Pledger to come up with the most important things you should look for in running shoes for high arches.
Arch Support
The ultimate goal is to find a running shoe that properly contours to and supports your arches. "Look for shoes with a well-contoured arch that matches the shape of your foot. This may require trying on multiple brands and models to find the right fit. In some cases, custom orthotics or insoles may be necessary to achieve the perfect support," says Pledger.
Outsole and Traction
Any running shoe needs traction, and the outsole can make a huge difference in this. Some running shoes have heavy-duty lugs and highly rubberized bottoms that are designed for trail running and rocky terrain. Others are smoother (but usually still have some degree of rubber) and are meant more for road or treadmill running.
When narrowing down your picks, decide how you want to use the shoe. If you do all types of running, it may be best to get a couple pairs that are designed for different types of terrain.
Ankle Support
The right ankle support can help reduce foot stress and the potential injuries that can come with it. There are two things you should look for here: the right arch support and stability on the outer (or lateral) side of your running shoe. This can prevent ankle rolling.
Making sure the running shoe you choose also has proper cushioning. This contributes to ankle support, since it helps keep your foot and ankle stable.
Midsole Cushioning
Overall, cushioning helps absorb shock and makes for a more comfortable run. But the placement of that cushioning is especially important for high-arched runners. "Opt for shoes with ample cushioning, especially in the midsole and heel areas. This will help absorb shock during running and reduce stress on the lower extremities," Pledger says.
Flexibility and Stability
Flexibility and stability may seem like opposing features, but they go hand in hand. Pledger says a flexible shoe is essential for high-arched feet, as it allows more natural foot movement and reduces the risk of stiffness-related injuries.
But high-arched runners need some stability, too. While you shouldn't get a "stability shoe"—these are designed for people with flat feet—Pledger says it's still important to get a shoe with some degree of stability to maintain proper alignment and reduce your risk of injuries.
Heel-to-Toe Drop
Heel-to-toe drop is the difference in height between the heel and forefoot of the running shoe. It's essentially a comparison between how much cushion is under your heel and how much is under your toes. Heel-to-toe drop can affect your foot strike pattern, gait, and overall running form, so it's important to find your sweet spot here.
When choosing a heel-to-toe drop, arch height isn't necessarily the most important consideration—how your foot strikes the ground is. If you strike the ground heel first, you want a higher (9 mm and up) heel-to-toe drop. A high drop also works well for those with foot or ankle pain, and a history of Achilles tendonitis or tight calf muscles. If you strike with the middle or front of your feet, or have knee or hip pain, a lower (4-8 mm) heel-to-toe drop will likely work better for you.
Toe Box Width and Shape
Make sure you're choosing a shoe that works for your foot. If the toe box is too narrow, it can crush your toes, leading to discomfort and potential injury. If it's too wide, your foot can slide around. If you have wide feet, it's important to get a running shoe that comes in a wide fit. Otherwise, you won't be comfortable no matter what you try.
"Ensure that the shoes fit comfortably, with enough space for your toes to move freely and without any uncomfortable pressure points," says Pledger.
FAQs About Running Shoes With High Arches
Why is arch support important in running shoes?
If you don't have the proper arch support, you're more susceptible to running-related injuries. "Shoes with adequate arch support help distribute weight evenly across the foot, reducing stress on the ball and heel. This also promotes better shock absorption and stability, which can alleviate the strain on the knees, hips, and lower back," says Pledger. All this to say the right arch support plays a major role in comfort, performance, and injury prevention.
Do I need arch support in my running shoes?
Most people can benefit from arch support, according to Pledger. "It is essential for maintaining proper foot alignment, preventing excessive pronation or supination, and promoting overall comfort and performance. That being said, the specific type and degree of arch support needed will depend on the individual's unique foot shape and biomechanics," he says.
What is the benefit of arch support shoes?
Arch-support shoes help maintain good foot health and prevent injuries. They also evenly distribute weight and reduce stress, which can also make you feel more comfortable during your run.