We test and review fitness products based on an independent, multi-point methodology. If you use our links to purchase something, we may earn a commission. Read our disclosures.
The one thing I hate more than a wet sock is when a sock gets scrunched behind my heel—or worse, trapped under it. One annoying sock is enough to slow me down to walking pace. Two annoying socks will send me home to forget about running all together.
But that's the last you'll hear about annoying socks, because we have a comprehensive guide to the best running socks for long-distance runs or sprints. This is more than your basic cotton socks. We've rounded up the best running socks for breathability, comfort, cushioning, and compression. You won't have to worry about a subpar fit, sweaty feet, blisters, or chafing with these top picks from our expert product testers.
We Put Our Feet to The Test
Our expert team of product testers collectively tried a dozen different pairs of running socks and dragged them through long walks, vigorous runs, HIIT training, and even barbell workouts. We also made sure to wash and wear each pair multiple times before we gave the final verdict.
As a group of fitness professionals—ranging from Crossfit Level 1 Trainers to nutrition coaches—we're fed up with socks falling down into our shoes. It was high time that we outfit our product testers with the best socks we could find and deploy that information to the public.
Best Running Socks
Best Value Running Socks: ASICS Unisex Quick Lyte Cushion Single Tab
Good for: Anyone looking for budget-friendly athletic socks with a snug fit
A good pair of socks isn't usually cheap. However, the ASICS Quick Lyte Cushion Single Tab running socks are priced at $15 for a pack of three pairs. They are made from a moisture-wicking, synthetic blend of nylon, polyester, and spandex. GGR Head of Content Kate Meir tested these and reports that the Quick Lyte socks have "a typically athletic feel with a snug fit around the arch."
On top of the moisture-wicking capabilities, the Quick Lyte socks have anti-odor technology, which is helpful because synthetic materials can be more difficult than cotton to get the sweat smell out. They also offer lightweight cushioning underfoot and additional dense cushioning through the heel and toe area, which are higher-impact areas.
Kate doesn't have a single complaint about the Quick Lyte running socks. She liked the seamless toe design and the high heel tab, which help protect against blisters. Plus, the snug fit and the high heel tab left no chances for slipping or bunching.
The ASICS website has a size chart to help determine which unisex size option is best for your feet. You can buy a pack of all white, all black, or a blended color pack of black, gray, and navy. To get three pairs for $15 is quite the stea—I wouldn't wait on this deal!
| | |
| --- | --- |
| Price | $15 for three pairs |
| Material | 73% nylon, 23% polyester, 4% spandex |
| Height | Ankle socks with tab |
| Size range | Unisex S-XL (Women's 4 through Men's 12) |
| Cushion | Dense cushioning at heel and toe |
Best Moisture-Wicking Running Socks: Smartwool Run Targeted Cushion Ankle Socks
Good for: Avid runners who log miles regardless of temperature or weather conditions
The Smartwool Run Targeted Cushion Ankle Socks provide cushion you can see and feel. GGR editor, Amanda Capritto, tested these Smartwool socks and loved the compression arch support and mesh venting on through the top. Amananda noted that the merino wool blend was the factor that made these socks stand out. "They felt magical—the wool wicks moisture but is also capable of regulating your temperature to keep your toes warm in cold weather, too."
Smartwool has a patent-pending design on these socks to support optimal durability and comfort. The brand even has a durability guarantee, which is coined "Indestructawool." If you were to have a problem with a pair of Smartwool socks, you will need to head over to the company website to submit a claim.
Amanda did mention that the $21 price tag for just one pair is a little high, but recommends it's a worthy investment if you're someone who runs a lot of miles. She wore these socks through workouts, runs, bike rides, and just doing errands—she was smitten with the fit, comfort, and temperature control during all activities.
The Smartwool Run Targeted Cushion Ankle Socks come in seven colors. Men's and women's colorways and sizing are a little different, so be sure you check out the size guide before you buy.
| | |
| --- | --- |
| Price | $21 per pair |
| Material | 56% merino wool, 41% nylon, 3% elastane |
| Height | Ankle, mini crew (3.25") |
| Size range | U.S. Women's 4-12.5, Men's 6-14 |
| Cushion | Targeted at ball and heel |
Best Running Socks For Wide Feet: Darn Tough Men's Run No Show Tab Ultra-Lightweight Running Sock
Good for: Anyone who needs a running sock to hold up to tough weather and longer runs
Darn Tough is an American company manufacturing socks in the mighty state of Vermont. Anthony O'Reilly, GGR writer and product tester, put the Darn Tough Men's Run No Show Tab Ultra-Lightweight Running Sock through a gauntlet of grueling trail runs, lengthy hikes, and trekking all over town.
These socks feature a seamless toe design, which is ideal for wide feet or anyone who just doesn't like the feeling of the traditional seam running through the toe box.
In addition to comfort, Anthony was happy to report these Darn Tough socks held up to the name. "These are wool socks but they don't feel overly warm. They kept my feet cool and felt comfortable in my running shoes."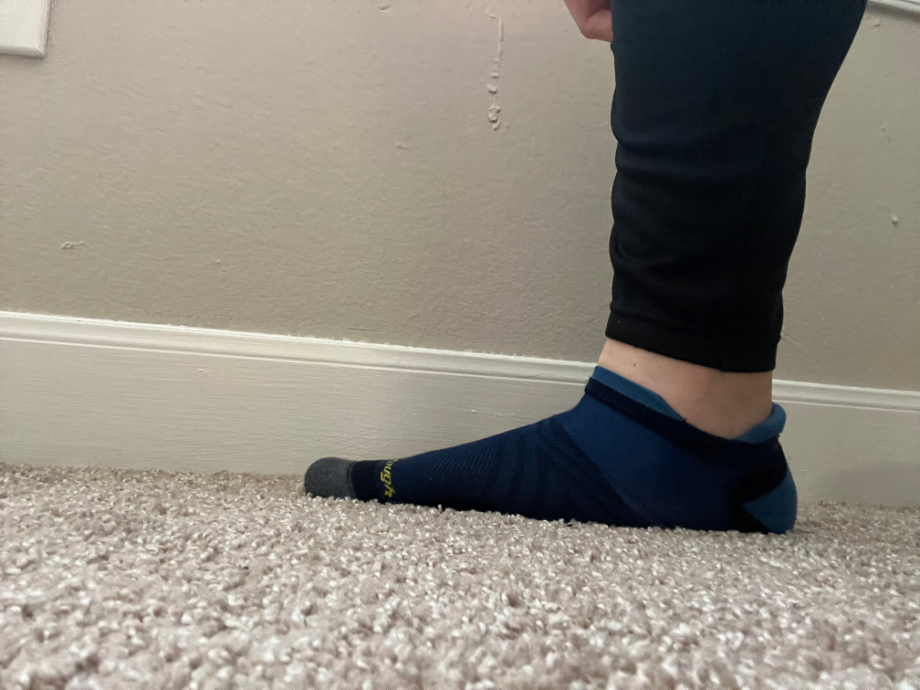 Anthony also boasted about the brand's lifetime guarantee—all you need to do is go to the Darn Tough website and complete the steps on the warranty page. The warranty does not cover animal destruction, burned socks, or just one sock (it needs to be a pair).
These running socks will cost you $17 per pair, which may sound like a lot of dough for a running sock. Anthony says if you want the best, it's worth the price. When selecting your color and size, you'll also have the option to select cushion or no cushion. If you want the extra cushioning, it'll cost you an extra dollar. Men's and women's colorways are different and both have the option for to go with or without cushioning.
| | |
| --- | --- |
| Price | $17 for no cushion, $18 for cushioning (per pair) |
| Material | 55% nylon, 40% merino wool, 5% lycra spandex (non-cushioned version) |
| Height | Ankle, no-show socks |
| Size range | Men's 8-17 |
| Cushion | Optional, provides cushioning underfoot and through the heel tab |
Best High-Rise Running Sock: On Running High Sock
Good for: Anyone looking for a lightweight, thin sock perfect for running
On Running is a Swiss company focused on making products and apparel for runners. On Running offers socks in different lengths including low cut and crew socks. The On Running High Socks are not quite high enough to be considered knee-high, as they sit about mid-calf. GGR editor, Nicole Davis, tested the High Socks and had no complaints on slipping or scrunching.
Nicole says the High Socks are comfortable, breathable, and ultra-light. She suggested these could be a fabulous pair of thinner socks for warmer weather runs, so you can save your thicker socks for the winter months when you need the extra warmth.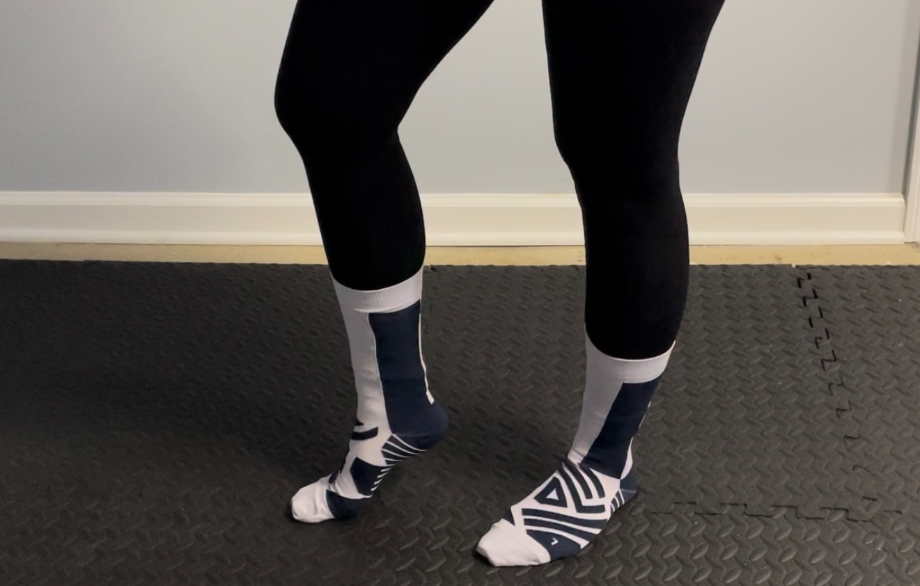 The High Socks come in six different bold colorways with unique patterns below the ankle. Above the ankle is a little more tame with a simple two-toned color block. Nicole was a fan of the artistic flare.
The blend of synthetic materials including polyamide and elastane help wick sweat away from your skin and the mesh paneling sections help regulate temperature from the forefoot all the way to the calf.
The one gripe Nicole had with these socks was the toe box area, which appeared to have more fabric than necessary for her feet. While it didn't end up affecting the fit inside her running shoes, it was more noticeable to her eye.
| | |
| --- | --- |
| Price | $21.99 |
| Material | Polyamide, elastane, and mesh panel |
| Height | Mid-calf |
| Size range | Men's 6-12.5 |
| Cushion | Slight cushioning underfoot |
Best Low-Rise Running Socks: Bombas Solid Ankle Socks
Good for: Those looking for ankle socks that are comfortable for running
We were pretty hype to get our feet into a pair of Bombas. Other reviewers have called these popular running socks some of the best they have ever worn. But are they good for running?
Let's start with material: These are 69% cotton, 27% polyester, 3% rubber, and 1% spandex. Cotton is arguably not the best material for long-distance running. However, as our product tester Amanda Capritto found out, it does make for some very "soft and comfortable socks."
The signature Bombas "honeycomb" design along the arch is intended to provide support through cradling your foot. These also feature a seamless toe; if you've ever gotten a toenail stuck in a seam during a run, you know just how important this is.
You can find these ankle socks in a wide variety of colors and sizes S, M, and L. One of the reasons people love Bombas is the brand's philanthropy—every time you buy a pair of socks, they donate a pair to the homeless.
It's worth noting that Bombas ankle socks are about $13 a pair; which may feel pricey for some people.
| | |
| --- | --- |
| Price | $13 a pair |
| Material | 69% cotton, 27% polyester, 3% rubber, and 1% spandex |
| Height | Ankle socks |
| Size range | Unisex S-L (Women's 4 through Men's 12) |
| Cushion | Medium cushioning |
Best Compression Running Socks: Feetures Plantar Fasciitis Relief Sock
Good for: Anyone who needs targeted compression due to discomfort from plantar fasciitis
The Feetures Plantar Fasciitis Relief Socks look a lot cuter than they sound. Looking at them, you'd never guess how much compression they offer. They are super low-profile and sleek.
Although I'm not currently struggling with plantar fasciitis, I have experienced similar heel pain and discomfort from years of neglecting to wear supportive footwear. As soon as I put the Feetures socks on, I could feel the intense and targeted compression through not just the arch, but around the heel as well.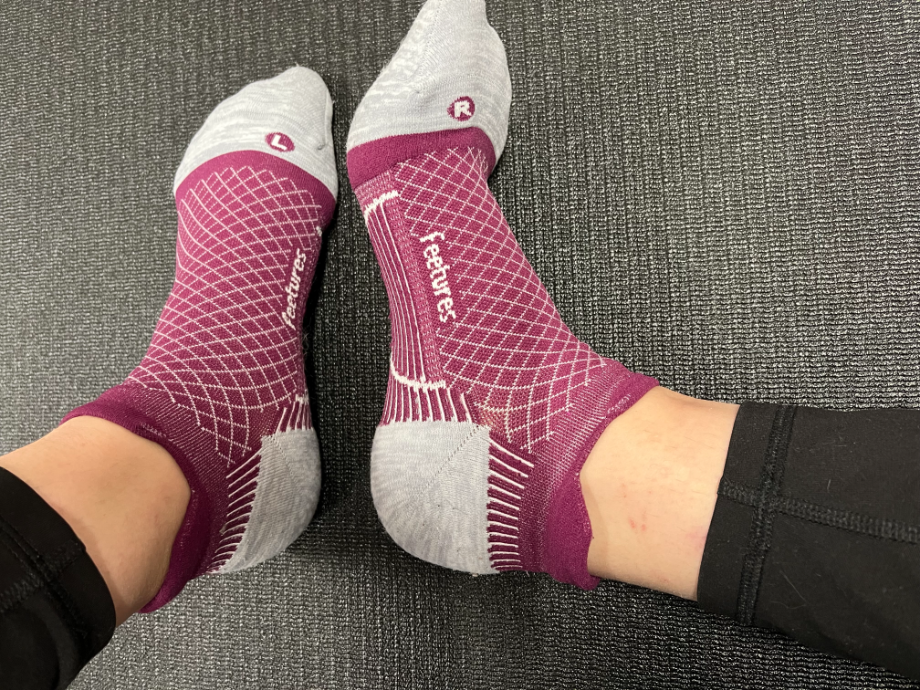 The website warns you that the socks are meant to have a snug fit, but I'd say these socks suction your feet. I actually had a brief cramp after walking around because my feet are quite flat and my arches aren't used to being pulled into the correct position all the time.
The Feetures Plantar Fasciitis Relief Sock is one of the best compression socks I've worn and I love the fact that it's an ankle sock, not an over-the-calf design. The nylon and spandex blend also lend itself to sweat-wicking to keep your feet cool and dry during long runs.
| | |
| --- | --- |
| Price | $25 per pair |
| Material | 91% nylon, 9% spandex |
| Height | Low cut, no-show with tab |
| Size range | Women's 4-13, Men's 6-15.5 |
| Cushion | Light cushioning |
Best Quarter-Length Running Sock: Stance Run Qtr Sock
Good for: Anyone who doesn't quiet want a ankle sock or a crew sock—something in between
There is something about a quarter-length sock that makes my feet (and ankles) really happy. The Stance Run Qtr Sock raises the bar on what a quarter-length performance sock can do for your feet. Nicole tested these Stance socks and fell in love with the unassuming basic white and gray running socks after the first wear.
"I am obsessed with these socks. They don't seem like anything special when you look at them, but they're so comfortable and fit like a glove," says Nicole.
Stance Run Qtr Socks have light arch support compression and medium cushioning for the perfect blend of support and comfort. They are also designed with a seamless toe box, which makes these even more appealing for a wide variety of runners.
Another bonus to these socks is that the reflective logo on the back of the ankle adds even more visibility while running in lowlight. Nicole says the $15 price tag is worth it—she's worn and washed them several times and they still look brand new.
| | |
| --- | --- |
| Price | $14.99 on Amazon |
| Material | 67% nylon, 28% polyester, 5% elastane |
| Height | Quarter socks, mini crew |
| Size range | Small-Large; Women's 5-14, Men's 3-13 |
| Cushion | Light cushioning underfoot |
Other Running Socks We Tested
Lululemon Power Stride Tab: GGR product tester and writer Caroline Lubinsky was not impressed with the size range for these socks and thought a pair of women's large was pushing the limits for her size-9 feet.
Balega Silver No-Show Compression-Fit Running Socks: I really liked these Balega compression socks and the minimal toe seam design. However, I thought the Feetures brand had superior compression on the arch and heel.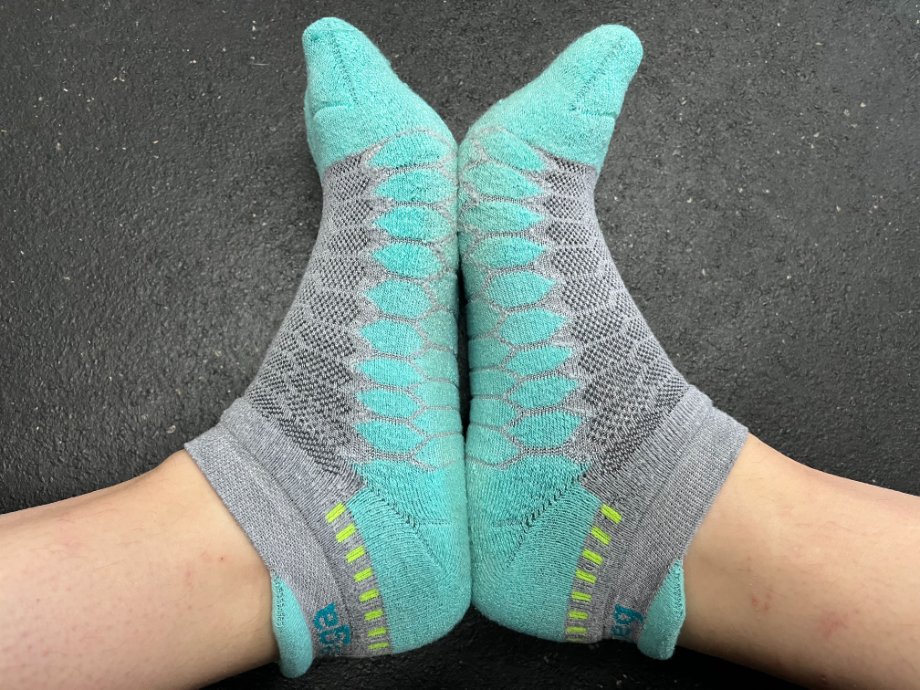 Runderwear Anti-Blister Running Socks – Low – Performance Running Socks: Kate thought these were comfortable but ultimately too thick for her preference on running socks. She mentioned that the extra thickness would certainly protect against blisters forming.
How We Picked and Tested
Our product testers considered everything from the ease of ordering to how the running socks held up after washing. Here are the main factors we considered when picking the our top choices:
Price: We know that moisture-wicking and comfortable running socks aren't cheap, but we wanted to make sure that we tested socks that were going to be worth your hard-earned money.
Fabric: For a running sock, we wanted a fabric that could wick sweat, reduce hot spots, and keep feet dry. We choose socks with a blend of synthetic materials or wool to get the best results. Cotton socks didn't make this list.
Fit: We made sure to pay attention to the size, how the sock fit around the toe box and heel, and how it felt inside of a running shoe.
Cushion: For trail runners and road runners alike, we wanted to make sure that we tested running socks that offered cushioning in high-impact areas like the heel and forefoot.
Appearance: Although socks are hidden inside running shoes, we also considered the style and color options because we know a cool pair of socks just feels good.
Benefits of Running Socks
When it comes to the benefits of a good sock, don't just take it from me. GGR editor and certified personal trainer Amanda Capritto says she is someone who "typically purchases budget equipment, so I can vouch for the fact that high-quality socks designed for runners make a positive impact."
Here are some benefits you might see from ordering a pair of running socks of your own:
Sweat Control
A high-quality pair of running socks will likely not be made from cotton. Although cotton is breathable, you'll want the benefits of moisture-wicking materials like polyester, nylon, or merino wool.
Comfort
Sweat control lends itself to comfort. If your feet can stay dry, you'll be more comfortable overall. "A good pair of running socks can prevent a number of common running discomforts that come with sweaty feet including blisters and sore arches," says Amanda.
Compression
Compression can offer additional support and even help bring more blood flow to your feet. In a running sock, compression is most commonly located through the arch and sometimes in the heel. Compression also helps keep the sock in place even while you run.
Performance
When you're not facing a slipping sock or sweaty feet, you'll have more important running metrics to focus on. "Socks—just like your shoes, shorts, and running pack—can make or break your performance, especially when you're tackling longer distances," adds Amanda.
Running Socks Buying Guide
Before you buy your next pair of running socks, consider the following:
Price
In our experience, buying a non-cotton sock is going to cost a little more than you think. Most socks we tested started at $15 per pair. However, the cost of ditching cotton socks for your runs probably outweighs potential blisters, sweaty feet, lingering odors, and the dreaded falling sock.
Material
For running, it's ideal to find a sock with sweat-wicking capabilities. You'll find that blends of materials like polyester, nylon, or lycra are the most common synthetic options for wicking moisture away from your body. Merino wool blends are also exceptional at moisture-wicking, but often cost you a few more bucks per pair.
Seamless
If you're anything like me, you can't stand annoying clothing tags or bulky seams sitting on your skin. Or perhaps you have wide feet or bunions. Either way, a seamless toe box allows feet of different shapes and sizes to spread out without a thick seam getting in the way. If the freedom of your toes is important to you, make sure the socks you're shopping for check that seamless box.
Comfort
There are a few factors to consider, but when it comes to your comfort it's highly subjective. For example, I personally love a quarter-length sock and don't particularly like no-show socks because I like my ankle covered. The thickness of your socks also depends on your personal preference. Some of our product testers prefer thin socks for running without a whole lot of cushion while others thought cushioning was an added bonus.
Compression
A lot of running socks will offer light compression around the arch, but some brands provide enough cushioning to help support your arch (not just give it a hug). Compression is another subjective factor and depends on what you like and what kind of support you expect from your running socks. If you want high compression, be sure to read the product details on the website while you shop.
FAQs on Running Socks
What type of socks is best for running?
You'll want to find a moisture-wicking sock made from either a merino wool blend or a synthetic blend like polyester, nylon, or lycra.
Should running socks be thick or thin?
The thickness of your running sock is highly subjective. It also depends on your needs. If you've experienced blisters from running, a thicker sock might solve that problem. 
What makes running socks so special?
Running socks made from merino wool blend or synthetic blends wick moisture away from your foot much better than average cotton socks. These types of materials are often better at staying in place and not slipping down into your sock during runs.