We test and review fitness products based on an independent, multi-point methodology. If you use our links to purchase something, we may earn a commission. Read our disclosures.
1st Phorm is a supplement company that offers a full line of fitness products, including pre-workout, creatine, collagen, multivitamins and, the product in question today, Phormula-1 protein powder.
1st Phorm wants you to believe Phormula-1 contains specially designed whey protein that delivers protein to your muscles faster for speedier results than other proteins. They even go so far as to claim you can feel the difference as soon as you use their protein.
Our 1st Phorm protein review will evaluate the ingredients and claims surrounding Phormula-1 to determine if it's really one of the best protein powders to help you increase protein intake and build muscle.
Medical disclaimer: This article is intended for educational and informational purposes only. It is not intended as a substitute for medical advice. For health advice, contact a licensed healthcare provider. GGR also recommends choosing a product that has been third-party tested for quality.
Fitness Pros Who Whey All Day
You expect results from the gym equipment and workout supplements you invest in, and Garage Gym Reviews is here to make that process easier. We do the work of researching and testing firsthand everything from adjustable dumbbells to the newest pre- and post-workouts to save you time and money. But who are "we"?
Our expert testers include certified personal trainers, pro weightlifters, CrossFit Level 1 Trainers, nutrition coaches, and other fitness professionals who have tested more than 70 protein powders to help you narrow down the best options for your needs and goals. Our protein powder testers examine ingredients, evaluate solubility and texture, and provide their honest takes on taste for our supplement reviews.
1st Phorm Phormula-1 Protein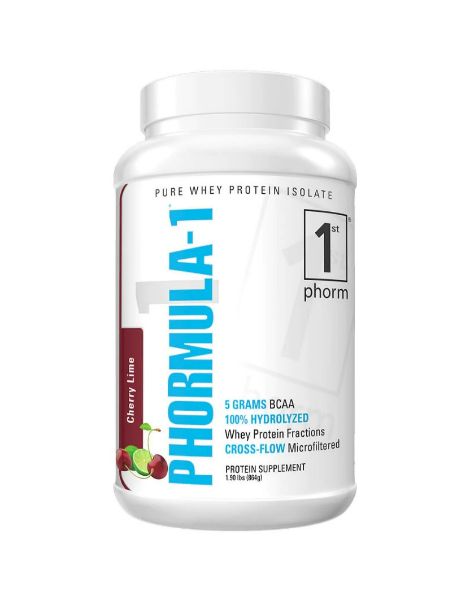 GGR Score: 4.23
Community Score: 4
Product Highlights
Premium-sourced whey protein isolate intended to promote muscle repair and growth

Available in a ton of flavors: Cherry-lime, chocolate milkshake, chocolate mint cookie, CTC, loop D fruit, fruit punch, watermelon, magical charms, root beer float, vanilla milkshake, key lime pie, orange creamsicle

Depending on flavor, this provides approximately 20 grams of protein per serving

Recommended to pair this with 1st Phorm Ignition
Pros & Cons
Pros
Tons of flavors
Good tasting
Hydrolyzed and predigested whey protein
Use before or after workout
Mixes well
Cons
Contains sugar
Expensive
Too thick for some
Bottom Line
If you like variety in flavors and don't mind paying top dollar, Phormula-1 is a high-quality and good-tasting whey protein powder.
A Quick Look at 1st Phorm Phormula-1 Protein
1st Phorm considers itself a premier fitness supplement brand, but they also have a paid fitness app of the same name that helps users with meal planning, training programs, and tracking nutrition and fitness goals. The CEO of 1st Phorm also created the 75 Day Hard fitness challenge you may have seen trending on social media in the last few years.
1st Phorm offers several protein supplements, including protein powders, protein bars, high-protein nut butter, and high-protein meat sticks. Their protein powder collection includes Phormula-1, a whey protein powder, and 1st Phorm Level-1 protein powder, a meal replacement. They also offer a plant-based protein powder.
Phormula-1 is available in two formulations: original and natural. Both use whey protein isolate as the protein source and contain BCAAs. The natural product is a cleaner formula, but it comes in only three flavors versus the 12 original flavor options. Natural Phormula-1 is sweetened with stevia and flavored with natural flavors, while the original flavors contain artificial sweeteners and flavoring. Some of the original flavors also contain artificial colors, which are not in the natural flavors.
RELATED: Best BCAA Supplements
Before You Buy
The protein source in Phormula-1 is whey protein isolate, which is generally well-tolerated and causes fewer stomach issues than whey protein concentrate.
Most Phormula-1 flavors are artificially sweetened and some flavors contain artificial flavors and/or colors. The Phormula-1 Natural formulation doesn't contain artificial ingredients.
1st Phorm offers a 30-day 110% money-back guarantee on supplements.
Is 1st Phorm Protein Worth It?
1st Phorm's Phormula-1 protein costs about $2 per serving. It's made with whey isolate, which tends to cost more than protein made with whey concentrate. If you don't need whey isolate there are high-quality whey powders that are more affordable.
Who may need whey isolate? Whey isolate is lower in lactose, carbs, and fat than other forms of whey. It offers the same muscle-building benefits as other types of whey protein, but is a better choice for people who get an upset stomach after consuming whey concentrate or individuals with lactose sensitivity.
RELATED: How to Build Muscle
If you're looking for a clean whey isolate protein, you'll want to pass on most of the Phormula-1 line. Although there is a Phormula-1 Natural line that's sweetened with stevia, it's only available in three flavors: Chocolate, Vanilla, and Strawberry. The more fun flavors contain artificial sweeteners, flavorings, and/or colors that purists often want to avoid.
Great for:
Whey protein enthusiasts who appreciate fun and unique protein powder flavors
Individuals who prefer an easier-to-digest form of whey
1st Phorm app users who want to use the brand's supplements
Not recommended for:
Individuals with an allergy or sensitivity to milk or soy
Anyone looking for an organic protein powder
Those who avoid consuming artificial ingredients
1st Phorm Phormula-1 Protein Specs
| | |
| --- | --- |
| Price per serving | $2.03 |
| Serving size | 1 scoop (27 grams) |
| Flavors | Cherry Lime, Chocolate Milkshake, Chocolate Mint Cookie, CTC (cinnamon cereal), Fruit Punch, Juicy Watermelon, Loop D Fruit, Magical Charms, Root Beer Float, Vanilla Milkshake, Orange Dreamsicle, Key Lime Pie |
| Type of protein | Whey protein isolate |
| Calories | 100-110 per serving |
| Protein content | 20-21 grams per serving |
| Carb content | 2-3 grams per serving |
| Fat content | 0-1 gram per serving |
| Notable ingredients | Contains 5 grams BCAAs per serving |
| Third-party tested? | Yes |
Experience Using 1st Phorm Protein
Most of us at GGR prefer whey protein over other forms of protein and our senior editor, Nicole Davis, is no exception. Whey is a complete protein that supports muscle growth and workout recovery. The only downside to whey? It doesn't always agree with everyone's digestive system, especially individuals sensitive to dairy.
RELATED: Best Vegan Protein Powder
1st Phorm's Phormula-1 Post-Workout Recovery Protein contains whey protein isolate, which is easier on digestion and designed for more rapid absorption compared to whey protein concentrate. Nicole didn't have any tummy troubles after drinking Phormula-1 and gave it solid marks for being easy to mix, good-tasting, and formulated with BCAAs (branched-chain amino acids) to enhance recovery.
Here's our complete take on 1st Phorm's Phormula-1 Post-Workout Protein.
Price Per Serving
A tub of Phormula-1 protein powder retails for $64.99 and contains 32 servings, which shakes out to about $2 per serving. It's on the pricey end compared to other whey protein powders, since you can find decent quality whey protein for around $1.50 per serving. When considering the price, remember protein powders that contain whey protein isolate are typically more expensive than those made with whey protein concentrate.
Formulation
One serving of Phormula-1 is one scoop. The exact macronutrient count depends on the flavor, but on average each serving of Phormula-1 provides 100 calories, 20 grams of protein, 1 gram of fat, and 1 to 3 grams of carbohydrates.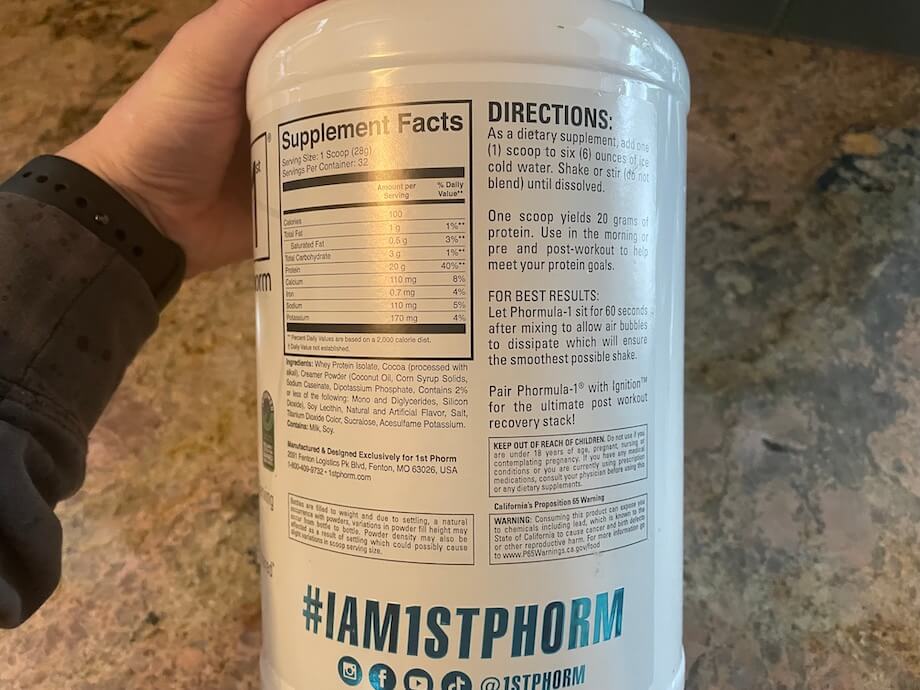 Protein powders low in calories and fat, like Phormula-1, are a good choice for supporting weight loss and muscle growth and repair. The low carb count also makes Phormula-1 compatible with low-carb diets.
Protein
The protein source in Phormula-1 is "low-temperature processed cross-flow microfiltered" whey protein isolate that has high "bioavailability," according to 1st Phorm. That's a bunch of fancy marketing jargon to make you think the protein is more premium than competitors.
Phormula-1 claims its protein source is specially chosen for rapid assimilation—aka getting to your muscles faster post-workout—but the truth is research has found little difference between benefits of whey isolate and whey concentrate1 on muscle-building. Both forms of whey influence body composition similarly and have been found effective for increasing lean muscle mass and post-workout muscle repair as are other high-protein foods.
The only thing you really need to know about whey protein isolate is that it contains less lactose—the sugar in milk that people with dairy sensitivity react to—than whey protein concentrate. That means it may be easier on digestion for those who experience stomach upset from drinking whey protein. It's also lower in carbs and fat and higher in protein than whey protein concentrate, making it a better choice for low-carb dieters or anyone prioritizing fat loss.
Each serving of Phormula-1 provides 5 grams of BCAAs, which can speed up post-workout recovery by reducing exercise-induced muscle aches2. Research has also linked BCAA supplementation with improved muscle function3 during high-intensity exercise.
Other Ingredients
The remaining ingredients are flavoring, sweetener, color, and additives. This protein powder contains several types of artificial sweeteners, including acesulfame potassium (Ace K), neotame (Newtame), and sucralose.
The use of artificial sweeteners is controversial. Although they provide a sweet taste with none of the calories or carbs found in sugar and other caloric sweeteners, artificial sweeteners are commonly cited as cancer-causers, although a cause-and-effect relationship cannot be established4. Our stance here at GGR is "everything in moderation," but of course everyone needs to make their own decision on whether artificial sweeteners deserve a place in their diet.
Taste and Solubility
Nicole tried the Chocolate Mint Cookie Phormula-1 protein. She mixed it with milk in a shaker and compared the taste to a thin mint cookie. If you want your protein shakes to taste like dessert, this is a flavor to try. You could also use protein powder to make a high-protein dessert by mixing a scoop into a serving of plain yogurt.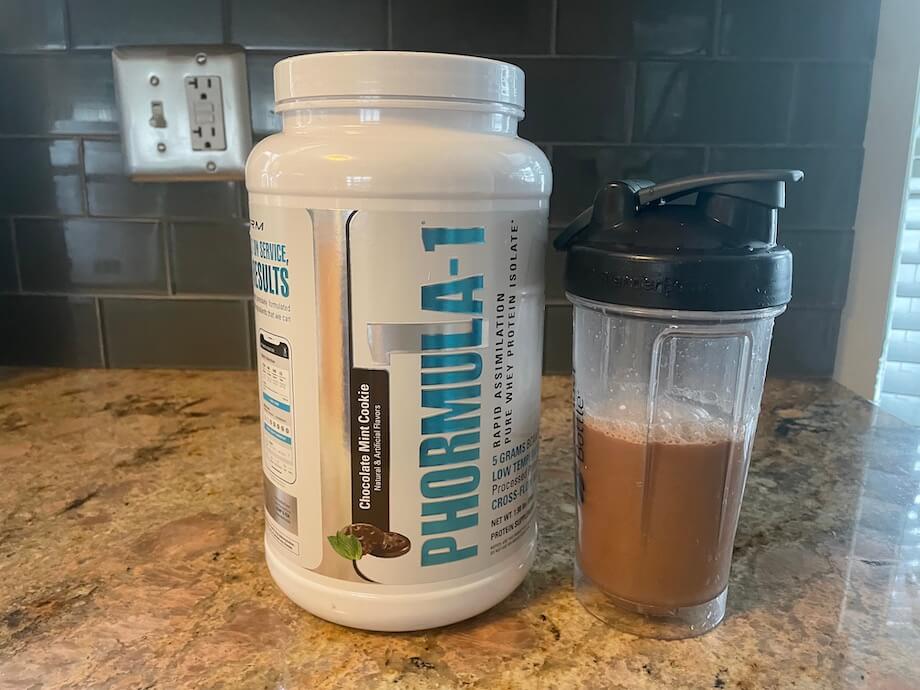 As for solubility, Nicole reported no issues. The protein powder dissolved easily with zero clumps. Although she had no complaints about the texture, mixing with milk instead of water will get you an even creamier protein shake—plus get a few more grams of protein out of the deal!
Side Effects
All of the Phormula-1 flavors contain milk and soy ingredients. If you've been diagnosed with a milk or soy allergy or are sensitive to dairy, this product is not safe to consume and you'll want to look for an alternative protein powder.
Some people experience digestive upset, such as bloating and gas, when they consume whey protein powders. If you've tolerated other whey protein powders without stomach trouble, you should have no issues using this protein powder.
Third-Party Testing
Phormula-1 is Informed Choice-certified, and all products are manufactured in a SQF Level 3 facility, which is the highest level of a food safety and quality certification program designed by the Global Food Safety Initiative (GFSI).
Third-party certification involves ongoing independent audits of products and the manufacturing facility for safety, quality and purity, and is important because the FDA does not regulate the dietary supplements industry. You want to ensure that what's on the product label is indeed what's in the container, especially if you're an athlete who undergoes drug testing.
Comparison to Legion Whey Protein
If you're looking for a high-quality protein made with whey isolate, you're likely to come across Legion Whey+ protein. Like Phormula-1, Whey+ costs around $2 per serving and contains only whey isolate as the protein source.
Whey+ is available in more flavors and some flavors contain more carbs than Phormula-1, averaging 2 to 6 grams of carbs per serving. Whey+ also provides a bit more protein, with 22 to 24 grams of protein per serving versus 20 to 21 grams per serving in Phormula-1. Both protein powders contain approximately 5 grams of BCAAs per serving, which can aid muscle recovery.
While the nutrition and macros are similar, the ingredient list is where these protein powders differ the most. Whey+ is a cleaner formula than the original Phormula-1 protein flavors. Whey+ contains whey sourced from grass-fed cattle, is free from artificial ingredients, and sweetened with all natural stevia. Phormula-1 does offer a Natural line that is more comparable to Whey+, but 1st Phorm doesn't specify that their whey is from grass-fed animals.
The bottom line? If you're looking for a clean protein powder with whey isolate, definitely check out Whey+ (you can read more in our Legion Whey protein review) before Phormula-1.
Legion Whey+ Protein
GGR Score: 4
Product Highlights
Sourced from small dairy farms in Ireland

Over 5 g of BCAAs per serving

Non-GMO and animal welfare approved

Third-party tested for banned substances
Pros & Cons
Pros
Low in carbs and fat
Natural ingredients
Money-back guarantee
Made with ethically-sourced milk
Lots of flavor options
Cons
Comparably high cost per serving
May be clumpy when mixed
Some flavors have mixed reviews
Bottom Line
Legion Whey+ is a clean, sustainable protein powder that also is macro-friendly and a great option for anyone looking for a clean protein supplement.
Customer Experience
1st Phorm is all about supporting users in meeting their goals, so it's no surprise they offer a generous return policy. If you don't like the protein powder for any reason, you can exchange or return it within 30 days of purchase for a 110% refund. That means they'll refund the original purchase price, plus 10% more of what you spent. The only catch? You have to cover return shipping costs.
To start an exchange or return, simply contact customer service. Customer service can be reached via email, live chat through the 1st Phorm website, or by phone. Live chat is available 7 days a week.
Customer service can also connect you with 1st Phorm's team of fitness professionals, including NASM certified personal trainers and fitness nutrition specialists. These professionals are available to help 1st Phorm users with supplement timing and dosing, meal planning, exercise plans, and more.
Ordering 1st Phorm Protein Powder
Phormula-1 and other 1st Phorm protein powders are available to order from the 1st Phorm website. You simply choose the flavor(s) you want and checkout. You can choose to pay retail or enroll in a subscription to save. A subscription saves you only $5 per tub of protein—much less than some competitor's subscription discounts—and you can choose to receive auto-deliveries every two, three, four, five, or six weeks
Orders $75 and over qualify for free shipping. The price for a single tub of Phormula-1 is under $75, so you'll have to order more than one to save on shipping.
During checkout, you'll be presented with several shipping speeds, including UPS Ground, 2nd Day Air, and Next Day Air. Depending on which you choose, shipping fees can run in the range of $10 to $25. As for the free shipping speed, it'll take about one week to receive your package.
Customer Reviews
If you're anything like us, you turn to reviews from real customers for more information on how a protein powder tastes and blends. Phormula-1 has close to 20,000 reviews on the 1st Phorm website. Most of the customer reviews are positive, with an average rating of 4.9 out of 5 stars.
The Phormula-1 flavor lineup consistently gets complimented by reviewers and many users consider it the best-tasting protein powder they've tried. One user exclaimed "I'm so skeptical when people say their protein is delicious, but my friends, Phormula-1 actually is."
Most product reviews also comment on how well this protein powder mixes with water or milk. One review notes Phormula-1 "gets really frothy" after mixing, but letting the froth settle a bit before drinking helps. Several users also praise Phormula-1 for being easy on digestion with no stomach upset.
Final Verdict of Our 1st Phorm Protein Review
Phormula-1 tastes good, blends well, and the whey isolate protein source is likely to be tolerated by those sensitive to dairy and/or lactose. However, most flavors of Phormula-1 contain artificial ingredients that will be a turn off for some buyers.
For a cleaner option, consider the Phormula-1 Natural protein. The natural protein is free from artificial ingredients, but available in fewer flavors.
Here are few more Phormula-1 highlights:
20 to 21 grams of protein per serving
Low in carbs and fat
1st Phorm products are backed by a generous 30-day 110% money-back guarantee
Customer service and the 1st Phorm app are well-rated.
1st Phorm Protein Rating
1st Phorm Protein
1st Phorm is a big name in the fitness nutrition industry, but how do its products stack up? Find out in this 1st Phorm protein review.
Product Currency: USD
Product Price: 64.99
Product In-Stock: InStock
1st Phorm Protein FAQs
Is 1st Phorm worth the price?
1st Phorm's post-workout protein, Phormula-1, averages $2 per serving. That's definitely on the high end for most whey protein powders. Most Phormula-1 flavors contain artificial ingredients and the source of the whey used in their products isn't specified. Considering you can find certified grass-fed whey protein without artificial ingredients for less than $2 serving, the formulation on most Phormula-1 flavors don't match the cost.
Is 1st Phorm a clean protein?
Ultimately, it depends on your definition of clean protein powder. 1st Phorm makes several protein products. Their Phormula-1 protein powder is designed to be used post-workout to support muscle growth and recovery. It's available in two formulas: original and natural.
The original comes in 12 flavors, which contain artificial sweetener(s), flavoring, and/or colors. The natural is available in only three flavors, but has a cleaner ingredient list—it's sweetened with all-natural stevia and is free from artificial colors and flavors. The whey protein in either formula isn't sourced from grass-fed or pastured animals.
Is Phormula-1 FDA-approved?
Phormula-1 protein is a dietary supplement and all supplements are outside the jurisdiction of the FDA. The FDA does not provide approval or standards for protein powder or other fitness supplements. Choosing a protein powder that is third-party tested, or better yet third-party certified, can help ensure the quality and safety of ingredients.
Why does 1st Phorm have a lead warning?
The state of California legally requires dietary supplements and other products sold within the state to disclose if a product can expose consumers to a chemical that may cause cancer, birth defects, and/or reproductive harm. The warning is called Prop 65 and includes heavy metals, such as lead.
Some manufacturers who sell in California include the warning on all products, regardless of where they're sold. The Prop 65 warning doesn't always mean a product is unsafe to use. Sometimes the chemicals in question are naturally occurring or exist at very low levels that are considered safe.
If you're uncomfortable taking the risk of exposure to harmful chemicals, you should avoid 1st Phorm supplements, including the Phormula-1 protein, and other products that have a Prop 65 warning. Look for products that are third-party tested and certified for purity and safety.
These statements have not been evaluated by the Food and Drug Administration. This product is not intended to diagnose, treat, cure, or prevent any diseases.
References