We test and review fitness products based on an independent, multi-point methodology. If you use our links to purchase something, we may earn a commission. Read our disclosures.
Want something compact for your home gym that packs a powerful cardio punch? Then look no further than battle ropes. These long, twisted ropes can be punishing but also highly effective, whether you are trying to minimize your risk of injury, add intensity to your workouts, tack on a cardio finisher, or simply have fun while exercising.
You know they are good for you, but do you know why? Here, we dive into some surprising benefits of battle ropes.
RELATED: Best Battle Rope Workouts
1. Provide a Low-Impact Workout
Battle ropes get your heart rate up and activate large muscle groups yet are still low-impact on key areas such as your joints and lower body. In high-impact exercises like running or jumping, your feet are constantly leaving and coming back into contact with the ground.
When you use battle ropes, however, you have the option of simply leaving your feet in place. Therefore, battle rope exercises enable you to sweat, get your heart rate up, and burn calories without putting excessive strain on your joints.
2. Builds Core Strength
Battle ropes have the ability to target different muscle groups by changing the directions you move them. When going side-to-side or up-and-down, for example, you work your upper body, lower body, and even your core.
One 2022 study1 evaluated 33 active men and women, putting them through a six-week, high-intensity battle rope program. At the end, researchers found increases in a number of physical metrics, including shoulder power output, push-up endurance, and, notably, sit-up endurance.
3. Improves Heart Health
If the idea of running on a treadmill isn't your cup of tea, but you still want to improve your cardiovascular health, battle ropes could be the key. A February 2023 study1 noted that after six weeks of a battle rope regimen, study participants saw improved aerobic performance.
And, as Johns Hopkins Medicine2 points out, aerobic activity, like battle rope exercise, has numerous heart health benefits, including improving circulation.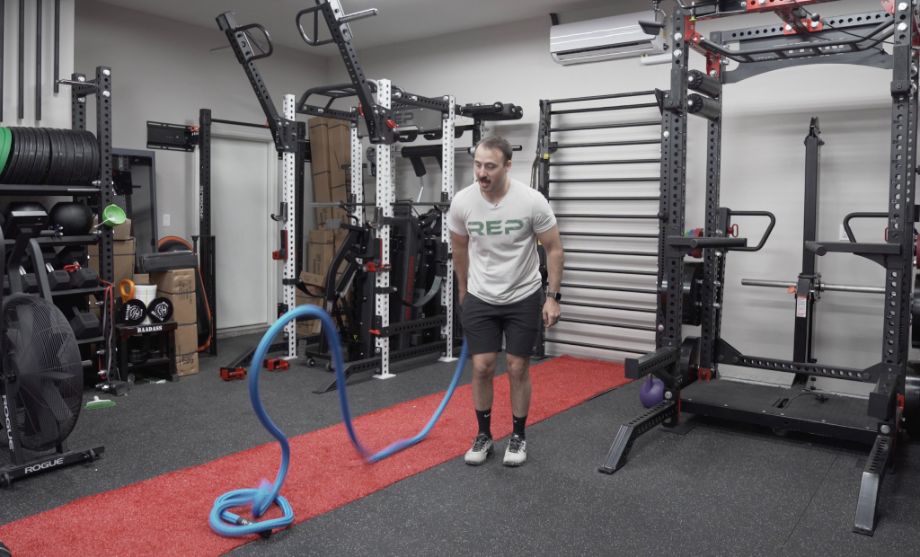 4. Increases Athleticism
In a typical battle rope session, your body must adjust quickly to the weight and direction of the rope. This helps to improve speed, agility, range of motion, and your body's reaction time.
In this October 2018 study3, researchers found that basketball players not only improved their upper body strength with battle rope training, but they also improved their overall shooting accuracy. It seems that battle ropes really can have unlimited benefits for the entire body.
5. Affordable
You can find battle ropes on major fitness manufacturer websites as well as on Amazon, with price tags that range from under $50 to a few hundred dollars. If you compare this to the average cost of a larger piece of cardio equipment, such as a treadmill, bike or rowing machine, you can see how battle ropes provide an affordable workout.
6. Compact and Portable
Battle ropes provide a great piece of fitness equipment for people who don't have a lot of space. With lengths that range from 30 to 50 feet long and a thickness of 1.5 to 2 inches, you may even be able to take them with you on-the-go. Keep in mind that if you travel with them, you will need an anchor point for your ropes. This could be a squat rack or even a tree. Also, ropes can weigh as much as 50 pounds, so while they are possible to move, they aren't exactly light.
7. Versatile for Cardio Workouts
One great thing about battle ropes is that they are incredibly versatile and easy to program into any home workout. Lunges, slams, waves, jumping jacks, rope claps, and burpees—the list goes on! Battle ropes easily lend themselves to a fat-burning HIIT workout, or can be implemented into circuit training alongside dumbbells, kettlebells and barbells..
8. Can Be Modified for Seated Athletes
Seated athletes or people with lower-body injuries have a great option for cardio with battle ropes. Ropes don't require you to be on your feet; you can still move them up and down and in different patterns to work the upper body and core.
According to a December 2018 study4, battle ropes can be a great way for athletes who are unable to stand or use their lower body in an efficient way to get in a great cardiovascular endurance workout.
9. Time-Efficient, Full-Body Workout
If you've ever used battle ropes, you know how intense they can be. In just 10 minutes or less, you can get in a great workout.
A 2015 study5 put 11 physically active people through a 10-minute battle rope workout in which they worked for 15 seconds and rested for 45. Researchers found that the average heart rate during the workout was at 86% of the age-predicted maximum heart rate for participants, and the energy expenditure was around 467 kilojoules (plus or minus 161 kJ), which is equivalent to around 111 calories, plus or minus 38 calories.
Burning about 111 calories in 10 minutes is comparable to running a 10-minute mile, according to Harvard Health data6.
10. Improve Balance and Coordination
Training your body to stay in an upright position while moving your arms and stabilizing your core can improve all of the muscles needed to have better balance and coordination, which can help lower your risk of injury7.
Tips for Better Battle Rope Workouts
Battle rope workouts are a great way to add a different type of exercise into your workout routine. They are useful to both seasoned athletes and beginners. Finding the best battle rope for you will depend on your fitness level and your fitness goals.
Follow our tips for ways to make sure you are getting the best workout possible.
Find the Right Length
Ropes range in size from 30-50 feet long. Shorter ropes are typically recommended for beginners. A longer rope will offer more resistance, as it takes more energy to move it properly. If you aren't sure which is right for you, start with a shorter rope and gradually increase.
Find the Right Thickness
Ropes can be between 1.5 to 2.5 inches thick. The thicker the rope, the harder it will be to move. As with other equipment, it's probably best to start smaller at first and work your way up as you gain strength with this specific type of exercise. Heavy ropes might be a bit too challenging when first starting out, and you don't want to not give it a try simply because you picked too heavy of a rope to start with.
Move Around!
When you think of a battle rope workout, you may picture feet planed in place, ropes undulating. And while this does happen, you can also try out a number of different movements with this piece of equipment. You can move side-to-side, jump up and down, plank, and lunge with battle ropes. The more movement you do, the more effective your workout stands to be.
Benefits of Battle Ropes: Q&A
Do battle ropes burn belly fat?
Battle rope workouts torch calories, and burning more calories than you take in can burn fat. While you can do exercises that focus on certain muscle groups, you can't target where the fat will be burned from. As always, you will need to pair your battle ropes with proper nutrition to burn belly fat the most effectively.
How long should you do battle ropes?
You can get an effective, high-intensity workouts in just 10 minutes with battle ropes.
Do battle ropes build muscle?
Yes, battle rope workouts have been proven1 to increase skeletal muscle performance, which means your muscles are growing and adapting to the training, in as little as 3 to 6 weeks when completed consistently during your workouts. 
What muscles do battle ropes use?
Battle ropes engage many muscle groups as it is considered a full-body workout. You will feel it the most in your core, arms, shoulders, and back but your lower body, including your glutes, will also help to keep your body stable as you work through the movements.
References
1. Bornath, D., Kenno, K. Physiological Responses to Increasing Battling Rope Weight During Two 3-Week High-Intensity Interval Training Programs. J Strength Cond Res. 2023 Feb 1;36(2):352-358. doi: 10.1519/JSC.0000000000003470.
2. Johns Hopkins Medicine. 3 Kinds of Exercise That Boost Heart Health. Accessed October 2023.
3. Chen WH, Wu HJ, Lo SL, et al. Eight-Week Battle Rope Training Improves Multiple Physical Fitness Dimensions and Shooting Accuracy in Collegiate Basketball Players. J Strength Cond Res. 2018;32(10):2715-2724. doi:10.1519/JSC.0000000000002601
4. Brewer W, Kovacs R, Hogan K, Felder D, Mitchell H. Metabolic Responses to a Battling Rope Protocol Performed in the Seated or Stance Positions. J Strength Cond Res. 2018;32(12):3319-3325. doi:10.1519/JSC.0000000000002903
5. Fountaine, C., Schmidt, B. Metabolic cost of rope training. Journal of Strength and Conditioning Research: April 2015 – Volume 29 – Issue 4 – p 889-893 doi: 10.1519/JSC.0b013e3182a35da8

6. Harvard Health. Calories burned in 30 minutes for people of three different weights. March 2021.