We test and review fitness products based on an independent, multi-point methodology. If you use our links to purchase something, we may earn a commission. Read our disclosures.
The NordicTrack Commercial 2950 is an exceptional folding treadmill: durable, high-tech, and generally well-received. You won't find it on the brand's website, however. We have seen NordicTrack do closeout sales on the other treadmills in its Commercial line (the 1750 and the 2450) to make way for newer models.
We hope that a new version of the 2950 is coming soon, but you can find the older model still available on sites like Amazon and Best Buy. In our NordicTrack 2950 review, we'll use our hands-on (feet-on?) experience with the other treadmills in this line to give you our expert opinion regarding what you can expect from this machine.
RELATED: NordicTrack Commercial 1750 Review
We Know NordicTrack Treadmills
Our team at Garage Gym reviews has used every NordicTrack treadmill currently available on the brand's site (and some others that have since been discontinued). We have even visited the NordicTrack headquarters.
While this remains one of our favorite cardio brands, we will tell you right now that it isn't all sunshine and rainbows. Our unbiased NordicTrack treadmill reviews give you the complete picture of what it's like to use these machines.
NordicTrack Commercial 2950
NordicTrack Commercial 2950 Treadmill
The NordicTrack Commercial 2950 treadmill is a high-end treadmill with a 22-inch HD touch screen for streaming workouts. The 2950 has both decline and incline abilities from -3% to 15% to simulate running hills. The tread belt is 22 inches by 60 inches, accommodating larger and taller runners. The belt also has what NordicTrack Calls "runners flex" cushioning to decrease impact and an autobreeze workout fan for comfort. The 2950 also folds up, with EasyLift assist, to decrease its footprint for storage.The 2950 uses its 22-inch screen to stream interactive iFIT workouts. iFIT is a subscription service with more than 16,000 classes and 60 types of workouts. When used with a 2950 treadmill, you can participate in a variety of global runs through scenic locations or studio classes. iFIT classes also have automatic trainer controls allowing your trainer to adjust the incline, decline, and speed so you can focus on your run. You can also manually adjust these settings if you'd prefer.The 2950 treadmill has mixed reviews from users. They loved the incline and decline ability, especially when paired with automatic trainer controls. They also shared that the treadmill feels sturdy and high quality. Customers stated that the treadmill was heavy and assembly was time consuming and required assistance. They recommended purchasing delivery and installation if possible.Many customers had issues with the 2950 failing after weeks of use, even with professional assembly. The issues included the belt stopping, a loud clanking noise when using the incline and treadmill stopping after 25-30 minutes into a workout. Some users even had the treadmill arrive defective and never work.
A Quick Look at the NordicTrack Commercial 2950
There are three treadmills in the NordicTrack Commercial Series: the Commercial 1750, the Commercial 2450, and the Commercial 2950. Each has high-end features, such as a touchscreen, iFIT compatibility, and decline training.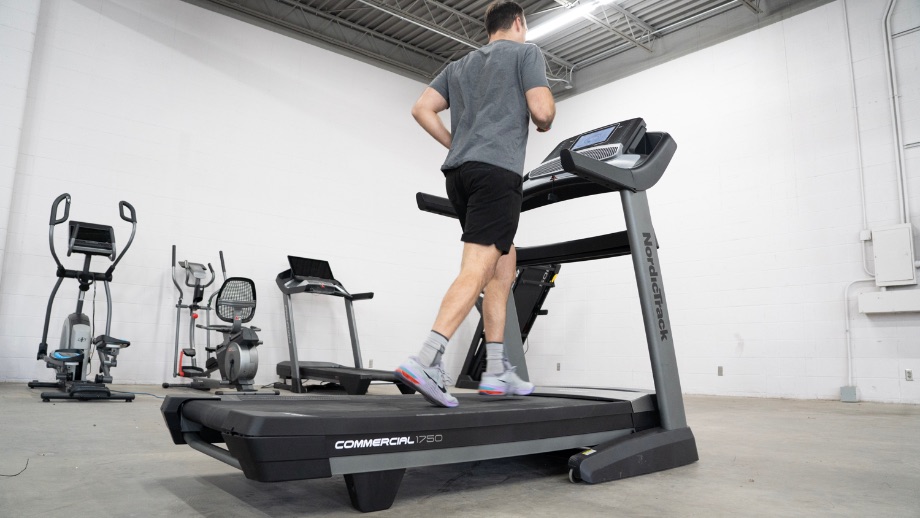 We haven't gotten to use the Commercial 2950 yet, but several members of our team have been on the Commercial 2450 and the Commercial 1750. Here's what we can tell you based on what we know:
My Tips
This machine is no longer available on the NordicTrack website, which could mean an updated version is coming soon.
As of this writing, the 2019 version of the Commercial 2950 is available on Amazon for the same price as the new model of the Commercial 2450, so compare the two to see which you might like more.
Pros:
Compatible with iFIT
Spacious 22" x 60" running surface
Folding deck
Incline and decline training options
22" HD touchscreen
Comes with a 30-day iFIT membership
Cooling fan
Free shipping with Amazon Prime
Cons:
Price tag is close to $2,500
Heavy and hard to move
Complicated assembly
Is the NordicTrack 2950 Worth It?
Make no mistake about it: This commercial-grade treadmill comes with a pretty steep price tag around $2,500. And as of this writing, we aren't sure if there will be an updated model coming out on the NordicTrack website, or if the 2019 version available on Amazon is the last we will see of the 2950.
Compared to the best treadmills on the market, this machine checks most of the boxes of what you'd expect for spending this kind of money. Here's who might love this machine, and who might want to look elsewhere.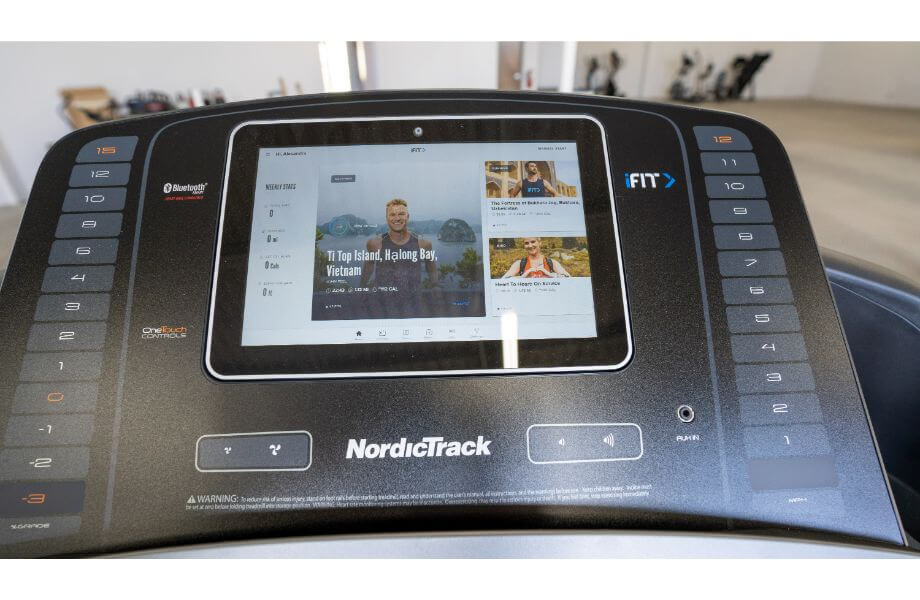 Great for:
People who want high-end treadmill features
Those looking for interactive programming
Runners who want decline training options
Not recommended for:
Those looking for a budget treadmill
People in small spaces
Anyone who wants a walking treadmill
NordicTrack Commercial 2950 Specs
Note: Because the 2950 is no longer available on the NordicTrack website, some of these specs are estimations based on what Amazon displays, which isn't always reliable, or what we can guess based on other reviews and our knowledge of the other NordicTrack Commercial Series treadmills.
| | |
| --- | --- |
| Footprint | 79.5" L x 39.2" W x 66.6" H |
| Weight | 357 lbs |
| Weight Capacity | 300 lbs |
| Motor | 4.25 CHP |
| Speed Range | 0 to 12 MPH |
| Incline Range | -3% to 15% |
| Workout Programs | iFIT subscription compatibility |
| Display | 22" smart HD touchscreen |
| Deck Size | 22" x 60" |
| Warranty | 10-year frame warranty, 2-year parts warranty, and 1-year labor warranty |
| Bluetooth | Bluetooth headphone audio capability |
| Foldable | Yes |
| Heart Rate Monitoring | Compatible with iFIT heart rate chest strap |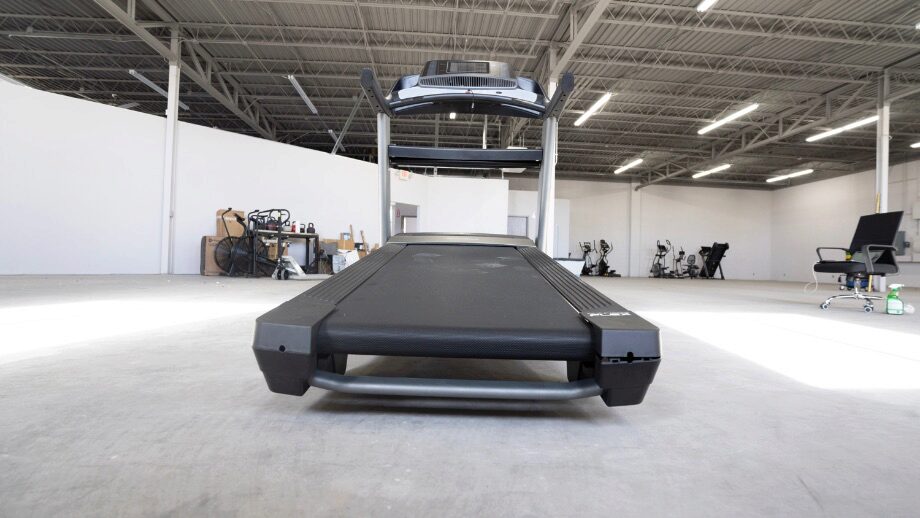 Our Take on Using the NordicTrack Commercial 2950
Several of the expert product testers on our team, including myself, have done a number of running workouts on the Commercial 2450 and the Commercial 1750. Based on those experiences as well as what we know from the specs of the 2950, there are a few things we can say about using the machine.
First, this is an incredibly durable and stable home treadmill. We felt little to no shaking when using the other treadmills in this line, and we expect the 2950 feels similarly. Based on our research, there is a 4.25 CHP motor inside the frame. That type of powerful motor is well above what most home gym owners need regardless of the types of workouts they want to do or how frequently they want to do them.
One of our favorite things about the Commercial Series is the decline training capability. The range goes from -3% decline to a 15% incline. You won't see that feature on budget treadmills because it requires more parts and more power. Incline and decline cardio training is a fantastic way to mix up your routine and work muscle groups differently.
The iFIT programming on NordicTrack treadmills separates them from most other machines. iFIT features interactive, streaming workouts tailored to your fitness level. A personal trainer guides you through live and on-demand classes for things like HIIT and calorie burn. iFIT is also hooked to Google Maps, so you can actually pick anywhere in the world to run.
Even better, the workouts play out on a large, high-definition touchscreen. In the case of the Commercial 2950, it's an impressive 22-inch monitor. I noticed that in the updates NordicTrack made to the Commercial 2450, the brand added a monitor that tilts and swivels. I'm interested to see if the brand updates the 2950 with the same functionality.
iFIT offers both cardio and strength training workouts to do on and off the machine. There are personalization options, like using iFIT Coach, which will automatically adjust the treadmill for you during your workouts. I think this was one of my favorite aspects of using iFIT with the Commercial 1750 because I didn't have to hit a button; I could just allow the app to control the settings as the workout progressed.
Large Footprint, Durable Construction
The NordicTrack Commercial 2950 is a large machine. Amazon puts it at almost 80 inches long and almost 40 inches wide. It folds, but it doesn't fold flat. Instead, the treadmill deck lifts using the brand's "SpaceSaver" design and locks into place on an angle.
On top of that, it's heavy! Best Buy lists it at 357 pounds, which might be accurate. We know that the other treadmills in this line are around 350 pounds. With the same steel construction and an even stronger motor, I'm pretty sure the 2950 is at or above that weight.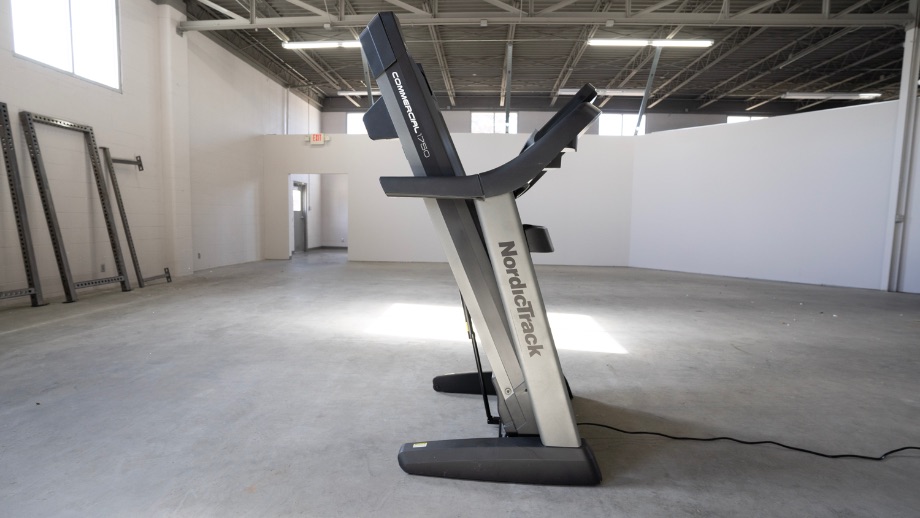 Technology and Conveniences
If there is one thing NordicTrack does well, it's pack a ton of extra features onto its machines. On the 2950, you'll find:
Bluetooth audio capabilities
Two speakers
Two "AutoBreeze" cooling fans
Water bottle holder
Accessory tray
One-touch control buttons
Emergency stop button
The NordicTrack Commercial Treadmill Series
NordicTrack Commercial 1750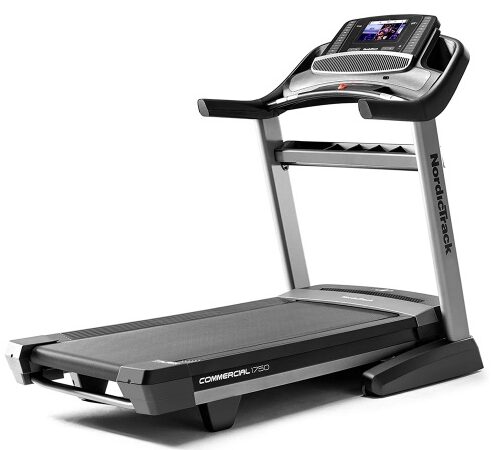 NordicTrack Commercial 1750
The NordicTrack 1750 treadmill features a 14-inch HD adjustable touchscreen with which you can stream iFIT programming on (sold separately). The under $2,000 machine can be financed through the NordicTrack website where you can get deals as low as $49 per month with 0% for 39 months.Models from 2013-2021 of the 1750 had adjustable cushioning, but the 2023 model no longer has this feature.iFIT workouts incorporate Automatic Trainer Control, which allows your trainer to digitally adjust your incline, decline, and speed. This is a nice feature to have because all you have to do is focus on the workout at hand versus frantically switching the controls.
NordicTrack Commercial 2450
NordicTrack Commercial 2450 Treadmill
The NordicTrack Commercial 2450 is a great treadmill for all of your at home workout needs. With features like the 22" tilt and pivot HD touchscreen where you can stream on-demand video workouts directly to your equipment, you'll enjoy a high-end experience each time you run on the Commercial 2450.This treadmill also features a -3% decline and 15% incline, so you can simulate outdoor running. While you're working out you can also turn on your fan to cool off and listen to the workout in your headphones with the Bluetooth connectivity.Let your whole family join in on the fun with the free 30-day iFIT family membership, which is included at the time of purchase.
When looking at the three treadmills in this series, you might notice a lot of similarities. The biggest differences come in the size of the screen, the motor, and, of course, the price.
Here's a quick breakdown of each:
| | | | |
| --- | --- | --- | --- |
| | Commercial 1750 | Commercial 2450 | Commercial 2950 |
| Price | $1,999 | $2,499 | $2,499 |
| Footprint | 80" L x 38" W x 65" H | 81" L x 39" W x 59" H | 79.5" L x 39.2" W x 66.6" H |
| Display | 14" touchscreen that tilts and pivots | 22" touchscreen that tilts and pivots | 22" touchscreen |
| Weight | 340 lbs | 353 lbs | 357 lbs |
| Motor | 3.5 CHP Motor | 3.6 CHP Motor | 4.25 CHP Motor |
| Running area | 22" x 60" | 22" x 60" | 22" x 60" |
| User weight capacity | 300 lbs | 300 lbs | 300 lbs |
| Speed | 0-12 MPH | 0-12 MPH | 0-12 MPH |
| Incline | -3 to 15% | -3 to 15% | -3 to 15% |
| Folding | Yes with EasyLift Assist | Yes with EasyLift Assist | Yes with EasyLift Assist |
| Workout fans | Yes | Yes | Yes |
| Water bottle holder | Yes | Yes | Yes |
| Bluetooth | Headphone connectivity | Headphone connectivity | Headphone connectivity |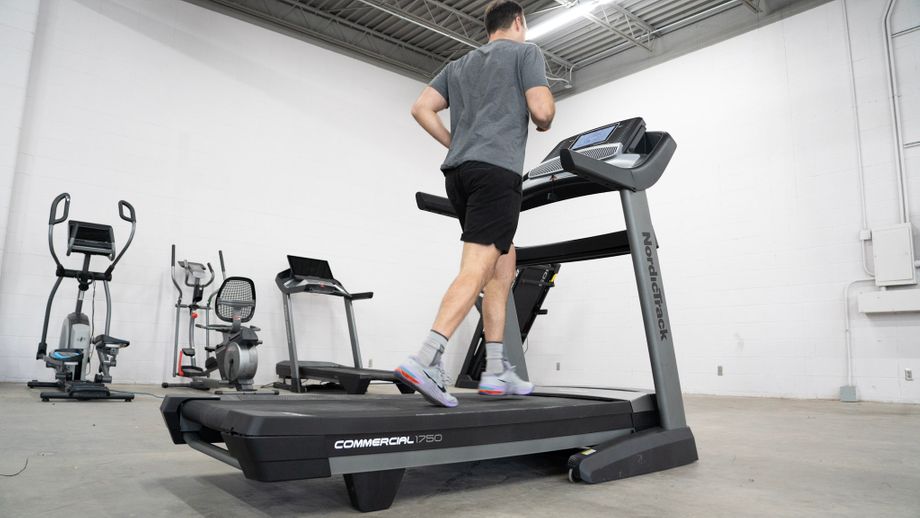 Ordering and Assembling the NordicTrack Commercial 2950
Right now, you can only get the Commercial 2950 on sites like Amazon or Best Buy. Professional assembly options through those sites can be hit-or-miss. However, if you can find it, we recommend it.
I personally assembled the Commercial 1750, and it took a few hours. First, it's a heavy machine. Second, because of the complex technology, you have to do a little bit of wiring, like running the wires through certain sections of the machine. It's wise to find someone to help you tackle the job.
Customer Reviews
The reviews on Best Buy and Amazon are all over the place, and not just in their ratings. It appears both sites have lumped in reviews for other NordicTrack and even ProForm machines. Therefore, the composite rating you see isn't exactly accurate. From what I could find, people mostly had issues with customer service and lagging software.
Final Verdict of Our NordicTrack 2950 Review
I think that the 2950 is likely due for an update, as we saw happen with the 1750 and 2450. After all, the specs of the 2450 now nearly match the 2950. In the meantime, we can assume that this machine will give you the same interactive, stable workout that its other Commercial Series counterparts provided us in our testing.
NordicTrack 2950 Rating
NordicTrack 2950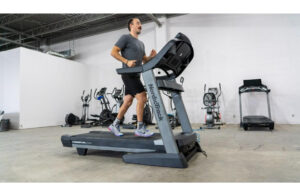 In our NordicTrack 2950 review, we break down the pros and cons of this high-tech, highly adjustable commercial treadmill.
Product Brand: NordicTrack
Product Currency: $
Product Price: 2499
Product In-Stock: InStock
NordicTrack 2950 FAQs
Can you watch TV or Netflix on the NordicTrack 2950?
No, the Commercial 2950 does not stream shows. The monitor is used just for iFIT classes.
Does the NordicTrack Commercial 2950 fold?
Yes, the running deck on the NordicTrack Commercial 2950 lifts and locks into place.
How much does the NordicTrack 2950 weigh?
The 2950 weighs 357 pounds.
Does the NordicTrack 2950 have Bluetooth?
Yes, the NordicTrack Commercial 2950 treadmill does have Bluetooth connectivity and WiFi.