We test and review fitness products based on an independent, multi-point methodology. If you use our links to purchase something, we may earn a commission. Read our disclosures.
Treadmills might look like hamster wheels for humans, but they've evolved into indispensable pieces of fitness equipment found in professional and home gyms around the world. We're putting the slat treadmill vs belt treadmill to give you an in-depth look at these two types. While these two treadmills types can share similar features, their effects on your stride, speed, and endurance can vary. Additionally, one type will set you back a few dollars more than the other. We're here to give you TMI so you can decide between the two.
Why redesign the treadmill? Because today's exercisers challenge themselves in ways that people didn't 50 years ago, yet we're still running on conveyor belts. That's in part because belt treadmills are a good design that works for both cheap and top-of-the-line professional models. Certain slat treadmill designs offer benefits that traditional treadmills don't, but they come with a steep price. Keep reading to dive deeper into which of these treadmill types might complement your home gym goals and budget.
Medical disclaimer: This article is intended for educational and informational purposes only. It is not intended as a substitute for medical advice. For health advice, contact a licensed healthcare provider.
What is a Slat Treadmill?
A slat treadmill has a belt that's made of connected slats rather than a continuous running belt made of a single piece of material. Slat treadmills are more common in professional facilities, such as pro gyms, CrossFit gyms, military training facilities, and other high-use situations, in part because of their high price tag. Slat treadmills have either a curved or traditional flat treadmill deck, and most are designed (and priced) for commercial rather than home use.
The slat design of both flat and curved slat treadmills often increases traction and provides added impact reduction, especially with rubberized, shock-absorbing slats. Another feature that both designs share is a large footprint. Slat treadmills aren't usually foldable, and the slat design requires a high step-up height when compared to traditional treadmills.
Curved Treadmills
Curved treadmills are typically non-motorized, relying on sweat equity to power the belt. A 2017 study¹ published in Frontiers of Physiology compared curved, non-motorized treadmills with both overground running and motorized treadmill running. Results showed that non-motorized treadmills increased oxygen consumption and heart rate to higher levels than when running over ground or on a traditional treadmill. Interestingly, the study also found that lighter-weight runners had to work relatively harder to overcome belt resistance. That was supported by a 2018 study² published in the Journal of Science and Medicine in Sport that found that non-motorized, curved treadmills had a higher physiological impact on the body.
Curved designs can also reduce impact forces and a softer landing, as found in a 2016 study³ published in Gait & Posture and a 2021 study⁴ published in the International Journal of Environmental Research and Public Health. Lower impact means lower stress on your joints. A small 11-person study⁵ done at the University of Wisconsin-Milwaukee compared foot pressure of walking, jogging, and running on flat versus curved decks. Rear-foot pressures were much less on the curved, non-motorized treadmill, with no differences in the forefoot stress. A similarly sized 2001 study⁶ also done at the University of Wisconsin-Milwaukee compared step length between motorized vs non-motorized treadmills and found no difference.
Finally, a 2018 study⁷ published in Sports found that curved, non-motorized treadmills can positively affect gait, cadence, and balance while running. The curved deck puts the forefoot more underneath the center of balance, which correlates with less stress on the body with each foot strike, while also increasing cadence, which has been shown to reduce forces on the body while running.
When all of these differences are taken together, a curved treadmill may reduce impact while giving you a fast, high-impact workout. It's a different, more intense running experience that is geared toward athletes and committed exercisers rather than the casual user.
Flat Slat Treadmills
Flat deck slat treadmills are becoming more common, but they are much more expensive than a belt treadmill with similar features. Flat slat treadmills perform similarly to a traditional treadmill without the impact reduction and cardiovascular benefits of a curved deck.
However, some slat treadmills have a manual feature that turns off the motor so you can use the belt manually, increasing difficulty and calorie burn. Flat deck slat models usually have high-tech upgrades like decline, smart programming, and manual modes. Some of the most expensive treadmills on the market (we're talking $20,000+), are flat deck slat belt treadmills with large touchscreens and integrated, on-demand programming that provides access to personal trainers and location runs. Even models with a small LCD display can run in the $5,000 to $7,000 range.
What is a Belt Treadmill?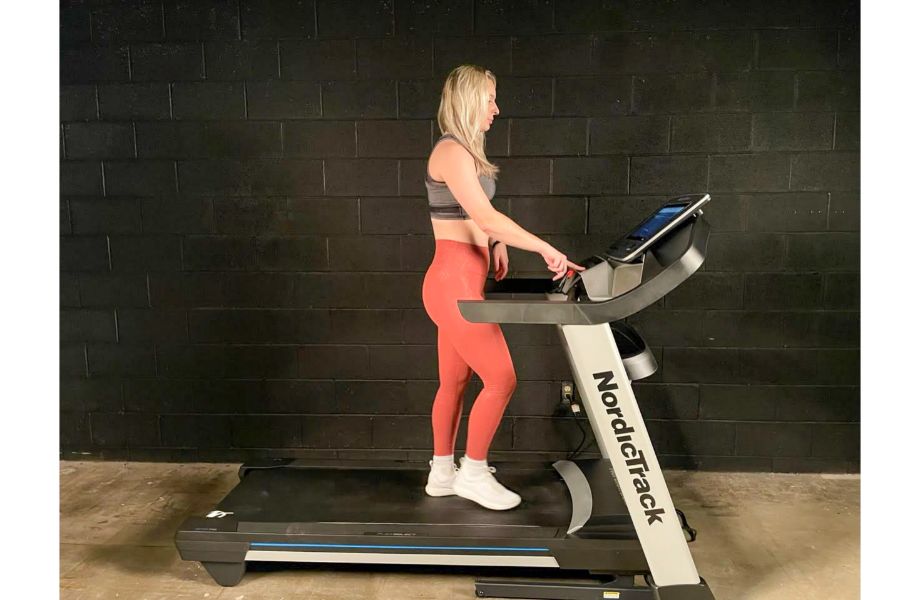 A belt treadmill is a traditional treadmill with a traditional belt on rollers propelled by a motor. The belts may be single, double, triple, or quadruple ply, with more layers adding durability. They're made in commercial and home treadmill designs. There are a few manual belt treadmills, but most belt treadmills are motorized. Belt treadmills come in a wider size range than slat treadmills, ranging from compact, folding models to large commercial-grade behemoths at the local gym. If you're limited on space, you're more likely to find a belt treadmill that's small and fits.
Belt treadmills are more common and are much less expensive than slat models. A high-performing belt treadmill can cost half the price of a manual slat belt treadmill, and a fraction of what a motorized slat belt treadmill costs, which is why slat belt treadmills have yet to take over the treadmill market.
Pros and Cons of a Slat Treadmill
Pros
Low impact of curved deck designs
Rubberized slats absorb impact
Increased cardio load of curved treadmills
Manual running option on most motorized models
Pros and Cons of a Belt Treadmill
Pros
Made in all price ranges
Less expensive
Includes compact, folding models
Advanced models are still more affordable than most slat belt treadmills
Cons
Aren't compatible with curved decks
Higher impact than curved treadmills
Which Kind of Treadmill is Right for Me?
Cost
The cost between a slat and a belt treadmill is the biggest differentiating factor. The average slat treadmill costs around $3,000 to $4,000, though the range goes from about $1,000 to over $20,000 for commercial treadmills. Models at the bottom of the price range have a narrower, shorter running surface and don't have the durability of more expensive models. In the $3,000 to $5,000 range are curved treadmills, and flat slat models with similar functionality to belt treadmills. The flat slat models often have a touchscreen and options to connect to fitness apps to access integrated programming.
Belt treadmills start at around $250 for an under-desk treadmill, with the full-size belt treadmills falling between $300 and about $5,000, though there are commercial models that may cost much more. However, you can find a small belt treadmill with a 2.0 hp to 2.5 hp motor starting at around $300. Motors get more powerful and decks longer and wider as the price rises. Models that balance motor power, size, and features tend to fall between $1,000 and $2,000.
You get a bigger bang for your buck with a belt treadmill. High-end belt treadmills can come with a lifetime warranty on the frame and motor, while slat treadmills don't typically have lifetime warranties on any parts. However, there are circumstances where slat treadmills make sense. Slat treadmills are a great option for athletes and anyone else who does high-intensity interval training, CrossFit, or military exercises. They can ramp up your heart rate incredibly fast for a short, intense workout.
Performance and Specs
Performance features to consider are the speed range, incline and decline settings, and the motor power if the treadmill has a motor. Manual slat treadmills are often only limited in speed by how fast the user can run, and some include built-in programs. They're an excellent way to develop your cadence while protecting your joints. However, the curved deck models don't typically have incline and decline features, whereas flat slat treadmills and belt models usually have at least a few incline levels and possibly decline levels.
Motor power factors in if you use a treadmill for running. Both a motorized slat treadmill and a belt treadmill need at least a 3.0 hp motor for running. Long-distance runners may consider a 3.5 hp or 4.0 hp motor for the added power on continuous runs. Top speeds range from 10 to 12 mph on both treadmill types.
You really need to consider the kind of treadmill workouts you want to do. A slat model might be a good fit if you're into CrossFit or are a competitive athlete. One with rubberized slats may also be a good idea if you have a big budget, and you need the added shock absorption. However, for 30 to 60 minutes of casual walking or running, you probably won't reap the benefits of the increased cadence and lower impact, making a belt treadmill the best bang for most people's buck.
Tech or Low (or No) Tech
Treadmill tech upgrades are impressive. They include large (and small) touchscreens where you can access integrated programming through fitness apps like Peloton and iFIT. There are motor and belt designs that include automatic cadence adjustments, speed buttons, built-in speakers, and advanced cushioning systems to reduce impact. Some can sync with a heart rate monitor for heart rate programming. However, many of these advanced features require Bluetooth or WiFi, which requires compatible devices and a strong internet connection. If you don't have reliable internet, low-tech models are a better choice, including curved manual treadmills.
Curved slat treadmills offer a low-tech, high-yield workout. These models typically have a small LCD screen that shows time, speed, distance, and possibly cadence. You don't need an electrical outlet or a WiFi connection. There are low-tech belt treadmills, but they'll require an electrical outlet. These models may have an LCD screen that shows your program, distance, time, speed, and other important metrics. They may also have built-in programming, but they cannot access integrated programming, though some may sync through Bluetooth.
You can also get high-tech models in either treadmill type. A large, high-tech belt treadmill with a large 22- to 32-inch screen will cost around $3,000. A slat treadmill with similar technology capabilities will probably cost at least $5,000-$7,000.
Slat Treadmill vs Belt: Final Thoughts
If you're in the market for a new treadmill and you're not sure which treadmill type you want, consider this:
Slat treadmills are great for sprinting and high-intensity interval training (HIIT).
Slat treadmills offer excellent cushioning and impact absorption.
Belt treadmills provide more features at a lower price.
Belt treadmills have more compact folding options.
Your fitness goals, budget, and workout space can help you determine which of these types will give you the best treadmill workout.
Slat Treadmill vs Belt: Q&A
Why are slat treadmills better?
Slat treadmills can be better than traditional belt treadmills in some circumstances, but not all. Models with a curved deck and rubberized slats offer excellent cushioning and impact reduction in comparison to belt treadmills.
Are slat treadmills harder to run on?
Running on a flat slat treadmill will not feel too different from a belt treadmill. You may notice the added traction of the slats or shock absorption if the slats are rubberized. Curved slat treadmills, however, can take some time to get used to. They take more effort to get started and to run on, which makes them harder to run on. 
Are slat treadmills better for knees?
Curved slat treadmills can be easier on your joints. However, flat deck slat treadmills will put the same force on your knees as a traditional treadmill.  
Who makes slatted treadmills?
Here are a few of the most popular slatted treadmill manufacturers:
Assault Fitness
Runow
Woodway Treadmill
NOHrD
True Fitness
 
Sole Fitness, which makes a durable line of belt treadmills, also makes a flat slat treadmill.
References