We test and review fitness products based on an independent, multi-point methodology. If you use our links to purchase something, we may earn a commission. Read our disclosures.
When it comes to buying a new treadmill, it can be an overwhelming experience, sifting through endless specs and tech features. Sole Fitness has quite a selection of high-quality treadmills and most of them are remarkably similar.
We've had hands-on experience with the Sole F63 treadmill and we've done in-depth research on the other models: F65, F80, F85, TT8, S77, and ST90. These models are so close in their capabilities and specs, our research helped to indicate the subtle differences. In this collection of Sole treadmill reviews, we'll give you all the details you need to know to make the right purchasing decision.
We Know Sole Treadmills
We've tested dozens of the best treadmills on the market and researched even more. Our expert product testers are well versed in all things fitness—from treadmills to barbells. We're a group of athletes, CrossFit Level 1 Trainers, certified personal trainers, and nutrition coaches. We're going to use our collective expertise and our experience with Sole Fitness (including ellipticals, bikes, and rowers) to bring you the most accurate information available when it comes to Sole's lineup of treadmills.
Sole Fitness Treadmills Available Now
Sole Fitness Treadmills Specs: Comparison Chart
| | | | | | | | |
| --- | --- | --- | --- | --- | --- | --- | --- |
| | Sole F63 | Sole F65 | Sole F80 | Sole F85 | Sole TT8 | Sole S77 | ST90 |
| Price | $1,199 | $1,399 | $1,699 | $1,999 | $2,399 | $1,899 | $3,599 |
| Footprint | 82" L x 35" W x 66" H | 82" L x 37" W x 66" H | 82" L x 37" W x 66" H | 82" L x 37" W x 66" H | 82" L x 36" W x 58" H | 82" L x 36" W x 58" H | 70" L x 33.5" W x 65" H |
| Weight | 254 lbs | 262 lbs | 278 lbs | 308 lbs | 322 lbs | 258 lbs | 376 lbs |
| Weight capacity | 325 lbs | 325 lbs (not confirmed by Sole) | 375 lbs | 400 lbs | 400 lbs | 400 lbs | 330 lbs |
| Display | 6.5" LCD | 7.5" LCD | 9" LCD | 10" touchscreen | 10" touchscreen | 10" LCD | 10" touchcscreen |
| Incline | 15 levels | 15 levels | 15 levels | 15 levels | 15 levels; 6 decline levels | 15 levels | 15 levels |
| Speed | 0.5-12 MPH | 0.5-12 MPH | 0.5-12 MPH | 0.5-12 MPH | 0.5-12 MPH | 0.5-12 MPH | 0-12.5 MPH |
| Motor | 3.0 HP | 3.25 HP | 3.5 HP | 4.0 HP | 4.0 HP | 4.0 HP | 2 HP AC |
| Running deck | 60" L x 20" W | 60" L x 22" W | 60" L x 22" W | 60" L x 22" W | 60" L x 22" W | 60" L x 22" W | 60" L x 22" W |
| Preset programs | 10 | 10 | 10 | 25 | 9 | 10 | 29 |
| Warranty | Lifetime frame and motor;3-year deck, electronics, and parts;1 year for labor | Lifetime frame and motor;3-year deck, electronics, and parts;1 year for labor | Lifetime frame, deck, and motor; 5 years for parts and electronics; 2 years for labor | Lifetime frame, motor and deck;5-year electronics and parts, 2-year labor warranty | Lifetime frame,motor, and deck; 5-year electronics and parts, 2-year labor warranty | Lifetime frame, motor, and deck; 5-year electronics and parts, 2-year labor warranty | 5-year frame and motor; 3-year deck and electronic; 1-year parts and labor |
| Foldable | Yes | Yes | Yes | Yes | No | No | No |
Which Sole Treadmill Should You Buy?
There are two main groupings for Sole Fitness treadmills: Folding and non-folding. The folding models include the F63, F65, F80, and F85.
The Sole F63 and Sole F65 were created to offer value to Sole customers, with both models priced under $1,400. They have long running decks and offer similar motor sizes.
The Sole F80 and F85 are the original Sole treadmills, and have been on the market and redesigned with modern features for over 20 years. They offer longer, more robust warranties than the F65 or F63. The Sole F85 has been upgraded to come with a touchscreen display.
Sole Fitness has three non-folding treadmills: the T88, ST90, and S77. They all have 4.0 horsepower motors, 60-inch running decks, and 10-inch displays (not all are touchscreen). The Sole ST90 is the only slat-belt treadmill from Sole fitness and is the only treadmill in the whole lineup to not have a lifetime warranty.
The Sole T88 is considered a light commercial treadmill, however the specs are not far off from the T85. And lastly, the S77 has features mostly similar to the Sole F85.
With most Sole treadmills, here is what you can expect:
Price range $1,200-$3,600
60" running surface
Top speeds about 12 MPH
Up to 15 incline levels
Lifetime warranty on the frame (accept the ST90)
Bluetooth speakers
Cushion flex whisper deck
Sole F63 Treadmill
Good for: Anyone on a budget looking for a solidly built treadmill with folding capabilities
Sole F63
Sole F63
Named "Best in its Price Range" by Fit Rated, Run Reviews, Treadmill Reviews, and many others. Easy Assist Folding Deck Design makes storing your treadmill easy and convenient. High-end rollers create a static free motion leading to a long lifespan. Smoothest treadmill when making adjustments mid-workout. LCD screen provides real-time statistics to monitor progress towards goals.Plus, Sole has recently released its own version of Peloton-esque programming: STUDIO. You can access a variety of on-demand classes for just $19.99 per month.
Pros:
Lifetime warranty on the frame and motor
Priced around $1,200
Foldable design
Heart rate monitor included
Cons:
Slightly shaky while running
Small LCD screen
3.0 HP motor isn't for serious runners
More narrow running deck than other Sole models
The Sole F63 is a sturdy, solid, powder-coated-steel-framed treadmill that has folding capabilities. A 3.0 HP motor, which the F63 has, is where we suggest starting for runners. Anything below 3.0 HP won't give you enough power for running or HIIT training.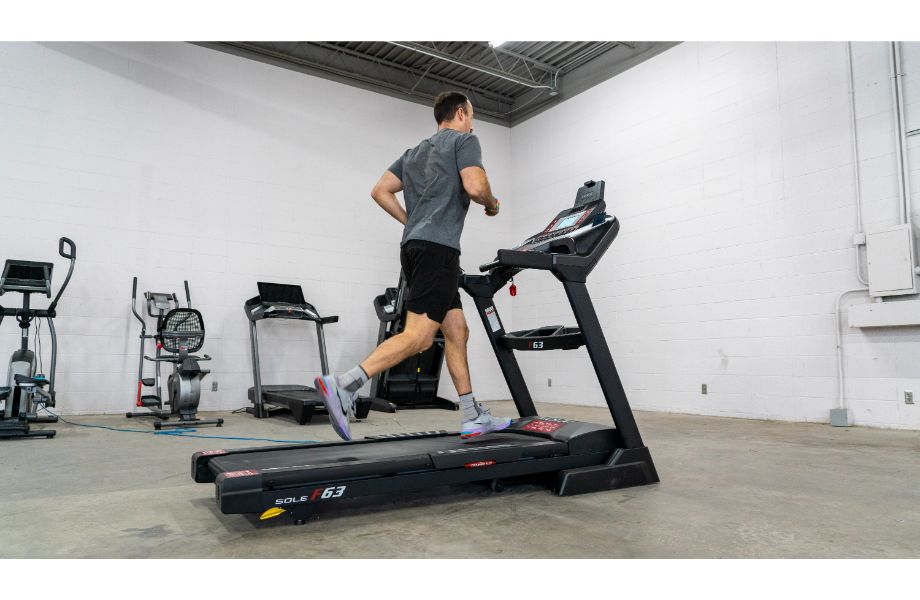 Although the Sole F63 doesn't have a built-in touchscreen, you can use the tablet holder to stream fitness apps or watch shows. What you will find is a 6.5 inch LCD display with speed, incline, time, distance, calories, pulse, and pace. We like the quarter-mile track and peak and valley graphs that are associated with some of the preset programs hardwired into the machine. Also on the console is a cooling fan and built-in speakers to play music from your own device.
Read our Sole F63 review for a more in-depth look at this treadmill.
Sole F65 Treadmill
Good for: Tall runners who need a spacious running deck
Sole F65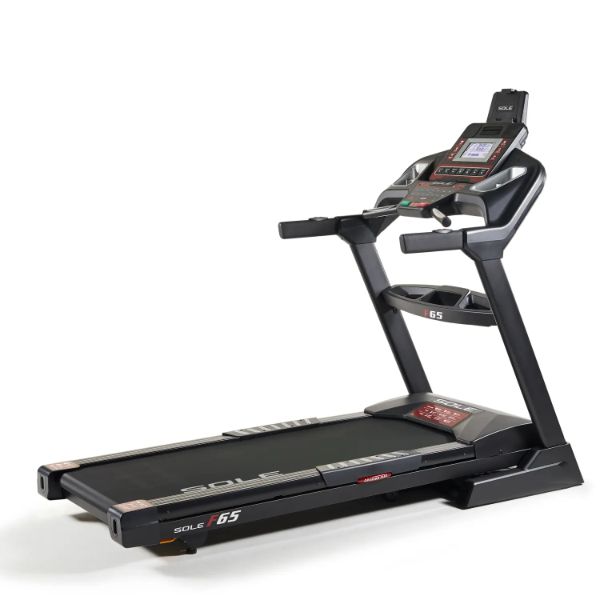 Sole F65
The Sole F65 treadmill is one in a line of almost half a dozen treadmills in the brand's F series. Priced around $1,400, this machine features a powerful motor equipped to handle speeds of up to 12 MPH, making it an ideal choice for runners. Additionally, 15 incline levels add challenges to workouts and simulate hill running.One of the noticeable upgrades the Sole F65 has is a spacious running deck that measures 60 inches long and 22 inches wide. This accommodates tall runners and those needing a little more space. Plus, it's one of the largest running surface areas you'll find on a treadmill in this price range.We love that the F65 comes with lots of extras: a cooling fan, Bluetooth-enabled speakers, water bottle holder, and tablet holder to store your smart device. There are also six preset workouts for you to choose from to do your workout.This is a large machine that takes up substantial space in your home gym, but the deck does fold to reduce the machine's footprint.
Pros:
Folding treadmill
Spacious running deck
Heart rate monitoring with chest strap or pulse grip handles
Transport wheels for easy moving
Cons:
Very similar to the F65 for a few hundred dollars more
Basic LCD screen
Steep in-home assembly cost
Like we mentioned earlier, the Sole treadmills all start to blend together—it's the little details that set them apart. Namly, the Sole F65 treadmill has a slightly wider running deck than the F63, measuring 22 inches wide by 60 inches long. This will give you a more spacious feel and more elbow room near the handrails. The F65 is also built with a slightly more powerful 3.25 HP motor.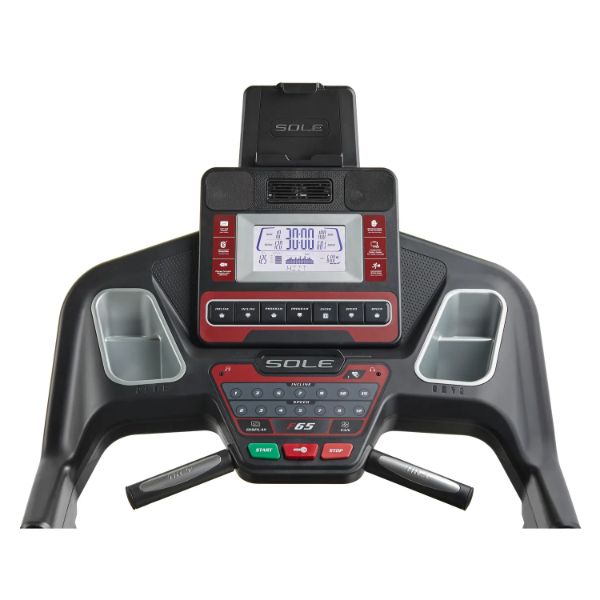 Both the Sole F63 and the F65 come with heart rate monitoring chest straps for the most accurate read on your heart rate. The F65 however, will have a larger 7.5-inch backlit LCD display.
You can read our detailed review of the Sole F65 for more information.
Sole F80 Treadmill
Good for: Large runners looking for a sturdy machine
Sole F80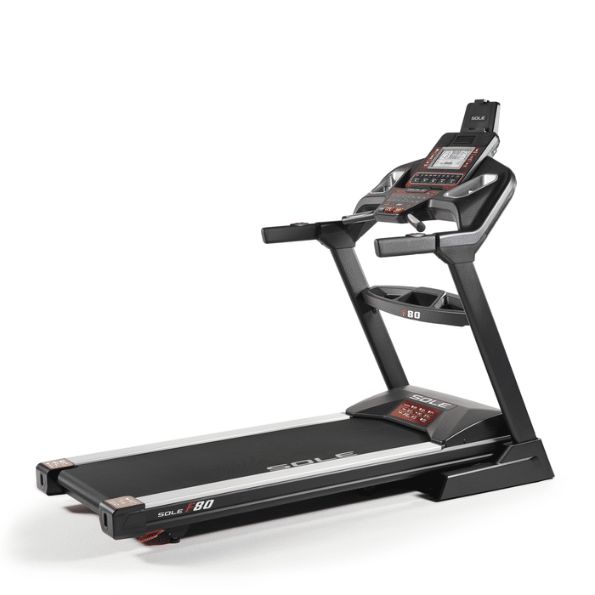 Sole Fitness Sole F80 Treadmill
When it comes to performance and stability, there are few treadmills out there at this price point that can compare to the Sole F80. This is truly a treadmill designed with heavy runners in mind as its key features are ones normally found on more expensive models. Constructed with the highest grade welded steel, this formidable treadmill is sturdy and durable yet easily folds when not in use. With a 3.5 horsepower motor and elongated running surface (60 inches by 22 inches), the Sole 80 is ideal for those looking to put the miles in. Sole claims that their patented cushioned running surface reduces impact on joints by 40%.If you are looking for a treadmill jam packed with programs and integrative technology, this is not your machine. The Sole F80 does boast console fans, two integrated Bluetooth speakers, and a USB port so you can connect your smart device and listen to your favorite playlist while you workout. But, the 9-inch display is simple and tracks the important stuf: distance, calories burned, and heart rate to name a few. Buyers receive a 30-day free trial of the Studio platform, Sole's connected fitness platform housing over 3,000 instructor-led and on demand classes. Past 30 days, a subscription fee is required to access Studio.
Pros:
Not locked into any particular training app
High user weight capacity at 375 lbs
Financing options available
Lifetime warranty on frame, motor, and deck
Cons:
Non-touchscreen, LCD display
Not super high-tech
$1,600 price tag
Heavy machine, weighs almost 300 lbs
The Sole F80 is one of the original models introduced by Sole Fitness. It has a lot of the same features seen in the F63 and 65. There are a couple of standout features worth noting though: The user weight capacity is slightly higher at 375 pounds, which also means it's a heavier machine.
The F80 is built with a 3.5 HP motor, giving you even more power than the previous two models. This treadmill might not have fancy touchscreen tech, but this machine is a workhorse. It has 4.9 out of 5 stars on Google reviews and a plethora of positive customer feedback.
Take a look at our detailed review of the Sole F80 to get a better sense of this model.
Sole F85 Treadmill
Good for: Anyone who wants a powerful motor and a high user weight capacity
Sole F85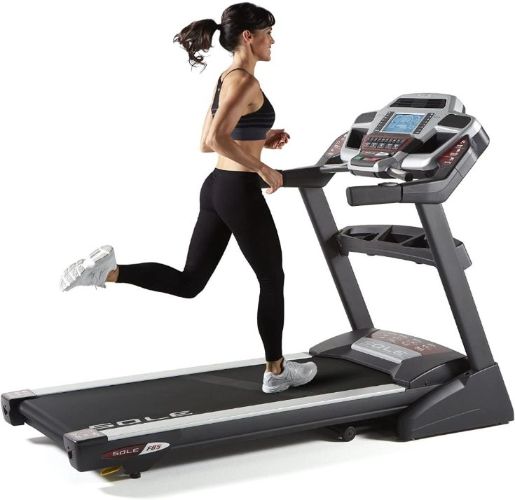 Sole F85 Treadmill
Sole's F85 treadmill is one of its highest rated foldable machines. It has a powerful 4.0 horsepower motor that is smooth, quiet and able to support high intensity, sustained running.  The F85 includes a 22-inch wide running surface with 2.75 inch rollers intended to extend the effectiveness of the treadmill's motor. The running surface is cushioned and boasts a 2-ply belt with four layers, which Sole claims to reduce impact by 40%. This treadmill offers incline options up to 15% grade for variable hill training, interval work and endurance conditioning. With a max speed of 12 miles per hour, the F85 is suited for every fitness level from casual walking to intense running. The F85 includes speed and incline buttons on the handrail, which makes it easy to adjust your settings without having to remove your hands from the handrails. And, for those of you looking for a touchscreen and improved tech features, you are in luck. The F85 now offers a WiFi connected experience which keeps you entertained throughout the toughest of workouts. The 10.1 inch touchscreen display includes seven preset apps: Netflix, YouTube, ESPN, CBC News, NBC News, and CNN News.  What's more, the F85 is equipped with Bluetooth speakers, a USB port and an integrated table holder to enhance your running experience. Connect to the new Sole+ app to track workout metrics or transfer your fitness data to other apps like Fitbit, Record, Mapmyrun and Apple Health. Constructed with an all-steel bullet proof frame, the F85 is built like a tank. Yet, folding the treadmill is effortless thanks to Sole's "Easy Deck" design. However, with a folded footprint of 44 inches by 37 inches by 71 inches, the F85 certainly is not space-saving. Weighing 308 pounds, the F85 may offer portability but users report the weight makes it very difficult to move. While the overwhelming majority of reviews are positive, it's not all roses and sunshine. Several reviews report a faulty touchscreen, software  malfunction, and Bluetooth speakers emitting screeching noises. But, backed with a lifetime warranty, the F85 stands as one of the best on the market.
Pros:
10" touchscreen
Powerful motor for serious runners
Ample 400-lb user weight capacity
Foldable design
Good value
Cons:
Heavy machine, over 300 lbs
No live chat support on website
High price point at $2,000
The Sole F85 has a lot of the same features as the F63, 65, and 80. It folds, the deck is 60 inches long, it has preset programming, built-in speakers, and the same top speeds and incline levels. What's different about this model is that the F85 features a 10-inch touchscreen and a powerful 4.0 HP motor.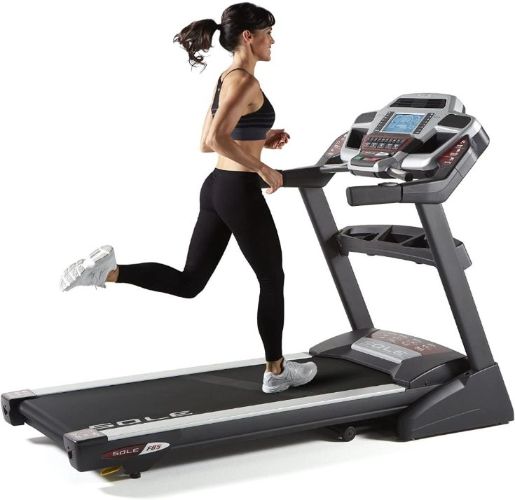 The motor power combined with the speed range will make this treadmill a go-to choice if you're a serious runner looking for indoor training options. This is a tremendous value for a home gym owner who prioritizes running.
Our in-depth review on the Sole F85 will give you all the details you need.
Sole TT8 Treadmill
Good for: Runners looking for both incline and decline training options
Sole TT8
Sole TT8 Treadmill
The Sole TT8 is one of the luxury treadmills available from Sole Fitness. This high-end tread sports a 60-inch by 20-inch running surface to accommodate runners of most heights, and the 2-ply cushioned deck alleviates pressure and impact from the joints.Although there is no touchscreen display on the Sole TT8, it does have a sturdy smart device holder where you can place your smartphone or tablet. You can then stream fitness classes from a third-party app to keep you motivated and entertained.One of our favorite things about the Sole TT8 is its impressive incline and decline range. To simulate the natural terrain you'd encounter while running outdoors, you can push the grade down to -6% or bump it up to 15%.
Pros:
10" touchscreen
2-ply belt
Bluetooth audio speakers and USB charging dock
Powerful 4.0 HP motor
Incline and decline training options
Cons:
No chest strap included
Only 9 built-in program, less than other Sole models
Not a folding treadmill
Heavy 322-lb machine
The Sole TT8 is a non-folding light commercial treadmill. It's equipped with a 4.0 HP motor and the same 22-inch-by-60-inch running deck as many of Sole's other models. What we like in this TT8 is both incline and decline training options in addition to a powerful motor. The TT8 also has a two-ply running belt that gives you extra cushioning, but extra life as well.
This treadmill has an impressive 400-pound weight capacity, making this suitable for a variety of people and perhaps weighted vest workouts, too. You will also notice there is a 10-inch touchscreen, equipped with an Android processing system in addition to a tablet holder on this model.
Sole S77 Treadmill
Good for: People who will be logging serious miles
Sole ST77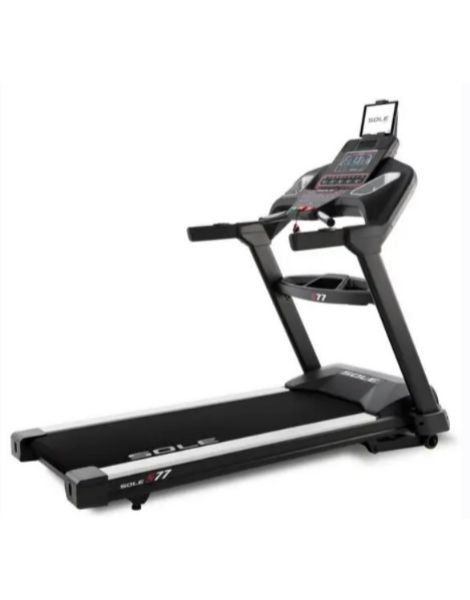 Sole S77 Treadmill
The Sole S77 is one of Sole's "lite commercial" treadmills, which sport Sole's best features and are the most durable non-folding machines. This treadmill works with a STUDIO membership (Sole's fitness app with a variety of workouts). The S77 comes with multiple pre-programmed workouts as well, including standard, custom, and heart rate. Heart rate training mode automatically adjusts the incline to to keep you in the correct target heart rate zone.The S77 has a 22-inch-by-60-inch tread belt with a Cushion Flex Whisper Deck, which Sole claims reduces joint impact by 40% and contributes to a quieter workout. The treadmill has a 4.0 horsepower DC motor. This allows the treadmill to achieve speeds from .5-12 MPH and 15 different incline levels. This powerful motor can also support high-frequency and high-volume running, so it's a good option for serious runners.There are quick speed and incline buttons on the main display, as well as arrow adjustments on the handrails to easily adjust your workout settings. There is also a dedicated tablet holder with a USB port to charge your device while working out. The S77 features Bluetooth technology, so you can play your music from the treadmill speakers and transfer your workout data to your favorite fitness tracking app. There is also a cooling fan and two water bottle holders so you can stay comfortable during your workouts.There aren't many reviews of the S77 at the time of publishing. Users did say the S77 was heavy and difficult to assemble, particularly the plastic arms. They recommended getting someone to help you or purchasing professional assembly. They also experienced some issues with assembly such as missing or broken pieces. They did say that once it's assembled correctly, the S77 is a solid treadmill that provides quiet workouts. However, they did note that the S77 was slow to change speeds and inclines.
Pros:
Bluetooth connectivity to free Sole app or choice of other apps
400-lb user weight capacity
Lighter than other Sole treadmill models
Cons:
Simple, 10" LCD display
Does not fold
Not a high-tech machine
$1,900 price tag
The S77 is the most affordable non-folding machine in this series. It has a lot of the same features as the F85 including motor power, weight capacity, and running belt. The price is nearly the same, too. The exception is the weight of the S77 is lighter and the display is a 10-inch LCD backlit screen.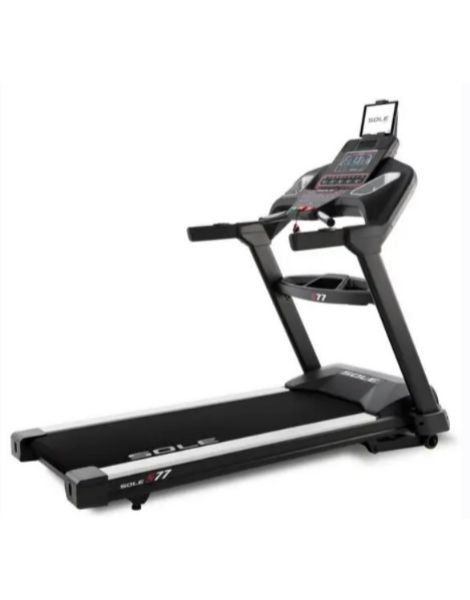 We like that this model comes with a heart rate monitor chest strap that connects wirelessly to the display on the LCD monitor. It also has the ability to automatically adjust the incline to keep you in your target heart rate zone when you select the heart rate mode on the preset programs.
Sole ST90 treadmill
Good for: Runners who like the slat-belt design for optimal running technique
Sole ST90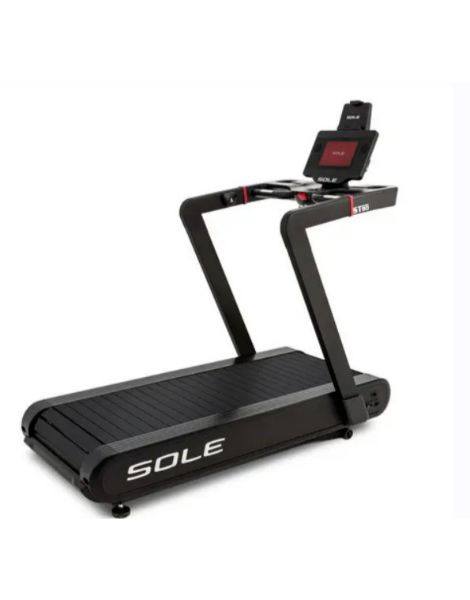 Sole ST90 Treadmill
The Sole ST90 treadmill has a slat belt design, a 2 Horsepower AC motor, and 10.1" touch screen display. The ST90 works with Sole's fitness app STUDIO, which offers more than 3,000 classes to use with and without your treadmill. You can also use the treadmill without the STUDIO app, as there are multiple pre-programmed workouts such as standard, custom, and heart-rate training.The ST90 has a 20-inch-by-60-inch running belt. Sole claims that the slat belt design increases safety and comfort while decreasing wear and friction. The treadmill has a speed range of 0-12.5 MPH and 15 incline levels. The 10.1-inch touchscreen display can stream workouts or your favorite shows via screen mirroring technology. You can also play your phone's music through the treadmill speakers. The treadmill has both grip and telemetric heart rate capabilities but does not come with a heart rate monitor chest strap.The ST90 has an integrated tablet holder with a USB port for charging your devices. There aren't pre-programmed quick adjustment buttons, but there are increase and decrease buttons on the inside of handrails.There are very limited reviews but they are positive. Users liked that the treadmill adjusted speed and incline quickly but wished there were quicker speed adjustment buttons. They also found the treadmill sturdy and quiet.
Pros:
29 preset workout programs
Sufficient 330-lb user weight capacity
Slat belt design
10" touchscreen
Cons:
No lifetime warranty
2 HP AC motor
Not a folding treadmill
Heavy 376-lb machine
The Sole ST90 is the only slat-belt treadmill in the entire Sole treadmill lineup. Slat belts have less cushioning than traditional two-ply running belts but are designed with thick rubber slats to help absorb the impact of running and recruit the correct muscles.
It also has a 10-inch touchscreen in addition to a tablet holder. The price point is quite a bit higher than the other models, sitting at $3,599. The ST90 is another non-folding model and comes with 29 preset programs, including seven military-specific programs.
The slat belt and the sleek design of the ST90 are some of the standout features, but what we don't like is the fact this treadmill doesn't have the same lifetime warranty as the other Sole treadmills. The ST90 also doesn't compare in motor power, either: The 2.0 HP motor pales in comparison to Sole's other treadmill offerings.
What to Look For in Sole Fitness Treadmills
When looking for a treadmill for home use, it's important to find a machine that can handle your top speeds and running distance. Sole Fitness treadmills are built for serious runners and have the 60-inch-long running deck we look for to accommodate runners of all sizes and stride lengths.
Because the Sole series all have similar features, you'll have to determine what features matter to you most–folding capabilities, built-in touchscreen, and preset programs to name a few.
Brand Policies
Overall, Sole Fitness has an impressive lifetime warranty on all but one of the available treadmills. In our experience with the brand, they hold up the warranty and return policies, but you'll be getting on the phone or sending an email. There is no live chat function on the website to get you started.
Warranty
With the exception of the ST90, Sole Fitness offers a lifetime warranty on the frame, motor, and deck. That is above and beyond what we like to see in home treadmills, so when we notice things like this, it's important we share them.
Sole Fitness aims to give customers more value than just providing a warranty for manufacturing defects. According to the Sole Fitness website, the company "is one of the only companies to offer true 'wear and tear' coverage." This means that Sole Fitness expects you to use your treadmill and not be penalized if or when something needs to be fixed or replaced.
Returns
For most Sole Fitness treadmills, you'll have a free 30-day trial to make sure you're completely satisfied with your treadmill. You also won't have to foot the bill for shipping or a restocking feel. This is a notable difference from other big-name fitness brands that usually put the shipping cost on you.
Financing
Most Sole Fitness cardio equipment has financing options available if you qualify for a Citizens Pay Line of Credit Account through Citizens Bank. Some purchases will have 0% financing for the first 12 months, and others will have standard purchase at 29.99% APR—this depends on your credit score.
Final Verdict of Sole Treadmill Reviews
The bottom line is Sole offers a quality treadmill line in which all products are eerily similar. However, if you're willing to spend over $1,000 on your piece of home fitness equipment, we think Sole Fitness should be a top contender. We also appreciate the lifetime warranty on the frame that comes with all models, with the exception of the Sole ST90.
If you're looking for additional resources on buying and saving money on a Sole treadmill, our team put together a Sole Fitness guide to saving with tips and tricks from our team of experts.
We also like Sole treadmills based on the fact you won't be locked in just one fitness app. All Sole models also come with at least a few preset programs hardwired into the machine that do not require internet connection.
Sole Fitness also has an app so you can collect your workout data from your treadmill sessions and share it with other apps like Apple Health, Fitbit, MapMyFitness, Facebook, and Twitter. None of our expert product testers have tried the Sole Fitness app yet, so we can't say for sure how it functions.
FAQs About Sole Treadmills
Does Sole make a good treadmill?
Sole Fitness makes durable treadmills that will offer variety to your home fitness routine. We like the fact Sole treadmills feel durable and are backed up with a lifetime warranty. Each model can potentially suit the needs of runners and walkers alike.
Do Sole treadmills fold up?
Some do: the Sole F63, F65, F80, and F85 are all folding treadmills.
How long do Sole treadmills last?
With a lifetime warranty on the frame, motor, and deck for most Sole treadmill models, you're looking at a long relationship with your Sole machine. Keep in mind  that regular maintenance (like wiping surfaces, vacuuming dust, and lubricating the belt) is also recommended to keep your treadmill in tip-top shape. 
How much does a Sole treadmill weigh?
Sole Fitness treadmills vary from 254 pounds all the way up to 376 pounds.