We test and review fitness products based on an independent, multi-point methodology. If you use our links to purchase something, we may earn a commission. Read our disclosures.
The Sole ST90 is in the hot seat in this treadmill review. As Sole's current top-of-the-line model, the Sole ST90 is a slat belt treadmill built for serious runners who want a commercial-grade machine for their home gym. Sole Fitness makes machines better known for their quality and durability rather than their high-tech upgrades. However, the ST90 bucks the Sole trend to offer some convenient tech features that make the high price more palatable.
In this Sole ST90 review, we take a look at strengths, like an AC motor not typically found on home treadmills, and a slat belt that drastically improves the longevity of this model, along with weaknesses, which revolve around a small screen size for the (high) price.
This model adds casting and a unique free mode to its mix of features, making it a contender for serious runners in need of high-intensity workouts as well as those who simply need variety to stay engaged. The price might make you gasp, and it doesn't offer the same level of integrated programming as some treadmills in the same price range. But for the right runner, the ST90 could elevate their workouts for years to come. Keep reading to get our full take on the Sole ST90.
We've Put on the Miles So You Don't Have To
At GGR, we are more than a group of gym junkies. Our team consists of certified personal trainers, nutrition coaches, CrossFit Level 1 trainers and other fitness professionals from a variety of disciplines. We've tested plenty of treadmills in person, and our team has put in the miles, whether in our own home gyms or when training for our sports.
We put the miles on many treadmills so that you don't have to, giving us the ability to offer insights on models as they come out. While we haven't tested the ST90 for ourselves, we've taken a close look at the specs, Sole's past performance and similar treadmills in the same category.
Sole ST90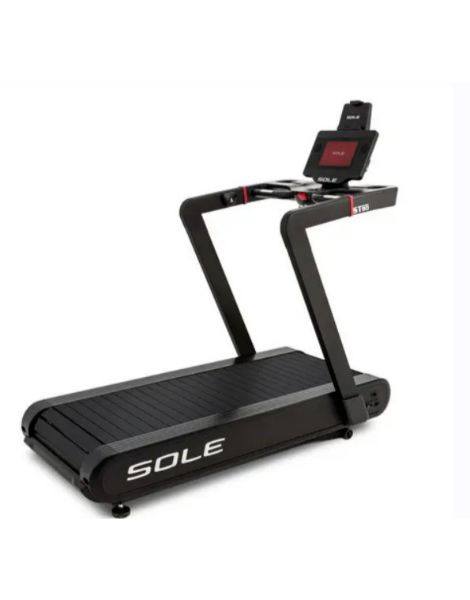 GGR Score: 4.25
Product Highlights
Slat belt design 

Non-folding treadmill 

Up to 12.5 MPH 

15 incline levels
Pros & Cons
Pros
AC motor
Slat belt design
10.1" touchscreen
15 incline levels
Can use screen to watch television or stream workouts
Free 90-day STUDIO membership included
Cons
No fans
No quick adjustment buttons
Limited customer reviews
Warranty not as long as other Sole products
Bottom Line
The Sole ST90 treadmill has a powerful AC motor and comfortable slat belt design for high-frequency runners.
A Quick Look at the Sole ST90 Treadmill
Sole Fitness produces high-quality, durable exercise equipment. They often skip high-tech upgrades in favor of more powerful motors and stronger builds. Sole offers impressive warranties, but there are exceptions, and the ST90 is one of them.
Currently, the Sole ST90 is the company's top treadmill, followed by the Sole TT8. However, There's quite a distance between these two models because of the ST90's slat belt, preset workout programs, free mode, and 2 horsepower (HP) AC motor versus the TT8's standard belt, a handful of built-in programs, and a less powerful, though still impressive, 4 HP DC motor.
Before You Buy
The ST90's casting capabilities expand what you can watch while you run to include streaming services as well as fitness apps.
Assembly is simple and straightforward, but you will need two people.
The ST90 has a free mode that doesn't use the motor to function like a manual treadmill. This mode has eight levels of resistance and works your body in ways a traditional treadmill doesn't.
Is the Sole ST90 Worth It?
Everyone has different needs and requirements for their home treadmill. Someone who trains for marathons probably needs a different treadmill than someone who takes a daily 30-minute walk. The ST90 is definitely geared toward more serious runners and fitness enthusiasts.
Great for:
Serious runners with demanding training schedules
Those who want to invest in commercial-quality home fitness equipment
Those who want a treadmill that doesn't require a fitness app
Not recommended for:
Buyers on a budget
Casual runners
Users who want integrated workouts and programming
Sole ST90 Specs
| | |
| --- | --- |
| Price | $4,999 |
| Footprint | 70" L x 33.5" W x 65" H |
| Weight | 376 pounds |
| Weight capacity | 330 pounds |
| Motor | 2 HP AC |
| Deck | 60" L x 20" W |
| Display | 10.1" touchscreen |
| Speed range | 0-12.5 mph |
| Incline range | 15 incline levels |
| Foldable? | No |
| Workout programs | 10 standard, 12 custom, seven heart |
| Warranty | Five years on the frame and motor; three years on deck and electronics; one year on the parts and labor |
Customer Reviews
The Sole ST90 is fairly new to the market so there aren't a lot of customer reviews available just yet. This model also falls on the high end of most people's budgets, making it slower to bring in reviews. The few reviews are a mixed bag at this point. There are complaints about the speed of the speed adjustments and professional assembly. Time will tell as more people add this model to their gyms and get more experience with the design.
"The Sole ST90 is a great treadmill for the price point!" says HappyRunner on soletreadmills.com. "It is very sturdy, smooth and quiet. It is very easy to assemble and customer service is very helpful if you call with any questions. Highly recommend this treadmill if you're looking for something easier on the joints and a treadmill you that responds to speed adjustment quickly. The con on this treadmill is it doesn't have quick speed adjustments which I believe is something sole can add with a software update. Hopefully this is being considered."
"Paid for assembly, had to help them. When fully assembled machine was not assembled correctly and broken," says reviewer Lbpirate on soletreadmills.com. "Waiting for parts and service for more than a month. Forced to return it."
Workout Experience on the Sole F63
The Sole ST90 is designed for versatility with a touch of techie luxury. A unique feature of this model is the free mode, a mode that doesn't use the motor, making the experience more like a manual treadmill. The free mode includes eight incline levels. If you've ever used a manual treadmill, you know the type of workout you get from one is drastically different. It takes intense, concentrated effort to get the belt moving. That kind of manual workout might be exactly what you need to shake up your training schedule and make serious gains.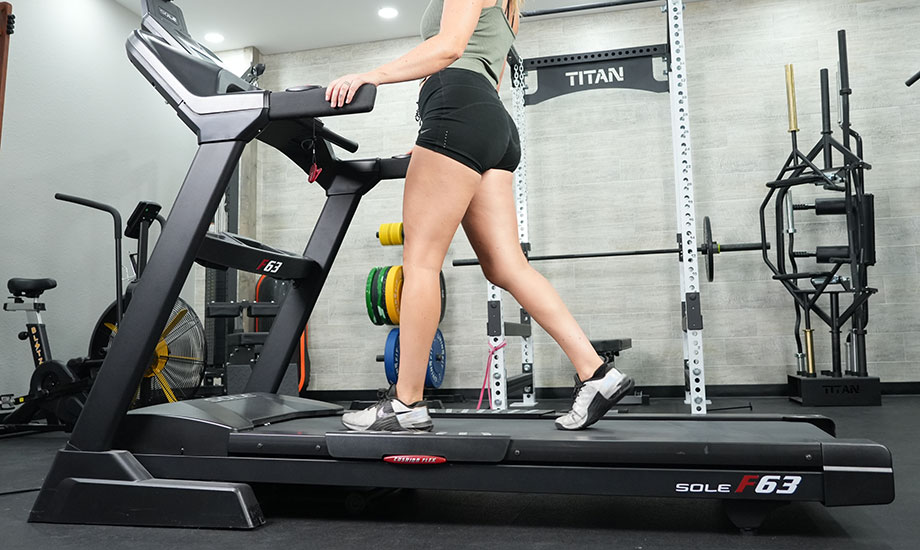 Overall, the ST90 offers an easy-to-use interface with a touchscreen for navigating the preset workout programs. It features standard upgrades like Bluetooth compatibility, heart rate monitoring pads and cup holders. A powerful motor for a home use treadmill provides a top speed of 12.5 miles per hour and 15 levels of incline, too.
Footprint, Portability, Durability, and Construction
The ST90's footprint is fairly average, spanning 65 inches high by 70 inches long by 33.5 inches wide. The actual running surface measures 60 inches long by 20 inches wide, which is a bit narrow. Most people are fine on a 20-inch belt, but once you start running at higher speeds, you might miss extra width.
The slat belt design reduces general wear and tear on the belt because it more naturally follows the shape of the deck. Yet, the warranty is shorter than many of the warranties on Sole's other fitness equipment. We would expect the ST90's lifespan to be at least as long as the warranty coverage.
This is not a folding treadmill, and it weighs a whopping 376 pounds. Consequently, it's not meant for moving around your workout space.
The Ergonomics
This treadmill has a 10-inch step-up height, which is a bit high for those with mobility issues. We like to see step-up heights of six to eight inches for those who are a little less steady on their feet. But once you're on the ST90, the slat belt offers a more natural stride and a surface that's gentler than walking on a sidewalk or road, reducing the impact on your joints. While you can get a workout that's equal to an outdoor run, it won't be as hard on your ankles, knees, and hips.
We like the incline and speed buttons on the console arms. They're easy to reach while you're walking or running without changing your stride length or slowing your cadence. However, a customer review on Soletreadmilsl.com did note that it takes a while for the adjustments to take place. That could be an issue if you're doing intervals or other workout types that require quick speed or incline changes.
Technology Benefits and Conveniences
Unlike many of Sole's other treadmills, the ST90 features some pretty great upgrades. The 10.1-inch touchscreen display is far from the largest display on the market. However, it's bright, with a sharp, clear picture. It's here that you control and access the 29 preset programs, including 10 standard programs, 12 custom programs, and seven heart programs based on military training.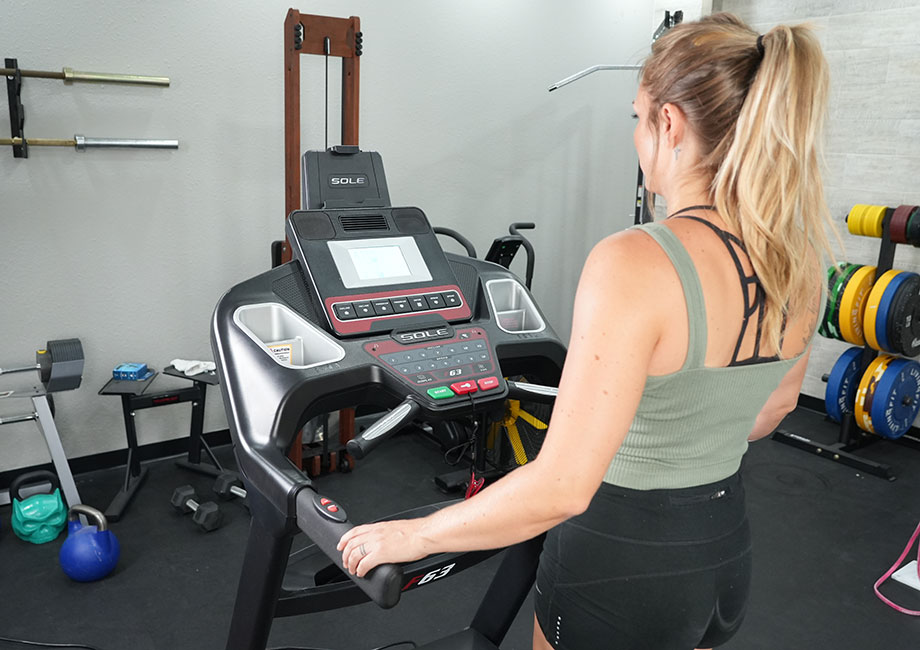 If those programs aren't enough, you can access the STUDIO app, Sole's fitness app, through the touchscreen. It requires a $20-per-month subscription and includes a decent library of 3,000+ on-demand classes. It can record heart rate metrics if you use the heart rate pads or a Bluetooth heart rate chest strap connected to the machine. It also provides playlists and a real-time leaderboard if you need a little competition to get you motivated. However, the app doesn't fully integrate with the treadmill, wherein the app could make speed and incline changes based on the class.
We like that you don't need a subscription to access the treadmill's programs. The ST90 can cast, so you can cast from your own devices to the built-in screen. You can watch streaming services or other fitness apps if you want, with the device mounted on the integrated tablet holder. Additionally, you can keep devices charged for longer workouts with a built-in USB port.
This model is also Bluetooth-compatible with heart rate straps (though one isn't included), and you can connect the built-in Bluetooth speakers to a separate device to play your own music. Two cup/water bottle holders are available to store water, snacks, and anything else you need while working out. But, oddly enough, there are no built-in fans.
Sole ST90 vs Peloton Tread
We've tested the Peloton Tread, a better-known model that's similar in price to the ST90. The Tread and the ST90 have similar belt dimensions, though their overall dimensions differ, with the Tread offering a slightly smaller footprint, but only by a few inches.
They have similar speed and incline capabilities. And surprisingly, similar warranties. We say surprisingly because the Tread is known for a short, underwhelming warranty. Sole doesn't usually fall in that category when it comes to warranties, but this time, they do. Both treadmills have a five-year frame warranty with three years on electronics and one year on parts and labor.
Like the ST90, the Tread has speed and incline adjustments on the console arms. However, the Tread has dials, while the ST90 has buttons. The Tread's adjustments are more intuitive, but the end result is the same.
However, these two models differ in their motor design, with the Peloton having a 3 HP DC motor and the Sole having a 2 HP AC motor. The AC motor, as a commercial design, is more powerful with the potential to last longer. The best treadmills for running have a minimum 3 HP motor, so for a model at the Peloton's price, we'd expect a motor with a little more juice.
The Peloton wins on screen size and functionality, as well as in the quality of integrated workouts. The Peloton app is hard to beat as far as the breadth and depth of the workouts. Plus, they're fully integrated with the machine so that adjustments are made in real time through the app as you're working out. The Tread also has a large 24-inch touchscreen.
If you want a treadmill with the ultimate integrated programming and a huge screen to watch it on, the Peloton is a better choice. However, if you'd prefer a model with more preset programs and you don't want to rely on a monthly subscription, the ST90 is a better choice.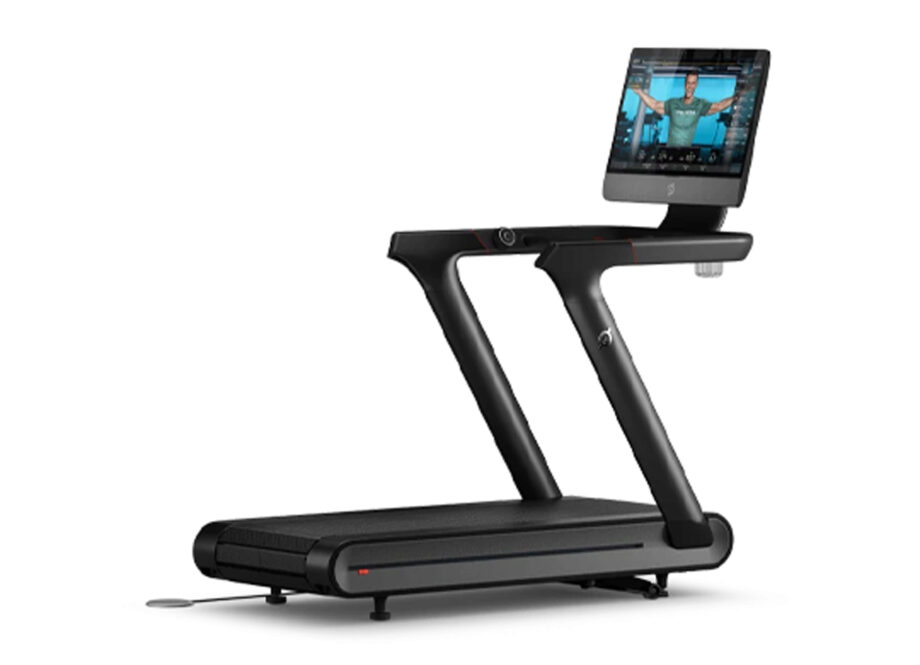 GGR Score: 4
Product Highlights
Powerful 3.0 CHP motor
Carbon steel construction
Top speeds of 12.5 MPH
23.5" HD touchscreen display
Incline training
Non-folding
Live and on-demand classes
Pros & Cons
Pros
Interactive, responsive HD touchscreen display
Access to thousands of workouts via Peloton
Bluetooth connectivity
Front speakers and rear woofers for great sound
Big range of speed and incline
Carbon steel frame
Intuitive controls
Red line centered on running deck ensures good running mechanics
Sleek design
Improved safety features: Tread lock, emergency stop button, stop-sensor technology in belt and a safety key
Cons
Disappointing warranty
No decline
No pre-programmed workout so need to purchase membership to Peloton
Expensive
Heavy
Smaller console
Minimal cushioning
No cooling fans (not a deal breaker but it would be nice)
Smaller running deck compared to similarly priced treadmills
Bottom Line
After several recalls back in 2021, Peloton recently released this new treadmill, the Peloton Tread, with improved safety measures. Perhaps best known for its wide range of live and on-demand classes, the Peloton Tread is a fantastic way to train indoors and stay motivated.  The easy-to-use, interactive touchscreen provides access to a library of workouts and leaderboards that truly brings training to a new level.Powered by a 3.0 horsepower motor, the Tread reaches speeds up to 12.5 mph and inclines up to 12.5%; impressive numbers by any standard. Constructed from carbon steel, the Tread has a sleek, compact design that is as sturdy as it is attractive. While the price tag is steep, it could be a worthwhile investment for your home gym if it fits your budget.
Customer Experience
Sole has a 30-day return policy, starting from the day of delivery. After that, any issues with the treadmill will fall under the warranty. The ST90 comes with a five-year warranty on the frame and motor, three years on the deck and electronics, and one year on parts and labor.
The warranty on this model isn't bad by any means, but it's not impressive either. Sole offers some lifetime and 10-year frame warranties on several of their other pieces of fitness equipment. Considering the price you pay for this treadmill, we consider this warranty a little lackluster.
Financing is available through Citizens Pay, and payments can be as low as $65 a month. But the monthly payment can vary based on your credit score. If you do have issues with the treadmill, Sole's customer service tends to respond quickly and offer helpful solutions. Though, recently they've been a little slower to get out needed replacement parts, which could be due to supply chain issues or shortages.
Ordering and Assembling the Sole ST90
Ordering through the Soletreadmills.com website is easy and straightforward. Once you've added the treadmill to your cart, however, you've got a few decisions to make. The first is whether or not to subscribe to STUDIO, Sole's fitness app. It costs $20 a month, or you can purchase an annual subscription for $200, both after a 90-day free trial. It's worth testing the trial period to see if you will use the app. However, you by no means need the STUDIO app to get an intense workout from this treadmill. Alone, the treadmill is versatile enough that you can use it without any fitness app whatsoever.
The ST90 comes with curbside delivery. At checkout, you have the option of upgrading to room-of-choice delivery for $200 or room-of-choice delivery and assembly for $350. Assembly is not difficult with this machine. Most people don't need professional assembly as long as they have a second person to help with a couple of the steps. You can watch an ST90 assembly video on the Sole website to get an idea of what the process entails.
You also get the option of a $100 floor mat at checkout. If the treadmill will be on delicate flooring, you might want to consider purchasing the mat.
There's also an option to extend certain parts of the warranty for an additional five years. The difference between this extended warranty and the standard warranty is that it covers accidental damage from spilled drinks and user error damage. This additional warranty costs a one-time fee of $89. Most of the time, extended warranties aren't worth it, but the expense of this treadmill makes this one worth considering. However, it's not absolutely necessary.
Final Verdict of Our Sole ST90 Review
The Sole ST90 slat belt treadmill is an excellent commercial treadmill with some convenient and interesting features, like casting and free mode. It has a good set of preset workout programs and a powerful motor that easily hits speeds up to 12.5 miles per hour. However, this treadmill is expensive, and the warranty doesn't match the price. Weigh your options, training schedule, and if you have the budget for the ST90 to make sure it's a good match.
A few key features to remember:
You can watch streaming services on the 10.1-inch screen by casting from another device, or you can watch workouts and streaming videos on another device and use the tablet holder.
Assembly is fast and simple but does require two sets of hands.
Free mode and the 29 built-in workout programs offer excellent built-in cardio programming so you don't necessarily need a fitness app subscription.
Sole ST90 Rating
Sole ST90 FAQs
Is Sole Treadmills a good brand?
Sole Treadmills is an excellent brand that focuses on quality and durability rather than staying ahead of the crowd with high-tech upgrades. Some of their machines have built-in screens, but most of those screens are small.
Does the Sole F60 fold up?
The discontinued Sole F60 is a folding treadmill with a 2.75 HP motor and comes with a lifetime warranty on the frame and motor when purchased through Sole. However, it's no longer manufactured or sold through their website.
How much does the Sole F85 weigh?
The Sole F85 weighs 308 pounds. If you need a model with similar features that weighs a little less, the Sole F80 comes in at 278 pounds.
What is a slat belt treadmill?
A slat belt treadmill has a belt made of rubber slats rather than a single piece of material. The slats allow the belt to flex around the shape of the deck and under the pressure of running feet, extending the life of the belt.