We test and review fitness products based on an independent, multi-point methodology. If you use our links to purchase something, we may earn a commission. Read our disclosures.
Pros:
Superb programming with excellent Peloton instructors
Large 23.8″ touchscreen
High-quality speakers
Financing options are available
300-pound user weight capacity
Well-spaced slats on the deck
Tread locks with a passcode to prevent children from using the machine
Knobs to change speed and incline are intuitive
Water bottle holder
Cons:
Not foldable
Expensive at $3,400+
Doesn't have a media shelf
Short warranty
Customer service has a spotty reputation
The Peloton Tread is similar to Air Jordan 1 Mids and the exercise dresses from Outdoor Voices in that they're hyped up to the max; but, do they really deserve all the praise? I'm here to find out, and with my in-depth Peloton Tread review, you, too, will discover if this treadmill is worth the chatter (and the cheese). 
In-depth reviews are my specialty, especially about equipment like treadmills. I could tell you the industry standards on things like warranty, deck size, and features in my sleep. I'll be evaluating the Peloton Tread using this investigative lens, and I want you to come along for the ride.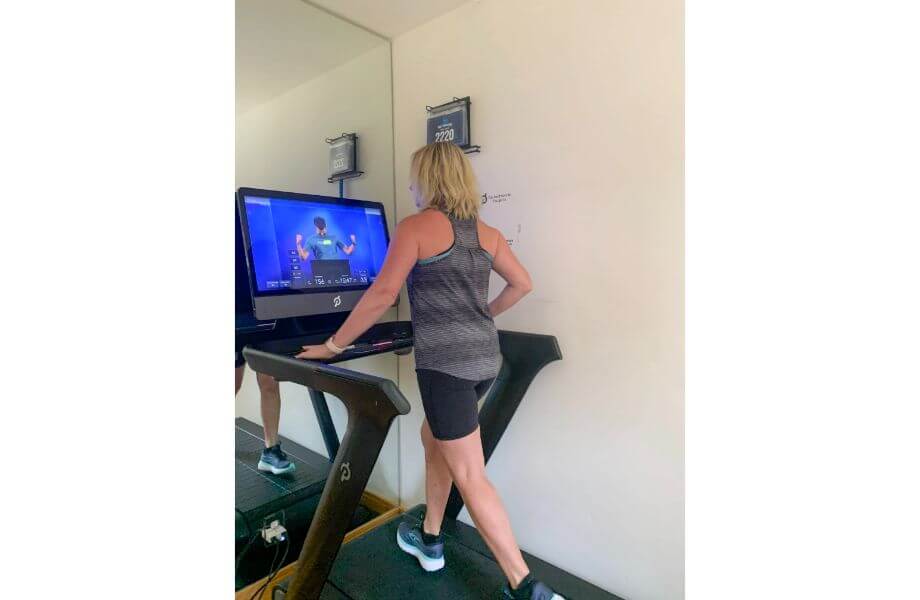 Exercise Bikes, Treads, and Programming, Oh My!
What Peloton supplies, we try. We've reviewed the Peloton Bike, the Bike+, and the app. At GGR, we're well-versed in all types of cardio machines (and their respective interactive programming), so trying the Peloton Tread was a natural next step.
Oh, and we're also knowledgeable fitness professionals. Our team of expert product testers and reviewers are certified personal trainers, former NCAA D1 athletes, and nutrition coaches. We know fitness, and want to share our wealth of knowledge with you.
Peloton Tread Review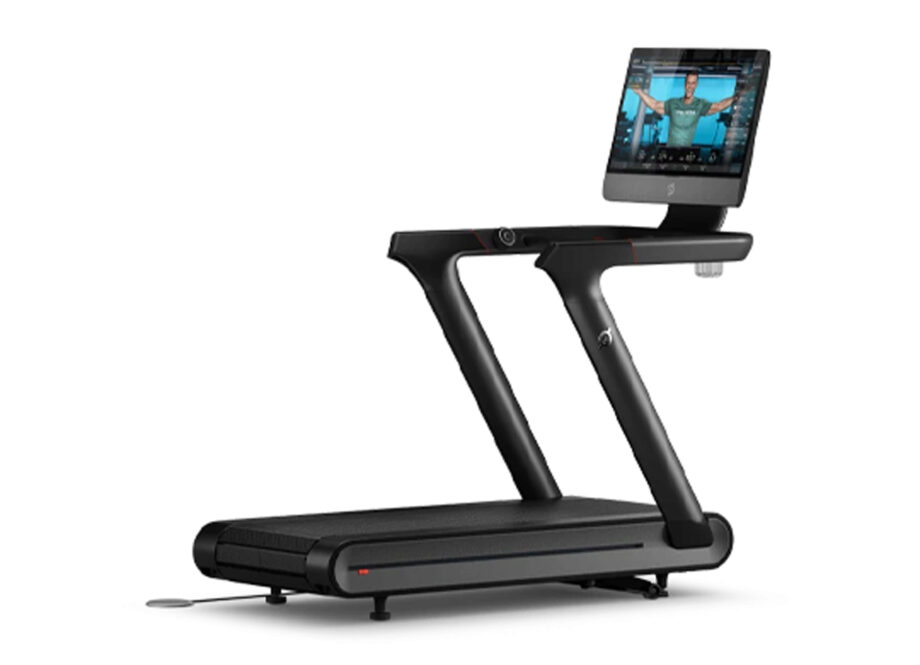 Peloton Tread
Unless you've been living under a rock, you've heard of Peloton and its cult-like following in the world of fitness. Peloton has gained a fantastic reputation for its world-class instructors, motivating classes and immersive experience, all of which are accessed with the Peloton Tread.Constructed from a carbon steel frame, the Tread is sleek, sturdy and able to support weights up to 300 pounds. The Tread features a 59 inch by 20 inch running belt, which is slightly smaller than those found on other treadmills in this price range. That said, it is plenty big enough for the majority of the population.Notably, there's no front hood housing the motor. Instead, the 3.0 horsepower motor is located in the deck, under the running belt area, which gives an overall roomier feel. Runners will benefit from the center red line located around the belt that encourages better running mechanics. While the Tread deck doesn't have shock absorbers, users report it still feels good and has a decent bounce.While running on this beautifully designed treadmill, users can interact with the 23.8 inch high-definition touchscreen to access workouts, leaderboards, fitness metrics and other training programs as well. Unfortunately, this does require a subscription and the Tread does not house any onboard workout programs.The touchscreen includes a front-facing soundbar, camera with privacy shield, rear-facing woofers, a USB port and space for two water bottles. You won't find a fan on this console, which seems a bit odd given the price but this certainly isn't a deal breaker. The Peloton Tread has Bluetooth 5.0 connectivity and supports speeds up to 12.5 miles per hour as well as an incline range of 0-12.5%. The Tread is missing a bit of functionality here as it does not offer a decline usually seen on a machine of this price. And, decline truly adds a level of variability and intensity so it would've been a nice touch.The Tread is also noted to be a very quiet machine. Aside from any sound that comes from the speakers, you won't hear much from the motor as you walk or run. It has several new safety mechanisms including an emergency stop button, safety key, stop-sensor technology in the belt and a "Tread lock," which is a four-digit passcode to unlock the belt.Buyers will want a dedicated spot to house the Tread. At 290 pounds, even with transport wheels it is not easily moved. And, while it's relatively compact, it does stamp out a footprint of 68 inches long, 33 inches wide and 62 inches high so it certainly isn't a spacesaver. Also, given the price of the Tread, the one-year limited warranty is quite disappointing.
A Quick Look at the Peloton Tread
Currently, the Peloton Tread is the only treadmill the brand has on the market. Peloton did previously make the Tread+, an upgraded version of the original Tread. However, it was pulled from the site (along with the original Tread) due to safety concerns.
Luckily, they have since remedied the situation by adding additional safety features to the Tread, and it is back on the site for sale. The Tread+ has yet to make a second appearance, but we'll be watching closely for its return.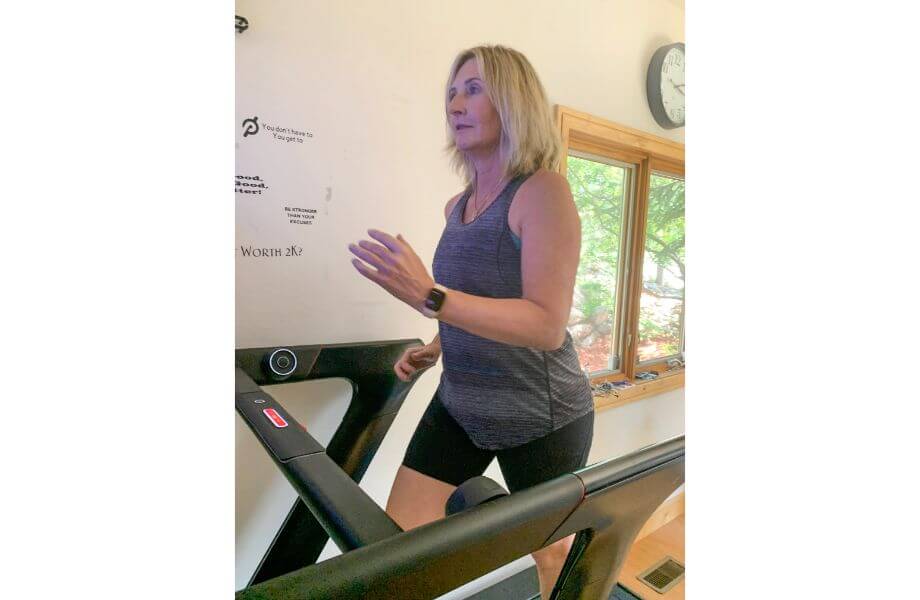 Before You Buy:
Take a look at the Peloton promo codes for the best deals on all Peloton products.
Don't want to pay $3,495 all at once? Consider taking advantage of the financing options offered by Peloton.
Check out the large variety of playlists Peloton offers in their classes. Whether you're into rap, rock, or pop, you'll likely be able to find a class that suits you.
Pros:
Superb programming with excellent Peloton instructors
Large 23.8″ touchscreen
High-quality speakers
Financing options are available
300-pound user weight capacity
Well-spaced slats on the deck
Tread locks with a passcode to prevent children from using the machine
Knobs to change speed and incline are intuitive
Water bottle holder
Cons:
Not foldable
Expensive at $3,400+
Doesn't have a media shelf
Short warranty
Customer service has a spotty reputation
Is the Peloton Tread Worth It?
The Peloton Tread can be a great option for some, but it isn't the best cardio machine for everyone. Check out who I think should spring for this treadmill and who should leave it behind.
Great for:
People who love interactive programming and on-demand classes
Those who want a large touchscreen
Individuals who are short on time
Not recommended for:
People on a budget
Those who don't care about programming
Ordering and Assembling the Peloton Tread
You can order the Peloton Tread online or in-person at one of the showrooms across the country. My local mall actually has a very nice showroom where you can try the Bike, Bike+, and the Tread before you purchase. However, the financing options offered online make it enticing to make your purchase over the web. If you qualify, you can pay as little as $67 per month with 0% APR for 43 months.
There isn't an option to assemble the Tread yourself––shipping and professional delivery are included in the purchase price.
A Pelo-Ton of Fun on the Tread
Although I am the self-proclaimed queen of treadmills (and a Peloton app lover), I could think of one person who is more obsessed than me with the Peloton experience: friend of GGR Dawn Chapman. Dawn has completed over 1,500 workouts combined on her Tread and Bike, which blows my 200 on the app out of the water. Who better to speak on the Tread than someone who uses it every single day?
"I love how sturdy and durable the Peloton Tread is," Dawn explains. "I've had several other treadmills in the past and this one surpasses the others on every level. I purchased the Tread in December of 2018. It's the best piece of exercise equipment I've ever owned."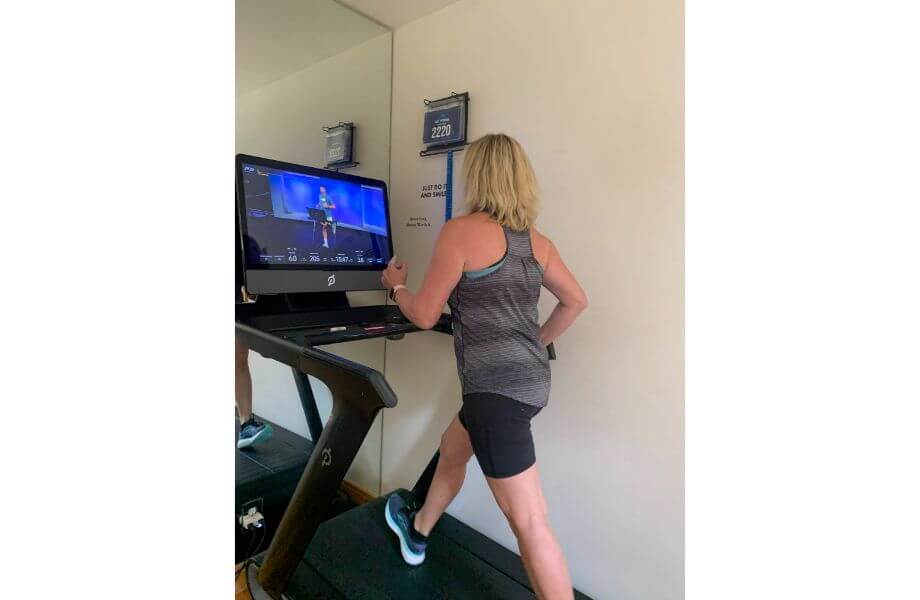 I've used the Tread myself and I do agree that it is a sturdy machine with a nice design. The shape of the handlebars reminds me of the AssaultRunner Elite, although the Tread is motorized. According to the Peloton website, the handlebars are made with "Carbon steel with soft-touch coating," which feels durable. Plus, the well-spaced slats are also reminiscent of those on the Elite. This is a feature that can help the user improve their running form, since they are forced to use the correct step pattern.
Although neither Dawn nor I have had issues with the Tread shaking while being used, other reviewers have when setting the machine on carpet. I'd recommend placing your Tread on a hard surface or purchasing a treadmill mat to steady your machine.
The Peloton Tread is surprisingly easy to operate, and I think most individuals would quickly figure it out. I like that the controls are uncomplicated, and you simply turn a dial to increase or decrease your speed and incline.
Speaking of speed and incline, both have options between 0-12.5 MPH and 0-12.5 percent respectively. This is pretty standard and would allow you to complete a variety of workouts, including the popular 12-3-30.
At 59 inches, the deck length itself is also a pretty average size, albeit one inch smaller than the industry standard. This won't make much of a difference in most people's running stride unless you're super tall, but I thought it was worth pointing out.
Peloton Tread Construction
Frame
Like many other higher-end treadmills, the Peloton is not foldable. This will definitely limit who will be able to purchase this machine since it cannot be compacted in any way. If you're okay with leaving it out all the time or have a designated home gym, this might not matter to you. However, for those in a condo or apartment, the Tread may not fit properly into your space.
Peloton claims the Tread has a "compact footprint", but I would disagree. A compact footprint (to me) looks like foldability and the Tread doesn't have this feature. Plus, the tread is close to 300 pounds. Treadmills that are compact don't weigh anywhere near this amount.
Deck
The Peloton Tread's deck is 20 inches wide by 59 inches long, which is just about the industry standard for treadmills.
Cushion
The Peloton Tread does not have a cushioned deck.
Belt
Although the deck is not cushioned it does have a shock-absorbing belt that reduces joint impact and increases stability.
Side rails
The side rails are not textured like you see on some treadmills, which could be a problem if too much sweat accumulates on them. We'd recommend wiping them down every now and then to ensure safety.
Motor
The Peloton Tread has a 3.0 CHP motor, which is about the industry standard and should last several years with little to no maintenance.
Peloton Tread Spec
| | |
| --- | --- |
| Dimensions | 68" L x 33" W x 62" H |
| Screen | 23.8″ touchscreen |
| Running surface | 20" W x 59" L |
| Weight | 290 lbs |
| Max Weight | 300 lbs |
| Max Speed | 0 to 12.5 mph |
| Motor | 0 to 12.5 mph |
| Incline and decline | 0 to 12.5% |
| Connectivity | WiFi and Bluetooth |
Peloton Tread Console
The technology aspect is where the Peloton Tread shines the brightest.
Screen
A 23.8-inch touchscreen comes standard with the Tread and high-quality speakers frame the display. In my experience on the Tread, I was impressed with the sound emanating from the front-facing stereo speakers. It really helps hammer home the feeling Peloton is known for creating with their classes––a boutique exercise experience.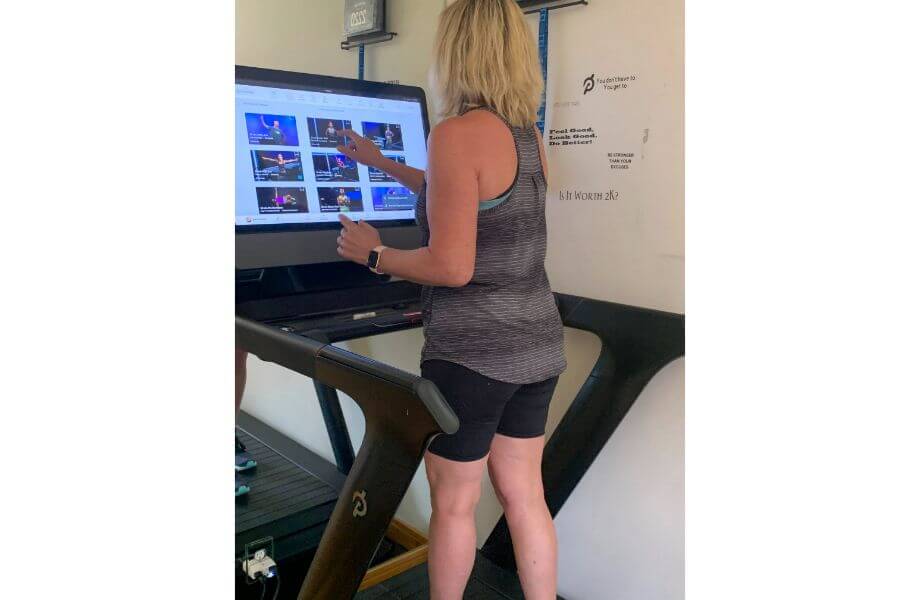 If you have an Apple Watch, you'll be able to connect it to the screen of the treadmill to view your heart rate. It also tracks your workout as you're doing it without you having to actually select the type of exercise you're doing on your watch. I think this is a super convenient feature that a lot of people will find useful.
Although the Tread does have a cup holder, you won't be storing any of those chunky Nalgene water bottles from your days as a YMCA camp counselor in it––she's thin. It is also worth noting that there isn't a device holder or cooling fans. I think this is pretty surprising, especially considering the price. However, there is a small tray that can hold your keys and maybe a pint-sized wallet.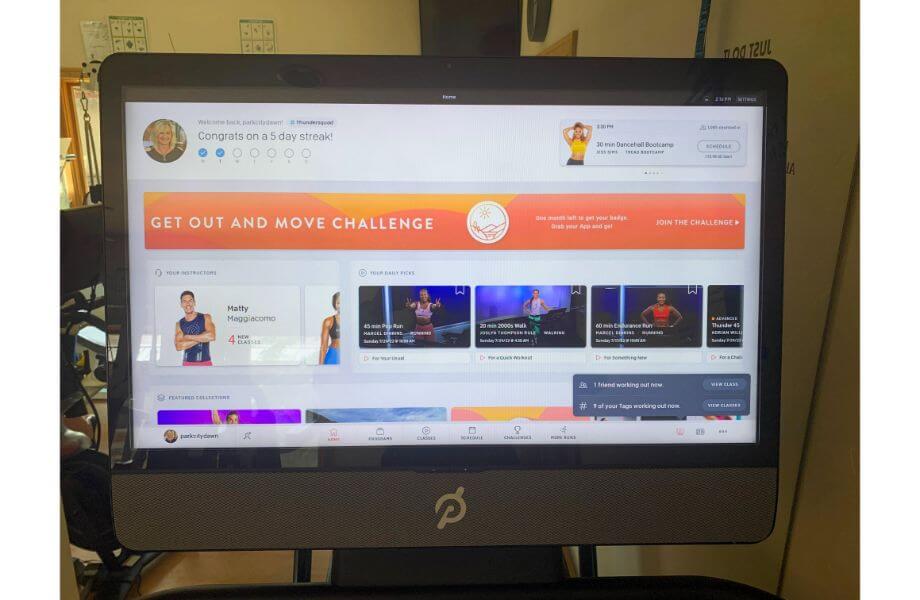 Peloton Classes and Peloton App
Although I don't own the Tread myself, I do use the Peloton app on my phone, which I love. If you're just using the app on your phone, the price is $12.99. However, if you own the Peloton Bike or the Tread, you'll have to pony up $44 a month for programming. You do get additional features, but I don't love the price disparity between the two options. Regardless, most people that purchase the Tread want to use it for the programming, so this may not bother you.
The main differences between the Peloton app and the regular programming have to do with the integration and ability to interact with other members. You'll be able to see all of your metrics on the screen as you complete a Tread class, versus if you were using a non-Peloton treadmill and your app. You'll also be able to view a leaderboard, give other participants high-fives, and join groups that match your interests. A lot of people enjoy Peloton for the community aspect, which was especially popular during COVID when many of us couldn't workout with others in-person.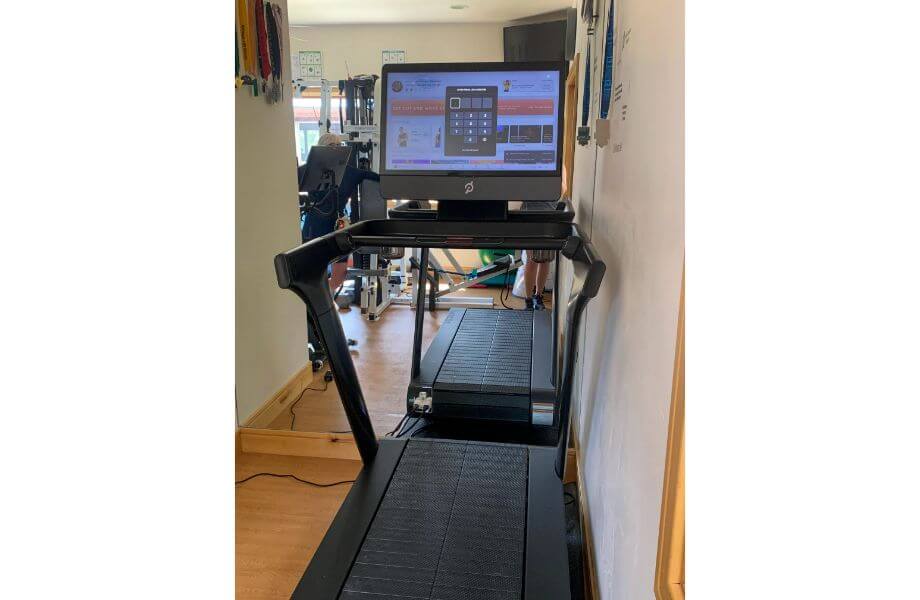 Classes Offered
Although the Tread is the main focus here, there are a variety of classes (on-demand and in real-time) that you can take both on and off the machine. Check them out:
Strength training
Yoga
Boxing
Meditation
Outdoor running
Cycling
Stretching
Tread bootcamp
Bike bootcamp
Walking
Running
"I really like the option to take live classes, but I prefer taking a class anytime I feel like it on-demand," Dawn explained.
Peloton Tread Price
The Peloton Tread varies in price depending on what package you purchase, with the most basic starting at $3,495 and the Ultimate package being $3,820. An all-access subscription to the Peloton app costs $44 per month.
Customer Service
Customer service with Peloton seems to be wildly hit-or-miss. Dawn has only interacted with a representative once and had a good experience.
"I really haven't had to use customer service much because I haven't had problems," Dawn explained. "I did upgrade to the larger monitor when it became available and customer service was excellent. It was easy and quick."
However, GGR has actually had the Peloton Tread sitting in our testing facility for months. After receiving the Tread, it wouldn't turn on at all, and it took customer service a while to come out and fix the problem (or so we thought).
Even after they replaced the screen, the machine still wouldn't turn on. It has been over six months since we initially received the treadmill without the brand remedying the situation. This is our personal experience with our Tread, and based on reviews, others have also had trouble getting the brand to fix their machines.
Warranty-wise, the Peloton honestly misses the mark. The industry standard for a treadmill frame warranty is 15 years to life, and the Tread only offers five years. Although Dawn hasn't had issues with the durability of her Tread, I wonder if they will pop up with time. This may sound harsh, but for the starting price of $2,700, I would expect Peloton to hit industry standards for the warranty offered.
Luckily, if you don't love your Peloton after trying it for 30 days, the company will refund your entire order and pick the Tread up for free. This is an excellent perk, because most companies will only allow you to return the machine if you haven't used it (and you're generally on the hook for shipping costs).
Peloton Tread vs NordicTrack Commercial Series X32i vs. Bowflex Treadmill 22
The Peloton Tread isn't the only high-end treadmill on the market. Both NordicTrack and Bowflex offer machines equipped with large touchscreens and interactive programming. I thought it would be interesting to do an in-depth look at the similarities and differences between the Peloton Tread, the NordicTrack Commercial X32i, and the Bowflex Treadmill 22. Take a look at the specs:
The Basics
| | | | |
| --- | --- | --- | --- |
| | Peloton Tread | NordicTrack Commercial Series X32i | Bowflex Treadmill 22 |
| Price | $3,495 | $3,999 | $2,699 |
| Size | 68" L x 33" W x 62" H | 76.5" L x 40" W x 73" H | 85″ L x 39.6″ W x 70″ H |
| Weight | 290 lbs | 462 lbs | 336 lbs |
| Motor | 3.0 CHP | 4.25 CHP | 4.0 CHP |
| Running belt | 20" W x 59" L | 22" W x 65" L | 22″ W x 60″ L |
| User capacity | 300 lbs | 300 lbs | 400 lbs |
| Max speed | 0 to 12.5 mph | 0 to 12.5 mph | 0 to 12 mph |
| Incline and decline | 0 to 12.5% | -6% to 40% | -5% to 20% |
| Folding | No | No | Yes |
Comfort
| | | | |
| --- | --- | --- | --- |
| | Peloton Tread | NordicTrack Commercial Series X32i | Bowflex Treadmill 22 |
| Cushioned deck | No | Yes | Yes |
| Fans | No | Yes | Yes |
| Media holder | No | No | Yes |
| Water bottle holder | Yes | Yes | Yes |
Tech
| | | | |
| --- | --- | --- | --- |
| | Peloton Tread | NordicTrack Commercial Series X32i | Bowflex Treadmill 22 |
| Display | 23.8" HD touchscreen | 32" HD touchscreen | 22" HD touchscreen |
| Programming | Yes; $44 per month (Peloton) | Yes; $39 per month (iFIT) | Yes; $19.99 per month (JRNY) |
| Bluetooth | Bluetooth 5.0 connectivity | Bluetooth headphone connectivity | Bluetooth enabled for smart devices and heart rate monitors |
| Heart rate monitoring | Yes | Yes | Yes |
| Speakers | Yes | Yes | Yes |
| Wi-Fi | Yes | Yes | Yes |
Policies
| | | | |
| --- | --- | --- | --- |
| | Peloton Tread | NordicTrack Commercial Series X32i | Bowflex Treadmill 22 |
| Financing | Yes; $63/mo for 43 mos at 0% APR | Yes; $98 /mo0% APR for 39 mos | Yes; $150/mo for 18 months |
| Frame warranty | 5 years | 10 years | 15 years |
| Motor and belt warranty | 3 years (motor and belt) | 2 years (parts) | 15 years (motor) |
| Components warranty | 1 year | 1 year (labor) | 2 years (labor) |
Customer Reviews of the Peloton Tread
The Peloton Tread has over 650 reviews with an average rating of 4.7 out of 5.
Happy customers reported that they love the programming, speed and incline knobs, and overall integration between the app and the machine.
"We've had the Tread now for two weeks and so far we are very impressed," pleased customer James explained. "The Tread is very comfortable and feels solid; I have no worry running at speed on this and it feels better than many of the gym treadmills I have used in the past. The screen is excellent and the overall design is very ergonomic. Setting up profiles is easy and is seamless to switch between when using the Tread."
On the other hand, there were a few less-than-thrilled Tread purchasers. Most complaints revolved around customer service issues or the machine not working properly.
"The Tread died after about a week," customer Anand Parikh said. "It's been 2 weeks of back and forth with customer service, which proved to be useless. Decided to return it, as we're in the 30-day window and buy an entirely new one."
Final Verdict of our Peloton Tread Review
The Peloton Tread can be an excellent investment for the right buyer. If you enjoy interactive programming or feeling like you're in a boutique fitness studio, the Tread will appeal to you. If you're into making up your own workouts or don't care much about the offered classes, there are other treadmills that will fit your needs better for less money.
Peloton Tread Rating
Peloton Tread
Curious about one of the hottest cardio machines? Check out our Peloton Tread review to get the 4-1-1.
Product Brand: Peloton
Product Currency: $
Product Price: 3625.00
Product In-Stock: InStock
Peloton Tread FAQs
Is a Peloton Tread good?
If you already love Peloton programming (or just guided programming in general), I think the Peloton Tread could be worth it for you. However, if you're not really a tech-y person or prefer to do your own thing on the treadmill, you might not love this machine.
Related: Check out our Peloton Guide review.
Can you watch Netflix on Peloton Tread?
Does Peloton Tread have a decline?
No, the Peloton Tread doesn't have a decline. It does have an incline that ranges from 0 to 12.5%.
Can you just run on the Peloton Tread?
Use, there is a feature in which you can just run on the Peloton Tread without a Peloton subscription. However, if you're looking for a treadmill just for running there are much more budget-friendly options out there.