We test and review fitness products based on an independent, multi-point methodology. If you use our links to purchase something, we may earn a commission. Read our disclosures.
Many people dislike the treadmill, but could it be a misunderstood creature? Perhaps we need to remember all the benefits of running on a treadmill and learn to work with the machine, not against it.
The team at Garage Gym Reviews is excited to share seven running on a treadmill tips so your next cardio workout can be as pleasant, secure, and successful as possible. I'm a former NCAA D1 athlete, so you know I know a thing or two about running on the treadmill.
1. Make Time to Warm Up (and Cool Down)
I know it can be tempting to hop on the treadmill without warming up, but you're missing out on a better run. A recent study showed that warming up before running "can improve RE (running economy) in healthy adults." Running economy is essentially how your body is using energy in regard to your oxygen consumption. In layman's terms, you may be a more efficient runner if you complete a proper warm-up ahead of getting your sweat on.
Cooling down is important, too—give your body time to return to its resting state by transitioning from a run to a walk before hopping off completely. Make sure to stretch, foam roll, or take a massage gun for a spin on your legs afterward as well.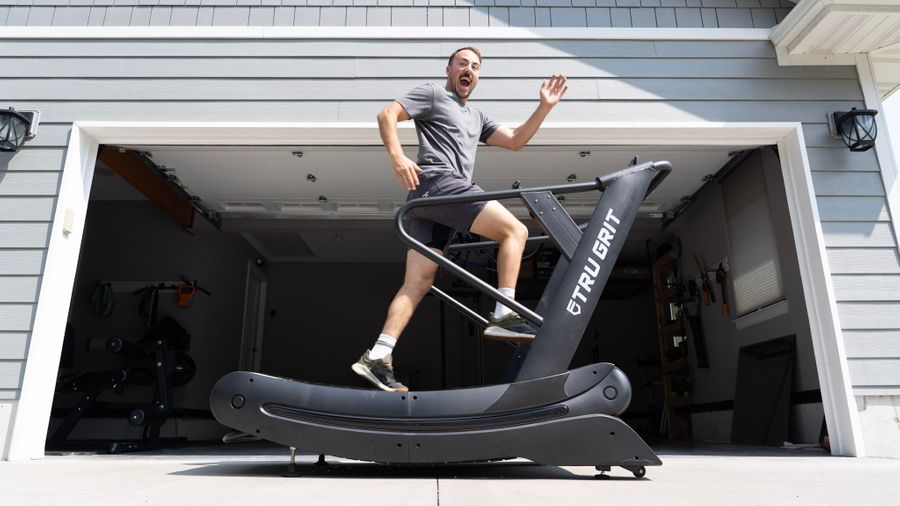 2. Know Your Treadmill Features
Depending on the type of treadmill you're using, there might be a variety of features you're underutilizing (or not even using at all) Here are some fun extras to check for:
Preset programs: Tired of trying to figure out your own treadmill workout? Some treadmills come equipped with excellent preset programs for the user to just click and go. I've commonly seen HIIT, calorie burn, heart rate-focused, and hill workouts on a variety of budget, mid-range, and higher-end treadmills.
Heart rate monitor: Some of the best treadmills come with chest strap heart rate monitors, so don't forget to check! Even those that don't come with a free heart rate monitor may come with a pulse monitor on the inner set of handlebars. However, I wouldn't put too much stock into what they say because they are known to be a bit inaccurate. However, it can still be interesting to see an estimate.
Bluetooth connectivity: Even some treadmills that don't have a touchscreen may have Bluetooth connectivity. You may be able to sync your smartphone to the treadmill and play your music over the machine's speakers.
Cooling fan: Make sure to utilize your cooling fan (if your treadmill has one). It can be an excellent way to dry sweat from your forehead or neck after a particularly hard interval.
Adjustable cushioning: Treadmills like the NordicTrack EXP7i have adjustable deck cushioning, which means the user can switch between a harder or softer surface. This is helpful for treadmill runners who want to be able to simulate the conditions of outdoor running.
3. Stay Hydrated
Whether you're prepping for a half marathon or just another interval workout, hydration is a key part to feeling and performing your best. Think of your body as a car. If you don't put gas in it your car won't work. The same goes for your body. Without the needed hydration (and nutrition for that matter), you'll have trouble throughout your run.
My personal trick for staying very well hydrated is to have a massive water bottle in-hand at all times. I'm talking 64 ounces of water in my giant Yeti that I refill multiple times a day like a psycho. My friends even call it my "emotional support water bottle." Get yourself your own emotional support water bottle so there will be no doubt you're prepped and ready for race day (or just another Tuesday run).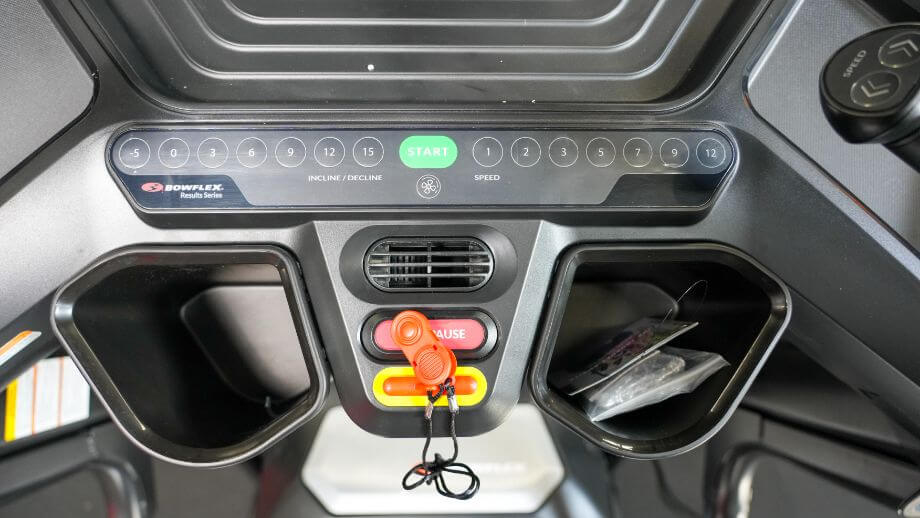 4. Practice Good Running Form
When running on the treadmill, it is important to practice good form. I routinely see people hunched over the machine, with their hands gripping the handrails. No wonder people have so much back pain!
My tips: Make sure to stand up straight, don't look down, and activate your upper body by swinging your arms through the shoulders to propel yourself throughout your run. People naturally want to swing their arms from side to side when running, but you're actually making it harder for yourself.
Not sure if you're striking your foot properly during your run? Consult with a running coach (either virtually or in-person) for a professional opinion. This knowledge can set you up for many years of safe running.
5. Listen to Music
Studies have shown that listening to music while you workout can actually make you want to exercise for a longer period of time. Not sure what music to listen to? Check out the best workout playlist on Spotify to find your new favorite tunes.
It can be tempting to revel in the silence (especially if it's the first time you've been alone today), but you'll likely push yourself more on the treadmill if you're listening to upbeat music.
Not really into music? Consider checking out the latest episode of your favorite podcast or a new audiobook. Although there aren't studies saying these have the same effect as listening to music, it can be nice for your mind to have something else to focus on other than the "dreadmill".
6. Mix it Up
Some running workouts on the treadmill can feel monotonous and boring, which is why switching it up is important. An easy pace for 45 minutes might be the ticket one day, and the best option the next day could be a 20-minute interval-training session.
Mixing it up is important to prevent burnout and overuse injuries. Certified personal trainer (and GGR writer) Anthony O'Reilly agrees.
"Working the same muscle group everyday can increase your risk of injury," Anthony explains. "You don't need to run on the treadmill each day to see results. In fact, incorporating regular strength training (and rest days) into your workout routine is still very important, even for people who consider themselves primarily runners."
7. Utilize Incline
To simulate running outdoors, add one to two levels of incline to your treadmill run. This will account for the wind resistance you'd experience outside.
Adding more incline can also be another great way to push yourself and get additional lower-body activation. The popular 12-3-20 workout is also an excellent way to get the benefits of incline training without running (if walking is feeling like the right move today).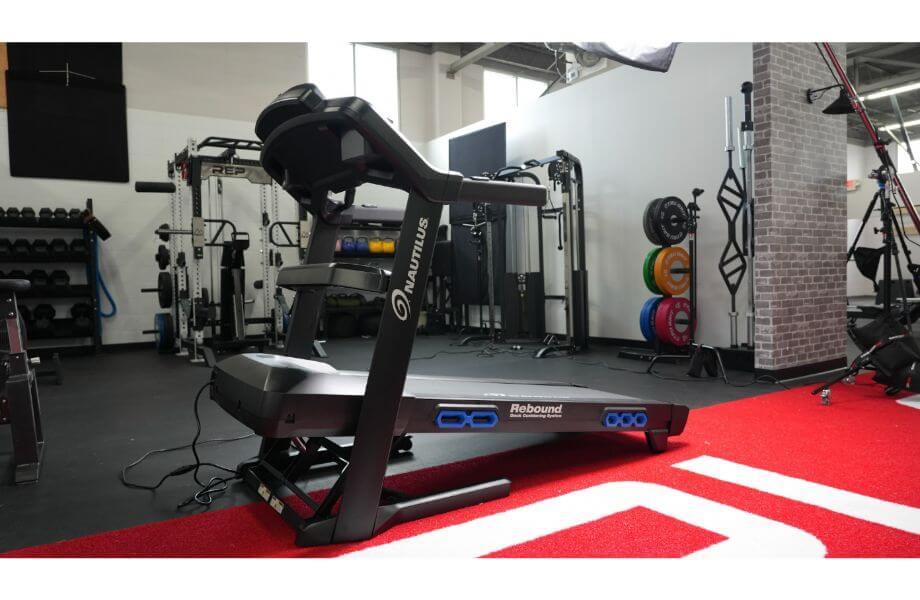 Running On a Treadmill Tips FAQs
How can I get better at running on a treadmill?
Just like anything else, the more you do something, the better you get at it. Running on a treadmill is no different––continue to show up and focus on your form.
Is running on the treadmill for 30 minutes good?
This all depends on your personal goals. If you are a beginner who is starting out, running on a treadmill for 30 minutes is excellent. For a more experienced runner, this may not be enough. Evaluate your own fitness level and find a pace, time, and incline that works for you.
What should beginner runners know about running to become a better runner?
Practice makes progress! Be consistent, but be smart about your personal limits. You don't need to kill yourself every single time you step onto a treadmill. Start slow, and work your way up. This is the best way to avoid potential burnout and avoidable frustration.