We test and review fitness products based on an independent, multi-point methodology. If you use our links to purchase something, we may earn a commission. Read our disclosures.
I have been using barbells, dumbbells, and other typical strength training equipment for most of my life because that's the way I personally like to train. Weight training isn't the only way to stay fit or get strong, and I like to shake things up from time to time.
That's why I was so excited to do this FightCamp review. For those who don't know, FightCamp is a kickboxing-inspired smart home gym system that trains you to float like a butterfly and sting like a bee. It's a fun and innovative way to burn some calories and build muscle without having to step into a ring that I think a lot of people would enjoy.
The first rule of FightCamp is you can absolutely talk about FightCamp, and that's what we're here to do today. (The second rule is the same as the first).
Why You Should Trust Us
I truly believe smart home gym equipment is the future of this industry, and while there are still a few kinks that need to be worked out with some of them, there will come a time when devices like FightCamp will be in more home gyms than not. That's why I've made it a point to test out products like Tonal, Future, and Tempo Studio, so I can get a sneak peek at the future of this industry.
A Quick Look at FightCamp
FightCamp
Product Highlights
Intuitive app
Engaging workouts
High production value
Can use your own boxing gloves
Pros & Cons
Pros
Fun, engaging workouts
Can use your own gloves and punching bag
High-quality production value
Easy set-up
Cons
$39 monthly subscription fee
Must use TV to stream workouts
Trackers miss some punches
Bottom Line
FightCamp is a fun and interactive way to work on your conditioning, and is a great option for those in small spaces. 
Depending on your space and personal training preference, FightCamp comes in two options: Trackers and Trackers + Bag. The Trackers package comes with one pair of hang wraps and punch trackers, which record your jabs through a smartphone app, and the Trackers + Bag comes with that and a free-standing punching bag. The bag is fun to hit if you have the room and money for it, but not necessary.
FightCamp used to offer a package that included boxing gloves, but that is now a separate accessory that you can purchase for $150 ($50 for kids gloves). The boxing gloves aren't necessary but if you're training for boxing or want to protect your hands as you hit the bag, they might be a worthy investment.
The app comes with more than 1,000 workouts led by professional boxers and kickboxers, all of whom have an impressive resume in the squared circle and Octagon. The workouts are advertised as HIIT-style (high intensity interval training) that's similar to a boxing fight, in that you'll be working hard for three minutes each round and resting for 60 seconds in between.
RELATED: HIIT Treadmill Workout
Coop's Tips:
If you purchase the punching bag and base you need to find a way to load it with several hundred pounds of water, sand, or both.
Have your own punching bag and gloves? The trackers and workouts will work with them, too.
My Favorite Things:
Amazing production value, fun programming, and engaging workouts
The bag, wraps, and gloves feel high quality for the price and should last a while
Intuitive app
Clear instructions and easy setup (outside of loading the base with 260 pounds of sand)
My Callouts:
$39 monthly subscription fee is a bit high, in my opinion
You have to stream your workouts to a TV to follow along easily
There are many complaints of the trackers missing punches (which happened to me a few times, but not enough that it was a big problem)
Is FightCamp Worth It?
FightCamp starts at just under $99 for just the hand wraps and trackers and is $499 for the trackers and punching bag. The workouts are incredibly fun, so much so that I didn't feel the need to tap out even though I had enough sweat to warrant putting down a "Wet Floor" sign before I was finished.
The hardware is also of good quality and should last you a while, so long as you take care of them. The gloves and bags aren't professional quality but they're great for the price. In terms of software, the app is easy to use and the punch trackers are mostly accurate.
My main issue is with the monthly subscription fee, which is standard with most smart home gym equipment. FightCamp is $39 per month, which is less expensive than other plans (Tonal, for example, is $49 per month), but I think those provide a better value than this.
RELATED: Tonal review
That's just my opinion, though, and if you're a boxing or fighting fanatic, you may find that it's worth it.
Great for:
People who want to learn boxing or kickboxing outside of a group environment
Anyone who wants to switch up their training style
Those in small spaces who want an innovative way to workout
Not recommended for:
Anyone on a budget who doesn't want to pay a monthly subscription fee
Those exclusively focused on strength training
FightCamp Specs
FightCamp Trackers
FightCamp Trackers + Bag
Price
$99
$499
Comes With
Punch Trackers,
Quick Wraps
Punch Trackers, Quick Wraps, Free-Standing Bag
Subscription Fee
$39
$39
FightCamp Punching Bag
N/A
67" H x 24" W (fully assembled)
Squaring Up With FightCamp
While I'm not much of a fighter (I know, you're shocked at that), I do like the sports of boxing and mixed martial arts, and they're also two great ways to stay in shape.
Seriously, just try to hold your hands in front of your face for three minutes moving around the whole time and you'll experience one of the most grueling cardio workouts.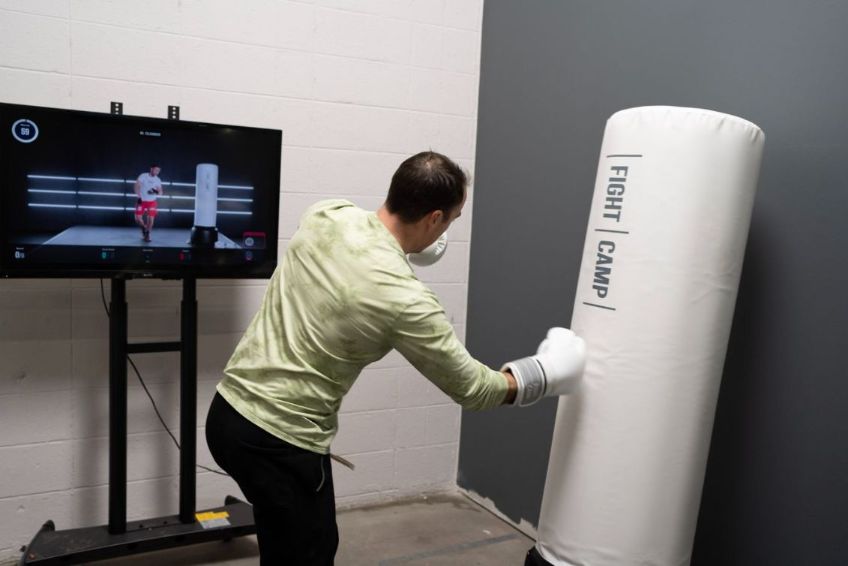 After you set up FightCamp you get to choose from more than 1,000 different on-demand workout classes, which you can access through the FightCamp app, with more added to the library each week. You can choose from different boxing workouts that focus on speed, power, increasing your punching rate, full-body workouts, or even just learning the basics.
I'm not someone who enjoys group boxing classes, and so it was great to feel like I was in a boxing gym while still being able to workout from the comfort of my own home.
The quality and production value of the workout classes are top-tier, and it's clear the instructors know what they're talking about. Being able to follow along with them in real time keeps it truly interactive, and it's a great way to learn how to defend yourself (which is something everyone should learn).
My only beef is that you need a TV to stream the workouts. I imagine most people will probably set this up in their living room or bedroom, but that can present a problem if your partner or roommate is looking to continue their Netflix binge. I do wish there was a more convenient way to follow the instructors throughout each class.
The punch trackers, which are placed inside the quick wraps, are not unlike any other kind of fitness tracker: they count how many times you throw a punch, and follow your intensity and output. I like this idea because it can inspire people to try to beat their prior record, and it shows how far you've progressed.
As far as the punching bag, it's a fun addition and seems pretty durable. You can make it heavier by adding water, sand, or both, and obviously that takes a bit of work but thankfully it only needs to be done once (until you need to move it somewhere else). If you have a heavy bag at home the workouts will work with that, too (same goes for the gloves and wraps).
FightCamp App
Another smart home gym device, another app. The FightCamp app was once only available on the iOS app store for iPhones, but they've since come out with an Android version.
The app is primarily designed to help you access the classes, and connect the Bluetooth punch trackers to the app to count your punch count–some workouts have punch goals, where you have to get a certain number of jabs in during the class. Sounds easy, but trust me it's not.
One cool feature is the FightCamp leaderboard, which, just like Peloton, shows how far ahead different users are in their categories. It's always fun to see yourself rise in the rankings, and there have been studies that show things like leaderboards can actually increase exercise adherence.
If you have an Apple device, you can also stream your favorite playlists during the FightCamp workouts. Since you need to hear what the instructor is saying, wearing headphones isn't always realistic, so I think this is a great feature that just makes it that much more enjoyable. Android users have to choose from the radio stations FightCamp offers, but there's bound to be one that fits your mood.
The app is also how you get the classes onto your TV using AirPlay for Apple devices, or the Google Home app for Android users. Some reviewers have found a way to stream their classes onto an iPad rather than a TV.
Great for Small Spaces
In my opinion, FightCamp is a great way to get a home workout in for those looking for compact equipment, or anyone living in apartments. This is especially true for those who just opt for the punch trackers and wraps, as you don't need any other equipment and it'll just be like shadow boxing.
If you get the bag, it's 67 inches tall once assembled, and the base is 24 inches wide, so it should be able to fit in a corner without getting in the way while not in use.
Ordering and Assembling FightCamp
My FightCamp package was easy to order, and everything arrived in great shape. The bag took no time at all to assemble, with the exception of loading it up with more than 250 pounds of sand to make it heavy. Just try to think of it as a warmup.
The punch trackers need to be connected to the app via Bluetooth, but that was actually pretty easy. There are tutorials on FightCamp's website on how to do all of this if you need help, though.
Returns, Warranty, and Financing
FightCamp does offer a 30-day return policy for all its products but it must be approved by the company before you're issued a refund (minus any shipping fees). The product must also be in good condition.
There's a one-year warranty on all its products, which only covers manufacturing defects. That's better than nothing, and I don't see the bag, gloves, or anything else breaking unless they're put through continually heavy use.
You can finance your purchase through Affirm if you want to pay in monthly installments.
Customer Reviews
FightCamp's website has no place to leave a review, so I imagine the ones posted on their website are emailed by customers. The ones posted there are all positive, and most reviewers raved about how it helped them achieve their fitness goals.
Final Verdict of Our FightCamp Review
I absolutely loved the FightCamp experience, and I'd recommend it to anyone looking for a way to change up their home fitness routine. It's more engaging than a treadmill, and if you already have some boxing equipment or don't think you need it you can just opt for the FightCamp basic package.
For most people, I think the main dilemma is whether they find the $39 monthly subscription fee to be worth it. If you're someone who's mostly into strength training, like me, the answer will probably be no, but I know there's people out there who may greatly enjoy everything it has to offer. I will say, there are few forms of conditioning that are as fun as boxing. It's a workout that can increase your heart rate tremendously and you wouldn't even feel like you were working out.
FightCamp
FightCamp is an interactive home gym centered around kickboxing-inspired workouts that's great for small spaces.
Product Brand: FightCamp
Product Currency: USD
Product Price: 1219
Product In-Stock: InStock
FightCamp Rating
FightCamp FAQs
Can you lose weight with FightCamp?
FightCamp combines cardio and bodyweight exercises: you are throwing punches, kicks, and combos after all, so it's a great way to burn calories and work on your conditioning.
Can you use FightCamp without a subscription? 
Technically, yes. There's nothing stopping you from doing your own home boxing workouts, but one of the main attractions of FightCamp is their classes designed and led by professional fighters, and to get that you must pay the $39 monthly subscription fee.
Can I use FightCamp with my own bag? 
Yes, you can! FightCamp tracks your punches through trackers secured in the wraps, so it doesn't matter what you're punching (you can also not punch anything at all, if you want). 
Is FightCamp good for beginners? 
FightCamp has hundreds of classes for beginners looking to learn boxing, kickboxing, or just work on their conditioning.