We test and review fitness products based on an independent, multi-point methodology. If you use our links to purchase something, we may earn a commission. Read our disclosures.
When I think of taking a cold plunge, I envision myself somewhere in the backcountry of the Mountain West, swapping between natural hot springs and icy flowing rivers. Unfortunately, my home base does not allow for such glorious activities, and that's where tools like the Ice Barrel come in.
The Ice Barrel is a cryotherapy tool designed to make cold plunging more accessible and easy to do. But does it actually do that? In our Ice Barrel review, you'll find out.
Cold Plunging for the Good of the Public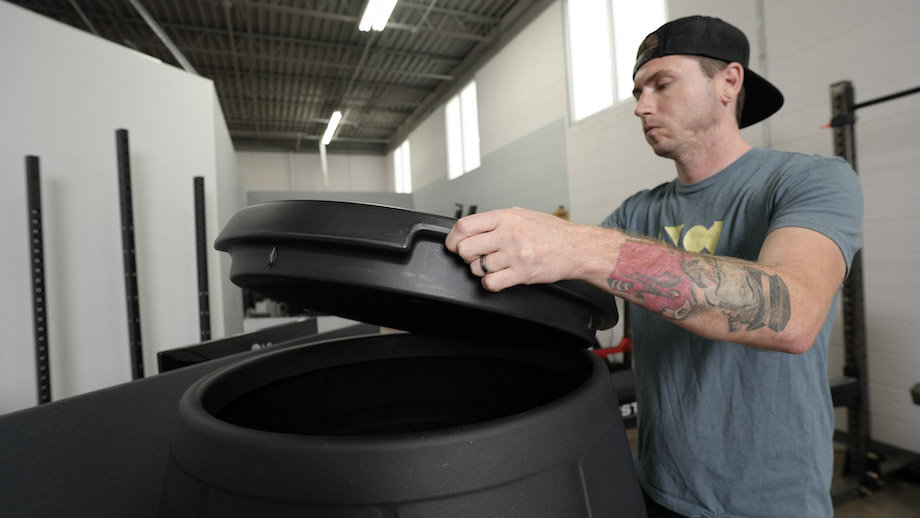 If you've ever taken a cold plunge, you know it's unpleasant. (If you think cold plunging is pleasant, I'm scared of you.) Anyway, Coop has taken the brunt of our cold therapy experiments, first dipping into the Cold Plunge Tub and now the Ice Barrel. Lucky for you, that means we have insider insight into these workout recovery tools and you can pick our brains before spending your cash and willingly freezing yourself.
Ice Barrel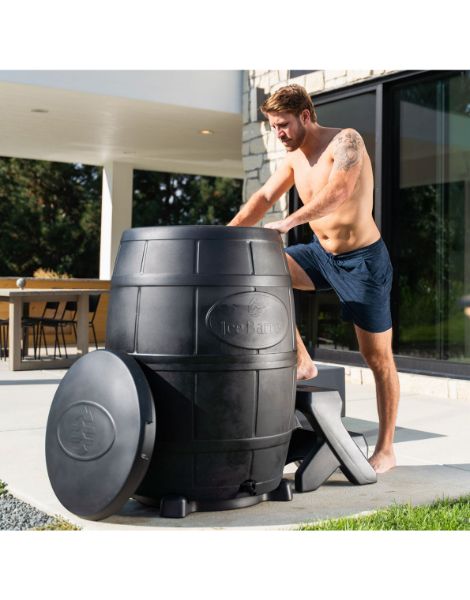 Ice Barrel
Ice Barrel is a cold therapy tool to bring ice baths to your home. The Ice Barrel team recommends you spend 5 to 10 minutes in a combination of water and ice at 60 degrees Fahrenheit to at least your abdomen, claiming that ice baths can improve post workout recovery.The Ice Barrel generally needs to be filled with 40 to 100 pounds of ice to achieve the appropriate temperature. Once filled, the barrel can maintain its temperature for one to three days depending on the surrounding environment. Ice Barrel shares that the barrel is best for users under 6 feet, 5 inches' and 250 pounds.The barrel is designed so that you can sit in an upright position while taking your ice bath. The Ice Barrel is created with food/medical grade polyethylene, using rotomolding technology to create a strong and sturdy barrel that will hold up over time. The barrel weighs 55 lbs when empty and 750 lbs when filled with 80 gallons of water. The barrel has an easy-flow drainage system that can connect to any standard garden hose.Reviews of the Ice Barrel are generally positive. People enjoy taking ice baths in an upright position. Many reviewers found that ice baths helped to improve their post-workout recovery. They also appreciated the drain spout to make water changes easy. Some people did find it difficult to get into and out of the barrel. They also found that they had to refill the barrel with ice fairly often.
A Quick Look at the Ice Barrel
The Ice Barrel is a big barrel that holds a lot of ice. Clever nomenclature, eh? The company itself is called Ice Barrel, too.
The barrel holds up to 105 gallons of water and has a simple draining mechanism. It's made completely of recycled materials, which I think is a cool bonus. The barrel comes with a lid, fabric cover, stepping stool, and barrel stand, and you can separately purchase accessories such as a maintenance kit, water stabilizer, cleaning brush, and a trapping net.
There's only one color available—all black—and it's made of a dense, durable plastic material.
Related: Best Muscle Recovery Tools
My Tips
Double-check the dimensions of your space to ensure the Ice Barrel will fit.
Triple-check the weight capacity of where you intend to place it; when filled with water, the barrel will weigh 750 lbs plus your body weight.
Pros:
Slender design doesn't take up much floor space
Durable construction
Comes with a lid, step stool, stand, and protective UV cover
Puts your body in an upright position while plunging
Can go inside or outside
Does not require electricity
Cons:
Very expensive for what is essentially a durable outdoor tub
You still have to buy ice to use it
No electric cooling or heating mechanisms
Hard to get into for shorter people
Taller individuals may feel scrunched up
Extremely heavy when filled
Is the Ice Barrel Worth It?
Quite frankly, I wouldn't recommend you spend $1,200 on a glorified bathtub. The concept has merit, but the execution isn't there, in my opinion.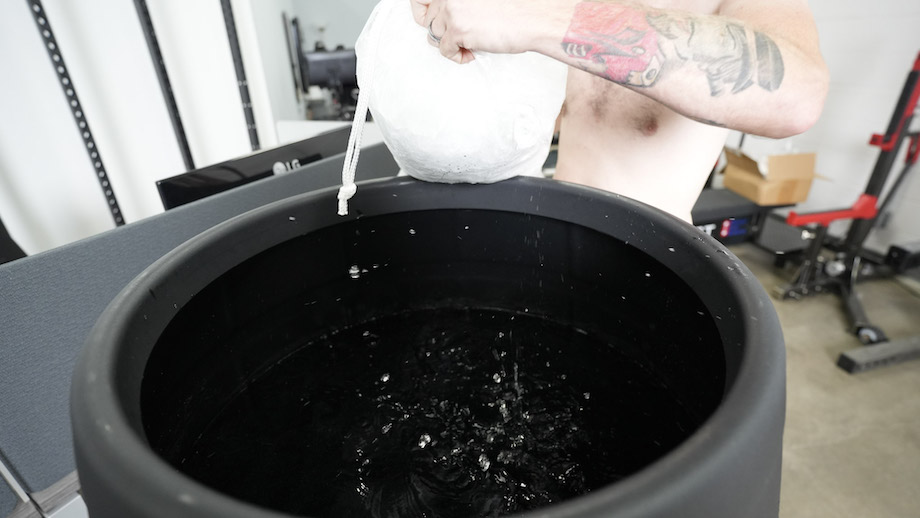 At the very least, I'd like to see more insulation in the barrel itself, as well as more insulation in the UV cover, in an attempt for the barrel to hold the cold temperature for longer.
I live in Florida, and there's absolutely no way the Ice Barrel would hold a true cold plunging temperature for more than a day. Not even in the winter. In the summer, I doubt the temperature would last for more than a few hours.
Add on the yearly cost of ice and water, and you're looking at a very expensive recovery tool whose replacement could just be the bathtub you already have.
Related: Workout Recovery Myths Busted by Pros
Great for:
People who want a dedicated place to cold plunge
Those who don't mind the process of buying ice and filling the barrel
Not recommended for:
People who don't want to buy ice and fill the tub
Anyone who doesn't have a dedicated space that can hold a 750-lb apparatus
People who would prefer to lay back rather than sit upright
Ice Barrel Specs
| | |
| --- | --- |
| Weight (empty) | 55 lbs |
| Weight (filled) | 750 lbs |
| Dimensions | 42" H x 31" W opening x 25" W |
| Accessories | Lid, stand, stool, UV-protective cover |
| Liquid capacity | 105 gallons |
| Materials | Recycled plastic |
| Warranty | Limited lifetime |
Recovery Experience: Using the Ice Barrel
Using the Ice Barrel was, according to Coop, nothing really special.
"It's similar to a normal ice bath as it uses ice," Coop says. "The difference is your seating position, which I definitely prefer as you're upright. In use though, it feels the same as a typical ice bath."
That is to say: You must be okay with the idea of going to the store or a gas station to buy ice, lug it back home, and fill up your Ice Barrel. You may not need new ice every single time you use it, but the temperature won't hold for more than a day or two, unless you live in a very cold climate.
"I think it would be better if it was double-walled, like a big Yeti Cup or something," Coop says, "and had a cooling unit. The fact that you still have to buy ice,\ makes it a lower value than the Cold Plunge in my opinion."
He's not wrong: You're paying almost $1,300 for a big barrel, and then you'd still be spending hundreds, if not thousands, over the course of a year for ice and water.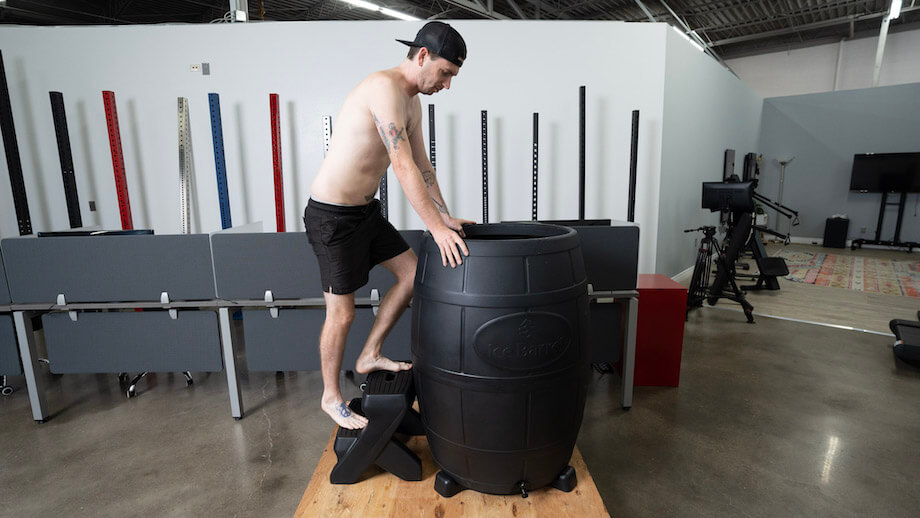 Footprint and Portability
The Ice Barrel is nice in that it doesn't require a ton of floor space. With an opening of 31 inches and a base width of 25 inches, you only need a few feet of space horizontally. Vertically, you'll need to account for the 42-inch (3.5-foot) height, which also shouldn't be a problem for most people.
As for portability, you will definitely only be able to move this when it's empty. When empty, the barrel weighs 55 pounds, but when filled with 80 gallons of liquid, it weighs 750 pounds. Phew!
Durability and Construction
The Ice Barrel is durable, I'll give it that. It's made from a dense recycled plastic. My concern here is cracking, fading, or warping due to UV exposure if you leave the barrel outdoors. The barrel is made of polyethylene, which is a highly used plastic commonly called "resin" in regard to furniture. This is the same material that most outdoor deck boxes and storage containers are made of.
Polyethylene is a highly durable material, but nothing is stronger than the sun over a period of years. I've had many polyethylene storage boxes outdoors that have warped over time. The Ice Barrel does come with a UV-protective cover, so don't forget to slip that on each time you're done using it! You can also spray the barrel with a protectant such as 303 Marine UV Protectant Spray.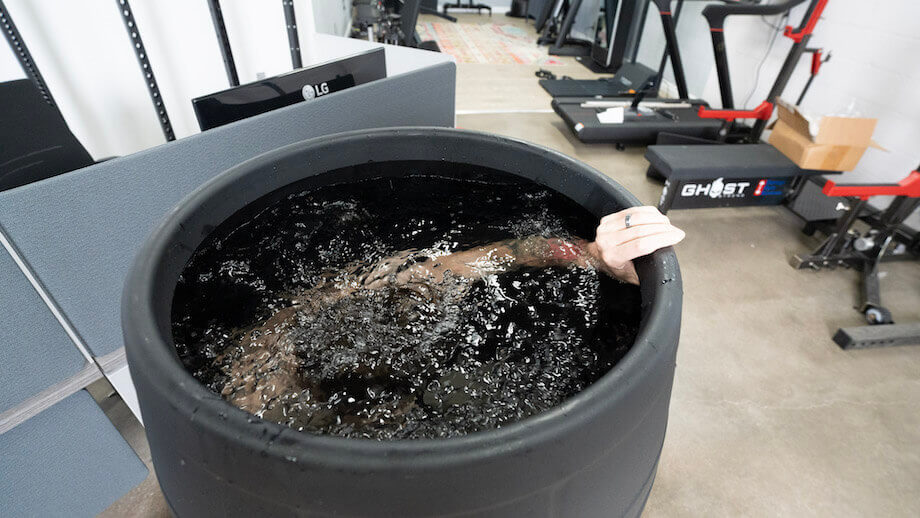 The Ergonomics
Sometimes, ergonomics are objective, and often they are not. In the case of the Ice Barrel, the ergonomics are rather subjective. Due to the shape of the device, you'll be sitting in an upright position with your knees bent.

Some people prefer this because they feel it's easier to breathe with an upright torso. Others prefer to lay back in a lounging, more relaxed position, which isn't an option with the Ice Barrel.
Additionally, the height of the barrel might be problematic in two ways. First, shorter individuals may have trouble getting in and out (although it comes with a stool that can help). Taller individuals may struggle to submerge themselves to the degree that they desire, and they may feel that their legs get too bunched up.
Ice Barrel vs Cold Plunge
Cold Plunge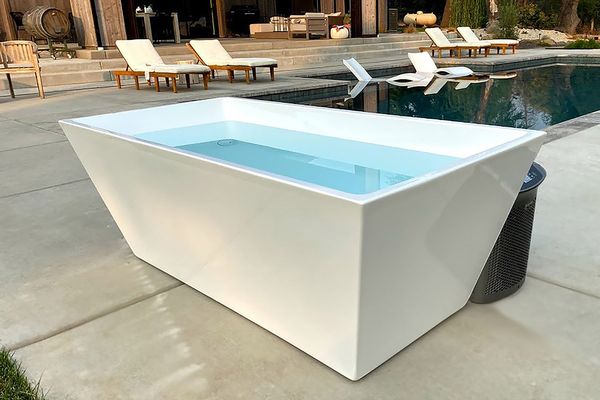 The Cold Plunge
Unless you have been living under a rock, you've heard all about the benefits of cold water immersion therapy for post-workout recovery. Professional athletes have been using it for years and it has steadily become more popular. If you are looking to add this recovery therapy to your routine, look no further as the Cold Plunge may just be for you. The Cold Plunge is an ergonomic tub measuring slightly over 2 feet high, 3-feet-7-inches wide, and 5-feet-7-inches long.  It weighs 150 pounds empty and 1,000 pounds when filled with water, so be sure to set this up in an area that can support that weight. The plug-and-plunge design makes for a very easy set up. Simply find a supported area to keep it and plug it into a GFCI 110 outlet. Filling the tank is seamless with the added water hookup that works with any standard garden hose. Additionally, there is a hose filter that removes any impurities from the water.The Cold Plunge features a cell phone holder, built-in under-water light, ozone sanitation, circular filtration, and a 20-micron filter. It also comes with an insulated spa cover and skimmer net to keep it clean and minimize maintenance costs. It's backed by a 1-year warranty, and you can also purchase an additional three or five years coverage. While this tub is amazing, it is pricey. It is less expensive than other cold tubs on the market, but not many of us have close to $5,000 to drop. If you have the means and are in the market for a cold tub, however, The Cold Plunge is a phenomenal choice.
Coop says it outright: "Cold Plunge, no question."
"With an Ice Barrel, you still have to use ice," he emphasizes. "It's essentially a tub, but it's not double-walled. The Cold Plunge holds the water temp, which removes friction from using the device."
"It's practical for someone who wants to take ice baths and doesn't mind using actual ice," he continues. "The barrel can be stored outside and puts you in a great position during use. You have to climb up a bit, so it's more difficult to get into than Cold Plunge. For me, I'd choose Cold Plunge no doubt. I wouldn't use the Ice Barrel as I'd still have to go get ice—and that's just not going to happen often."
On the flip side, the Cold Plunge is also much larger and it requires electricity, so those are two factors to consider when making your decision.
Ice Barrel vs a Normal Ice Bath
Using the Ice Barrel will give you the same experience as a regular ice bath in any other apparatus, except for perhaps the seating position. Depending on the apparatus you use—be it a bathtub, a trough, a trashcan, or something else—your posture will vary slightly.
But, other than that, you can expect a typical ice bath experience in the Ice Barrel. You could DIY your own solution for a lot less cash.
Customer Experience
Ice Barrel has a pretty restrictive return policy. It states that the barrel is eligible for a return within 30 days of delivery, with a refund less a restocking fee of 30% of the total cost. Accessories, however, are not eligible for returns outright and you'll have to email returns@icebarrel.com to find out if you can return a damaged accessory.
For other concerns, you can contact Ice Barrel at info@icebarrel.com or through a contact form via the website. They also have a direct phone line and an AI chat function.
The Ice Barrel comes with a limited lifetime warranty: "We guarantee that your Ice Barrel will not crack and will remain free from material defects so long as the barrel is used for its intended purposes and is subject to reasonable maintenance. The warranty does not cover cosmetic issues (i.e. fading, scratches, etc.) resulting from normal wear or dirt, water retention, internal/external surface contamination from exposure to environmental conditions, and inclement weather, including but not limited to storms, tornados, hurricanes, hail, sleet, ice, moisture, rain, flooding, snow, sun, and wind."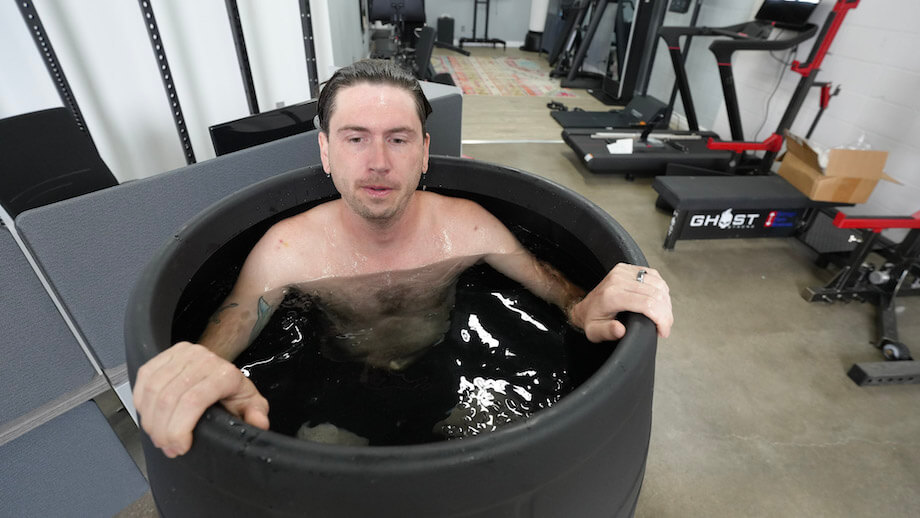 Ordering and Assembling the Ice Barrel
There's no real assembly to be done on the Ice Barrel. It ships in one piece, aside from the accessories. You'll simply have to choose a location, prop the barrel up on its stand, place the stepping stool adjacent, fill it up, and cover it with the lid and UV cover when you're done.
Customer Reviews
There are some really great customer reviews on the Ice Barrel website, but it's pretty clear that these are curated. If you look on a third-party retailer site such as Rogue Fitness or Amazon, you'll see that the majority of customers report exactly what we are reporting here: That the Ice Barrel is too expensive for its properties.
One buyer wrote: "I really wanted this to work as well as the description claims, but it does not. It does not have a complete seal at the top, so bugs and dirt get inside quite easily and this raises the water temperature. It does not hold the cold ice water temperature down longer than just one day. I live in Northern California where it does not get too hot very often. Even during the colder months, I have to refill with ice (four 16-lb bags at a minimum each time) every day if I want to use it everyday. I was hoping because it's so expensive, it would keep the temperature down longer. It does not."
Another, who lives in Florida, wrote: "Super easy to get in and out of but I live in Florida and it's not so hot right now, I would say around 80 degrees and the ice doesn't last–it literally melts instantly 🙁 water stays cold for a few hours but was expecting it to conserve the cold for at least 1 week. Will try to return–don't need it; I can use my bath at this point."
Although the product has an average rating of 3.4 out of 5 stars on Amazon at the time of writing, it doesn't seem that most customers are happy with their purchase.
Final Verdict of Our Ice Barrel Review
We think the Ice Barrel is expensive for what it is, and you can achieve the same result in much cheaper apparatuses, such as a simple metal trash can from your local Tractor Supply store.
The Ice Barrel requires you to buy and transport ice, and it doesn't hold the temperature for very long.
It is susceptible to UV damage, but it comes with a cover to prevent this. It also comes with a barrel stand and easy-to-use drainage system, but it has no filtration mechanism or electric cooling mechanism to keep the contents of the barrel cold.
You'll be seated in an upright position compared to the Cold Plunge or a regular bathtub, in which you can lay back in a lounging position.
Full Rating
Ice Barrel
Read our Ice Barrel review before you buy to find out if it's worth the price.
Product Currency: $
Product Price: 1199.97
Product In-Stock: InStock
Ice Barrel FAQs
What is the Ice Barrel? 
The Ice Barrel is literally a plastic barrel that holds ice for cold plunging. It is a decent but expensive option for a cold therapy training tool.
What are some Ice Barrel alternatives? 
You can replicate an Ice Barrel at home by picking up a new (clean) trash can from your local home goods or outdoors store. There are other ways to engage in cold exposure therapy without plunging, too, such as taking cold showers or using ice packs for localized relief from muscle soreness. The latter methods may be better options for beginners. 
Is cold plunging good for you? 
Sure, cold plunging can be good for you. Scientific evidence is mixed, but studies generally show that cold water immersion can at least offer a positive placebo effect on recovery and performance. Many athletes enjoy cold plunging for the mental health effects—specifically increased mental acuity1—over the purported physiological effects on the muscular and vascular systems.
How long does the Ice Barrel stay cold? 
This depends primarily on your region of residence and its climate. In southern or desert states, it's unlikely that the Ice Barrel will remain ice-cold for more than a day, and perhaps no more than a few hours in the summer. During the winter months and in chronically cold climates, you'll have better luck, and may get to enjoy cold water temps for up to three days. 
What are the benefits of cold water therapy? 
The purported benefits of cold water immersion are improved brain function, relief from sore muscles, and even weight loss. The scientific evidence supporting these claims is mixed, according to a 2021 meta-analysis of studies1. (For weight loss, the evidence is nil.) 
References
Falla M, Micarelli A, Hüfner K, Strapazzon G. The Effect of Cold Exposure on Cognitive Performance in Healthy Adults: A Systematic Review. Int J Environ Res Public Health. 2021;18(18):9725. Published 2021 Sep 15. doi:10.3390/ijerph18189725
Moore, E., Fuller, J.T., Buckley, J.D. et al. Impact of Cold-Water Immersion Compared with Passive Recovery Following a Single Bout of Strenuous Exercise on Athletic Performance in Physically Active Participants: A Systematic Review with Meta-analysis and Meta-regression. Sports Med 52, 1667–1688 (2023). https://doi.org/10.1007/s40279-022-01644-9