We test and review fitness products based on an independent, multi-point methodology. If you use our links to purchase something, we may earn a commission. Read our disclosures.
Cryotherapy—AKA subjecting your body to super cold temps—has long been popular in the fitness and sports industries. However, what was once limited to a tin tub of ice or a frozen rag to the face is now available in higher-tech, much more comfortable options in the best cold plunge tubs.
From futuristic-looking, full-body cryo chambers to rechargeable, localized devices for specific muscles, cryotherapy has certainly grown into a full-blown workout recovery tactic.
One such example is The Plunge, previously known as The Cold Plunge— a full-sized cold therapy tub that functions much like a hot tub—but with temps that'll chill you to the bone instead of warm you up. Our team at Garage Gym Reviews has used The Plunge for more than a month; we assembled it ourselves, and we have taken the plunge after hard workouts and on rest days. In this The Cold Plunge review, I explain how this cryo tub works, who should buy it (it's EXPENSIVE), and who might want to stick with a more traditional cold therapy option. We also consult with Dr. Mike Masi, physical therapist, on if this cryo stuff really works.
RELATED: Best Muscle Recovery Tools
Workout Recovery Expert At Your Service
Having worked in the fitness industry for five years, I know my way around barbells and such. But, I also happened to, at some point, become immersed in the world of fitness recovery as well. After tackling a second-gen Theragun review in 2019, I went down the rabbit hole of recovery tools and began testing massage guns, foam rollers, compression boots, and all sorts of other high-tech recovery products left and right. All that has led me here, to The Cold Plunge Review, where I'll use my expertise in workout recovery to explain whether or not this product is a worthwhile investment.
Best Ice Bath Ever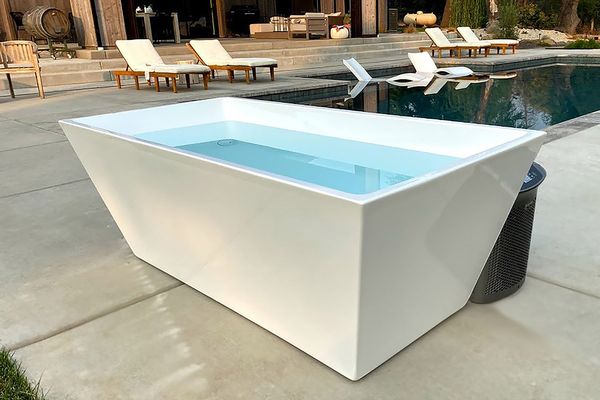 GGR Score: 4
Product Highlights
Indoor or outdoor ice bath

Chiller system for regulated temperatures
Filtration and sanitation systems
No plumbing required
Pros & Cons
Pros
Eliminates the hassle of traditional ice baths 
No cleanup or setup to do after initial assembly 
Allows you to fine-tune temperature 
Provides full-body immersion for most body sizes and heights
Less time-consuming than traditional ice bath
Decently aesthetic; would look nice in a backyard or dedicated gym space
Indoor or outdoor use
Free shipping and in-home delivery for lower 48
0% APR financing available through Affirm and Klarna
Insulated cover, cell phone holder, hose filter, and skimmer net included
30 days to return for full refund 
Cons
Very expensive
Requires electricity
No heating capabilities on base model 
Only a 1-year warranty
Extended warranty/product protection costs extra
Shipping is costly for Hawaii and Alaska, and in-home delivery isn't available 
Currently has an 8-week lead time
Consumer must pay shipping fees if returning the tub
Bottom Line
The Cold Plunge is a user-friendly cold-immersion therapy tool that's easy to clean and maintain. The $5,000 price tag may just be too much for many people.
Cold Plunge Video Review
A Quick Look at The Plunge
The Plunge, from brand Plunge, is a cold-water immersion tub that replaces the need for a zillion bags of ice and hours spent going to the store, buying ice, and dumping it into a tub. This cold water tub hooks up to a GFCI outlet and can continuously cool water down to temperatures of 39 degrees. 
It's a bit lavish, sure, but The Plunge fills a market need: people who like to take regular ice baths and have plenty of space and money for an extra bathtub, essentially. 
I tend to poke fun at products like this—I'm a bona fide fitness minimalist who believes in the power of simple workout recovery tactics like walking, stretching, and maybe a cold shower every once in a while—but in this review, I make it a point to, er, point out who The Plunge is actually good for. Because it is good for some!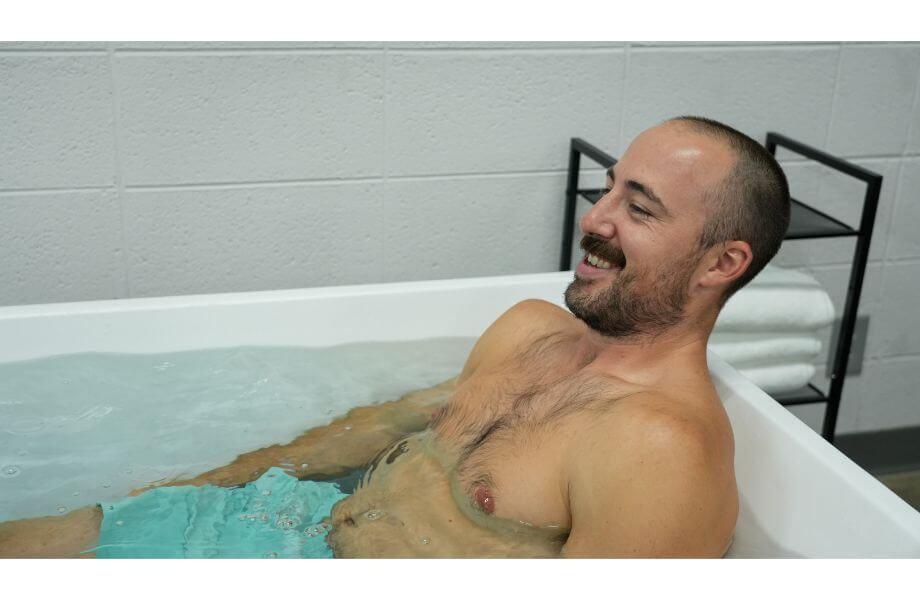 My Tips
The Plunge offers financing through Klarna and Affirm. If you qualify, particularly for 0% APR, it's worth using. This is a very expensive product and a 0% loan with no credit check can help offset the cost tremendously.
The basic model does not have heating capabilities. If you also want this to function as a hot tub, look into The Hot & Cold Plunge.
Customers must pay shipping fees for returns. And shipping on an item of this size and weight is very expensive. For this reason, I highly recommend ensuring you 100% have the space, money, and time to use this product.
Is The Plunge Worth It?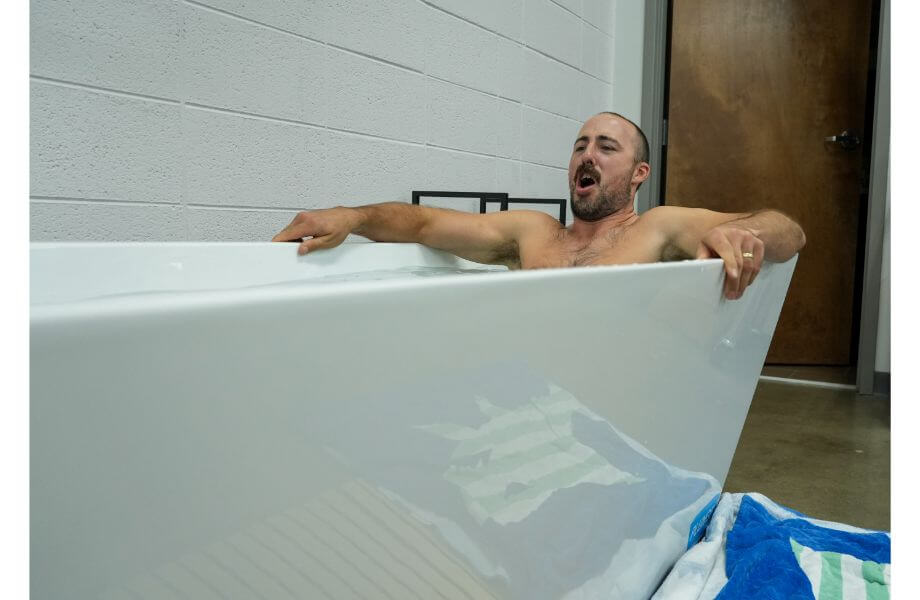 According to Coop, who tested The Plunge at our Springfield, Missouri, equipment testing facility, The Plunge is ideal for someone who has both space and money. He's tested it more than 30 days, and here are his thoughts:
"It takes up about half the space of a normal hot tub and it does have to keep it cool as long as you have it set, which means it's using electricity," he explains.
"The biggest benefit is that you don't have to go to the store and get a lot of bags of ice and fill up a tub. Honestly, if you plan on taking consistent ice baths, this is by far the ideal option, even though it's costly up front."
I mean, let's think about how much ice you need for one traditional ice bath. Bear with me for some math.
A standard bathtub holds 40 gallons of water.
Generally, traditional ice baths have a water-to-ice ratio of 3:1. (A 3:1 ratio means there are four parts to the full equation. The 3 represents 75% and the 1 represents 25%.)
So for a 40-gallon tub, you'd want 10 gallons of that to be ice.
Volume-to-weight calculations aren't perfect, but 1 gallon of room-temp water weighs about 8 pounds. 1 gallon of ice would weigh slightly less due to changes in density. For simplicity's sake, we'll still use 8 pounds to calculate the cost.
Using these numbers, 10 gallons of ice roughly equates to 80 pounds of ice.
Thus, you need eight 10-pound bags of ice.
Let's say ice is $3 per 10-pound bag.
Eight times three is 24—so, $24 in ice for one ice bath in a 40-gallon tub. Sounds cheap, right?
Well, if you intend to plunge daily, you're looking at an approximate yearly cost of $8,760 in ice alone—not including your water bill.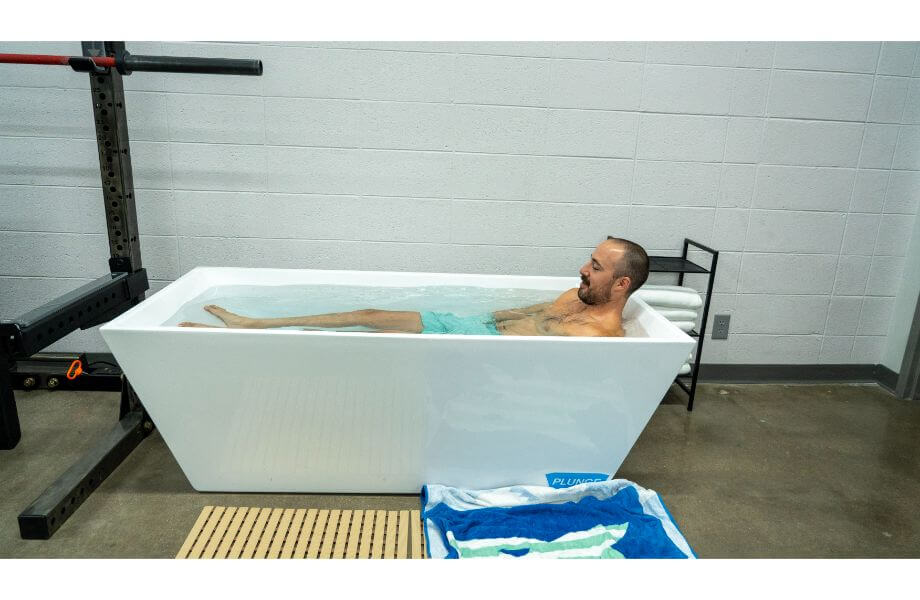 All this to say: For the person who plans to plunge on a regular basis, The Plunge is very much worth it. 
Of course, there's an energy cost to The Plunge as well. According to the company website, "At 72 degrees and set temp of 45 degrees, the standard unit uses 4Kwh per day which is ~$1 [per day]." 
So you're looking at an additional cost of about $365 per year on top of everything else if you want to plunge daily in The Plunge.
Does it work? We turn to Dr. Mike Masi, a seasoned physical therapist known for his work with athletes.
"Cold water immersion can help with muscle recovery because it reduces the inflammation from working out and provides less perceived soreness," says Mike. "In reality, inflammation is a natural response to aid muscle growth."
Great for:
People who plan to plunge at least weekly
Home gym owners with ample space indoors or out
Anyone who's not on a budget and wants a fun cool (literally) tool
Not recommended for:
People who don't cold plunge often
Home gym owners with small spaces
Anyone who can't dedicate the time to maintenance of the tub
The Plunge Specs
| | |
| --- | --- |
| Dimensions | 67" L x 43" W x 24" H |
| Tub height | 24" |
| Weight (empty) | 150 lbs |
| Weight (filled) | 1,000 lbs |
| Water capacity | About 100 gallons (850 lbs) |
| Color | White |
| Features | Insulated cover, skimmer net, cell phone holder, underwater light, drain with hose hookup, |
| Electricity | GFCI required |
| Cools to | 39 degrees Fahrenheit |
| Warranty | 1 year |
Using The Plunge
Using The Plunge is too easy, Coop quips. 
"If you regularly take ice baths and are tired of dealing with bags of ice, emptying and refilling tubs, and the planning, The Plunge is ideal," Coop says. "It's costly, but in my opinion is about the only way I could see myself consistently taking ice baths. It takes the friction out of the work so you can just focus on getting in the tub."
Truly, this system is indisputably easier, more efficient, and more enjoyable than a traditional ice bath.
Instead of going to the store; buying a dozen bags of ice; filling up a trash can, ice barrel, or other random apparatus with ice and water; and then slipping into whatever temperature results from that—you've got a fine-tuned, temperature-controlled, filtered experience with conveniences like a cell phone holder and space to stretch out your legs.
Once the unit is assembled, which takes just 15 minutes after delivery, all you have to do is choose your desired temperature and set it on the LCD screen. The chiller will cool the water to that temperature, and you plunge. 
Personally one of my favorite aspects of this plunge pool is the filtration. Thanks to the 5-micron filter, your freezing sauna will always have clean water free of impurities. It's that simple! 
For all those reasons, we give it a 5 out of 5 when it comes to convenience.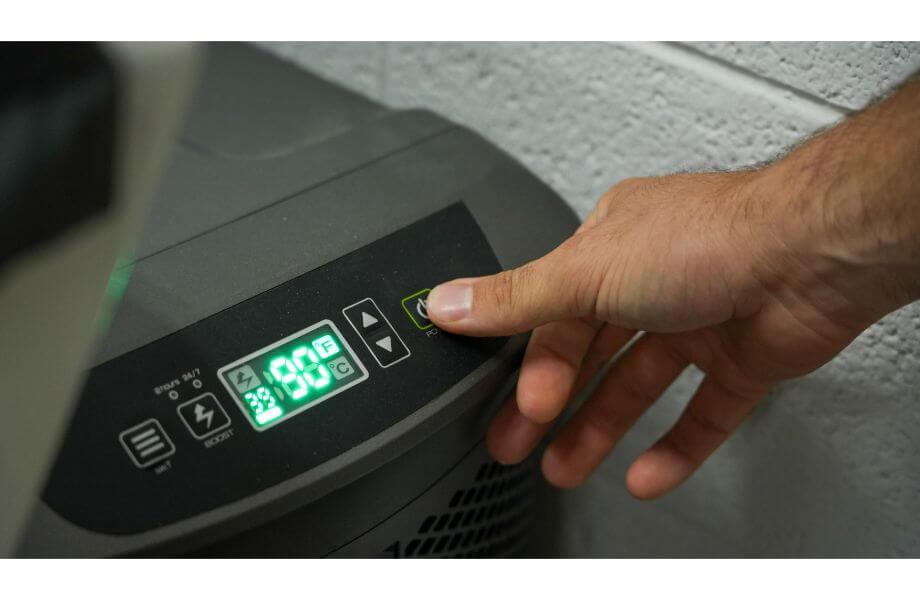 Footprint and Portability
If the price doesn't preclude you from buying The Plunge, the footprint might. It's certainly not an ideal product for a small home gym where every square inch counts. 
RELATED: Best Compact Exercise Equipment
No, The Plunge requires 20 square feet of space, which is nothing to scoff at when it comes to fitting home gym equipment inside a limited space. Although if you have outdoor space, you can set it up outdoors.
The full dimensions are: 67 inches long by 43 inches wide by 24 inches high.
Durability and Construction
The Plunge is constructed of an extremely durable acrylic material just like you'd find on any hot tub or spa product. It feels and looks a lot like fiberglass. We have no doubts that the actual structure will last a lifetime. 
Because The Plunge requires tubing, though, that's where potential issues arise. While we're confident in the durability of The Plunge's components, tubing simply doesn't last forever, and you should expect to have to repair or replace some parts eventually. 
There is also some regular maintenance to be expected, such as replacing water filters, cleaning the water filtration system, using water purification tablets, cleaning the spa cover, etc.
Setup and Assembly
Although The Plunge is a large, bulky object that requires electricity and water flow, it's not really hard to set up, says Sam Presley, GGR facility operations manager. The hardest part, he says, was getting the tub to the location it needed to be at for setup—it does weigh over 100 pounds, after all. 
Sam recommends enlisting a friend or two to help if you need to move the tub. But, if you're in the US, your purchase of The Plunge comes with free in-home delivery, so you may be able to specify where you want it to the delivery team. For that reason, we'll give it a 3 out of 5 on its footprint and portability.
One important consideration: The location for your tub must be a flat, stable surface that can support up to 1,200 pounds. 
Once it's in the right location, there's not much work to do: Simply align the chiller with the markings on the tub; connect the pump tube to the chiller; fill the tub with water; connect the filter tube to the chiller; connect the chiller cord to the electrical box on the Plunge; and plug the 15-foot cord into a 100-volt GFCI outlet. Pretty simple, so we'll give it a 4 out of 5 when it comes to setup.
Sam recommends setting the Plunge up at a location where you can easily run a garden hose to and fro. It'll make filling and draining the tub much easier, he explains.
It's lots of plugging and playing, but no actual assembly with tools and such. There are some smaller items to assemble, like the smart device holder, but Plunge utilizes suction cups for that.
Notably, The Plunge is designed for indoor or outdoor use, so you can take your post-workout plunges in the sun if you want. If you intend to place your plunge outside, know that it can affect how quickly (or slowly) the water temperature in the tub changes, and there are some additional considerations. For example, if you live in an environment where it drops below freezing for more than 12 hours, you must buy The Hot & Plunge in order to prevent the tubing from freezing over. 
If you need help setting up your Plunge, the brand has a helpful section on the website dedicated to setup and maintenance. 
Other Plunge Models
The Plunge is the base model. The company also offers several other models for residential use. I compare them in this chart so you can get a glimpse at which one might be best for you. Basically, there's The Plunge and The Hot & Cold Plunge, and both come in a regular and large size. 
| | | | | |
| --- | --- | --- | --- | --- |
| | The Cold Plunge | The Cold Plunge Pro XL | The Hot & Cold Plunge | The Hot & Cold Plunge Pro XL |
| Price | $4,990 | | $5,490 | |
| Footprint | 67" L x 43" W x 24" H | 73" L x 47" W x 28" H | 67" L x 43" W x 24" H | 73" L x 47" W x 28" H |
| Weight empty | 150 lbs | 190 lbs | 150 lbs | 190 lbs |
| Weight filled | 1,000 lbs | 1,100 lbs | 1,000 lbs | 1,100 lbs |
| Cools to | 39 degrees F | 39 degrees F | 39 degrees F | 39 degrees F |
| Heats to | Does not heat | Does not heat | 103 degrees F | 103 degrees F |
Aside from the models in the chart above, there is also The Plunge Pro and The Hot & Cold Plunge Pro. These are the same as The Plunge and The Hot & Cold Plunge, except they sport a more powerful cooling motor with 1 horsepower. Plunge says the Pro chiller has three times the power, meaning the water gets colder much faster. 
Customer Experience
Plunge as a brand seems to care deeply about its customers, offering several ways to get in touch with the company: email, phone, and online web forms. There's no online chat, which would be a bonus if there was.
However, the company does provide a nice FAQ section, as well as helpful videos, to answer most questions customers would probably inquire about on a chat forum.
Plunge is also part of GovX, which gives active duty military and veterans discounts on their products.
My one complaint here is the warranty. Plunge offers a paltry one-year warranty on all of its products, which is pretty disappointing given the cost of the products. For something costing four digits, I'd expect a better warranty.
You can purchase additional product protection via Clyde when you buy a Plunge tub, but frankly, I think that protection should be included already. 
Additionally, if you decide to return The Plunge, you can get a full refund within 30 days of delivery—but you're on the hook for return shipping fees, which won't be cheap for a product of this size and weight. 
Ordering and Delivery
The shopping experience on Plunge is easy and just like any other site. You'll select a model, add it to your cart, select any extras such as product protection or merch, and check out.
Financing is available via Klarna and Affirm, and Plunge accepts all major payment methods, including PayPal, ShopPay, Apple Pay, Venmo, Amazon Pay, Meta Pay, and credit cards.
Free in-home delivery is available for the lower 48 in the US, and this includes removal of debris from the setup process.
Customer Reviews
The Plunge reviews are overwhelmingly positive on the thecoldplunge.com. 
One buyer from Florida loves that The Plunge provides a respite from the summer heat: 
"A Florida Necessity! I love my PlungePro XL and I can't wait to get in it every day! In Florida summer, the coolest water I can get out of my tap or my pool is 84 degrees so it's just never refreshing. I'm not a hard core athlete, I'm a 63 year old woman who loves to spend time outdoors gardening and hiking. Jumping in my PlungePro with the temperature at 60 is sooooo refreshing!"
Another buyer noted some problems with delivery but that the support team quickly resolved them:
"Absolutely love the plunge! My plunge arrived with some minor damage that occurred during shipping but the customer service team worked hard to resolve my issue and quickly sent out the replacement part."
Final Verdict of Our The Cold Plunge Review
Coop provides a final take on The Plunge after trying it out for more than 30 days: 
"It's ideal for someone who has both space and money. It takes up about half the space of a normal hot tub and it does have to keep it cool as long as you have it set, which means it's using electricity. The biggest benefit is that you don't have to go to the store and get a lot of bags of ice and fill up a tub. Honestly, if you plan on taking consistent ice baths, this is by far the ideal option, even though it's costly."
The Plunge is big and heavy and requires electricity
The price tag is tough to swallow, but can be offset with financing
It's much easier than setting up a traditional ice bath
It's a great option for people who want to do cold water immersion on a regular basis, and actually ends up being cheaper than traditional ice baths over the course of time. 
The Plunge Rating
The Cold Plunge
The Cold Plunge review: Is this expensive cryotherapy tub worth it? Find out from our fitness recovery experts.
Product Brand: The Cold Plunge
Product Currency: $
Product Price: 4990.00
Product In-Stock: InStock
The Cold Plunge FAQs
Here are some answers to commonly asked questions about The Cold Plunge and cold plunge benefits.
How long do you stay in a cold plunge?
The length of time you remain immersed in cold water depends largely on the temperature of the water. Most people only stay in a cold plunge for a few minutes—as few as five minutes. The colder the water, the shorter your plunge will likely be. Over time, you'll notice that you'll build up more resilience to the cold temperatures, and may be able to stay in longer.
What is a cold plunge good for?
Cold plunging triggers a number of neurotransmitters, including norepinephrine, which is vital in the regulation of focus and attention. This is why many people say they experience increased mental acuity during and after a cold plunge.
When you get out of the tub, your body resumes regular blood circulation, sending typical amounts rushing back to your extremities. This stop-and-go of blood flow to the blood vessels in your extremities is what's thought to produce muscle-healing and anti-inflammatory benefits—it's also the basis of contrast therapy, which involves alternating cold plunging with heat therapy. 
Additional purported benefits include: 
– Quickened workout recovery
– Reduced bodily inflammation
– Improved blood circulation
– Pain relief
– Reduced muscle soreness
– Improved mental health
– Immune system support
– And even weight loss 
Some of these are a stretch—ahem, weight loss—but even the more realistic benefits are shrouded by a slew of scientific studies that deem evidence inconclusive. 
Not all research on cryotherapy is about cold water immersion specifically, as some studies analyze whole-body chamber cryotherapy or local cryotherapy. 
What are the benefits of cold water exposure?
As said above, the benefits of ice-cold exposure may include muscle fiber healing, reduced inflammation, pain relief, and more. However, scientific literature on this topic isn't conclusive and most studies end with "more research is needed." That said, if you personally find that cold water immersion is helpful for you, then by all means forge ahead. Sometimes, anecdotal evidence is the best evidence.