We test and review fitness products based on an independent, multi-point methodology. If you use our links to purchase something, we may earn a commission. Read our disclosures.
So, you're wondering how to train for a marathon on a treadmill—a noble pursuit, and a tough one! There are many things to consider when training for a long race on a treadmill, including the type of treadmill itself and its features.
Although I've never trained entirely for a long-distance race on a treadmill, I have supplemented outdoor training with treadmill training numerous times, and I have a pretty good idea of what makes for a successful indoor running plan. Also, I've coached several of my personal training clients through race days for half-marathons and more, and many of them did the bulk of their training on a treadmill.
Best Types of Treadmills for Marathon Training
First things first: If you're going to train for a marathon on a treadmill, you need a treadmill that can support this endeavor. Here's a look at some different types of treadmills and features, and how those can affect your training and performance come race day.
Manual vs Motorized Treadmills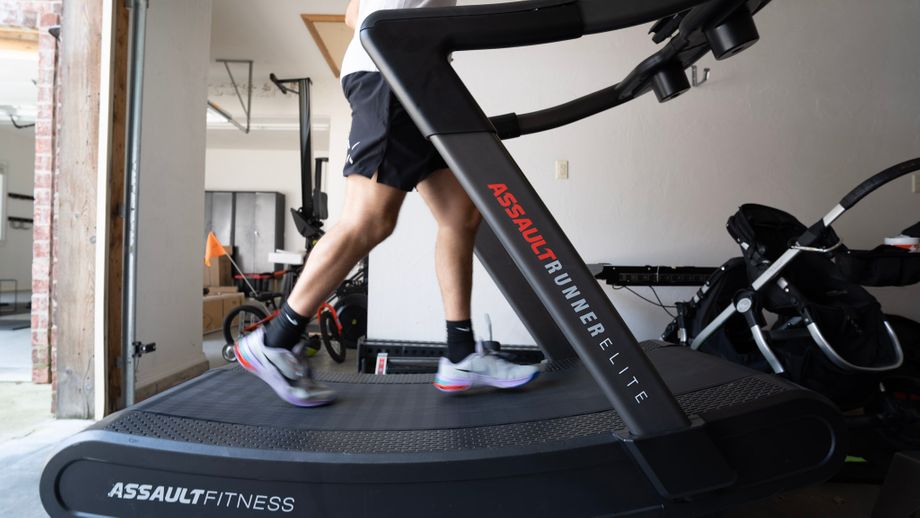 I'm inclined to recommend a non-motorized treadmill for marathon training since I feel a curved, manually powered belt best mimics outdoor running. Treadmills such as the AssaultRunner are designed to encourage safe, proper gait and require all of the power to come from your legs—no help from a motor, just like on the road.
However, I'm aware that manual treadmills aren't the right fit for everyone and I think certain types of motorized treadmills—particularly those with a powerful motor and large running surface—can support marathon training with no issues.
High-End vs Budget Treadmills
While we're usually proponents of budget-friendly home gym equipment, we must say: If you plan to train for a full marathon on a treadmill, you're going to want to invest in a higher-end machine.
This is not to say you need the most luxurious treadmill available, but we'd advise against purchasing a bottom-of-the-barrel treadmill for marathon training. There are a few reasons for this, covered below.
RELATED: Marathon Record Time
Running Surface Size
Budget treadmills often have smaller running decks and treadmill belts, which may not be an issue for petite runners, but most marathon runners are going to want more wiggle room. We suggest getting a treadmill with at least a 20-inch-wide-by-60-inch-long running surface to accommodate the different stride lengths you'll utilize during different types of training runs.
Deck Cushioning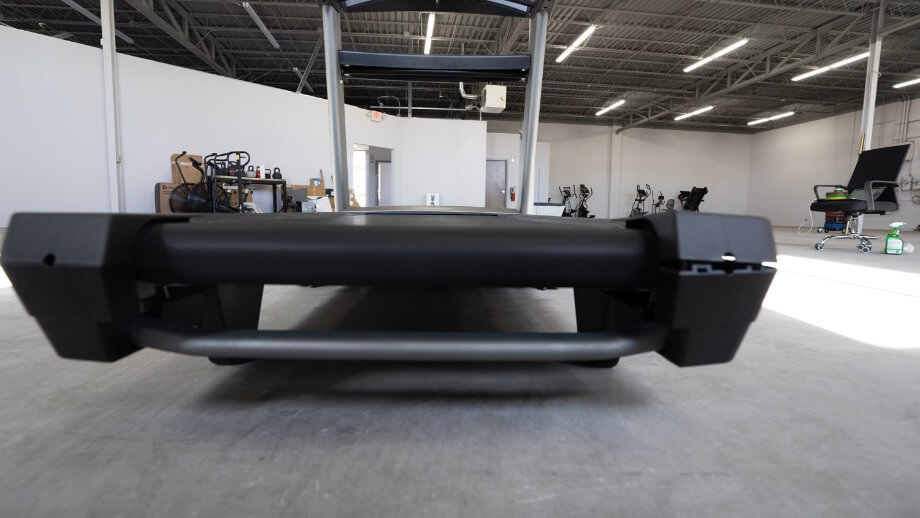 Inexpensive treadmills also often skimp on cushioning. If I had to guess, less joint impact is likely a common reason that people do some or all of their marathon training indoors. A high-end treadmill will have more (and better) cushioning than a cheaper treadmill, generally speaking.
Motor
High-end treadmills sport better, more powerful motors. You'll need something with at least 3.0 continuous horsepower (CHP) to support the volume of running needed for marathon or even half-marathon training. With anything less than this, you might run into premature breakdown of parts and components, leading to maintenance costs.
Programming
Most budget treadmills don't have very robust programming options with interactive, trainer-led classes and instead have a couple of basic built-in treadmill workouts (if you're lucky). More expensive treadmills typically require a subscription to access workouts, but said workouts are led by certified trainers and safely guide you from warm-up to cool-down.
RELATED: 30 Minute Treadmill Workout
This type of programming can also provide cross-training opportunities to ensure you work different muscles and avoid overtraining. Not only that, but interactive programming like that from iFIT or JRNY can keep you occupied and stave off boredom, helping you get through long distances with less mental turmoil. Some programs even allow you to stream TV shows. Woot!
Conveniences
The more expensive a treadmill, the more conveniences it should come with. Our top picks for high-end treadmills feature large displays with HD graphics, water bottle holders, dual amplified speakers, Bluetooth and WiFi connectivity, fans, and more. All of these things can make your treadmill training much more enjoyable.
Treadmill Settings to Mimic Outdoor Running
Now that you know which types of treadmills and which treadmill features are best suited for high-volume training, let's look at some individual treadmill settings that can make your indoor runs even more efficient and effective to prepare you for race day.
Incline and Decline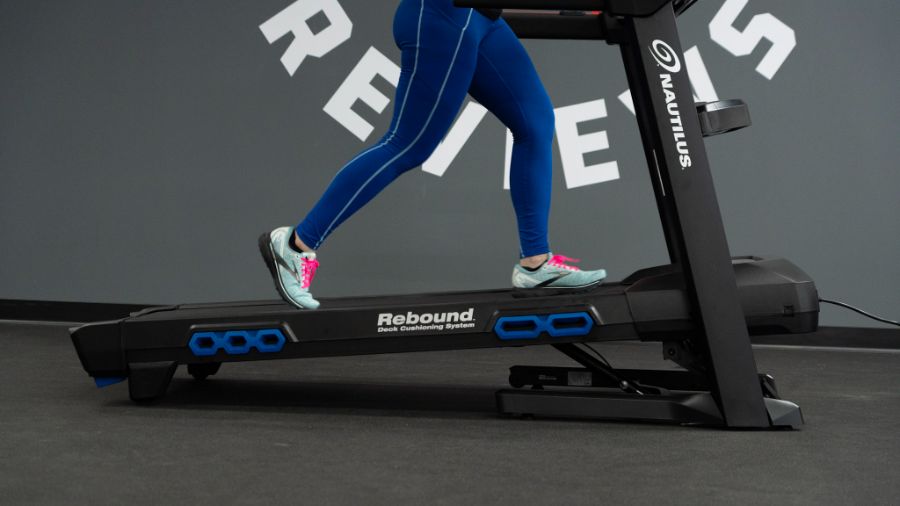 Incline and decline settings are incredibly important if you want to fully train for a marathon on a treadmill. In fact, most running coaches recommend setting the incline to a minimum of 1% to mimic flat terrain outdoors, since the 0% grade on most treadmills is unrealistically flat.
If you plan to run your race somewhere with hilly or mountainous terrain, you'll want to practice running on higher inclines and declines often.
Deck Cushioning
Some treadmills have adjustable deck cushioning. This is a great feature for marathon runners because treadmill cushioning can be unrealistic compared to outdoor terrain. Turning the cushioning on and off, or adjusting it as the treadmill allows, will prove a huge help in preparing you for an outdoor race.
Treadmill Running Shoes
You may find that you need different running shoes for treadmill training than you do for marathon training outdoors. This is because your gait and running technique may change slightly—even if you don't fully notice it—when running on a treadmill compared to outside.
For example, if you run outdoors in very cushioned shoes, such as a pair of HOKAs, you may find that the midsole cushioning in addition to the treadmill deck cushioning is too much.
We've got you covered. Our top picks for the best treadmill running shoes are:
Pacing for Marathon Training
It's extremely important to understand pacing when you're training for a marathon. This goes for race day and your individual cardio workouts. This helpful chart will guide you to select the correct paces for different types of marathon training runs, which are described in the next section.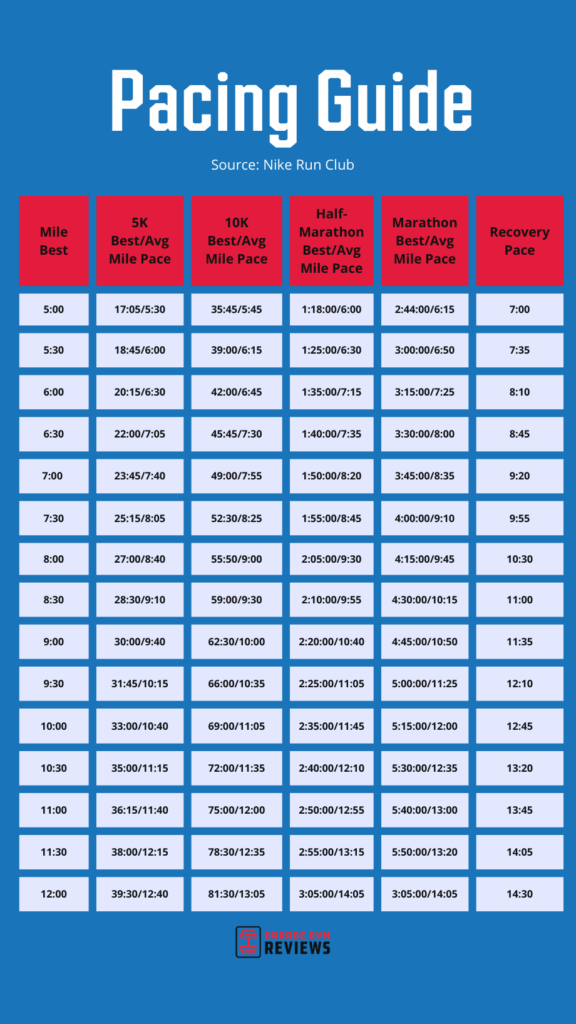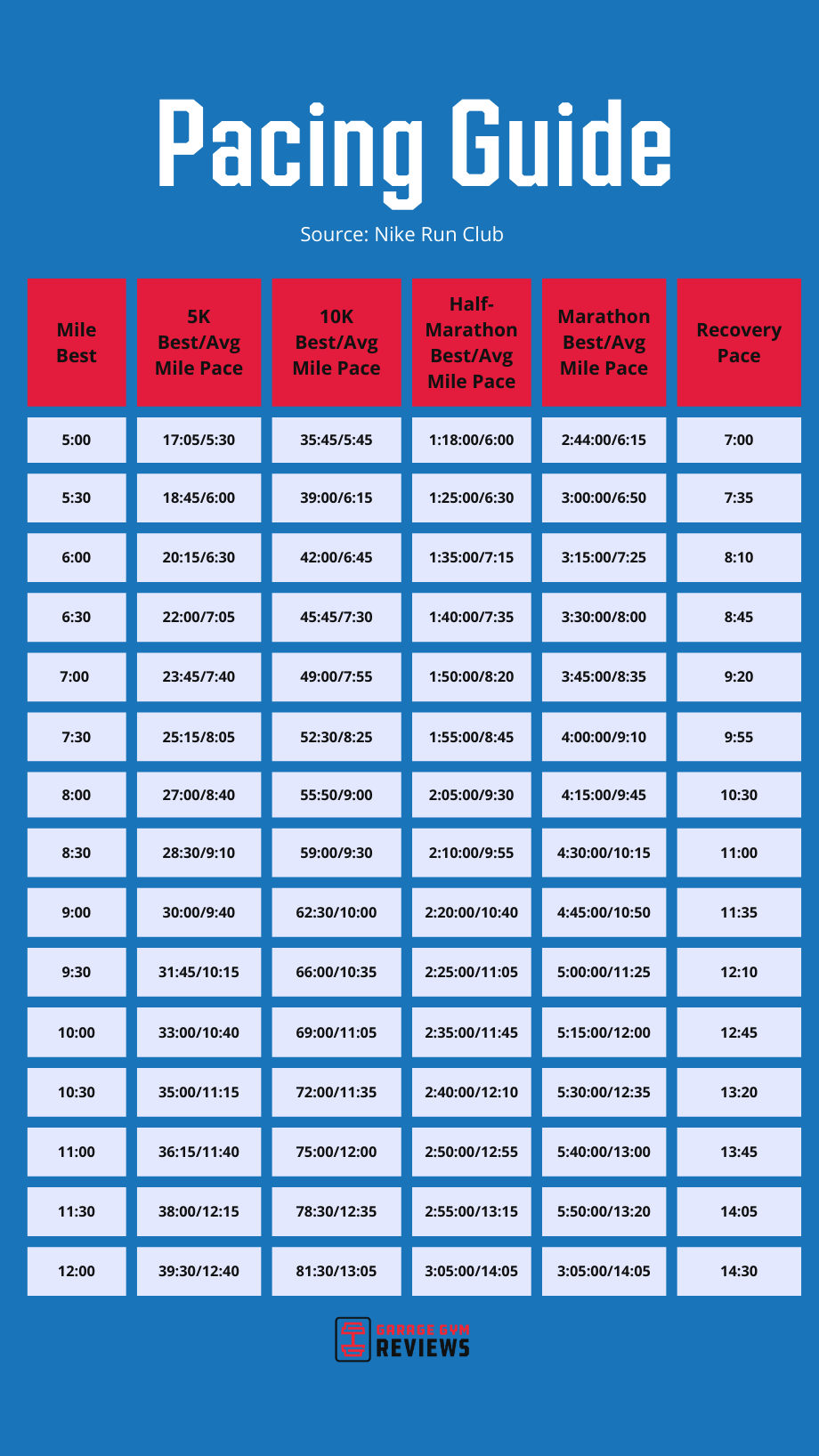 Types of Training Runs
Marathon training takes a long time and it involves a ton of volume. To successfully prepare for a marathon, you should incorporate several types of training runs, detailed here.
Recovery Run
These runs are done at an easy pace and are primarily a way to keep your body moving without overtaxing it. Incorporating one or two recovery runs in your training each week will help prevent overtraining syndrome.
Heart Rate Training
During heart rate runs, you'll need to wear a fitness tracker to monitor your heart rate. The goal is to use your heart rate as a guide and keep yourself from pushing too hard or dipping too low. This type of training intends to keep you in a specific heart rate zone for certain periods of time.
Tempo Run
Tempo runs are mid-to-long-distance runs set at a specific tempo for the entire run—they're a form of steady-state training, and they vary in intensity. For tempo runs, you generally pick a particular race pace, such as your 5K or 10K time, and run at that pace for a predetermined mileage.
Interval Training
Interval training involves any period of work followed by periods of rest or lower-intensity work. This can involve true high-intensity interval training (HIIT) with periods of maximal effort followed by complete rest, or longer, drawn-out intervals.
Speed Training
Speed workouts could also be considered interval workouts. However, the focus is on developing speed specifically, not necessarily volume as is often the case with interval workouts. Speed training can look like 400-meter repeats, mile time trials, or long run time trials.
Fartlek Runs
Fartlek training is a fun type of interval training. Fartlek means "speed play" and a Fartlek run involves unstructured speed intervals. You might, for example, decide to sprint to the next tree on your trail and then back off until you pass the next mail box. This type of run can give you a much-needed mental break from structured marathon training.
Long Runs
Long runs are essential for marathon training, whether you're doing it on a treadmill or not. You can't expect to run 26.2 miles on race day without working up to that mileage in training. Marathon runners typically incorporate one or two long runs per week during training cycles, progressively increasing the mileage.
Tips to Combat Boredom on a Treadmill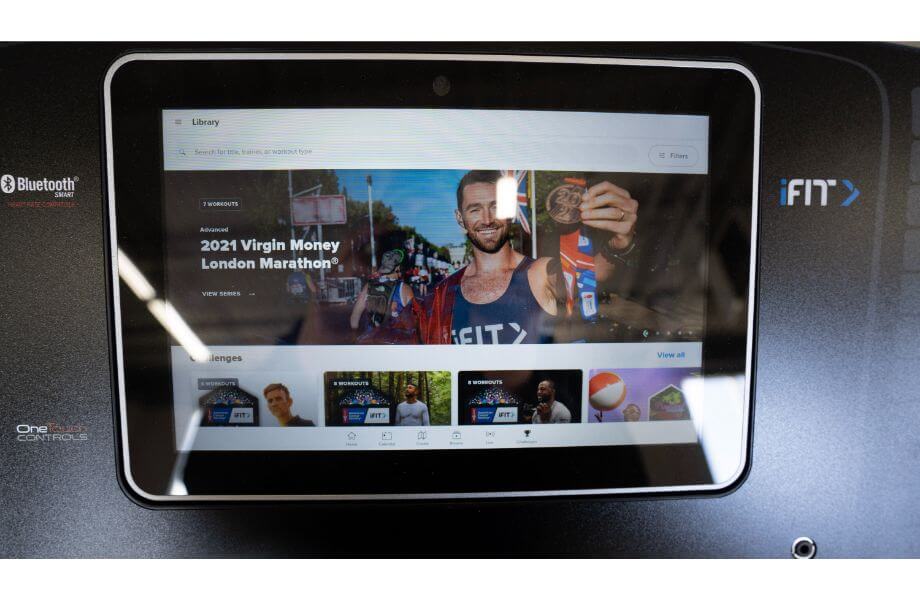 Running on a treadmill is, bluntly, kind of a buzz-kill. I honestly don't know a single person who is excited to run on a treadmill every day. That makes me inclined to think you aren't, either, so I've put together some quick tips on how to make running on a treadmill more fun.
Get a treadmill with a TV screen so you can stream your favorite shows
Choose a treadmill with interactive programming, such as an iFIT treadmill, to follow along with scenic runs and watch your points go up on a leaderboard
Create a motivational playlist with your favorite upbeat music
Listen to audiobooks or podcasts
If you have a high-tech treadmill, join classes or challenges with friends and family
Do interval workouts versus steady-state workouts (not all of the time, but a couple of times per week)
Run virtually with friends on apps like Strava and Runkeeper
Sample Treadmill Marathon Training Plan
It's time to put theory into practice. Here's a sample basic marathon training plan for a week. Use it as-is, or adjust to your needs. Good luck and don't forget to hydrate!
Monday: Speed work
Tuesday: Tempo run at marathon pace
Wednesday: Cross-training
Thursday: Slow down—take a rest day and do a short easy run
Friday: Long run
Saturday: Cross-training
Sunday: Rest day
Final Thoughts: How to Train for a Marathon on a Treadmill
To be honest, aside from the element of potential boredom and lack of sunshine, there's not much difference between marathon training indoors and out. The fundamentals remain the same: Do your long runs, your speed runs, your tempo runs, and your easy runs. Add in some cross-training. Get plenty of rest, eat enough food, and drink enough water.
The most important thing is to invest in a treadmill that can support the high volumes of running you'll be doing and be prepared with anti-boredom strategies.
Training for a Marathon on a Treadmill FAQs
Here are some commonly asked questions about marathon training on a treadmill.
Can you train for a marathon on a treadmill?
Sure, there's no rule saying you can't prepare for a marathon on a treadmill. It's just important to be aware that certain types of treadmills don't support the high volumes of running needed to prepare for a marathon. Also know that you might become bored, and be ready to implement tactics to combat boredom.
How long does it take to train for a marathon?
The amount of time it takes to prepare for a marathon varies vastly depending on individual fitness levels and how many hours per week one can realistically train. For someone who is relatively fit and has some running history (even on-and-off), 12 to 16 weeks is a reasonable expectation. For someone who is starting from scratch and has no training history at all, six months to a year is a reasonable timeframe for preparing for your first marathon.
Why would you train for a marathon on a treadmill?
People might choose to do their marathon training indoors for a number of reasons, including poor weather conditions and lack of access to safe outdoor running routes.
How can you make running on a treadmill more fun?
To be frank, I don't think running on a treadmill will ever be more fun than running outdoors. But if you must run inside, audiobooks, podcasts, and banger playlists can help. Varying your training style and following along with on-demand fitness classes with a running coach may also help you stay entertained.