We test and review fitness products based on an independent, multi-point methodology. If you use our links to purchase something, we may earn a commission. Read our disclosures.
There is a reason that people loathe running on treadmills: It can be, to put it bluntly, boring. The time seems to creep along slower than paint dries.
Fortunately, thanks to technology and brilliant minds, there are now treadmills equipped to entertain. Stream a show, run virtually along a mountain path, listen to a podcast: You can do all that and more on today's running machines. Here, we dive into our six top picks for the best treadmill with TV screen available online.
We Know Treadmills
For more than a decade, our team at Garage Gym Reviews has been using and testing treadmills. We have triathletes, marathon runners, and certified personal trainers who take a discerning eye to each cardio machine to determine what separates the best treadmills from the ones that aren't up to our standards. Having logged thousands of miles on these machines, we know how to assess each treadmill's durability, functionality, value, cushioning, and technology.
The 6 Best Treadmills With TV Screen
Best Overall Treadmill With TV Screen: NordicTrack Commercial Series Treadmills
Good for: People looking for a well-built machine with interactive programming and decline capabilities
NordicTrack Commercial 1750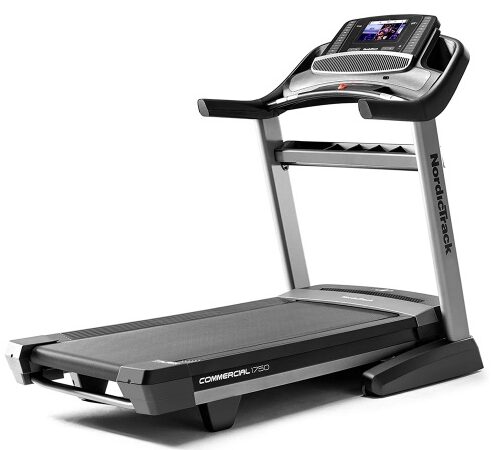 NordicTrack Commercial 1750
The NordicTrack 1750 treadmill features a 14-inch HD adjustable touchscreen with which you can stream iFIT programming on (sold separately). The under $2,000 machine can be financed through the NordicTrack website where you can get deals as low as $49 per month with 0% for 39 months.Models from 2013-2021 of the 1750 had adjustable cushioning, but the 2023 model no longer has this feature.iFIT workouts incorporate Automatic Trainer Control, which allows your trainer to digitally adjust your incline, decline, and speed. This is a nice feature to have because all you have to do is focus on the workout at hand versus frantically switching the controls.
NordicTrack Commercial 2450
NordicTrack Commercial 2450 Treadmill
The NordicTrack Commercial 2450 is a great treadmill for all of your at home workout needs. With features like the 22" tilt and pivot HD touchscreen where you can stream on-demand video workouts directly to your equipment, you'll enjoy a high-end experience each time you run on the Commercial 2450.This treadmill also features a -3% decline and 15% incline, so you can simulate outdoor running. While you're working out you can also turn on your fan to cool off and listen to the workout in your headphones with the Bluetooth connectivity.Let your whole family join in on the fun with the free 30-day iFIT family membership, which is included at the time of purchase.
Pros:
14" or 22" touchscreen that swivels
Compatible with iFIT programming
Incline and decline capabilities
22" W by 60" L belt
-3% to 15% incline range
3.5+ CHP motor
Foldable
Google Maps technology for workouts around the world
Financing available
Cons:
No dedicated tablet/device holder
Does not support streaming TV/movie apps
Heavy with a large footprint
There are three treadmills in the NordicTrack Commercial Series: the 1750, the 2450, and the 2950 (which is available on Amazon). Each machine has a large 14- or 22-inch touchscreen that swivels or rotates. Why does this matter? Because it enables you to do iFIT programming on or off the treadmill.
An iFIT membership gets you access to literally thousands of workouts, including on-demand classes for circuits that might incorporate your treadmill. A rotating, high-definition touchscreen means you can get on and off the machine without missing a beat.
When you purchase any of the treadmills in this line, you get a free 30-day trial of iFIT. The app takes you on runs through mountains and along beaches. It also uses Google Maps so you can pick any location around the world and exercise there (virtually).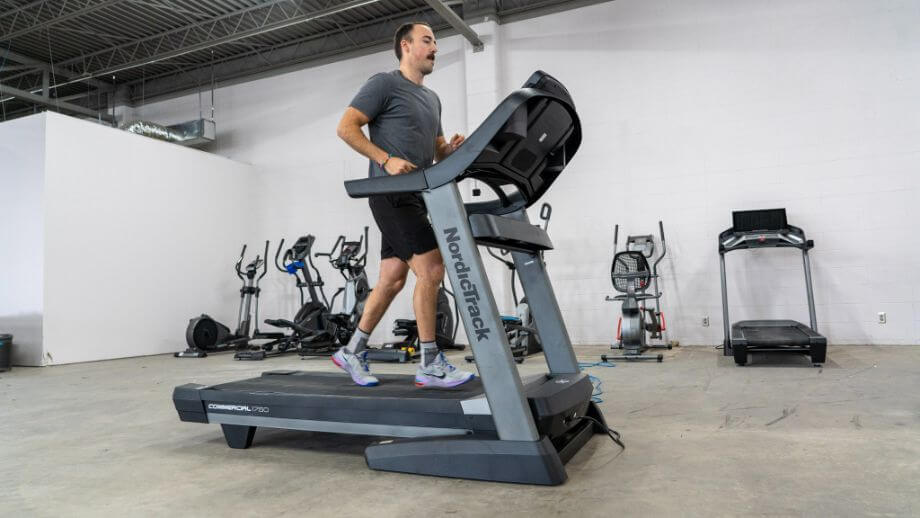 The Commercial Series has a number of other features we love, like decline training. You'll find incline training on most treadmills these days, but decline training is much more rare. Each of the treadmills in this line offers a -3% decline up to a 15% incline to simulate hills and stimulate muscles.
It's important to note that while each treadmill in NordicTrack's Commercial Series line has a great, high-definition touchscreen, you cannot stream shows from the machine. Also, disappointingly, these treadmills don't have a tablet holder to rest a device, so you can't watch shows that way, either.
For more on these machines, check out our in-depth NordicTrack Commercial 1750 review.
| | |
| --- | --- |
| Screen | 14" or 22" HD touchscreen that rotates |
| Programming | iFIT |
| Speed and Incline | 0-12 MPH; -3% decline to 15% incline |
| Conveniences | Folds, Bluetooth headphone compatibility, fan, water bottle holder |
Best Treadmill With iFIT: ProForm Pro Series Treadmills
Good for: People looking for iFIT programming on a high-value machine
ProForm Pro 2000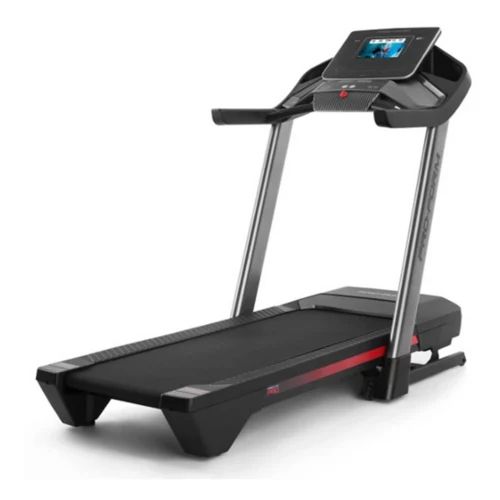 ProForm Pro 2000 Treadmill
If you are looking for a budget-friendly treadmill with impressive specs, the ProForm Pro 2000 is a solid choice. Equipped with an interactive smart screen, you can access any of iFIT's full library of training for an immersive workout experience from the comfort of your home. iFIT does require a subscription past the 30-day trial period but, for people who want programming, it is probably worth the price. The platform is known for its vivid virtual experience which allows you to train virtually anywhere in the world, attend live races and events and train with world-class trainers.The Pro 2000 is equipped with two console fans that can be adjusted to keep you cool when working out. The two speakers are Bluetooth-enabled, allowing users to listen to their favorite music or podcast while getting their workout in. The Pro 2000 also has heart rate sensors on the horizontal grips to track on your fitness journey. Perhaps the most impressive feature on this machine is its incline and decline capabilities. Ranging from -3% decline to 12% incline, you can mimic real terrain runs and add variety to your workout. Made with comfort in mind, the generous running deck is cushioned to protect your joints and spine. The Pro 2000 works off a 3.25 horsepower motor which is ideal for walking, jogging, or light running. While this treadmill can support short intervals at faster intervals, it is not built to withstand heavy training. It is, however, solidly built with a steel frame that easily folds and unfolds to save space.
ProForm Pro 9000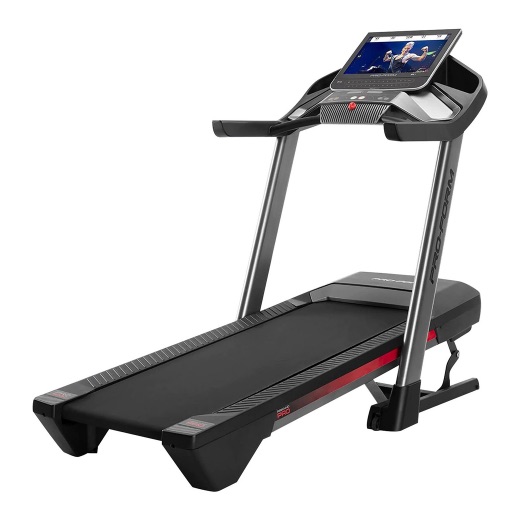 ProForm Pro 9000
Take your training to the next level with an iFit Family membership on the Pro 9000 treadmill. Engage in a whole new workout experience as streamed live and on-demand personal trainers lead you in studio classes and take you all around the world, automatically controlling your treadmill's speed, incline, and decline to give you a unique, hands-free workout.
Pros:
10", 14", or 22" smart HD touchscreen
30-day free trial of iFIT
3.25+ CHP motor
-3% to 12% incline
Auto-adjust speed and incline
Price starts at around $1,500
Built-in cooling fan
Financing available
Cons:
Screen does not rotate
No device holder
Does not support streaming TV/movie apps
The ProForm Pro Series has three treadmills: The Pro 2000, the Pro 5000 (available at WalMart), and the Pro 9000. Each of these is compatible with iFIT, which streams from the machine's 10-inch (the Pro 2000), 14-inch (the Pro 5000), or 22-inch (Pro 9000) smart touchscreen.
iFIT has an extensive library of running workouts as well as strength training, yoga, and other classes. One of the best parts of using iFIT on the ProForm Pro Series is that the trainers on the app control the machine's speed and incline for you. Our product testers said that the hands-free running experience was great because they could focus on the workout and not on reaching for buttons.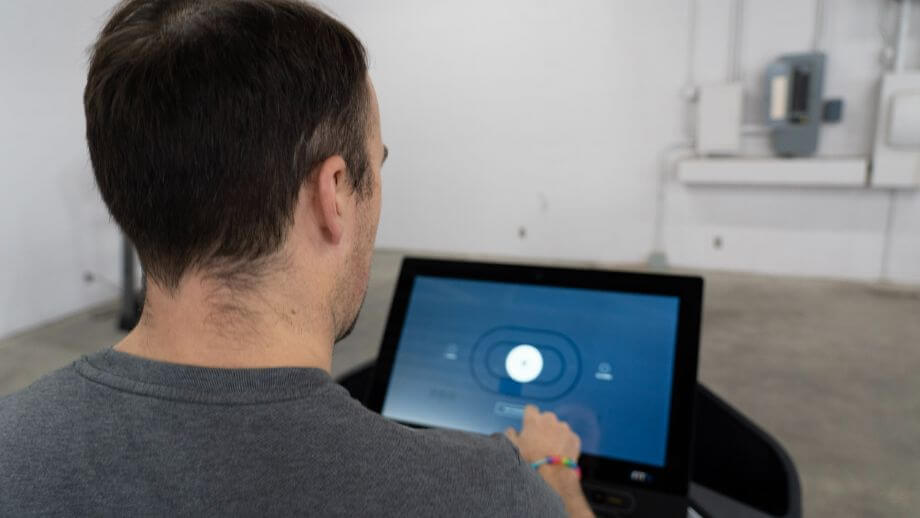 With a starting price of $1,500 for the Pro 2000, this series is more affordable than the NordicTrack Commercial Series, where the base treadmill (the Commercial 1750) starts at around $2,000. If the price tag is still too steep, rest easy knowing that ProForm offers financing.
There are a few downsides to the Pro Series, starting with the fact that you cannot stream movies or shows directly through the treadmill. You can use a smart device if you want to watch something, but there is no dedicated holder for it on the machine. Lastly, if you're taking advantage of iFIT's on-and-off treadmill workouts, be aware that the screens on the ProForm models do not swivel.
For more, check out our ProForm Pro 2000 review and our ProForm Pro 9000 review.
| | |
| --- | --- |
| Screen | 10", 14", or 22" smart HD touchscreen |
| Programming | iFIT |
| Speed and Incline | 0-12 MPH; -3% to 12% |
| Conveniences | Folds, Bluetooth speaker, fan, water bottle holder |
Best Treadmill to Stream Netflix: Bowflex Treadmill 10
Good for: Those looking for a treadmill that streams their favorite TV shows and movies
Bowflex Treadmill 10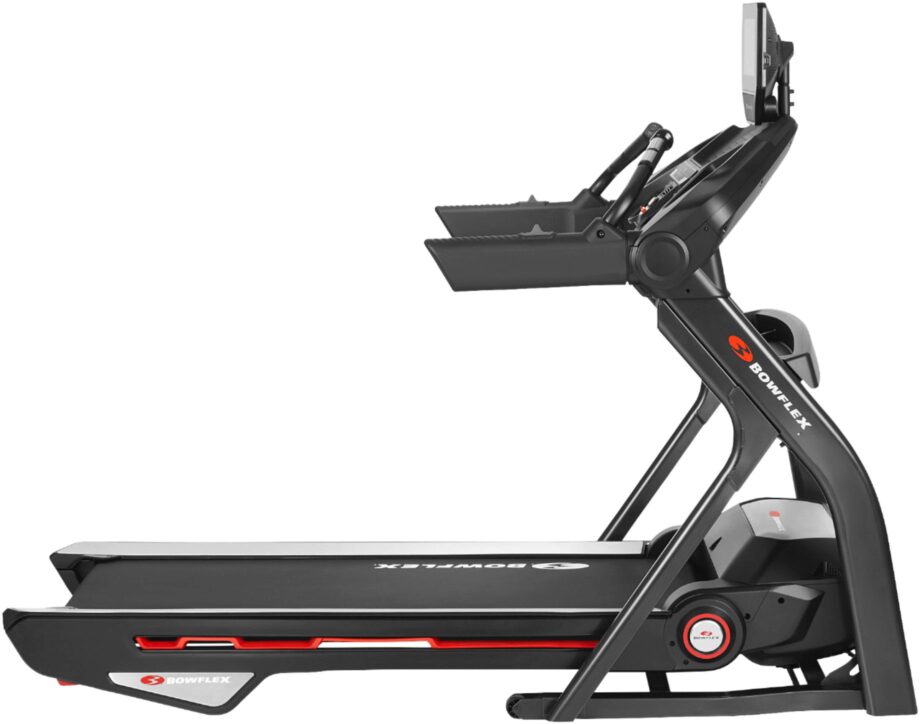 Bowflex Treadmill 10
If you're looking for an interactive treadmill with a solid and sturdy build, the Bowflex Treadmill 10 is a great option for any runner. The Treadmill 10 supports speeds up to 12 miles per hour and, quite impressively, has both motorized incline and decline options ranging from -5%-15%, which makes it possible to train for any terrain. That said, it is odd that Bowflex shares no information on the motor's power. In fact, they stated that they do not have that information on their website when questioned by a potential buyer. Other sites have reported a whopping 4.0 CHP motor, but we couldn't confirm that. Still, users do report a powerful feel to the motor with little to no lag time. Use the interactive, high-definition, adjustable touchscreen to access a myriad of training content that comes with your one-year free JRNY membership. Bound to keep you motivated and on track with your fitness goals, the JRNY membership provides virtual coaching, trainer-led workouts and adaptive workouts that progressively get harder as your fitness improves. The Bowflex Treadmill 10 comes with some awesome conveniences, too. It's Bluetooth-enabled for smart devices, has an included Bluetooth heart rate armband, a console fan and boasts speed and incline knobs for ease of use. The cushioned running deck will feel roomy, too, as it measures 22 inches by 60 inches, which is larger than most folding treadmills. To that end, the Bowflex Treadmill 10 uses a soft drop folding system to easily fold and unfold. However, weighing 323 pounds assembled, this tank of a machine is not easily moved around, so plan on dedicating a space in your home gym for its use. 
Pros:
10" adjustable HD touchscreen
Streaming capabilities for popular apps
Folds using a soft-drop system
-5% to 15% incline range
Built-in cooling fan
Bluetooth capabilities
20" W by 60" L tread belt
Cons:
JRNY membership required for streaming
Heavy and hard to move
Difficult assembly process
Bowflex doesn't disclose motor size
If you're looking for a treadmill that streams shows from apps you use often, then the Bowflex Treadmill 10 is hard to beat. Sweat through your workouts as you watch Amazon Prime Video, Netflix, Hulu, Disney+, and HBO Max.
There are a few catches. The first is that you must have a JRNY subscription to stream (you get a one-year free trial of JRNY with your purchase). JRNY is the Bowflex version of the Peloton app or iFIT: It has hundreds of workouts, personalized coaching, virtual runs, and adaptive workouts that progress with your fitness level.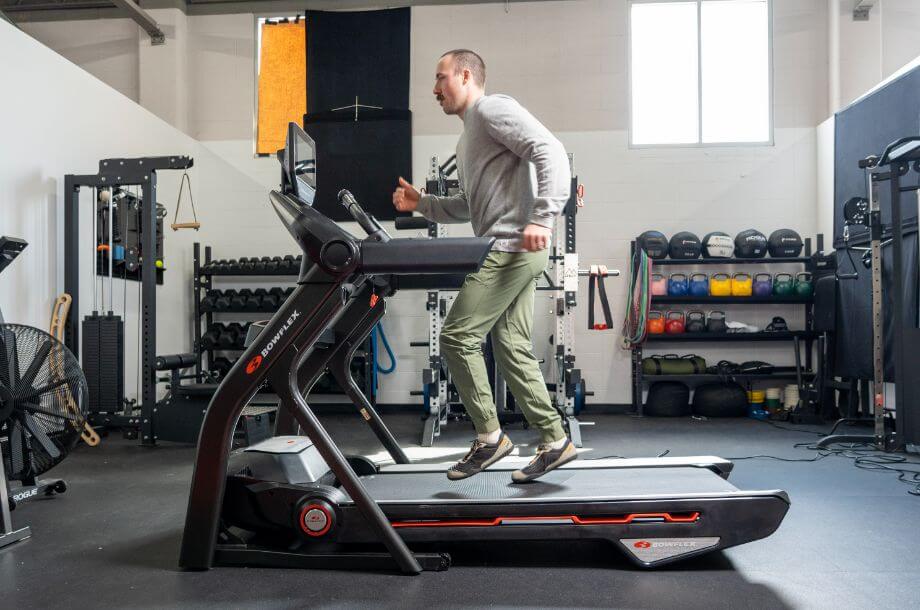 JRNY is priced lower than competitor programs, but our testers report that it isn't quite on par with those programs, either. The other important note is that the cost of the streaming apps themselves is not included when you buy the treadmill. However, you can easily sync the Treadmill 10 with your existing accounts.
The Treadmill 10 can hit a top speed of 12 MPH and boasts a large range of -5% decline and 15% incline. This is a folding treadmill that uses what Bowflex calls a "soft-drop" system, which means it's hooked to hydraulics to make sure the deck doesn't come crashing down on you when you lower it.
Like most of the other machines on this list, the Treadmill 10 is large, and at 323 pounds, it's heavy and hard to move. We found it difficult to put together and recommend you opt for professional assembly.
To learn more, read our in-depth Bowflex Treadmill 10 review.
| | |
| --- | --- |
| Screen | 10" adjustable HD touchscreen |
| Programming | JRNY |
| Speed and Incline | 0-12 MPH; -5% to 15% |
| Conveniences | Bluetooth-enabled, cooling fan, water bottle holder, media shelf |
Best Treadmill With Incline: NordicTrack Commercial X22i
Good for: Those looking for serious incline training options on a high-tech treadmill
NordicTrack Commercial X22i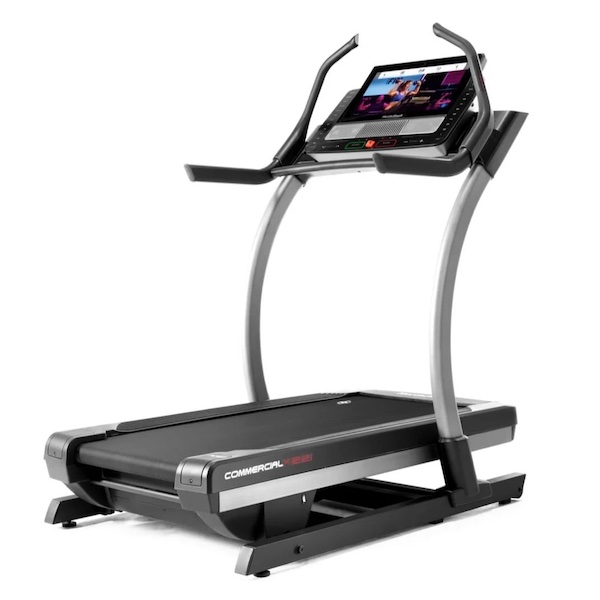 NordicTrack Commercial X22i Treadmill
If you're looking for an immersive training experience on a club-quality treadmill, the NordicTrack X22i may be a good fit for you. With a fully rotating and tilting 22-inch touchscreen and access to iFIT, you're able to choose from thousands of live and on-demand workouts that will meet the fitness needs of beginners and advanced athletes alike. The integration of Google Maps enables you to choose a location anywhere in the world to train. With an impressive incline range of -6% to a whopping 40% incline, you can mimic the terrain of any outdoor location you choose.The X22i features auto-adjust technology, which allows iFIT trainers to automatically adjust your speed and incline for a hands-free workout. Or, use your heart rate to guide your workout with the ActivePulse technology. With this, you can connect a Bluetooth heart rate monitor, which will automatically adjust incline or speed to keep you in your designated training zone. A heart rate monitor is not included. There are no pre-programmed workouts on the X22i and a membership to iFIT is required to access workouts.With this treadmill, rest assured that you are getting a high-quality and durable cardio machine. Equipped with a 4.0 CHP, the X22i supports speeds from 0 to 12 miles per hour on a fully cushioned, roomy 22-inch-wide by 60-inch-long running surface. Featuring an AutoBreeze fan, integrated console tray, upgraded Bluetooth technology, premium 30-watt speakers, one-touch controls, and a lower step-up height, the X22i is a solid choice for anyone with the space. It is large and heavy so requires a dedicated spot. Consider ceiling height as well if you plan on using the maximum incline. 
Pros:
22" HD touchscreen
-6% to 40% incline range
Push bar and sled grips for additional training options
4.0 CHP motor
22" W by 60" L running surface
Built-in cooling fans
Financing available
Cons:
Weighs more than 400 lbs
Price is around $2,800
Large footprint and does not fold
Does not support streaming TV/movie apps
NordicTrack has three machines in its Incline Treadmill Series, all of which come with either a 22-inch or 32-inch high-definition touchscreen. The X22i has a 22-inch touchscreen, and both the X32i and the Elite have massive 32-inch screens. All of them are also equipped with iFIT, which streams live and on-demand interactive workouts.
RELATED: Nordictrack X32i Review
We like the Commercial X22i, which is the most affordable of the trio at around $2,800. It features an impressive -6% decline and a whopping 40% incline—much steeper than any other machine on this list. This promotes some serious incline training. Even better: You can use this machine for sled pushes and pulls. Set the machine at 1 MPH and use either the elevated push bar or the sled grips at the bottom of the console for muscle-building activity.
With a 4.0 continuous horsepower motor and a spacious 22-inch-by-60-inch running deck, the X22i can handle just about any workout for tall runners and serious trainees.
The treadmill itself weighs 400 pounds but has a shockingly low 300-pound user weight capacity. The X22i is 70 inches long, 39 inches wide, and 72.5 inches tall—it's a big machine. And because it's so heavy, it isn't easy to move, and the deck does not fold. Our advice is to build this where it's going to live and limit how much you might need to move it.
| | |
| --- | --- |
| Screen | 22" HD touchscreen |
| Programming | iFIT |
| Speed and Incline | 0-12 MPH; -6% to 40% |
| Conveniences | Bluetooth headphone connectivity; manual mode, sled-grip handlebars, dual cooling fans, water bottle holder |
Best Budget Treadmill With TV Screen: ProForm Carbon T10 Treadmill
Good for: Those on a budget looking for a machine with a high-end feel
ProForm Carbon T10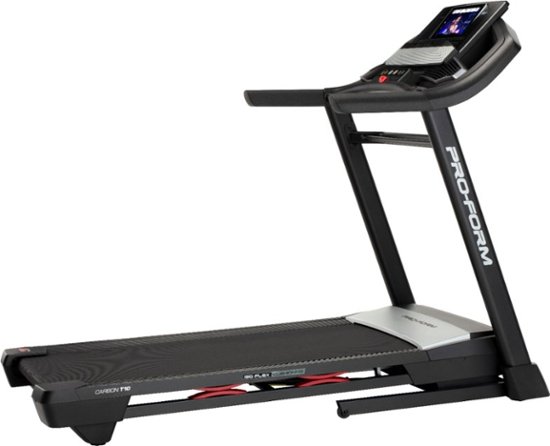 ProForm Carbon T10 Treadmill
If you are looking to combine simplicity and technology in a treadmill, listen up as the ProForm Carbon T10 may very well be for you. The Carbon T10 is a user-friendly, tech forward foldable treadmill equipped with a 10-inch, high definition interactive display. Included in your purchase is a three-year iFIT family membership, which allows users to fully immerse in workouts virtually anywhere in the world choosing from on demand or live global and studio classes.  With speeds ranging from .5 to 12 miles per hour and incline options up to 12 percent, it is easy to work up a sweat.The Carbon T10 comes with a 3.0 horsepower motor and while this may not reach the same strength seen in more expensive models, it is plenty strong enough to support you through workouts whether you are a runner or jogger. If you are an avid, endurance athlete, the 3.0 horsepower motor may not provide the sustained power you need to train. Users report that the T10 is fairly quiet. And, with a smaller footprint of  35.24 inches wide by 74.62 inches long and 64.39 inches, it is easy to store in smaller dwellings. To note, the cushioned running deck only measures 55 inches long (as with most foldable treadmills), so may not fit those with longer strides.
Pros:
Priced under $1,500
Financing available
Free shipping
3-year family membership to iFIT included
10" smart HD touchscreen
Folds
0-12% incline
Cons:
2.75 CHP motor is less than we'd expect
55" deck is not optimal for tall runners
Top speed is 10 MPH
Does not support streaming TV/movie apps
If you're on the prowl for a budget-friendly treadmill that has an advanced monitor, then the ProForm Carbon T10 might be it. It's one of the most affordable machines on the market with a built-in touchscreen (10 inches). Plus, ProForm offers free shipping, which is a big deal for something that weighs more than 200 pounds.
Here's the catch, if you want to call it that: The price of the treadmill is actually the cost of three years' worth of the iFIT family membership, which comes to just over $1,400. You have the option to finance that cost for $39 a month over the course of three years. This is a nice approach for people who want the programming iFIT offers without having to pay the subscription fee on top of the cost of a treadmill. If you don't want interactive programming, check out other affordable treadmills.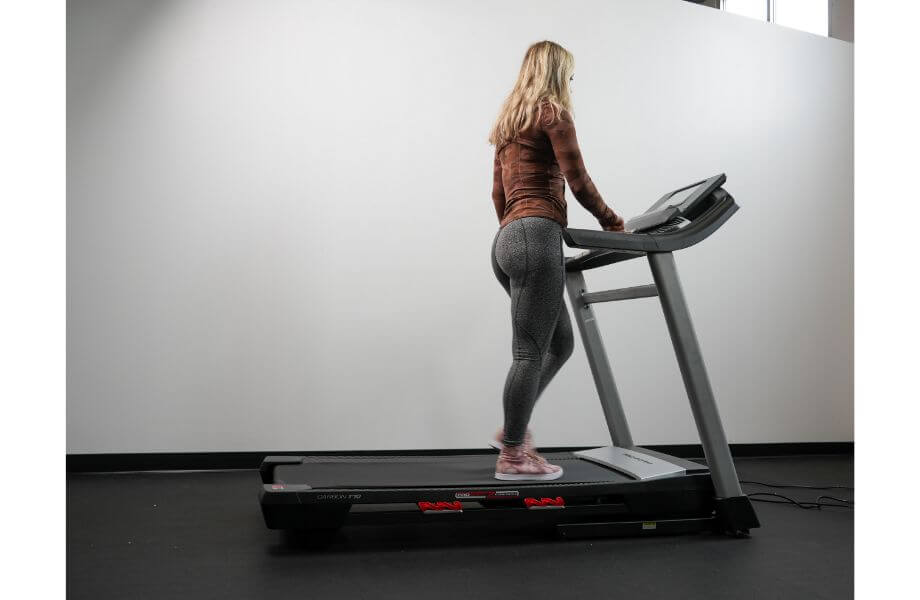 The specs on the ProForm T10 are actually a little underwhelming for this price point. Typically, once you go over $1,000, you'll see a top speed of 12 MPH, not 10, which is what the T10 has. And the 2.75 continuous horsepower motor is just under what we like to see on machines designed for heavy running. Typically, a 3.0 CHP is ideal because that motor is designed to withstand frequent use at higher speeds. Our testers found that the T10 shakes slightly when you hit top speeds, which isn't a dealbreaker, but also isn't ideal.
Lastly, the running surface is 55 inches long. If you're tall, this could mean you slightly alter your stride during sprints and interval training. However, if you're shorter, this won't be much of an issue. Overall, the T10 will deliver for entry-level users as well as walkers and recreational runners.
To learn more, check out our in-depth ProForm Carbon T10 Treadmill review.
| | |
| --- | --- |
| Screen | 10" smart HD touchscreen |
| Programming | iFIT |
| Speed and Incline | 0-10 MPH; 0-12% |
| Conveniences | Fan, dual speakers, water bottle holder |
Best High-End Treadmill: Peloton Tread
Good for: People who want elite-level gym equipment with renowned programming
Peloton Tread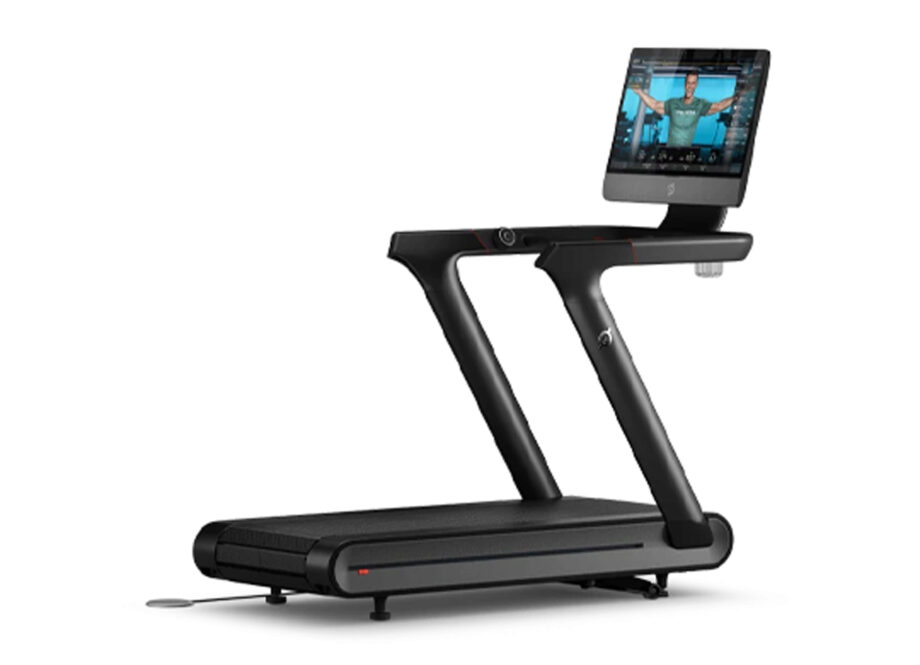 Peloton Tread
Unless you've been living under a rock, you've heard of Peloton and its cult-like following in the world of fitness. Peloton has gained a fantastic reputation for its world-class instructors, motivating classes and immersive experience, all of which are accessed with the Peloton Tread.Constructed from a carbon steel frame, the Tread is sleek, sturdy and able to support weights up to 300 pounds. The Tread features a 59 inch by 20 inch running belt, which is slightly smaller than those found on other treadmills in this price range. That said, it is plenty big enough for the majority of the population.Notably, there's no front hood housing the motor. Instead, the 3.0 horsepower motor is located in the deck, under the running belt area, which gives an overall roomier feel. Runners will benefit from the center red line located around the belt that encourages better running mechanics. While the Tread deck doesn't have shock absorbers, users report it still feels good and has a decent bounce.While running on this beautifully designed treadmill, users can interact with the 23.8 inch high-definition touchscreen to access workouts, leaderboards, fitness metrics and other training programs as well. Unfortunately, this does require a subscription and the Tread does not house any onboard workout programs.The touchscreen includes a front-facing soundbar, camera with privacy shield, rear-facing woofers, a USB port and space for two water bottles. You won't find a fan on this console, which seems a bit odd given the price but this certainly isn't a deal breaker. The Peloton Tread has Bluetooth 5.0 connectivity and supports speeds up to 12.5 miles per hour as well as an incline range of 0-12.5%. The Tread is missing a bit of functionality here as it does not offer a decline usually seen on a machine of this price. And, decline truly adds a level of variability and intensity so it would've been a nice touch.The Tread is also noted to be a very quiet machine. Aside from any sound that comes from the speakers, you won't hear much from the motor as you walk or run. It has several new safety mechanisms including an emergency stop button, safety key, stop-sensor technology in the belt and a "Tread lock," which is a four-digit passcode to unlock the belt.Buyers will want a dedicated spot to house the Tread. At 290 pounds, even with transport wheels it is not easily moved. And, while it's relatively compact, it does stamp out a footprint of 68 inches long, 33 inches wide and 62 inches high so it certainly isn't a spacesaver. Also, given the price of the Tread, the one-year limited warranty is quite disappointing.
Pros:
23.8" HD touchscreen
Peloton programming
Quality speakers
Safety locking mechanisms
3.0 HP DC motor
Financing available
0-12 MPH
0-12.5% incline
Cons:
Currently priced at $3,495
Does not fold
Weighs 290 lbs
No media shelf
Does not support streaming TV/movie apps
Peloton typically needs no introduction among cardio fanatics. Marked by world-class programming that our testers agree other streaming services can't hold a candle to, Peloton paved the way for smart home gym equipment and created a competitive market for any brand that followed.
When you compare the Tread to other high-tech treadmills, the specs seem to one-up the competition: a 23.8-inch touchscreen (many others are 22 inches); top incline of 12.5% (most others stop at 12%), and top speed of 12.5 MPH (whereas other machines cap out at 12 MPH).
Those numbers may be an attempt to justify the price tag: The Tread costs much more than most similar machines, coming in at close to $3,500. However, what you're really paying for is the Peloton App, AKA the gold standard of cardio fitness apps.
The Tread is currently the only treadmill currently available from Peloton. One important feature the Tread has is a locking mechanism that keeps unauthorized users from using the machine. This is especially relevant after the other treadmill in Peloton's line, the Tread+, was involved in the death of one child and dozens other incidents, prompting its recall.
Similar to many other treadmills with TV screens, the Tread does not have a media shelf. It is also heavy at almost 300 pounds and difficult to move.
Dig into more details on our Peloton Tread review and learn more about the Tread+ recall in our Peloton Tread vs Tread+ comparison..
| | |
| --- | --- |
| Screen | 23.8" HD touchscreen |
| Programming | Peloton |
| Speed and Incline | 0-12.5 MPH; 0-12.5% |
| Conveniences | Dual speakers, USB-C charging port, Bluetooth connectivity, water bottle holder |
Other Treadmills With Screens (And Some Smart Treadmills Without TV Screens We Like)
There are a few other machines that didn't make the cut on this list, either because we haven't tested them yet or because we didn't think they were a good fit. And, if you want to save a little money, we know of some smart treadmills that don't have a built-in screen but are compatible with devices so you can still stream and sweat. Here's a quick look at those products:
Bowflex 22 Treadmill: With a 22-inch touchscreen and JRNY programming, this Bowflex treadmill looks great on paper. However, it's quite pricey at over $2,500, and we haven't gotten to test this exact model yet.
Echelon Stride-S Treadmill: The Echelon Stride-S has a 10-inch touchscreen and also folds to just 10 inches flat, which makes it great for storage. The interactive programming falls a little short for us, however.
Horizon Fitness 7.8 AT: This is a great machine for serious runners. It doesn't come with a touchscreen, but it is equipped to sync with your smart device as well as apps like Peloton and Zwift.
Sole F63: This is one of our favorite treadmills. You won't find a touchscreen on it, but it does have a media shelf and fantastic Bluetooth speakers if you're looking to stream from your own device.
NordicTrack T-Series: We have yet to test these budget-friendly machines, which can be found on closeout on the brand's site or on Amazon. They are equipped to sync with your own device to stream iFIT or shows you like.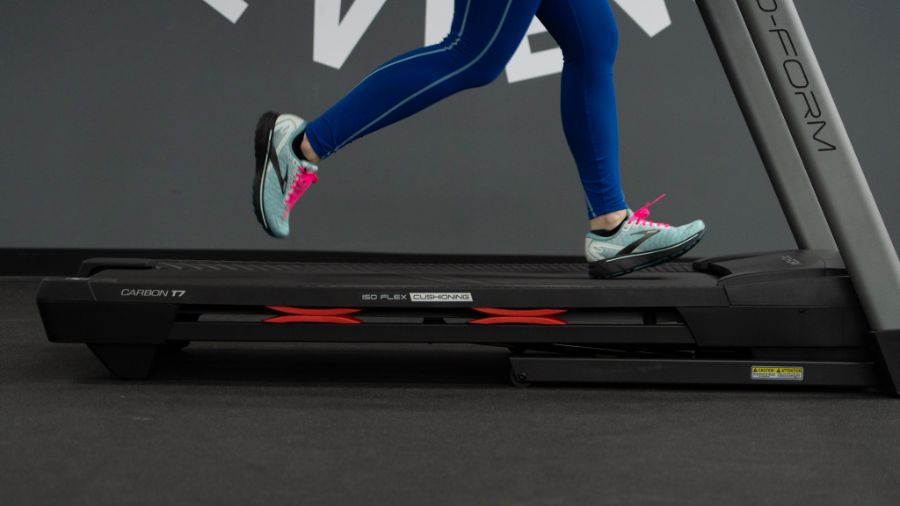 How We Picked and Tested
Every machine we recommend has undergone our multi-point testing methodology to rate aspects from how easy (or not) assembly is to what the manufacturer's warranty is like compared to the rest of the industry. Here are some key points we look at when evaluating treadmills:
Portability: Can you easily move the machine around your space? Does it come with conveniences, like transport wheels, to help you do so?
Motor: Is there a powerful motor to support frequent running, or is it better suited for walking treadmills?
Deck: Is the running surface long and wide enough to support people of all sizes?
Cushioning System: What is the shock absorption like?
Technology: What level of tech does the treadmill bring to your workouts? Does it have features such as a touchscreen, LCD screen, WiFi, heart rate monitor, or Bluetooth speakers?
Programming: Are there built-in running workouts for you to do, or is the machine compatible with a streaming app?
Speed and Incline: What speed and incline range is available?
Benefits of Treadmills With TV Screens
There are a few reasons to consider buying a treadmill with a large screen.
A Pleasant Distraction
One of the biggest reasons people consider purchasing a machine equipped with a TV screen or high-definition monitor? The pretty pictures take your mind off the workout. Some machines stream workouts via an app like iFIT or Peloton. Others are compatible with apps like Netflix and Hulu so you can watch your favorite shows.
Interactive Workouts
It's great to have a budget-friendly treadmill that has a few basic programs on an LCD display that take you up inclines and through sprint intervals. However, on a treadmill with a large, colorful screen, you can usually participate in more immersive workouts where a trainer guides you on a run through the beach or on a dirt path in the mountains.
The trainers are motivating, which can be great for both beginners and experienced runners. Also, the scenery gives you something nice to look at so you aren't watching the timer slowly count down the seconds until you're finished.
Easy-to-Find Metrics
When you have a 22-inch HD touchscreen right in front of your face, it's hard to miss your time, distance, pace, or calories burned. More affordable home treadmills may have small screens that require you to push a few buttons to find the data you need. However, the higher-end machines typically have a banner at the top or on the side of the screen that displays the numbers throughout your entire workout.
What to Look for in Treadmills With TV Screens
If you're in the market for a high-end treadmill with a big screen, here are a few items to watch for:
Technology Capabilities
Just because it has a big screen doesn't mean it can do everything you want it to. For example, most treadmills with large monitors aren't equipped to stream Netflix from the machine. If you're looking for that kind of capability, you'll have to read the fine print.
There are some workarounds for this. For example, if the machine has speakers with Bluetooth connectivity, you can place your own smart device on the tablet holder, hook it to the speakers, and stream shows that way. But be aware that not all treadmills with TV screens have device holders to safely stow a tablet.
Workout Program Subscription
Every treadmill on our list is compatible with an app that gives you options like on-demand workouts and runs that take you virtually around the world. However, these apps typically come with a monthly or yearly subscription. That's an added cost, though it's usually fairly nominal compared to spending thousands of dollars on a machine.
Also, consider that you may not want to keep that subscription one day. If that happens, does the machine have other built-in workouts you can do? Or a free version of the app that offers at least a few workouts?
Durability
Commercial-grade treadmills for home use are typically built to last. There a few specs to check out to make sure it's a good fit for your home gym:
Weight capacity: Can it hold your weight or the weight of anyone else who will be on it?
Treadmill motor: Does the motor's horsepower support your activity? A 3.0 CHP motor is preferable for those who plan to run often.
Warranty: A good warranty on these machines is 15 years to life on the frame and a similar timeframe on the motor.
FAQs About Treadmills With TV Screens
Are there treadmills with TV?
There are some treadmills that come with high-definition touchscreen displays that stream workouts. A few are compatible with apps like Netflix and Hulu. Our favorites are:
– Best Overall Treadmill With TV Screen: NordicTrack Commercial Series
– Best Treadmill With iFIT: ProForm Pro Series
– Best Treadmill to Stream Netflix: Bowflex 10 Treadmill
– Best Treadmill With Incline: NordicTrack Commercial X22i
– Best Budget Treadmill With TV Screen: ProForm Carbon T10
– Best High-End Treadmill: Peloton Tread
Can you watch TV on the NordicTrack treadmills?
The monitors on NordicTrack treadmills are not equipped to broadcast TV. Instead, they are compatible with iFIT, which features live and on-demand classes. You can use your own device on the machine's tablet holder to watch something and stream the sound through the BlueTooth speakers.
Can you watch TV on a ProForm treadmill?
No, the ProForm monitors aren't currently built to stream apps.