We test and review fitness products based on an independent, multi-point methodology. If you use our links to purchase something, we may earn a commission. Read our disclosures.
Are you ready for the latest and greatest in NordicTack commercial-grade cardio equipment? The redesigned NordicTrack Commercial 2450 is sleek, outfitted with a pivoting touch screen, and loaded with tech features. Not only does it feel sturdy, but it looks good, too.
You know how much we love the NordicTrack Commercial 1750—a machine with a smooth user experience from the console to the cushioned running surface. Will the NordicTrack 2450 and all the redesigned elements stand up to the machine we've considered the gold standard for home treadmills in the past? You'll want to buckle up and find out what the buzz is about in this NordicTrack Commercial 2450 review.
Treadmills Are Kind Of Our Thing
The Garage Gym Reviews team consists of certified personal trainers, CrossFit coaches and nutrition coaches—each with hours upon hours of experience with everything you'd need to build out an epic home gym, from specialty barbells to treadmills of all sizes.
Not only that, our testers have had hands-on experience with all NordicTrack products currently available on the market. Most recently, GGR writer and tester Caroline Lubinksy went to the iFIT headquarters in Utah to test out the redesign of the NordicTrack Commercial 2450.
NordicTrack Commercial 2450
NordicTrack Commercial 2450 Treadmill

The NordicTrack Commercial 2450 is a great treadmill for all of your at home workout needs. With features like the 22" tilt and pivot HD touchscreen where you can stream on-demand video workouts directly to your equipment, you'll enjoy a high-end experience each time you run on the Commercial 2450.This treadmill also features a -3% decline and 15% incline, so you can simulate outdoor running. While you're working out you can also turn on your fan to cool off and listen to the workout in your headphones with the Bluetooth connectivity.Let your whole family join in on the fun with the free 30-day iFIT family membership, which is included at the time of purchase.
A Quick Look at the NordicTrack Commercial 2450
Sister brand to ProForm, NordicTrack is an OG brand in the cardio equipment space, getting its start in 1975 in Minnesota with the classic Nordic ski machine. Since the humble beginnings of a machine that helped Midwesterners train for ski season in the non-winter months, NordicTrack has grown into a trusted brand for treadmills, ellipticals, rowers, and exercise bikes.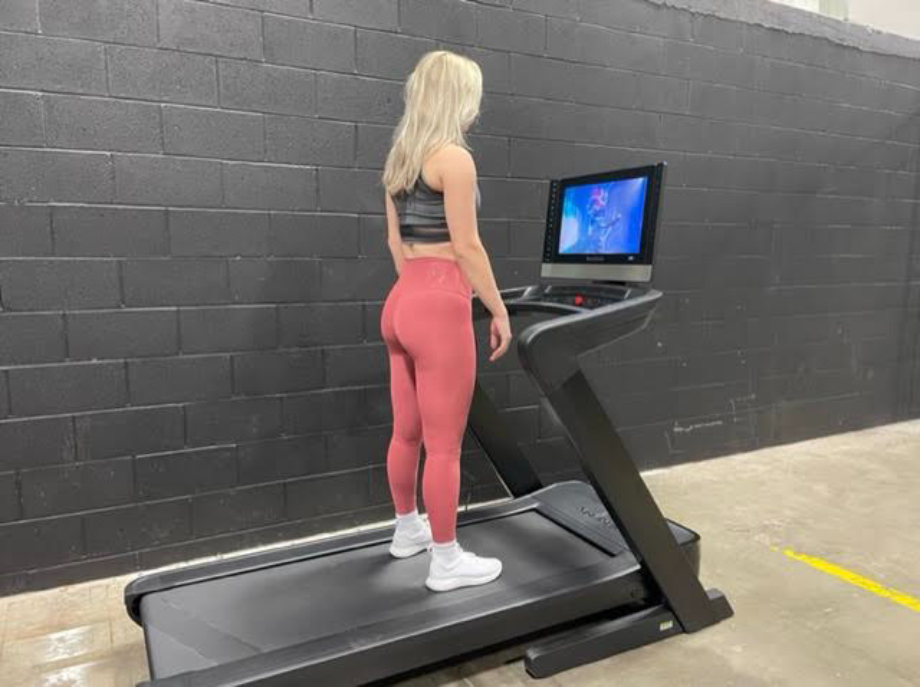 My Tips
This model is a slightly upgraded version of the 1750 model in the NordicTrack commercial series. There are financing options directly through NordicTrack regardless of which model you choose.
Upon delivery, you will have a lot of parts and screws to keep track of. This is not an easy piece of equipment to assemble and we suggest giving yourself one or two hours and grabbing a friend to help.
This is also not a small machine. I suggest taking measurements of your space before you purchase.
If you aren't interested in using iFIT on this machine, you might consider another model.
Pros:
Sturdy, durable steel construction
Touchscreen can tilt and pivot for movement on and off the treadmill
Cushioning is great for running at faster speeds to soften impact
Cons:
iFIT programming will run you a monthly bill
Costly piece of equipment coming in about $2,500
10-year frame warranty is below industry standard
Is the NordicTrack Commercial 2450 Worth It?
Your home gym equipment purchases are highly subjective on what you think is worth spending your hard-earned cash on. For a piece of equipment that will cost you $2,500, you'll want to be confident you not only feel comfortable spending that much, but the equipment has the features you're looking for now and will last you for a long time to come. Lastly, we just have to mention: It's only worth it if you use it.
Great for:
Accommodating people over six-feet tall or with long strides
Anyone who wants to run on a cushioned surface to reduce impact to joints
Those who like high-tech features and interactive programming
Not recommended for:
Someone who wants a no-frills treadmill
Small spaces—this is a commercial-sized treadmill you'd see in your neighborhood gym
Anyone looking for a budget machine
NordicTrack Commercial 2450 Specs
| | |
| --- | --- |
| Footprint | 81" L x 39" W x 59" H |
| Weight | 353 lbs |
| Weight capacity | 300 lbs |
| Motor | 3.6 CHP |
| Incline and decline | -3% to 15% |
| Warranty | 10-year frame, 2-year parts and 1-year labor |
| Display | 22" HD touchscreen |
| Tread belt | 22" W x 60" L |
| Foldable | Yes |
| Programming | iFIT (subscription sold separately) |
| Rollers | 2.5" non-flex rollers |
Using the NordicTrack Commercial 2450
With the sleek (dare I say, aerodynamic) redesign, you might be skeptical of the construction of the frame without the cross bar between the stabilizers. We're here to tell you the NordicTrack 2450 is a solid machine even without the cross section. The treadmill stabilizers are made from steel and are rubber-coated on the hand railing area for a non-slip grip.
The one downside to losing the cross section between the stabilizers is the loss in storage. This machine features just two two cup holders that are removable if you choose. Additionally, you will not find a phone or tablet holder on the NordicTrack 2450. This design will definitely make it harder for you to use another device, which is probably OK with you if you decided to purchase this treadmill.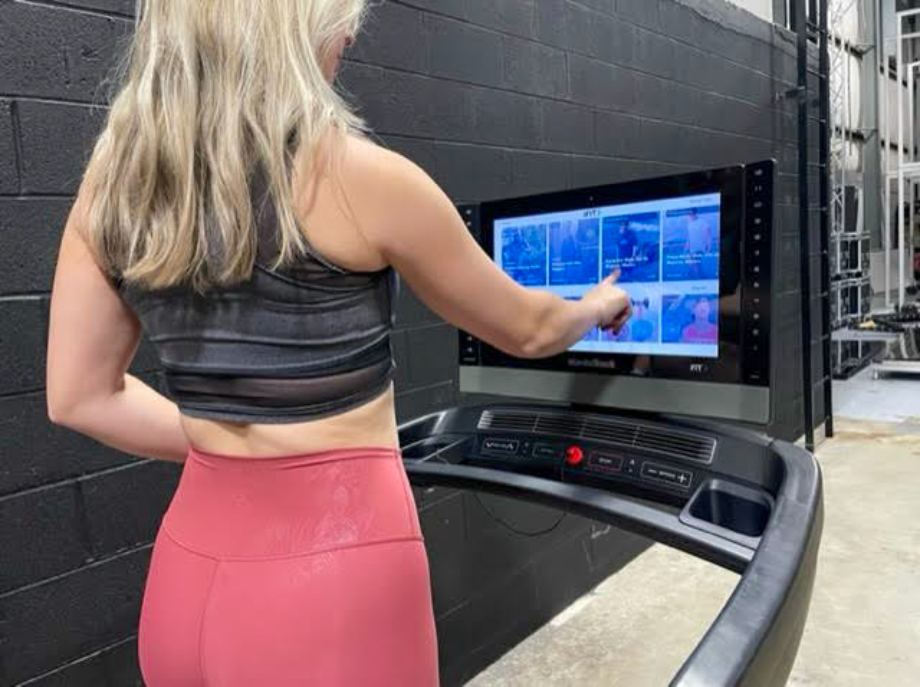 Along those lines, the 22-inch touchscreen is definitely a "wow" factor on this machine. The screen is not only large and high-quality, it tilts up and down and pivots nearly 360 degrees. We see this feature being pretty awesome for interval training or circuit workouts where you're bouncing back and forth between weights and the treadmill. Here is what we don't like about the high-tech touchscreen: The machine needs a strong connection to the internet at all times. The touchscreen even controls the treadmill's manual modes versus having manual controls hardwired into the machine, not requiring an internet source (we'll get into this more later with technology features and quirks).
Even with this oddity, you will find multiple places to change speed and incline range. One option flanks either side of the touchscreen and the other option located on the console below the screen (where you will also find the stop and start buttons and the safety key).
"A valuable feature on the NordicTrack 2450 is the ability to set the incline to 15% and decline to -3%, which is well above industry standard," says Caroline. "Most treadmills don't offer decline options at all." Speed maxes out at 12 MPH, which is above the 10 MPH industry standard.
One thing to note about the redesigned 2023 version of the NordicTrack 2450: It features a quiet, yet powerful, 3.6 CHP motor, which is weaker than the 4.0 CHP motor featured in the last model. Despite this, we don't think this was detrimental to the redesign.
Footprint, Portability, Durability, Construction
Although the NordicTrack 2450 is a big piece of equipment, it is a folding treadmill! The footprint when not folded is comparable to other commercial treadmills—it's not compact by any means. It's worth mentioning that the deck folds up toward the stabilizers and sits at an angled position versus lying flat.
The folding mechanism is super smooth with the EasyLift Assist built-in hydraulics. You can fold the deck upward by squatting down and picking up the deck with both hands. Have no fear, it's fairly light. Then to unfold, you can use your foot to unlatch the locked position on the hydraulic piping and watch the deck start a slow (and quiet) automatic unfolding process. Voila!
Once folded, it has wheels on the front stabilizers that make it easy to maneuver if you want to push it out of the way. It's certainly not a treadmill that can be stored in a closet or under a bed, but it will give you some floor space back when folded.
The Ergonomics
The 60-inch-long running deck makes this a great option for tall runners and short runners alike. It's also 22 inches wide, which is enough to make people of all sizes feel comfortable and not constrained. Plus the cushioning on this running deck provides a soft landing for runners and walkers alike.
"I really enjoyed the cushioned deck of the 2450," Caroline explains. "For people who frequently run outside, it might actually be too much cushioning, but for those who want to work out in comfort, this is a great choice."
A new feature in the redesign is the reduced step-up height. It was trimmed from a 10-inch clearance to nine inches for the 2023 model. That means stepping up onto the deck is going to be slightly easier for people concerned with mobility or for older individuals.
Technology Benefits and Conveniences
One of the stand-out features on the 2023 NordicTrack Commercial 2450 is the large console and touchscreen. "The 22-inch screen on the 2450 really brings the iFIT programming to life," Caroline says. "Although the treadmill itself is great on its own, the huge touchscreen is what makes this machine a cut above the rest."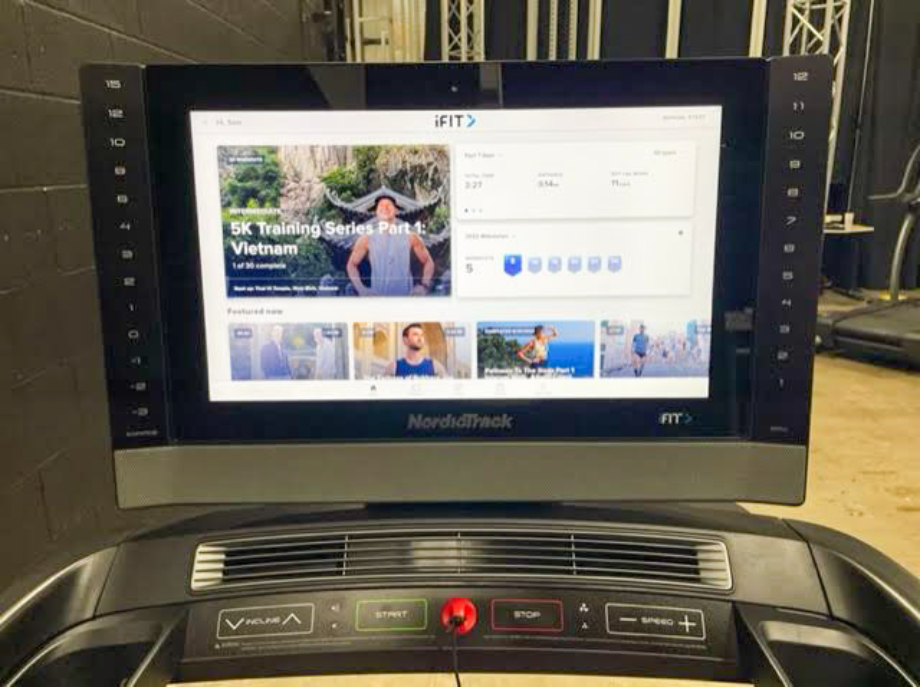 Several things you might like about iFIT on this treadmill: Not only will you have the option to cycle through pre-recorded classes and live stream sessions, you'll also be able to use Google Maps to choose pretty much anywhere in the world to walk, jog, or run. The running deck can even "smart" adjust your speed and incline depending on the workout you're participating in or the type of terrain you chose in Google Maps.
Lastly, your home screen keeps track of your weekly workouts and any milestones you've achieved. iFIT will even suggest workout programs and new content for you to try.
In addition to iFIT, here are some other features you'll like:
22" Tilt and Pivot HD Touchscreen
Incline/Decline Response
Premium Audio Speakers
ActivePulse™ Technology
AutoAdjust™ Technology
Bluetooth Headphone and Heart Rate Connectivity
Google Maps™ Workout Technology
AutoBreeze cooling fan
Technology Quirks
Although Caroline didn't experience this hands-on when she visited the iFIT HQ, we later read in customer reviews that the treadmill is quite difficult to use when not connected to Wifi. We've read that you can trigger manual mode on the tablet (which needs to be connected to the internet to use), but there is no manual mode on the console, hardwired into the machine. Therefore we're led to believe this machine could actually be quite useless without a stable internet connection.
iFIT
iFIT is a robust option for interactive programming, comparable to top brands like Peloton. You will have a vast choice of preprogrammed iFIT workouts to choose from in addition to progressive programs to challenge yourself with or on-demand classes. There is also a lineup of well-known iFIT trainers to follow, ranging from bodybuilders to ultra marathon runners.
If you plan on investing in a piece of equipment like the NordicTrack 2450, you will also need to be okay with the additional costs of having an iFIT membership. According to the NordicTrack website, iFIT pricing depends on the plan you choose and your billing frequency:
Individual Monthly: $15 per month
Individual Yearly: $180 per year
Family Monthly: $39 per month
Family Yearly: $39 per year
iFIT requires a one-year commitment for the monthly Family Plan, but doesn't not require any length of commitment for the Individual Plan (unless, of course, you already paid for the year upfront). If you're considering the Family Plan, you will be happy to know you can have a total of five unique users, all workouts and data tracked separately. You can also use iFIT on different pieces of equipment or log in on your smartphone or tablet.
Comparison to NordicTrack Commercial 1750 and 2950
The NordicTrack 1750 has also seen a redesign and upgrades. Overall, they are very similar machines and the size of the touchscreen and the motor are where things differ. The NordicTrack Commercial 2950 on the other hand, is due for a redesign and can only be found on websites like Amazon and Best Buy. Overall, the NordicTrack 2950 is similar, features a lot of the same technology, just not quite as sleek as the newest machines to roll out from the commercial series.
| | | | |
| --- | --- | --- | --- |
| | Commercial 1750 | Commercial 2450 | Commercial 2950 |
| Price | $1,999 | $2,499 | $2,499 |
| Footprint | 80" L x 38" W x 65" H | 81" L x 39" W x 59" H | 79.5" L x 39.2" W x 66.6" H |
| Display | 14" touchscreen that tilts and pivots | 22" touchscreen that tilts and pivots | 22" touchscreen |
| Weight | 340 lbs | 353 lbs | 357 lbs |
| Motor | 3.5 CHP | 3.6 CHP DURX | 4.25 CHP |
| Running area | 22" x 60" | 22" x 60" | 22" x 60" |
| User weight capacity | 300 lbs | 300 lbs | 300 lbs |
| Speed | 0-12 MPH | 0-12 MPH | 0-12 MPH |
| Incline | -3 to 15% | -3 to 15% | -3 to 15% |
| Folding | Yes with EasyLift Assist | Yes with EasyLift Assist | Yes with EasyLift Assist |
| Workout fans | Yes | Yes | Yes |
| Water bottle holder | Yes | Yes | Yes |
| Bluetooth | Headphone and heart rate monitoring connectivity | Headphone and heart rate monitoring connectivity | Headphone and heart rate monitoring connectivity |
Customer Experience
NordicTrack offers a 10-year warranty on the frame, two-year on parts, and one-year on labor. This is standard for the brand but not standard for the industry, and with such a high-ticket price, we think NordicTrack could do better with a 15-year warranty on the frame. There is also a 30-day return policy, which we find pretty standard for cardio equipment.
Caroline tested the live chat function, which she thought was great for simple questions but it's limited once you start getting into the iFIT technology. The email function was only so-so, it took about a week to get a response. For the investment, we'd ideally like to see better customer service (especially knowing this treadmill relies heavily on the tech capabilities).
Ordering and Assembling the NordicTrack Commercial 2450
You can find the NordicTrack 2450 on the retailer's website, in addition to Amazon and Best Buy. When buying from NordicTrack directly you will not only have the option to finance your purchase, but the option to have your treadmill assembled for you upon delivery. If you are willing to spend the extra money on the service, we say do it. This treadmill has a lot of parts, screw, bolts, and even some wiring to perform. It's not an easy task—so much so that the representative at iFIT HQ told Caroline that even if you've assembled fitness equipment before, it's still difficult.
Customer Reviews
The reviews from BestBuy and Amazon range quite a bit. From raving fans to remorseful buyers, most of the negative comments centered around the iFIT technology, not the treadmill itself. However, reviewers are letting it be known that the treadmill doesn't really function without internet connectivity and an iFIT membership.
Final Verdict of Our NordicTrack Commercial 2450 Review
Overall, this is a solid choice for a home treadmill. We love the fact that it's well-built and has great speed and incline ranges. Here are some final points to consider:
The 2450 has sturdy, solid construction that is built to last.
iFIT offers fun, interactive programming that won't get boring.
The machine is limiting you as the user the way the treadmill forces you to use iFit.
If you're looking for a tech-heavy treadmill that still provides impressive mechanical stats, the 2450 could be a good option.
NordicTrack Commercial 2450 Rating
NordicTrack Commercial 2450
This edition of the NordicTrack Commercial 2450 is a tech-heavy option for those who want sound mechanics and great interactive programming.
Product Brand: NordicTrack
Product Currency: USD
Product Price: 2499
Product In-Stock: InStock
NordicTrack Commercial 2450 FAQs
Here are some frequently asked questions about the NordicTrack Commercial 2450.
Can you watch TV on NordicTrack 2450?
No. The touchscreen is an Android product, but does not have the user interface to download apps from Google Play. It's meant to solely support the iFIT software. 
Does NordicTrack 2450 work without the Internet?
No (and we think this is a huge downfall). The treadmill does have a manual mode, but you need to access it through the tablet, which will need a strong internet connection to work. This is unlike other treadmills that offer both interactive streaming in addition to hardwired manual options.
How much does a NordicTrack Commercial 2450 treadmill weigh?
The NordicTrack 2450 weighs 353 pounds and has a weight limit of 300 pounds. 
Does the NordicTrack 2450 fold up?
Yes, the NordicTrack 2450 does fold—the running deck can be folded up toward the console when not in use. In the folded position, it's fairly easy to move the treadmill because the wheels are located on the front stabilizers. However, the folded position is not ideal for discrete storage.