We test and review fitness products based on an independent, multi-point methodology. If you use our links to purchase something, we may earn a commission. Read our disclosures.
Vertical climbers don't get as much attention as treadmills, ellipticals, or even rowing machines, but they provide an incredible cardio workout. Made to simulate outdoor rock climbing, a vertical climber machine provides a full-body workout that's low-impact, but gets your heart rate up while engaging all of the muscle groups.
Of course, like any other cardio machine category, there are many to choose from. There are basic, foldable models that do the job without any bells and whistles, or top-tier climbers that have interactive programming and adjustable resistance levels (but take up more space). These machines also range in price from a couple hundred dollars to several thousand if you want the most serious, advanced option.
To help narrow your choices to the best vertical climbers, the Garage Gym Reviews team spent much time in the testing lab, going through workouts on more than a dozen vertical climbers. If we didn't personally test a climber, we only chose it if we've had personal experience with similar machines (an earlier model, for example) or the brand. Here are our top picks.
Best Vertical Climbers 2023
Best Vertical Climber Overall: CLMBR
Good for: climbers of any fitness level who want advanced technology
The CLMBR is the Peloton of vertical climbers. This technology-rich machine comes equipped with a 21.5-inch LCD touchscreen that provides a fully immersive climbing experience (without the actual heights). You can choose from several different types of classes, like bootcamp, rhythm, interval, and strength, some of which require you to get off the machine and do floor work, like stretching.
You can bypass the guidance and do a manual climb, however, the interactive programming is one of the major draws of this machine. It does come at a cost though—you'll pay $39.99 per month for an ongoing subscription that gives you access to instructor-led climbs and various widgets that let you customize your experience. The touchscreen also displays metrics like average tempo, distance, average reach, average power, average pace, heart rate, calories burned, and total time.
Independent of the technology, the CLMBR is a serious—and adaptable—machine. It has adjustable handles with various grip positions (neutral, underhand, and overhand) and platform-style pedals with adjustable straps. The foot pedals are big enough to accommodate most foot sizes, but if you have large feet, you might have trouble stabilizing yourself. One GGR reviewer, Anthony O'Reilly (who has a size-15 foot) had trouble getting comfortable on the machine.
At 180 pounds, the machine is not super heavy but it does need dedicated space since it doesn't fold up to store away. It is on wheels though, so you can move it around as needed.
| | |
| --- | --- |
| Dimensions | 35" L x 32" W x 88" H |
| Weight | 180 lbs |
| Maximum Weight Capacity | 350 lbs |
| Warranty | 12-month warranty |
| Assembly Required? | Yes |
Best Budget Vertical Climber: Doufit Vertical Climber Exercise Machine
Good for: someone looking for a way to workout inside on a budget
Fair warning from Coop: "This is a very cheap vertical climber, but it can work for the right person." So, who is that person? Someone looking for a low-impact, indoor workout but doesn't want the cost or maintenance of a pricier cardio machine.
This basic vertical climber has a steel frame and seven levels of adjustable heights that can accommodate various users. It has a max stride of 1.3 feet and a max height of 6.3 feet to the top of the handlebars. The manufacturer even warns that it does get a little wobbly at the maximum height, so make sure the climber is properly secured before using it if you're on the taller side.
There's no fancy technology included, but it has a small LCD screen that tracks and displays basic metrics like calories, time, virtual distance, and step count so you can keep track of your workouts. Plus, it has a folding design for easy storage, so when you're done with your workout, you can wheel it away into a closet or slide it under a bed until next time.
The bottom line? "You get what you pay for, but this could be a nice alternative to walking outside for some," says Coop.
| | |
| --- | --- |
| Dimensions | 37.2" L x 24" W x 64.8 to 75.6" H |
| Weight | 34 lbs |
| Maximum Weight Capacity | 220 lbs |
| Warranty | 12 months |
| Assembly Required? | Yes |
Best Vertical Climber for Beginners: MaxiClimber XL
Good for: beginners and those who want to do casual climbing workouts
If you're new to vertical climbing and want to dip your toes in, you probably don't want to spend a fortune on the fanciest machine. The MaxiClimber XL is a good middle ground for beginners and those who want to incorporate climbing into their fitness routine, but aren't planning on heavy, daily use.
This vertical climber has a similar A-frame construction to the budget-friendly Doufit machine, but with a more durable aluminum frame that doesn't wobble as much. It doesn't have any advanced technology or performance displays, but it does offer 12 hydraulic resistance levels and a high-friction roller mechanism that makes for smooth movement.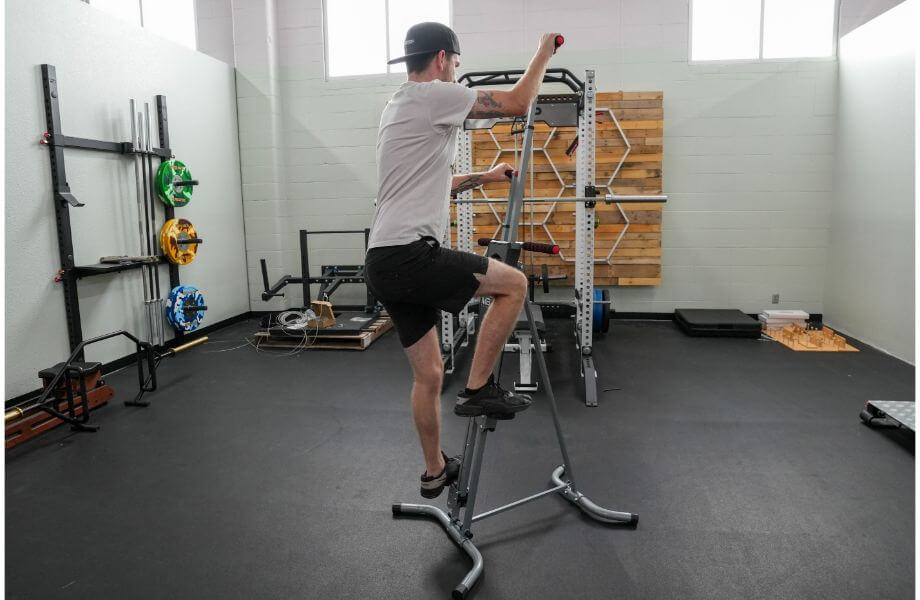 It also has adjustable height levels and can accommodate users up to 6.6 feet tall. If you don't want to do manual workouts, you can download the MaxiClimber fitness app to access-instructor led fitness classes.
One downside, according to Coop, are the plastic guide wheels and, really, the amount of plastic in general. But overall, this machine is stable and it can help you decide if you like this kind of training before spending on something more expensive, he says. The folding design makes it ideal for smaller spaces.
| | |
| --- | --- |
| Dimensions | 25.78" L x 41.33" H |
| Weight | 52.5 lbs |
| Maximum Weight Capacity | 300 lbs |
| Warranty | 12 months |
| Assembly Required? | Yes |
Best Advanced Vertical Climber: ROEPFLEX Apex RX 4400
Good for: serious climbers with money to spend
The ROEPFLEX Apex RX 4400 is an absolute beast of a machine, according to Amanda Capritto, GGR editor, who tested this machine at a CrossFit competition. "This machine provides a great cardio and strength training workout at the same time, and the build quality is impressive. It's a tank," she says. Yes, it's a huge four-figure investment, but if you're looking for a workout machine that will stand the test of time, this is an excellent option.
Essentially, a climber and treadmill hybrid, the RX 4400 combines weight-bearing incline training with continuous resistance. You can use the handlebars to simulate a vertical climb, or grab onto the ropes to turn it into rope-pulling resistance training.
The machine has a moving tread belt and uses progessive magnetic resistance to automatically adjust resistance from 30 to 450 pounds based on your current speed and intensity. The resistance on the tread belt operates independently from the rope pulling drum, and it has an adjustable angle that you can set from 50 to 60 degrees, depending on how extreme you want your workout to be that day.
There's no screen, even a basic one that displays metrics, but truth to be told, you're going to want to give the workout your full attention anyway. Even though this machine is a beast, it's a good fit for beginners to advanced climbers.
It does have a huge footprint though, so if you want to make the commitment, you're going to have to find a dedicated spot for it.
| | |
| --- | --- |
| Dimensions | 90" L x 42" W x 90" H |
| Weight | 385 lbs |
| Maximum Weight Capacity | Not disclosed (but we reached out to ask) |
| Warranty | None disclosed |
| Assembly Required? | Yes |
Best Vertical Climber for Cross-Training: Xebex Fitness Vertical Climber 2.0 Smart Connect
Good for: anyone who's serious about training and doesn't mind the investment
A vertical climbing machine isn't just for advancing your climbing skills. It's a versatile piece of fitness equipment that can help build your overall strength and performance by working all the major muscle groups (back, shoulders, arms, legs, glutes and core) and providing a low-impact, total body cardio workout. The Xebex Fitness Vertical Climber 2.0 Smart Connect is especially great for cross-training due to its versatility.
It has 16 resistance levels and includes a variety of pre-programmed workouts as well as various customizable training programs, including options for HIIT, target goal, and racing. You can use it as-is, or add up to four attachments, including a cross-crawl attachment, neutral handles, a stepper rail attachment, and extender arms that add five inches of height to the machine. The handlebars also have four adjustable positions to accommodate users of different heights.
This is a heavy-duty, freestanding machine that's extremely stable, according to Coop. It has self-generating power which makes it perfect for use in the garage; as you climb, the batteries recharge so you never have to plug it in. It's also belt-driven, so it's quieter and smoother than chain-drive models. There's no fancy technology, but it does have a basic console that displays time, speed, step length, distance, pulse, calories, interval, and resistance level.
Coop recommends this machine if you're serious about training, but be aware that it is an investment and takes up a lot of space.
| | |
| --- | --- |
| Dimensions | 43" L x 40" W x 89" H |
| Weight | 202 lbs |
| Maximum Weight Capacity | 350 lbs |
| Warranty | 5-year frame, 2 year non-wear parts |
| Assembly Required? | Yes |
Best Folding Vertical Climber: RELIFE Folding Vertical Climber for Home Gym
Good for: those who don't have a lot of space to dedicate to a climber
If you don't have a lot of dedicated floor space, you need a foldable vertical climber that's durable enough to get the job done, but easy to store. While the RELIFE Vertical Climber isn't a fancy piece of exercise equipment, it will work well for this purpose.
This lightweight fitness machine has a steel frame and A-frame design that keeps it fairly sturdy for its price. It's height-adjustable—there are five levels—and relies on your body weight for resistance. The different heights also translate to different levels of resistance. The lowest height is equivalent to jogging, while the highest makes it feel closer to rock climbing.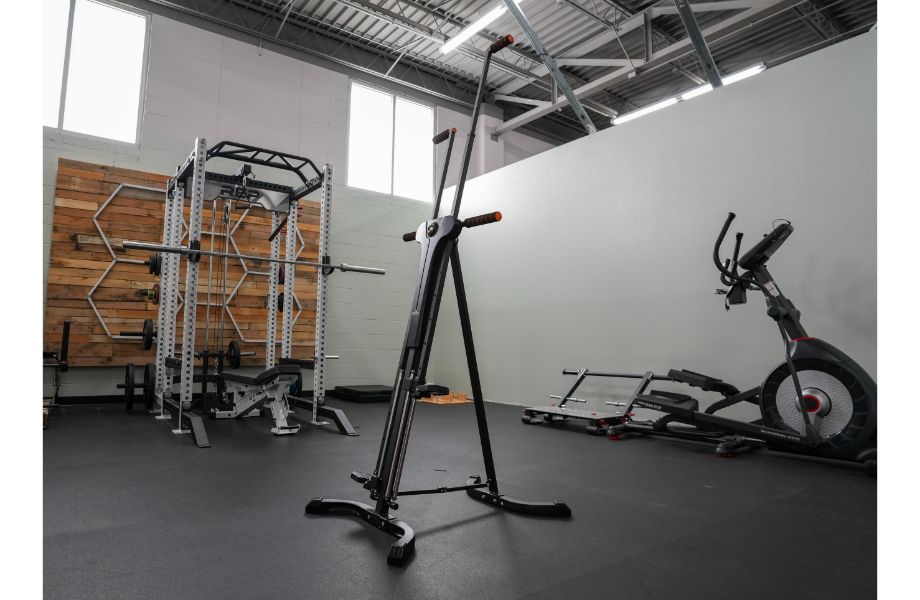 There's no console or electronic way to control the machine, but it has a sliding cable that reduces friction and makes for pretty smooth operation. It stores completely flat and while it's not on wheels, it only weighs 43 pounds, so it's easy enough to pick up and put away when you're not using it.
The handles are fixed and wrapped in a high-density foam. While Coop doesn't love the foam grips since it's hard to hold them during a sweaty workout, they're pretty standard on machines at this price point.
| | |
| --- | --- |
| Dimensions | 37.5" L x 28" W x 85" H |
| Weight | 43 lbs |
| Maximum Weight Capacity | 250 lbs |
| Warranty | 12 months |
| Assembly Required? | Yes |
Best High-End Vertical Climber: VersaClimber SM Sport
Good for: Heavy, regular use
VersaClimbers are the original gym climbing machines and some of the best on the market, according to Coop. "They're pricey and really made more for commercial settings, but they are good," he says, adding that the VersaClimber SM Sport would be one he adds to his home gym.
VersaClimber makes various models, but the SM Sport acts like two cardio machines in one: a stair stepper on the bottom and a climber on the top. This creates a simultaneous pushing and pulling action that works your entire body while optimizing effort (and calorie burn). Both the step and arm height can be adjusted up to 20 inches so you can find your ideal fit, and there are three grip settings that let you switch up your workout.
The SM Sport comes in a fixed resistance model or a variable resistance model that goes up to 500 pounds for about $900 more. You can also add Bluetooth for an additional $100 or go without. Bluetooth allows you to connect the VersaClimber to your phone so you can transmit your workout data to the VersaClimber app.
There's no fancy screen on this vertical climber, but there is a basic console and control panel where you can operate the machine and monitor basic metrics like time, distance, calories, feet per minute and virtual opponents.
| | |
| --- | --- |
| Dimensions | 43" L x 46" W x 94" H |
| Weight | 150 lbs |
| Maximum Weight Capacity | 350 lbs |
| Warranty | None disclosed |
| Assembly Required? | Yes |
Best Vertical Climber with Adjustable Resistance: Sole CC81 Cardio Climber
Good for: those looking for a wide range of resistance levels
Coop describes the Sole CC81 as more of an elliptical than a true vertical climber, but if you're looking for a machine with adjustable resistance and are okay with a different stride pattern, it's a good option for you.
Like Sole treadmills and exercise bikes, this is a high-quality piece of equipment, but it doesn't have a lot of bells and whistles. There's a basic LCD display that gives you access to six standard programs, two custom programs, and two heart rate programs. You can also control the climber manually, using a dial knob to toggle through the levels of manual resistance.
The handlebars have four adjustable height levels and the grips themselves are adjustable, too, for more workout variance. There's no Bluetooth connectivity, but the CC81 does have a tablet holder so you can follow along with your own fitness or streaming service. You can also sign up for Sole's fitness app, STUDIO, to access on-demand classes.
The CC81 also comes with basic comfort features like a water bottle holder and a tablet holder.
| | |
| --- | --- |
| Dimensions | 59" L x 31" W x 86" H |
| Weight | 265 lbs |
| Maximum Weight Capacity | 400 lbs |
| Warranty | Lifetime frame, 5-year parts, electronics, and labor |
| Assembly Required? | Yes |
Other Vertical Climbers We Researched
We also researched and tested some of the following vertical climbers, but they didn't make our list for various reasons. Some of them didn't live up to our standards, and others we liked, but just not enough to call them the "best."
VersaClimber H/HP: VersaClimber is one of Coop's favorite vertical climber brands. The H/HP is a decent model, but it's fairly basic for the price. If you decide to go with it, we think you'll be happy; we just prefer the VersaClimber SM Sport since it's a bit more rugged and not too much more expensive.
MaxiClimber Classic: We tested the MaxiClimber Classic alongside the MaxiClimber XL. We thought they both performed well, but we liked the XL better because you can control the resistance andthe frame is a bit sturdier. The MaxiClimber Classic relies only on body weight, which isn't a bad thing, but the XL is more versatile.
Sunny Health & Fitness Total Body Cardio Climber: Sunny Health & Fitness makes budget-friendly cardio machines that make it to many of our best lists. However, while this machine is marketed as a climber, it functions much more like an elliptical. We think you should go for a true climber or get a better budget elliptical if you want to go that route.
VersaClimber LX Model: This commercial-grade vertical climber from VersaClimber is an excellent machine, but if you're willing to shell out a few thousand dollars, we think the CLMBR is a better, and more versatile, option.
How We Picked and Tested The Best Vertical Climbers
Most of the vertical climbers on this list were personally tested by the Garage Gym Reviews team. They were used multiple times at various speeds by users of different heights, body types, and fitness levels. In addition to paying attention the climber's performance (stability, noise level, etc), the following variables were factored into the decision on whether or not they made this list:
Ease of setup
Footprint
Display
Interactive programming
Technology
Price/value
Warranty
Durability
Any climbers that weren't tested were carefully vetted by the team, taking into account specs, brand recognition (whether we've tested and loved products from that brand before) and user reviews.
Because vertical climbers really run the gamut in terms of construction and price, we wanted to come up with a well-rounded list that was suitable for all different types of people, from beginners to serious climbers.
Benefits of a Vertical Climber
Vertical climbers come with plenty of benefits. They provide a low-impact, total body workout that's more effective at burning calories than some other common cardio exercises.
High Calorie Burn
If you're looking to burn calories, vertical climbers get the job done. According to Harvard Health, a 185-pound person can burn 335 calories in a 30-minute climbing session. For reference, a person of the same weight will burn around 252 calories jogging for 30 minutes and 294 rowing at a moderate pace.
Total Body Workout
In addition to burning a high amount of calories, climbing is efficient, since it's a total body workout. "When you use a vertical climber, you're engaging all of the major muscle groups in your upper and lower body, as well as your core," says Amanda Capritto, certified personal trainer (CPT) and health coach. "You're essentially getting a cardio and strength training workout at the same time."
Low Impact
Vertical climbers are also low-impact, just like rowing and elliptical workouts. They provide a highly effective workout without putting undue strain on your joints. This can lower the risk of injury and make them accessible to people with certain musculoskeletal conditions and injuries, according to Amanda.
Smaller Footprint
Even though you can find compact versions, treadmills, ellipticals, and even stationary bikes take up a pretty decent amount of space. While there are large vertical climbers too, it's easier to find foldable versions that you can actually put into a closet or under the bed if needed. "If you have limited space to do your home workouts, a climber is a great way to take advantage of the vertical space in your home," says Amanda.
Buying Guide: What to Look for in a Vertical Climber
There isn't a single vertical climber that will work for everyone, so you have to decide what's important to you. When narrowing down your choices, here are the things to consider.
Features
Vertical climbers come in a wide range of options. There are very basic models that simply have handlebars and foot pedals attached to a frame. There are mid-range models that have basic performance displays and some adjustable resistance levels. And then there are the decked out versions that have immersive displays, interactive workout capabilities, and multiple levels of resistance.
The price of the machine typically coincides with the amount of features you get. Basic models cost a few hundred bucks while technology-rich machines can go for several thousand. When looking at vertical climbers, decide which features are important to you and if the added cost is worth it. Keep in mind that any machine that requires a subscription for full functionality is going to have a monthly cost attached to it.
Footprint
As with any fitness machine, you need to make sure you have the space to store it. Check the dimensions of the vertical climber and whether or not it folds for easier storage. Check the height, too, and make sure that you have enough overhead clearance when standing on the machine.
Adjustability
Vertical climbers work best (and feel most comfortable) when they're properly adjusted for your height. This ensures the handlebars and foot pedals are in line with your natural climbing stride. Since there's no one-size-fits-all here, getting an adjustable vertical climber can help ensure that there will be a setting that works well for you. When looking at your options, make sure you check if there's a height limit.
Maximum User Weight
The maximum user weight is an important consideration, especially if you're getting a budget-friendly machine that doesn't have the same sturdiness as some of the more expensive models. If you're at the higher end of the weight range, the climber may feel wobbly or struggle to function properly. Make sure you're choosing a machine that can properly accommodate you.
Price
Of course, price matters for any purchase. You can get a cheap vertical climber for as little as $200 or a really high-end machine for close to $8,000. Before digging into your options, decide on your budget and how much you want to spend. If you're a serious climber and you're going to be using the vertical climber every day, it makes sense to invest a little more into a machine that will last, rather than the cheapest one that you'll likely have to replace often. As Coop always says, you get what you pay for in most cases.
FAQs
Do Vertical Climbers Build Muscle?
Vertical climbers offer a full-body workout that combines cardio and strength training. "While they won't build muscle in the same way as weightlifting, they do work the major muscle groups in the lower body and upper body and can help you reach your fitness goals by reducing body fat and increasing lean muscle mass (when combined with a healthy diet)," says Amanda.
Do Vertical Climbers Build Glutes?
Climbing engages muscle groups in your entire body, including the glutes, quads, hamstrings, arm, back, chest and core. As such, vertical climbers can help build glutes, but depending on your goals, you still might want to work leg day into the rotation.
Are Vertical Climbers Better Than Treadmills?
Vertical climbers and treadmills are very different machines, so there's no easy way to say if one is better than the other. It really depends on what you're looking for. Vertical climbers offer a low-impact, total body workout, and there are many budget-friendly options with smaller footprints that work in small spaces. 
Treadmills are more versatile. You can get a low-impact workout if you walk a slower pace, or a high-impact workout if you increase the speed. Treadmills are also better for high-intensity interval training since they're easier to manually control. However, while there are foldable treadmills, they're still pretty big and require more dedicated space.