We test and review fitness products based on an independent, multi-point methodology. If you use our links to purchase something, we may earn a commission. Read our disclosures.
The best stability running shoes of days of old consisted of dense midsole foam, metal medial posts, and stiff heel counters. The general theme was a lack of responsiveness with an intent to create overt motion control and prevent inward rolling of the feet, or pronation.
Luckily, the best running shoes for stability today aren't so orthotic, and a lot of them even look just like neutral running shoes thanks to new-age support systems like guiderails and rockers. Whether you're looking for road running shoes for long distances or for daily trainers with a little extra support, this guide has a pick for you.
Running to Find You the Best Products
Our testers aren't just people who try out a lot of products. While that's a cool (and very important) part of our job, we also live and breathe fitness and hold certifications in personal training, CrossFit, Olympic weightlifting, and nutrition. Our team exists to help everyone from beginners to advanced athletes of all disciplines find the right products for their pursuits.
Best Stability Running Shoes in 2023
Best Stability Running Shoes Overall: Mizuno Wave Horizon 6
Good for: Springy feedback on a stable, broad platform
I've logged over 25 miles in these and I intend to log many more! These have proved fantastic for multiple types of runs (but I especially love them for recovery and easy runs), as well as long walks.
Though I don't overpronate, I appreciate the tech in these shoes. Mizuno's WAVE® plate is designed to disperse energy from each footstrike and provide a more stable platform for the foot, while the ENERZY core and midsole foam maximizes spring and propulsion.
The mesh is very tightly woven, making me think these will fend off "toe punches" to the upper for longer than most shoes. Also, the midsole feels firm, so I have an inkling it will resist compression over time compared to some other shoes in my closet.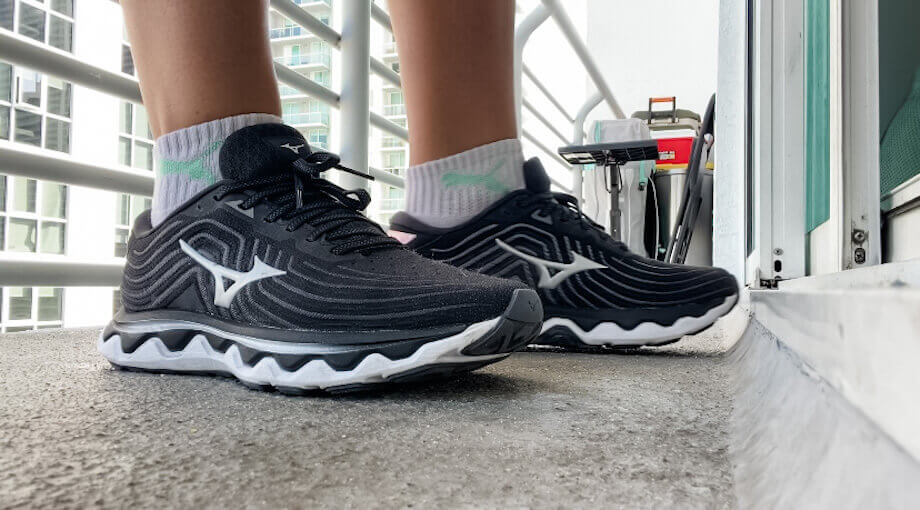 Overall, these are fantastic. The crash pad is wide, as is the toe box, so they feel stable throughout the entire running stride.
The lugs are an average depth for road shoes, having performed fine after rain and in dry, normal conditions. One thing I really love about the Mizuno Wave Horizon shoes is that they felt comfortable from the first try-on. I just love a running shoe that feels roomy in the toe box yet snug in the heel, and that's exactly how these feel.

Aesthetically, these just look like typical running shoes. I wouldn't wear them with jeans, that is to say. I do like the sporty wave design on the midsole—makes me feel athletic.
| | |
| --- | --- |
| Heel-to-toe drop | 8 mm |
| Weight per shoe | 11.2 oz |
| Upper construction | Tightly woven mesh |
Best Budget Stability Running Shoes: HOKA Arahi 6
Good for: Preventing overpronation with less than $150
Before you get mad that we're recommending a $140 pair of shoes as a budget option, hear me out: No, normally I wouldn't place something that costs three digits here. But considering our other options, which range from $150 to $170—and the fact that stability shoes serve a specific purpose and shouldn't be forgone if they are needed—we think $140 is fair for these shoes.
Plus, "$140 is about standard for running shoes these days," says GGR editor and product tester Nicole Davis. "HOKA is a reputable brand, and I think a specific customer really finds value in their offerings."
These are categorized as "stable" and "balanced" on the HOKA website, with their J-Frame tech designed specifically to prevent excessive overpronation. HOKA's J-Frame technology combats inward rolling of the feet yet doesn't weigh down the shoes, which is a hard combo to come by. Nicole, who doesn't overpronate, says they still feel comfortable to her.
"I like these shoes—a solid option for walking and running. I'll get lots of use out of them for sure," Nicole says of the Arahis. "I've had no issues with construction and durability thus far; they're light, made partially of recycled materials, and just feel good."
The Arahis have "good traction overall," Nicole says, although she hasn't worn them in wet conditions yet. "These are my first pair of HOKAs, and I like them. They're not the most cushioned pair HOKA makes, which is good, in my opinion. They're light, breathable, easy to get on and off, and would be comfortable for extended periods of time."
| | |
| --- | --- |
| Heel-to-toe drop | 5 mm |
| Weight per shoe | 7.6 oz (women's), 9.3 oz (men's) |
| Upper construction | Lightweight woven textile |
Best Stability Running Shoes for Overpronation: ASICS Gel-Kayano 28
Good for: Runners who overpronate and want structured support to combat it
For severe overpronation, a shoe with targeted areas of stiffness and cushioning is best. The ASICS Gel-Kayano 29 or 28 is a great option designed specifically for overpronators. (The 29 is the newest iteration, but they are very similar.) The Gel-Kayano features a few components that make it so:
3D SPACE CONSTRUCTION™ is gender-specific and encourages the heel and forefoot to make contact before the midfoot
Dynamic DuoMax™ Support System reduces inward rolling of the foot
Rearfoot and Forefoot GEL® Technology Cushioning System reduces impact and encourages proper foot roll throughout the stride
A reinforced heel counter cradles the foot to keep joint alignment neutral
In addition to the above, the Gel-Kayanos also feature an extremely durable, strategically placed compound in the outsole called AHAR® Plus. It's more durable, yet lighter in weight, than regular rubber outsoles.
While our testers haven't run in this specific shoe, we've tested many ASICS shoes, including the ASICS GT-2000, Gel-Venture 8, Metaspeed Sky+, and Gel-Nimbus, so we are extremely familiar with the quality produced by ASICS and the components of their shoes.
The Gel-Kayano has racked up tons of positive customer reviews from people with flat feet and plantar fasciitis, with one reviewer even saying they've been wearing the Gel-Kayanos for more than 20 years! Another reviewer wrote that they've bought at least six pairs of the Kayanos. If that's not a testament to the product, I don't know what is.
RELATED: Best Walking Shoes
| | |
| --- | --- |
| Heel-to-toe drop | 10 mm |
| Weight per shoe | 9.1 oz (women's), 10.9 oz (men's) |
| Upper construction | Mesh |
Best Moderate Stability Running Shoes: Brooks Adrenaline GTS 22
Good for: Runners who roll inward just a little bit, but enough to be noticeable
I've earned the title of Brooks fangirl here at GGR, since I've been running in Brooks since the early 2010s when I ran high school cross-country. I'd always loved the Ghosts, a popular neutral running shoe from Brooks, but then I was introduced to the Adrenaline GTS, which I might like even more.
I love Brooks' bouncy DNA LOFT cushioning, which is shock-absorbing but not overly squishy. It's perfect for runners who want to reduce impact to the knees and hips but also want good energy return to help maintain momentum when the tiredness (inevitably) comes.
The Adrenaline GTS running shoes provide a bit of extra support via Brooks' GuideRails®, two stiff sections in the wrap of the shoe—one on the medial (inner) side of your ankle and one on the distal (outer) side, beneath the ankle bone. This structured support limits excessive movement of the ankle joint during your run stride, keeping things in line during impact and toe-off.
Additionally, the segmented outsole helps with smooth transitions. My favorite thing about the GTS is how lightweight it is while still offering structure. They also come in many fun colorways and the sizing is inclusive with narrow, normal, wide, and extra wide options.
| | |
| --- | --- |
| Heel-to-toe drop | 12 mm |
| Weight per shoe | 9 oz (women's), 10.2 oz (men's) |
| Upper construction | Breathable mesh upper |
Best Stability Running Shoes for Wide Feet: New Balance Fresh Foam X 860v13
Good for: Anyone who needs a stability running shoe available in a variety of widths
If you read through all of our guides to the best shoes, you'll come to realize that we love New Balance for its extremely inclusive shoe sizing.
Not only does New Balance offer a size range of 7 to 16 for men (ask Anthony, who wears a size M15, how important this is) and 5 to 13 for women, but almost all New Balance shoes come in narrow, neutral, wide, and extra-wide widths, too. Typically, even the medium/neutral width in New Balance shoes often fits a bit wider than that of other brands.
The New Balance Fresh Foam X 860v13 shoes feature the same Fresh Foam midsole we've come to love after thoroughly testing the New Balance Fresh Foam X 1080 and 880 models.
The 680 model is a bit different from the ones we've tested in that it contains a medial support post to prevent inward and downward turning of the foot. The sidewalls are tall and firm, offering support to both the medial (inner) and lateral (outer) sides of the feet. The heel counter is a bit stiff, which is good for those who need it, but may be a dealbreaker for people who do not experience unnecessary lateral movement of the ankle during running.
According to other reviews of the New Balance 680v13 shoes, the medial post designed for pronation combat is definitely noticeable, but not intrusive or uncomfortable. We also like that this shoe features a nice, wide crash pad to accommodate for any potential deviation at foot strike.
RELATED: Best Walking Shoes for Men
| | |
| --- | --- |
| Heel-to-toe drop | 10 mm |
| Weight per shoe | 10.9 oz |
| Upper construction | Mesh |
Best Stability Running Shoes With Support Frame: Saucony Tempus
Good for: Mild pronation that could use gentle correction
While we have yet to get the Saucony Tempus on the feet of one of our product testers, we've tested the Saucony Guide 15, Triumph, Peregrine, Kinvara, and Cohesion, and are confident in our recommendation due to our familiarity with the brand and its shoe components.
The Tempus is a newer shoe from Saucony that features a supportive frame called the PWRRUN Frame. This component sits above the midsole, creating another layer of support between your foot and the midsole foam. It secures the midfoot and gently guides the landing pattern as you come down from your stride.
This type of reinforcement won't provide as much correction as a shoe with a full support post, so we recommend it for mild overpronators. The midsole foam itself is PWRRUN PB, a light and bouncy foam also found in the Saucony Endorphins, which are racing shoes. That is to say, the Tempus provides a nice level of support and structure while still being very lightweight and springy.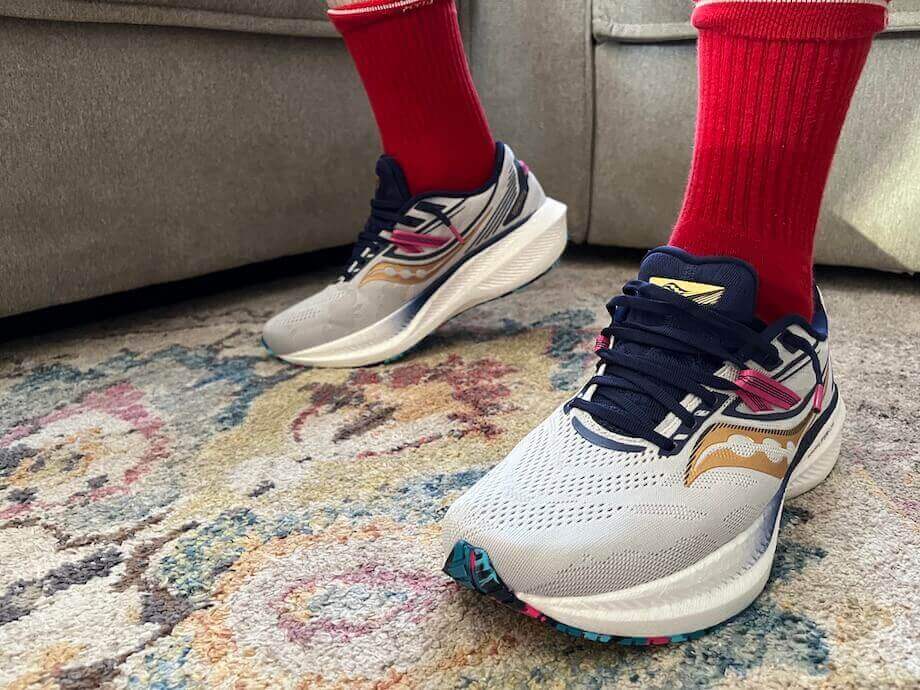 One thing that might be off-putting to some runners with the Tempus is the high stack height of 36.5 millimeters. The midsole is really thick, but the drop is a very normal 8 millimeters, so the shoes shouldn't lurch you forward like a racing shoe might.
| | |
| --- | --- |
| Heel-to-toe drop | 8 mm |
| Weight per shoe | 8.9 oz |
| Upper construction | Mesh |
Best Cushioned Stability Running Shoes: HOKA One One Gaviota 4
Good for: People who need plush support
The HOKA Gaviota 4 is "a very plush shoe with great stability," says GGR performance editor and product tester Anthony O'Reilly. "If my feet are in a little pain, these are the shoes I put on my feet. They're super stable and comfortable, and have good cushioning, not to mention vibrant colorways, which I like (but some people may not)."
"The $170 price point is steep," Anthony says, but like Nicole said of the Arahis, Anthony says "they've been great thus far and I see them lasting a long time and getting a lot of use."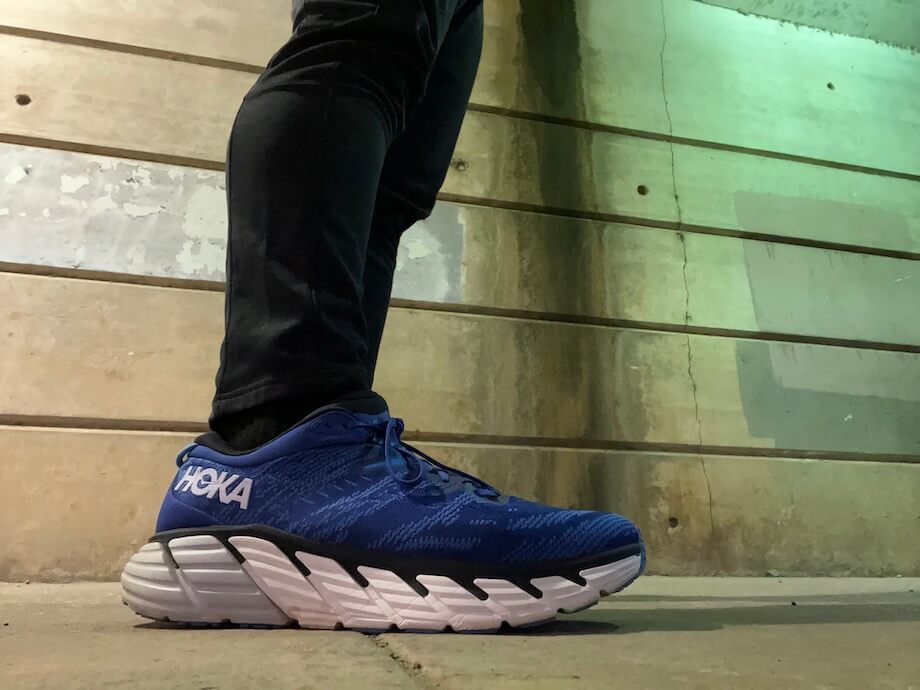 Like the Arahis, the Gaviotas feature HOKA's J-Frame technology, but there's more cushioning in these. So you'll experience the same locked-down feeling in the midfoot but with more shock absorption underfoot. It's the best of both worlds for runners who overpronate but also need to minimize joint impact.
Anthony owns a few different pairs of HOKAs now, and a couple of his overall favorite features are the super lightweight uppers and flexible laces, which you'll find on the Gaviota 4s.
The Gaviotas also feature a thicker ankle collar to cradle the joint and prevent excessive lateral movement upon footstrike. When you slip these on, you can expect a secure, foot-hugging fit and a feeling of, well, stability.
RELATED: Best Home Treadmill for Running
| | |
| --- | --- |
| Heel-to-toe drop | 5 mm |
| Weight per shoe | 11.4 oz |
| Upper construction | Mesh |
Most Stylish Stability Running Shoes: On Cloudstratus 2.0
Good for: People who want support and to look good, too
I don't think I need to tell you that running shoes historically aren't the most fashionable footwear choice. Many styles come in extremely vibrant, sometimes clashing colorways and often, running shoes just look orthotic (because they are).
The relatively new brand On has done a fantastic job of creating functional running shoes with great style. Walk outside and look around: You'll probably find at least one person in your vicinity wearing the ultra-popular On Cloud X shoes.
On running shoes look athletic and sleeker than the options from traditional running brands—even the super chunky On Cloudstratus 2.0.
"I really like these shoes," says product tester Nicole. "They have cool color combos (I got Cork/Fawn) and great cushioning, and they're super comfy. They feel really stable even with the extra cushioning."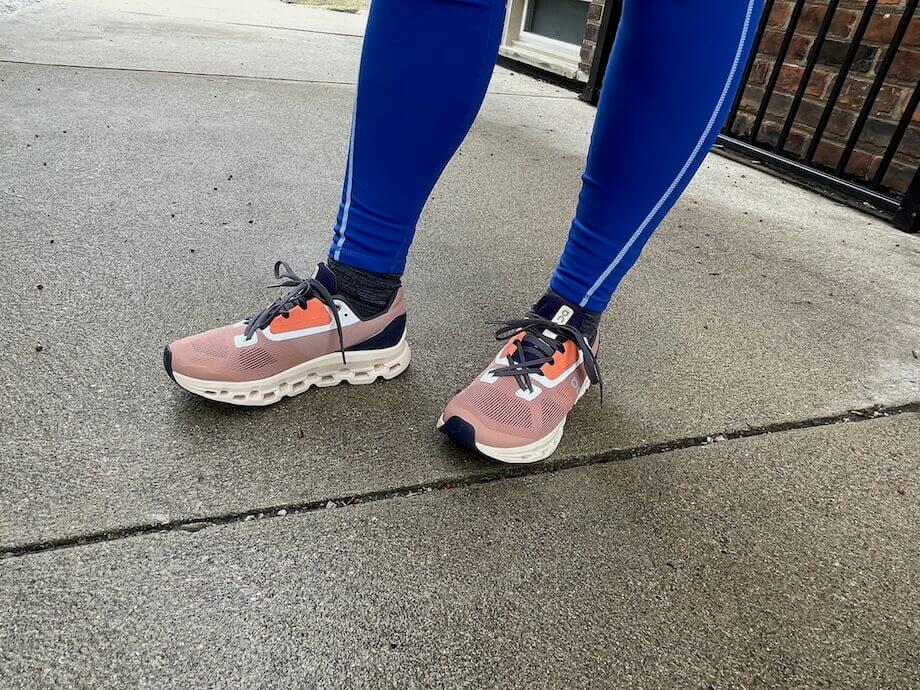 "They're probably not for everybody, just like HOKAs, but I think they're kind of cool-looking and unique," she continues.
But it's not all in the aesthetics: "These shoes feel really durable and like they'll last," Nicole says. "They have a nice structure to them. The Cloudstratus is On's maximum cushion shoe, but it's definitely not as cushioned as a HOKA. I think they offer a good balance between stability and cushion that's perfect for me."
And despite the max-level cushioning, the Cloudstratus 2.0 shoes are surprisingly lightweight at under 9 ounces per shoe.
Nicole says there was some pressure on her big toe the first time she wore them, but that they perhaps just needed a quick break-in, since she hasn't noticed that since. "The toe box is more than roomy enough," she says.
| | |
| --- | --- |
| Heel-to-toe drop | 6 mm |
| Weight per shoe | 8.74 oz (women's), 10.8 oz (men's) |
| Upper construction | Mesh |
Other Stability Running Shoes We Researched
Our top picks above aren't the only pairs we looked at. We make sure to research a breadth of options before finalizing our lists.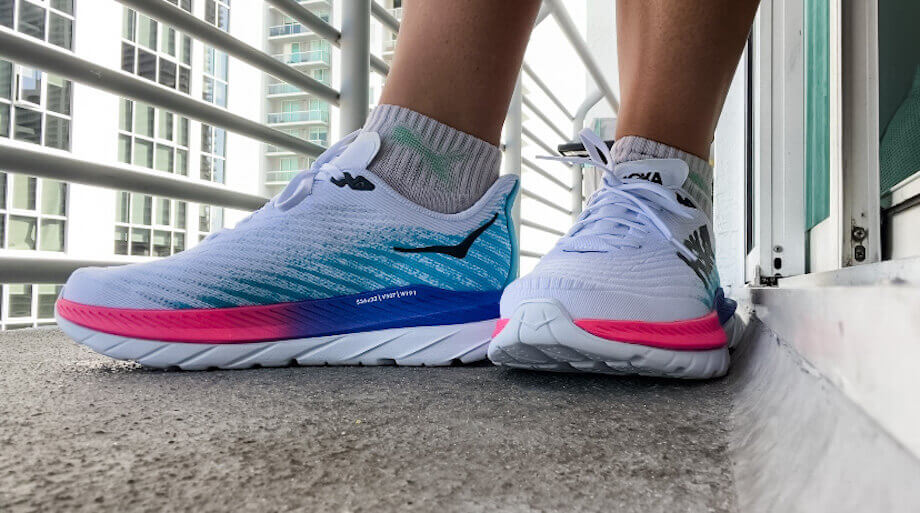 Brooks Glycerin GTS: Another Brooks favorite among our product testers, the Glycerin GTS is one of Brooks' most cushioned shoes. We find them to be a bit too plush for optimal stability, however they do contain the GuideRails so there is an element of support.
ASICS GT-2000: These are designed for neutral runners and mild pronators, and they have many of the same features as the Gel-Kayano 28/29 that we recommend as one of the best running shoes for stability.
ASICS Gel-Kayano Lite: These could work for very mild pronation as they feature some of the same components as the Gel-Kayano but not all; the Lites are also a good option for people concerned with sustainability, as ASICS has implemented carbon emission reduction practices for this shoe.
Altra Provision 6: If you're looking for a zero-drop shoe with a wide toe box that still offers anti-pronation components, the Altra Provision 6 could be the shoe for you. It features Altra's Standard FootShape and has GuideRails for medial support.
Nike React Infinity Run Flyknit 3: I've seen these commonly recommended as stability shoes, but looking at the product page, I don't see any standout features that indicate they are good for overpronation.
How We Picked and Tested the Best Stability Running Shoes
Our product testers have been testing various running shoes for more than two years at the time of writing this article. We've collectively worn dozens of pairs of running shoes and have collectively walked and ran thousands of miles in said shoes.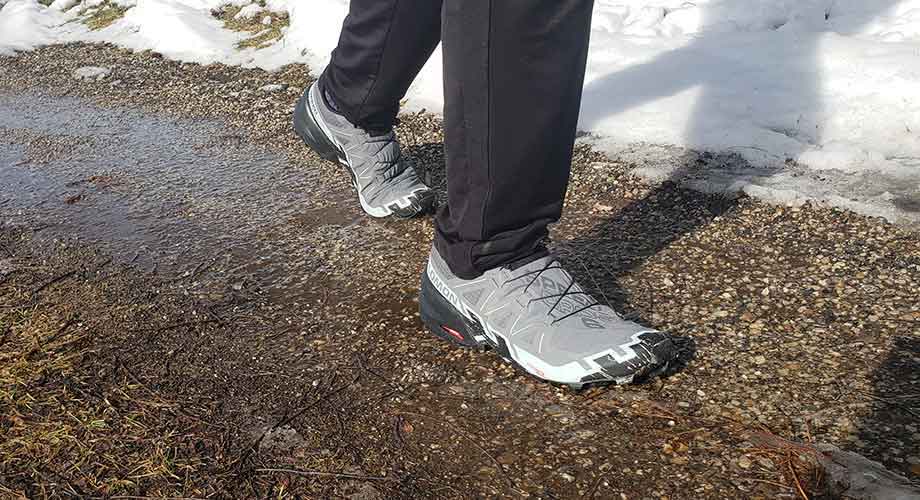 As we test the shoes, we take down notes about how they performed, including how they feel on different surfaces and in different weather conditions, if they required a break-in period, and much more. We also take note of the customer experience from ordering to delivery and aesthetics, because those things are important, too.
Benefits of Stability Running Shoes
Stability running shoes are specifically designed to provide better support for overpronation and correct running technique. Conversely, neutral shoes don't offer any special support to guide a runner's landings, assuming the runner has complete control over their stride and foot strike.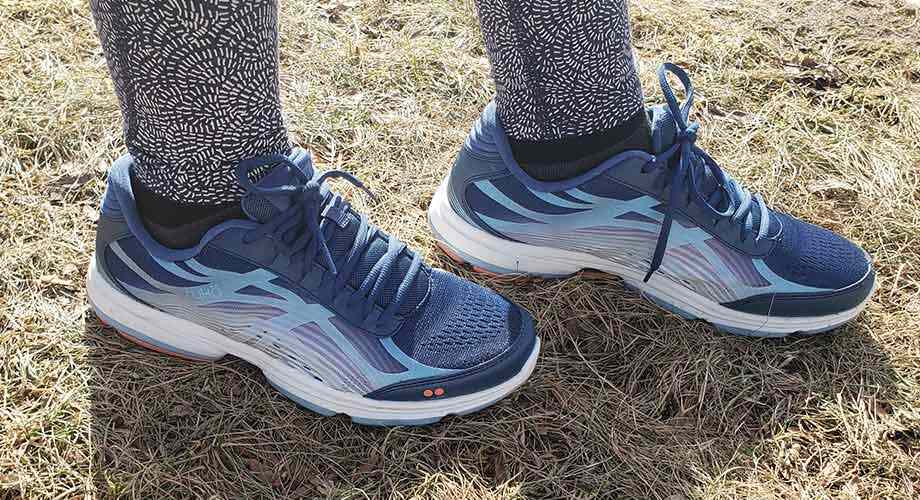 A good pair of stability running shoes will help people whose arches collapse or turn inward upon landing with each step. As a result, many runners who overpronate find that pain in their feet, ankles, knees, and hips is minimized when running in stability shoes.
Buying Guide: Best Stability Running Shoes
Here's what to look for in stability shoes for running.
Support Frame
When looking at stability running shoes specifically, you'll come across many options with support frames, which you won't find in typical running shoes. A support frame guides the foot with each landing to prevent the arch from collapsing inward.
Arch Support
Arch support is of extreme importance when it comes to overpronation during running. Proper arch support in running shoes can help you land each stride in a more biomechanically sound way; that is, it'll help you refrain from turning your arches inward when running.
Ankle Support
Many people who overpronate also need extra ankle support to keep the joint in alignment throughout the stride. A shoe with more ankle support will generally have a stiffer heel cup and cradle the ankle; some runners may need a high-top shoe.
Midsole Cushioning
Midsole cushioning is what supports you from heel to midfoot to forefoot. It's a hugely critical part of running shoe anatomy and it can make all the difference in your runs and walks. "Good" midsole cushioning varies depending on the person's needs, but in general, you'll want a nice blend of shock absorption and energy return for propulsion during your strides.
Outsole
While the outsole is arguably most important on trail running shoes, don't forgo an analysis of the outsole on road running shoes.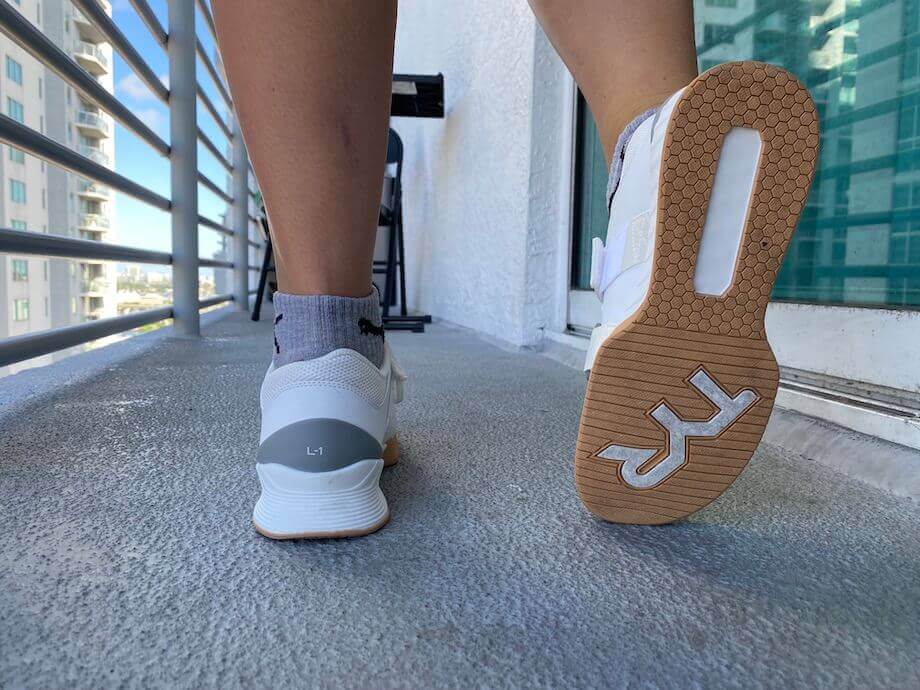 Heel-to-Toe Drop
Heel-to-toe drop represents the difference in height between the heel stack and the forefoot stack. Most road running shoes have a drop between 5 and 14 millimeters (I realize that's quite a large range). Minimalist shoes have drops near zero millimeters while ultra-cushioned shoes may have drops greater than 14 millimeters. It's all personal preference.
Toe Box Width and Shape
The toe box on your shoes should not squeeze your toes together. You should have room to splay and wiggle your toes.
FAQs About Stability Running Shoes
Finally, here are the answers to some common questions about stability running shoes.
Who needs stability shoes? 
Many people can benefit from stability running shoes, specifically people who have flat feet or who overpronate. You can tell if you need stability shoes if, on your current running shoes, there is excessive wear and tear on the medial (inside) portion of the midsole and outsole. This means you are primarily landing each stride leading with your arches.
RELATED: Best Running Shoes for High Arches
Are stability running shoes good for flat feet? 
Yes, stability running shoes can be a helpful tool for people who have flat feet, a term used to describe how a person's arches flatten when pressure (such as the landing of a running stride) is applied.
How are stability shoes different from regular shoes?
Stability shoes have more arch support and reinforced gait guidance than neutral shoes. If you're just switching to stability shoes, you'll likely find them to be stiffer and perhaps a little bit heavier and denser than neutral shoes.