We test and review fitness products based on an independent, multi-point methodology. If you use our links to purchase something, we may earn a commission. Read our disclosures.
After testing dozens of sandbags from top brands including Rogue, REP Fitness, Onnit, Brute Force, and more, I've come to realize what makes a good sandbag and what, quite frankly, makes for a lousy one. Once I got my hands on the Hyperwear Sandbell PRO, I realized what I was holding wasn't like any other sandbag I'd used before.
RELATED: Hyperwear Hyper Vest Elite Weighted Vest Review
Why You Should Trust Us
I spent a lot of time with the Hyperwear Sandbell PRO. I chucked it, slammed it, dropped it, dragged it, and did essentially anything you could think to do with a sandbag. I used it for squats, deadlifts, presses, crawls, throws, lunges, and more. Between my use of the product and my expertise in fitness equipment manufacturing and textiles, I can make a solid recommendation for who should buy the Hyperwear Sandbell PRO and who should choose a different product.
Hyperwear Sandbell PRO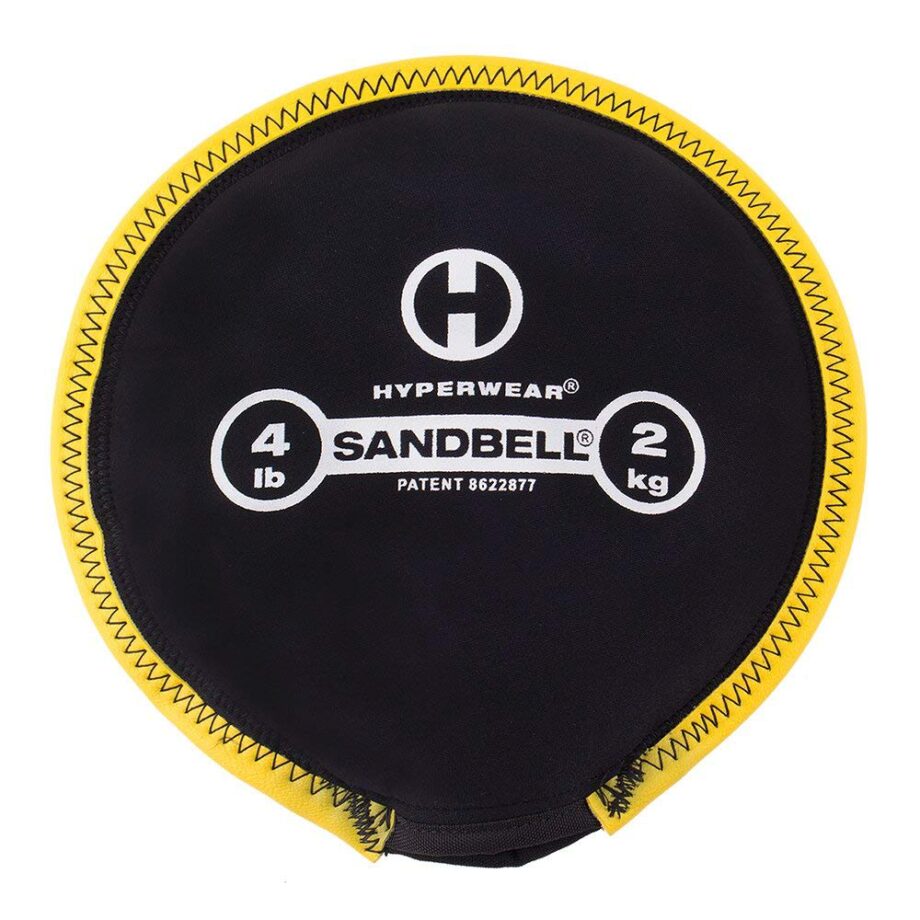 Hyperwear Sandbell
Bringing together some features and benefits of dumbbells, kettlebells, medicine balls, slam balls, and sandbags, the Hyperwear SandBell is a uniquely designed weight training tool.Constructed from high-quality neoprene, the SandBell comes filled with sand in weights ranging from 2 pounds to 50 pounds. Neoprene is an extremely durable material, making this a solid choice for indoor and outdoor training as well as all-terrain training.The SandBell does not come with a handle. Instead, users must recruit muscles from their forearm and wrist to handle it which will challenge grip strength. This may feel awkward for some people who prefer traditional handles.The disc design creates an instability as the sand moves around during a movement. It is dynamic, engages the core, and creates a unique training experience. There is a library of exercises available on Hyperwear's website that is free to use.
A Quick Look at the Hyperwear Sandbell
Pros:
Versatile piece of equipment
Durable sandbags that don't leakColor coded for weight
Lots of weight options in reasonable increments
Cons:
Will wear out quicker over time compared to slam balls
Not a "true" sandbag
Would like to see Hyperwear offer them at least up to 100 pounds (current max is 70)
Ships filled with sand, so shipping is expensive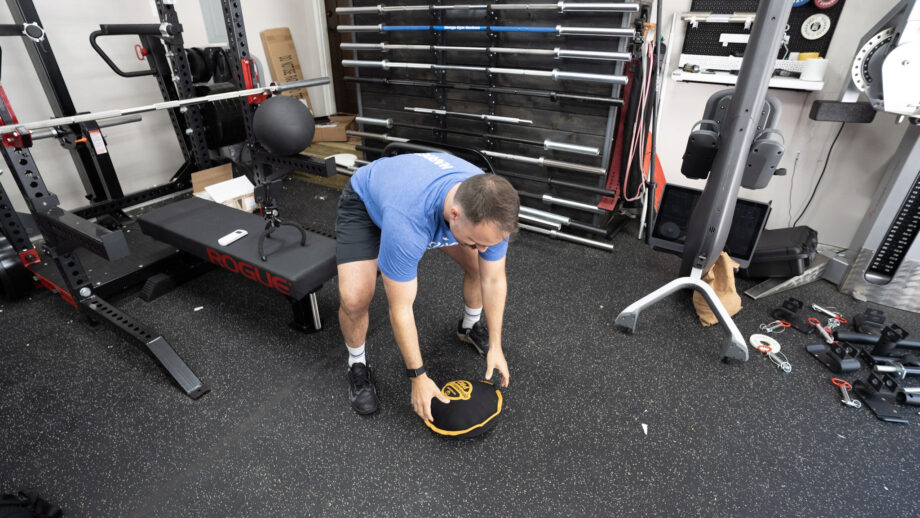 Who Should Buy the Hyperwear Sandbell PRO?
Hyperwear Sandbells are a unique and versatile product, but they're not the right fit for everyone's home gym. Here's a look at who could benefit from a Sandbell and who would be better off with something else.Great for:
Functional fitness and odd object training enthusiasts
Someone who wants an accessory item to complement dumbbells and barbells
Not recommended for:
Someone who wants a sandbag heavier than 70 pounds
People who prefer to fill sandbags themselves
Anyone not looking for an odd object for training
What It's Like to Work Out With the Hyperwear Sandbell PRO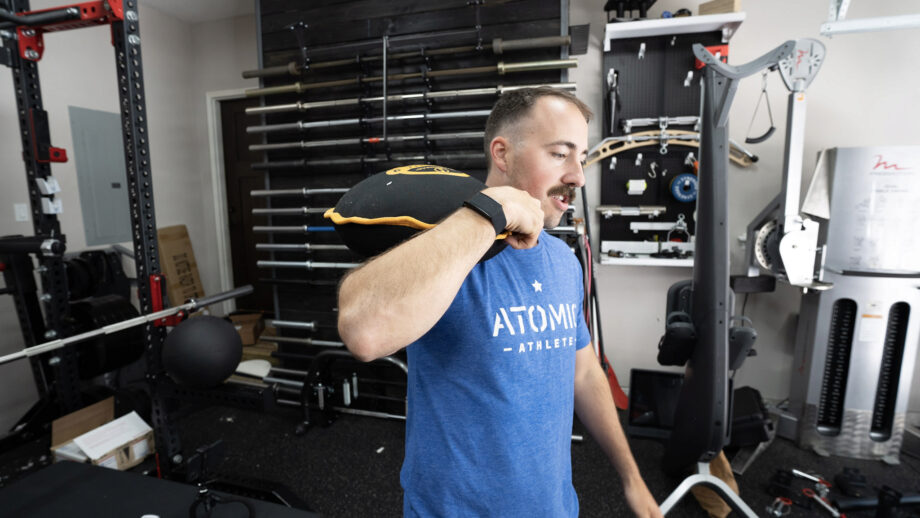 Overall, the Sandbell PRO is a solid piece of gym equipment. I wouldn't call it next-level or a necessity, but it can definitely add variety to your routine. As far as workout sandbags go, I don't think the Sandbell PRO is the best, but then again, it's not meant to replace a true sandbag. (If you haven't noticed, Hyperwear, which is based in Austin, Texas, makes unique products that you wouldn't necessarily find in most gyms, like the HyperRope battle rope and Softbell barbell and dumbbell sets. Even the Hyperwear weighted vest are unique compared to the standard.
Anyway, my workout experience with the Sandbell PRO was pretty enjoyable through-and-through. I love that you can do essentially anything with it—it's one of the more multipurpose odd objects I've used, which makes it a good odd object for most people's garage gyms.
The Sandbell makes for a great way to mix up your usual strength training, bootcamp or CrossFit routine with dumbbells, a barbell and weight plates, or a kettlebell. It's also a fun way to make bodyweight exercises more challenging. Hold it in the goblet position for squats or lunges; use it for Russian twists; press it overhead.
You can even sandwich it between your feet and use it to do a pull-up.
Get two of them in equal weights and you can use them as dumbbells for certain exercises, including curls, double cleans, double overhead press, or suitcase lunges and step-ups.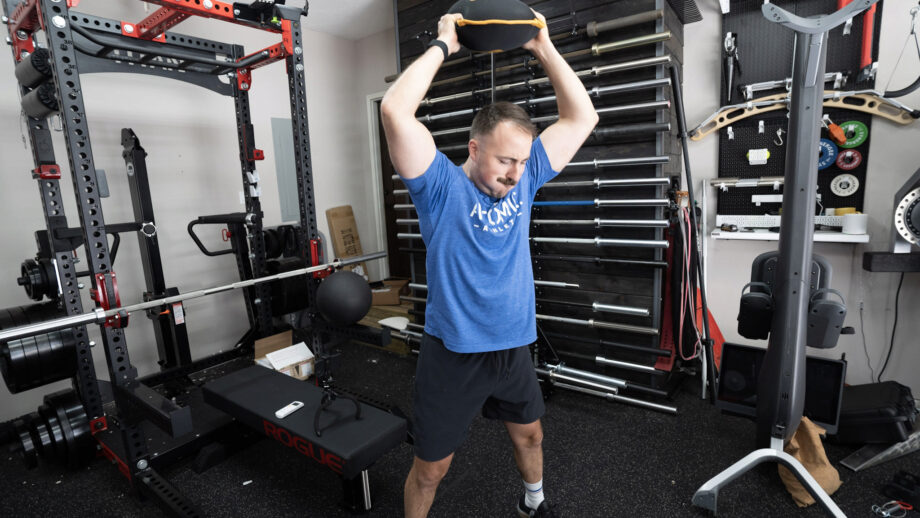 Another way I've been using it (that it's not necessarily designed for, but works well) is jamming my knee in it when doing kneeling landmine presses. It provides a solid base while still being comfortable.
Although you might be doing resistance training exercises, you may feel like you're doing cardio when using the Sandbell PRO.
As far as in-hand feel, the edges and flexible fabric make the Sandbell easy to grip and move without feeling cheap.
Compared to the Hyperwear Steelbells, which use steel shot as filling, the Sandbells are rather large at the higher weight options. A steelbell might be a better choice for someone with limited space.
Is the Hyperwear Sandbell PRO Durable?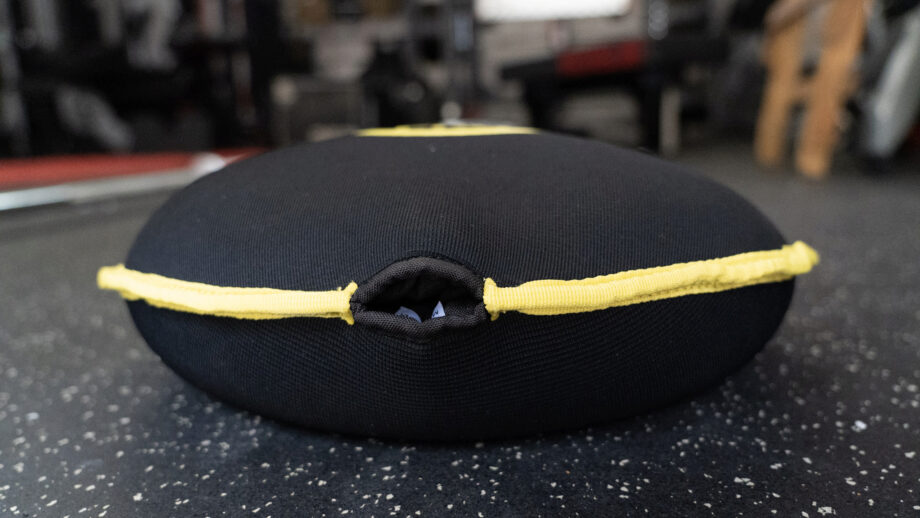 The Sandbell PRO features an extremely durable design, although the shell uses a more comfortable stretch material that isn't as durable as something like Cordura, a super-durable, military-grade fabric used on a lot of sandbags and rucking materials. I like the neoprene casing, though. It feels great in hand as well as on the shoulder when used for various movements. The edges are double stitched for added durability.
Because they come pre-loaded with sand, there are no openings anywhere on the Sandbell. This means I can throw it on the ground as hard as I want and see zero sand lost. So far, I haven't seen any sand spew from the Sandbell PRO the way this tends to happen with cheaper fitness sandbags.
Each Sandbell has color coded edges and a logo on each side to make them easily identifiable by weight increment. I worry the logo will wear over time, which could make it difficult to see the weight specification. A better alternative would be to stitch the weight increment into the seam so it's permanent.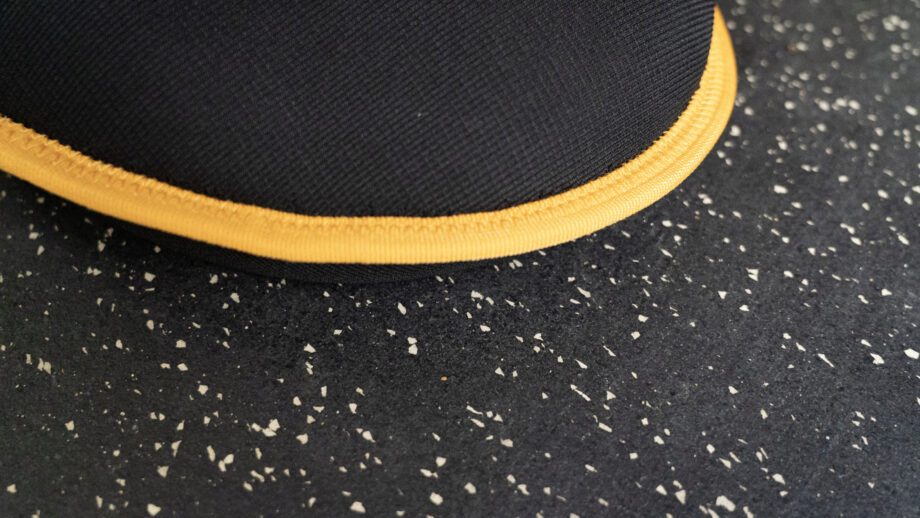 Sandbell vs. Sandbag
The Sandbell PRO is similar to a sandbag in many ways. First and foremost, it's sand enclosed by a tough, thick material. However, the Sandbell PRO is constructed of neoprene whereas most sandbags, like the Rogue Strongman Sandbags, use a form of tough nylon (usually Cordura).The main differences between the Sandbell and sandbags is the shape and handles. The Sandbell PRO is disc-shaped, whereas most sandbags are somewhat cylindrical. Also, typical sandbags have handles and the Sandbell does not. Instead, the "handles" on the Sandbell is simply bunched up fabric that you grab.Unlike true sandbags with handles, you can't ruck with the Sandbell PRO. Well, I suppose you could, but you'd be even more uncomfortable than you would be rucking with handles, straps, or a rucksack.Still, you can do a lot of sandbag training with the Sandbell. Depending on the weight you choose, you can use the Sandbell PRO for power cleans, front or back squats, walking lunges, thrusters, slam throws, swings, curls, overhead presses, and more.
Sandbell vs. Kettlebell
One thing's for sure: You definitely need more grip strength to manhandle a Sandbell versus a kettlebell. After using a heavy Sandbell, you'll realize how easy it is, in fact, to grip a kettlebell. Those handles sure are…handy!
I actually love that the Sandbell requires more grip strength. It makes training with it interesting, especially when doing swings. Also, compared to a kettlebell, the weight in the Sandbell is shifty. It's sand versus a solid block of steel, after all.
Sandbell vs. Slam Ball
I personally think the Sandbell PRO most closely resembles a slam ball. The in-hand feel of the Sandbell is extremely similar to a slam ball, with the biggest difference being fabric versus no fabric. Because slam balls don't have any fabric, they're bound to last much longer than a Sandbell.
Also, the weight in the Sandbell PRO shifts more than it does in a slam ball, but for the most part, I think either option is a good addition to a home gym for anyone looking for a weight to slam or throw. If you can only choose one, I say go for the Sandbell because it's more versatile.
Sandbell vs. Medicine Ball
There's really no comparison between the Sanbell PRO and medicine balls. I think their uses are extremely different. Medicine balls are ideal for movements like wall-balls, weighted sit-ups, lightweight thrusters, partner tosses, or wall slams. I don't think there are enough similarities between the Sandbell PRO and a medicine ball to recommend one over the other.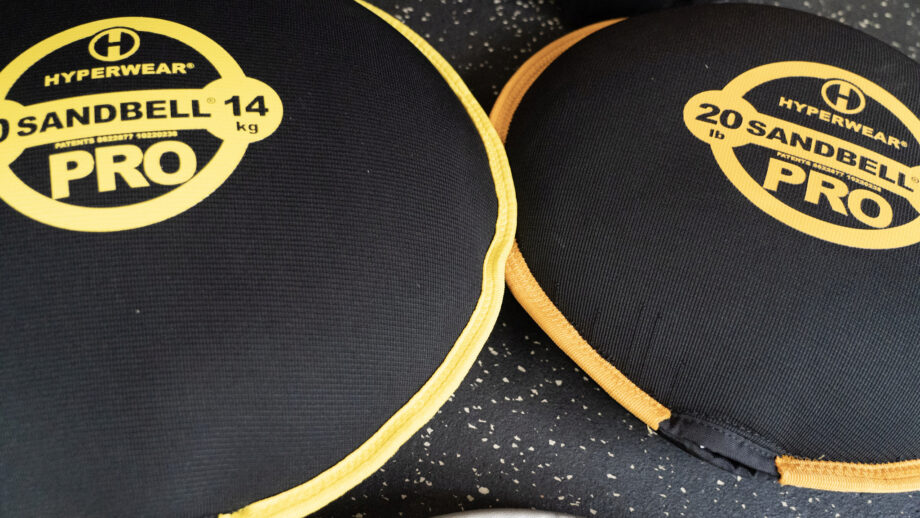 Ordering the Hyperwear Sandbell PRO
You can order the Sandbell PRO and all Hyperwear products directly from the Hyperwear website. To order the Sandbell sandbag, just add it to your cart and check out online. At checkout, you'll be prompted to enter your payment details—you can checkout with Amazon Pay or choose Affirm for monthly installments—and then you can place your order.
You might be able to find the Sandbell PRO on an authorized retailer site, too, such as Amazon or Rogue Fitness. As is always the case, third-party retailers don't always have every option in stock. If you're not finding what you need, definitely hit up the Hyperwear website.
My Sandbell PRO came protected in a double ply cardboard box wrapped in lots of tape. The box was a little worse for wear, but that's not usually the manufacturer's fault, and the product was fine.
There's no setup required for the Sandbell PRO: It comes preloaded and you can't add or remove sand. This leads to higher shipping costs but prevents sand from coming out.
Customer Service
Hyperwear's customer service is okay—better than many companies. You have three options if you want to get in touch: Submit a contact form online at hyperwear.com and wait 24 to 48 hours for a response; chat online for quick help; or call the customer service number with the potential to get placed on hold. In any scenario, you do eventually get connected to a real human, which is nice.
Customer Reviews of the Hyperwear Sandbell PRO
The most prominent complaint in Sandbell PRO reviews across the web is that the discs need handles. I honestly don't know why so many people bought the Sandbell if they wanted something that has a handle. It's crystal clear on the Hyperwear website (and all of the authorized retailer websites) that the Sandbell PRO does not have a handle.
Other than that, most customer reviews are favorable, although some buyers do suggest just getting a regular sandbag if you're after sandbag training. Some customers who bought the heavier Sandbells mentioned that they are very large. That's something I noticed, too.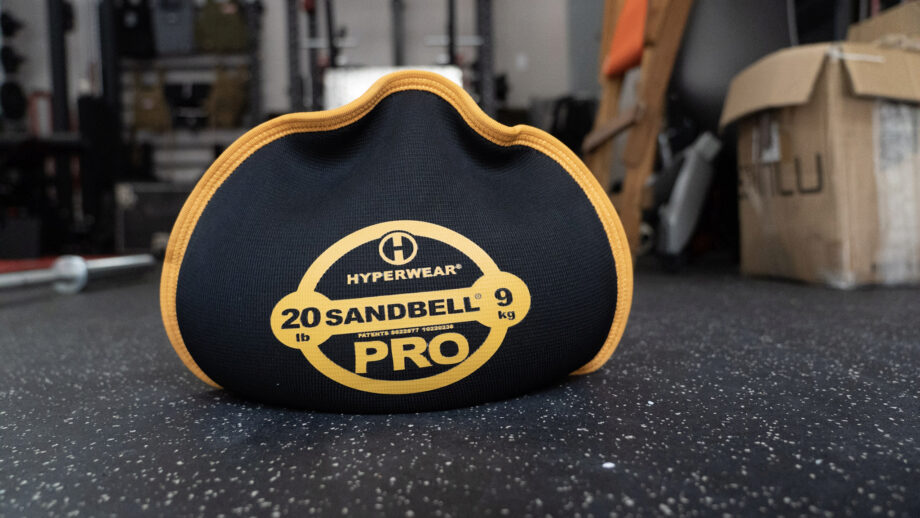 Final Verdict of our Hyperwear Sandbell PRO Review
Hyperwear products are unique, that's for sure. The Sandbell PRO in particular is an interesting training tool that strikes me as a mix between a sandbag and a slam ball. Like other Hyperwear products, these aren't very cheap. They're a cool option, but because they come pre-loaded, they can get expensive quickly when shipping is considered. For someone that likes a really clean gym and is used to a commercial facility, these are a good option.
I honestly would like to have a full set of Sandbell PROs in my garage gym, and would recommend the same for anyone who has the money and the space to store multiple Sandbells.
Our takeaways:
Versatility of the Sandbell PRO rivals other free weight options
Mimics a slam ball more than a kettlebell, sandbag, or medicine ball
All in all, this is a high-quality product
It won't be the right fit for everyone's home gym; some people will be better off with a slam ball or medicine ball depending on needs
It's expensive, which is typical of Hyperwear products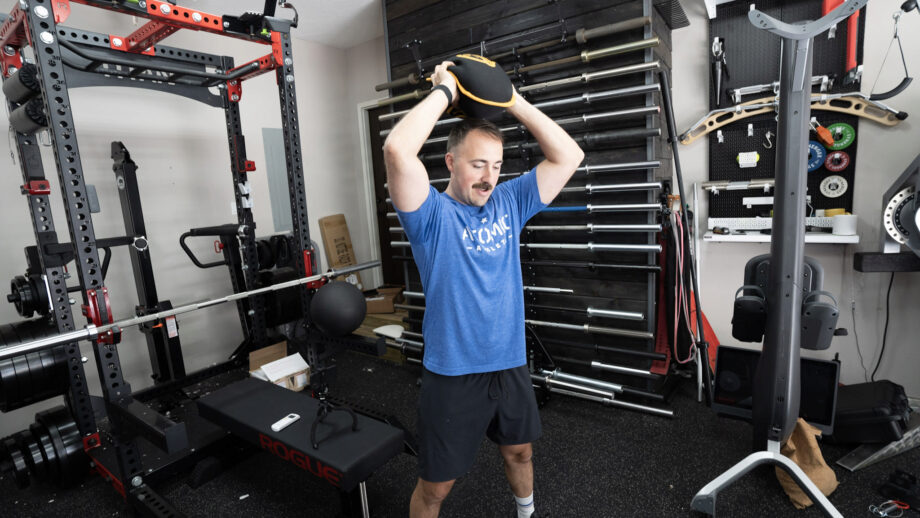 Full Rating
Hyperwear Sandbell Pro
Once I got my hands on the Hyperwear Sandbell PRO, I realized what I was holding wasn't like any other sandbag I'd used before. I chucked it, slammed it, dropped it, dragged it, and did essentially anything you could think to do with a sandbag. I used it for squats, deadlifts, presses, crawls, throws, lunges, and more. Between my use of the product and my expertise in fitness equipment manufacturing and textiles, I can make a solid recommendation for who should buy the Hyperwear Sandbell PRO and who should choose a different product.
Product Brand: Hyperwear
Product Currency: $
Product Price: 27.99
Product In-Stock: InStock
Hyperwear Sandbell PRO FAQs
How does the Sandbell PRO compare to working out with a slam ball?
Working out with the Sandbell PRO is very similar to working out with a slam ball. You can do many of the same movements, but with the Sandbell, you have more versatility with regards to grip.
How does the Sandbell PRO compare to working out with a kettlebell?
You can definitely do swings with the Sandbell PRO, but it doesn't really compare to a kettlebell. Kettlebells have a handle and the weight doesn't shift at all. With the Sandbell, you have to grip the fabric and the weight does shift during movement.
Does the Hyperwear Sandbell PRO have handles?
No, the Sandbell PRO doesn't have handles; you simply grip the fabric to work out with it.
How heavy is the Hyperwear Sandbell PRO?
Hyperwear makes Sandbell PROs in weight increments from six to 70 pounds.