We test and review fitness products based on an independent, multi-point methodology. If you use our links to purchase something, we may earn a commission. Read our disclosures.
I've said this before and I'll say it again: I'm a proud sandbag supporter. They are some of the most versatile pieces of the best home gym equipment you can have and are generally less expensive than other products like adjustable dumbbells.
But what happens when the ever-wonderful GORUCK Sandbags (which currently max out at 120 pounds) get to be too lightweight for a strong individual such as yourself?
Answer: You check out these sandbags, which have a whopping max weight of 400 pounds. In this Rogue Strongman Sandbags review, I'll lay out all the details you're dying to know, including materials used and my thoughts on workout performance as well as durability.
Why You Should Trust Us
I've tested a lot of sandbags in my day including the GORUCK Sandbags, XDKevlar Sandbags, Rep Sandbags, and IronMind Tough-As-Nails Sandbags. I'm always looking for the best exercise equipment for you (and me!) to add to our epic home or garage gyms. You can trust my years of experience and expertise in the area of working out and finding quality products you'll enjoy for years to come.
Rogue Strongman Sandbags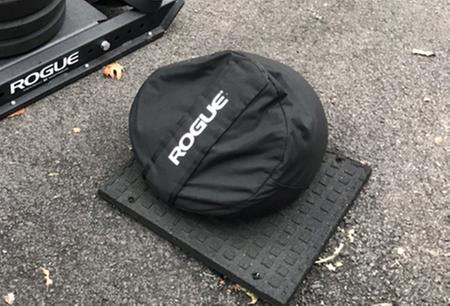 Rogue Strongman Sandbags
Designed and manufactured in Columbus, Ohio, Rogue's Strongman™ Sandbags deliver a versatile, go-anywhere alternative to heavy balls and stones. They feature the same 1000D MIL Spec US Cordura construction and reinforced, double-stitched seams as our full length Sandbags—in a new compact, customizable form. These sandbags are heavy duty and able to withstand drops, but they are not designed to be slammed.Strongman™ Sandbags are available in six sizes, with max fill capacities of 100LB, 150LB, 200LB, 250LB, 300LB, 400LB.* Each Sandbag has a built-in filler bag with an additional zipper and hook-and-loop closure—ensuring filler material stays fully contained as you work through your regimen.Because Sandbags can be emptied and then re-filled at another gym, field, park, etc., they function as uniquely portable Strongman training tools for athletes of any experience level.*Please Note: Loadable weight of the Strongman™ Bag depends on the density and size of the media being used. Certain media may cause the overall weight of the bag to be greater than or less than projected weight capacity. Due to the nature of the fabric and the directed use, the strongman™ bags may expand over time with use.Specifications:Made in the USA 1000D MIL Spec US Cordura construction Filler Capacity (6 Sizes): 100LB, 150LB, 200LB, 250LB, 300LB, 400LB Built-In Filler Bag Zipper and Hook-and-Loop Closure (Filler Material Not Included) Color: Black with White Rogue logo on flap Recommended use on rubber or nonabrasive surface
A Quick Look at the Rogue Strongman Sandbags
Rogue is a household name in terms of making high-quality gym equipment. The brand's kettlebells, power racks, and flat utility benches (to name a few) are usually at or near the top of every "best of" review I have put together.
The Rogue Strongman Sandbags are the very bags you've seen in use at many of the CrossFit Games over the years (though the 2021 introduced the Husafell bags, which was a real treat). Full confession: I sometimes like to pretend I'm Mat Fraser slingin' these over my shoulder. A guy can dream.
Coop's Tips
Since these sandbags don't have handles (on purpose), you might be tempted to hang on to the velcro flap that closes the bag. Don't. You'll compromise the durability of the bag.
Don't purchase play sand to fill the sandbags! It can be tempting since it is easy to find, but the fine granules seep out of the sandbags easier than traditional sand, pea gravel, or crumb rubber would.
Make sure to follow the instructions for directed use so you get the most out of your sandbags (i.e. don't slam this puppy against a brick wall 300 times).
My Favorite Things:
Versatile for a variety of workouts
1000D US Cordura construction
Made in the USA
Filler material stays put, even with repeated use over time
My Callouts:
9-month limited warranty
No weight options under 100 pounds
Filler material isn't included in your purchase
Who Should Get the Rogue Strongman Sandbags?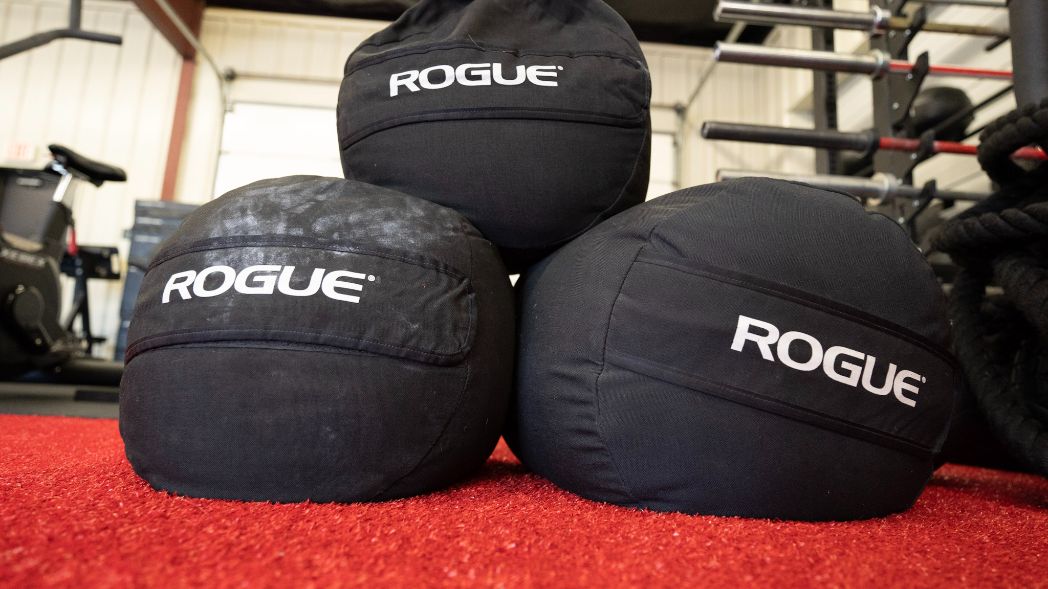 Great for:
People looking for a alternative to a slam ball or atlas stones
Lifters looking for sandbags that are heavy
Those looking for a versatile piece of home gym equipment
Not recommended for:
People who want handles on their fitness sandbags
Individuals who want sandbags with a filler capacity under 100 pounds
Beginners whose experience level with sandbags isn't high (try a sandbag with handles and a lighter weight capacity like the Rogue Training Sandbags)
Getting Strong with the Rogue Strongman Sandbags
These sandbags come in six different sizes: 100, 150, 200, 250, 300, and 400 pounds. As the name "strongman" suggests, these aren't for the faint of heart. Whether you're training for an actual strongman competition or just trying to get stronger, I really think they're beneficial for both needs.
Obviously, I'm not training for a strongman or weightlifting competition, but that doesn't mean I haven't tested these to their fullest extent. On the contrary, I've actually owned a set of three of these sandbags for close to 4 years. I have the 100-, 150-, and 200-pound options.
RELATED: Best Workout Sandbag
Over the years, I've done all types of work with them including deadlifts, sandbag runs, and overhead press. These are super difficult to work with, but they're supposed to be. The purpose is to have you struggle with an awkward shape and size while dealing with a heavyweight. As much you might wish there is a handle on these, you won't find one. This forces you to focus on using core and grip strength to hang on to the sandbags.
This makes you adapt to a variety of situations you might not get with a traditional Olympic barbell. The sand, pea gravel, or crumb rubber shifts within the sandbag which makes the weight always feel slightly different and unbalanced – perfect for strongman training.
I personally find these easier to work with than traditional atlas stones or slam balls. However, they still deliver excellent results in terms of gaining strength while challenging you in different ways like sandbag training tends to do.
Footprint, Durability, Construction
Picture a traditional medicine ball. Now instead of picturing it at 20 pounds, think of it 5-6 times the weight. That's what the Rogue Strongman Sandbags look like. They are not your traditional full-length sandbag with handles like the Rogue Feed Sack. They are deceivingly heavy and extremely durable. I have absolutely used and abused mine over the years and they have held up very well with minimal scuffs or damage.
It probably also doesn't hurt that they are made to military specification with 1000 D US Cordura construction. Oh, and did I mention they're made in the USA? You love to see it. I'm always thrilled to see a quality product made in the states and am generally willing to pay a few extra bucks if it's helping American workers. A big plus in my book.
Related: Watch my video Made in the USA Home Gym Matters (Here's Why)
Ordering
You can order the Strongman Sandbags on the Rogue website, and they range in price from a little over $80-$155. Shipping isn't free unless you happen to catch one of the deals Rogue occasionally will run on the site. Luckily, the bags do not come pre-filled, so that significantly cuts down the shipping cost. Who wants to pay for 300 pounds of sand shipped to their doorstep?!
Rogue also has a financing option available for purchases over $99 with Paypal Credit. They offer no interest if paid in full within 6 months. This is a cool option because often you don't see brands offering financing on lower ticket equipment.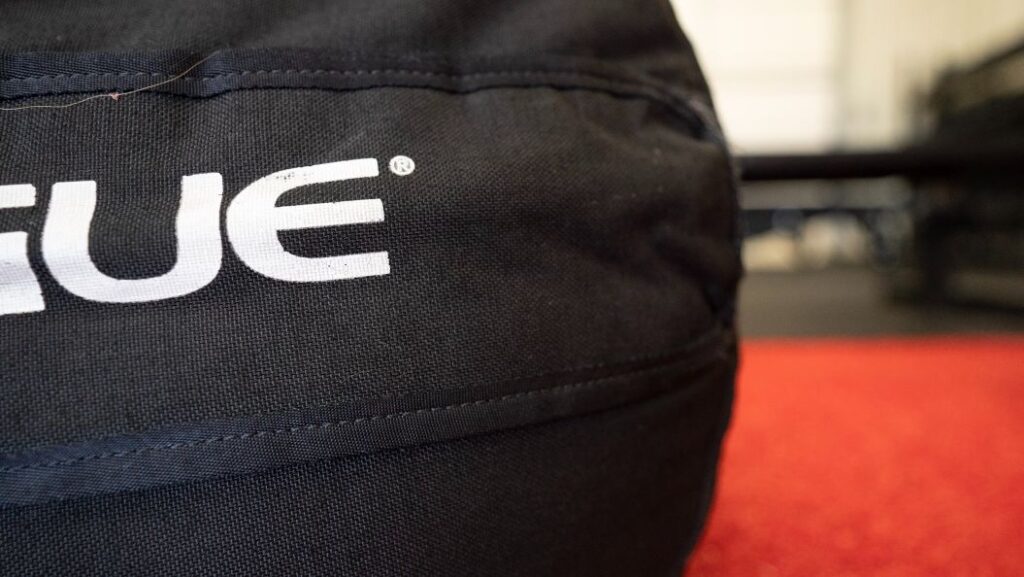 Assembly
While this isn't a complicated process like assembling a treadmill or elliptical, you still do have to fill the Strongman bags. They come with pre-attached filler bags so all you have to supply is the sand, crumb rubber, or pea gravel. I found it pretty simple to pour the sand (my personal pick) into the bag because the built-in funnel filler bag helps keep it open for you when you need it but is secure once it's closed.
Rogue Strongman Sandbags Specs
| | |
| --- | --- |
| Brand | Rogue |
| Made in the USA | Yes |
| Color | Black |
| Product Weight | 100 lb, 150 lb, 200 lb, 250 lb, 300 lb, 400 lb |
| Construction | 1000D MIL Spec US Cordura Construction |
| Diameter | 16″ |
| Height | 100 lb – 7.5″150 lb – 11.5″200 lb – 15.5″250 lb – 19.5″300 lb – 22.5″400 lb – 36″ |
| Closure | Zipper and Hook-and-Loop closure |
| Price | $85-$155 |
Rogue Strongman Sandbags Pros & Cons
Pros
They come in 6 sizes which can be filled to 100, 150, 200, 250, 300, and 400 pounds at full capacities. You can also fill the bags at less than capacity if you need less weight. If you think you're strong, prepare to be humbled.
Out of 178 reviews on the Rogue website, only 1 is under 4 stars…and it is a 3-star review.
One reviewer states, "Sandbag works great, the material is solid, and I know it will last forever." This review is indicative of almost every review of the Rogue Strongman Sandbags.
The slightly longer and thinner design makes them easier to grip and hold.
The quality of the construction including, reinforced, double-stitched seams and 1000D MIL Spec US Cordura construction, make them as tough as any sandbag on the market.
The bags have zippers and hook-and-loop enclosures on the outside along with a velcro flap which translates into them only losing sand if you want them to.
Play sand can be purchased at an extremely reasonable price and the weight is therefore adjusted by you.
The bags are small and stackable and take up very little space for a garage or home gym.
The duffle style outer shell makes it easier to work with and easier to transport. You can also empty the bag at one location and fill it at another.
This is the bag that you see at the Crossfit Games each year.
Made and sourced in the USA.
The Rogue name is synonymous with quality, customer service, and a great warranty.
We have multiple sizes of the Strongman Sandbags and despite throwing them around like they hurt our momma, they still don't leak sand and perform as they did on day one.
Cons
If you are planning on changing the weight often, the filler bag makes it more difficult and you should stick to a traditional bag.
The price. You definitely pay for the quality.
These are the sandbags that Rogue trademarked the "Strongman" name and therefore caused an uproar in the community.
Customer Experience
In my opinion, Rogue generally has solid warranties on its products. However, I'm not thrilled about the 9-month limited warranty on the Strongman sandbags. The GORUCK Sandbags have a lifetime warranty, so I'd at least expect over a year for these. However, I've owned mine for a few years and haven't come across any issues of durability.
There are a variety of options if you want to contact Rogue. I used the Live Chat button in the top right corner of the website to ask a question about the warranty. They promptly answered and were very polite. I assume they will respond during normal business hours during the regular workweek.
Rogue's return policy is the same for all their products: within 30 days of delivery. You have to get a return authorization by contacting them on the website. Make sure to return the item in the same packaging in unused condition, otherwise Rogue reserves the right to deny your return.
Customer Reviews
There are over 300 reviews on the Rogue website for the Strongman Sandbags with an average score of 4.9/5. People mentioned that they are easy to fill and have a secure filler opening. Customers also like how durable they feel and that they are a great alternative to more expensive heavyweights.
On the negative side, a few people mentioned that the bag didn't stretch enough to fully accommodate all the sand they were supposed to have. For example, someone had a 300-pound bag and could only get 250 pounds of sand in it. Another review mentioned with heavy use, expect to see some sand seep out.
Related: Check out the Rogue Monster Lat Pulldown Seat review.
Final Verdict of Our Rogue Strongman Sandbags Review
Rogue Strongman Sandbags
The Rogue Strongman Sandbags are the golden standard for what you would want in a heavy sandbag. They're durable, fairly priced, and made in the USA. I'm also not crazy about the short, 9-month warranty but I've owned these for four years and never had any major issues, so it likely won't come into play for you either. I would definitely recommend these to those looking to improve their strength with a versatile piece of equipment.
Product Brand: Rogue Fitness
Product Currency: $
Product Price: 95
Product In-Stock: InStock
Rogue Strongman Sandbags FAQs
Do Rogue Strongman Sandbags come filled?
The Rogue Strongman Sandbags do not come pre-filled (this would massively drive up shipping costs). You'll need to purchase your own filler material.
How long do Rogue sandbags last?
I've had mine for multiple years. They are heavy duty and still working just fine. I don't have concerns about their levels of durability. My 150lb sandbag looks almost the exact same as the day I unboxed it.
What should I fill my sandbag with?
You can fill your sandbag with crumb rubber (available on the Rogue website in 55-pound increments), pea gravel, and regular sand. I wouldn't recommend using play sand because it is finer than regular sand and could seep through the sandbags.