We test and review fitness products based on an independent, multi-point methodology. If you use our links to purchase something, we may earn a commission. Read our disclosures.
Like plenty of fitness enthusiasts, I'm all about training for life. I'm not a professional athlete (I know many of you are shocked by that revelation) and I'm not training for a marathon or Ironman. I want to train in a way that will be useful in real-life applications (such as when I fell through my attic and caught myself in a dip). The GORUCK Sandbag hits the nail on the head for a product that makes me feel like I'm functionally training for life. Sandbags make a great addition to home gyms, and the GORUCK bags in particular are very durable and extremely high quality. In this GORUCK Sandbag review, I'll let you know my thoughts on the ordering process, the aesthetics, and everything in between. At Garage Gym Reviews, I care about giving honest, in-depth reviews on products you want to learn more about.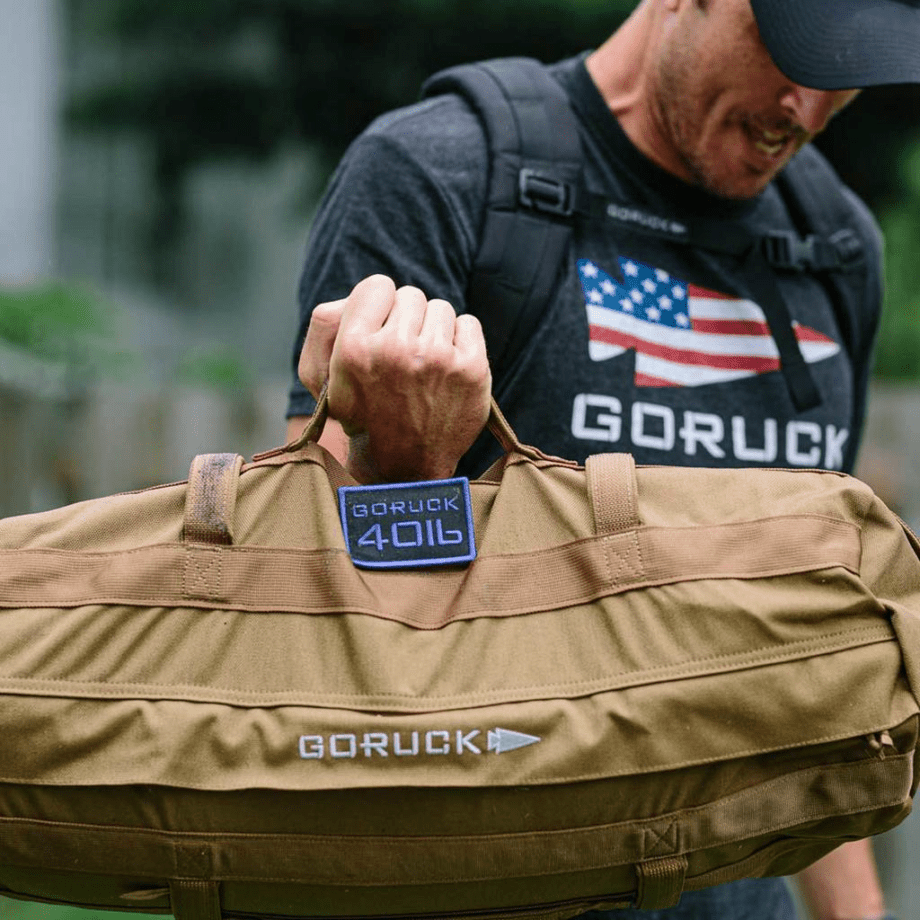 GORUCK Sandbags
Getting stronger doesn't have to be complicated or expensive. Load a training sandbag up and do the work in your garage, park, front yard, or anywhere you damn well please.
Why You Should Trust Us
I've tested tons of different sandbags including the Rogue Sandbag, Rep Sandbag, Brute Force Sandbag, Garage Fit Sandbag, and the Onnit Sandbag. I've used them in various settings and put them all through rigorous testing to figure out just how durable each is. The GORUCK Sandbag is a definite favorite of mine because of its overall toughness and quality.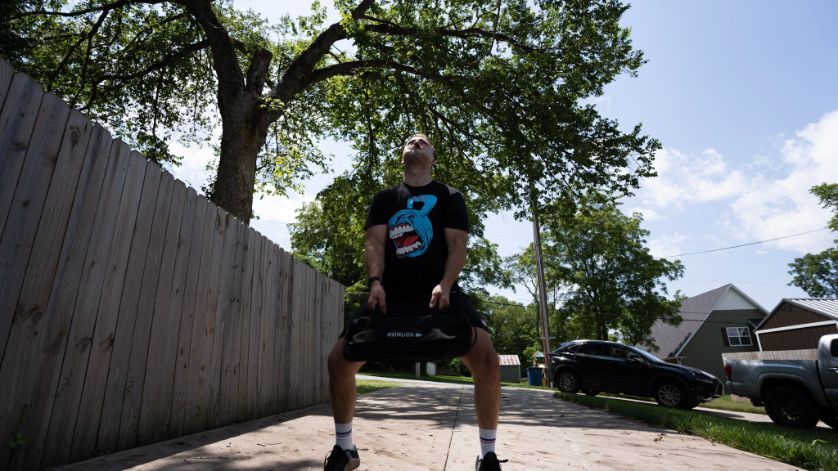 A Quick Look at the GORUCK Sandbag
My Favorite Things:
Lifetime guarantee on all GORUCK products
Extremely durable and well-made Lots of handle options
1% giveback to support veterans, military, and first responders
My Callouts:
Have to double up on filler bags for the 80 and 120-pound sandbags
Not all sandbags have different color options
Filler bags can be hard to fit in the larger sandbags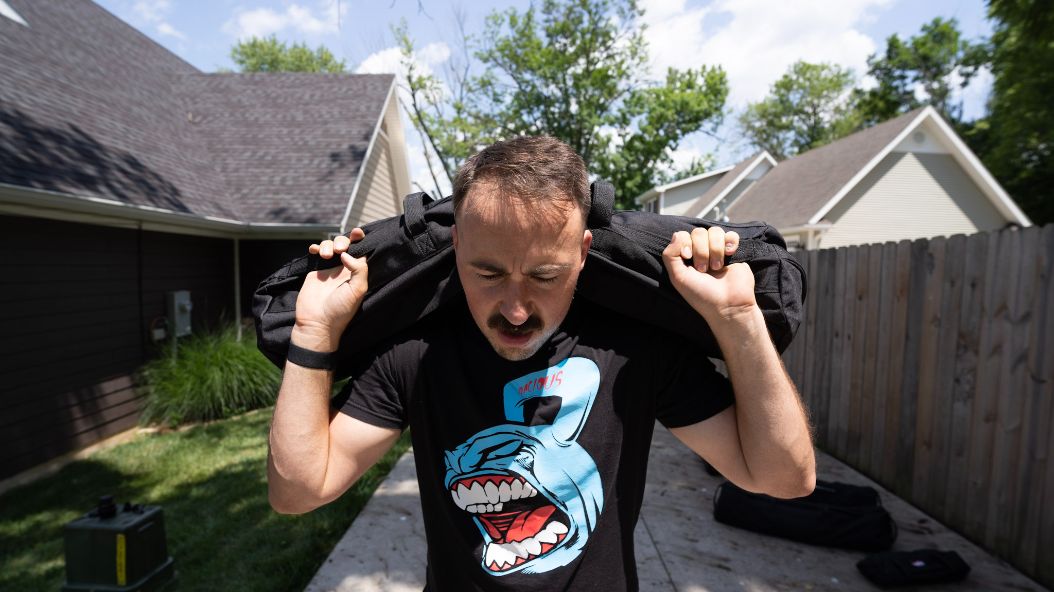 Who Should Buy the GORUCK Sandbags?
Great for:
People who want durable and high-quality sandbags
Not recommended for:
People who want the cheapest sandbag available
People who want to only buy products made in America
People who want tons of color options
A Great, Versatile Odd Object for Training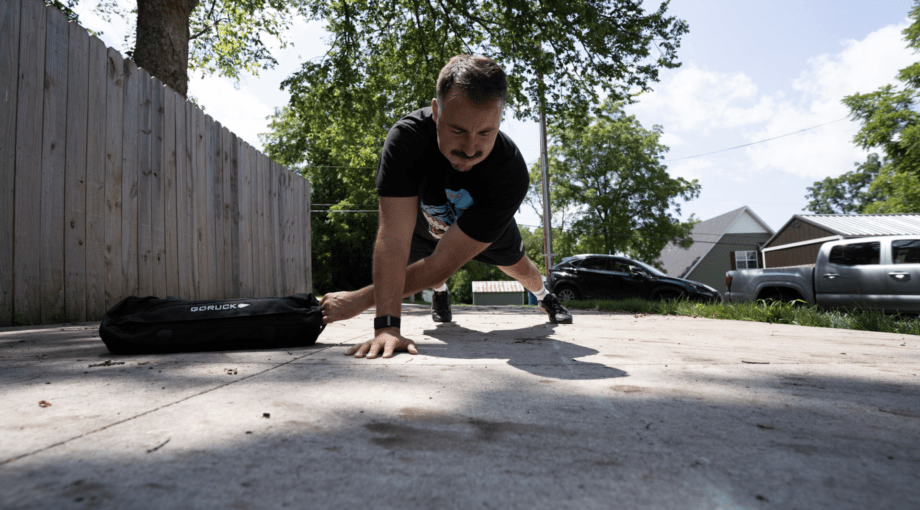 The best part about the GORUCK sandbags is the ability to take them anywhere. I mean literally anywhere. If you don't have a lot of extra space for a typical home gym setup, sandbags can be your saving grace since they're super portable. I decided to take mine outside and enjoy the beautiful weather and a tough sandbag workout. The possibilities are endless in terms of the exercises you can do with these. With the 120-pound sandbag, I did deadlifts, squats, and lunges. With the 80-pound bag, I did some overhead presses, power cleans, and sandbag get-ups. You can also do some runs with a sandbag on your back for an added challenge or do regular CrossFit WODs. If you're carrying the 120-pound sandbag, you can even challenge yourself by rucking.
What I love about sandbags is how the weight shifts while you do various exercises. It makes the weight unstable and different from traditional barbells or kettlebells. It makes me feel like I'm training to be better equipped to pick up my 4-year-old when he's having a tantrum.
What Do You Put in a GORUCK Sandbag?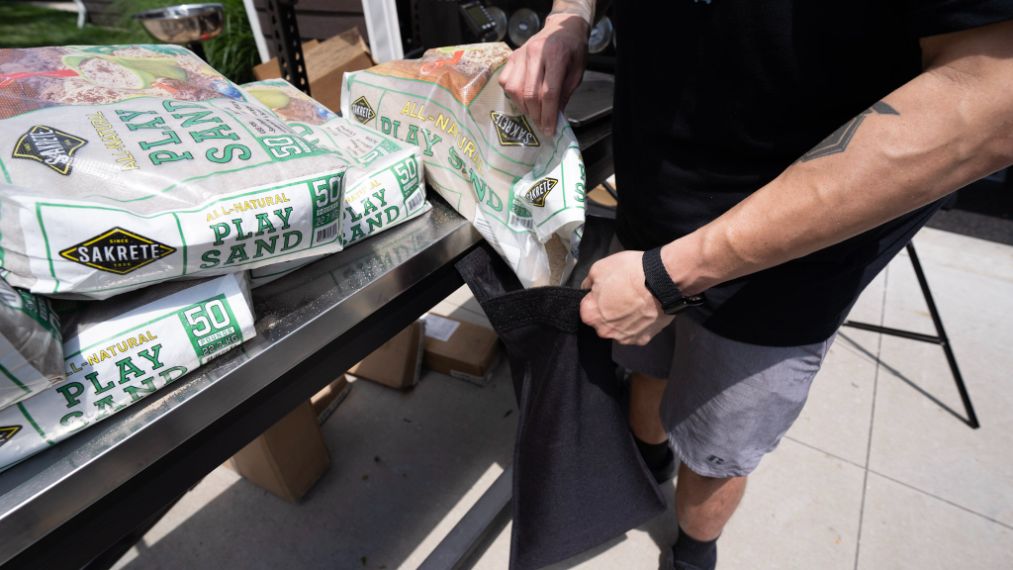 I chose to fill my sandbags up with sand, but you can fill the filler bags with dirt or pea gravel as well. GORUCK does not recommend filling your bags with play sand because it may seep out due to the fine texture.
Depending on what you plan to do, you should fill your sandbag accordingly. For example, if you're doing an obstacle course where you may be trudging through the water, pea gravel is your best bet. Dirt or sand will retain the water while pea gravel won't. In terms of day to day training, I prefer regular old sand because of how it moves when lifting.
When you're ready to clean your GORUCK sandbags, you can use regular soap and a hose. Make sure to keep the zipper area clean so it runs smoothly on the track. Once the sandbag has been sprayed off, hang it to dry fully before using it again.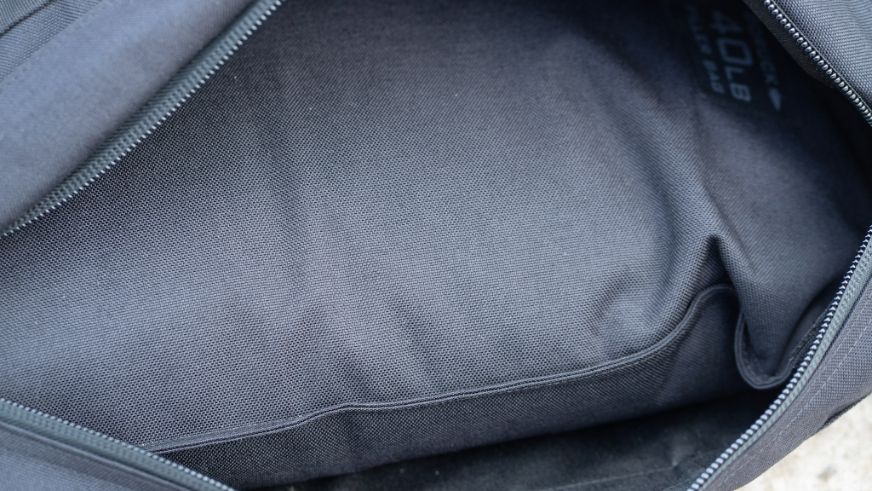 Ordering the GORUCK Sandbags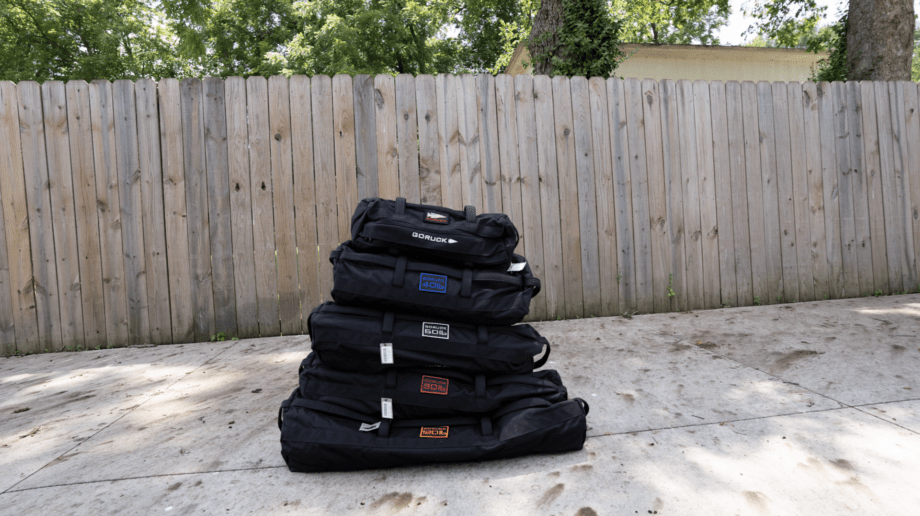 The GORUCK Sandbags come in five different sizes to choose from: 20, 40, 60, 80, and 120 pounds. The prices range from $50 (on sale) for the 20 pound sandbag all the way up to $165 for the 120 pound bag.
If you spend over $95, you get free shipping within the USA (sorry Canadian readers). If you prefer to pay in increments, there is an option to do four interest-free payments with Affirm.
Each duffel style sandbag shell comes with inside filler bags that fit the appropriate weight. You will have to purchase your own sand, dirt or pea gravel to fill the bags with. These are all easy to find at your local home improvement store.
You're also able to purchase additional filler bags in 20-, 40-, or 60-pound increments. I didn't love that the 80- and 120-pound bags require multiple filler bags instead of one larger bag. The 120-pound sandbag was really difficult to get properly stuffed with two filler bags. It was definitely harder than it should have been.
Aesthetics and Durability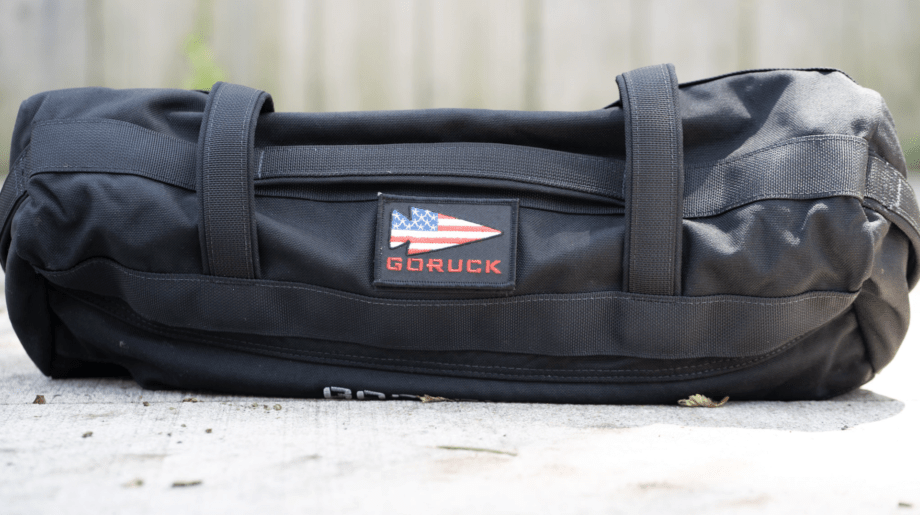 To put it simply, GORUCK makes badass gear. These sandbags ooze cool (but not sand!). The logo is carefully stitched on the durable and thick 1000D Cordura fabric, which is Special Forces grade material. GORUCK decided to use YKK zippers that genuinely get even smoother with use. Every single handle has been padded to the max and reinforced with a multitude of stitches. I'm not at all concerned about these straps not being able to take the various weights of the sandbags because they are not rubberized. These puppies are STURDY.
All of the sizes are available in black, but both the 40- pound and the 80- pound bag have a few different color options. The 40 pound bag comes in black multicam, coyote brown, black + red, and black + blue. The 80- pound bag comes in coyote brown and black + blue.
I have no concerns about the durability of these sandbags. While working out, very few granules of sand came out of the bag. The double velcro that secures everything feels the same as it did when I first bought the sandbag. There is a lifetime guarantee, so even if something did eventually happen to the sandbag, GORUCK would repair it or get you a new one.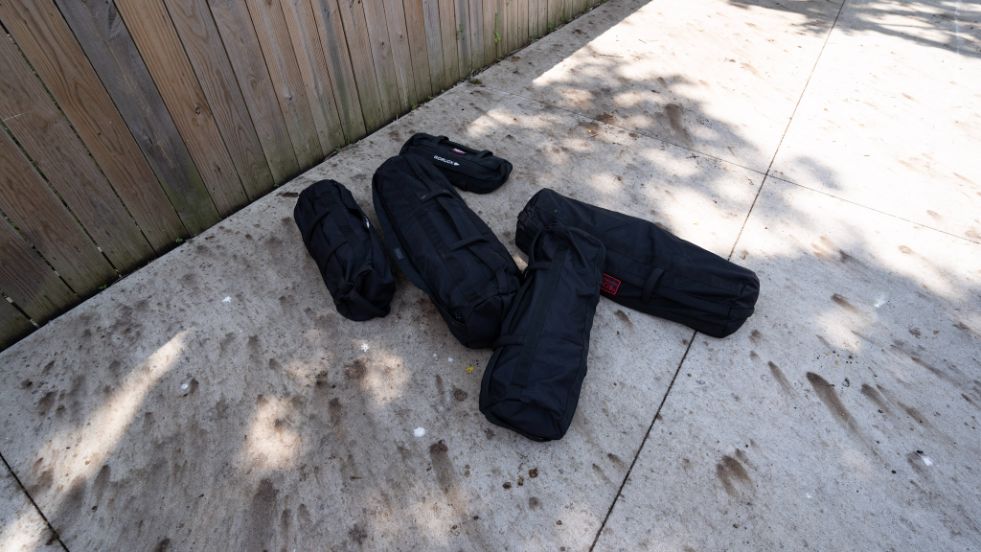 Sandbag + Ruck Training Program
If you're interested in receiving workouts that involve sandbag training, you're in luck. The GORUCK Training program might be a great option for you. There is a free one-week trial and then the cost is $22 per month.
This training program utilizes the app Beyond the Whiteboard to send workouts five days a week. Each day has a specific theme:
Meat Grinder Monday is a challenging workout to start the week.
Thrasher Tuesday is a workout with lots of complementary movements.
Make Up Wednesday is a makeup day if you missed any workouts.
Technique Thursday is all about practicing different skills and tactics.
Fire Breather Friday involves lots of physical opposition.
Suck Fest Saturday will be a long workout you can do with friends or family.
Sunday Rest Day to relax and get ready for the next week.
You'll receive the workouts at 5 p.m. the night before so you can plan your workout accordingly. You can also log your workout into the app, but it's not a requirement.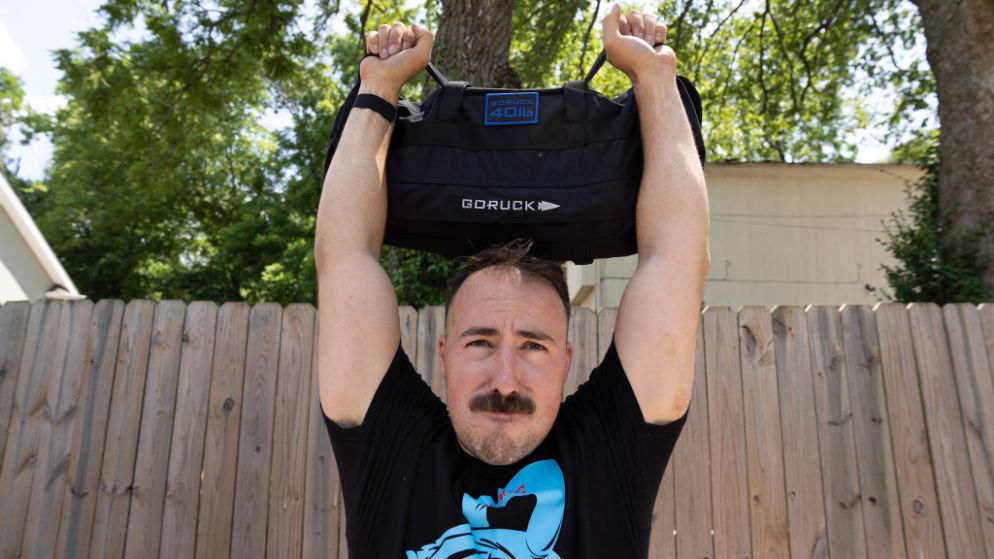 GORUCK Challenge
Another cool aspect of the GORUCK brand is their challenge, which is based on special forces training. There are challenges across the country at either Basic, Tough, or Heavy difficulty level. Each challenge has a different amount of miles that must be completed, a time limit, and minimum weight you must carry in your heavy duty Rucksack. There are no cash prizes; you just get a patch and bragging rights that you completed the challenge.
GORUCK Sandbags Specs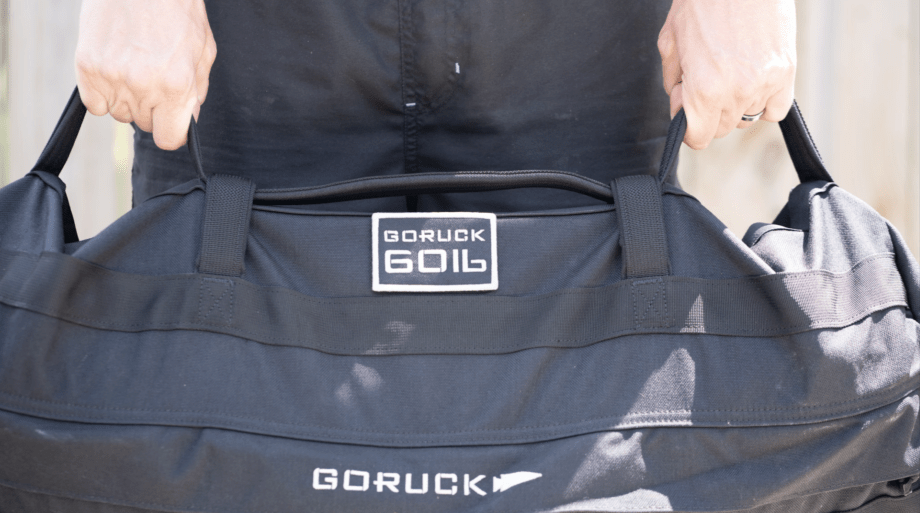 | | |
| --- | --- |
| 20 lb sandbag | 7″ Diameter x 20″ Length |
| 40 lb sandbag | 9.25″ Diameter x 24″ Length |
| 60 lb sandbag | 9.25″ Diameter x 28″ Length |
| 80 lb sandbag | 10.25″ Diameter x 32″ Length |
| 120 lb sandbag | 10.5″ Diameter x 36″ Length |
Customer Experience
You can't go wrong with most GORUCK products because they really stand behind their stuff. With their Scars lifetime guarantee, if you break your equipment, they'll repair it or replace it. That's virtually unheard of in the fitness space and makes this brand stand out from the pack.
If you don't love your sandbags, you can return them within 30 days of receipt for a full refund plus free return shipping. Again, I'm impressed with GORUCK's commitment to customer service by providing free return shipping.
If you have any questions, you can contact GORUCK by clicking the support button in the bottom left corner of the website. From there, you can see if your question has been previously answered. If not, there is an option to email them with up to five pictures. They respond pretty quickly within the regular five day work week during business hours.
Customer Reviews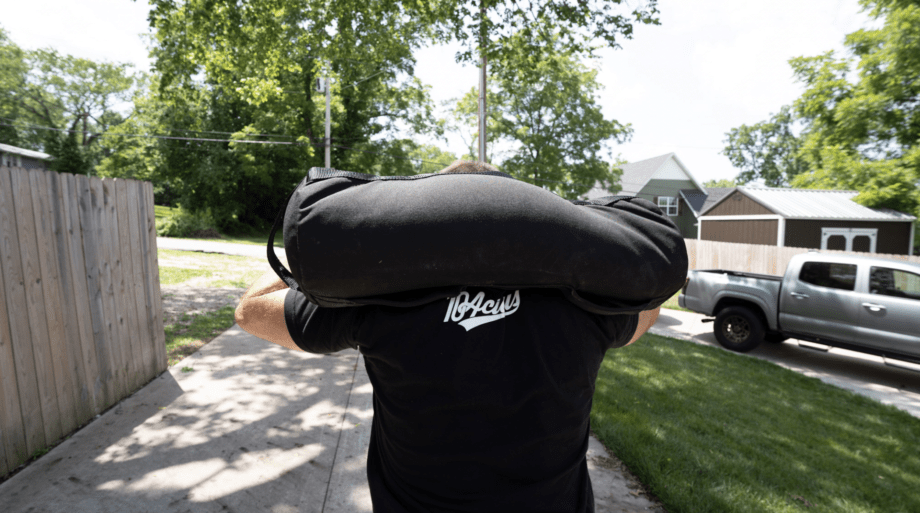 Customers generally love their GORUCK Sandbags. With over 500 online reviews, these sandbags get an overall 4.9/5. People seem to love the durability and the lifetime guarantee. The multiple handles are another plus with customers because it shows the versatility of the sandbag for a variety of exercises.
There are a few complaints about the filler bags only coming in 20, 40, or 60 pound sizes. This just means that for the larger sandbags, the customer had to add more than one filler bag. A few customers also mentioned that they felt the horizontal handle had too much slack, which made it difficult to pick up.
Final Verdict of Our GORUCK Sandbags Review
If you're considering purchasing a sandbag, I would highly recommend the GORUCK ones. Here are my main takeaways from testing this product:
Lifetime warranty and very durable training tool
Expensive for sandbags and not made in the USA
Variety of handle options on the bag for different exercises
Full Rating
GORUCK Sandbags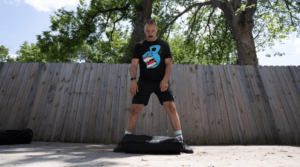 The GORUCK Sandbag hits the nail on the head for a product that makes me feel like I'm functionally training for life. Sandbags make a great addition to home gyms, and the GORUCK bags in particular are very durable and extremely high quality.
Product Brand: GORUCK
Product Currency: USD
Product Price: 135
Product In-Stock: InStock
GORUCK Sandbags FAQs
What do you fill GORUCK sandbags with?
You can fill any GORUCK sandbag with regular sand, dirt, or pea gravel.
Can you build muscle with sandbags?
Yes, you can build muscle with sandbags. There are a variety of different exercises you can do with sandbags, making it a versatile option for strength training.
Can I use play sand for sandbags?
GORUCK does not recommend using play sand in your sandbags. This is because play sand is much finer than typical sand and can leak out of the filler bags.
What size GORUCK sandbag should I get?
The answer to this question is very individual. GORUCK makes sandbags that are 20, 40, 60, 80, and 120 pounds. I think you should pick the size that makes the most sense for the exercises you plan to do.