We test and review fitness products based on an independent, multi-point methodology. If you use our links to purchase something, we may earn a commission. Read our disclosures.
The Bandbell Bamboo Earthquake Bar is a specialty barbell designed to work the stabilizers through a term they've coined "Oscillating Kinetic Energy," also known as OKE. Although there is some gimmicky marketing, this is one of the most humbling bars we've ever used (specifically on the bench press) and has held up to a lot of use over the 5 years we've had it. We do recommend it, albeit after other specialty bars like a trap bar and safety squat bar.
The Bamboo Barbell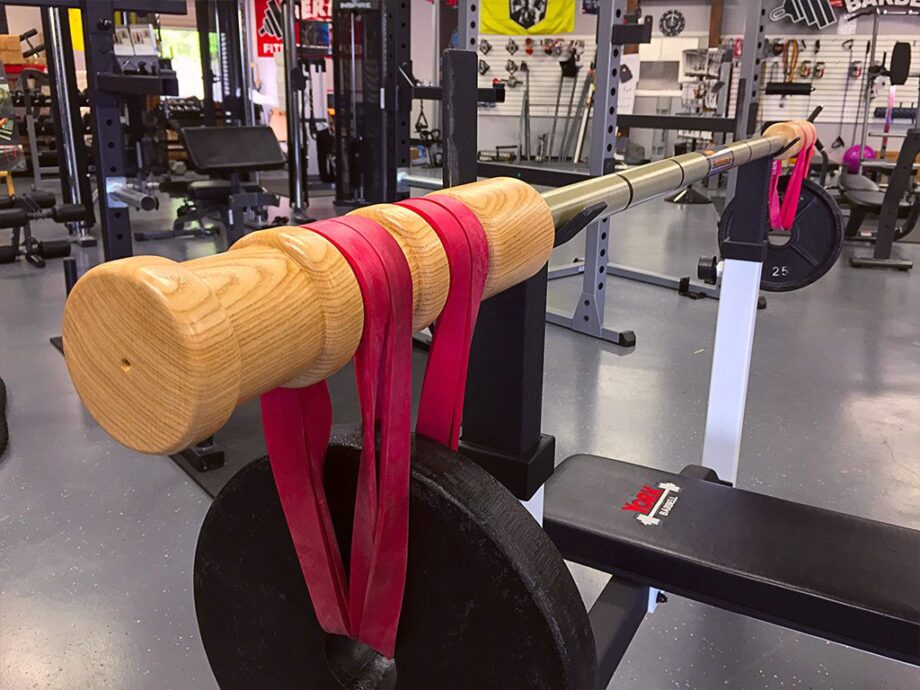 Bandbell Earthquake Bar
Designed around the principle of Oscillating Kinetic Energy (OKE), BandBell Bars are unique, hand-made 80" barbells that weigh 6LB. each – yet can handle weights in excess of 300LB. For rehab, prehab, CrossFit, strength building and functional training programs, this is your one-of-a-kind, go-to apparatus. The Earthquake Bar As the Bamboo Bar grew in popularity, some lifters began using it more without the Safety-Slots. In fact, what they were calling for was a BandBell Bar that could hold a lot of bands and a lot of weight, all at the same time. Enter the Earthquake Bar! The Earthquake Bar was specially designed to hold a huge amount of weight and can be setup in a multitude of ways with bands and weights. Instead of safety slots, it has two-inch grooves cut into the wood to channel and grip the bands as the Bar bends radically under super-heavy weight. Use it for squats, bench, deadlifts, etc. This design works perfectly for CrossFit, high-performance & functional athletes, powerlifters, bodybuilders and general workout programs because it has the unique capability of teaching perfect form however it's used. BandBell Bar Specifications:Made in AmericaMaterials: Hardened Ash Wood & Durable Composite ResinLength: 80"Diameter: 1.5"Weight: 6LBDistance between collars: 54"Loading Capacity: 300LB+Weights and Bands not includedApplications: Rehab, Prehab, Balance, Flexibility, Range of Motion, Endurance Training, and more
After using the Bandbell Earthquake Bar, also known as the Bamboo Bar over hundreds of workouts the past five years, I feel I've got a good idea on its value proposition. It will humble the strongest lifter and make you feel extremely strong and stable when you go back to an Olympic Barbell. I like the Earthquake bar and feel they offer a great variety to a home gym.
What is the BandBell Bamboo Earthquake Bar?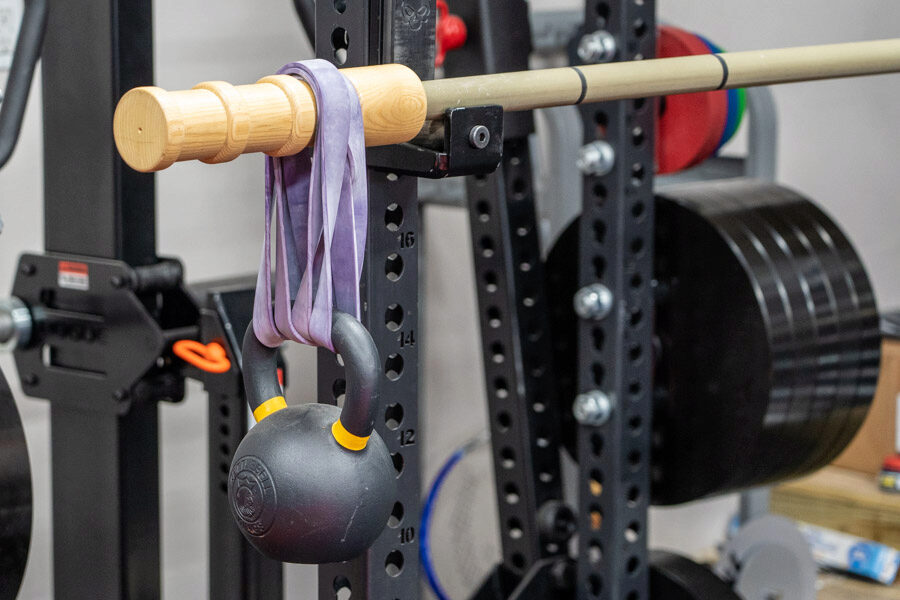 Weighing in at only 6.3 lbs, standing 80" long while having a bar diameter of 1 ½" and a maximum weight capacity of 300 lbs… is the BandBell Earthquake Bar (also known as the Bamboo Bar.)The BandBell Earthquake Bar is one of the best specialty bars to work the stabilizers through oscillating kinetic energy (OKE). Basically, all the small vibrations recruit and push more blood into the stabilizers (increased bio-motor control) far greater than a regular steel bar so you can handle more weight. This increase in blood flow from OKE and activation of the muscle groups & stabilizers it helps to maximize recovery and growth.
The BandBell Earthquake Bar is handmade in the USA and invented by Jim Seitzer. He also happens to be one of the few originals to have trained with Louie Simmons in his basement gym before Westside Barbell became what it is now. Jim was also a national-level bodybuilder and had two elite totals in powerlifting. He created this bamboo bar so that it would help heal and strengthen his joints due to a shoulder injury that had occurred.
Is the Bamboo Bar a Gimmick?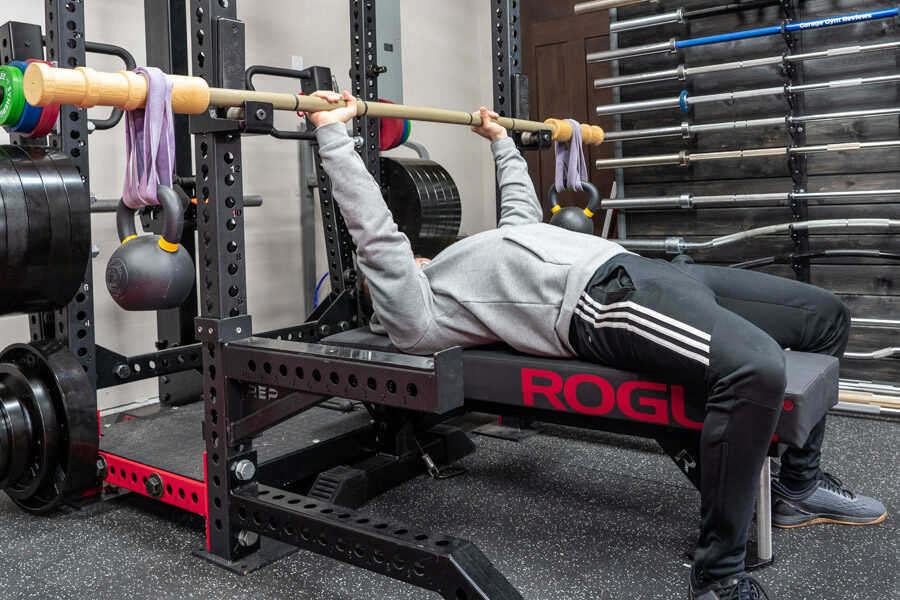 Unfortunately, while many products in the fitness industry are rebranded knockoffs or just complete gimmicks, the Earthquake Bar is far from being gimmicky. The Earthquake Bar is a great tool to have for both prehab and rehab for those with shoulder, elbow or pec injuries.
I don't believe it's a home gym essential but for those looking to add specialty bars to their gym, it's a solid option for the best home gym equipment.
There is no other bar that provides the same stimulus to the stabilizers through OKE that has a solid track record as BandBells products. If the strongest benchers in the world like Dave Hoff and Julius Maddox are using it then it has to be for a reason, which is that it works.
What We Like About the Earthquake Bamboo Bar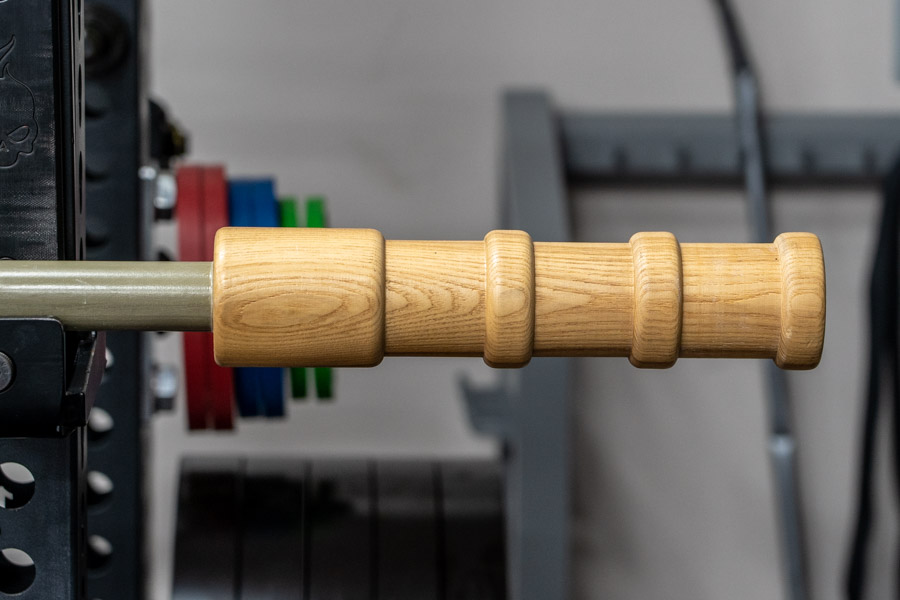 While its weight capacity says 300 lbs it can easily hold more weight than that, and can also humble mostly everyone with very minimal weight (which is a huge plus for garage gyms not needing 6 pairs of kettlebells and bands for one lift).
The bar itself is made rather well. The ends are made of wood that's been taken down on a lathe and the shaft is made of some sort of fiberglass that has rigidity but is rather springy.
BandBell Bars are backed by a lifetime warranty which many bars being sold can't offer.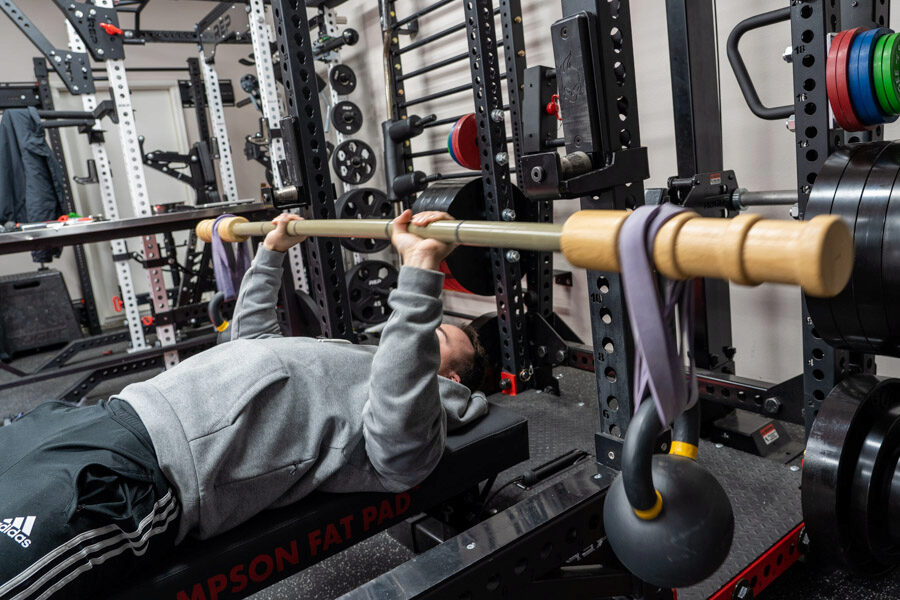 Here are some gold nuggets for a few other ways you can use the bar. If you have friends over or other gym members visit, it makes a great bar to gamble with (Yes this isn't the purpose of the bar but it's fun). You can do fun 100 rep challenges in as least sets as possible (which is basically 4×25 or 2×50).
I know some are going to hate me for releasing this but here it goes. When performing the reps you can touch the chest with the bar, which will ground some of the kinetic energy but this will also allow you to use the momentum from the elasticity of the bands from the kettlebells to ride it on up without expending much of your own energy (this makes 50 reps feel like 25). It's an easy way to beat people stronger than you that haven't used the bar before and make a quick $20.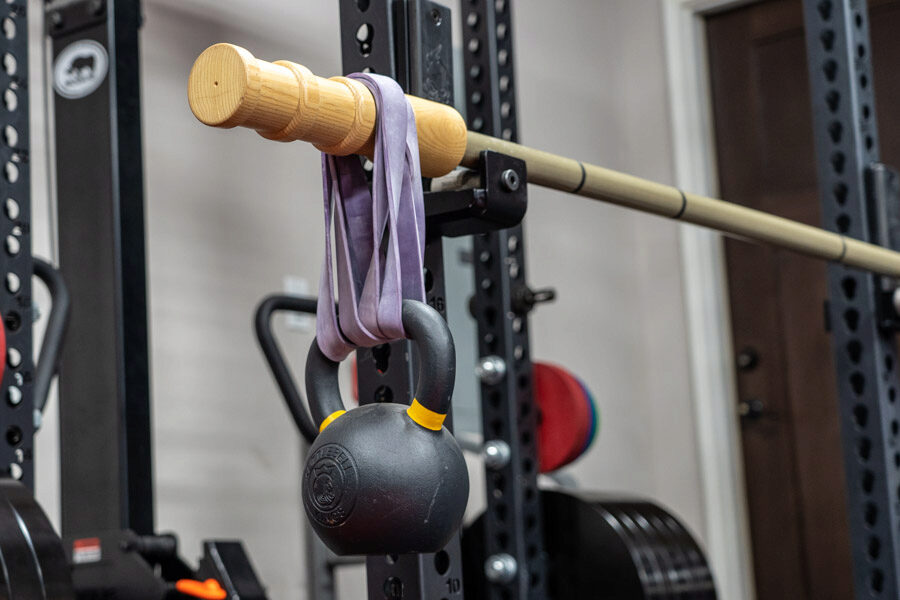 On the other hand if you want to get the most out of the bar bring the bar down to about 1" off the chest and reverse it back up without touching. This will cause an increase in kinetic momentum as it builds up with reps. I would do this once you feel pretty comfortable with the bar due to how challenging it is. Then another way to increase that would be putting a band under the bench to the bar similar to using bands for the dynamic effort method with a barbell.
What We Don't Like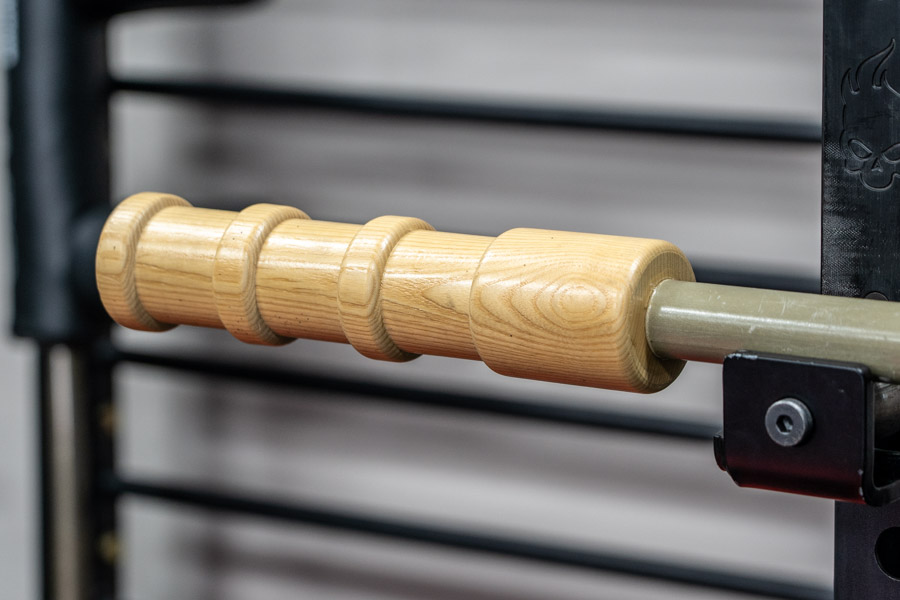 The Bamboo Earthquake Bar is a very popular specialty bar, but there are some downsides of the bar that you should be aware of before dropping your cold hard cash on one.
Due to the Earthquake Bar being very lightweight, it easily tips on the rack when weight is uneven if the bar is in an even position to lift.
The price of the Earthquake Bar is $289 which is around the same price range of what most good quality power bars cost. With the RhinoFlex Bar being $329 and handling 400lbs, It might be a better option for someone wanting the best bang for their buck BandBell Bar to utilize for prehab, rehab, and strengthening.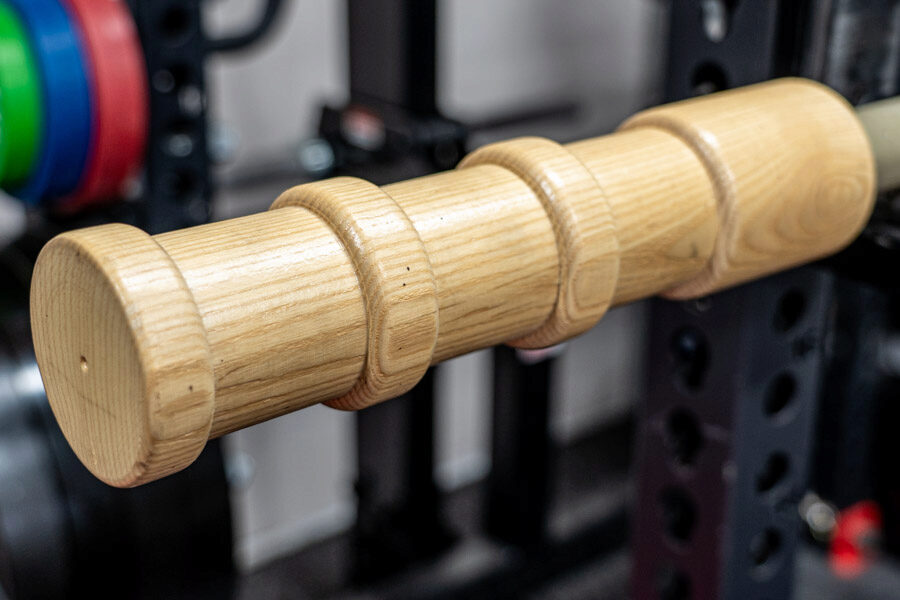 Due to it being considered pricey for some, others may opt to use a homemade PVC bar as an alternate route to the Earthquake Bar. I would not suggest this for most because of the fact that a homemade pvc bar is limited by the amount of weight it can safely hold, it can snap on you while using it and pvc just conducts energy differently which ruins the purpose for even using it.
BandBell Bars will not bend on you and will last forever. You know the saying: buy once, cry once, but at least you'll feel better/stronger. The Earthquake Bar can function in a multitude of different ways and can conduct energy better than any bar on the market being sold. If you had to only pick one BandBell Bar you could choose the RhinoFlex Bar and use it in the same manner, but the more bars the more PRs so it doesn't hurt having both. If you do go that route and use less than 400 lbs I'd get the standard RhinoFlex but if you can handle more than that I'd suggest the RhinoFlex HD.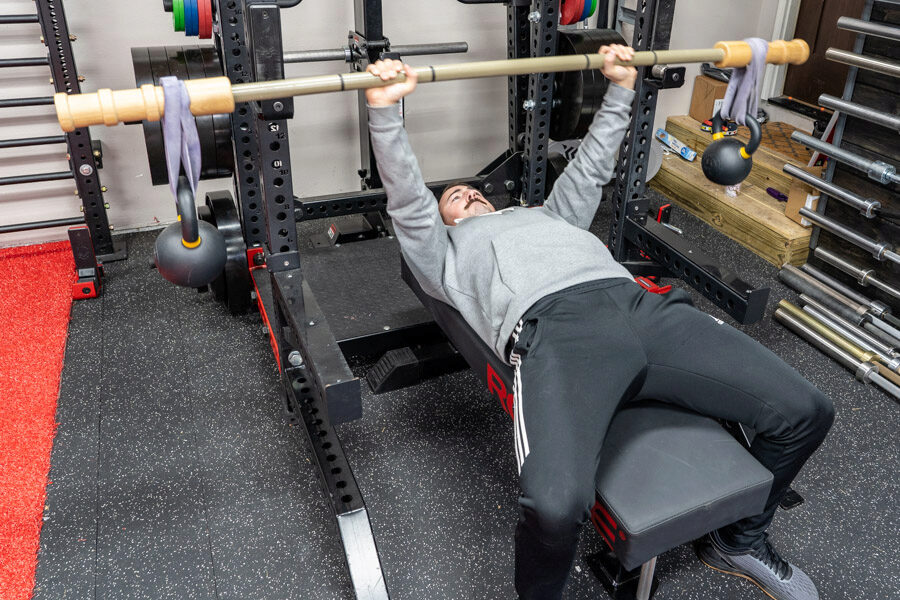 While the hazard of the bands coming off when lifting the bar explosively is an issue, it can be resolved by placing the band lock on top of the bands to secure them to the bar. This is an issue the RhinoFlex Bar solves with giving the option of being plate loaded. For those who use the bar outdoors for example overhead walks in which they place the bar on the ground you can also secure the bands to the bar with 550 Cord but the band locks make this process faster and easier for only $20.
How to Load the Bamboo Bar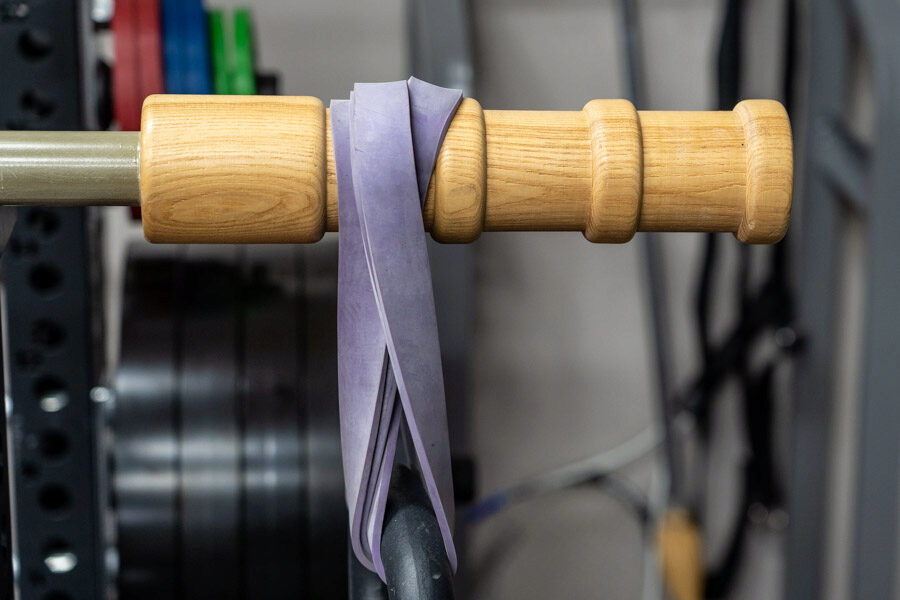 The Bamboo Bar can be difficult to load due to it's lightweight. Here's how you load one safely:
Step 1– The best way to load the banded kettlebells is to bring one side of the wood laying right on top of the j cups. This will bring the kettlebell against the post.
Step 2 – On the other side, you can place the banded kettlebell in the middle groove and then center the bar without having to worry about it tipping over.
Step 3 (optional) – If you have the band locks you can slip one side of it before or repeat the steps 1 &2 offsetting the bar removing the banded kettlebell, slipping the band locks on, putting the kettlebell back on, and securing the band locks.
BandBell Earthquake Bar vs Olympic Barbell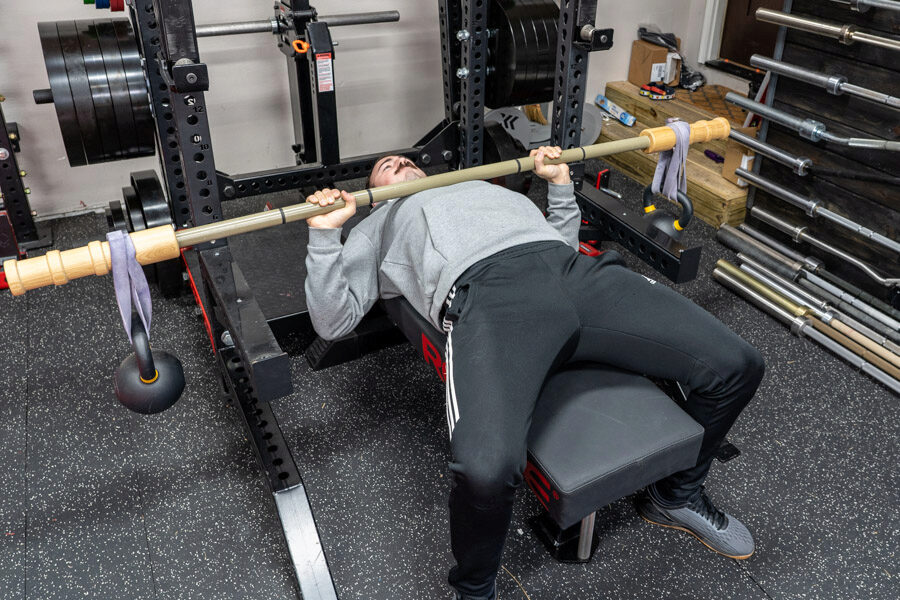 The Earthquake Bar is significantly different from an Olympic barbell l due to the materials used that cause the OKE. While some people have placed banded kettlebells on an Olympic bar to simulate the instability the Earthquake Bar provides, the Olympic bar will not provide near the same amount of kinetic energy the Earthquake Bar will. Honestly, the Rhinoflex series is more comparable to an actual Olympic bar since it can be plate loaded and still offer the desired training stimulus of the Earthquake Bar.
When you get an Earthquake Bar the reps, sets and weight will be determined based on your strength and level of general physical preparedness (GPP). You can start utilizing it with a benching and squatting lightweight for a lower kinetic profile (usually starting at 20-30 repetitions) so your central nervous system (CNS) can adapt to the instability for 4-5 weeks. Then you'll gradually increase the amount of weight for more of the kinetic effect. For squatting be sure to see the best squat racks here.
For youth athletes, the Earthquake Bar is safe to use, again depending on their level of preparedness, however, I think it'd be easier teaching them on a RhinoFlex Bar. Generally speaking, it's a great bar to teach how to use it, proper form and it's enjoyable.
You can use the Earthquake Bar for so many different exercises, some of our favorites are bench press, iso holds, static holds, squats, Zercher squats, upright rows, walking with it overhead or in Zercher position, overhead press, and everyone's favorite…curls! See the best weight benches here.
Full Rating
BandBell Earthquake Bar
The Bandbell Bamboo Earthquake Bar is a specialty barbell designed to work the stabilizers through a term they've coined "Oscillating Kinetic Energy," also known as OKE. Although there is some gimmicky marketing, this is one of the most humbling bars we've ever used (specifically on the bench press) and has held up to a lot of use over the 5 years we've had it. We do recommend it, albeit after other specialty bars like a trap bar and safety squat bar.
Product Brand: Rogue Fitness
Product Currency: $
Product Price: 289
Product In-Stock: InStock
BandBell Earthquake Bar FAQs
Does the earthquake bar work?
One of the greatest specialty bars for working the stabilizers through oscillating kinetic energy is the BandBell Earthquake Bar (OKE). Essentially, all of the little vibrations recruit and pump significantly more blood into the stabilizers (enhanced bio-motor control) than a conventional steel bar, allowing you to lift far more weight.
How much weight can an earthquake bar hold?
The Earthquake bar is built of exceptionally strong composite resins and is finished off with solid ash loading sleeves on either end, giving it a maximum weight capacity of 300 pounds.
What is the purpose of an earthquake bar?
The Earthquake Bar was created to bear a significant amount of weight and can be configured in a variety of ways using bands and weights. It features two-inch grooves carved into the wood instead of safety holes to channel and grasp the bands as the Bar bends abruptly under super-heavy weight.