We review free products that we receive and participate in affiliate programs, where we may be compensated for items purchased through links from our site.
See our disclosures page for more information.
After researching more than 65 rowing machines, using 13 of them, and legitimately testing five of them, I've pulled together a list of the best rowing machines on the market today. I took into account durability, performance, warranty, price, and availability when assessing each item.
I've identified 8 of the greatest rowing machines below that will suit the majority of individuals. Each rowing machine has its own set of characteristics, such as advanced smart capabilities, a low price, or extra perks like magnetic resistance that assist you to get some resistance training while you row.
Although the Concept 2 Model D Rower came out on top, there are still some great picks here depending on what you're looking for. Read on to learn more about each one, find out exactly how I tested these, and also what to look for when buying the best rower.
The Best Rowing Machines
Best Rowing Machine Overall: Concept 2 Model D Rower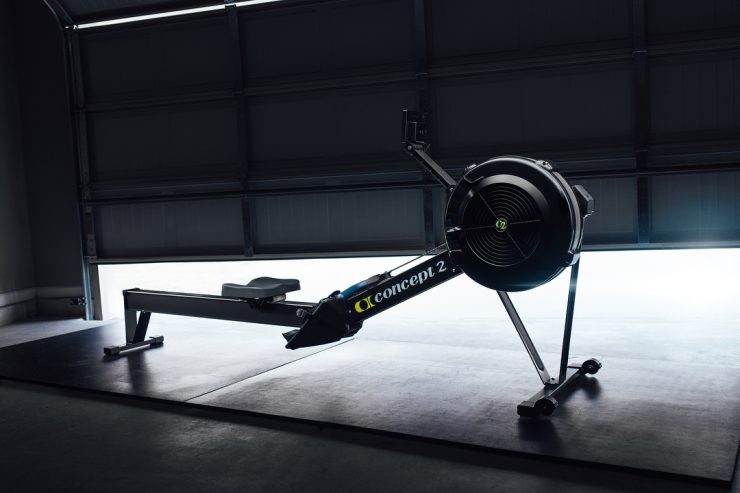 Best Rowing Machine Overall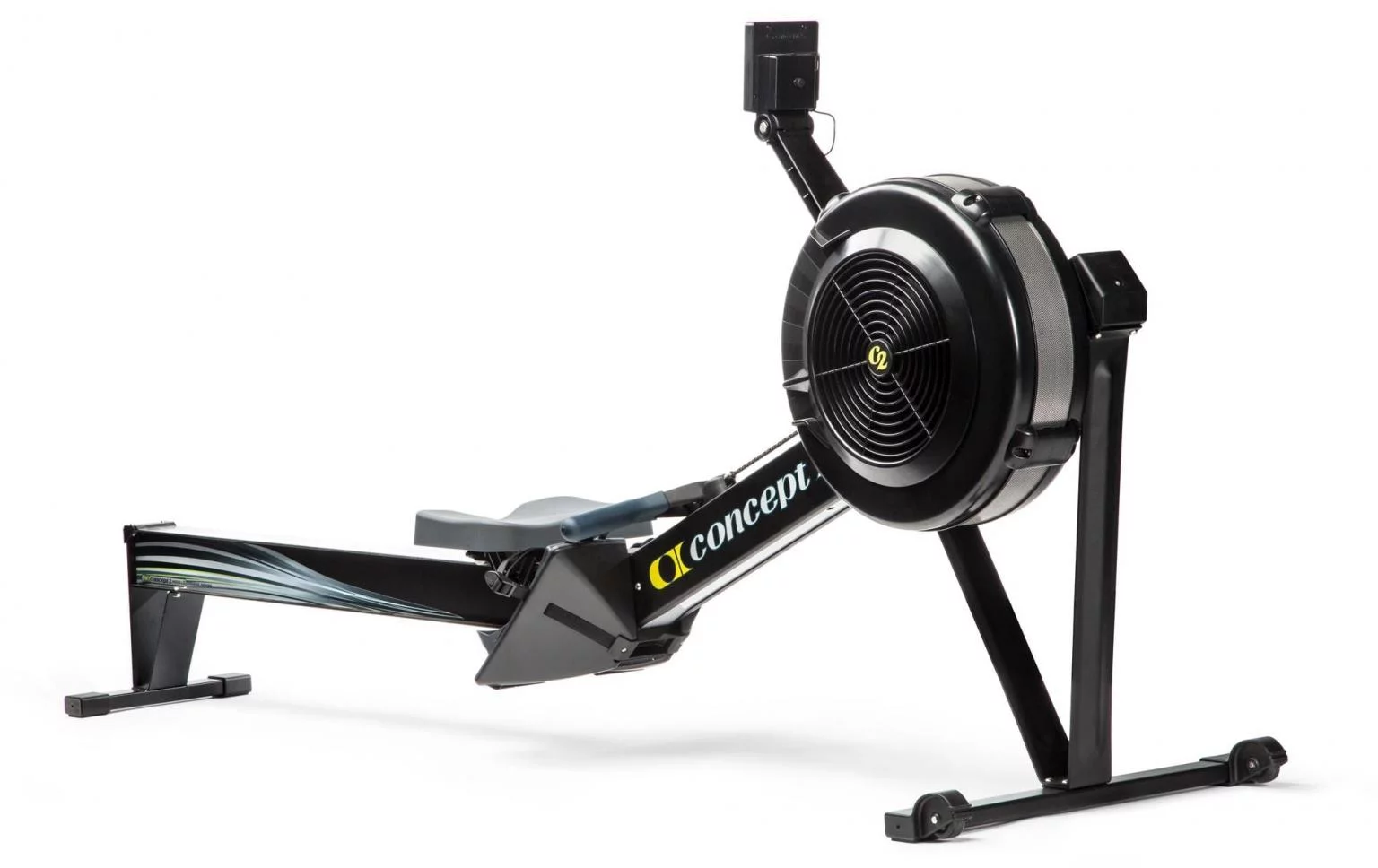 Concept 2 Model D Rower
Features an advanced PM5 Performance Monitor, improved ergonomically designed handles, adjustable foot-rests, and a flywheel designed for smooth movement with minimal noise. The Model D has a comfortable 14" (seat) height with an aluminum I-beam monorail and stainless steel track for a consistent back-and-forth slide. When done training, you can quickly break down the rower into two segments for storage or use the included caster wheels for easy transport. Rogue offers an optional space saving wall hanger. The Concept 2 Rower provides one of the more comprehensive, full-body workouts of any fitness machine. Engineered to last a lifetime, it's low impact enough for use in physical rehabilitation centers, and intensive enough to be used by the world's fittest athletes. The Concept 2 uses air resistance generated by the fanned flywheel. To adjust how much air enters the flywheel housing on each stroke, the Model D Rower includes a unique spiral damper adjustable from a setting of 1 to 10. This functions much like the gears on a bike, affecting how much energy will be needed to accelerate from one stroke to the next. 10 allows in the most air for more wind resistance. For most people the recommended settings is from 3-5. The PM5 is another leap forward in what a performance monitor can do. Track distance, speed, pace, calories burned, and watts—all presented on a clear, backlit display. Connects to wireless heart rate monitors and via bluetooth to the optional ErgData app to track detailed workout data. The monitor itself can be custom positioned using the adjustable monitor arm. USB flash drive compatible and built for machine-to-machine racing. Designed to last, the Concept 2 rowing machines offer a comprehensive fully transferable warranty. From home gyms, to Olympic training centers, to major professional sports teams, Concept 2 has been put to the test time and again. The Concept 2 Rower includes everything you need for a quick set-up. The front legs are installed using 8 screws, and clear, concise instructions are included. Your machine will be up and ready to use within 20-30 minutes of opening the box. Includes PM5 Performance Monitor** Flywheel design for smooth feel, minimal noise Spiral Damper with adjustable 1-10 settings Ergonomic handle promotes natural arm and hand position. 14" (seat) moves smoothly on aluminum rail / stainless steel track Adjustable monitor arm and simple two-part separation for compact storage Flexfoot footrests adjust for quick and easy sizing Easy assembly with tools and illustrated instructions included Caster wheels for mobility
Good for: Beginners to experienced rowers looking for a great workout from the ideal machine
My Favorite Features:
Easy to assemble, use and store
Extremely durable
Ergonomic seat and handle
Worldwide community leaderboard
Several built-in and customizable workouts
My Callouts:
Costs around $1,000
Some people find the seat to be uncomfortable
Plastic monitor arm could be subject to breaking
This rower is the most popular rower in the world and in my opinion one of the best rowing machines out there. It can be found in nearly every CrossFit gym in the country. It's also my pick for the best rowing machine for home. Pretty much anyone, from those who row for sport to those who simply want to improve their health, can jump on the Model D and get an outstanding workout. There are few adjustments required for the machine to be used and even less knowledge needed to begin pulling on the handle.
The performance monitor (PM5) tracks every metric you'd ever want to know and more: elapsed time, strokes per minute, average pace, split meters, heart rate, and projected meters in 30 minutes. One fun part of this machine is that very few other rowers hold a candle to is their worldwide leaderboard that allows you to see how you stack up to others across the world in various challenges.
When in use, this rower takes up about the same amount of space as other rowing machines but can be easily maneuvered using the front wheels to be stood upright and out-of-the-way. Should you want even more portability, it breaks down into two separate pieces for easy storage.
This rower uses air resistance, which is low maintenance. The seat is a bit firmer than those on other machines, and there have been some novice users who complain of its hardness.
Read my full Concept 2 Rower review.
Best Interactive Rowing Machine: Hydrow Connected Rower
Best Interactive Rowing Machine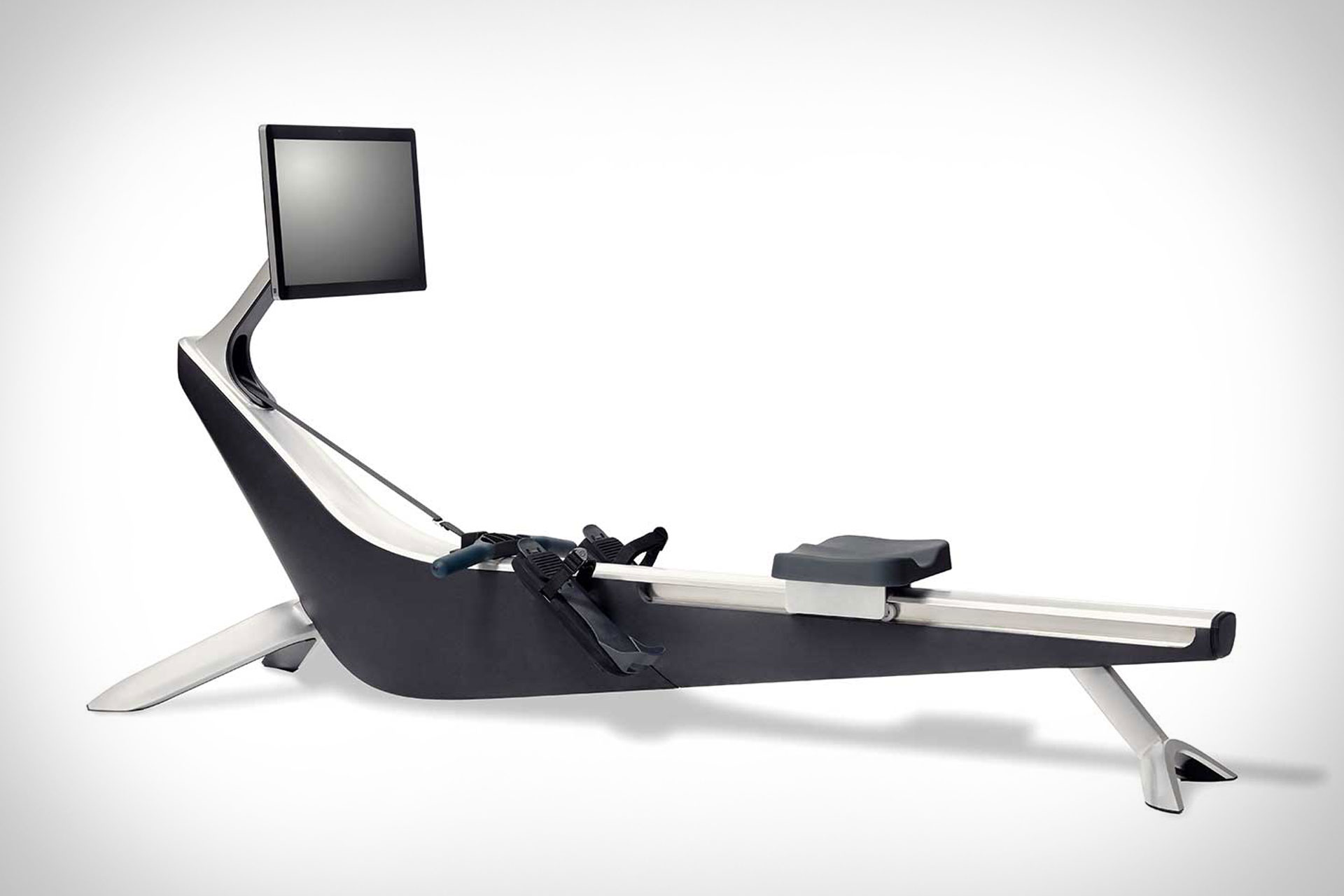 Hydrow Connected Rower
We completely re-engineered the rowing machine with patented technology, making each stroke feel like you're out on the water. Then, we built an immersive experience around it. The Hydrow was designed from the ground up. While the design team wanted to create a unique machine that was elegant and sophisticated for the home, it was just as important to engineer a machine that was unmatched in performance and built to last. Hydrow's brilliant 22" touchscreen display and impressive front-facing speakers bring the river to your living room, captivating you from the moment you sit in its seat. The Hydrow's patented drag mechanism is electromagnetic and computer-controlled. Its distinctive components make it the closest thing to being on the water.
Good for: Peloton fans looking for a rower
My Favorite Features:
Sleek and sexy design
22-inch touchscreen display
Magnetic resistance done right
My Callouts:
Prices start around $2,500
Large and not exactly easy to store
Heavy and difficult to move, but very stable (weight capacity up to 375 pounds)
No "manual" mode
This is the "Peloton" of rowers, folks. It's just straight-up sexy. The price tag? Not so sexy, but at least Hydow usually offers good sales around Labor Day, Black Friday, and other holidays. But the machine itself? Yowsa. And the guided workouts? Awesome.
I have done shorter, HIIT-style workouts on it, and I've done longer conditioning pieces. In both modalities, the Hydrow exceeds my expectations. Coaches who are on open water take you through workouts, which are displayed on a 22-inch HD touchscreen. There is a big library of options, and you can compete live with people around the world. (I row under @doescooperevenlift, so come and get me.)
What's not-so-great about the Hydrow setup is that you can't just hop onto the Hydrow and go at your own pace. You have to choose a workout. The Hydrow uses electromagnetic resistance, not air resistance. This means it's very quiet, more silent than, say, Concept 2.
Typically, magnetic rowers tend to be really cheap and break easy. However, the Hydrow is incredibly smooth. Its magnetic resistance is done right. At 145 pounds, the Hydrow is a heavy machine and one of the heaviest rowers you'll find. It uses a lot of steel in construction, which does make for a very stable experience.
However, it isn't easy to move around. And for vertical storage, you need to purchase the storage kit. However, this is a beautiful machine, so leaving it on the floor doesn't really create an eyesore.
Check out my written full Hydrow Rower review to learn more.
Best Smart Rowing Machine: NordicTrack RW900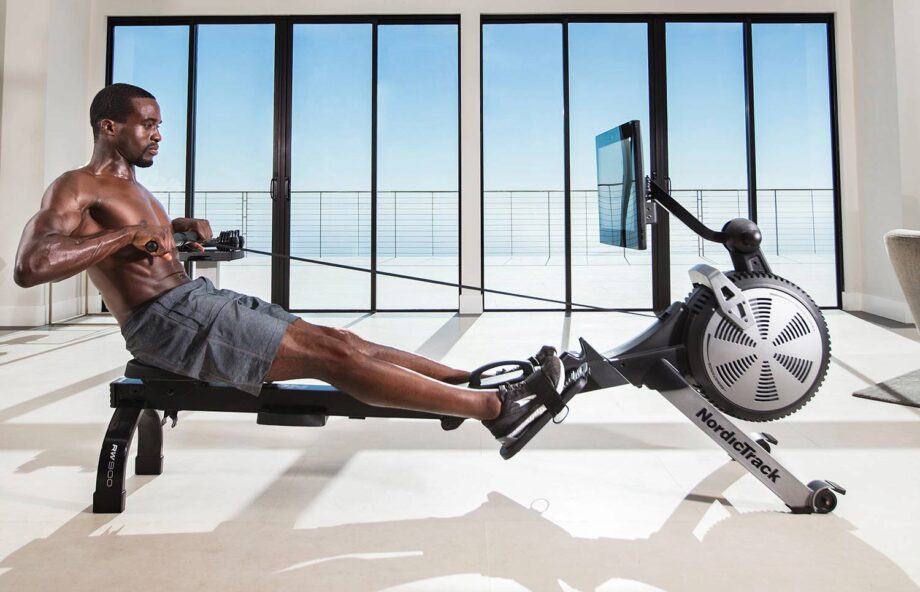 Best Smart Rowing Machine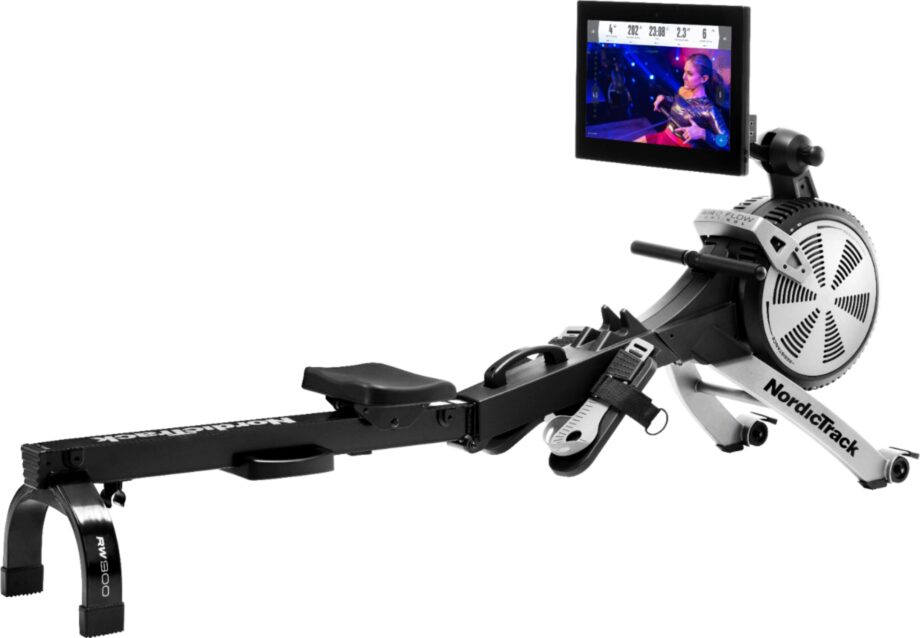 NordicTrack RW900
With the RW900's Rotating Smart HD Touchscreen, you can take part in immersive workouts, then hop off your rower for a strength training session or yoga in beautiful locales. Every iFit rowing workout features Automatic Trainer Controll where our world-class trainers adjust your rower's digital resistance for a great workout. Experience the difference of Automatic Trainer Control. Our elite trainers can auto-adjust your digital resistance while the manual air resistance allows you to control another level of intensity. Our oversized, pivoting pedals with quick-release, adjustable foot straps give you the confidence that you'll stay secure during your most intense trainer-led workouts.
Good for: Rowers with all levels of experience who want interactive home workouts
My Favorite Features:
Comes with a free year of iFit programming
A 22-inch rotating HD touchscreen display
Bluetooth connectivity for headphones
Foldable for easy storage
10-year warranty
My Callouts:
More expensive than most rowers at over $1,500
Combines air and magnetic resistance
Only 250-pound user capacity
The warranty will be voided if you store this rower in your garage
Here's the deal: If you need trainer-led workouts, then one of these fancy, higher-end rowers is the way to go. The NordicTrack RW900 (as well as the others in this line, the RW600, and the RW700) come equipped with iFit, which is interactive training. This particular model has a 22-inch HD touchscreen that displays studio classes and even water-based rowing videos around the world. That's pretty cool.
The machine itself uses both air and magnetic resistance. This can make for a hard workout, and it can keep the machine quieter than just the air-based rowers. However, it won't feel quite as smooth and realistic as water rowers, like the CITYROW GO Max Rower.
NordicTrack has tricked out the RW900: Bluetooth connectivity so you can wear your headphones, two speakers, automated trainer control so iFit adjusts the resistance for you, and a 10-year warranty on the frame.
You better believe these perks come with a big price tag: Even the base model NordicTrack is around $1,000. I'm disappointed to see a 250-pound weight capacity on this machine, especially with that kind of a price tag.
Best Foldable Rowing Machine: Get RX'd Xebex Air Rower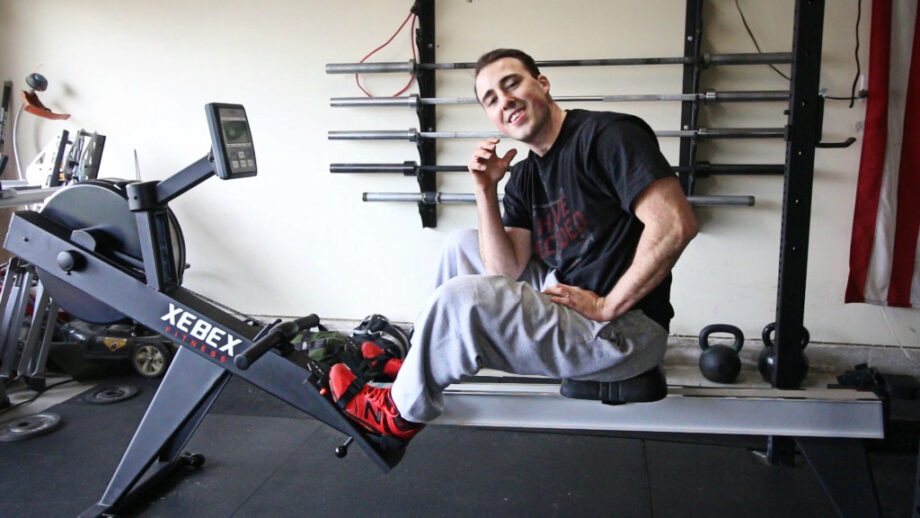 Best Foldable Rowing Machine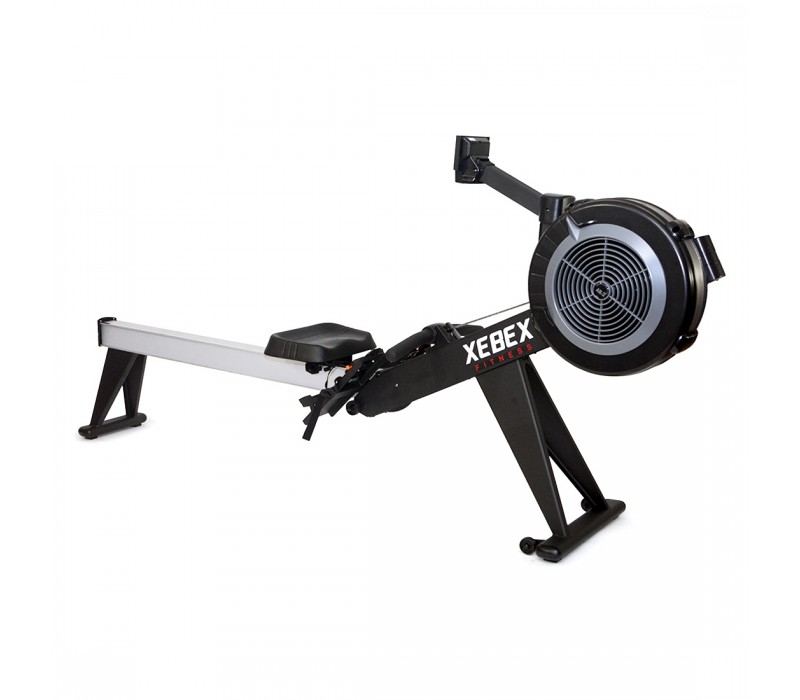 Xebex Air Rower
Easy to Get In and Out Have the comfort and ease of getting into and out of a machine that's "dining chair height." The 20" seat height makes it simple to sit in and sit out after a long workout, if your knees don't bend like they once did, or from a wheelchair. Storage and Transport Made Easy Xebex Air Rowers fold in half taking up less than 50% of original footprint! Only 3' long x 20" wide footprint when folded. Folding and transporting takes less than 5 seconds: pull the Xebex Air Rower Pull Pin until the rail touches the ground. Lift the rail upwards until it clicks into position (no tools required) - and that's it! Now that it's folded, you're able to roll the Xebex Air Rower on 4 wheels out of the way and into storage with just 1 hand. Adjust amount of Drag for Any Ability You are in control of your output and resistance at all times. The amount of work you do is directly calculated by how hard you row. Row harder to go faster, row easier to go slower. The spiral damper allows you to quickly adjust the airflow to the flywheel from little drag at Setting 1, to max drag at Setting 10. This is much like rowing with little drag or shallow paddle depth at 1, to max drag with deep paddle depth at 10. You can change the feel of the stroke to suit your preference. The flywheel design produces a smooth feel and minimizes noise. Smoother, More Comfortable Rowing Experience Xebex Air Rower seats feature extra-padded, high-density foam ergonomically designed for maximum comfort while rowing. Our uniquely designed fan to utilize air resistance allows the user to enjoy a smoother, more comfortable rowing experience that maintains momentum immediately from your initial pull. Enjoy a smooth, momentum-building pull with every stroke. Durable Construction Xebex Air Rowers are known for their durability and construction. Our nearly 100 LB base provides a stable foundation for nearly any user weight. We use metal and steel where others don't. Our stainless steel chain is designed to last with minimal maintenance required.
Good for: People who live in small spaces who want a high-quality machine
My Favorite Features:
Folds nearly in half for easy storage
Priced under $1,000
5-year frame, 2-year parts warranty
Weight capacity of up to 500 pounds
Padded, comfortable seat
My Callouts:
Slightly heavy for an air rower, but still moveable
Handle angle feels awkward while rowing
Takes about 30 minutes to assemble
Proprietary calculations for performance metrics that don't align with Concept 2
The Get RX'd Xebex Air Rower combines many of the design and functionality elements of the Concept 2 rower at a lower price. I especially like that you can fold this rower in half, taking its size down to 36 in by 22 in by 55 in. That makes this ideal for smaller home gym setups or gym owners who need easy storage solutions.
From a stability and construction standpoint, this is a solid piece of equipment. It weighs 93 pounds but can support up to 500 pounds. The legs and the piece that holds the fan up are made of black powder-coated steel, and I don't see them failing anytime soon. I put this rower to the test with people weighing 250 lbs+ with full force and had no issues other than the rower scooting backward (which is common among nearly all rowers when very strong people are doing sprints).
The foot holders on Xebex adjust easily. The seat is padded and has a back lip, which makes you feel secure during your workout. The handle feels a little cheap and a bit awkward due to how it's angled. In the center of the handle is a plastic cover that is somewhat cheap and flimsy to cover the handle connection.
Xebex has upgraded its monitor to track the usual metrics: pace, distance, and heart rate, for example. However, the company uses its own formula to determine certain metrics, like calories, so it's not exactly the same if you're comparing your workout to someone using Concept 2.
Read my full Get Rxd Xebex Air Rower review.
Best Water Rowing Machine: WaterRower Natural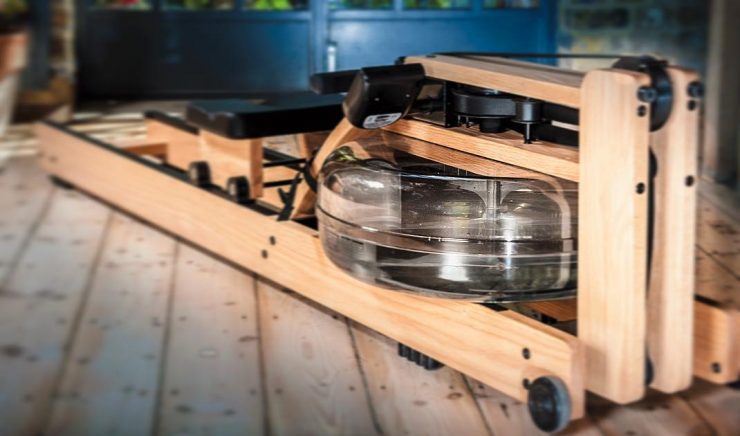 Best Water Rower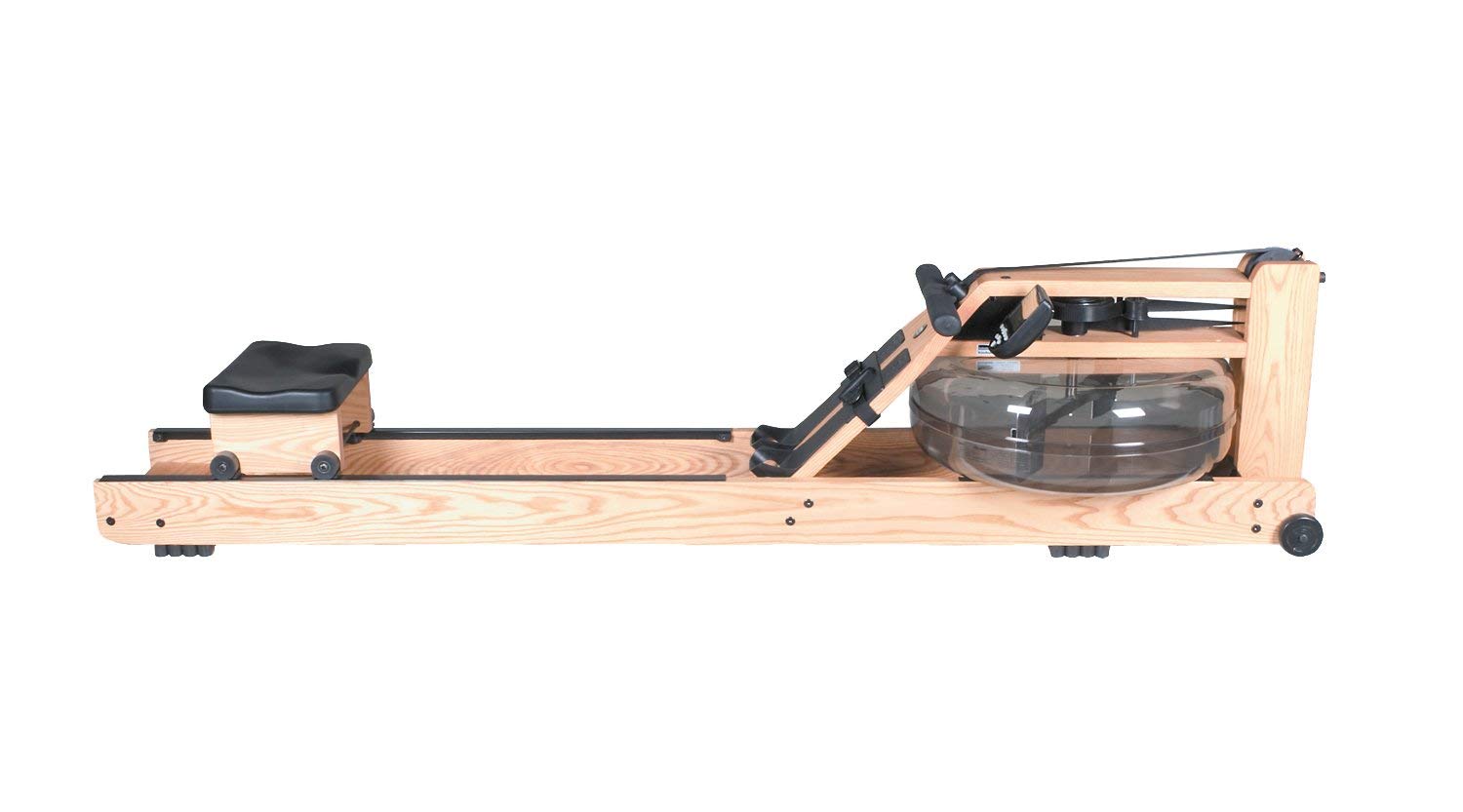 WaterRower
Rowing has long been recognized as the perfect aerobic pursuit, with naturally smooth and flowing movements that don't tax the joints but do boost the heart rate. Now you can take your rowing experience to the next level with the WaterRower Natural rowing machine. Using the same principles that govern the dynamics of a boat in water, the WaterRower Natural is outfitted with a "water flywheel" that consists of two paddles in an enclosed tank of water that provide smooth, quiet resistance, just like the paddles in an actual body of water. As a result, the machine has no moving parts that can wear out over time (even the recoil belt and pulleys don't require lubricating or maintaining). More significantly, the water tank and flywheel create a self-regulating resistance system that eliminates the need for a motor. As with real rowing, when you paddle faster, the increased drag provides more resistance. When you paddle slower, the resistance is less intense. The only limit to how fast you can row is your strength and your ability to overcome drag. And unlike conventional rowing machines, which tend to be jerky and jarring, the WaterRower Natural is remarkably smooth and fluid. From a fitness perspective, the WaterRower Natural works 84 percent of your muscle mass, helping tone and strengthen your muscles while burning far more calories than most other aerobic machines. The exercise is also low impact, as it removes all the body weight from the ankles, knees, and hips, but still moves the limbs and joints through a full range of motion--from completely extended to completely contracted. The WaterRower Natural is outfitted with a Series 4 performance monitor that's designed to balance technical sophistication with user-friendliness. The monitor--which includes six information and programming windows, six QuickSelection buttons, and three navigation buttons--displays your workout intensity, stroke rate, heart rate, zone bar, duration, and distance. Plus, the monitor is compatible with an optional heart rate chest strap and receiver, which helps you optimize your workout and achieve your exercise objectives. The WaterRower Natural is handcrafted in solid ash and stained honey oak for consistency of color. The wood was chosen due to its marvelous engineering properties, especially its ability to absorb sound and vibration, which enhances the WaterRower's quiet performance and smooth operation. Ash, like all woods used in the construction of the WaterRower, is a premium hardwood with incredible longevity and dimensional stability. In addition, the wood is harvested from replenishable forests and is hand finished with Danish oil to provide a deep luster. Other details include dual rails with four corner wheels that increase seat stability and reduce the amount of sweat buildup; a frame that flips upright for handy storage; and a weight capacity of up to 1,000 pounds. The WaterRower Natural measures 84 by 21 by 22 inches (W x H x D), weighs 117 pounds (with water), and carries a one-year warranty on the frame and components (WaterRower will upgrade the warranty to five years on the frame and three years on the components with the completion of a registration form).
Good for: People who want a realistic rowing experience on an indoor rowing machine
My Favorite Features:
Water resistance simulates outdoor experience
The body is made of handcrafted wood
One of the quietest rowers around
Very aesthetically pleasing
My Callouts:
Prices start around $1,000
Water and wood aren't as durable
Monitor location isn't convenient
The WaterRower Natural is an excellent rower that uses (drumroll) water instead of air as its main mode of resistance. This closely simulates the resistance you would receive in real-life rowing, and it sounds pretty amazing, too. The body of the WaterRower is most often made of handcrafted wood. When asking people what they like most about the WaterRower, the response I most often got was that it was "the most aesthetically pleasing rowing machine available."
The WaterRower can be found in Orangetheory Fitness Gyms all over the country (although theirs are made of metal and orange, very orange).
This machine does require more maintenance, due to the fact that it uses a water tank. If you don't change the water out, it can grow mold. There have also been reports of leaking, which can do damage to your home. And, look, I'll admit, the wood is a beautiful touch. It's gorgeous. But that means that the WaterRower doesn't have the durability of, say, machines made of aluminum and steel.
Also, the monitor is located next to your right foot. This, again, makes the overall appearance of the machine better, but it does affect functionality. I didn't love having to look down at the screen during my workout.
Best Budget Rowing Machine: Stamina ATS Air Rower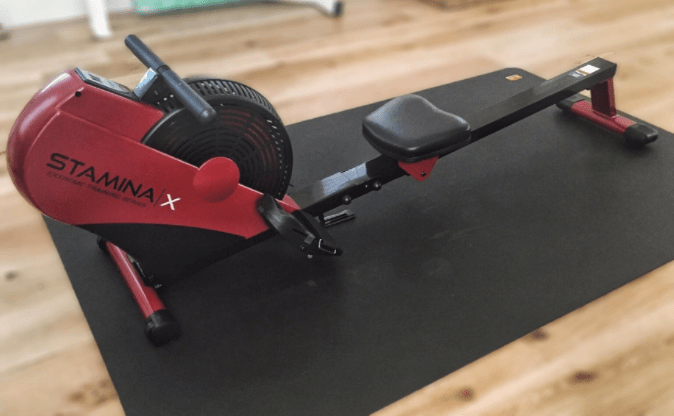 Best Budget Rowing Machine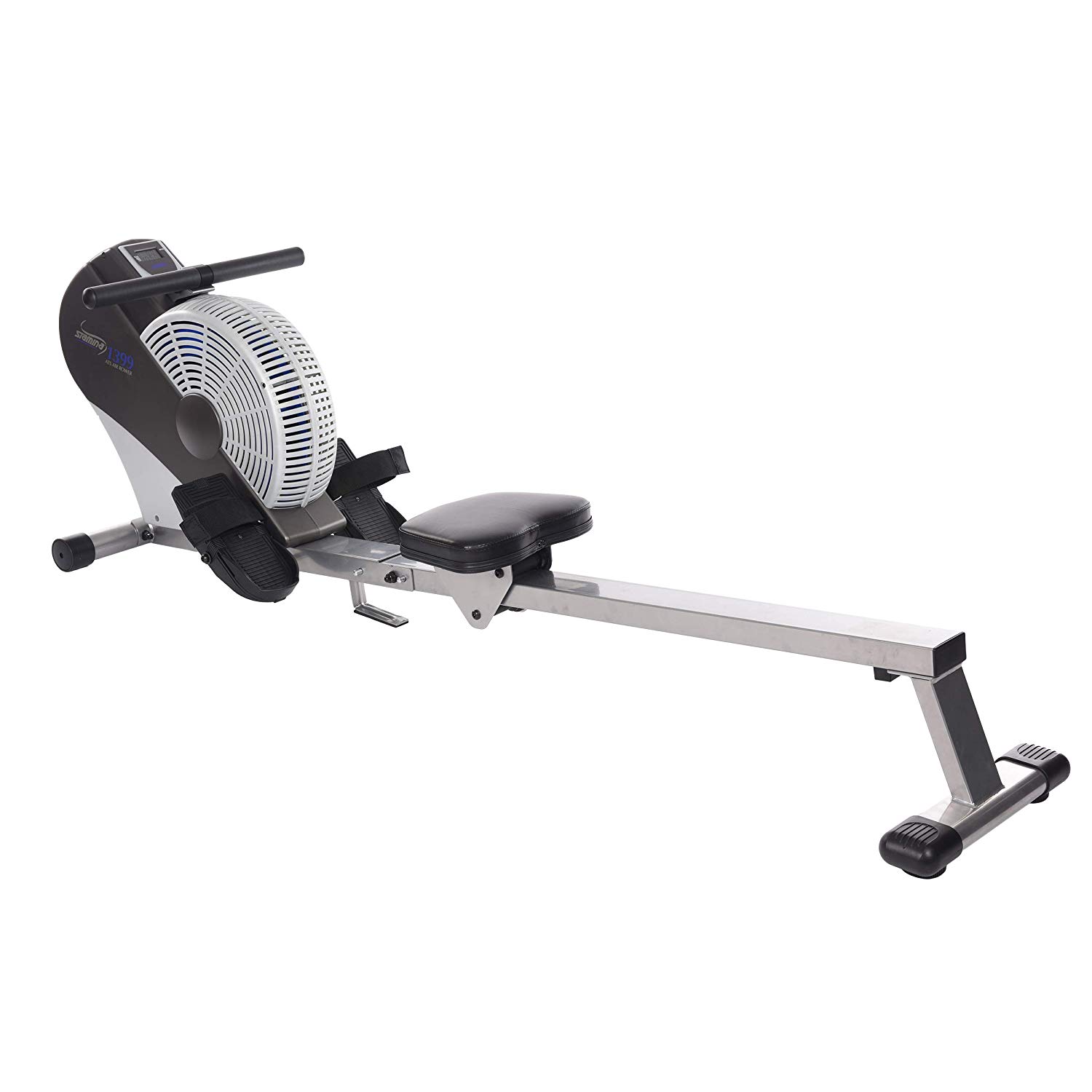 Stamina ATS Air Rower
Rowing is widely known by the fitness community as an effective exercise for toning major muscle groups, improving cardiovascular health and stimulating the metabolism for fat loss. Look no further than the Stamina ATS Air Rower for an affordable, versatile answer to all your rowing needs. The intuitive, wind-based resistance adapts to your desired intensity. To ramp up the difficulty, simply pull harder. Slow down for less. Track your results with the multi-function monitor during exercise to see your speed, distance, time and calories burned. Expect a comfortable and smooth workout with the over-sized and gliding seat rail, pivoting foot plates with adjustable nylon straps, padded and upholstered seat and textured handle. Once you're done exercising, fold the Stamina ATS Air Rower to save space.
Good for: People on a budget looking for a great indoor rower
My Favorite Features:
Priced around $300
Construction suggests durability
Folds in half
Highly portable for easy movement around your home
My Callouts:
Extremely padded seat that could actually be a detriment in longer workouts
Shorter rail that may not work with taller people
Low weight capacity at just 250 pounds
The Stamina ATS Air Rower clocks in at just over $300. It uses dynamic air resistance combined with a steel rowing beam that should provide a platform for many years of rowing enjoyment. In addition to being relatively well-built for the price, the Stamina ATS Air Rower also folds so it can be stored out-of-the-way when not in use.
The frame of the Stamina ATS angles downward, instead of flat like most other rowers. The company says this "increases the work placed on the legs," but I believe it mostly just reduces the stress on the machine.
As far as ergonomics go, the seat is incredibly cushioned, so much so that I worry that it could lead to blood flow restriction during longer workouts. The footplates have nylon straps and will fit just about any size. Keep in mind, as always, that you get what you pay for. For example, the weight capacity of this machine is just 250 pounds.
Overall, I'd call this a good "starter" rower. It boasts more than 800 customer reviews on Amazon, averaging a 4.2/5 star rating.
RELATED: How to build a budget home gym on Amazon
Best Compact Rowing Machine: Sunny Health & Fitness Space Efficient Rower
Best Compact Rowing Machine: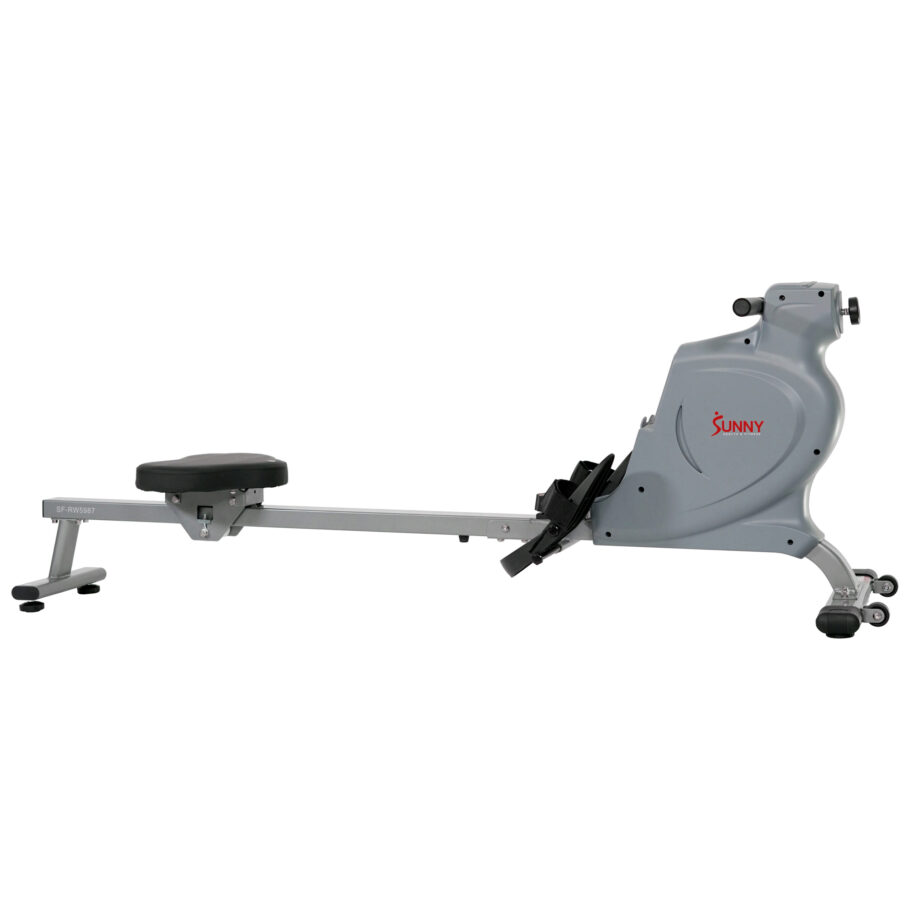 Sunny Health and Fitness Space Efficient Magnetic Rower
Trying to get a full body workout should never be a hassle. The Sunny Health & Fitness Space Efficient Convenient Magnetic Rowing Machine – SF-RW5987 ensures that access to a great rowing workout is simple and easy. Packed with great features and a size efficient footprint, this is the ideal fitness machine for home workouts.
Good for: People with either small living spaces or limited room for large gym equipment
My Favorite Features:
Can easily be stored upright
Just 76 inches long
Wide, padded seat for comfort
Priced under $500
Water bottle holder and device holder for tablet or smartphone
My Callouts:
Shorter slide rail
Three-year frame warranty; 180 days parts
No preset workouts
Whereas most indoor rowers fall between 86 and 96 inches long, the Sunny Health & Fitness Space Efficient Rower clocks in at just 76 inches. It can also be stored vertically, making it just a few feet deep in its upright position. Bonus: It's super easy to move because it weighs less than 50 pounds.
Keep in mind that a shorter rower means a shorter slide rail. This rower has a 44-inch rail, whereas machines like the Concept 2 have about a 54-inch rail. A more compact rower could be problematic for taller people. I am impressed that a 50-pound machine touts a weight capacity of 285 pounds. That's more than some of the other models on this list.
This rower does what you need it to do: Gives you a full-body workout and tracks your metrics on an extremely basic LCD window. Like I always say: You get what you pay for. Don't expect a lot of extras, though it does have a device holder, water bottle holder, and padded seat for comfort. There is a three-year warranty on the frame and 180 days on the parts, which is honestly more than I'd expect for a machine at this price.
RELATED: Best Compact Exercise Equipment
Best Magnetic Rowing Machine: LifeSpan RW1000 Indoor Rower
Best Magnetic Rowing Machine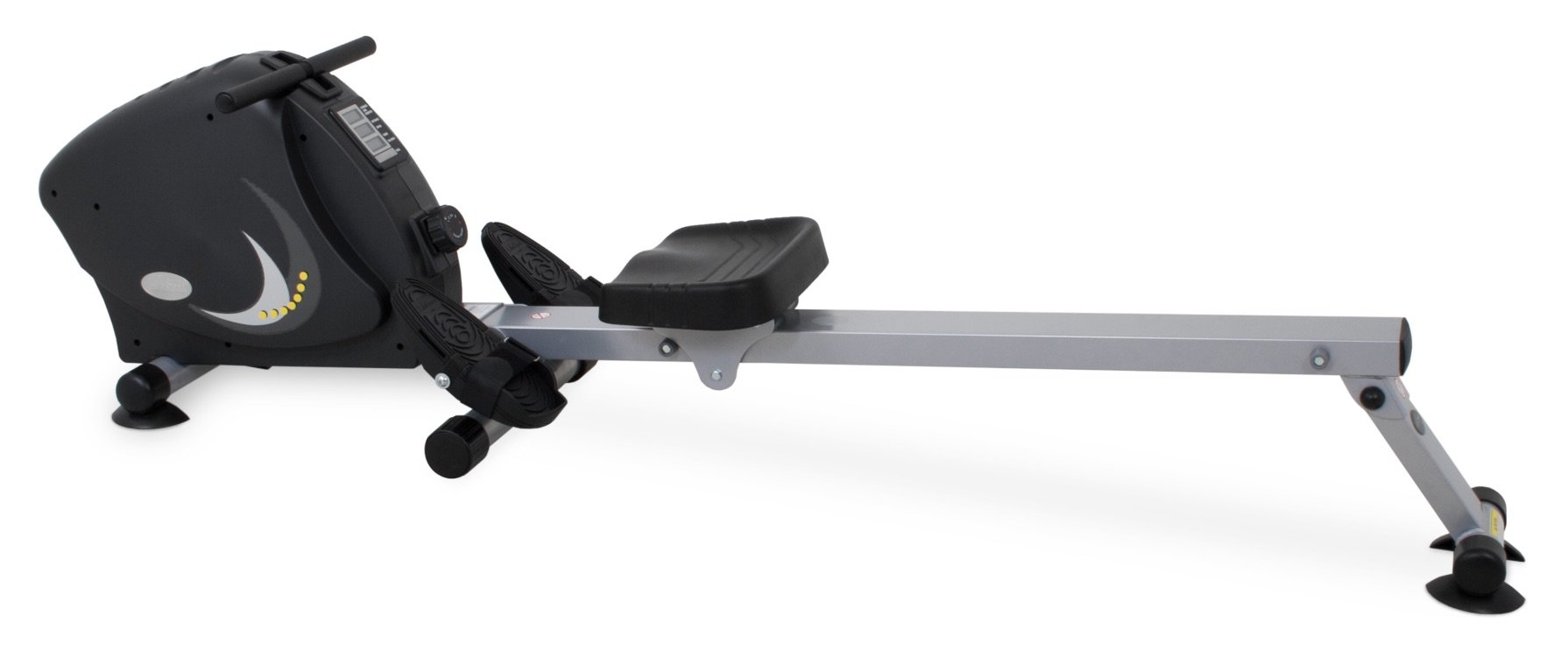 LifeSpan RW1000 Indoor Rower
Beneath the smooth, gliding action of the RW1000 LifeSpan indoor rower resides explosive fitness capabilities. Enhance your cardiovascular health, gain lean muscle, and lose weight with dynamic, impact-free rowing. An intuitive console makes getting started easy, and padded hand grips, a comfortable 14" injected-foam seat, and large swivel foot pedals help you go the distance.
Good for: Those seeking a very quiet workout from a magnetic rower
My Favorite Features:
Ultra quiet, magnetic resistance
Easy to fold and store
Free shipping and 30-day return policy
Oversized padded seat
My Callouts:
Priced just under $900
No built-in workouts
Five-year frame, two-year parts and one-year labor warranty
The LifeSpan RW1000 is another decent option for people doing home workouts. I've said before that magnetic resistance isn't my favorite because of its tendency to break down more often. Also, the pulling mechanism on this rower features a fabric strap, which could wear down quickly with a lot of use. However, LifeSpan offers a two-year warranty on this machine and a one-year policy for labor. So if it breaks in those first few years, at least you're covered.
I also really like that you get 30 days to try out the rower. If you return it, though, you have to send it back in the original packaging, so don't tear up the box too much. LifeSpan also offers free shipping, which is nice because the price tag is just under $900. That's on the expensive side for a magnetic rower.
The LCD display is really basic and only tracks time, speed, distance, and calories burned. I don't recommend this for people who are serious about rowing. However, for those looking for some decent cardio a few times a week, it will get the job done.
What to Consider When Buying a Rower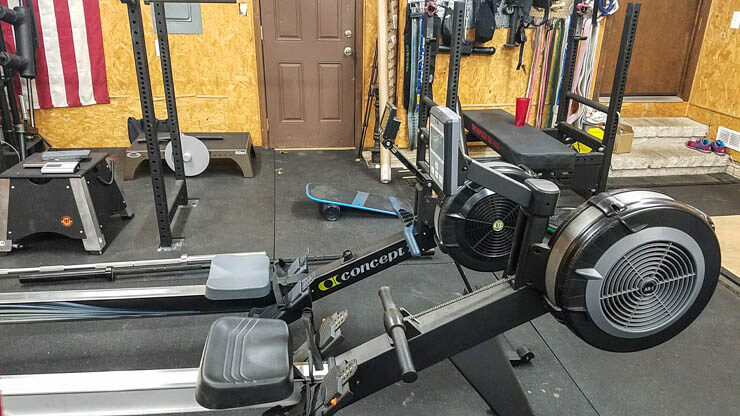 Although indoor rowing machines tend to be among the most affordable pieces of cardio equipment on the market, many still require a significant monetary investment. Before you click that "buy now" button, think about a few things:
Price Range
As with other exercise equipment, there is a significant price difference between the lowest and most costly choices. The majority of the high-quality rowers I like are priced around $1,000. You can still purchase a good rower for less than $500, but if you go too cheap, your machine may fail or malfunction easily. I aim to provide the top budget home gym equipment recommendations, so you'll always find reasonably priced goods on my website.
Space
By their nature, most rowing machines take up a considerable amount of space. However, that doesn't mean you need to sacrifice an entire room to the machine. Some rowers have a shorter slider, and some compact rowing machines are even foldable. If you are tight on space, look for a machine that can easily fold and store when not in use.
It's really important to note that people with an inseam of 40 inches or more most likely will not be able to use a space-saving rower design. The rail will simply be too short. You'll need a rail length of around 50 inches or more.
Resistance Settings and Styles
There are four basic types of resistance on a rowing machine:
Magnetic resistance uses two magnets that move past each other, creating a constant force that feels the same throughout the entire stroke. This is quiet, low-maintenance, and typically provides a smooth row.
Water-resistance machines have a flywheel that spins through the water. These rowers most simulate actual rowing, though they tend to be high maintenance.
Air resistance, in my opinion, is the best type of resistance for a rowing machine due to the training effect. A flywheel moves against air, which makes a low-maintenance option.
Many rowers have adjustable resistance settings. Depending on the machine, you can change the levels of resistance either manually or digitally.
Preset Workouts
Sure, you can just hop on a rower and start pulling, but if you really want to see improvement, you'll probably want to start doing some rowing workouts. Look for a machine with preset options, which can include interval training, benchmark distances (like a 500-meter test or marathon row).
There are also many rowers that have fancy screens and accompanying apps. Take the NordicTrack RW900, which comes with an iFit subscription that guides you through customized, on-demand, and even personal trainer options.
Tech Capabilities
The official name for machines like a rower is, "ergometers." Basically, this means exercise machines that are equipped with an apparatus that measures work performed on the machines. The display – be it a small digital monitor, a little LCD monitor, or a large 22-inch touchscreen – should tell you how you're doing in terms of pace, distance, calories, and stroke rate. Really good machines will throw in other metrics, like projected splits and distances.
Adjustability Considerations
You might be drawn to a rower for its joint-friendly exercise, but it still needs to fit your body! Your rowing experience could be significantly worse if you're uncomfortable the whole time. So consider the little things. For example, some handlebars are slightly angled to improve your natural posture; some seats have light padding; some foot holders have comfortable straps. Also, take a look at where the monitor lives; you don't want to have to crane your neck to check your progress.
The best rowing machine, however, is the one you actually use. Whether you're an athlete looking to improve performance or simply someone trying to live a healthier life, the rowing machine can help you achieve your goals.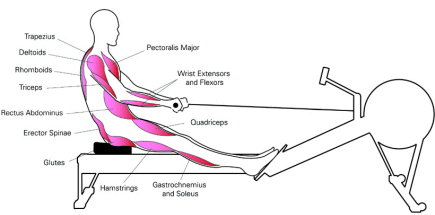 FAQs About Rowing Machines
Why should I buy a rowing machine?

You can spend just a few minutes on a rowing machine and immediately understand why so many people put one in their garage gyms. Rowers offer a number of benefits, including:
Full-body workout with lower and upper body engaged (see image above for all muscles worked!)
Varied workouts, from HIIT options to marathon-like rows
Low-impact exercise that's easy on the joints
Typically lightweight and easy to move around
Many fold and are easy for storage
What are the best rowing machines for home use?

This is like asking what the best house is. The best rower is the one that suits you. I like the Concept 2 rower the best, but you might want live classes and go for the Hydrow or NordicTrack models instead.
To find what fits you best, set a budget, write down your priorities and do some good research. If you're going to spend hundreds or more, do your homework.
Is 30 minutes of rowing enough?

Generally speaking, yes. A lot can get done in 30 minutes. In fact, you can do a high-intensity interval workout and burn a decent amount of calories in less than 30 minutes. If you're just starting out rowing, keeping the intensity low and the length of the workout at a moderate place – like 10-15 minutes – is probably a good idea. If you're training for a marathon row, however, you'll need to spend a lot more time on the machine.
Can you lose belly fat on a rowing machine?

Ay, ay, ay, here we go. Everyone wants to know how to lose belly fat, and it's a sad truth that there is really just one way: eat right. Abs are made in the kitchen. However, burning calories and losing weight can help you lower your body fat percentage overall, not just on your belly.
Rowing is a great, low-impact exercise that gets your heart pumping and works nearly all the muscles in your body. So, yes, rowing can help you trim up problem areas, but you should work with a doctor, nutritionist, or another expert if you really want to put together a winning strategy.
Are rowing machines worth it?
Rowing offers several advantages, including aiding in the development of endurance and strength. It has even been shown in studies to promote heart health. The ergometer, when compared to other training equipment like the treadmill or elliptical, delivers a powerful impact.
What is the difference between a water rower and air rower?
As a kind of resistance, water rowers use a tank that is really filled with water. Because the air resistance is dependent on your speed, air rowers utilize a fan or flywheel to provide resistance, and you have control over the intensity of the workout.
How I Tested and Picked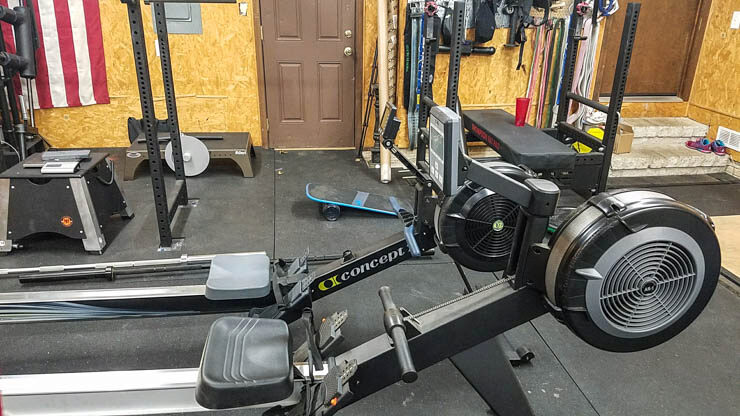 I started out by researching more than 65 rowers. To compile the list, I dug through all of the major manufacturers as well as reached out to industry experts and various forums such as r/homegym. In addition to this, I went to Garage Gym Reviews HQ to rank and test what I liked and didn't like about all of the most popular models.
There is an overwhelmingly large number of rowing machines at nearly every price point. Thanks to the increase of people working out in their homes along with the popularity of rowing, in large part due to CrossFit, there are now more options than ever (much more than I anticipated). Whether you want a cheap rower under $100, or a high-frills rowing machine made out of handcrafted black walnut, there is something that will suit your fancy.
I stuck to rowers that I had used thoroughly, were highly reviewed, or that people respected in the industry recommend.
I evaluated:
Overall Construction: For the most part, I recommend rowers that feature the best overall construction within their price ranges. The welds are clean, the connection points are solid, and everything from the seat rolling smoothly to the flywheels spinning freely are as one would desire.
Durability: A rower should last a LONG time; I'm talking decades. Similar to other areas of fitness equipment, with rowing machines, you often get what you pay for. A rowing machine should be able to take, within reason, whatever type of intensity you can throw at it.
Mode of Resistance: There are three types of resistance: Hydraulic rowers use cylinders and are featured on less expensive rowing machines; air rowers have flywheels that spin against air; and water rowers have flywheels that spin against water. I suggest staying away from hydraulic cylinders and focusing mainly on air rowing options.
Monitor: The monitor used to track the various metrics should be both accurate and easy to use. Nearly every company uses a different monitor, and some are good while most are inaccurate and basic.
Fluidity: The chain or cord attached to the handle and flywheel should provide a fluid motion start and return. Cheaper rowing machines will have abrupt starts and returns including the seat rollers. The more closely the rowing machine experience relates to true water rowing, the better.
Maintenance: Rowing machines should be low maintenance. Fitness equipment is designed to improve performance, not mechanical skills.
Price: The price of the rowing machine should be in accordance with the features offered. Value is more important than just a low retail price. What I've found with rowing machines, typically, is the more you spend, the more you get.
Warranty: A warranty should be offered and the company should stand behind that warranty with great customer service.
During testing, I performed both long and short duration intervals including sprints and grueling long-distance rowing events. I examined the build quality, opened up the various components to see how they were built, and spoke to representatives from different companies. Finally, I asked for the opinion of others on what rowing machines they've used and what they liked/disliked about each.
The Competition
Concept 2 Model E Rower: We're big fans of every piece of equipment Concept 2 is making, and the Model E is no exception. The only reason we would suggest the Model E over the Model D is if you had an injury limiting your mobility for getting on a lower to the ground rower. Otherwise, they're pretty much identical.
TechnoGym SKILLROW: The TechnoGym SKILLROW has some cool features, but its price point is a bit hard to swallow. We haven't been able to use it and weren't able to talk to anyone who had outside of the company. Until then, we will remain neutral.
Sunny Health & Fitness SF-RW5515 Magnetic Rower: Magnetic rowers have a tendency to break down and require maintenance sooner than air rowers. The Sunny Health Rower is a very inexpensive option, but you also get what you pay for. We don't suggest this model.
Stamina Body Trac Glider 1050 Rowing Machine: The Body Trac Glider is one of the cheapest rowers available and uses gas-shock resistance instead of air. Gas-shock resistance rowers are known to not have a very long life for use and can be found broken at garage sales often. We don't suggest gas-shock resistance rowers, no matter the price. If you go through the Amazon reviews of the machine, you'll find it riddled with comments on it breaking after less than a year.
Stamina X Air Rower: The Stamina X Air Rower has a cool look to it, but we don't see any additional benefits of it over the Stamina ATS Rower other than the colors. It's also a bit more pricey and has quite a few negative reviews.
Stamina 35-1405 ATS Air Rower: The Stamina 35-1405 ATS Air Rower is pretty much the same as the Stamina X Air Rower and again doesn't have much more benefits over our budget pick that has a lower price point.
Schwinn Crewmaster Rowing Machine: The Crewmaster is Schwinn's premier rowing machine offering and is unfortunately overpriced for its features. The Crewmaster hasn't been out long enough for many reviews, but based on its components, it's somewhat lacking for the price.
Stamina Avari Magnetic Rower: Magnetic rowers break quickly and this one is overpriced.
Stamina Wave Water Rowing Machine: If you're going to buy a rower with water resistance, go with WaterRower.
Xterra ERG400 Rower: Air and magnetic resistance is a good combination for disaster. Choose one or the other.