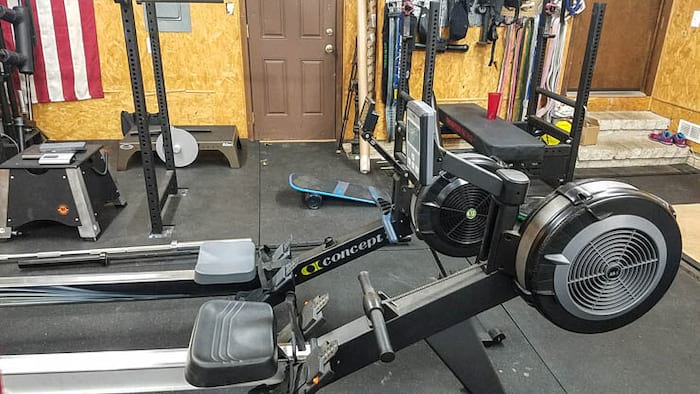 Although indoor rowing machines tend to be among the most affordable pieces of cardio equipment on the market, many still require a significant monetary investment. Before you click that "buy now" button, think about a few things:
Price Range
As with most pieces of fitness equipment, there is a large range between the cheapest and most expensive options. Most of the high quality rowers I like are right around that $1,000 mark. You can still get a great rower under $500, but sitting too far below $300, and you might find your machine breaks or malfunctions easy. I like to offer the best budget home gym equipment, so you'll always find items on my site that are affordable. 
Space
By their nature, most rowing machines take up a considerable amount of space. However, that doesn't mean you need to sacrifice an entire room to the machine. Some rowers have a shorter slider, and some compact rowing machines are even foldable. If you are tight on space, look for a machine that can easily fold and store when not in use.
It's really important to note that people with an inseam of 40 inches or more most likely will not be able to use a space-saving rower design. The rail will simply be too short. You'll need a rail length of around 50 inches or more. 
Resistance Settings and Styles
There are four basic types of resistance on a rowing machine:
Magnetic resistance uses two magnets that move past each other, creating a constant force that feels the same throughout the entire stroke. This is quiet, low-maintenance and typically provides a smooth row.
Water resistance machines have a flywheel that spins through water. These rowers most simulate actual rowing, though they tend to be high maintenance.
Air resistance, in my opinion, is the best type of resistance for a rowing machine due to the training effect. A flywheel moves against air, which makes a low-maintenance option.
Many rowers have adjustable resistance settings. Depending on the machine, you can change the levels of resistance either manually or digitally. 
Preset Workouts
Sure, you can just hop on a rower and start pulling, but if you really want to see improvement, you'll probably want to start doing some rowing workouts. Look for a machine with preset options, which can include interval training, benchmark distances (like a 500 meter test or marathon row). 
There are also many rowers that have fancy screens and accompanying apps. Take the NordicTrack RW900, which comes with an iFit subscription that guides you through customized, on-demand and even personal trainer options. 
Tech Capabilities
The official name for machines like a rower is, "ergometers." Basically, this means exercise machines that are equipped with an apparatus that measure work performed on the machines. The display – be it a small digital monitor, a little LCD monitor, or a large 22-inch touchscreen – should tell you how you're doing in terms of pace, distance, calories and stroke rate. Really good machines will throw in other metrics, like projected splits and distances. 
Adjustability Considerations
You might be drawn to a rower for its joint-friendly exercise, but it still needs to fit your body! Your rowing experience could be significantly worse if you're uncomfortable the whole time. So consider the little things. For example, some handlebars are slightly angled to improve your natural posture; some seats have light padding; some foot holders have comfortable straps. Also, take a look at where the monitor lives; you don't want to have to crane your neck to check your progress. 
The best rowing machine, however, is the one you actually use. Whether you're an athlete looking to improve performance or simply someone trying to live a healthier life, the rowing machine can help you achieve your goals.