We test and review fitness products based on an independent, multi-point methodology. If you use our links to purchase something, we may earn a commission. Read our disclosures.
If you're on the search for the best rowing machine for your home gym, look no further. In this comparison, we're going to take a deep dive into two machines that will give you a sense of pride just looking at them.
This Ergatta vs WaterRower comparison will compare and contrast two brands that are constructed from high-quality wood, made in the United States, and are altogether pleasing to the eye.
Ergatta Rower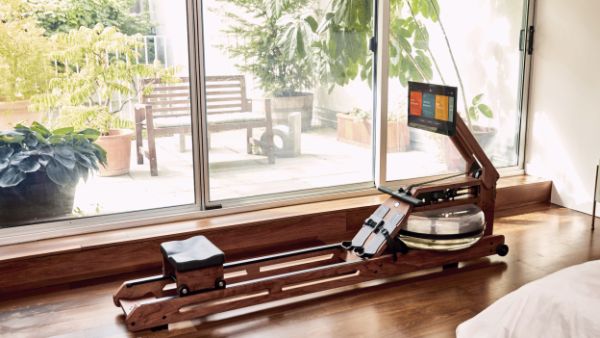 GGR Score: 3.9
Product Highlights
Water resistance rower
Aesthetically pleasing
Crafted from cherry wood
Unique programming
Can be stored vertically
Pros & Cons
Pros
Smooth rowing experience
Lots of useful data
Aesthetic style
Gamified programming
Cons
Water has to be replaced every so often
Resistance cannot be changed
Although the gamification is fantastic, I know many people would love the option of trainer-led workouts.
Bottom Line
This machine is aesthetically-pleasing (which is an often overlooked attribute for equipment that lives in peoples homes) and the programming is interesting and engaging. If you're looking for a water-powered rowing machine and want programming that's different from what's typically offered, you'll be a fan of the Ergatta.
WaterRower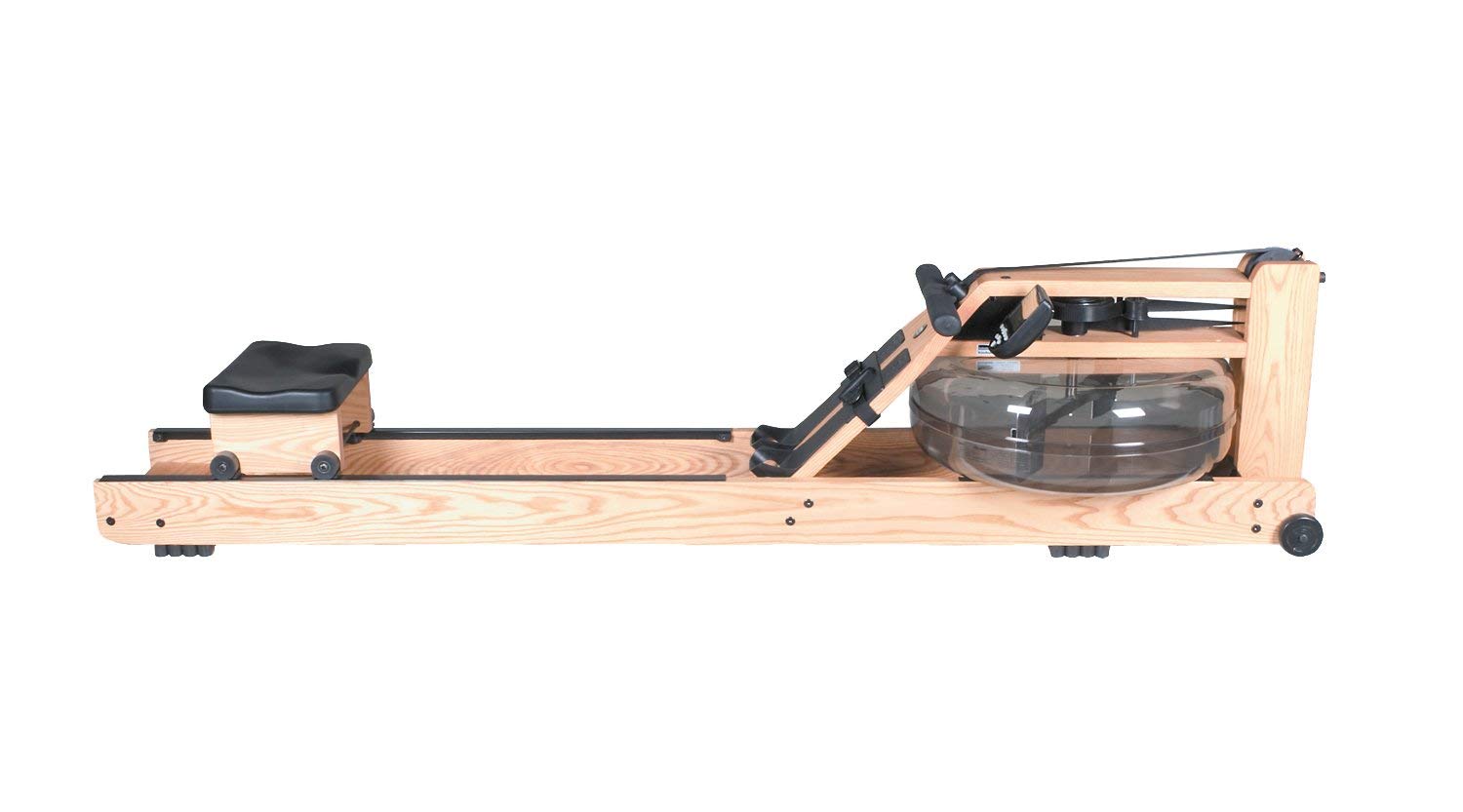 GGR Score: 3.8
Community Score: 4.2
Product Highlights
Water resistance simulates outdoor experience
Handcrafted wood for beautiful aesthetic
One of the quietest water rowing machines
Made in USA
Pros & Cons
Pros
Water resistance simulates outdoor experience
The body is made of handcrafted wood
One of the quietest water rowing machines
Very aesthetically pleasing
700-pound weight capacity
Optional expert assembly
Cons
Prices start around $1,100
Wood can dent and chip
Weighs 117 lbs
Monitor location isn't convenient
Bottom Line
The WaterRower Natural is an excellent rower that uses (drumroll) water instead of air as its main mode of resistance. This closely simulates the resistance you would receive in real-life rowing, and it sounds pretty amazing, too.
Ergatta vs WaterRower Comparison Chart
| | | |
| --- | --- | --- |
| | Ergatta | WaterRower Original |
| Price | $2,249 | $1,099 |
| Footprint | 86" L x 23" W x 40" H | 82″ L x 22″ W x 20″ H |
| Resistance type | Water | Water |
| Resistance level | Unlimited | Unlimited |
| Weight limit | 500 lbs | 700 lbs |
| Max inseam length | 40" | 38" |
| Product weight | 103 lbs (with water) | 103.5 bs (with water) |
| Display | 17.3" HD touchscreen | Performance Monitor |
| Bluetooth-enabled | Yes | No |
| Programming | Gamified Ergatta workouts | No |
| Warranty | The warranty covers 5 years on the structural frame, 3 years on component parts, and 1 year on the digital tablet. | 1-year limited warranty |
Quick Look: Ergatta vs WaterRower
You may have noticed that the Ergatta and WaterRower look remarkably similar—and you're not wrong. Both row ergs are built by WaterRower, the Rhode Island-based manufacturer.
While there are differences between the WaterRower and the Ergatta, the main difference is the technology (and the price). We'll get into that soon, though.
For now, I think it's worth mentioning that for the purposes of this comparison we're going to look at the Original WaterRower made from oak wood. I say this because the brand offers different wood types, hybrid options (like the CityRow GO Max), and other cardio equipment.
The Ergatta on the other hand only offers one machine made from one material, which is the signature Appalachian cherrywood. If you are curious about our hands-on experience with this smart rower, be sure to check out our Ergatta Rower review for all the details.
Overall, both pieces of fitness equipment are going to deliver similar workout experiences with a water flywheel, unlimited levels of resistance, and a beautiful and sturdy solid wood frame.
RELATED: Water Rower vs Magnetic Rower
Who Should Buy The Ergatta Rower
Anyone in the market for a smart rower with a touchscreen 
Folks who want a gamified rowing experience
People who like to track metrics and performance on-the-go with the Ergatta mobile app
Individuals who plan to connect to the machine with the best fitness trackers or heart rate monitors
Rowers who enjoy the cherry wood frame
Anyone who wants a Bluetooth-enabled machine for wireless headphone listening
Who Should Buy WaterRower
Folks who don't want or need a touchscreen rower
People who want a good-looking rower that can match overall aesthetic 
Exercisers who don't want a subscription-based membership for workouts and programs
Rowers who want to choose the type of wood frame they buy
People who would rather shop through Amazon
Key Similarities Between Ergatta and WaterRower
Indoor rowing that mimics open water with water resistance
Patented water flywheel technology
Full-body workouts
Low-impact cardio equipment
Constructed from natural wood
Made in the USA
Sourced from American timber
Low-maintenance water tank
Upright storage
Important Differences Between Ergatta and WaterRower
WaterRower features a simple S4 monitor for tracking basic metrics
WaterRower does not require a membership
Ergatta offers game-based workout programs with a monthly subscription
WaterRower has a user weight capacity 200 pounds more than Ergatta 
The footprint of the Ergatta is slightly bigger than the WaterRower
The Ergatta only comes in one wood option: American cherry wood
Ergatta is priced over $1,000 more than the WaterRower
Ergatta offers community challenges, competitions, and workout options
Technology Comparison
Both of these are among the best water rowing machines on the market, largely due to their interactive programming. The Ergatta rowing machine is the tech-heavy option of the two rowers. That said, you will have to pay monthly membership fees to receive all the benefits of the high-tech touchscreen and programming.
The monthly subscription fee is $29, which is less than competitors like Hydrow and Peloton. However, if you're used to instructor-led workouts and fitness classes, be warned that Ergatta is different.
REATED: Best Rowing Apps
The rowing workouts on the Ergatta are more like a video game. You'll be able compete in race workouts, push programs, interval workouts, and even technique-based games.
If you're new to rowing and feeling a little intimidated by the gamified-tech, I want to point out that the Ergatta website has a section dedicated to beginners with form tutorials and access to rowing workouts for beginners. In addition to those resources, the programs evolve as you do, which means that more challenges are added to the games you play as your performance improves.
For full functionality of this gamified programming, you'll want to budget for the Ergatta membership. Without the subscription, you'll only have the ability to hop on for open row workouts or connect to third-party apps (like Strava) with WiFi, but that's about it.
As for the WaterRower, things are a little more simple. The S4 Performance Monitor on the WaterRower can track stroke rate, speed, time, and distance. Basically, all the essentials for an endurance session or a HIIT rowing workout.
Although the WaterRower comes standard with S4 Performance Monitor, you do have the option to purchase an Ergatta Upgrade Package on the Ergatta website to get the touchscreen and mounting arm that matches your wood finish. This upgrade can essentially make a WaterRower function just like an Ergatta.
Company Policies
Let's take a look at how the company policies differ on the Ergatta vs WaterRower:
Warranty Policy
WaterRower offers a one-year warranty for any defects on the frame, material, or workmanship. However, if you take a moment to register your rowing machine on the WaterRower website (during the first year of ownership) you can automatically upgrade your warranty that will cover five years on the structural frame and three years on components (not including electronics).
Ergatta has a similar warranty policy that covers five years on the structural frame, three years on component parts, and one year on the touchscreen.
Return Policy
WaterRower offers returns, but you will need to call customer service to receive return authorization of your return. You will be responsible for shipping fees and you will need to include your personal information and all relevant purchase information on or within the box to process your return.
Ergatta has a 30-day window to make returns. The website states that returns have to be made in the original packaging in order to be eligible for a refund. Also, depending on the condition of you machine when you make the return, you could be charged an additional restocking fee.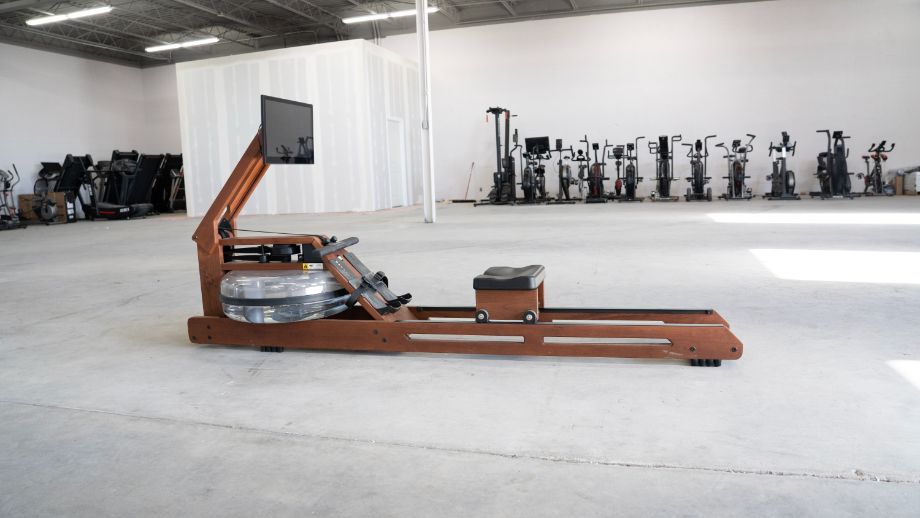 However, if you decide to make a return you will need to contact Ergatta via email to start the return process because the company picks up returns directly from your home at no charge.
Financing Options
WaterRower offers financing through Bread Pay, a third-party lender. You will have to apply for this option, but you can get rates as low as 0% APR with regular rates up to 29.99% APR.
WaterRower also offers rental options in the brand's popular wood models: Natural, Club, Oxbridge, and Classic. This means you can rent a machine (for a minimum of three months) and not be tied down to a long-term investment. It's worth noting that paying for a monthly rental fee does not go to the purchase of a WaterRower machine. The rental service requires a $200 deposit and a $10 return fee when you decide to stop renting.
Ergatta offers financing at checkout through Klarna. You will have the option to apply right at checkout for soft credit check. Depending on your credit history, you can receive financing for as low as 0% APR for 36 months.
RELATED: The Best Budget Rowing Machines
Final Thoughts: Ergatta vs WaterRower
The Ergatta and the WaterRower are both made and manufactured by WaterRower and are super similar. Other than the footprint of the Ergatta being slightly larger than the WaterRower, the Ergatta is essentially the same machine with a touchscreen and Bluetooth connectivity. The WaterRower also has a higher weight capacity (coming in at a whopping 700 pounds).
If the connectivity and programming is important to you and will help you stay more regimented on a fitness routine, then don't discount the value in that type of built-in motivation.
However, if you're someone who just wants to hop on and row, I'd suggest going with the WaterRower and skipping the fancy touchscreen. It's also worth noting that the WaterRower can be upgraded with a touchscreen and mounting arm from the Ergatta website at a later date for under $600.
Ergatta vs WaterRower FAQs
Is WaterRower the same as Ergatta?
Both the Egratta and WaterRower machines are manufactured by WaterRower, which is a Rhode Island-based company.
Which WaterRower does Ergatta use?
The Ergatta is modeled off the Original WaterRower with dual tracks. The footprint of the Ergatta is slightly larger, but the S4 models of the WaterRower can be upgraded with a touchscreen and mounting arm to pretty much function just like the Ergatta.
Why is Concept2 better than WaterRower?
If you're debating between the Concept2 and the WaterRower, the best machine for you will depend on your preference on resistance type: air rower vs water rower. Both offer unlimited resistance but the workout feel is different.
Luckily for you, we've unpacked the major differences between the WaterRower vs Concept2 and the types of resistance used in each machine.
Does Ergatta rower work without membership?
Without a membership, you will be able to hop on and perform open rowing workouts and connect your heart monitor or third-party apps to the touchscreen display, but you will not have any functionality of games or Ergatta community.